Designing a mudroom – tips and tricks for how to plan your space
Find out all you need to know about designing a mudroom – from interior design experts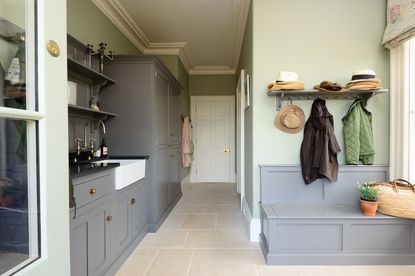 (Image credit: deVOL)
Designing a mudroom – or boot room, as this vital space is also called – is similar to planning a new kitchen: a careful balance of practicalities and aesthetics is needed.
Mudrooms are a staple feature of a country home, a place to remove muddy boots, store outdoor clothing and keep the outside from covering the rest of the home. A mudroom is the perfect spot to shake off the waterproof jacket – and also to dry off the dog after a bracing country walk.
A mudroom is also the ideal place to store necessities that you don't want to keep in the main kitchen, and can be the perfect place for your washer dryer, too.
Not everyone has the space for a dedicated mudroom, but clever mudroom ideas mean that one can be created in the smallest of areas; in fact, all you need is a spare wall ideally near the back or side entrance to your home.
Here, we take you through everything you need to know about designing a mud room.
1. Consider the main practicalities first when designing a mudroom
Even the smallest of spaces can be turned into a mudroom. If you are working with a tiny room, an area of your kitchen or a wall space in your hallway, think about the absolute basics before you move on to the 'would like to haves'.
'Make sure to think about practicalities first, incorporating plenty of coat hooks, seating, shoe, and boot storage,' says Adrian Bergman, Senior Designer at British Standard by Plain English. 'Think about having somewhere to sit, a bench can also act as shoe storage.'
The one above has a clever lift-up lid where outdoor shoes can be stored. Putting small drill holes into a solid piece like this will allow some air flow into the storage to keep the damp and dank air at bay.
If you have more space, consider what extra uses a mudroom could be put to: it could double as a laundry room (in which case you need worktop space, clothes' drying space, room for a washer dryer, plus extra sockets), as a unique pantry idea or even for bike storage. You could even use it for indoor gardening – to bring on seedlings, for potting up, or to store some of your smaller, most used gardening tools.
2. Select durable – but good looking – finishes
The finishes – from walls to floors to cabinetry – need to be tough, dirt-disguising and wipeable. Wood panelling ideas and tiles will be tougher than wallpaper or paint, while composite worktops and flat-finish flooring will stand up to knocks and dents, but hide dirt well.
Use colors that echo those of the room or space adjoining, but take the opportunity to go bolder and more dramatic than you might in a kitchen, for example. The room above is a good example – and if you love boldly patterned wallpaper, hanging it above the panelling like that above is a good way to balance aesthetics with practicality.
3. Boost storage options beyond what you need now
We guarantee it: your mudroom is going to become the place where all kinds of clutter is stored out of sight – from kitchen and entryway overflow to recycling – so reckon to include much more storage than you think you might need now.
Fitted storage is a more efficient use of space than unfitted, but ensure those fitted shelves are adjustable for changing up as your family's needs change.
What to use? Tall shelving, coat hooks, peg rails, low-level hooks for kids to hang up their own coats, pull out baskets, lidded boxes you can stack, storage on wheels – there are myriad options.
These are the basics: shoe storage, coat storage, a sink (more on that below), a seat, extra storage and an airer.
Add to that these useful extras: pet beds, a place to store wellies, pet paraphernalia, shoe cleaning kit, bike storage, laundry storage, food storage, sports equipment storage
The designers at Hush agree, advising: 'Start with a bench providing a perch to change your footwear. In most designs, the top can be lifted up to provide storage or create pull-out drawers for extra room. Place a row of hooks above the bench to provide somewhere to hang coats and hats.'
If you have room – and especially if you don't – tall built-in cupboards and shelves are always a great idea.
4. Pick the perfect location for the mudroom
It might seem obvious, but the mudroom should be situated next to the garden if at all possible – or next to the door where you tend to come in from muddy walks if that's a regular feature of your week. So, if you're planning on reconfiguring your kitchen or porch area, working this space into a convenient place is vital.
'Have the room located directly to the outside, to avoid muddy boots and gardening equipment being traipsed through your house,' says Helen Parker, deVOL's Creative Director.
Ideally, there might even be a faucet just outside the door to the mudroom so that mud can be washed off everything from boots to dogs before you even step inside.
5. Make space for a sink – and dog shower
A sink is a must to clean any dirty footwear (or dogs!). 'A big deep sink is perfect for all the messy jobs, and make sure the taps are tall so you can fit buckets and watering cans under them to fill up,' advises Helen Parker.
Installing a dog shower is an option more homeowners are taking up, Emma Sims-Hilditch of interior design agency Sims-Hilditch reveals in her feature for us on how to make a home pet friendly – and super stylish.
If you are designing a mudroom and don't have a dog, we'd suggest installing some kind of shower attachment, even if only for the sink – many kitchen faucets have this option.
Why? They are very useful for cleaning everything from boots to potatoes. And you never know, your children may persuade you to get that pup at some point.
6. Ensure the lighting is practical
Keep cabinetry and color schemes light and bright, particularly if you're working with a small space. Amber Greenman, Home Designer at Neptune Bath, says: 'You can make a huge difference to your utility room by considering color and lighting, and as it is often a smaller room, the more light the better.'
7. Consider mudroom ventilation and heating
Mudrooms will be home to wet boots, coats, and possibly dogs... so good ventilation is a must, whether that's an extractor fan or a window that can be safely left open. It's worth considering space for a dehumidifier, too, which will help keep the room from smelling dank, and will be useful if an extractor or open window isn't an option.
When it comes to heating, underfloor heating is a real bonus – it will help shoes, clothes (and dogs) dry efficiently; if you are airing laundry in the room, this is a good way to create a good level of ambient heat, too.
What is a good floor for a mudroom?
The mudroom is essentially where you clean off all the dirt and ready yourselves to head indoors for a nice hot chocolate. Remember to use practical flooring materials that are easy to clean; choose patterns, dark colors and natural stone, all of which will not only withstand the trials it will have to go under but will hide dirt, too, so you don't feel you have to clean constantly.
'A practical hardwearing floor is necessary, make sure it's easy to clean and ready for muddy boots,' says Adrian. And deVOL's Helen Parker agrees, adding, 'Choose dark colors and a natural floor that will take knocks and hard wear without looking tatty very quickly.'
Hush's experts add: 'Natural stone flooring is the obvious choice for a boot room, but a stone-effect porcelain would work equally well.'
While we love the idea of natural stone and reclaimed brick giving a mudroom design a real country vibe we would caution against picking stone that's too pitted or uneven – mud will gather in dips and grout lines and will be tricky to sweep up – no problem, of course, if you have a cordless vacuum cleaner hanging on the wall. However, you could instead lay stone-look porcelain tiles, which will be smoother and are tough and easy to clean. Luxury vinyl tiles are another option.
Could your mudroom double up as a powder room?
If you are designing a mudroom that's super smart, it's unlikely you'll fret about sending guests into a toilet that's incorporated into your mudroom space.
But with a range of smart powder room ideas to choose from, you will find an extra loo can be a useful and beautiful addition, especially if you have a young family who always need to 'go' just as you're about to go out the door.
What is a good size for a mudroom?
Ideally, a mudroom should be no less than 5ft wide, which is broad enough for two people – and dog – to enter comfortably. A minimum length of 5ft is ideal, too. If you can afford to make your mudroom a little wider and longer, you won't regret it, but as long as you can comfortably move about – as you would in a small kitchen – and have the space to sit down to put on or remove shoes, it will be large enough for the basics.
If you want to include space for laundry or extra storage, consider designing a mudroom that's more like 10ft by 10ft.
Getting its layout right is important and small kitchen ideas are great for mudroom inspiration. It's likely that it leads off one busy space – whether a kitchen or entryway – to the outside, so it needs to be easy to do so, unobstructed by furniture placement. You will also need to ensure there's an internal door to your mudroom so that it can be shut off from the rest of the house.
How much does it cost to build a mudroom?
Expect to pay an average of around $12,000 for a mud room – although a well fitted out, 50 sq ft space can cost anywhere between $8,000 and $16,000. If you choose to have the space unfitted and take on the project yourself, you could complete a mudroom for under $5,000, including storage, flooring, lighting and sink.
Does a mudroom add value?
A mudroom can add value to your home, assuming it doesn't dramatically reduce the size of your kitchen. Not only will it add value – the amount depends on your local area – but it will make your home more attractive to buyers, especially if you live in the countryside and are selling a family home that's going to be attractive to adventurous, pet-owning, outward-bound people with young children.
Sign up to the Homes & Gardens newsletter
Decor Ideas. Project Inspiration. Expert Advice. Delivered to your inbox.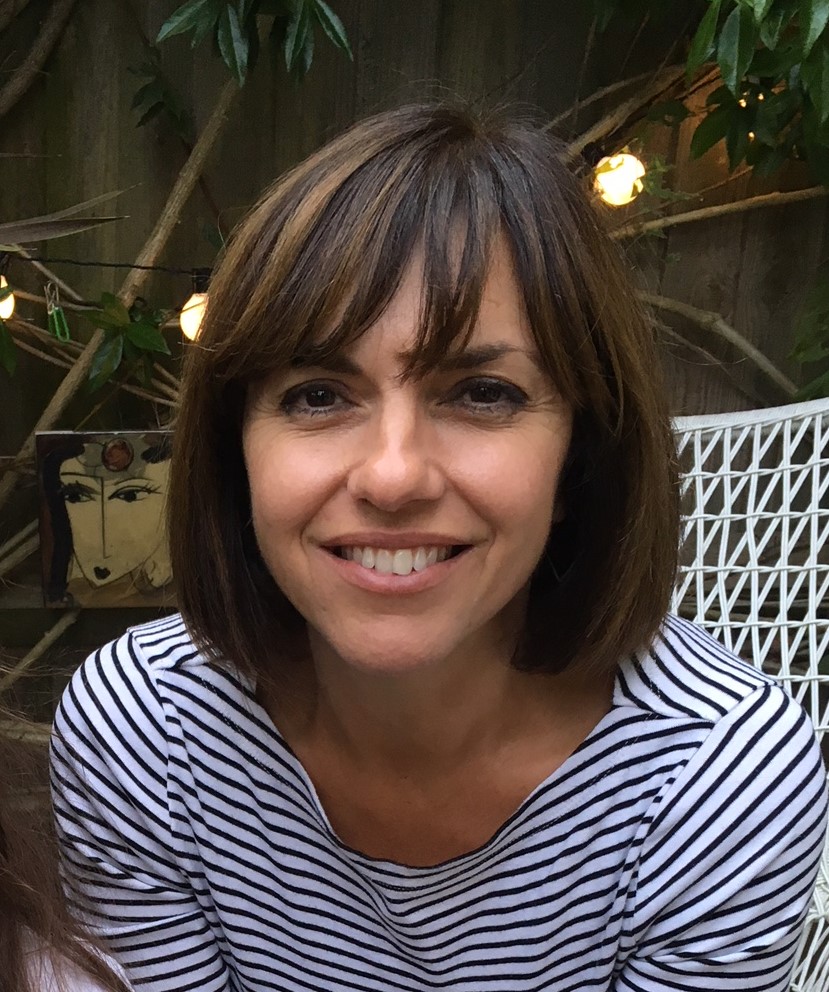 Lucy Searle has written about interiors, property and gardens since 1990, working her way around the interiors departments of women's magazines before switching to interiors-only titles in the mid-nineties. She was Associate Editor on Ideal Home, and Launch Editor of 4Homes magazine, before moving into digital in 2007, launching Channel 4's flagship website, Channel4.com/4homes. In 2018, Lucy took on the role of Global Editor in Chief for Realhomes.com, taking the site from a small magazine add-on to a global success. She was asked to repeat that success at Homes & Gardens, where she has also taken on the editorship of the magazine.