Traditional powder room ideas – classic half-bath decor and design inspiration
Use our traditional powder room ideas to create practical yet elegant spaces with timeless charm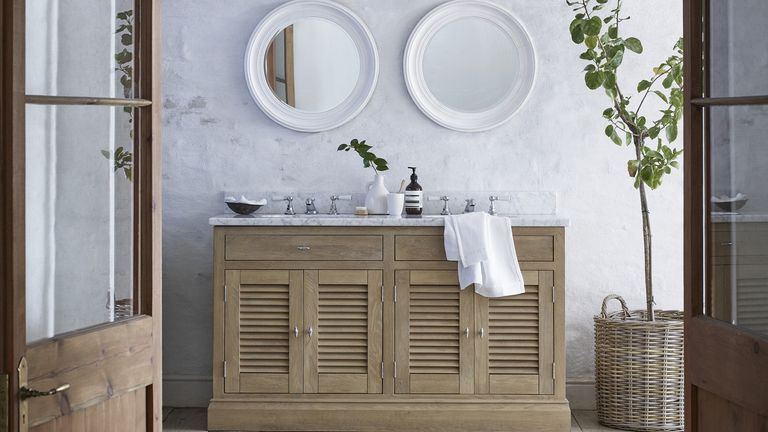 (Image credit: Neptune)
Traditional powder rooms are practical spaces that have a timeless, comfortable feel. The place where guests go to freshen-up after a long journey, powder rooms benefit from being bright, uplifting and welcoming spaces. 
Opting for neutral colors, natural materials and high quality furniture and fittings will ensure a classic space which is a joy to be in time and time again, while introducing some luxurious features and glossy finishes will bring that sought-after spa-like feel. 
As small spaces which are not used for long periods of time, half-baths also make brilliant rooms for daring to decorate a little differently. Why not try experimenting with some creative, playful decor ideas to give guests a joyful surprise? Think bold colors, statement wallpapers and opulent fixtures and fittings. Eye-catching wallpaper prints in particular are a brilliant choice for powder rooms, as unlike bathrooms, they are less likely to become steamy and splashed.
See: Bathroom ideas – stylish decor ideas for all bathrooms 
1. Create an Arts & Crafts feel with William Morris prints
Inspired by the enduring beauty of nature, William Morris wallpapers are a great choice for traditional powder rooms. Capturing the flora and fauna of the countryside, Arts & Crafts prints, which date back to the late 19th-century, have received enduring popularity across the years, and are still available through Morris & Co today in a variety of original and refreshed colorways. 
To prevent the print being overwhelming, consider teaming the paper with traditional painted panelling. Traditional British Minton-style floor tiles will give a further nod to the Arts & Crafts era.
See: Traditional bathroom ideas – for inspiration and more ways to decorate
2. Opt for an all-white scheme for an uplifting feeling 
Opting for a fresh, bright white scheme is guaranteed to stand the test of time and will leave guests feeling uplifted and refreshed. Metallic fixtures and accessories such as taps, lighting, mirror frames and even drawer and door handles will give a luxurious finishing touch, turning the room into the perfect space for a bit of 'me time'.
3. Inject humour with a playful jungle wallpaper
The striking Leopard Walk design by Cole & Son would make a pleasant surprise for guests in a powder room and bring a luxurious feel. A Lonsdale basin on frame from The Water Monopoly contributes to the elegance. 
4. Embrace classic elegance with floral prints
An ornate, floral print wallpaper will bring a luxurious, feminine feel to a bathroom, especially teamed with glass and metallic accessories. This Darcy design in Aqua by Colefax & Fowler, with its beautiful metallic detailing, pairs perfectly with elegant glass wall lights and an antique gilt mirror to capture a refined, timeless look.
'From pretty and romantic to classic or contemporary, floral designs vary as much as the blooms themselves, but all have an evocative charm,' says Daniel Slowik, associate design director, Colefax & Fowler.
'Traditional florals imbue a room with a country-house feel, which has an associated romantic appeal. Balance them with simply styled furnishings to prevent the look from becoming overpowering. For example, a bold print on walls or as curtains could be offset by antique painted furniture so the room retains a calm air, or key colours in the pattern can be picked out and combined with other items in the room to create a harmonious, ordered feel.'
5. Choose classic white and blue color palette for a timeless, serene feel 
If you're looking for a color scheme that will stand the test of time you can't go wrong with blue and white. With their fresh, yet soothing feel they are a popular choice for powder rooms. With its sinuous, rhythmic design, Vanessa Arbuthnott's Up the Garden Path wallpaper in teal makes a great choice for walls; to add interest and create a homely feel add in mix and match fabrics in the same palette. 
See: Country bathroom ideas – family bathrooms and ensuites with a gorgeous rustic look
6. Add in elegant wall lights
Lighting is often overlooked but it one of the most important factors in creating a traditional powder room. A well-designing lighting scheme can transform the look and feel of a space and should include a combination of task ambient and accent lighting. Designing specifically for bathrooms, David Hunt Lighting's new Avon Butter Brass bathroom wall lights are both practical and extremely stylish, adding to the luxury of this room papered in Little Greene's Sakura wallpaper .
7. Choose traditional sanitaryware and fittings
Opting for sanitaryware inspired by historic designs will help give your powder room a traditional feel. Established in 1861, British brand Thomas Crapper continues to manufacture basins, taps, WC and cistern sets to archive Victorian designs, including the ceramic wall-mounted sink, and cast iron brackets and cast iron high cistern as pictured above. Made using the same time-honored techniques and quality materials, the fittings are durable and long lasting. 
8. Team vintage-style wallpaper and antique furniture to create an eccentric space
To create a quirky look to turn heads consider channelling a design inspired by the English country manor. Capturing a traditional hunt scene, Sanderson's Tally Ho wallpaper, combines with panelling in Farrow & Ball's Incarnadine shade and chequerboard floor in this cloakroom to make a head-turning, unique space. A vanity unit created by installing a modern sink in an antique marble-topped washstand makes an affordable and unique piece of feature furniture.
9. Turn heads with a botanical wallpaper
Botanical prints have endured across the centuries and see no sign of abating. There are a huge array to choice from, from delicate trails, to more graphic eye-catching prints. This Terrariums wallpaper by Sanderson would bring wow-factor to what can be a forgotten space. 
'Florals are a signature look for Sanderson. Capturing the wonder of nature, Sanderson's botanicals continue to bring the beautiful into people's lives, with new interpretations of classic designs combining modern country living with a timeless and undeniably British feel,' says Rebecca Craig, design manager at Sanderson
'Recently we've seen a real shift from greys and minimal uses of colour to the desire for dark grounds and multicoloured pattern – the perfect tonic for lifting the spirits and creating a more individual style.' 
10. Embrace quality furniture in natural materials
To create a traditional powder room that will endure across the years consider opting for high quality furniture and fittings. Pieces made from high quality, natural materials such as this Edinburgh undermount washstand from Neptune with its natural oak frame and solid marble top.
11. Introduce bespoke fitted storage
Boxing in the space under the sink is a brilliant way to introduce extra storage in a powder room. Opting for a traditional in-frame timber design bespoke to your room proportions will make the most of your space and should endure across the years. 
See: Cottage bathroom ideas – don't miss our dedicated gallery
Cream is a classic choice, but it can always be painted in different shades if tastes change. Try teaming with a marble top for that touch of luxury.