Country bathroom ideas – 30 rough-luxe bathrooms and ensuites
Relax in rural comfort with these beautiful country bathroom ideas, which combine natural elements with luxe design for a modern country look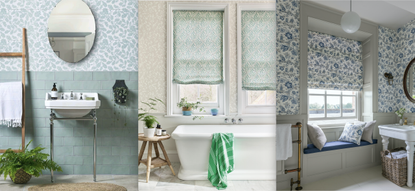 (Image credit: Future)
When you're looking for country bathroom ideas, take your cue from the property and its setting. For rural homes, that can mean considering any quirky angles and unusual proportions into account when planning the layout of the bathroom.
The best country bathroom ideas incorporate materials and textures that reflect the construction of the building, and also the rural views outside the window. So while you'll find luxe finishes and hotel-style fittings, wood, stone, plaster and paneling are all key features of a country bathroom.
We've put together tips and style advice to cover all bathroom ideas, from tiles and tubs to basins, showers and vanity units, from interior designers and experts to help you pin down the best look and layout for your country bathroom.
Country bathroom ideas – large and small
The beauty of the country look is that it works as well in a large family bathroom or master bathroom as it does in a powder room or guest bathroom. It's the details that define the look, from the style of the bath and choice of faucets, to the colors and patterns you bring in with blinds, wallpaper and accessories.
1. Bring in beautiful pattern
A beautiful floral fabric will immediately bring a country house feel to your country bathroom scheme. It's a look that works particularly well in an en suite bathroom, where you can carry through the decor from the bedroom to create a sense of connectivity between the two spaces.
Curtains and blinds can be a wonderful way to bring color, pattern and texture to your bathroom,' agrees Lee Clarke, Director of Warner House. 'Not only can they add drama, personality, and visual interest, but they can also bring warmth and a sense of coziness to interiors.'
The blind and wallpaper in this bathroom are the Les Pecheurs China Blue design from Warner House.
2. Combine paper with tile
Classical designs often top the list of country and cottage bathroom ideas because they suit period properties and rural homes so well. But that doesn't mean you can't refresh the look. Combining a bathroom tile and wallpaper in a soft pastel tone, alongside a period-style basin and bath, will add a contemporary update.
'Classical bathrooms have undergone something of a revival this year, as homeowners bring a touch of period style to their home,' says Barrie Cutchie, Design Director at Bayswater Bathrooms.
'We've also seen a few exciting twists to the classical look, with modern elements being mixed in to create a beautiful on-trend traditional space. It's a style that is perfect for country-style properties.'
3. Go bold and dramatic
The bathroom is the perfect space to set your wilder design ideas free. You may even decide they're so successful, they can roam to other rooms, too!
'If you're worried about bringing color into the bathroom, don't be,' insists Faye Foye from Burlington.
'Although they are often the smallest room in the house, bathrooms can take more adventurous styling. For example, dark walls, elaborate wallpaper, and bright or dramatically colored baths or basins help bring an authentic expression of style into these functional spaces.'
Dark bathrooms can be the perfect mix of light and shade, shine and matt, to bring character to your country styling.
4. Power-up a powder room
A tile mural that evokes the beauty of nature on a grand scale, a stunning wallpaper or an oversized mirror in a small space – elements like these can elevate a country bathroom, especially a small space like a powder room that can otherwise seem a design afterthought.
'Cloakroom rooms are an exciting design opportunity. They can be a true departure from the story of the house,' suggests Jennifer Morris of New York-based JMorris Design, who designed the powder room in the Kingston Design Showhouse in Kingston, NY. 'I want the space to be comfortable, thoughtful and visually stunning.'
5. Ensure privacy with a blind
A pretty fabric blind is more than a screen from prying eyes. It can filter light, add pattern and color, and bring softness to the hard surfaces of the bathroom.
Make your choice of textile an integral element of your country bathroom ideas, as it's always surprising how much space windows take up in a room – remember, your blind will be on show for much of the time.
Here, the block print from Jane Churchill works beautifully against the tonal wallpaper, providing a fresh pop of bathroom color and pattern.
6. Think big in a large space
When your room already has the wow factor, your choice of bathroom fittings and furnishings need to do it justice.
Here, a Swan Neck wall lights from Industville, a dramatically tiled floor, gleaming freestanding tub and twin basins are designed to work with the scale of the room and beamed ceiling.
The symmetry of this design, which takes its cue from the twin windows, can be replicated in a smaller room, where the ordered design will help to make the room look clean and uncluttered.
7. Install a colorful bathroom suite
While white sanitaryware will never go out of fashion, we're seeing a resurgence of colorful suites in bathroom ideas.
'There are a number of ways to inject color into a bathroom, regardless of your space or design confidence,' explains Burlington brand expert, Faye Foye. 'For those on the shy side, consider adding strategic pops of color through accessories, linens, or feature walls. This will enable you to test out your colour of choice without investing in a costly and disruptive renovation.
For the more daring decorators, opt for jewel-toned tiles, vibrant floors, or colorful bathroom fixtures. These elements will create a standout space for your master bathroom.'
8. Use panelling for a relaxed look
White wooden panelling and industrial-look black metalwork will add a characterful touch to your scheme, as shown in this bathroom design from NK Living, featuring lights from Industville.
'A classic monochrome scheme may be more associated with urban design, but this charming bathroom shows just how well it works within a more rustic aesthetic,' says Andréa Childs, Editor of Country Homes & Interiors magazine.
'Key details give it a more rural look. The aged mirror, wooden vanity, quirky accessories, plants and foliage, take it out of the city and into the countryside.'
Panelling like this works well when you're planning a beach bathroom, inspired by seaside living and bringing in nautical design details – the perfect match for a coast-meets-country aesthetic.
9. Pick the prettiest basin
A decorative basin will add a unique touch to your country bathroom ideas, especially when complemented with elegant brushed brass faucets and metalwork.
'Bold, vibrant and full of character, our Blue Marnie basin is well suited to country style interiors,' says Anna Callis, Founder and Designer, London Basin Company. 'Its joyful color palette of pinks, blues and greens is inspired by the natural world, helping to bring a sense of the outdoors. And its delicate floral pattern brings a botanical feel to the design.'
10. Add vibrant accessories
In an all-white scheme, introduce color, texture and pattern with bold accessories.
'This is a great way to update a timeless scheme,' says Homes & Gardens Stylist, Sara Bird. 'You could change rugs and towels with the seasons, bring in fresh flowers and foliage that changes week by week and month by month, and even switch up your soaps and bath products so the scents match the season or time of day.'
Some elements will stay constant in a country scheme – think rustic wood furniture pieces and natural materials.
11. Clad the walls
Wood panelling can protect walls from splashes, while giving a softer look than tiles. It provides an opportunity to add color to the bathroom, too.
In a small or awkwardly shaped room, paint the panelling a darker color and the walls above a lighter shade, or hang wallpaper. This will 'lift' the ceiling and appear to open up the space – as shown in this beautifully designed powder room from California-based interior designer, Kate Lester.
Toning the color of the panelling with the flooring will give a sophisticated finish.
12. Coordinate the bath and cabinet colors
Painting the side of your bath, or its surround, then matching the color with bathroom storage will bring a cohesive look to your country bathroom ideas – and is a trick the experts use when planning their schemes. It works particularly well in a country home, as you can choose the paint shade to complement the age and style of your property, and its rustic setting. This deep and restful tone is a classic if you're looking for grey bathroom ideas and inspiration.
'This bathroom was in need of total renovation, giving the opportunity to re-work the layout and make the most of the space,' says Alfie Guard, Designer at Ripples. 'By repositioning certain elements, we were able to incorporate a large walk-in shower and integrated seating area, as well as a stunning roll-top bath which the eye is drawn to as soon as you walk through the door.
'While the overall look is luxe and contemporary, we added a couple of design elements to nod to the property's Victorian heritage, including the traditional towel rail and vanity unit. The brushed gold brassware brings the look together perfectly.
13. Add character with wallpaper
Outsized floral wallpapers are wonderfully nostalgic and visually soften the hard surfaces of a bathroom. Modern ventilation standards and improved paper quality means the danger of peeling is vastly diminished.
If you're still concerned, follow the lead of this bathroom by using panelling to keep wallpaper safely above the splash-zone.
'One of the greatest advantages of choosing classically shaped sanitaryware is their interesting silhouettes,' adds Charlie Williams, Interior Designer at Heritage Bathrooms. 'Pitched alongside patterned wallpaper, the curves and details really stand proud.'
14. Make architecture the feature
When architectural features such as beams cut across your bathroom, use them to help define the space and dictate the position of sanitary ware and services.
Here, a shower is tucked into an awkward corner, leaving the rest of the room free for the basin, bath and toilet.
The natural wood has been sanded back to give a paler finish that would suit a country coastal property. Driftwood wall art, plus soft cotton accessories and baskets from The White Company, continue the theme.
Add tumbled flagstone flooring and a hand-carved stone basin for extra layers of texture and interest.
15. Match the tub to the size of your space
A freestanding bath is a classic in country bathrooms, and can feature in a smaller ensuite as well as a larger family space.
'With careful planning, even small bathrooms can play host to a freestanding bath' says Phil Etherden, managing director at The Albion Bath Company. Our compact Tubby Too design is available in three lengths – all comfortably deep – and looks just as elegant positioned against a wall as it does in the middle of the room. Combine with one of our overhead shower systems for day-to-day practicality'.
16. Highlight your layout with tile
Shower rooms are often tucked at the back of the bathroom out of the way, but they can still make an impact. Placing bathroom floor tiles in an unstructured format is a brilliant way to achieve a softer, more fluid injection of color – and add modernity to a country bathroom.
Here, tiles from Bert & May are carried vertically and horizontally, drawing the eye into the room and putting the shower firmly in the spotlight. Hexagonal tiles are ideal when connecting two materials. Pair pattern with plain to really emphasize shapeliness.
The undulating design creates a stunning backdrop for the bathroom suite – here, a mix of contemporary and period-style sanitary ware from BC Designs.
17. Choose aged brass fittings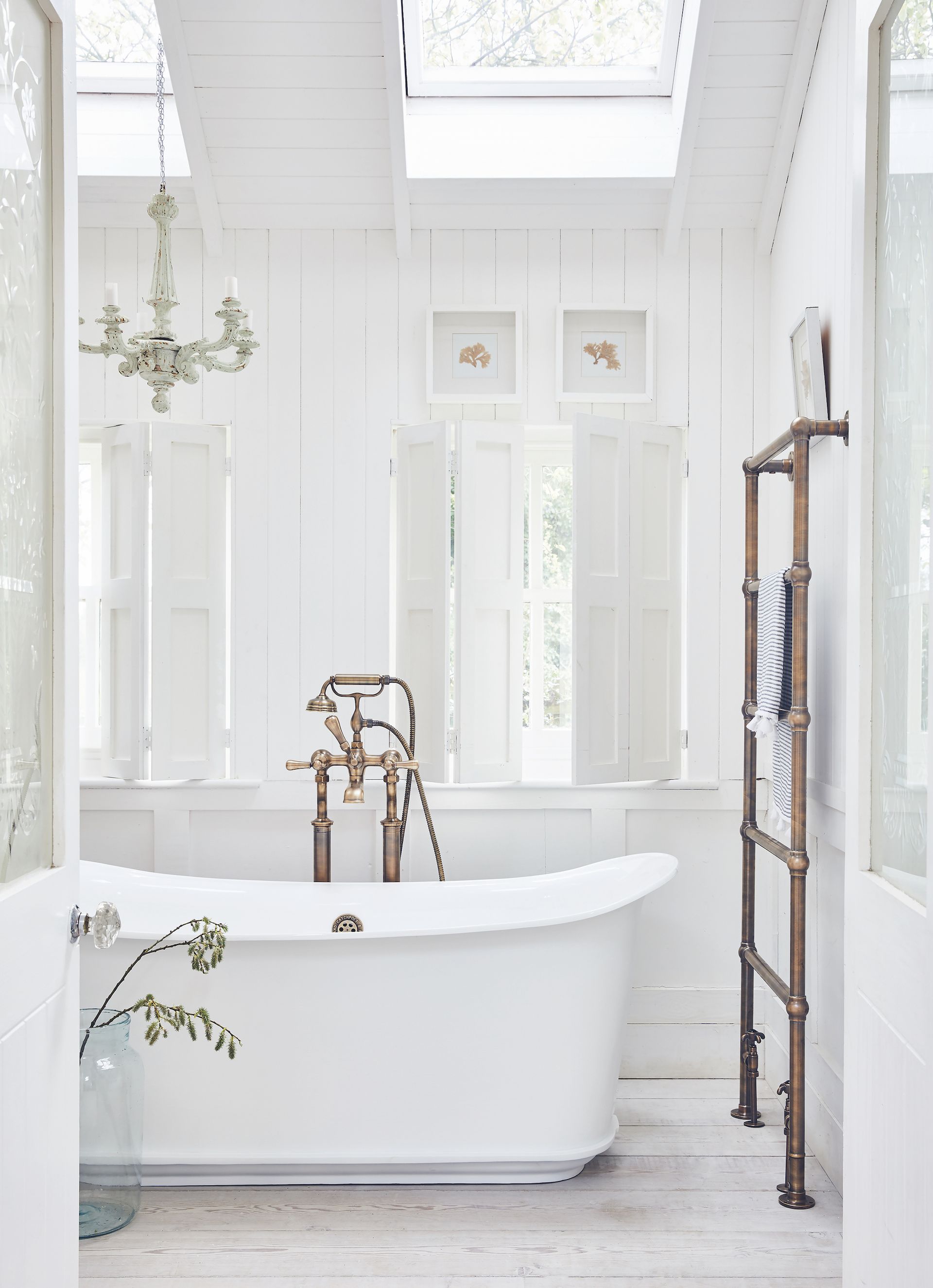 Create an instant vintage look without the wait for your country bathroom via aged brass fittings. The finish replicates patina that has built up over time and will add natural warmth to the coolest of bathrooms.
If you want the aged effect to stay arrested in time, go for a lacquered finish. Unlacquered taps will continue to burnish during use, going darker where you touch them most as the metal reacts to the natural oils in your skin.
Here, aged brassware from Catchpole & Rye stands out beautifully against a clean white backdrop. Notice how the white has a shaded tinge – this works well in country cottages, as it is softer than brilliant white and a little more authentic. Slaked Lime by Little Greene is a similar off-white
18. Add a curtain and a comfy chair
Flashes of vintage print will always look decadent in a country home, and the bathroom is an ideal place to be brave with bolder patterns. 'A show-stopping shower curtain can be all it takes to bring a pop of Technicolour flair to a classic bathroom,' enthuses Jamie Watkins, Co-Founder of Divine Savages.
In this bathroom, belonging to Collette Vernon of The Vintage Trader, a blush pink velvet armchair continues the color story, while providing a comfortable place to lounge after a soak.
The chequered floor beneath the bath makes a bold statement but is also linked color-wise to the shower curtain, which helps to prevent a potentially jarring pattern clash.
19. Create a lighting plan
A country bathroom in a period property may feature small windows or be shaded by trees outside, making the room darker than desired. In the early planning stages, it is important to get placements right, including light sources.
'The most overlooked part 
of planning a bathroom is all the different types of lighting needed,' says Marketa Rypacek, managing director at Industville. Ensure you have overhead lighting, as well as task lighting around the mirror. Consider where natural light comes into the space and remember that 
all bathroom lighting needs an appropriate IP rating.
20. Consider a wet room
While a wet room may be a more expensive option when designing a bathroom, it can be a worthwhile investment. It creates a seamless look that makes the shower area an integral part of the space and will give your bathroom a luxe, rustic vogue finish.
The main cost is tanking to make the area waterproof but the result is a roomier space, as you don't need a closed-off shower enclosure. Instead, you can have the same flooring throughout and a frameless shower screen 
to contain splashes without feeling too restrictive.
Here, the bathroom design is by Katie McCrum, featuring walls clad in smooth MicroCrete. Taps and shower, Waterworks. Flooring, Cement Tile Shop
21. Line the walls with reclaimed wood
This stunning bathroom has been installed in a renovated barn that links to a thatched stone cottage in Oxfordshire that dates back to the 1530s.
It is owned by interior designer Bee Osborn, who has combined classic detailing with a modern country aesthetic. In the bathroom, reclaimed wood from an old schoolhouse clads the walls and brings a Scandinavian feel to the space.
'The extension has such extraordinary proportions that bring a contemporary elegance,' says Bee. 'The en-suite bathroom links to the main bedroom. Both clad in reclaimed wood, the modern-rustic main suite has added a touch of boutique hotel-style glamor.'
The stainless steel bath is from BC Designs. Tapware, Crosswater. Petrified oak stool, Studio Osborn. Wall lights, Porta Romana
22. Scale up your suite
A larger country home is your opportunity to indulge in a suitably fabulous bathroom space.
'To achieve a real sense of grandeur, products should be on the larger side. It's your opportunity to show off, so splash out on the extras – traditional country décor is all about the detailing, on coving, dados, sanitary ware and lighting,' says Yousef Mansuri, Head of Interior Design at CP Hart.
'The most iconic feature of a traditional bathroom is still the classic cast iron freestanding bath, and if you're really going for high impact, make it the centrepiece of your room,' he adds. Yousef recommends doing this by literally positioning the bath centrally in your space, but if the bathroom layout doesn't comply try crowning the bath with a statement mirror or chandelier above.
23. Make the most of the view
In this country home, interior designer Henriette Von Stockhausen kept everything simple yet elegant, and using heritage-style fittings was key. 'No bathroom trends, just classic detailing combined with antiques,' says Henriette.
'The view here is stunning so we raised the platform to make the most of the vistas across the gardens while at the same time making installing the new waste pipes much easier.'
The reclaimed wooden floor was crucial for adding warmth in the high-ceiling space. 'The most important thing for me in any bathroom is to make it feel like a room. I love to add art, rugs and curtains, just as you would anywhere else in the house,' adds Henriette.
This is the Aurelius Slipper Bath, from BC Designs. Traditional Bath Shower Mixer, Perrin & Rowe. Imperial Astoria Deco Large Basin Stand Chrome with Astoria Deco Large Basin, Imperial Bathrooms. Design by VSP Interiors.
24. Reinvent Victorian style
Tap into the Victorian era's love of decorative detailing for a country bathroom with added period glamor.
This collection by Burlington echoes the prettiness of antique wrought iron but, made from aluminium, is far more practical. 'Go for a simple monochrome scheme to ensure ornate fittings remain timeless,' suggests Faye Foye, Marketing Manager, Burlington. 'You can also take it in a more contemporary direction by combining with on-trend dark painted walls.'
Don't forget the impactful presence of a high-level cistern. Perched on elegant filigree brackets, a traditional cistern can turn this bathroom staple into the main event.
Carrara marble top basin washstand, wall lights, mirror, high-level WC and cistern, Bateau bath: all Burlington.
25. Add gold accessories
In this serene modern country bathroom, traditional tongue and groove panelling is given an elevated look when paired with gold accessories.
'If there is one room that needs a little luxury, it's your bathroom,' says Louise Ashdown, head of design at West One Bathrooms. 
She recommends using wall-mounted furniture to keep floor space clear and sticking to a neutral palette 
if you want an elegant spa-like finish. 'This helps avoid breaking up the room with different colours, which will make it feel boxy,' she explains.
And don't be shy of adding 
a little glamor – it's these brushed gold fittings that really make this bathroom shine.
26. Make a practical bathroom look pretty
The perfect family bathroom combines practicality with an attractive look that fits the decor of your country home.
Here, a small area of traditionally patterned tiles gives the bathroom a fabulous heritage feel. At the same time, it defines the shower area and elevates an otherwise neutral space without unsettling the sense of balance and calm.
'Natural materials, like wood, are the perfect backdrop for busier heritage patterns,' adds Mark Findlay, Founder of luxury vinyl flooring company Harvey Maria. 'Pale coastal tones, with lots of knots and grain, work beautifully to create an elegant, rustic feel.'
The floor shown here is realistic wood-effect vinyl, which is a more practical option near a walk-in shower and offers excellent grip for wet feet.
Likewise, a centrally placed bath makes it easy to reach and look after little ones at bath time.
27. Add storage with a vanity unit
'Choosing a bathroom vanity unit comes down to storage preferences. Go for 
a large cupboard style for towels and cleaning products or one with 
smaller drawers for make-up,' says Ellis Dean Odey, creative designer at Catchpole & Rye.
With its distinctive bow front and marble counter, this beautiful handcrafted piece has a stylish French look. 
Use it as a starting point for your decorating scheme and build your 
look around it with traditional sanitary ware.
Make 
sure you choose a vanity unit that will not overcrowd your bathroom. You should be able to open and close cupboard doors and have 
free passage around the room.
Wood, preferably from a sustainable source, 
is a great option as it's hardwearing, will 
cope with changes in room temperature 
and humidity, and if you want a different 
look down the line, it could be painted.

For their practical but opulent feel, marble 
and stone tops are both lovely choices.
28. Zone your bathroom space
When you're redesigning a country bathroom, it's worth reconfiguring it into zones. You could have the shower and bath on one side, with the basin and loo on the other, so that someone could pop in and brush their teeth while you're doing bath time with the kids, for example.
'Choosing 
to have a wet room can actually be hugely beneficial when wanting a bath to sit in the same space,' says Sally Cutchie, marketing manager at BC Designs. 'If you opt for a painted bath, use exterior eggshell paint as this is extra durable around water,' she adds.
29. Turn up the drama with tiling
Play up the contrast between period country architecture and modern graphic pattern with a tiled wall that adds wow to the bathroom.
'We felt this house could take strong shades and pattern,' says homeowner. 'So we felt confident to choose bold tiles from Bert & May for the bathrooms that were playful and fun. The tiles are reflected in the mirror opposite, bringing a hint of pizzazz to the plainer side of the room.
30. Lay down a rug for colour and comfort
In this farmhouse bathroom bolthole, wooden floorboards are topped with a colorful striped rug for comfort. Panelling and wallpaper in complementary tones create a wraparound feel that adds to the air of coziness.
Painting the bath tub a bold orange shade and adding the bright green stool really makes this room stand out and will be sure to brighten every morning.
What tiles should I have in my country bathroom?
How you decide to use tile in your bathroom depends on the size of your room, its shape, and whether you want a modern country look or a more classic aesthetic.
'Wall-to-wall tile can bring a luxe look to a bathroom, and it can work in a country scheme when it's balanced with natural and patinated materials such as wood and warm metallics,' suggests Andréa Childs, Editor of Country Homes & Interiors magazine.
'For a more relaxed look, opt for a tile backsplash behind the bath and basin, so that you can decorate the walls around with paper or paint. This often works well in a quirky or period property, where uneven walls or beams would interrupt the smooth finish of a tile wall.
'Use tile to bring texture, color and pattern into your country bathroom ideas. The artisan touch of a hand-glazed tile, or the undulating surface of a clay design, will bring charm and character to your room.'
What ideas work for a small country bathroom?
You can have a big vision when it comes to small bathroom ideas – in fact, it can be even more necessary to be creative when it comes to your design.
'There are a few tricks that interior designers use to trick the eye into believing a room is larger than it is,' says Andréa Childs, Editor of Country Homes & Interiors. 'Matching large-scale floor and wall tiles, plenty of natural light, minimal frames around screens and mirrors, and a pale color palette should all be in your style toolkit.'
Clever bathroom storage ideas are key to making the best use of space. 'And think about repurposing furniture for a unique look that fits your space – a side table can be reinvented as a neat vanity, or bathroom shelf ideas can create another elevated surface area to store toiletries and accessories,' suggests Andréa.
Andrea has been immersed in the world of homes, interiors and lifestyle since her first job in journalism, on Ideal Home. She went from women's magazine Options to Frank. From there it was on to the launch of Red magazine, where she stayed for 10 years and became Assistant Editor. She then shifted into freelancing, and spent 14 years writing for everyone from The Telegraph to The Sunday Times, Livingetc, Stylist and Woman & Home. She was then offered the job as Editor on Country Homes & Interiors, and now combines that role with writing for sister title homesandgardens.com.