Shower curtain ideas – 10 designs that will instantly upgrade your bathroom
Shower curtains don't always conjure up thoughts of style, but we beg to differ...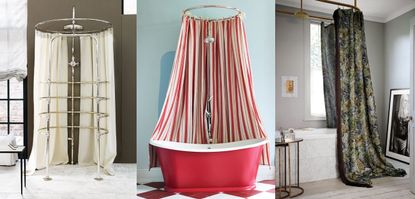 (Image credit: Future)
Sign up to the Homes & Gardens newsletter
Decor Ideas. Project Inspiration. Expert Advice. Delivered to your inbox.
Thank you for signing up to Homes & Gardens. You will receive a verification email shortly.
There was a problem. Please refresh the page and try again.
The best shower curtain ideas do more than just shield your floor from an endless spray of water. A good shower curtain will add luxury, flair and sophistication to just about any bathroom.
Plastic shower curtains that hindered due to their skin-sticking nature years ago may have given you the thought of never wanting to have one ever again. However, thankfully, they have evolved – and there are some stylish options available that will enhance your shower experience and not bring back bad memories.
Shower curtain ideas
We've sourced 10 shower curtain ideas that will not only do the job they're designed for, but will add texture and color to your walk-in shower ideas.
1. Create interest with a unique design
'Minimalism is useful for your shower and wet rooms in terms of keeping the space fresh, clean, and tidy. As we're focusing on self-care, mindfulness, and being more kind to ourselves, however, incorporating some luxury and fun in this domestic epicentre is well overdue,' says color expert, Annie Sloan.
Frills and ruffles are back on trend as we hanker after nostalgic decorative shower room ideas and bathroom trends. 'Adding a luxurious frill, a sumptuous swag of beautiful fabric will bring joy and color and make the space feel more indulgent, secluded, and spiritually restorative – without needing to get the builders in.'
2. Use a shower curtain for privacy
Not only does this design create an ethereal feel, it also provides privacy from the window (that has no window treatments whatsoever) and does its job as a shower curtain.
It adds fluidity to the overall modern bathroom scheme too, the rest of it is quite structured – from the herringbone floor and wall tiles to the angular lines of the basin unit, all within a pretty long and narrow space.
3. Introduce a nautical element for monochromatic scheme
Use a shower curtain to add a subtle softness, as shown here, in this tailored Maestri Studio designed bathroom.
The rest of the traditional bathroom has a lot of straight lines – from the rectangular basin and square wall tiles to the hexagonal floor and square shower rail. The shower curtain is the perfect antidote to a structured space – and it works well to create a contrast whilst adding a nautical element.
4. Instil classic good looks in a traditional setting
Reminiscent of a Victorian bathroom, this timeless look offers everything from this bygone era. The shower curtains are the perfect length for the bath. Plus, the white fabric beautifully links the rich green wall with the painted bath.
We also recommend playing up to the symmetrical element when choosing a shower or designing a wet room. Symmetry creates balance and a feeling of calm when used in interior design – and while it is wonderfully elegant in large rooms, it can also create a feeling of enhanced space in smaller rooms, and those that are very busy, such as bathrooms, too.
5. Use a shower curtain to frame a bathing area
Shower curtains can essentially be a normal pair of curtains depending on the space. In this farmhouse style bathroom, which is in the eaves of the house, this gathered pair look charming. Not only is it rustic and charming, they offer a cozy sanctuary in which to have a bath in – and there's enough height to stand up and use the shower too.
Minimalist color scheme like creams, whites and soft browns are best to achieve the farmhouse bathroom style but don't be afraid to experiment with rich greens and blues, which can add character to you space.
6. Combine vintage with contemporary
Combine modern and vintage elements in your wet room for an eclectic look that truly sings out. Forgo the need for tradition, and embark on creating an aesthetic that works for you. Here, the circular design contrasts beautifully against the straight lines of the space, and the chrome works splendidly with the marble bathroom floor tiles.
7. Match it to the rest of your scheme
Unlike bathroom paint ideas, re-tiling a bathroom can be costly and a hassle you won't want to have to repeat often, so it's important to choose a design that you won't tire of too soon and will last you for years to come. Once you have chosen the perfect design, why invest in a shower curtain to match? The shower curtain picks up the colors and adds an illustrative design to the rest of the scheme.
8. Evoke a sense of grandeur in a modern bathroom
Thanks to the desire to create a sanctuary at home, the bathroom has become a retreat, a private oasis to help restore mental wellbeing. With this comes a move away from clinical style. For maximum impact, invest in a shower curtain that is very bit as decadent as the owner.
Choosing a shower curtain is one of the few times you can go as bold as you like – and we dare you to do just that. Shower curtains can be changed out in minutes, unlike bathroom wallpaper or tiles. With that in mind, the possibilities are limitless.
9. Play with pattern
From wood finishes to tropical patterns, natural beauty has long been a strong interiors trend, but animal prints in particular have found new popularity in recent years. Fierce and exotic, big cats are the most glamorous creatures in the 
animal kingdom, so no wonder we're adopting their spots and stripes 
this season.
Leaping into homeware too, there's a touch of the feline on everything from furniture to flooring, but consider taking it to your shower curtain for a look that can be easily changed with each trend.
10. Make a statement with a bold color scheme
This bold hue is often considered a daring choice for interiors, but used creatively it can introduce a welcome burst of energy and flamboyance. In this bathroom color scheme, pale aqua makes a wonderful backdrop for vibrant accents of red-and-white that have been given a light-hearted, theatrical note using stripes on the shower curtain.
How can I make my shower curtain look good?
Your shower curtain needs to fit in with the rest of your scheme, so it enhances it, rather than distracts. It's a misconception that it needs to be made from thin plastic these days, you can use linen, cotton or a thin voile and it will give the same results. If you scheme is plain then choose a design that has a print or texture on it so it becomes a statement piece. At the opposite end of the scale, for a bathroom that is 'busy' it can be subtle and elegant.
What can you use instead of shower curtain?
If we haven't managed to convince you that shower curtains can be fabulous, then other options include glass doors – they don't offer privacy, but do keep the spray from the shower in one place. Some have bypass doors which work brilliantly in small bathrooms or they could have hinges if your space is larger.
Sign up to the Homes & Gardens newsletter
Decor Ideas. Project Inspiration. Expert Advice. Delivered to your inbox.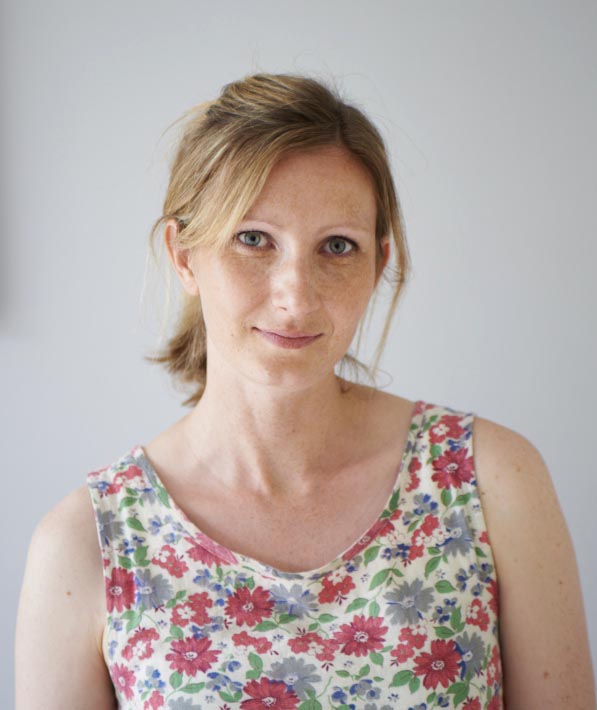 Sophie has been an interior stylist and journalist for over 20 years and has worked for many of the main interior magazines during that time, both in-house and as a freelancer. On the side, as well as being the News Editor for indie magazine, 91, she trained to be a florist in 2019 and launched The Prettiest Posy where she curates beautiful flowers for modern weddings and events. For H&G, she writes features about interior design – and is known for having an eye for a beautiful room.