Stylish wet room ideas – stunning wet room bathroom designs for your home
These wet room ideas will add a truly grown-up, spa-like showering experience to your bathroom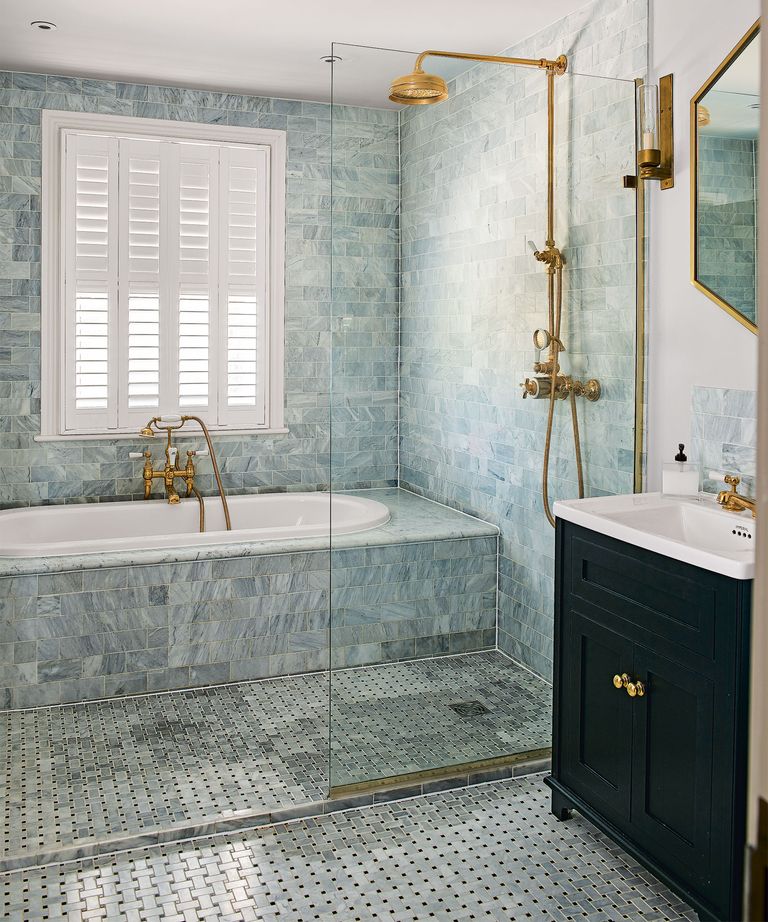 (Image credit: Future)
These wet room ideas open up the opportunity for contemporary creative design, without the need to squeeze in a shower enclosure or raised shower tray.
A wet room can be a real luxury at home, even when the space you have to work with is limited. Try thinking along the lines of colorful floor-to-ceiling tiles, built-in seating and sleek, concealed pipework. 
A true wet room without any panels provides you with more room to move, and an open-layout is easier to keep clean than a regular shower. 
However, wet rooms are a big project to take on when it comes to bathroom ideas. The tanking process to ensure your room is completely watertight can be a significant upheaval, not to mention costly, too. 
You may want to weigh this up against the longevity of the space, as a wet room's seamless design makes it a great option for accessibility and future-proofing your home for years to come.
Wet room ideas
Stealing a little bit of extra space can transform your bathroom with luxury proportions. Wet rooms are becoming increasingly desirable, and they're a great way to add value to your home.
1. Pick the right sanitaryware 
'If you are embracing the full wet room look and omitting any sort of enclosure or screen, it is fundamental to think about your choice of sanitaryware, as it is likely that it will get wet from the spray of the shower or the condensation in the room,' advises Rebecca Milnes, designer at CP Hart. 
'Opt for ceramics that are flush to the wall and are ideally wall-mounted. A wall-hung toilet is a brilliant choice in a wet room, as there are no areas for water to pool and it makes cleaning easier.'
2. Play with the illusion of space
Using matching tiles or composite panels on both floors and walls is a good idea for wet rooms and small bathrooms as it will accentuate the sense of space. 
Create areas of color, and even patterns using mosaics or tiles in a variety of formats, to give definition to your shower space, or mix shapes, sizes and shades for a unique look.
3. Fake it
If you are not able to create a true wet room, the latest ultra-low profile shower trays are a clever alternative.
A frameless shower enclosure will give any bathroom a modern, seamless feel and create a contained area for showering without the need for a separate cubicle. 
Paired with a low-profile shower tray, these walk-in shower ideas with frameless, clear glass panels help to make even the smallest of spaces feel less claustrophobic and therefore a more calming showering experience.
4. Find the right tile
Smaller bathroom tile ideas like mosaics are a great choice for wet rooms, as they're easy to lay in a slope towards the drainage hole. 
Alternatively, a mix of metro and patterned tiles create a cool and contemporary appearance.
5. Enhance the floor factor
Flooring is one of the most important factors when planning and developing a wet room. 
Most bathroom flooring types can accommodate the pipes needed for drainage in a wet room – even concrete. But in some instances, the flooring will need to be taken up before tiling takes place to ensure the drainage pipes can be positioned with the necessary slope for the water to drain away.
6. Turn a loft space into a wet room
There are so many advantage to having a wet room. 
You can create a more impressive shower room design in an average-sized bathroom simply by removing the bath and freeing up the space needed for a walk-in shower. For instance, if you have a loft space, consider installing a wet room here.
7. Create a spa-like sanctuary
Estate agents are quick to point out that a family home without a bath will be less saleable, but there are creative wet room ideas with baths you can explore. 
If space allows, the bathroom can be turned into a spa-like sanctuary with a bath, vanity unit and smaller wet room-style cubicle. 
If your bathroom is on the small side, then use the same material to clad your whole space. A strong stone, like marble, is a stylish option.
8. Take a seat
Add built-in seating to your wet room for a sauna-like experience. Complete the look with a large rainfall showerhead, then simply sit back and relax.
A wood look can offer a holistic spa-like experience, but you'll need to ensure any timber is treated so that it's suitable for a wet area. Or you can mimic the look with tiles. Just make sure they have a non-slip treatment and are comfortable to sit on.
9. Let the light in
If you are creating a new space for your wet room, you will need to think about light sources during planning. 
The best bathroom lighting ideas feature at least two lighting circuits – one for overhead lighting and another for adjustable mood and task lighting. Where you place these will depend on any natural light sources, too.
10. Install a space to rest and recharge
When considering how to choose a shower for your wet room, Paul Bailey, Senior Category Manager at GROHE UK, says: 'Features such as steam, sound and chromotherapy through built-in lighting modules are increasing in popularity, due to growing demand for spa and wellness inspired bathroom spaces.'
Are wet rooms a good idea? 
There are lots of benefits to having a wet room – from being able to utilise a small or awkward space where a bath or standard shower enclosure cannot fit, to future-proofing your home.
Estate agents are quick to point out that a family home without a bath will be less saleable. But there are creative options you can explore. For instance, if you have a large master bedroom, consider installing a freestanding, statement tub here for a dash of hotel chic.
'Investing time and money into creating a wet room and properly tanking it can also be incredibly useful when it comes to busy family bath times,' says Paul Bailey, Senior Category Manager at GROHE UK.
The main drawback is the investment and upheaval a wet room project brings, mainly due to the fact that all wet room ideas require proper tanking. 
'One other point worth noting is that wet rooms can get quite cold, because there's no enclosure to keep the steam in,' adds Yousef Mansuri, head of design at C.P. Hart.
How small can a wet room be?
While wet rooms are not limited to incremental sizing, most bathroom designers would recommend that the showering section of a wet room measures a minimum 800 x 800mm. 
When planning a shower design for a small bathroom, there are a few aspects which may determine the space required. Will pipework be exposed or concealed? Do you need to install a glass panel to prevent other areas of the room from getting wet?
Don't forget that adequate ventilation must also be installed in line with building regulations to prevent mould and damp spots.
Get the right layout for a wet room
'In a wet room, the shower area is flush with the floor level and the drain is fitted into the fully tiled floor. Originally wet rooms were completely open without any glass partition. However, a simple fixed glass panel creating a walk-in shower area is a much more practical choice and has become the most popular trend,' advises Rebecca Milnes, designer at CP Hart.
'Wet room systems are not limited to incremental sizing, like shower trays often are, so they are a great solution for awkward or tight spaces. 
'In small rooms it is possible to turn the whole area into a walk-in shower. However, it is best to be mindful of the items in the bathroom that need to be kept dry, such as towels and toilet rolls.
'One of the first things to consider when planning a wet room is where to position the drain. Ideally the drain should be as far away from the bathroom door as possible, to minimise any risk of water escaping the room. 
'If you have a wooden sub-floor, the way your joists run is crucial to where your drain can be positioned. You'll also need to think about which way the gradient fall towards the waste will run, to avoid any tricky wedging effects.'
What's the difference between a wet room and a walk-in shower?
'A true wet room is a fully waterproofed space without a fixed shower door or tray, and usually has an open tiled shower area,' explains Nicholas Cunild, managing director of Matki.
A walk-in shower, on the other hand, is an area in a bathroom or shower room with a low-level shower tray and glass surrounds. While completely watertight, you may still wish to include a glass panel in a wet room to contain the water spray.
Is a wet room expensive?
There's no doubt that a wet room is an investment. The tanking process to ensure the room is completely waterproof can be costly and takes time. All wet room ideas involve tiling the space from floor to ceiling carefully while ensuring proper drainage. 
Concealing pipework can also be an investment, though this can often allow recessed shelving and storage to be created as an additional benefit.
What kind of costs are involved in a wet room?
It is never cheap to re-do a bathroom. In a family bathroom with two basins, a WC, a bath and a shower, quality items will easily add up to £5,000. 
Installation adds a further £3,000 or so and, with cabinets and storage, good quality mirrors, tiles and lighting, it generally adds up to between £10,000 and £15,000.
Do I need a special extractor fan in my wet room?
The build-up of moisture and condensation is greater in a wet room than in a traditional bathroom. Fans operated by light switches alone often aren't effective enough. 
A good fan needs to be wired into the room (still coming on with the light switch) but with a separate cut-off switch, which is outside the room. Humidity-tracking extractor fans are best for wet rooms as they work continuously and incrementally, with automatic extraction for how much steam is in the room.
Pick the right wet room flooring
'When deciding which wet room system to go for, think about what your sub-floor is made of. There are systems for both solid and wooden floors. If you have a concrete floor, it can be quite invasive to channel in a waste and create the gradient fall required for drainage,' advises Rebecca Milnes of CP Hart.
'Forgoing a shower tray in favour of a wet room allows the floor tiles to run through to the shower area, which adds visual space to a room. However, not all surfaces are safe to use in a wet room setting and it is crucial to know what the slip rating of the material is. I'd recommend using a material with a structured, textured finish to give extra grip in wet areas. Mosaics are also a great choice for wet areas, as the grout lines between the tiles give appropriate grip.
'In cases where a step-up to the wet area is needed, the step should be at least 10cm high, as anything lower can be easily overlooked by those not familiar with the room and can become a trip hazard. Adding under-plinth lighting can highlight the step and add ambiance to the room.'
Tanking a wet room
'Tanking is essential in a wet room,' says Rebecca Milnes. 'This is a multi-step process which entails several layers of waterproofing to ensure an excellent seal – much like a swimming pool. 
'The two main approaches for tanking a wet room are using a self-adhesive bitumen-based waterproof membrane, or applying a paint-on liquid wall membrane. It is always best to speak to your supplier about the best system for your project.'