How much does it cost to install a wet room? All your questions answered
Get expert advice and top tips wet room installation costs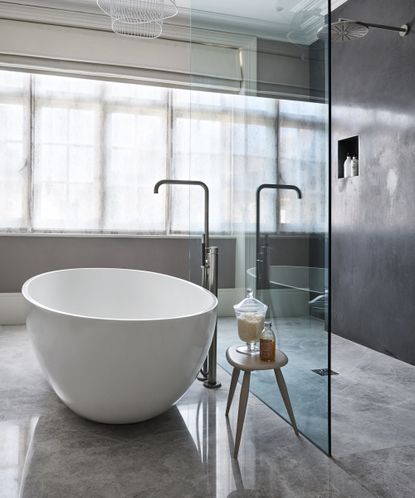 (Image credit: Future / Davide Lovatti)
Sign up to the Homes & Gardens newsletter
Decor Ideas. Project Inspiration. Expert Advice. Delivered to your inbox.
Thank you for signing up to Homes & Gardens. You will receive a verification email shortly.
There was a problem. Please refresh the page and try again.
Wet room installation costs are somewhat more unknown to seasoned bathroom renovators, but this room is becoming an increasingly popular commodity in a busy family home, thanks to its practicality and durability.
Chris Scott, Joint MD, Mascot Bespoke, says: 'Wet rooms are now a staple feature of most luxury developments and refurbishments. Well-travelled clients, often time-poor, are looking to recreate that five-star luxury hotel spa experience within their own homes.'
So how much does it cost to install a wet room? As with all other bathroom ideas, installation costs for wet rooms really depend on how much reworking of pipework is needed, whether new drainage needs installing, the awkwardness of the configuration of the room, and its size, fittings and finishes.
Chris says: 'The key to success when designing and installing a wet room is ensuring that you have the basics right. While choice of tiles, vanity units and taps may be the exciting tactile elements of the scheme you notice once the work has been done, its actually the less inspiring items that sit behind the scenes that will inform the end look and feel of the wet room.
'For a true wet room experience, it's preferable to avoid using a shower tray and instead tile your whole wet room, floors and walls. Over time, grout and silicone will inevitably fail, it's therefore key to ensure that you have the correct waterproofing system in place, which is laid on-top of the under-floor heating system and can be tiled directly onto.
'Adding this layer does increase the cost in the short term, but pays dividends when you're not having to pay for repairs to other rooms in the home as a result of water damage.'
We've tapped top bathroom experts to explain the costs of installing a wet room in your home below.
How much does it cost to install a wet room?
Nick Cryer, founder of Berkeley Place, has installed many wet rooms during renovation projects. He says: 'On average we would expect circa $11,000 (£8,000) to $18,000 (£13,000) for a medium-sized wet room, compared to say $8,000 (£6,000) to $14,000 (£10,000) for a similar traditional bathroom.
'Overall, we would say the wet room is worth an uplift in cost. We would expect a 20% to 30% uplift for a wet room over a traditional bathroom. Most of this uplift relates to the preparation work associated with waterproofing the area. Some additional ventilation may also be required and, any radiant heating installation needs to be better planned.'
Gemma Holsgrove, associate director at interior design agency Sims Hilditch, suggests even higher. 'I would anticipate a wet room costing anything between $20,000-$40,000 (£15,000-30,000) depending on the size and level of specification.'
Average costs to install wet room components
Wet rooms can be costly. Nick Cryer says: 'Wet room installations are more specialist, more time consuming and more expensive. All the materials and kit is very readily available, however, we recommend only experts are employed to complete the installation.'
Discover how much each wet room stage might cost below. Remember that prices will vary depending on the size of the room, how complicated your wet room ideas are, and level of finishes that you choose.
Fittings: Generally if you have a joisted floor, the tray can be set flush (depending on joist positions). However, if it is a concrete floor you will need to raise the tray. Jo Sangster, senior designer at Ripples Bathrooms, says: 'Trays and waterproofing can range between $800-$1,400 (£600-£1,000) depending on size. The bigger you go the higher the price! A lot of suppliers will also offer options for trays that can be made in bespoke sizes and waste positions.' Gemma Holsgrove, associate director at Sims Hilditch, says you can expect to pay anywhere from $11000 (£8,000) to $20,000 (£15,000) for higher end finishes.
Tiles: Ripples' Jo Sangster says an average cost for tiles is anywhere between $70-$140 (£50-£100) per square meter. She adds: 'When choosing tiles for use within a wet room tray these will need to be anti-slip. You also need to consider the size and I generally suggest not too large or too small. Smaller tiles generally have more anti-slip properties however there are more grout lines. I usually like to design wet floors using the same tile across the whole bathroom floor.' Gemma Holsgrove suggests putting aside $2,000-$5,500 (£1,500-£4,000) depending on size and finish.
Drainage and plumbing: The task of tanking (also known as waterproofing) is the process of adding an extra layer of protection between the walls and floor and the tiling or flooring you use in the wet room. According to Gemma, you'll need from around $2,700-$4,000 (£2,000-£3,000) for plumbing. Jo says: 'Don't forget to consider the drainage position based on your shower glass and shower head. Ideally not directly below where you are standing and as far away from the entrance to the shower as possible.'
Labor: 'There is more labor involved when fitting a wet floor as it requires extra tanking and cutting the tiles to the fall of the tray, however the finished look is well worth it!' says Jo. Put aside anything from $700-4,000 (£500-£3,000) for tiling, depending on the size of the room.
Are there any hidden wet room costs to consider?
When browsing walk-in shower ideas, you may have noticed that many of the surfaces are hard – and therefore cold and unwelcoming. Therefore, you may want to add underfloor heating to your wet room for added luxury.
Jo says: 'I believe underfloor heating is a must when fitting a wet floor tray. This can go all the way underneath the tiles in the shower so it helps to dry up water and create a much more pleasant showering area with warmth underfoot and help to combat any damp in the bathroom.'
Chris Scott, Joint MD, Mascot Bespoke, says many people are extending underfloor heating to walls, too, adding: 'Another consideration is how you will heat and vent the space. It's no longer uncommon for clients to extend their underfloor heating systems to cover the walls of a wet room as well as the floor. This luxurious option helps keep the room at a perfect temperature but also speeds up the rate at which the tiled walls dry. Ideal for maintaining clean grout lines and a less soggy space. '
Costs for this will vary: electric underfloor heating is easy to install under tiling in an upstairs room – you can buy underfloor heating mats that are simply wired in by an electrician to your mains. If you are completing a more dramatic renovation of your entire house, and particularly on the ground floor, it is possible to have wet underfloor heating which is connected to the boiler just as radiators are.
Are wet rooms worth the added cost?
Wet rooms are worth the added costs, particularly if you are looking for small bathroom ideas for a second bathroom or en suite.
'The finished look of a wet room is always fantastic and really finishes off a space, in particular if you have an open walk-in shower,' says Jo Sangster of Ripples. 'Of course there are alternatives on the market with many new products and tray types that can also be set flush to floor, however this will still create a divide across the bathroom and will usually make the space feel smaller.'
Sign up to the Homes & Gardens newsletter
Decor Ideas. Project Inspiration. Expert Advice. Delivered to your inbox.
Ruth Doherty is an experienced digital writer and editor specializing in interiors, travel and lifestyle. With 20 years of writing for national sites under her belt, she's worked for the likes of Livingetc.com, Standard, Ideal Home, Stylist and Marie Claire as well as Homes & Gardens.