Bathroom lighting ideas – 12 designs to brighten your space
These bathroom lighting ideas will inspire you to transform your bathroom lighting scheme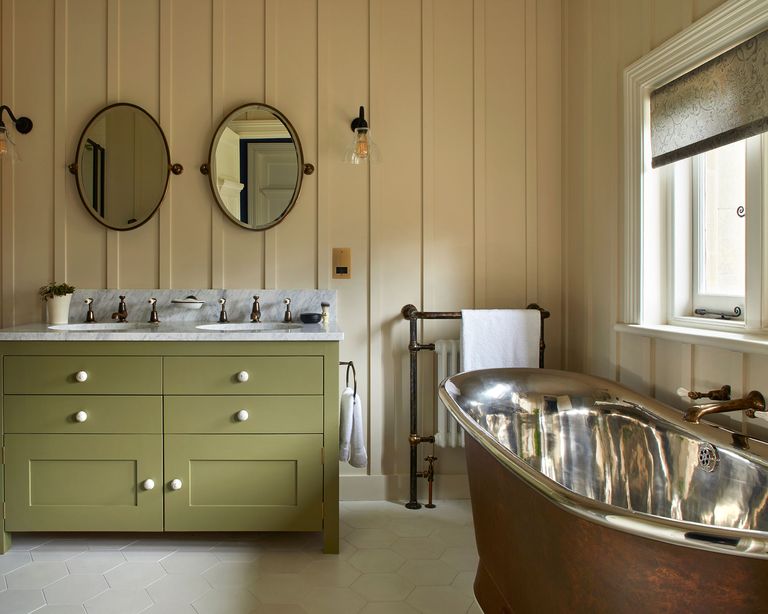 (Image credit: Bert & May)
Smart bathroom lighting ideas are an integral design element that should be planned at the start of a project.
When it comes to bathroom ideas, whether you like contemporary, traditional or somewhere in between, fittings are built into the very fabric of the room, providing not only bright, general light to help with tasks such as shaving, but also ambient light for mood, which may involve a number of applications. 
Here, we focus on the best bathroom lighting ideas and offer expert advice on how you can get the balance of beauty and practicality just right.
Bathroom lighting ideas
From overhead lighting with luxe looks to practical vanity lighting, and ideas for more decorative bathroom lighting, this advice-packed list will help you find the best options for your room.
1. Balance practicality with mood-creation
As with any design problem, the best way to start is to analyze the space, its properties and how it's going to be used. Most bathrooms can be easily split into zones: the vanity area, the bath, and the shower. 
Task lighting is generally concentrated around the vanity. Here, you need bright light but think about installing spots or LEDS in vertical rows down the side of mirrors as opposed to above, to give a more flattering light with less shadows. 
In compact areas, look at mirrored cabinets with integral lighting as a simple but effective solution.
'Be it your ultimate spa-like sanctuary or a busy family bathroom with a fresh, crisp feel, good bathroom lighting ideas can make a small bathroom seem bigger and a large bathroom feel more intimate. 
Layers of light, on dimmers and separate circuits, will allow you to switch between bright light needed for cleaning and softer levels for a relaxing mood,' says Sally Storey of John Cullen Lighting.
2. Be smart with spotlights
Bathroom lighting can have a massive impact and should be planned early to ensure all key fittings are illuminated properly. Aim for sufficient task lighting in the shower and vanity areas, plus ambient lighting around the bath and in alcoves and niches. 
'The general light in a bathroom is usually provided by recessed downlights. Rather than positioning them in the ceiling in a central grid, decide on the features you wish to highlight and locate the downlights accordingly,' advises Sally Storey. 
'Instead of lighting the middle of a shower, for example, it's better to light the wall to accentuate its role in the design and make the shower space seem bigger.'
The latest smart lighting controls allow pre-programmed settings. Look out for wireless lighting controls, which are installed without cables and can oversee thermostats, security and audio, if desired.
3. Go for a luxe look
Statement lighting is having a moment, and whether you opt for oversized or crystal, all-out glamour is the way to go. This bespoke bathroom ceiling lighting idea from Spark & Bell will take your scheme from zero to hero in an instant.
4. Light up a vanity
With the correct lighting, your room can take on different looks throughout the day, night and seasons. In most rooms, you'll likely need several types of lighting, as one central light source won't do every job. 
This is easily achieved through light layering, where you make use of different types of light sources in each room to suit your needs. 
Don't overlook wall lights either. Downlighters especially have become very popular, with an array of different styles, that are perfect for illuminating your bathroom vanity ideas or for adding interest and ambience to a focal wall.
'It is important to illuminate the mirror and your face with task lighting. A light source on the left and right sides of the mirror, such as two decorative wall lights, will create a shadow-free, flattering light, useful for putting on make-up or shaving,' says Sally Storey.
5. Integrate lighting into the ceiling
Bathroom lighting has to work on many levels. Think about how you will use the bathroom at different times of day. 
You want your bathroom to be bright and functional in the mornings, especially around the mirror area, but you also want to be able to wind down in the evenings with a nice relaxing bath. 
Fairly bright lights pointing in all directions make this a bathing space that is perfect for relaxing soaks with no danger of dazzling beams. Reccessed walls and ceilings are great for hiding spotlights and LEDs.
6. Mix materials for character
The latest innovations mean that you don't have to completely overhaul a scheme in order to make a difference. This quintessential English style has been rejuvenated without losing its classic appeal thanks to this industrial light fixture.
'Effective lighting can transform your home, defining space, highlighting design schemes and creating atmosphere and interest. Consider materials and function. 
Bone china gives a gentle, ambient glow, prismatic glass exaggerates and intensifies light, while aluminium and other metals bring a more industrial flavor and greater visual impact,' says Peter Bowles, MD, Original BTC.
7. Install a large pendant
Gone are the days when lighting was seen as a means of seeing in the dark. Like the best art or furniture, it can totally transform a home and is a good starting point for a design scheme.
Don't be afraid to go big. It takes a little bravery, but you can afford to use larger lights than you might at first think sensible. Big chandeliers, drum pendants and giant floor lamps are all very much in vogue for those who like their lighting to make a statement.
8. Evoke a spa-like atmosphere
Strategically placed mood lighting is the secret to creating a soothing bathroom that's as indulgent as your favorite spa. Start by working out how you use the bathroom. 
If you're a bath person, focus on atmospheric bathroom lighting to create ambience near the bath. Waterproof light fittings can be added inside the bath and shower, creating a luxurious spa effect as they shimmer through the water.
'Use light effects at different levels to introduce layers of illumination. For example, if the bath is in front of a window, you might choose to light the windows with two miniature uplights with one narrow beam downlight over the tub,' says Sally Storey.
9. Keep bathroom lighting hidden
Have your mood lighting recessed within cabinetry and niches, so you can't see the source. These lights must be designed for bathroom use and IP rated according to proximity to water. Your lighting designer and electrician will be able to advise. 
LED bathroom lighting ideas, which are 50-90 per cent more energy efficient than halogen, are best and available in multiple guises, including uplighter, downlights and LED ropes.
10. Make a statement
Once a big no-no safety wise, low-slung pendants and statement chandeliers now come in bathroom-friendly designs. It is wise to select designs made from moisture-resistant materials like chrome, lacquered brass and nickel. Fabric shades are prone to mildew.
'Regulations require bathroom lights to have different levels of IP (Ingress Protection) rating, denoting water resistance, depending on how close they are to wet areas defined by zones.
Choosing fittings with the correct IP rating according to the zone where they will be used,' says Sally Storey.
11. Create drama with a bold fitting
While overhead lights are often used only occasionally, most designers consider them essential. 
'I use them to bridge the gap between floors and high ceilings,' says Deborah Bass, founder of Base Interior. 
'Because ceilings are a blank canvas, unlike floors, pendants help to link a whole space together,' adds designer Lee Broom, who also uses them to zone different areas. 
While not seen as the most atmospheric light source, they can make a space feel cosier, argues Siobhan Kelly, associate director of David Collins Studio. 'A ceiling in shadow flattens a room.'
12. Choose antique style fittings for glamor
Bathroom lighting ideas should be decorative too, and are a wonderful way to give your bathroom character. 
Choose fittings that match other accessories within the room, but choose a bulb color that complements them. Some modern LEDs, for example, give off a very stark, white light that's very practical but can make a bathroom feel cold. Warmer light tones are more welcoming.
What is the best lighting for a bathroom?
A successful plan will combine three types of lighting: ambient, to illuminate the space; task, for specific functions; and accent, for a special touch. 
Sally Storey, Design Director of lighting specialist John Cullen, advises that when it comes to bathroom ceiling lights, positioning is key.
AMBIENT LIGHTING
The overall illumination tends to be provided by downlights in the ceiling. Positioning is key. Rather than having a regular grid of downlights, use them to create feature and focus. 
Consider installing a row of two or three at the back of the shower or bath, instead of over the centre, so the shafts of light create an effect almost like running water down the wall. The light will also reach the extremities of the room, creating the feel of space.
TASK LIGHTING
This is particularly important as a mirror used for shaving and applying make-up. The best way to illuminate your face is with wall lights on either side of the mirror or backlights all around. Dowlighting can accentuate a statement basin, but is less flattering and will also create unwanted shadows.
ACCENT LIGHTING
Consider fixing a linear light source to the underside of a vanity to provide an even, soft effect and give the impression of a floating unit. 
Recessed uplights can highlight a feature wall, shutters or a free-standing bath. Put wall lights on one switch, downlights on another, and feature lights on a motion detector so that they can double as nightlights.
Do I need a certain light for a bathroom?
Be aware that you may need certain light for a bathroom, as there are strict regulations to follow. You must ensure any lighting products are certified for use in the bathroom, with an IP rating appropriate to the zone it's located in.
How do you light a small bathroom? 
To light a small bathroom, it's best to start by analyzing the space, its properties and how it's going to be used. 
Most bathrooms can be easily split into zones: the vanity area, the bath, and the shower. Task lighting is generally concentrated around the vanity. Here, you need bright light but think about installing spots or LEDS in vertical rows down the side of mirrors as opposed to above, to give a more flattering light with less shadows. 
In compact areas, look at mirrored cabinets with integral lighting as a simple but effective solution.
Offering far more than mere practicality, a good lighting scheme is a decorating tool in its own right, offering an easy way to transform your home. 
Light can make a room feel larger and airier. It can also play with proportions and disguise less favorable aspects and, of course, it can radically change the mood, running the spectrum from dramatic and enlivening to soft and relaxing. 
'Well-planned lighting can make a room look larger or a basement bathroom feel as if it is above ground,' says lighting designer and Design Director at John Cullen, Sally Storey.