Bathroom chandelier ideas – 10 ways to add opulent lighting to your wash space
From decadent crystal fittings that drape above the tub, to stylish contemporary chandeliers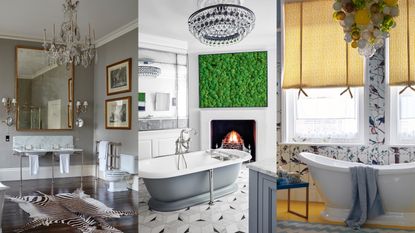 (Image credit: Drummonds/Studio Indigo/Brent Darby/Simon Brown)
Sign up to the Homes & Gardens newsletter
Decor Ideas. Project Inspiration. Expert Advice. Delivered to your inbox.
Thank you for signing up to Homes & Gardens. You will receive a verification email shortly.
There was a problem. Please refresh the page and try again.
Looking to add a little luxury to your wash space? Bathroom chandelier ideas are an excellent way to bring glitz and glamor to your much-deserved long soak.
Adding a statement ceiling light to your bathroom ideas has myriad benefits: not only do many chandeliers help diffuse light gently around the room in a relaxing way, they also help to add a high-level, luxurious focal point to a bathroom.
'A chandelier in the bathroom elevates the whole scheme,' says Barbara Sallick, Co-Founder and Senior Vice President of Design at Waterworks. 'That one element can take the space from purely functional to high-design, while also signaling the style you want to achieve. It instantly establishes a modern or traditional vibe, or something in between.'
Of course, when fitting any bathroom lighting fixtures, you'll need to be sure your chosen fixtures are correctly IP rated, meaning that they have been certified as safe to use within a certain 'zone' of the bathroom.
Bathroom chandelier ideas
To help you add a glimmer of decadence to bathrooms big and small, we asked the experts to share their favorite bathroom chandelier ideas, and brought together a host of inspiring washspaces to hold a candle to.
1. Location, location, location
When considering bathroom lighting ideas, the question is as much 'where' as it is 'what'. Thinking carefully about where you position your chandelier in the room can have a huge effect on its visual impact.
'A chandelier can look great in the middle of the room, or centered over a bathtub to give your space a focal point,' says Sallick. 'Just be sure to check with the electrician to make sure your light fixture is placed at a proper height and distance from the bathtub.'
While hanging a large chandelier over the tub is a grand gesture of luxury, it can be tricky to do safely. Centring a fitting – as done in this room, where
2. Balance a bottom-heavy bathroom
While thinking about bathroom ceiling lighting ideas may involve a lot of looking up, don't forget about what is down below.
'The primary elements in a bath, including the bathtub, sink, washstand or vanity, all occupy the bottom half of the space,' explains Sallick. 'Pendant lights or a chandelier add interest to the upper half, and help to balance the room by drawing the eye up.'
If your bathroom has high ceilings or is particularly visually heavy in its lower half – as in this example, where blue paneling further pulls attention downwards – a dramatic, eye catching chandelier is the perfect remedy.
3. Keep it in proportion
'As simple as it sounds, your choice of bathroom chandelier all depends on the size of your bathroom,' says George Holland, design expert at Victorian Plumbing. 'If you have a larger bathroom, use the space available and opt for a more extravagant chandelier. If you have a smaller bathroom, keep it on the smaller side to make the best impact.'
In this bathroom, a spectacular spherical chandelier works perfectly in the open space, balancing a large bathroom with its volume. Suspended over the bathtub, it has two lives in the decor as it is reflected in the full wall mirror also, which serves to make the room feel even larger.
4. Choose a style appropriate to your overall design
Had your head turned by the latest bathroom lighting trends? By all means, take note of in-vogue chandelier styles, but not at the expense of your overall scheme.
'You need to select a light that is appropriate to the style of your space,' says Sallick. 'It is not appropriate – nor would it look good – to have a traditional candle chandelier in a sleek modern space. The language of design all needs to be compatible.'
In this bathroom, a home with traditional architecture has been updated with modern inflections throughout, including a contemporary sputnik chandelier.
5. Chandeliers aren't just for big bathrooms
While bathroom chandeliers largely conjure visions of sprawling rooms with freestanding tubs and double vanities, there is no reason why you can't use them to add a little glamour to a smaller space.
In this example, a mother of pearl chandelier adds casual elegance to a small powder room, its white beads bringing brightness and fun to the dark-grey painted room.
6. Create drama with mood lighting
'I like to add drama and atmosphere to a bathroom in order to make it more of a room, not just a functional space,' says Henriette von Stockhausen, Co-founder and creative director, VSP Interiors. 'I therefore often add art, interesting lighting fittings, furniture and, when appropriate, even fireplaces. When adding a chandelier to a bathroom, always put it on a dimmer.'
As well as adding visual drama to a space, ensuring your chandelier is fitted with a dimmer switch means you can easily create an atmosphere with dim lighting, perfect for a relaxing soak.
7. Choose a chandelier that doubles as a work of art
Chandeliers come in many shapes and forms, from classic crystal candle styles, through to contemporary sputnik arrangements.
If you want your chandelier to be so much more than a light fitting, choose an unusual design that doubles as a work of art and really steals the show amid your bathroom decor, great for bathroom ceiling ideas.
In this room, a blue and yellow color scheme is given spectacular focus through the use of a blow-glass chandelier – made up of baubles in gold, green and white – which hang dramatically over the tub.
8. Combine a chandelier with other light fixtures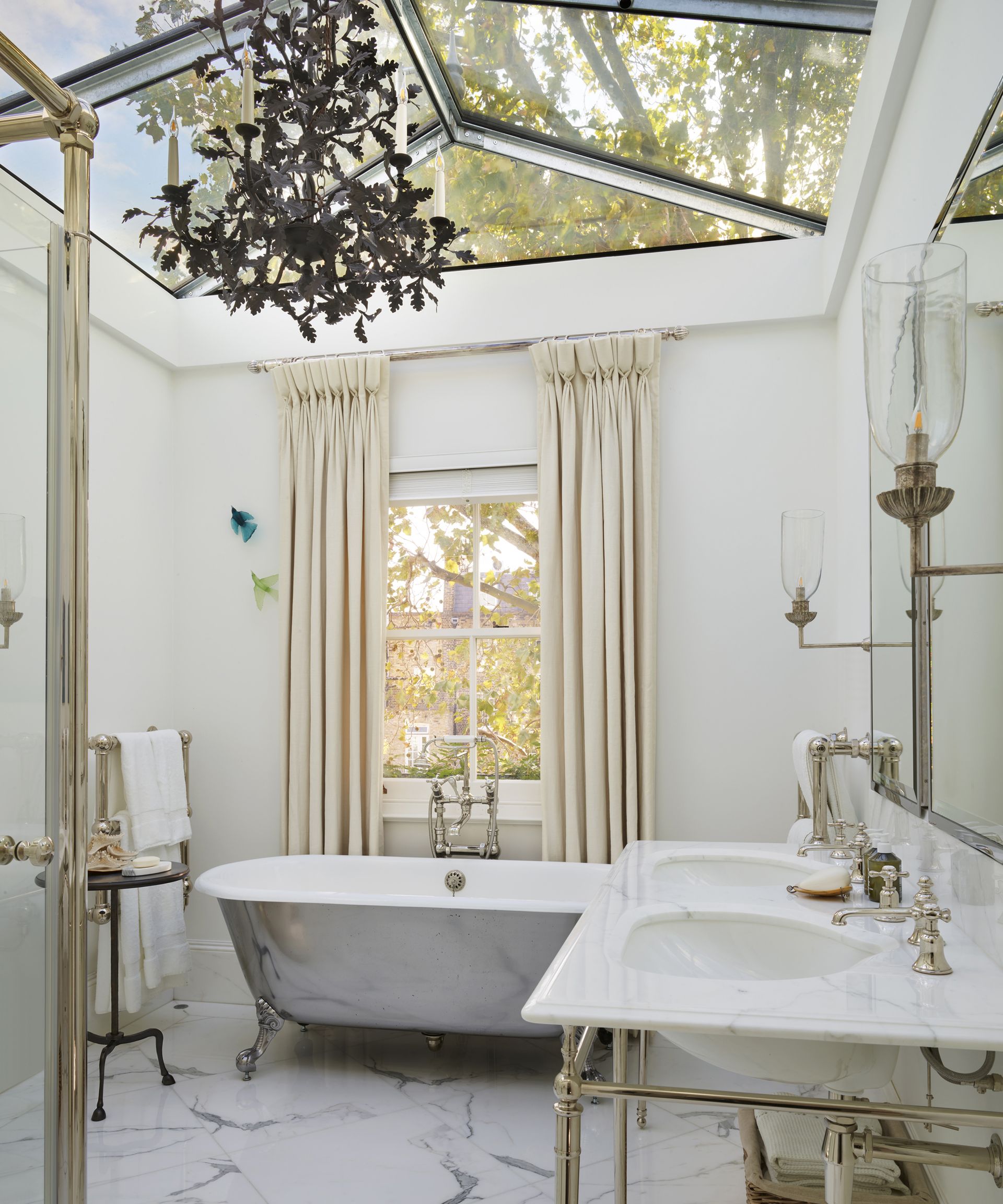 Just because you've already implemented LED bathroom lighting ideas into your scheme, it doesn't mean you can't have a chandelier too.
'It's important in a bathroom to have light from a variety of sources, for different functions and moods,' says James Lentaigne, Creative Director at Drummonds. 'These could range from spotlights on areas you want to highlight, to wall lights with a dimmer to alter the mood day to night. If you are going all out for glamor, you can't beat a dramatic chandelier.'
9. Mix your finishes
Does your dream chandelier differ in metallic finish to the rest of your bathroom? No matter, says Sallick. 'I love mixing finishes; brass and nickel, bright chrome and matte nickel, copper and brass,' she says. 'There are many choices and any of them work, depending on your wall, floor and cabinetry treatments.'
In this grand bathroom, the nickel-like dark metal of the crystal chandelier is echoed in the wall light fittings, while a brighter chrome is used in vanity, towel rack and bath fittings by Drummonds. For a dash of warmth, gold frames the mirror and the artwork.
10. Mirror patterns in your decor
Your bathroom chandelier should be at one with the rest of your decor – to really ensure that happens, think about mirroring shapes and lines from it across the design scheme. In this example, the elegant swirls of the crystal chandelier's branches are echoes in the Rococo-style wallpaper border, which even features beading motifs, tying the whole upper level of the room together with ease.
Can I put a chandelier in the bathroom?
A bathroom may not be the first room in the house you expect to see a chandelier – but who wants to be predictable?
'Chandeliers tend to work better when placed in larger rooms to provide the space with a luxurious feel,' says Holland. 'They can, however, look particularly impressive when installed in bathrooms and hung from high or vaulted ceilings.'
There are of course safety considerations you need to make when installing any electrical fitting into a bathroom.
'Just be sure to keep it 8 feet above the top of your tub or at least 3 feet away from its edge,' says Holland. 'It's also really important that the chandelier you choose has been designed specifically for use in bathrooms and has an adequate IP rating for the bathroom zone you are installing it in. We would also strongly recommend contacting a qualified electrician to install the bathroom chandelier in the safest possible way.'
How do I choose a bathroom chandelier?
Once you are sure you are looking at bathroom chandeliers that are sufficiently IP rated and safe for use in the bathroom, the world is really your oyster.
'There's no exact formula for selecting the right size or finish for a chandelier or pendant,' says Sallick. 'That said, you don't want to overwhelm a small room with a giant chandelier, or under-size a light for a large room. The height and slope of the ceiling also factors into the size and style of a light you choose.'
Be sure to think about materials that are hardy enough to withstand humid environments. 'For bathrooms, it's best to avoid chandeliers that have fabric shades as these can quickly develop water spots and start to fade,' says Holland.
Sign up to the Homes & Gardens newsletter
Decor Ideas. Project Inspiration. Expert Advice. Delivered to your inbox.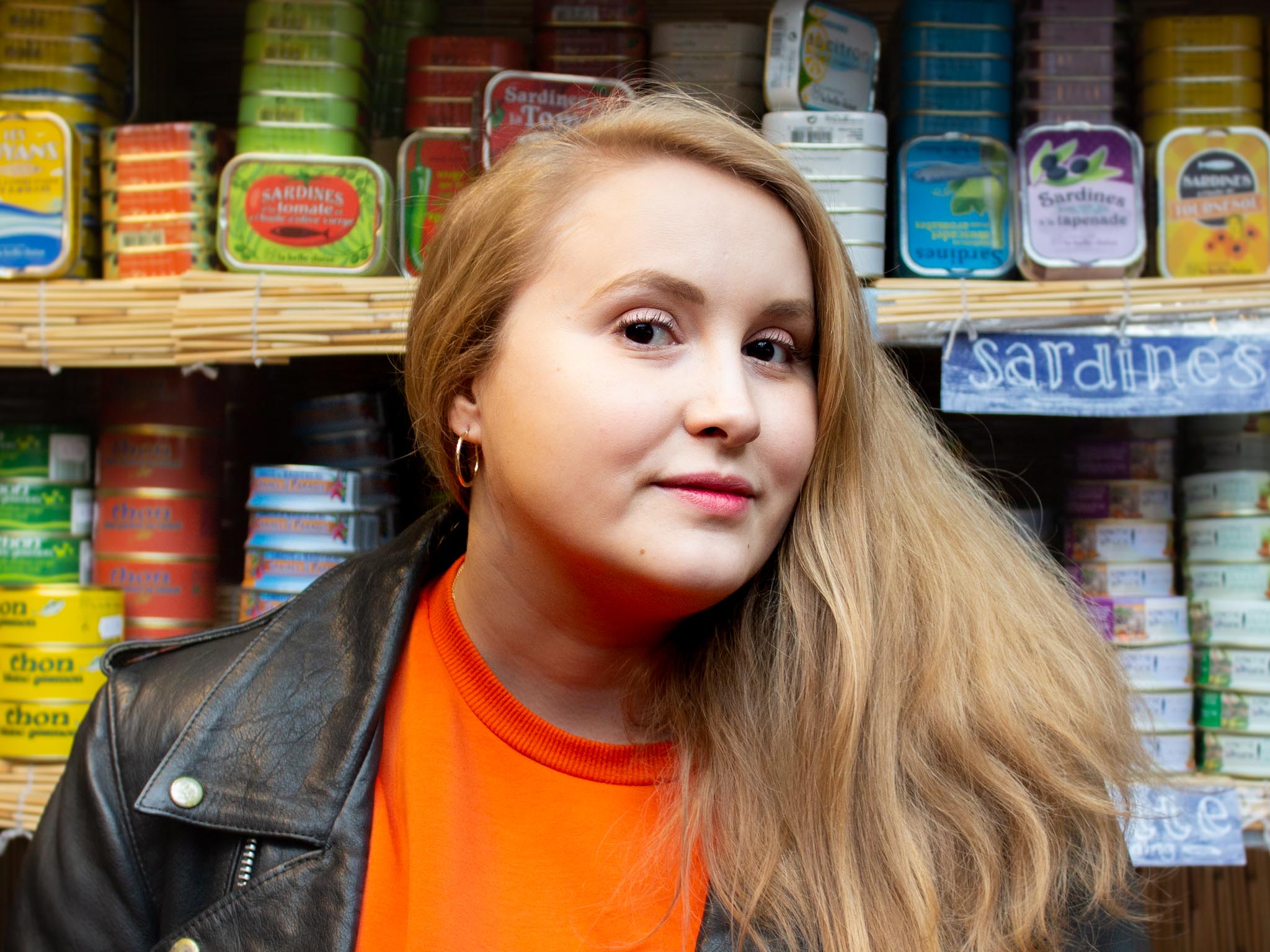 Ailis started out at British GQ, where a month of work experience turned into 18 months of working on all sorts of projects, writing about everything from motorsport to interiors, and helping to put together the GQ Food & Drink Awards. She then spent three years at the London Evening Standard, covering restaurants and bars. After a period of freelancing, writing about food, drink and homes for publications including Conde Nast Traveller, Luxury London and Departures, she started at Homes & Gardens as a Digital Writer, allowing her to fully indulge her love of good interior design. She is now a fully fledged food PR but still writes for Homes & Gardens as a contributing editor.