LED bathroom lighting ideas — ways to keep your bathing space light and bright
LED bathroom lighting ideas are long lasting and energy efficient, and they can do so much more than just brighten your bathroom.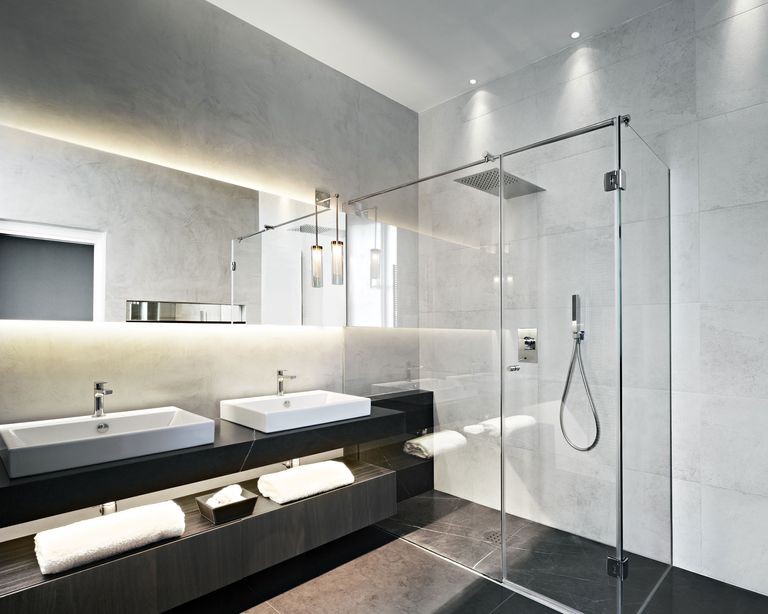 (Image credit: John Cullen Lighting)
LED bathroom lighting ideas are the go-to in most homes, as they are both energy efficient and long-lasting.
LED lamps use an incredible 85% less electricity than a conventional bulb and are calculated to last 22 years if used three hours each day.
You will find LEDs in a wide range of formats, from tiny lightweight lamps on a flexible strip to directional spotlights and replacements for conventional lamp fittings and fluorescent tubes.
The reason they are a great option when it comes to bathroom ideas is because they are easy to integrate into a control system, creating a responsive layered lighting scheme that takes a bathroom from bright on the darkest morning to spa-like relaxation by night.
'Good bathroom lighting ideas can transform the look and feel of a bathroom and this is because lighting is an integral part of the design of the room,' explains Chris Jordan, Managing Director at Christopher Wray.
So consider the lighting at the start of your renovation and have the lighting plan finalised before the bathroom is installed.
Beautiful yet practical LED bathroom lighting ideas
1. Flood the space with soft, indirect light
Employing smart bathroom ceiling lighting ideas and washing the walls with light gives softer illumination and can highlight a leading feature, such as a stone wall or statement bath.
This softer, indirect light is also useful for subduing glare. After all, who wants to be in the full beam of a spotlight while soaking in the tub?
2. Keep it on the down low
'Consider low level lighting, such as uplights, behind a bath to emphasize its form. Or low-level lighting, such as our Sirolo floor wash, to wash light across the floor, giving a sanctuary or spa-like feeling,' advises Luke Thomas, Design Director at John Cullen Lighting.
'Make sure everything is dimmable and that you have the flexibility of having a couple of different circuits as well.'
3. Layer your light sources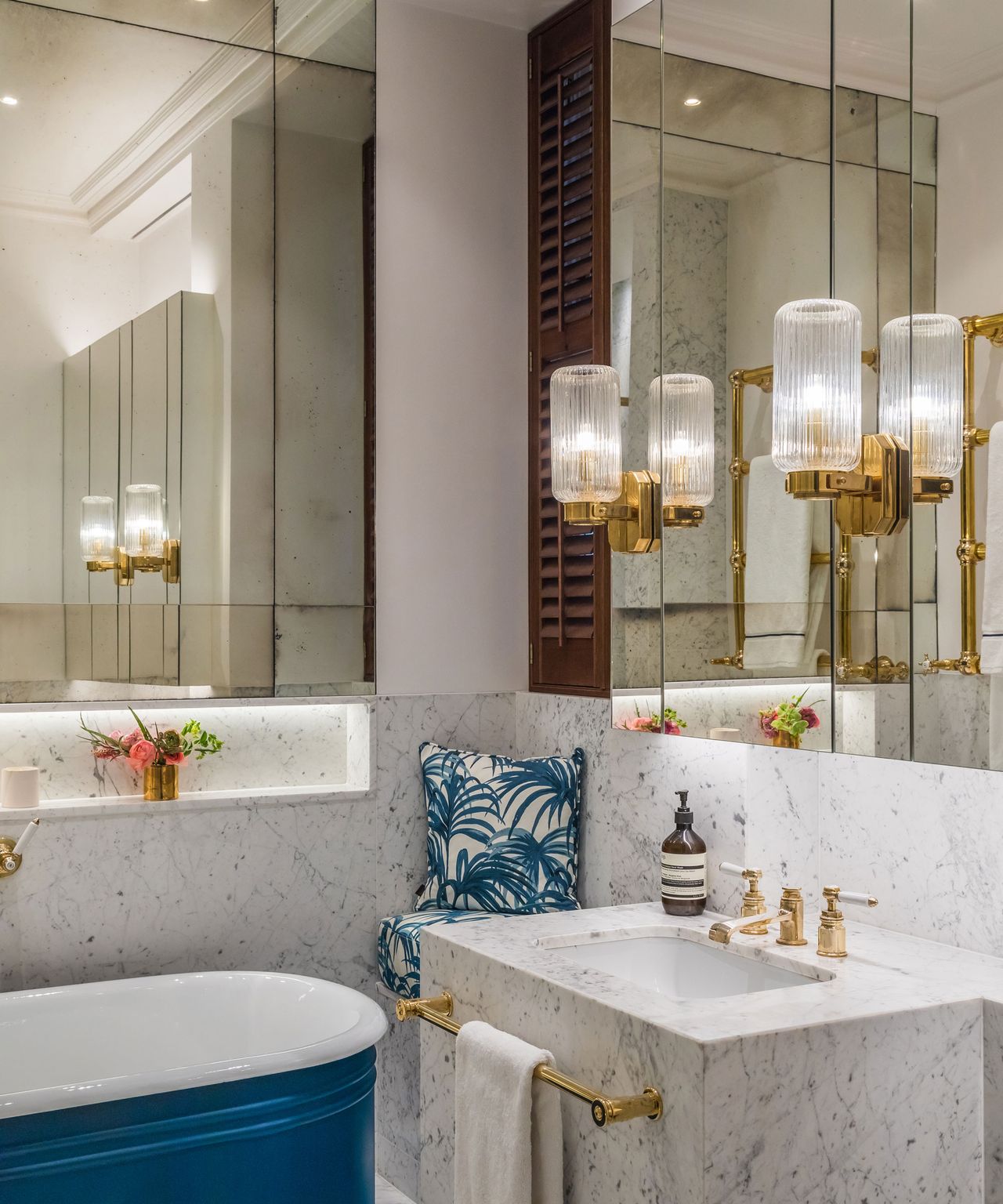 Using smart small bathroom ideas can open up the space. A large expanse of mirror will not only help boost size but can amplify light levels, too.
This bathroom by Barlow & Barlow, using Drummonds fittings, has a layered approach with small ceiling spots, uplighters and downlights washing across walls and LEDs in the niches to create a restful, sophisticated scheme.
4. Use it to highlight and pull focus
In long narrow rooms, lighting can be used to lead the eye through the space.
This bathroom by Lighting Design Studio has several zones but the eye always finds its way through thanks to well-planned general lighting running the length of the corridor. The double band of ambient light on the far wall also acts as a beacon.
5. Pick a stylish pendant
In recent years, bathroom lighting trends have included the use of pendant lighting in the bathroom, often taking the place of wall lights.
It can create a great focal point and design feature but it also puts task lighting where it is needed on the countertop of a vanity, brightening skincare rituals.
6. Consider clever strip lighting
LED strip lighting at a low level is great at lightening the load, giving the impression that furniture or even walls are floating. But it can also help get you back to sleep swiftly if you need the bathroom at night.
Chris Jordan of Christopher Wray advises illuminating your small bathroom flooring ideas with low wattage floor lighting.
'This will help you see where you are walking without having to turn on the main lights, which can be difficult for your eyes to adjust to and may inhibit your ability to return to sleep.'
'Motion sensors are particularly handy in the middle of the night and in the morning too,' he adds.
7. Try installing a warmer glow
Not so long ago there was frustratingly little choice in bathroom light fittings but we take our bathroom design seriously and there are now great wall lights to suit all styles.
When fitting LED lamps, consider the temperature of the light opting for warm light for a flattering reflection.
8. Hide your light out of sight
LED strip lighting is a versatile choice for bringing a soft glow to cabinets, niches, shelving and under counters, and is doubly effective here, shining above and below a long mirror and providing a floating effect under the basin.
'Finishes play a big part,' emphasizes Luke Thomas of John Cullen Lighting. 'A shiny floor can ruin the illusion of floating vanity as you see the reflection of the lamps. In this instance, you need to position your LED strip carefully and use a frosted profile or consider using a single point light source instead,' he suggests.
Now you're armed with a wide variety of LED bathroom lighting ideas, hopefully we have given you the confidence to create a whole new lighting scheme for your wet room, ensuite or bathroom.
Is LED lighting good for bathrooms?
Yes, LED lighting is good for bathrooms, especially those lacking in natural light.
'Think about what times you generally use your bathroom and whether natural light is available,' says Chris Jordan of Christopher Wray. 'Are there any features that you wish to highlight and are you looking for mood or ambient lighting for when you take a relaxing bath?'
'Use different circuits for feature, task and mood lighting wherever possible,' he continues. 'Dimmer switches are also very practical, allowing you to regulate your lighting to your exact requirement.'
A layered scheme in the bathroom puts light where you need it. A professional lighting designer will use a combination of sources to provide general lighting, task lighting and accents to highlight features such as a stone wall or statement bath.
Conventional dimming isn't always suitable for LEDs but a lighting control system such as Lutron can be programmed to change the mood at the press of a button.
Is LED lighting good for applying makeup?
There's no denying it looks very cool, but is LED lighting good for applying makeup? The short answer is yes, as it's the closest alternative to natural sunlight.
'When thinking about lighting, your key consideration is how you approach your task lighting to the face,' says Luke Thomas of John Cullen Lighting. 'The best way to achieve this is with a light either side of the face. It could be a wall light or frosted strips integrated into mirrors or even a back lit mirror.'
'There is a trend now that uses pendants either side of the mirror instead of wall lights. Always avoid a downlight straight above your head which causes shadows,' he adds.
Even the simplest lighting scheme will demand a couple of light sources – ceiling spotlights will not be enough. Dedicated lighting above or to the sides of a mirror will provide bright, shadow-free light for shaving, applying make-up and flossing teeth.
Traditionally this type of lighting has been fluorescent but compatible LED tubes are available.
What LED bulbs are best for bathrooms?
If you've decided to take the plunge with LED lighting, it's important to consider which bulbs are best for bathrooms.
'LED strips or directional downlighters work well in highlighting a feature whereas downlighters or wall lights are great for ambient lighting,' says Chris Jordan of Christopher Wray. You can use a wide range of bulbs in the bathroom but the light fittings have to adhere to IP ratings. Chris Jordan explains the zones:
Zone 0 is inside the shower or bath and any light fitting here must be low voltage and a minimum rating of IP67, which is completely immersion proof.
Zone 1, directly above the bath or shower, demands a minimum IP65 rating, meaning the fitting is dust-tight, protected from low pressure jets and no water can seep into the fitting itself.
Zone 2 is either side of the bath or shower or a radius of 60cm from the sink. Any lighting fitting here must be a minimum rating of at least IP44, which will protect from splashes of water.