Bathroom lighting trends — from statement pendants to pretty sconces
The latest bathroom lighting trends will help you revitalize your bathing space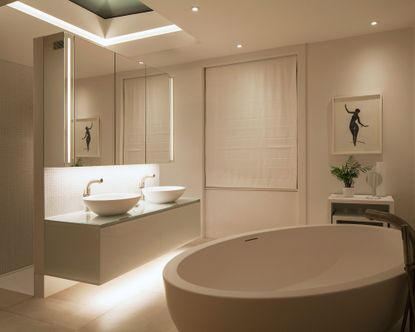 (Image credit: Nulty)
Bathroom lighting trends can offer inspiration when you're looking to illuminate your sanctuary space.
Lighting can make or break even the most thoughtfully decorated room, so it's important to get it right. 'Lights are the interior enthusiasts secret weapon, both for creating an atmosphere with the light they give, and for providing those important little finishing touches in a room's décor,' says Rohan Blacker, founder of Pooky.
Bathrooms are an area 'often overlooked from a lighting point of view,' notes Paul Nulty, founder of Nulty.
However he adds, 'when applied with precision, bathroom lighting ideas have the capacity to influence a person during different points of the day, regenerating us in the morning or encouraging us to relax and unwind later on,' continues Paul.
'Also, crucially, it can be the defining factor within an interior scheme, accentuating a feature area or picking out the detail of a specific material or finish.'
The latest bathroom lighting trends will offer inspiration and help you illuminate your bathroom ideas with style.
Bathroom lighting trends
1. Make a modern statement
Interior designer Louise Bradley says that, 'Lighting design throughout the home is essential to the desired atmosphere of a space. Especially when designing a bathroom, it should be considered as important as the other rooms throughout the property.'
This white bathroom, designed and owned by Tamara Kaye-Honey, creative director of interior design practice House of Honey, heard the message loud and clear, choosing a statement sputnik light fitting in their gable-roofed bathroom.
Such a crisp, modern design might typically be placed in a living room, but the trend is absolutely that if you love a light, there's no reason why the bathroom shouldn't join in on the love.
Make the light the star of the show by echoing with metallic touches elsewhere in the space. Sticking to a clean palette stops any distraction from the pendant.
2. Add some curves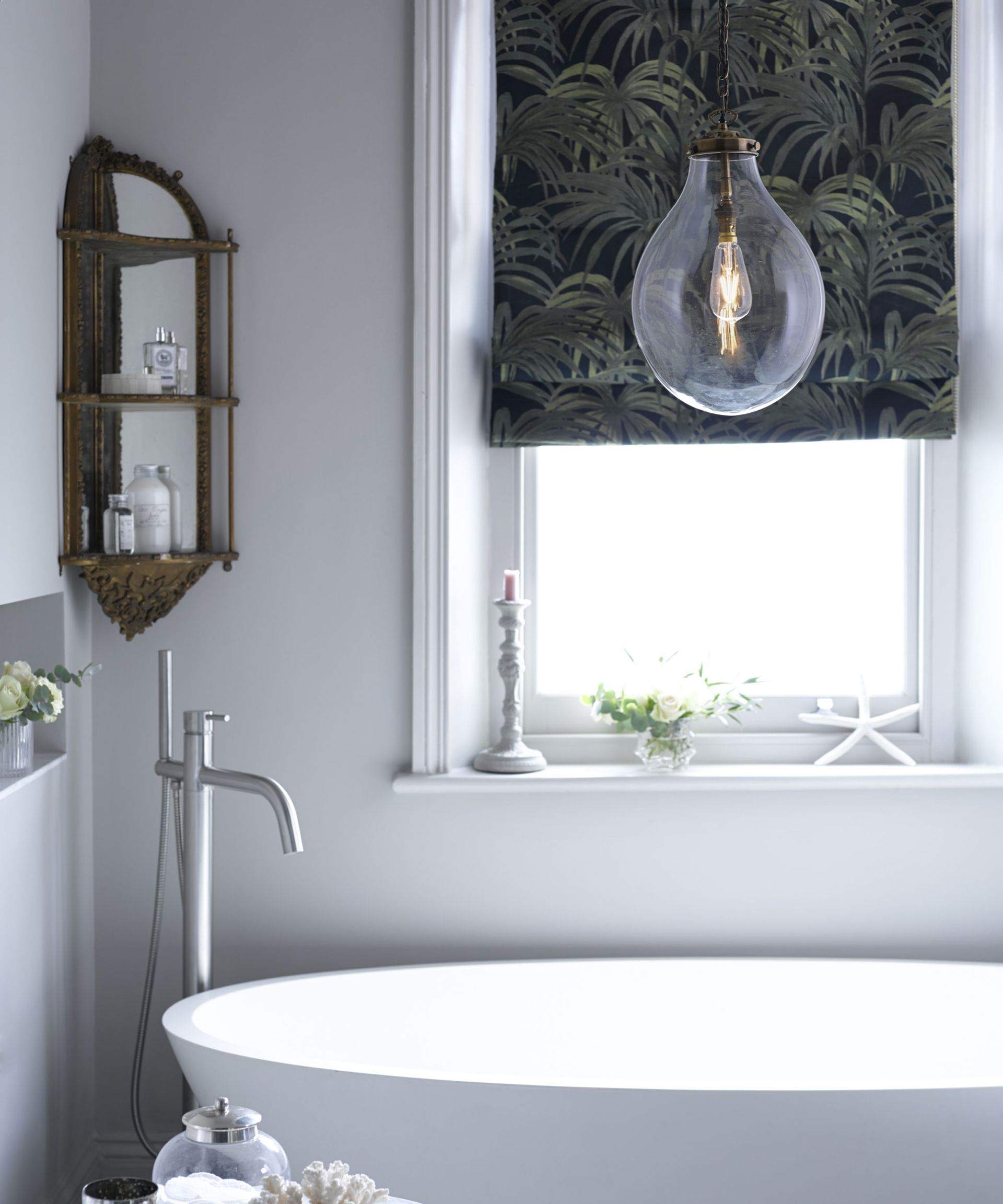 'When it comes to bathroom lighting, people tend to sway more towards functionality. However, there are many designs that can achieve both functionality and style,' notes Rohan Blacker, founder of Pooky.
Taking this into account, look towards unusual shapes and styles which will add interest to simple bathroom color schemes without losing practicality.
'Bulbus shades have a sense of fluidity that's adaptable and will work in a variety of rooms,' says Rohan. 'It's soft and subtle while the scale allows you to create impact.'
3. Take a soft approach
At times, bathroom lighting can be more about creating an atmosphere than anything else.
'Wall lights in bathrooms aren't usually the sole source of light and are used functionally to accentuate particular areas such as vanity units, as well as for decorative purposes,' comments Robbie Llewellyn, co-founder of Bert Frank.
If, to you, a bathroom is all about switching off and relaxing, then steer clear of harsh, bright task lighting.
A light like the Beran [pictured] offers a softly illuminating glow. 'The natural translucent nature of the stone diffuses the light source, which makes it very flattering, washing walls with a soft light that creates a calming, tranquil ambience and spa like environment,' says Robbie.
4.Try a vintage style
If you have an industrial style running through your home then you might be drawn to an exposed bulb.
These metallic, caged styles look great with vintage style LED bulbs. With their clean, minimalist style, LED energy-saving bulbs look great in the bathroom, and they are as practical as they are decorative, as you won't need to replace the bulb for years,' notes Marketa Rypacek, MD of Industville Ltd.
'The increased wattage of modern LED bathroom lighting ideas provides a warm and relaxing glow that can be used in combination with incandescent bulbs for a polished finish.'
In a bathroom, an exposed bulb might seem unsafe, particularly if the bulb you choose doesn't have the right IP ratings, but 'lights without an IP rating are fine to instal in a bathroom as long as they are located at least 60cm from and no lower than any water source,' advises Rohan Blacker, founder of Pooky.
5. Indulge with glamor
Whoever said that chandeliers aren't made for bathrooms? Go all in with luxurious lighting, even when they're switched off.
'It's also important to consider the scale of the lights you choose,' notes Rebecca Hughes. 'When lights are too small they can appear bitty, whereas increasing the scale means a much more cohesive look is achieved. Not to mention, it means you don't have to worry about dark, gloomy corners.'
Feature bathroom ceiling lighting ideas shouldn't be the only light source in a bathroom, however. 'You need two types of illumination: shadow-free task lighting for functional tasks and ambient lighting for when you simply want to lie back and enjoy a soak,' advises Peter Bowles, founder of Davey Lighting.
'Most bathrooms will benefit from a central lighting source in the form of a ceiling light and a combination of practical, space saving wall lights and spotlights.'
6. Embrace your playful side
Have some fun with your bathroom lighting by opting for a whimsical style.
'Lighting can be very decorative in its own right and serves as an interesting feature or objet d'art within a room as well as serving its purpose of providing illumination,' comments Chris Jordan, Managing Director at Christopher Wray.
This fun balloon light will add a playful note into this functional space, but has been designed thoughtfully to remain practical. This version includes a LED pilot light with a 0.5w lamp to gently illuminate dark spots for guidance and reassurance at night.
Chris explains that, 'Low wattage lighting is recommended for night-time use so that you can see where you are walking without having to turn on the general lights, which can be difficult for your eyes to adjust to and may inhibit your ability to return to sleep.'
7. Take it back to the 20s
Art deco is having a revival, and the use of this style in a bathroom automatically introduces elegance.
This bathroom wall idea features wall lights with the classic frosted glass associated with the 1920s, which as well as pretty are also very sensible.
'Glass shades are also really practical as they won't mind steam one little bit,' notes Rohan Blacker, founder of Pooky. A chrome finish would modernize the style, but the hand-rubbed bronze on this Andrew Martin design exudes extra old-school glamor.
8. Highlight key features

Key areas in the bathroom can be lit to achieve not only a balanced scheme, but to ensure each space is lit according to requirements.
'A mirror is often the focal point in a bathroom, where you need to achieve a flattering and uniform light effect on your face,' explains Paul Nulty, founder of Nulty Lighting.
'This can be achieved by implementing diffuse lights, either by integrating lighting into the mirror or by adding wall sconces either side of a mirror to produce an even vertical light effect.'
The main bathing spots also need to be considered. 'Task lighting to the shower area should be located in relation to the shower head in order to prevent the shower head from creating a shadow effect,' advises Paul.
'Lastly, make sure that you position a low glare deep recessed downlight over the bathtub to the centre of the tub, rather than either side of the bathtub. Otherwise this can be uncomfortable for a person when down.'
What is the best lighting for a bathroom?
There are four main lighting areas to consider when choosing bathroom lighting, and layering these effectively will provide the very best illumination. The four areas are task, accent, ambiance and feature.
Paul Nulty explains each: 'Task refers to more localised, helpful lighting for functional tasks, such as applying makeup or shaving. Accent is lighting that helps define a space by highlighting key design details or guiding the eye to individual features within the room, such as a bath, shower or vanity unit.'
'Ambiance refers to lighting that brings balance and harmony to the room, essential in the bathroom where designers are often looking to evoke a certain mood and add depth to the space,' continues Paul.
'Finally, feature lighting gives the space personality. Techniques such as positioning a statement light over a bath or incorporating a vibrant color changing system to create a spa-like environment.'
Do I need a special light for the bathroom?
In one word, yes.
Arguably more than any other room in the home, safety needs to be a prime concern when installing lighting in a bathroom.
You need to look out for the IP Code of your chosen lights. This classifies and rates the degree of protection against dust and, more importantly, water.
The IP rating you need depends which 'zone' of the bathroom you're lighting. For example, IP65 can be used in any area of a bath or wet room, while IP44 is only suitable 60cm from the water source.
Check with electricians before purchasing a new bathroom light fitting to ensure you have up-to-date safety information.
Thea Babington-Stitt is a Content Editor at Future. She has been an interiors journalist for nearly 10 years and has held positions at LivingEtc, Country Homes & Interiors and Homes & Gardens. Currently, she is writing for Ideal Home and Style At Home's websites and magazines.