Bathroom ceiling ideas – 12 designs that bring the wow factor
Re-think and refresh your bathroom space with our inspiring bathroom ceiling ideas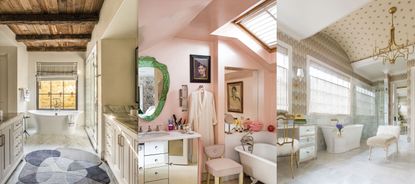 (Image credit: Lucinda Loya Interiors | Paul Raeside | Creative Tonic Design)
Our bathroom ceiling ideas provide beautiful inspiration for a surface that is often painted white and simply fitted with functional lighting.
Bathrooms are now much more than clean and clinical spaces, they are rooms to relax and unwind in and help you feel refreshed at the start and at the end of each day; with bathroom ideas becoming more adventurous, unique and exciting to establish a calming retreat in the home.
Exploring ceiling ideas and how you can add character, style and visual interest to this fifth wall will only help to achieve a more unique, personal and memorable space.
Re-thinking your bathroom ceiling and how it can become fully integrated into your bathroom scheme, whether that be through paint, wallpaper, tiles or lighting, can make for stand-out design.
Bathroom ceiling ideas
From the use of beautiful natural materials, to striking painted and wallpaper designs, we have curated an inspiring collection of bathroom ceiling ideas to help you with this often forgotten about surface in the home.
1. Appreciate the warmth of wood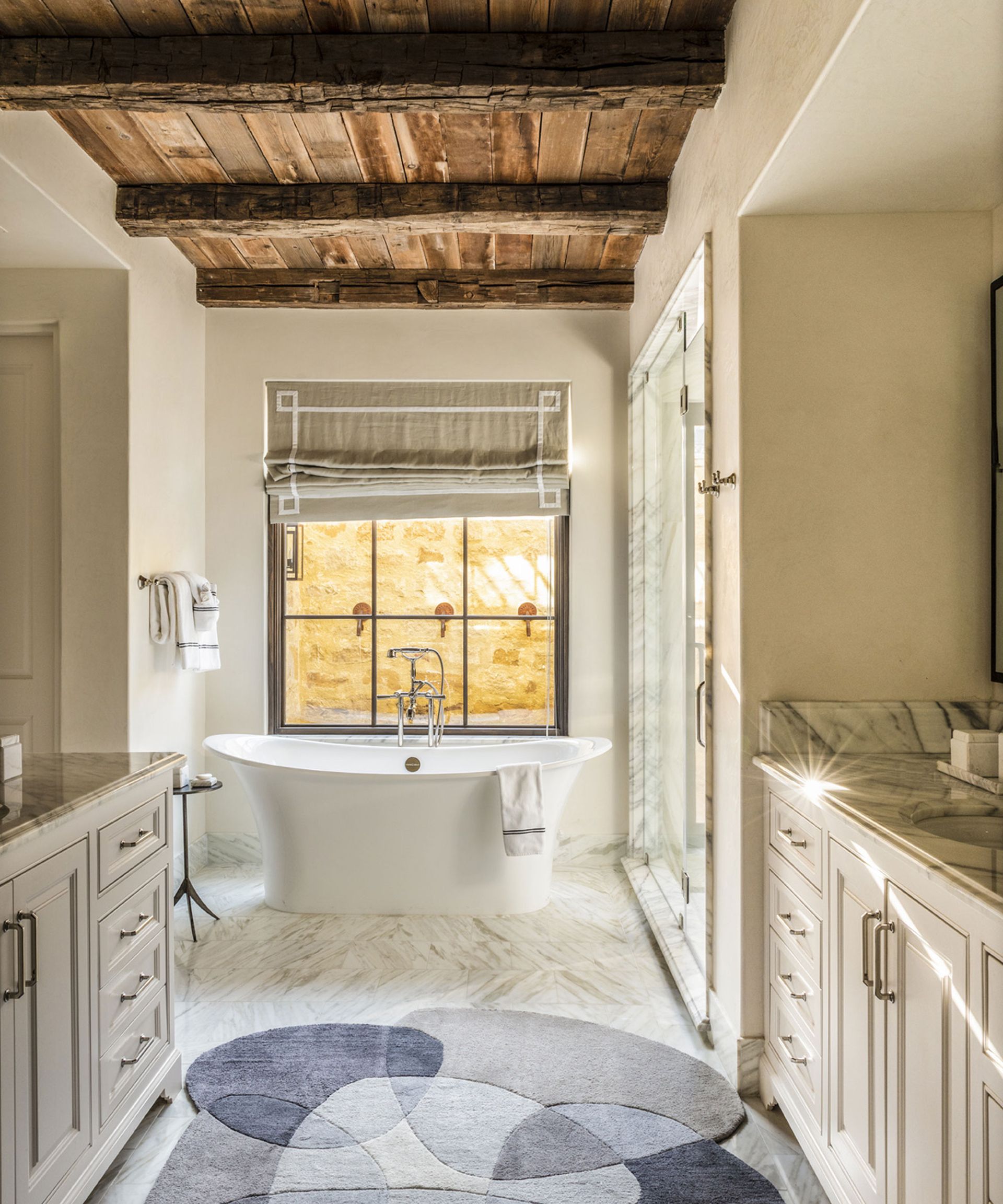 Spending time outdoors and being surrounded by nature is renowned to help us feel more relaxed and calm.
Natural materials have been used in construction and interior design for centuries, with many traditional bathrooms defined by unique architectural features and historic materials.
Whether you uncover original wooden features for your bathroom ceiling ideas, or get creative with ceiling paneling ideas, appreciating the warmth of wood and the raw beauty of this natural material will make for timeless design.
In this bathroom by Lucinda Loya Interiors, the exposed wooden planks on the ceiling create an elegant focal point, embodying an inviting rustic texture and establishing a stylish contrast with the smooth marble and modern, geometric rug, a great look for rustic bathroom ideas.
An innovative mix of the old and new, this bathroom pays homage to the original structure of the house through wood ceiling ideas, balanced by a fresh and contemporary design in the surrounding space.
2. Use the ceiling as a canvas for color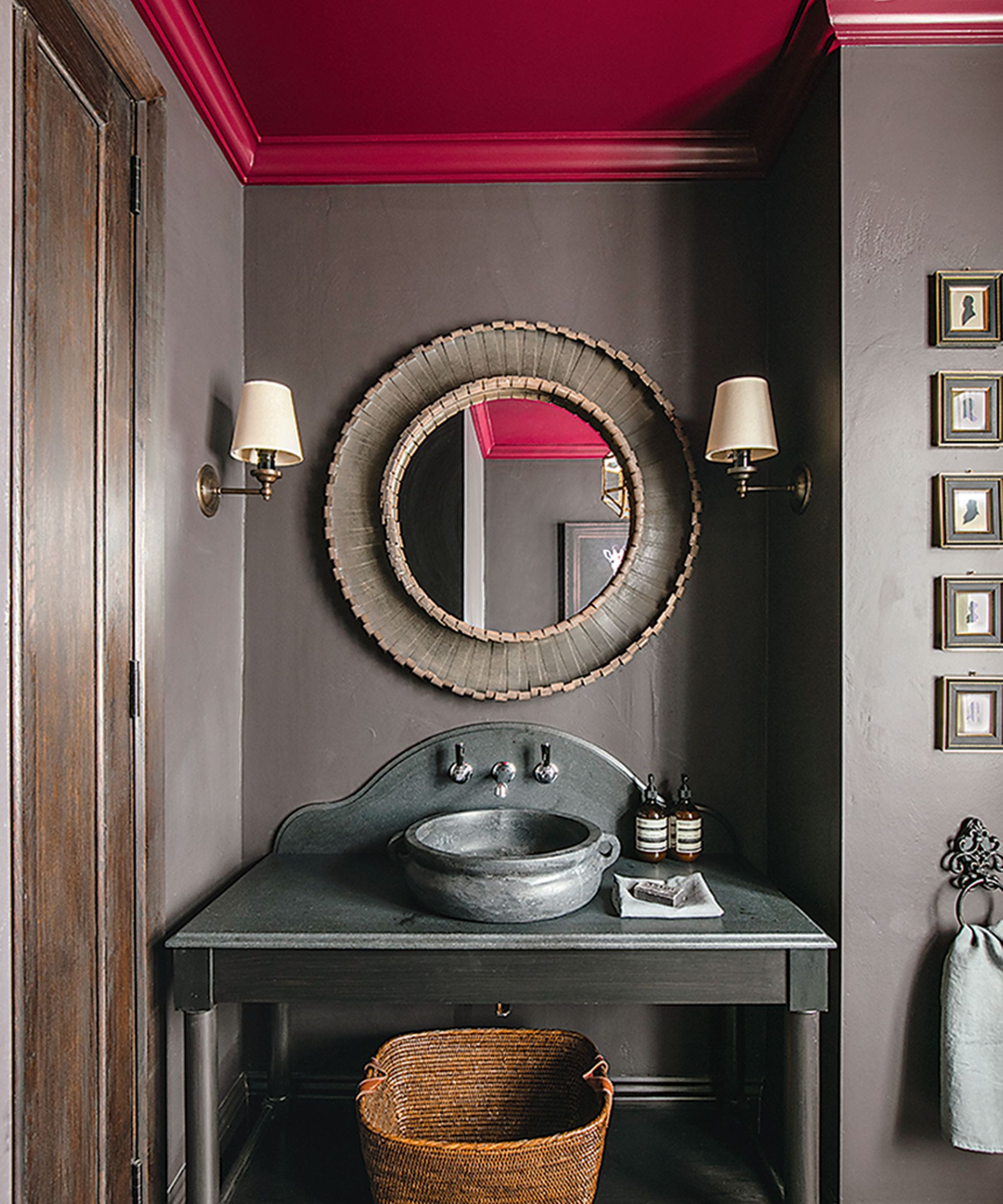 Bathroom color ideas have far progressed from classic blue and white, with bathrooms proving popular areas in the home to be more adventurous and experimental with color combinations that you may not have tried elsewhere in the home.
A ceiling can be a great way to make a statement with color, with many ceiling paint ideas showcasing just how impactful and uplifting painting this surface can be.
In this bathroom, a deep cherry red has been used on the ceiling, beautifully contrasting with the dark gray painted walls and darker palette used throughout the rest of the space. A fun and playful use of color, the overall design still remains smart and sophisticated, with the cherry red paint making a stylish statement on the ceiling.
3. Create a luxurious design with wallpaper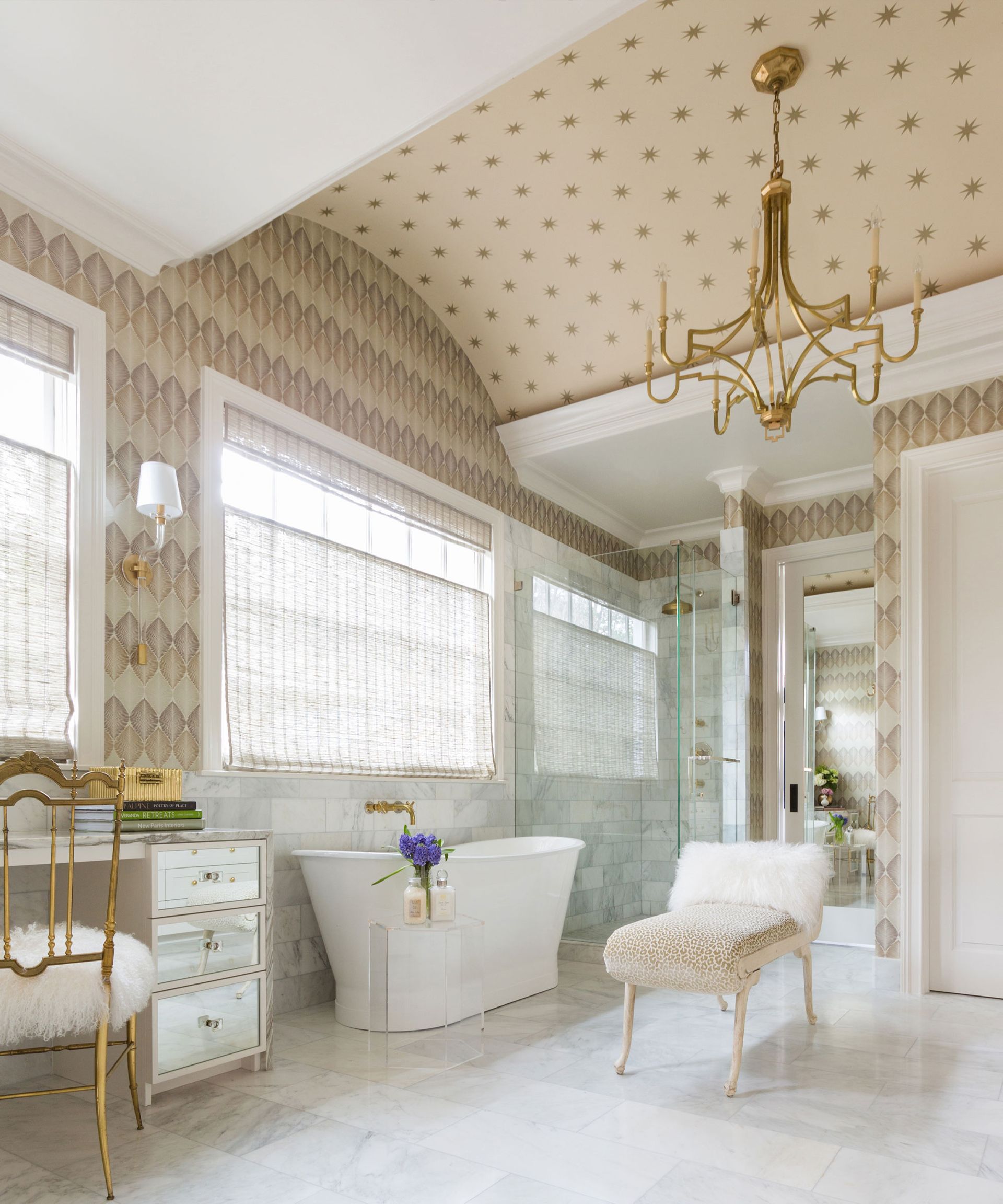 Wallpaper can inject color, pattern and personality into a room, adding a unique element of texture and visual interest.
Barrie Cutchie, Design Director at BC Designs explains, 'you don't have to stick to traditional wallpaper that can be quite bland, in fact, bathrooms are the one room where you can really have some fun. Playful patterns and colors can add much needed definition to your walls'.
However, not all wallpaper designs need to be big and bold, as shown in this beautiful bathroom by Creative Tonic Design. A stunning example of luxury bathroom ideas, the use of wallpaper throughout may embody a simple, neutral color palette, but the mix of patterns and use of wallpaper on the ceiling complement the grand scale and size of the room, establishing a truly impressive design.
Finished with opulent details such as the chandelier, inviting seating areas and a walk in shower, this bathroom highlights how ceiling wallpaper ideas can still add impact without the need for a bold color palette.
4. Establish a tranquil spa space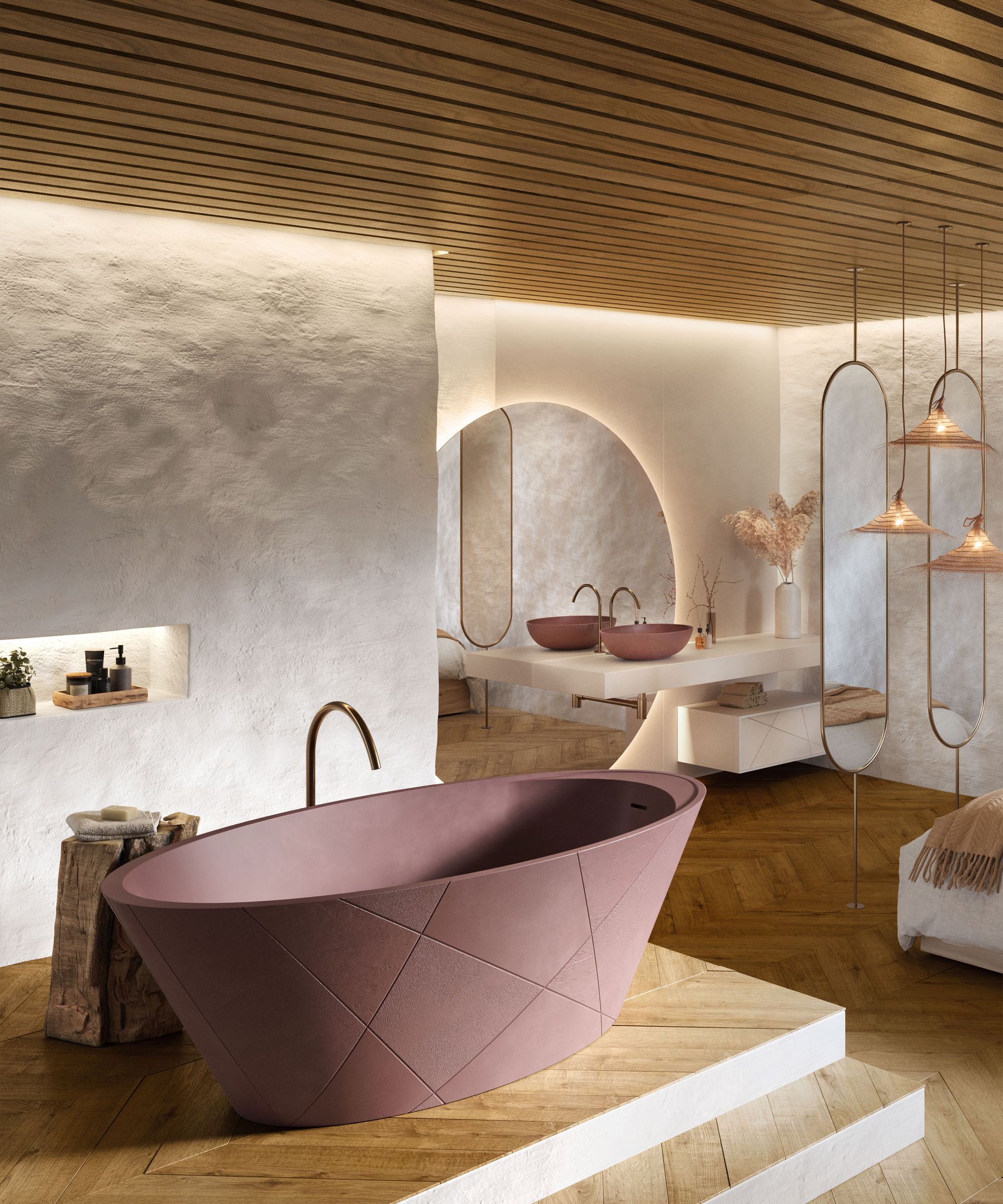 Spa bathroom ideas focus on bringing the essence of a tranquil spa space into the home, focusing on natural materials, simple and serene color palettes and the importance of relaxation.
In this artistic, modern bathroom, the sleek, wooden paneled ceiling adds warmth, structure and style to the space. Complementing the wooden flooring to create a cohesive, balanced effect, this impressive bathroom is finished with stunning details such as the sculptural bath and decorative mirror and lighting designs, beautifully elevating the whole look.
An elegant example of more modern wooden ceiling ideas, the smooth wooden ceiling in this bathroom, in an almost fluted effect, helps to achieve a contemporary design that is both cozy and luxurious.
5. Enhance your wallpaper design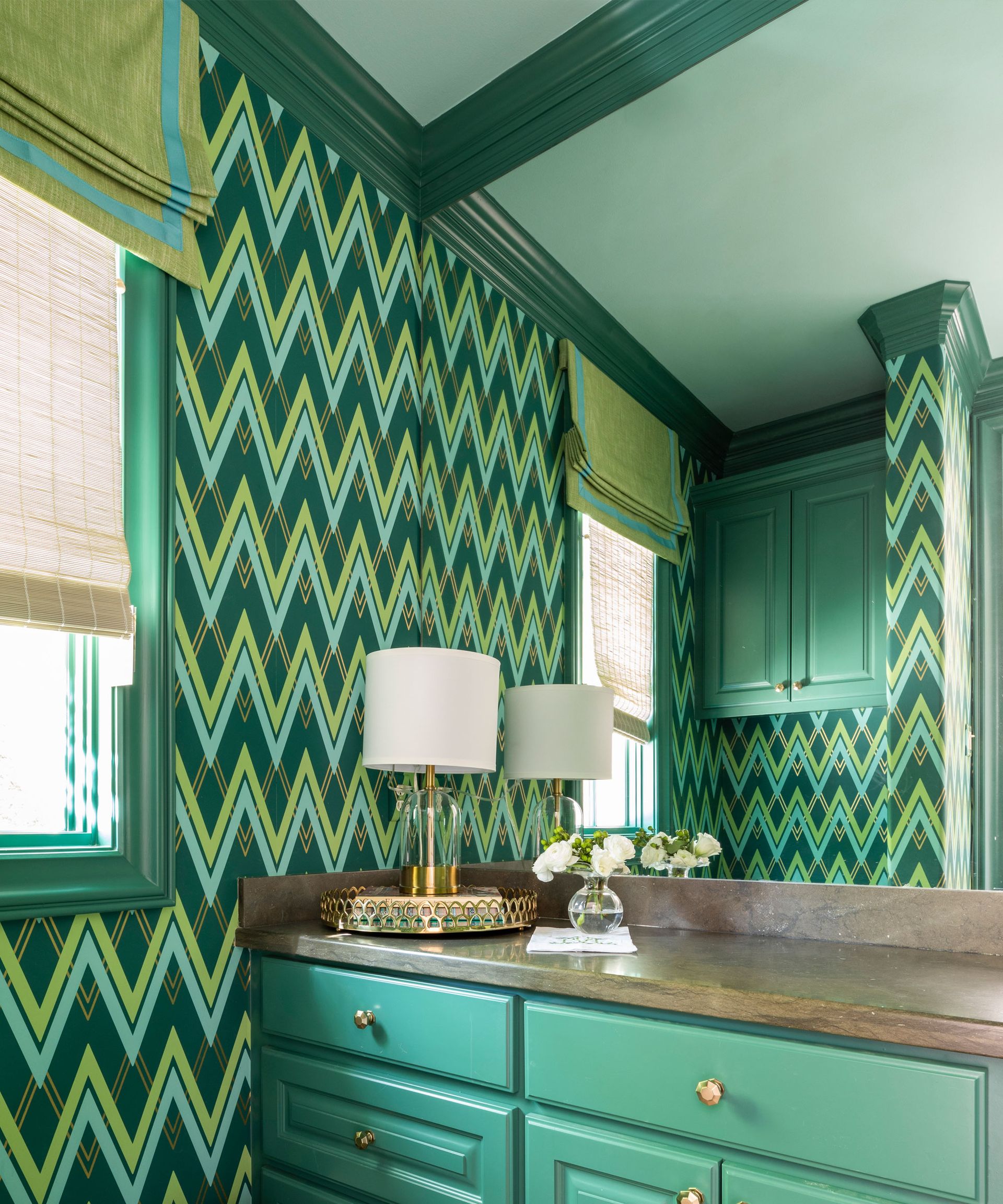 Ceiling wallpaper ideas are not for everyone, but if you want to use bathroom wallpaper ideas in other area of the space, why not enhance and complement the design with a painted ceiling instead.
As shown in this colorful bathroom by Creative Tonic Design, the vivid, blue and green zig-zag wallpaper design has been elevated, not only by the matching cupboards and accessories, but by the use of paint on the ceiling and throughout.
Tobie Lewis, senior brand manager at Valspar Paint, says, 'the colors in our surrounding environment have a big impact on our mood. Blue and green shades have a biophilic nature, which evokes a stress-relieving and mood-boosting atmosphere, making teal tones ideal for rooms of relaxation.'
This bathroom celebrates how a simple blue and green color palette can establish a truly impactful and immersive design, and is both bold and relaxing simultaneously.
6. Take your tiles to the ceiling
Whether you want to cleverly zone the space in your bathroom, or ensure for a practical as well a stylish design for your shower room ideas, using tiles for your bathroom ceiling ideas can add beautiful texture and material to your space.
Andrew Bendall, marketing manager at Craven Dunnill Jackfield states, 'bringing texture up onto the walls and ceiling through tiles adds tactility and allows light to beautifully reflect off the glazes, bringing vitality to a space'.
In this modern bathroom by Kimberly Harrison Interiors, patterned marble tiles have been used on the ceiling in the large shower and bath space, contrasting to the tiles used on the walls and flooring, but united through the same restful white and gray color palette.
She states of the design, 'Bianco carrara marble with a distinct, etched tree bark like pattern designed by Lori Weitzner for Artistic Tile covers the vanity and shower walls, with the gun metal plumbing fixtures creating a stark contrast to the marble.'
7. Let the light in with a skylight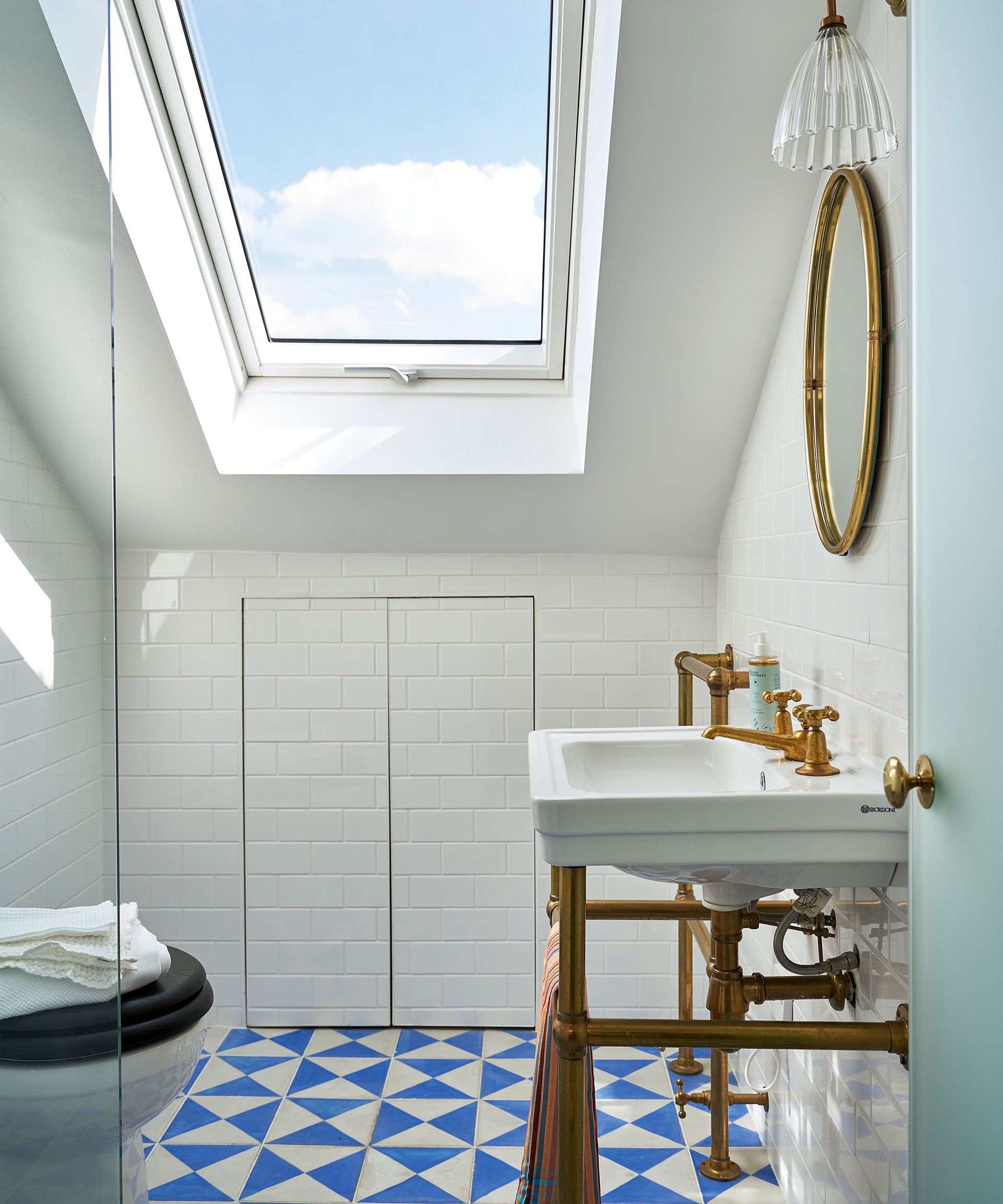 Being exposed to lots of natural light in the home has been proven to make a space feel more comfortable and relaxing, with skylights used throughout the home to maximize on light coming into a room.
A space where we often start the day, ensuring you have plenty of natural light is very important for a bathroom. If you have an attic style bathroom with slanted ceilings, installing a skylight can not only enhance the natural light in the space, but add a beautiful window to the outdoors, adding color, texture and interest to this area on the ceiling.
8. Add glamor and grandeur with a chandelier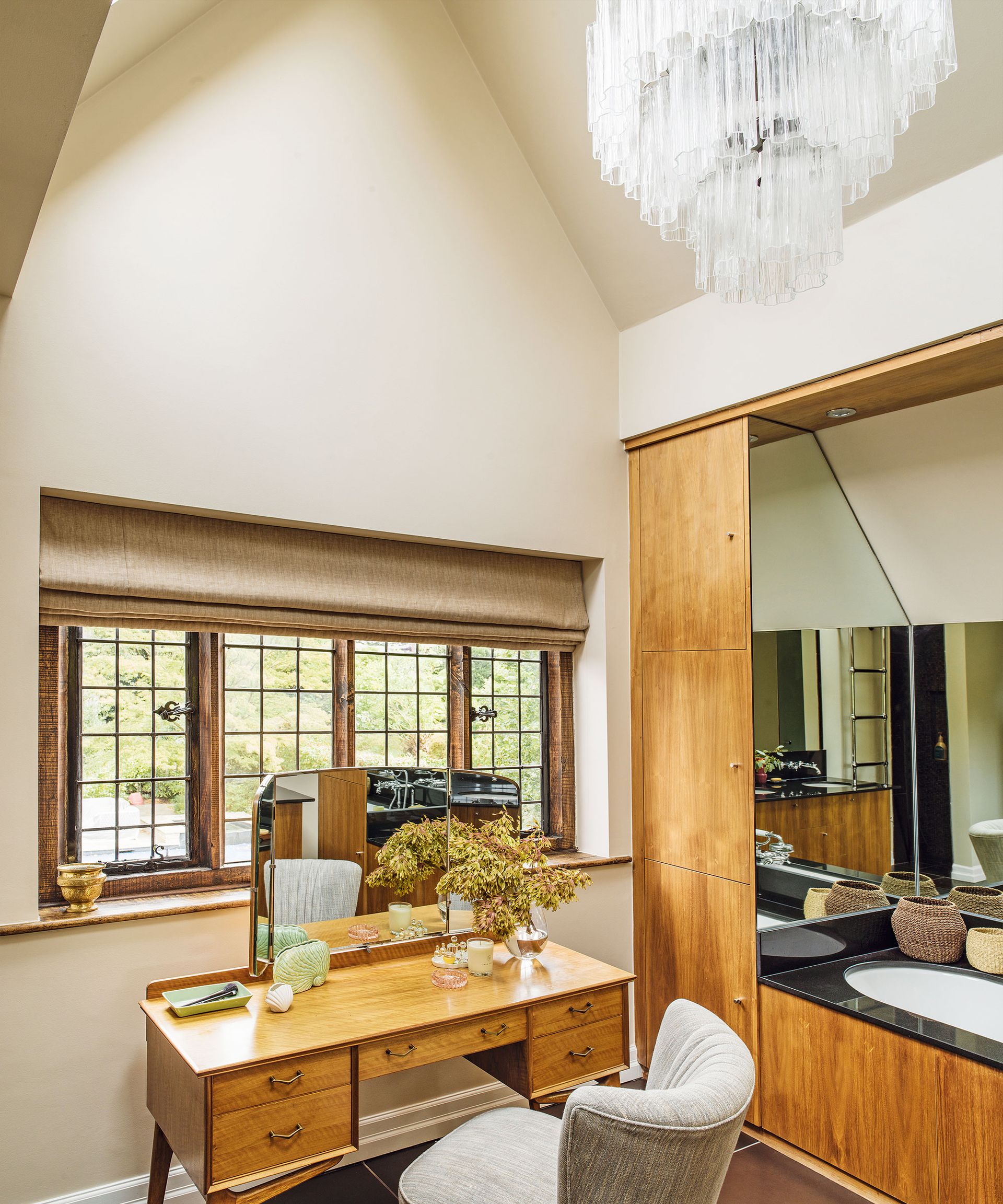 'People are increasingly dedicating more space to their bathroom, often turning a spare bedroom into an ensuite or family bathroom. This means that larger, more dramatic pieces can be incorporated as part of the design,' says James Lentaigne, creative director at Drummonds.
Progressively being used to transform a bathroom from functional to beautiful, bathroom chandelier ideas can bring opulent glamor and decadence to your bathroom and truly make a statement for your bathroom ceiling ideas.
This design shows just how creative and innovative you can be when deciding on how to plan a bathroom. Establishing a unique, multipurpose space that is both a bathroom and dressing room, the glistening glass chandelier is perfectly fitting for this hybrid environment, adding a luxurious touch to a space dedicated to relaxation and beauty.
9. Add depth with a recessed ceiling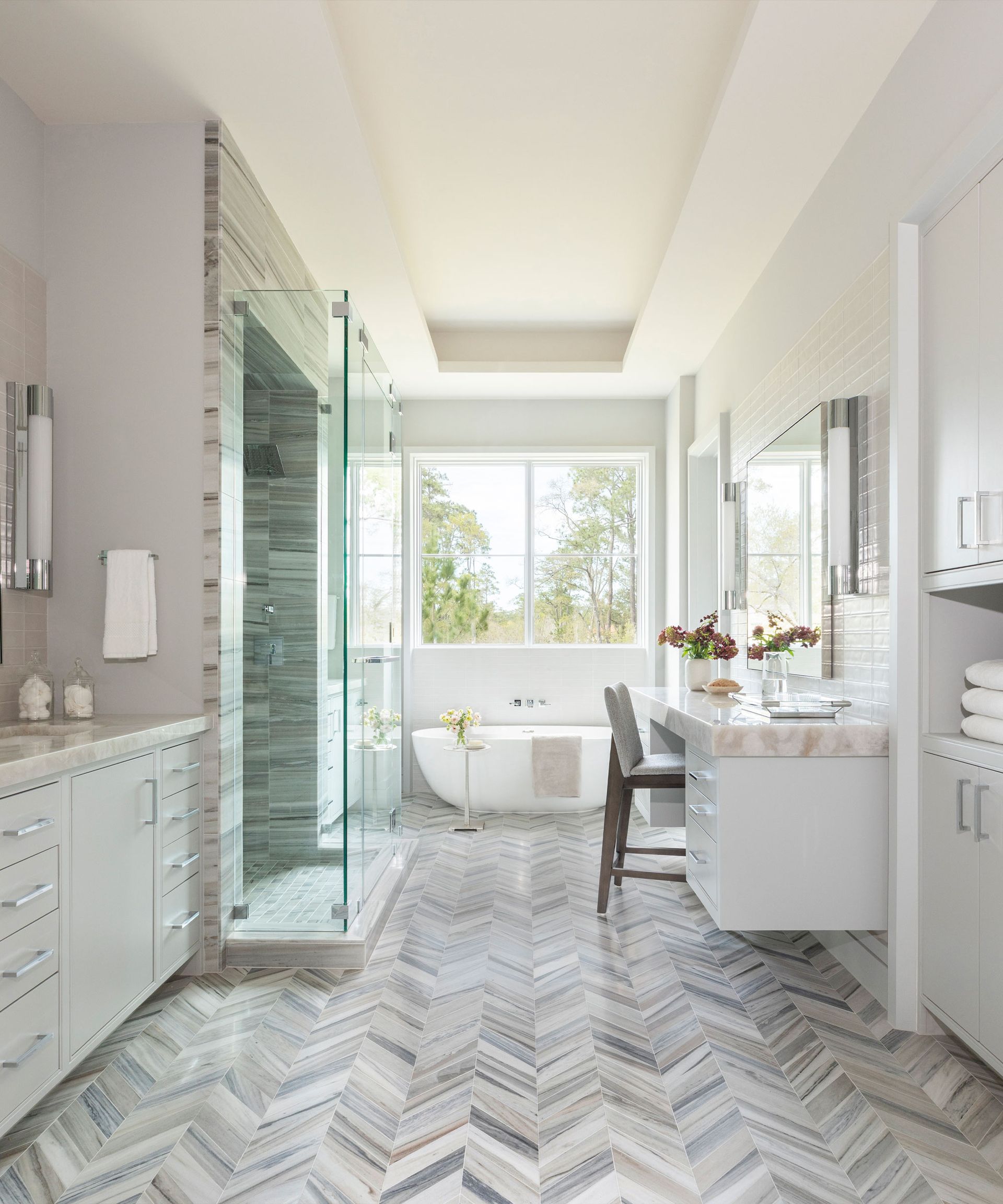 A simple design feature that can make a subtle statement of elegance and grandeur, why not plan for a recessed ceiling for your bathroom ceiling ideas.
Adding depth and texture to your ceiling space, recessed ceilings – also known as tray ceilings, can come in all different shapes and sizes, great for large bathroom ideas or bathrooms with high ceilings.
Barrie Cutchie says, 'we usually think of texture as being a tactile element: something we can touch and feel. In the context of interior design, texture is also about adding visual interest and balance to a space.'
As shown in this bathroom by Benjamin Johnston Design, the simple dip in the ceiling adds great texture to the space, beautifully elevating the white ceiling.
10. Use your bathroom to celebrate your favorite color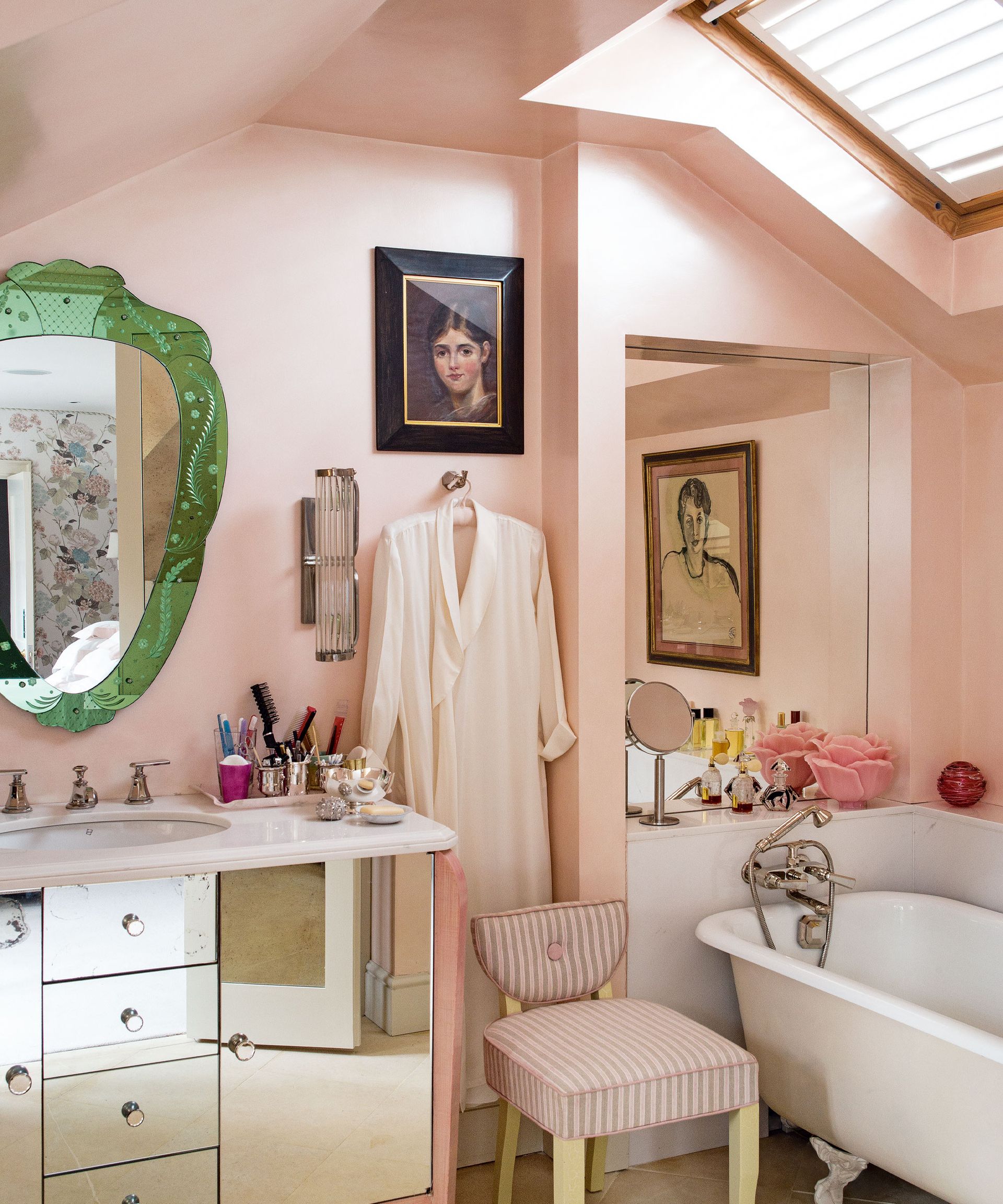 As we have discussed, bathrooms are a great place to be adventurous with color and pattern, so choosing one of your favorite colors to adorn the walls and ceiling will only help to make this practical space feel more personal and stylish.
Pink room ideas can be truly versatile option, from soft neutrals to bright candy shades, pink can be fitting for both classic and contemporary designs, making it a timeless choice.
In this bathroom, the walls and ceilings have been painted an elegant blush pink, adding warmth and softness to space. Complemented by the beautiful green glass mirror, unique artwork and decorative objects, this pink bathroom has been thoughtfully curated to establish a welcoming and relaxing space rich with character.
11. Keep things serene and simple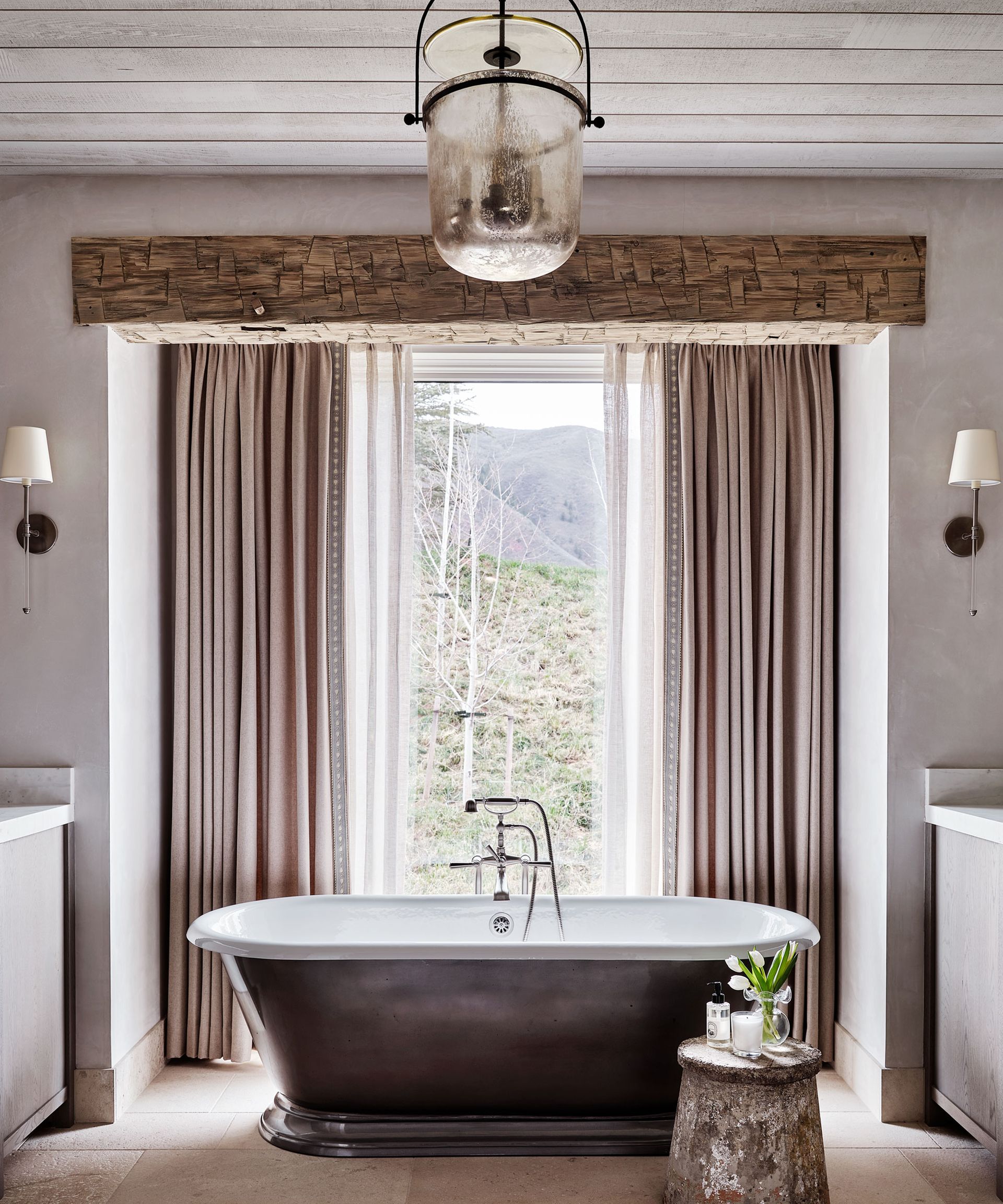 Embracing the principles of Scandinavian decor and establishing an uncomplicated, relaxed aesthetic through a clean and simple design can create a wonderfully relaxing retreat for your bathroom.
With a huge focus on natural materials in Scandi-inspired designs, using sleek wooden panels for your bathroom ceiling ideas can bring a charming, cabin decor feel to the space.
In this bathroom, the smooth, wooden paneled ceiling in a calming light gray finish is complemented by the textured, painted gray walls and other rustic and natural materials used throughout. Creating a relaxing surface to gaze upon when relaxing in the bath, this bathroom shows how your bathroom ceiling ideas can help to bring a whole scheme together, enhancing a design to its full effect.
12. Embrace the unexpected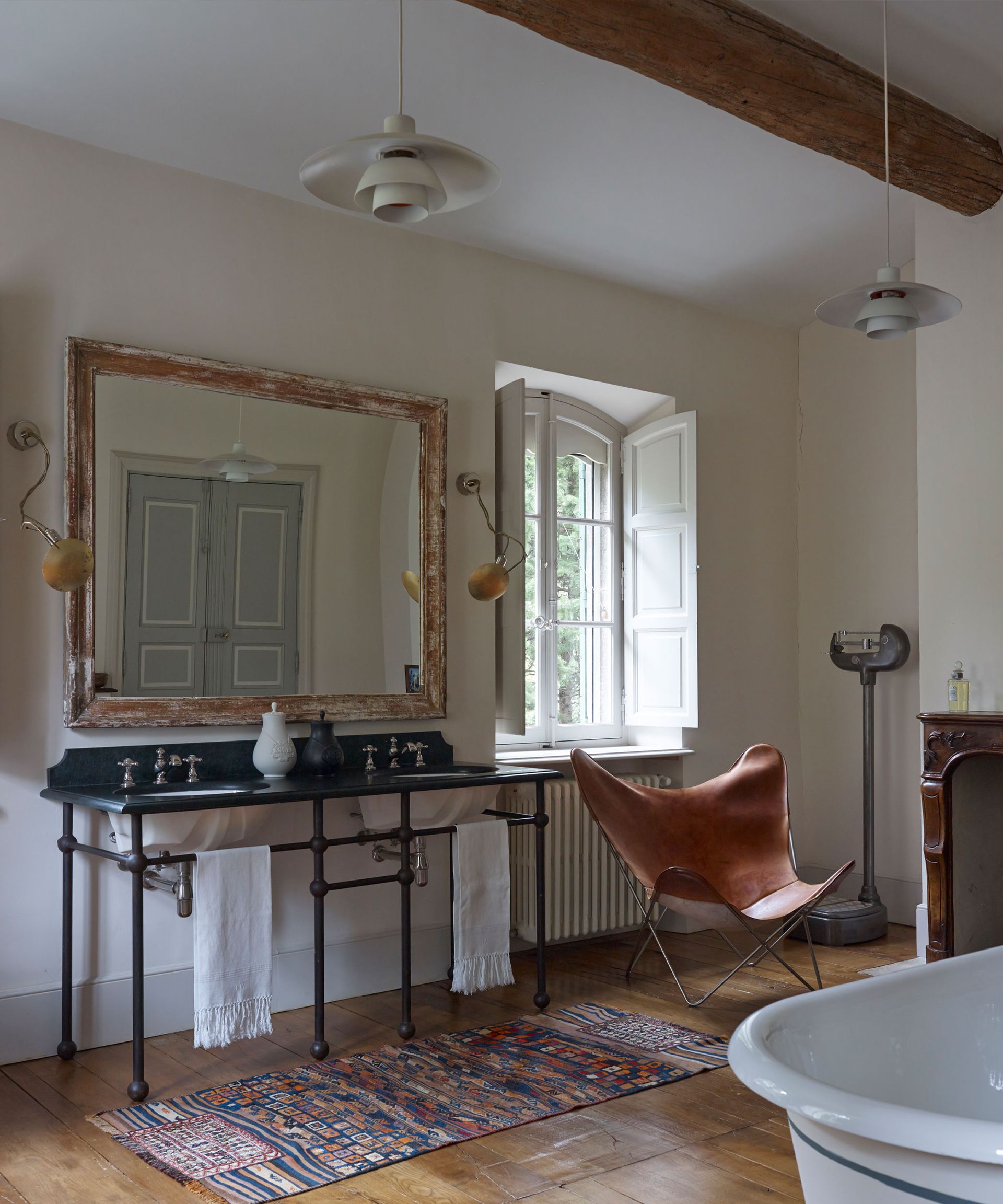 Whether you create a contrast through colors, materials or designs from the past and present, your bathroom ceiling ideas can create a platform for a range of innovative and unexpected designs.
This bathroom is defined by a beautiful mix of materials, objects and styles, establishing an eclectic look that feels original and unique.
Niki Wright and Scarlett Hampton, founders of lights & lamps say, 'people are becoming more adventurous in the design of their bathrooms and so designing lighting that complements those schemes and pushes the boundaries of what is "normally" seen in these spaces is another trend we will continue to fulfil.'
The sleek, modern pendant lights from Louis Poulsen form an elegant contrast with the exposed wooden beam in this bathroom, creating a beautiful union of the old and new. With pendant designs like this often used in clusters in a dining room, kitchen or bedroom, seeing them in a bathroom setting for bathroom ceiling light ideas creates a stylish and unexpected look.
Helping to make the bathroom feel like its truly integrated into the overall design and feel of the home, additions such as the leather butterfly chair and rug only enhance this homey feeling even further.
How do you decorate a bathroom ceiling?
When deciding on how to decorate your bathroom ceiling, it depends on what effect and style you want for your bathroom space.
If you are gravitating towards a more bold and colorful design, transforming a white ceiling through paint and wallpaper can really elevate the overall look, adding vibrancy and impact to your ceiling.
For a space of heightened relaxation and tranquility, natural materials such as wood can add inviting warmth and texture, with other options such as ceiling tiles establishing a luxurious design for a wet room.
Decorating your bathroom ceiling is all about making it feel integrated into your overall scheme and pushing the boundaries of what is expected in traditional bathroom design. Elevating the room from purely practical to personal and unique through bathroom ceiling ideas, will make for a unified and thoughtfully considered space.
Sign up to the Homes & Gardens newsletter
Decor Ideas. Project Inspiration. Expert Advice. Delivered to your inbox.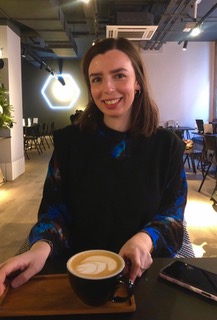 Zara joined Homes & Gardens in February 2022 as a Content Editor. After studying English Literature at University, she worked as an Ecommerce Website Editor, Content Writer and Buying Intern at multiple independent businesses within the luxury retail and lifestyle sectors. Her role at Homes & Gardens unites her love, experience and passion for the world of design and desire to create inspiring written content. She enjoys nothing more than discovering new trends, brands and products, whether that be in fashion, interior design or lifestyle.