Pink room ideas – for spaces that are fresh, warm and surprising
Who would have thought that pink room ideas could look so timeless?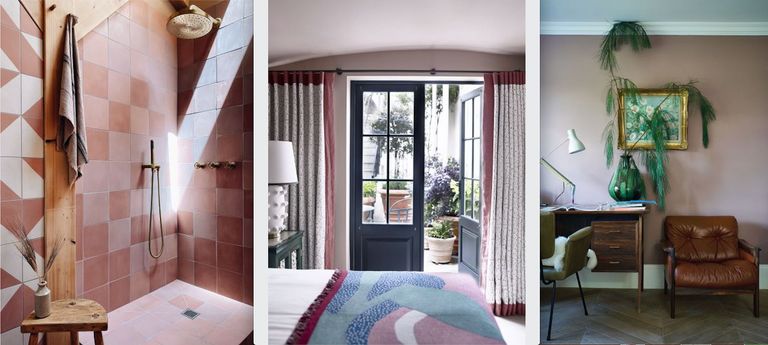 (Image credit: Future)
Pink room ideas really do work. This controversial hue can actually form a reliable background color that channels anything from a contemporary to a classical country-house spirit, as long as you find the right tone for the space and the light.
Take advantage of taster pots and try living with sample colors before taking the plunge – just a few degrees towards yellow or, in the other direction, towards blue could tip the balance resulting in a pink that's too bright or too cold.
See: Living room ideas – clever ways to decorate living spaces
1. Use pink to create a haven for home working
Farrow & Ball's Sulking Room Pink is the ideal shade to create a calming feel as it's such a versatile colour, as Joa Studholme, Colour Curator at Farrow & Ball explains.
'Sulking Room Pink should not be seen as overtly pink, but rather a muted rose with enormous warmth, its powdery feel making it incredibly soft and easy to use with complementary darker tones. This color has its roots firmly in the past but is the perfect tone for furniture and walls alike.'
It works particularly well with mahogany tones and crisp white.
See: Home office ideas – ways to decorate that are smart, practical and stylish
2. Use dark furniture and accessories for contrast
When you're using a light shade of pink on your walls and woodwork you can go darker with the rest of your scheme, as Ben Stokes, Founder and Interior Designer at KAGU Interiors explains;
'Balance blush pink walls with dark and warm furnishings and accessories. Complete the palette with rusty browns, burnt oranges and soft neutrals for a scheme that feels timeless and sophisticated. Add texture with a striking floor covering and eclectic cushions and finish the look with contemporary lighting solutions and brass finishes.'
3. Add a pink of hint for a touch of warmth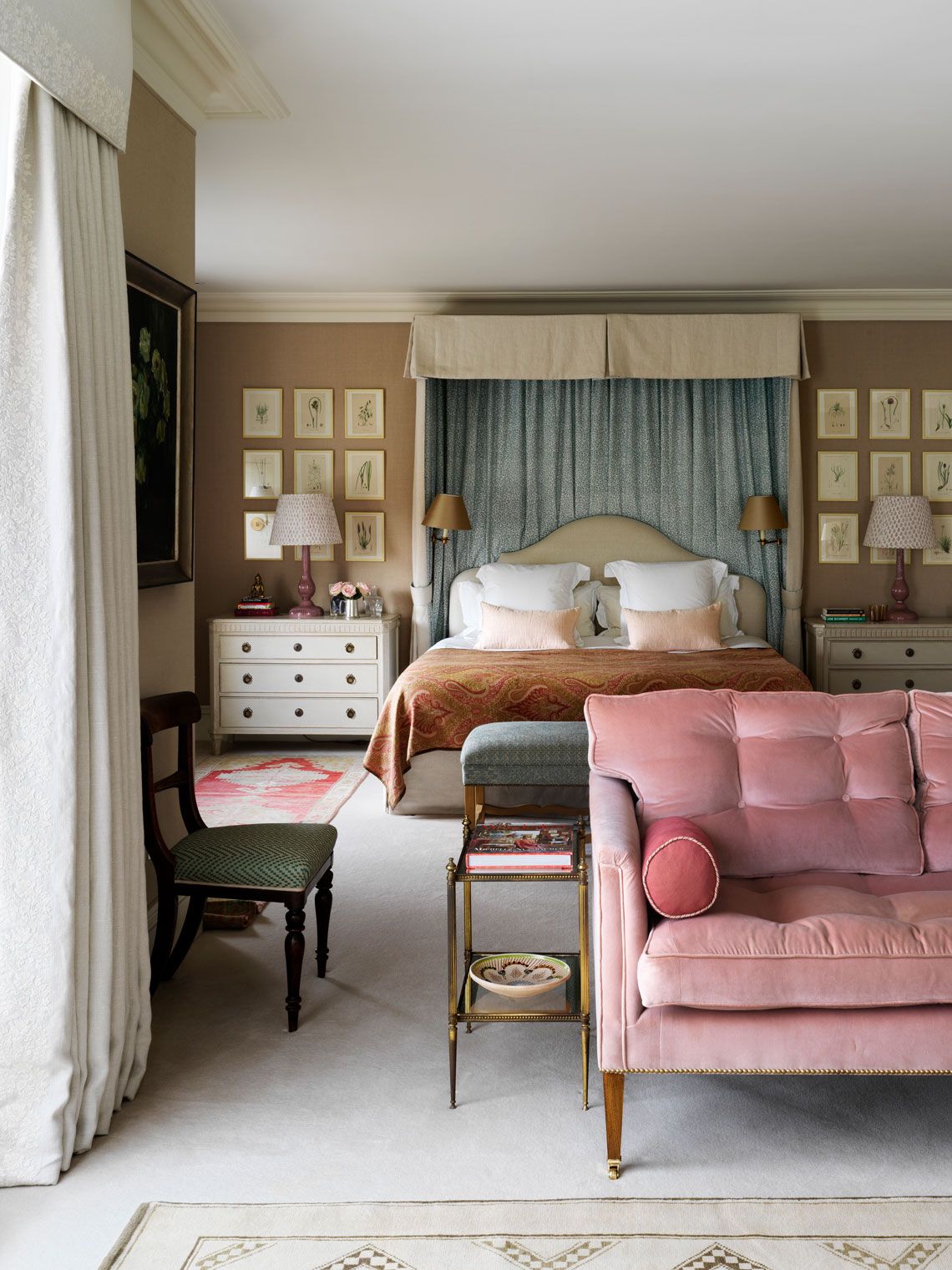 Using an on-trend color in your home doesn't mean you suddenly need to paint walls, change your carpet and buy tons of accessories. You can simply follow the 'less is more' philosophy and introduce it in small ways.
A pair of table lamps with a dusky pink base, some pink roses on a bedside or a plush velvet sofa that you can snuggle in at the end of the day. This room was designed by Salvesen Graham.
4. Explore various shades of pink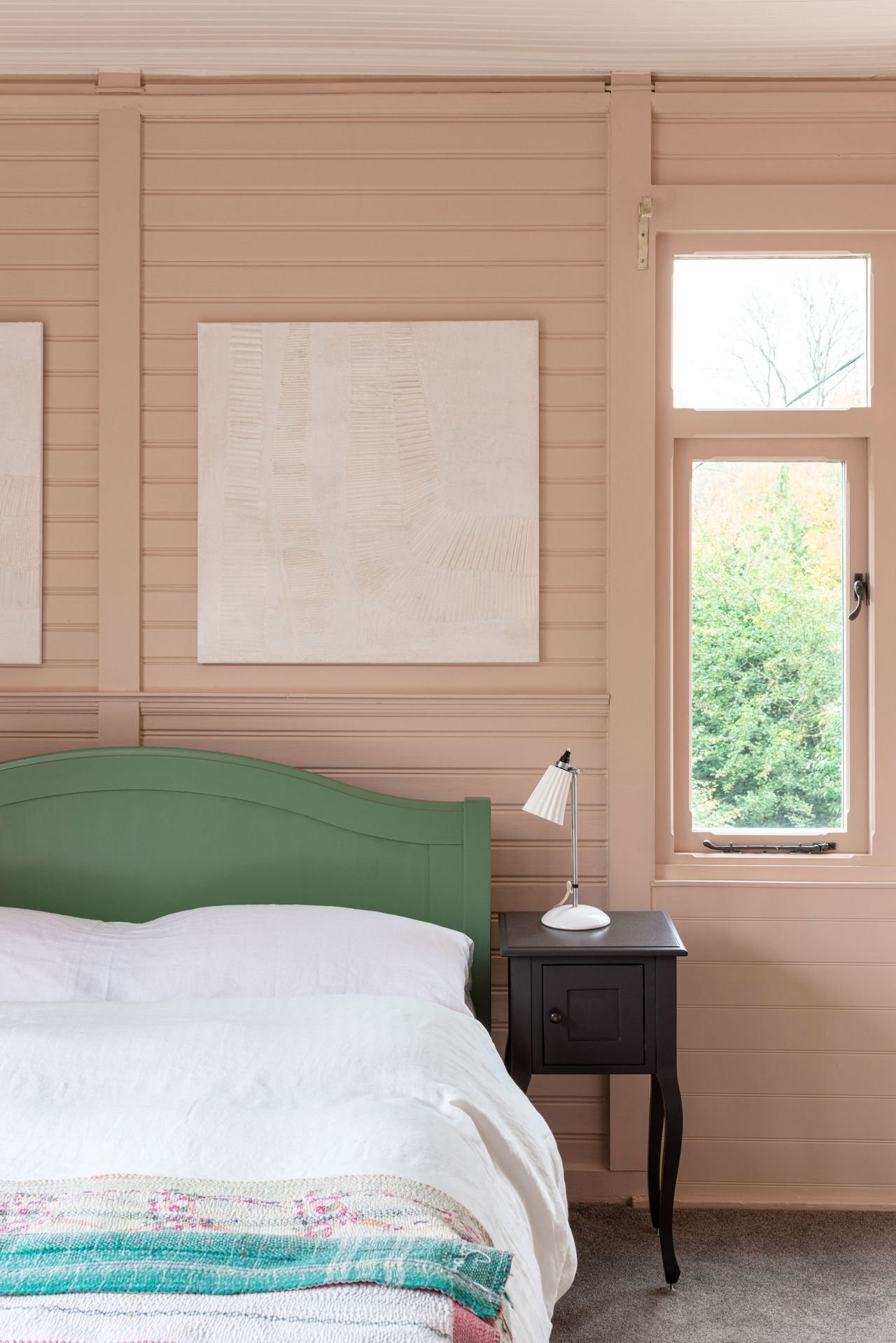 There's a huge array of pinks to choose from so do delve in and see what works for you. 'Pink' can cover barely-there off-whites with a hint of pink to warm it up, to magenta, fuschia, salmon, blush, peach, rose and coral.
'Try this scheme in a bedroom using Setting Plaster on the walls, Dimity on the ceiling, and team with a gentle green on your headboard or a piece of furniture such as Calke Green,' advises Patrick O'Donnell, Brand Ambassador at Farrow & Ball.
Setting Plaster is what we would call a more coral pink, it has a yellow pigment which gives it a warming blush tone that's warm and soothing.
5. Go up and over in a large space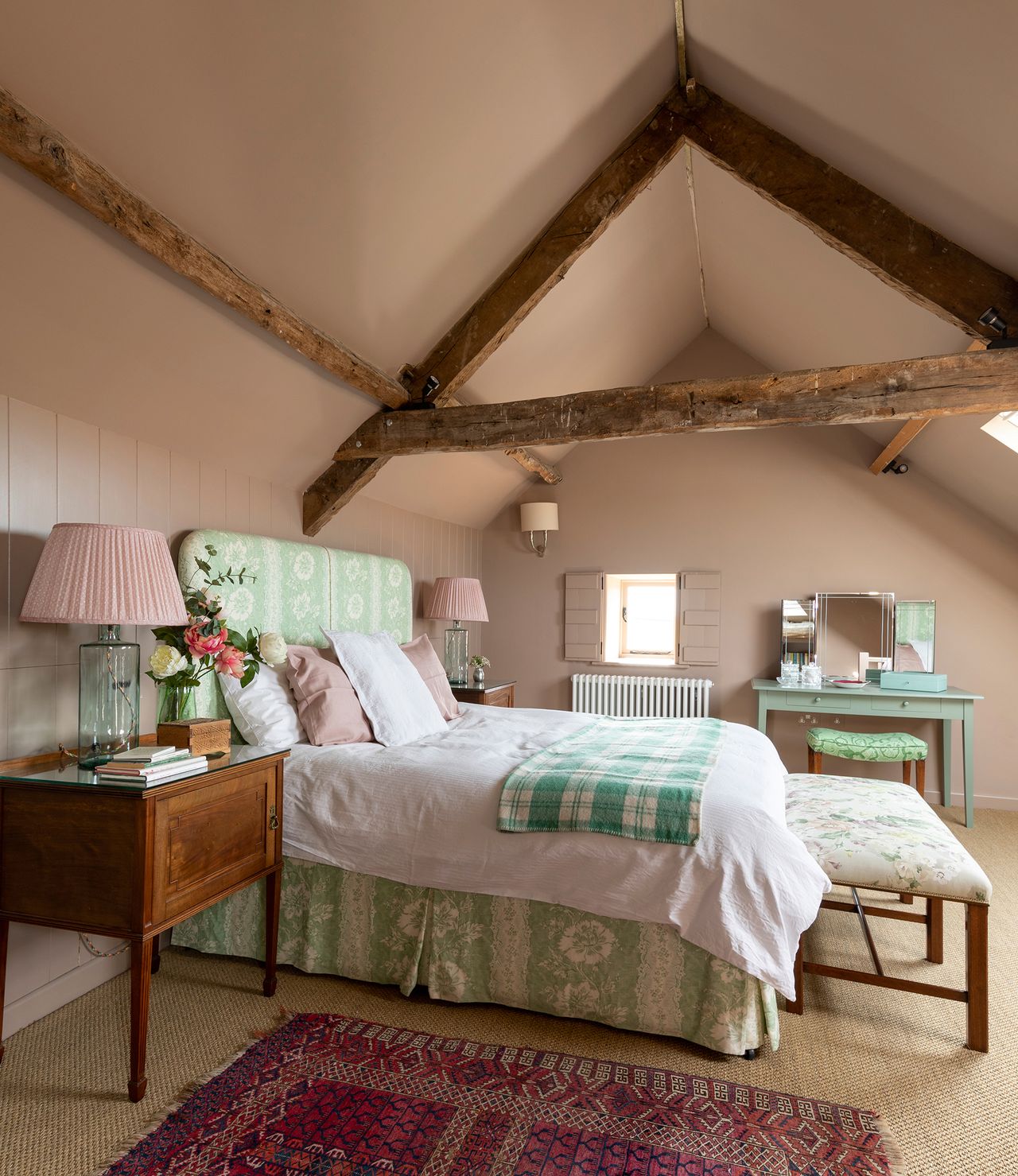 We've mentioned before that painting your ceiling is the new Big Thing and this bedroom space is a great example of how it can work to your advantage – and it's pink!
This room is light and airy with high ceilings but it could feel too big if painted white. Use a refined shade like Mylands Threadneedle No. 262 to warm it up without detracting from the main elements and add in the odd pop of neon pink to create a statement.
6. Opt for more than one shade of pink
Walk in showers are a great place to experiment with color and pattern, and if you can't decide on one color then go for three – odd numbers always work best. Break the rules and ditch a regular tiling pattern too, be random – who says you need a specific layout? The irregularity of these Alalpardo and pink plain tiles makes it more striking and individual. Bathroom designed for The Landscape Lodge.
See: Bathroom ideas – stylish decor ideas for all bathrooms
7. Combine pink plains, prints and patterns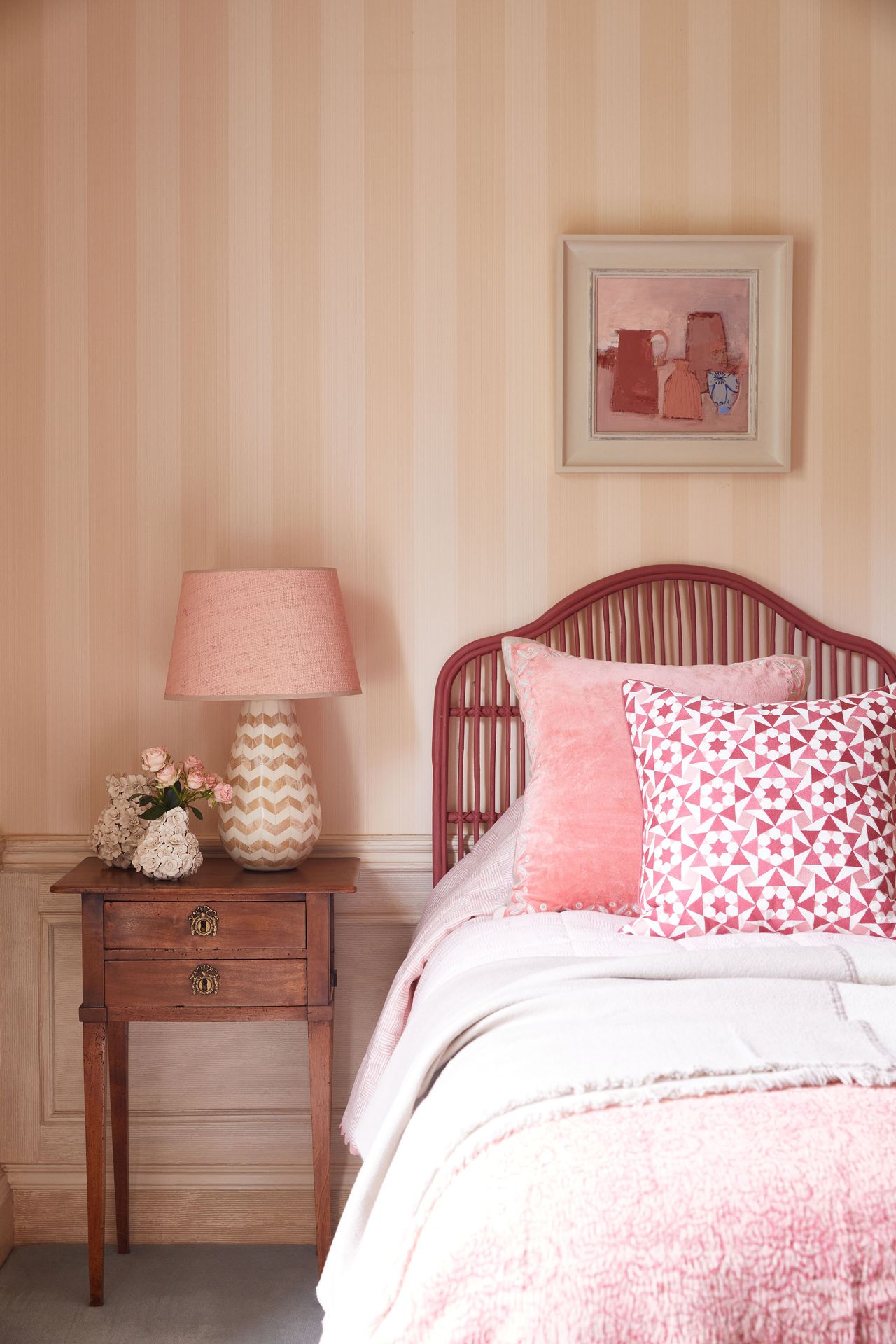 How about a room that has more shades of pink than any other color? 'Gentle pinks are here to stay,' says interior designer and creative director Birdie Fortescue.
'A color that was once reserved for bedroom schemes can be used to add freshness and give a cheerful warmth to other areas of the home. Here, muted rose pinks make a statement without being too bold or overbearing.'
Mixing up numerous prints and patterns makes for an interesting scheme and don't forget to throw in a few sumptuous textures too.
8. Make pink the blank canvas for a decorative scheme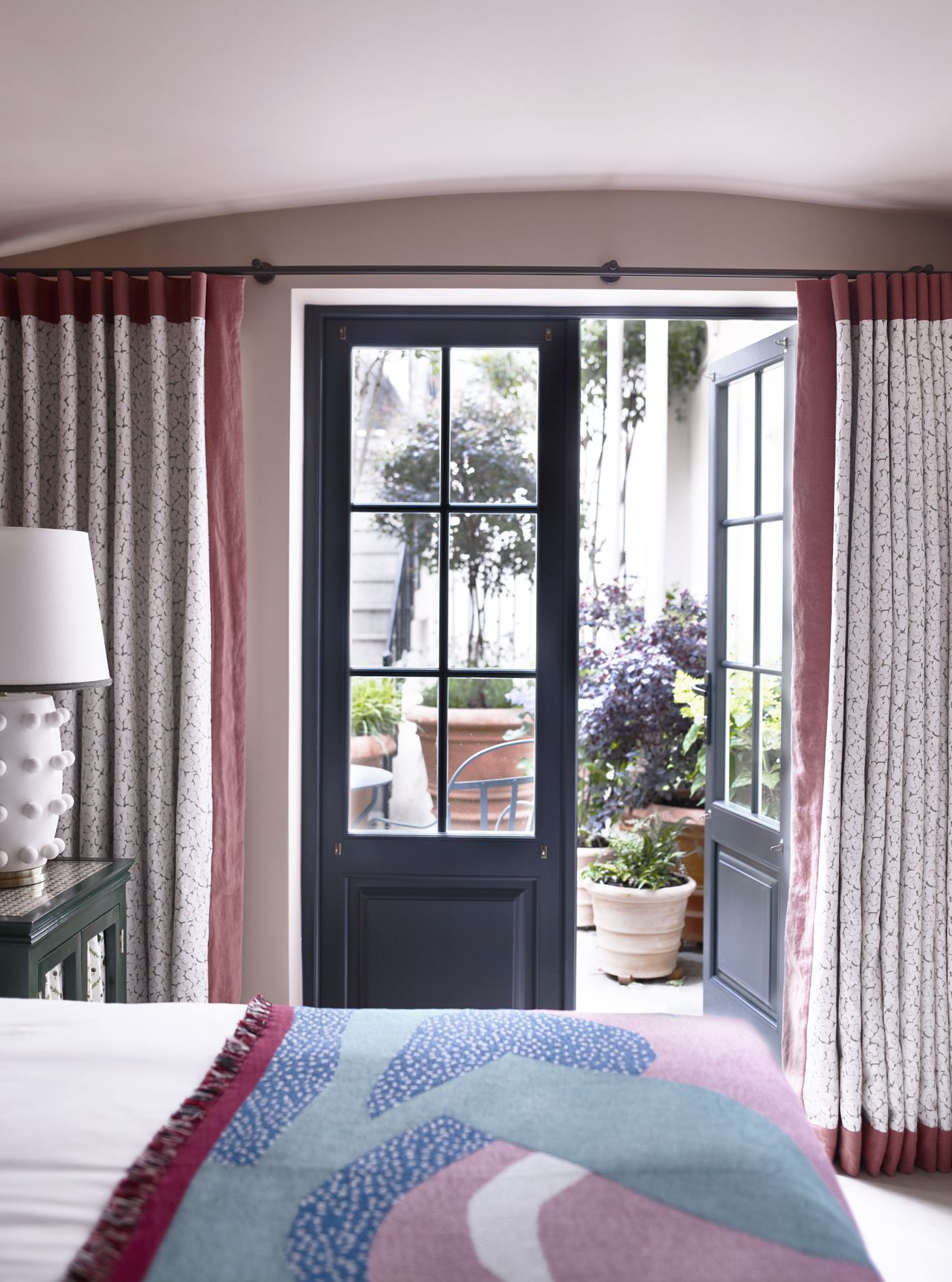 A gentle blush will act in the same way as white would – it gives you a blank canvas on which to pin the rest of the scheme. You can then use a darker hue to trim curtains and accessorize with a patterned throw with similar shades in it. It also looks great when you paint the ceiling the same color as the walls – even if the ceiling is on the low side, it makes for a cozier feel. This room was designed by Gunter & Co.
See: Bedroom ideas – designs and inspiration for beautiful bedrooms
9. Use pink wallpaper to add more than a hint of pink
For a country cottage style look, opt for a pretty wallpaper and keep it simple by choosing a two tone design, then it can act as a background for vintage paintings and decorative plates. The Flowerberry Pink wallpaper is from a selection designed by Penny Morrison, the floral silhouettes sit perfectly on the slightly worn pink background.
10. Add depth with two shades of pink
Create interest through a doorway by using a darker tone behind the paler tone. It works really well and adds a contemporary feel to a space. Will Thompson at paint company Valspar shares his thoughts below on how fabulous pink can be.
'Pink is a really versatile color, you can opt for bold and bright shades like Cactus Flower and Magenta Manicure to make a real statement and express your personality.
'Alternatively, opt for blush or muted tones, such as Strawberry Parfait (shown) and Dusky Zinnia, to create a more subtle, cozy atmosphere. The variety of pink tones also mean you have flexibility when it comes to compatible colors; pair it with deep blues to add coolness to a room, choose lighter shades for pops of ice cream pastels or pair with grey for a classic feel.'
11. Give pink a contemporary edge
Often dismissed as a color for traditional room schemes, pink can be a perfect choice for contemporary spaces, too, as in the pinky-terracotta room above designed by Kelly Wearstler for Farrow & Ball.
'Color is the spirit of a room, and provides expressive power to transform a space with your personal voice, whether you're painting all of your walls, or just one,' says Kelly.
12. Pick a yellow pink for warmth
'A well-judged pink is a far more useful color than you might think. It has always struck me how many serious-minded Grecian interiors employed it two centuries ago,' says decorator and paint specialist, Edward Bulmer of Edward Bulmer Natural Paints.
'This is because it can be serious and architectural as well as soft and inviting. It's crucial to avoid the shade being too fragrant and our Jonquil – which has a soft hue that hovers between pink and yellow/beige – is now one of our bestsellers, being used in halls, living rooms and bedrooms.'
See: Hallway ideas – stylish ways to create a welcoming first impression
13. Pick a grown up shade of pink
'I enjoy using pink in its many forms, dull, blush and even an orange-y pink,' says Charu Gandhi, director of Elicyon. 'Our projects are often quite tailored and chic so we find pink is very adaptable and fits well, it can be striking but also romantic and gives a real sense of soft glamour – almost a romanticism. Pink works very well with metals and even champagne gold trim fabrics.'
14. Ground pink with dark blues
Not everyone would risk using such a deep pink on the walls of a living room but use the right shade and instead of boudoir brash it will make any room look fresh, modern and very grown-up.
Guests will be pleased too; the decorator Nicky Haslam is a long-term believer in pink being the most flattering color for walls. This dark calamine lotion hue creates a perfect backdrop to set off the plentiful art works and mirrors in gilded frames highlighting, rather than distracting from, the colors within.
Interior designer Beata Heuman, who specialises in creating rooms that are at once cozy, eclectic and chic, further grounds the living room space by using a more conventional navy blue plain on the sofa and chairs. This color is then carried to the very edges through the use trimmings, lending a tailored and modern look to the scheme.
15. Choose pink for a restful bathroom
For years, the unwritten rule was that woodwork should be painted in high gloss with ceilings in a clean matt white, but finishes can be creatively used to make and accentuate architectural features – worth a thought in period buildings which are blessed with plenty of these details.
Create a tonal statement not only by pairing two different colors – a pale pink and a dark navy are an unusual combination which nevertheless works well together (as fashion designers have long recognized).
Then use another contrasting technique by painting the walls in matte emulsion against the door and skirting boards in glossy eggshell – it will help to frame the room. In this scheme by Farrow & Ball, the walls are covered in Pink Ground modern emulsion while the door and woodwork are highlighted in an eye-catching Hague Blue eggshell.
See: Bathroom ideas – stylish decor ideas for all bathrooms
16. Warm up a cool room with pink window treatments
The play of light and color at a window has an unrivalled effect on our homes. Bold, colorful curtains and blinds, such as on-trend coral, will lend a room a sense of adventure, infusing it with character so that the window becomes a dashing highlight.
Exercise a little restraint and gentler palettes of easy-living light pinks or blush will allow windows to take on the vital background role in a soothing, harmonious scheme.
17. Soften the impact of dramatic pattern with pale pink
The concept of light and shade works well. 'While an all-enveloping color throughout can work brilliantly, a subtler approach is to cut through bright or dramatic hues with softer colors,' says Kate Bradley, Neptune home designers. 'Try combining a deep navy with a rose pink, such as our Old Rose, or a neutral linen for example.'
18. Create a haven of calm with soft pinks and greens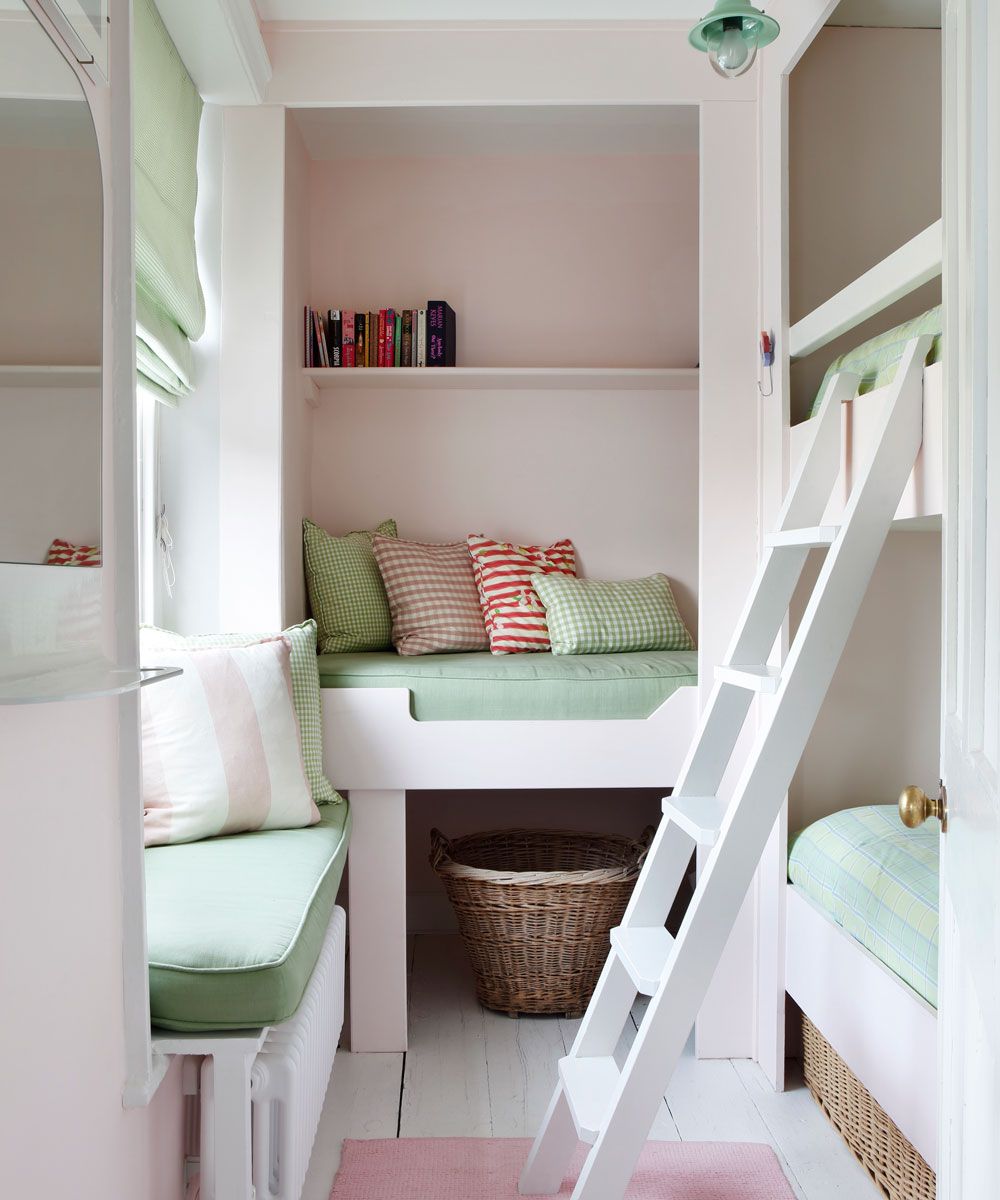 If you like the idea of decorating with color in a bedroom but prefer muted shades, try a pastel variation of pinks and greens. Then bring in accent pieces – like a bright rug or a ceiling pendant – to sharpen up the color palettes.
Pale pinks and greens, soft stripes and with lots of white on woodwork and exposed, painted white floorboards creates a light and breezy look which is a helpful color palette when decorating a room with very limited dimensions. Keeping the tones quiet and unchallenging or using washed out colors helps channel calmness and serenity into a bedroom environment.
See: Green room ideas – gorgeous ways to use nature's palette
'In this girls' room, we employed a combination of soft powder pinks and pale green tones to set the scene in our client's seaside home,' says decorator Katie Cox of Ham Interiors. 'We used soft pink on the walls along with pale green fabrics and accents to create a pretty yet fresh feel in a very small space.'