Blue living room ideas – ways to decorate with light and dark blues
Multifaceted blue living room ideas are perfect for a living room's varied roles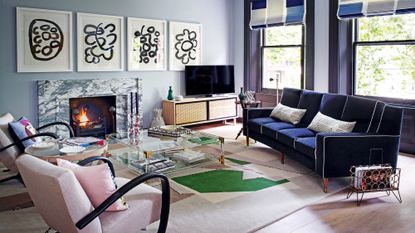 (Image credit: Future/Paul Raeside)
Blue living room ideas come in all shapes and sizes – and shades, and tones, and tints. That's because blue is one of the most multi-functional colors in the interior design spectrum.
Pick cooler shades to make a south-facing space feel positively serene, and warmer tones for east- or north-facing living rooms to keep the space feeling welcoming, and you'll be spot on.
Plus if you're looking for living room ideas that are calming, even in the busiest of households, this is the color to choose.
'Blue is a surprisingly versatile color that can work all around the house', says Kathryn Lloyd, color specialist at Crown Design Studio. 'Its different tones have the power to convey a variety of moods, from bold to peaceful, so they can be easily introduced in any type of living room, no matter the size or style.'
'With blue being one of the world's longest standing most popular colors, it's safe to say it's been added to the timeless palette', adds Kelly Collins, head of creative at Swyft. 'It's hard to go wrong with this elegant, rich color.'
Blue room ideas' adaptable nature means they work especially well in a living room, a part of the home that can take on many functions, from home office to playroom.
Blue living room ideas
To find out how to make decorating with blue and its many facets work for you, we spoke to design experts about their favorite blue living room ideas, and pulled together some stunning examples to inspire some blue-sky thinking.
These will inspire you if you're looking for living room paint ideas, although we have included wallpaper below, too.
1. Don't be afraid of the dark
While lighter shades are always the knee-jerk go-to for wall colors, blue is a hue that you really can dive deep into.
'Darker colors can imbue a magical quality in your living room, maximizing its coziness', says Patrick O'Donnell, brand ambassador at Farrow & Ball. 'Colors such as the complex blue-green notes of [Farrow & Ball's] Inchyra Blue would look elegant in a blue living room, paired with off-white woodwork such as Strong White in Estate Eggshell. Add notes of spice in burnt orange through accessories and furnishings.'
2. Pair with white — or, even better, cream
Whether you're majoring in blue's lighter or darker side, pairing it with a white is an easy win for refreshing blue living room color schemes.
'Blue generally looks fantastic paired with crisp white, giving the room a fresh and summery feel', says Lloyd. 'Warmer tones of cream bring out its warmth, ensuring the color scheme doesn't look too stark.'
'Why not stick with a royal blue and pair it with an off-white, neutral color?', suggests Collins. 'These colors will definitely create a relaxed vibe in your space and be completely on trend. You could even add a bit of fun and use different tones of each of the colors to create more interest.'
3. Blue loves other colors
One of the key characteristics highlighted by almost all of the experts we asked was blue's versatility. Not only is it an emotionally powerful color in itself, but it is also easy to pair with a whole host of friends, from gray living room ideas to more eclectic combinations, to create a more dynamic scheme.
'Blue is a color with infinite possibilities', says Francesca Wezel, founder of Francesca's Paints. 'It is extremely versatile in that it can be combined with a variety of shades, from brown and cream, to gold, gray and pink.'
In this eclectically designed blue living room, a soft, periwinkle blue serves as a stable, calming base onto which a variety of bold colors and graphic patterns are layered.
4. A blue sofa will bloom all year round
Blue wall paint isn't the only way to bring the color into your living room — it's also a smart selection for the room's most important piece of furniture.
'Blue makes for a great sofa choice as it works well with a variety of tones, and transitions well into different seasons', says Dani Burroughs, head of product at Snug.
'A navy velvet, for example, can bring a regal flair to your home, instantly elevating your living room. A lighter hue such as a soft teal can bring a calming influence. It's perfectly mellow, not too loud or bright, and not too dull either.'
5. Sprinkle some gold for a glamorous look
While scientifically proven to induce calm, blue has a wild side too. When employed in jewel tones like royal blue or a deep turquoise it can be unendingly lavish – especially when paired with gold accessories.
'If you'd like to introduce a little shimmer, gold is the perfect complement,' says Lloyd. 'A sophisticated and refined pair, blue and gold will give the living room a glamorous feel that can be adapted to suit different styles, from industrial to country.'
6. Navy blue is a nighttime wonder
'The living room is the place we all look forward to retreating to after a long day', says O'Donnell. 'Add a well-chosen scheme, and you're assured of space you can't wait to come home to.'
If your living room is a space primarily used in the evening, consider painting it a shade that will look at its absolute best when you need it most – for O'Donnell, that's the perennially popular navy blue.
'Navy blue is incredibly smart for a living room and extremely cosy in the evening light. For interest, no matter the time of day, try contrasting tones of equal intensity on walls and ceilings, or taking the color straight up and over to create the ultimate evening retreat.'
7. Keep it cozy with texture
A blue and white living room makes for a super clean color scheme – but while its freshness is invigorating, it needs some added rough and tumble to make it feel more sea breeze than hospital scrubs.
'To avoid your scheme feeling too clinical, incorporate different textures such as linen cushions in contrasting blue hues, tactile throws, and wooden accessories for a rustic country finish,' advises Ben Stokes, interior designer and founder of Kagu Interiors.
This monochromatic white and blue living room sticks dutifully to the pairing, but introduces cozy living room ideas in the form of textures – from a rustic patterned screen to an intricately woven carpet – to help it feel lively and lived-in.
8. Working from home? Blue is a brainy choice
With working from home likely to become a continuing habit, living rooms are set to take on yet another function. If your living space has recently taken on the mantle of home office, tailor it to your newfound needs by painting it blue.
'If you are wanting to create a soothing relaxing space that also improves your focus and productivity, then blue is the perfect color to go with,' says Collins. 'Blue is a very popular choice for bedrooms or working spaces for all of these reasons, but it's also a very timeless color.'
9. Channel the Mediterranean with patterned wallpaper
As a classic combination drawn from nature, blue and white has historic design connotations in multiple cultures all around the world. In this room, a statement wallpaper takes notes from Portuguese tile design, channeling the blue and white ceramics that climb the exterior walls of homes in cities like Lisbon.
Whether it's tile-style or winding florals, blue and white patterned wallpaper ideas generate a bold look, but reign in the fuss.
10. Brighten it up with yellow
Blue can have a sunny disposition – it just needs a little help from the other side of the color wheel. 'A color we are seeing blue paired with a lot is yellow, the [2021] Pantone Color of the Year,' says Collins. 'Royal blue and yellow living room schemes are bright, fun and joyful. These can be hard colors to pair together, so I would recommend choosing blue as your main color and the other as your accent.'
In this blue living room, light blue winds its way around the room through an elaborate patterned wallpaper, while both navy blue and bright, cheery yellows punctuate the soft furnishings.
It's worth noting, too, that if you're favoring a blue that would sit comfortably on a green living room ideas moodboard, yellow is a great choice for adding a welcoming shot of warmth to the scheme.
Should I paint my living room blue?
Absolutely – blue is regularly voted high on the list of best colors to paint your living room, according to the color experts. You'll need to choose the right shade for your space, but blue is generally a color that works well across large areas.
'Blue works extremely well in the living room, as it has a calming, welcoming effect and reacts well to natural light,' says Wezen. 'I always include burnt umber in my blues to ensure they are never too cold, tonally.'
'Having painted a room blue, it may take time to accustom yourself to the look. You're likely to be horrified,' says Martin Waller, founder of Andrew Martin. 'Leave it for a week and your feelings will alter. I suspect you won't hate it and if you do, repainting isn't that difficult.'
'If you are still hesitant, start your transformation in a cloakroom or small bedroom, since richer colors work well in such spaces, despite the accepted wisdom that white paint makes a room seem larger.'
Ailis started out at British GQ, where a month of work experience turned into 18 months of working on all sorts of projects, writing about everything from motorsport to interiors, and helping to put together the GQ Food & Drink Awards. She then spent three years at the London Evening Standard, covering restaurants and bars. After a period of freelancing, writing about food, drink and homes for publications including Conde Nast Traveller, Luxury London and Departures, she started at Homes & Gardens as a Digital Writer, allowing her to fully indulge her love of good interior design. She is now a fully fledged food PR but still writes for Homes & Gardens as a contributing editor.