Yellow living room ideas — 11 designs, from buttercup to ochre
Yellow living room ideas create the warmest and most inviting of spaces - and they're perfect for every home. These are the most elegant ways to use this bold bright color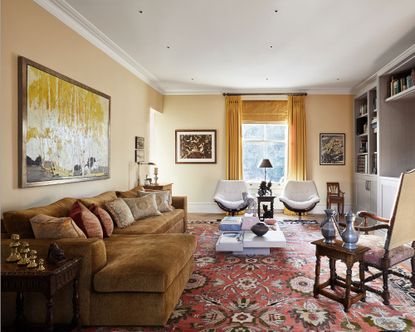 (Image credit: Davide Lovatti/Future PLC)
Yellow living room ideas are a timeless favorite. Hotter shades are perfect for warming up a cool space illuminated by northern light and pastel shades of yellow can be perfect for hot, sunny rooms.
Yellow living room paint ideas can range from deep and earthy to just-off-white. Whichever yellow you choose, your room will feel welcoming by day, and cocooning by night.
Decorating with yellow is the perfect color to pair with contrasting and complementary shades, and it can work in both contemporary and period living room ideas.
Yellow living room ideas
From bright lemon accents to very on-trend color pairings, we gathered some stunning examples of yellow living room ideas, and asked the experts for their tips on bringing a little sunshine into your living space.
1. Choose sunflower yellow
If bold and bright is your style, opt for a vibrant sunflower yellow.
The shade may conjure summery notions, but it also makes for a cozy, warming environment in the winter too. In this room, it brings a vibrant update to a period property, contrasted with white ceilings and a fireplace, and tons of texture in the silver velvet sofas and rug.
'Note the gloss finish on the walls,' adds Homes & Gardens Editor in Chief Lucy Searle. 'This is an increasingly popular interiors trend that designers are adopting to reflect light and give a high-end finish. But a warning – your walls need to be perfectly finished or this effect will only highlight lumps and bumps.'
2. Get on trend with yellow and gray
Both yellow and gray were named as Pantone's Colors of the Year for 2021 and are excellent paint colors to pair together.
'For a modern look, balance yellows with something cool like a pale gray or an off white,' recommends Kathryn Lloyd, Crown Color Specialist. 'Try teaming this with natural woods and materials like wicker and bamboo as these will blend in well with the contrasting tones.
'Versatile, sophisticated and subtle, gray living room ideas have become very popular,' says Chrissie Harper, Customer Experience Manager at California Shutters.
'Not only does it make a room feel warm and inviting, compared to more traditional shades of white, but it also complements bolder accent colors such as vibrant yellows.'
3. Go earthy with yellow ochre
Living room color schemes can also benefit from delving into yellow's earthier tones, by mixing in a little brown for a yellow ochre.
As demonstrated in this living room, the shade works especially well when used as a wall paint alongside natural textures. In this case, a mixture of light and dark brown woods.
4. Introduce yellow pops to a monochrome scheme
Yellow need not cover your walls to make an impact in a living room. It can have a transformative effect, even when used in small doses in neutral living room ideas or in a largely monochrome scheme, like in this example above.
'If you wanted to inject a little playfulness to a room without having to commit to big decorating decisions, you can also do it subtly with accessories, cushions, throws or even an accent piece of furniture,' say Jenna Choate and Mariana Ugarte, Co-Founders of Interior Fox.
'Work with accessories with different textures, shapes and sizes to bring the space to life, while adding various points of interest throughout the home.'
5. Pair yellow with blue
As we've all been longing for the great outdoors a little more than usual, blue living rooms have become increasingly popular.
Pairing blue with yellow makes for a vibrant, mood-boosting scheme. In this room, blue walls are contrasted with sunshine yellow accents, with the combination kept light with the use of white in between them.
6. Add pizazz with a yellow sofa
After the walls and the floor, the next biggest chance you have to inject color into a living room is through your sofa choice.
'Our must-have Turmeric fabric adds real depth and pizazz when used on a larger piece, like a 3-seater or corner sofa. But it can equally create calmness and warmth when paired with neutrals, as shown in the white living room above,' says Dani Burroughs, Head of Product at Snug.
7. Go tonal and fade to cream
For a more traditional approach to yellow living room color scheming, pair yellow with a soft cream.
Doing so will create a room that feels welcoming and warm, without feeling too bold. Introduce mid-greens for extra warmth, or blues to cool the space down a little.
8. Add a patterned wallpaper
If you want to take a yellow living room scheme down a notch, but still want to create impact, one way to do so is with a gently patterned wallpaper. Yellow is teamed with black or white, for example, as in the space above by Kit Kemp for Andrew Martin.
'We've noted an increase in yellow. It is becoming a very popular choice this year as homeowners look for ways to add a cheerful color palette to their homes. For a more muted look, introduce delicate patterned wallpaper or for a bolder scheme, paint the ceiling for an unexpected pop of color,' Nina Tarnowski, Founder & Designer for Woodchip & Magnolia.
9. Make a statement with a yellow rug
If you are looking to experiment with yellow or want a quick living room refresh, the best way to do so is always with accessories.
Changing or layering your flooring will have the biggest impact on the room, with a yellow rug the obvious option, and a perfect addition to a neutral scheme.
'Statement flooring within living rooms is being seen more and more. Make the look work by keeping the rest of your room relatively neutral and applying clever splashes of tonal accent color,' says Jenna Kane, Product Development at Kersaint Cobb.
10. Pair yellow with natural textures
This peachy-colored living room has been given a contemporary flourish with pops of primary colors, including a zingy yellow on the bobbin-legged table.
Matched with strong natural textures, such as the weave of the armchair, the room feels pleasingly like a modern Shaker space.
11. Choose yellow velvet for a sumptuous feel
Velvet is a sumptuous fabric, and in gold it is reminiscent of furniture seen in the most lavish palaces in Europe.
Clad armchairs with it in your own living room and the result will be just as luxe. The important thing is to be restrained with the decor in the rest of the space so that the bling doesn't over-power.
Is yellow a good color for a living room?
Yes, yellow is a great color for a living room: warm, welcoming and space-enhancing all in one go, it is hard to go wrong with this inviting color.
'Give your living room a refreshing update with yellow. Its mood-boosting hue has wonderful benefits and works well in any area of the home, but especially the living area. From sunshine yellow, sumptuous turmeric to a soft pastel, there is a color to suit all,' says Nina Tarnowski, Founder & Designer for Woodchip & Magnolia.
How do you decorate a light yellow living room?
A light yellow living room is best decorated with neutrals and naturals so that the space feels calm, sunny and interesting.
'For a calming effect, opt for lighter tones offset by natural finishes,' say interior designers Jenna Choate and Mariana Ugarte, Co-Founders of Interior Fox.
This means introducing whites or creams on woodwork and ceilings, and on furniture, too, then introducing pale woods and natural textures such as bamboo and wicker, basketwork and sisal with which to accessorize and dress the space.
Ailis started out at British GQ, where a month of work experience turned into 18 months of working on all sorts of projects, writing about everything from motorsport to interiors, and helping to put together the GQ Food & Drink Awards. She then spent three years at the London Evening Standard, covering restaurants and bars. After a period of freelancing, writing about food, drink and homes for publications including Conde Nast Traveller, Luxury London and Departures, she started at Homes & Gardens as a Digital Writer, allowing her to fully indulge her love of good interior design. She is now a fully fledged food PR but still writes for Homes & Gardens as a contributing editor.