20 living room paint ideas – stylish ways with paint, and expert decor tips
Use these living room paint ideas to create striking visual effects using the latest colors and trends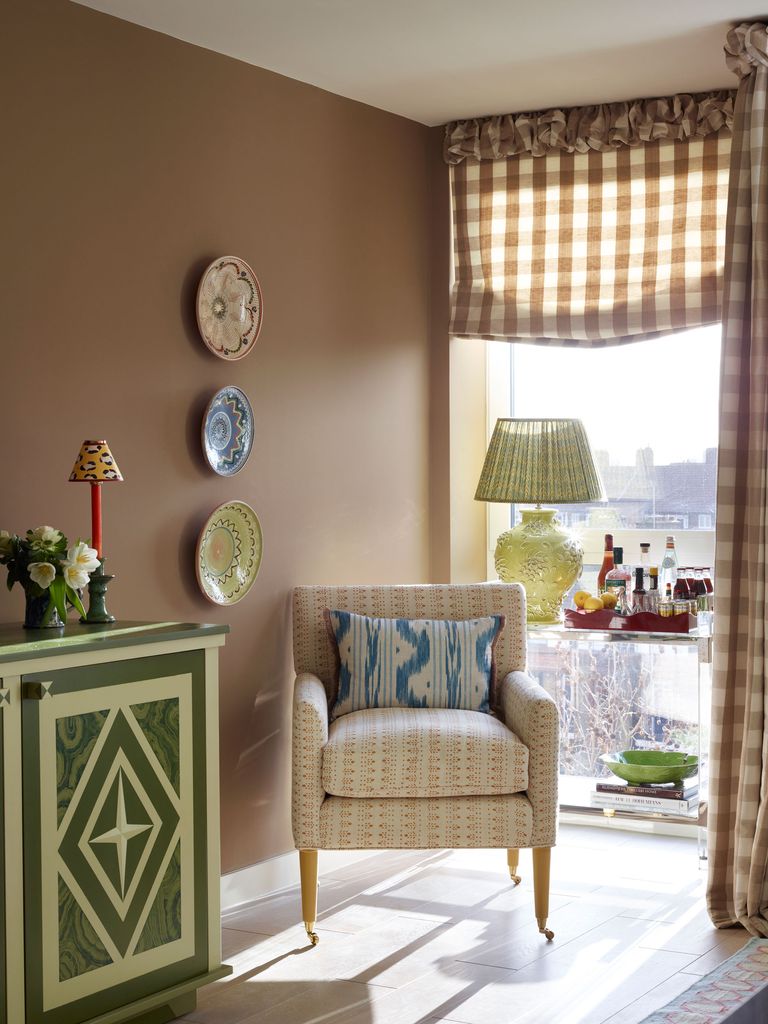 (Image credit: Salvesen Graham)
Adding color with paint is a quick and easy way to add style and personality to a living room. Whether your living room is an oasis of calm or home to a house full of children, nothing can transform a space like paint. Take a look at these brilliant living room paint ideas to inspire your own decorating scheme.
Color (even if you're using neutrals) should be the first thing to consider when starting to redecorate. Ensure your chosen hues work well in your room by applying testers of paint onto sheets of white paper, then tacking them onto each wall you're thinking of using that color on. 
Leave them up for a few days before making any final decisions, noticing how the light affects the color at different times of day, as well as checking they work well next to other elements, such as curtains or couches.
If you're not confident in choosing a scheme, go with a pre-selected palette already picked out by the paint brand you're using, or follow our advice later on working with tonal, harmonizing and contrasting colors.
See more: Living room ideas – inspiring ways to decorate and furnish your space
Living room paint ideas
These paint ideas have been chosen for their suitability for living rooms but also because they are on trend for the year ahead – yet ultimately timeless. Choose a tone that's right for the orientation of your room – east- and north-facing living rooms will need warmer shades than south- or west-facing living rooms. 
Similarly, poorly lit rooms will benefit from lighter shades – unless, of course, you purposely choose to make your living room dark and cozy.
1. Work with white
Nothing surprising about this, but brilliant white paint has a transformative effect on interiors – use it on walls and ceilings and it will make a star of every non-white piece of furniture, fabric and accessory in your living room. 
White is a wholly selfless paint shade, providing all the light and energy while reflecting the attention elsewhere.
Decorating with primary colors over white will bring the scheme to life, pastels will be pretty – or you can go for a monotone scheme by sticking to white and black – although the addition of gold or coppery metallics will add warmth, as in the room below. 
2. Add a touch of warmth with cream
For a while, back in the 1980s, white was replaced by magnolia. And though now we tend to shy away from that pinky-cream, it is a forgiving shade that fits perfectly well into contemporary (above) or more traditional (below) rooms. 
In fact, if you love the idea of a white room but have a north- or east-facing living space with little warm natural daylight, this should be one of the colors you test out. It will reflect light, but add an inviting warmth to the room that white can't.
3. Add the warmth of cream – but make it edgier with ochre or ochre
Beige that leans towards ochre (above) can be a truly lovely color. North-facing rooms can feel chilly, so use a lovely warming shade like a burnt ochre to warm the space up. 
Any color that mimics something we can find in nature, stone and mushroom for example, will have a calming effect. 
Follow it through into blinds and curtains too and add accents of grass green to add a fresh feel – you can't go wrong if you follow nature's palette. 
See: Neutral room ideas – light, dark and timeless ways with color
Coral (below) has emerged to be one of the most popular shades over the last six months, so we asked Helen Shaw, UK Director at Benjamin Moore why she thinks it's such a hit.
'Corals and pink peach tones are perfect for making a design statement. They create a rich, warm welcoming feeling with undertones of red, orange and pink. It works beautifully as an accent to a grey scheme or in its own right as a statement wall color.
'More neutral, natural plaster tones or light terracotta shades can create a wonderful earthy feel in a room. They look particularly eye-catching in well lit spaces and when paired with natural materials or painted wood.'
4. Choose the right shade of grey
Now the best-selling paint color after white, grey has secured its position as the modern neutral of choice. Finding the right grey is exactly like buying a red lipstick: you choose one with the undertone that suits your skin tone.
If you hold together a fan of grey paint charts, you'll see how widely the tones vary. The cool end of the spectrum has blue undertones, as shown here, while the warm shades feature red bases that give them brown, pink or purple tints. Your journey starts with deciding on the 'temperature' of color your room needs – cool or warm.
5. Pick a warm grey-beige
This shade of grey has a touch of yellow in the paint, giving it a brownish tint, which gives it a pinkish tinge. This color of grey is great for east and west-facing rooms for diffused light at sunrise or sunset respectively, while adding warmth at other times of the day. 
Grey is a wonderful canvas for other colors. Team with bright artwork and accessories for a truly striking appearance.
See: The dos and don'ts of decorating with grey – to pick the right shade for you
6. Pick a deep, earthy tone
Sherwin-Williams Color of the Year 2021 is Urbane Bronze (above), another timeless shade that won't date any time soon. It's the perfect step forwards from more muted neutrals, offering the opportunity for us to create cozy living rooms with paint alone.
See more: Paint ideas for every room – how to choose the best paint colors every time
7. Pick a deep chocolate brown for enveloping warmth
Darker shades can feel a bit scary to use, but actually they can be a wonderful choice for a living room. Warm and nurturing, they work well in a room that feels too big, and of course, balance is key to making the rest of the scheme work. 
Called Cherry Truffle and described as a 'bitter chocolate with a hint of red' hence the berry theme, the brown above looks great with lighter hues like ruby and claret as they'll lift the overall look. If you add in a warm metallic – perhaps in accessories – the room will glow and not feel too dark. Keep the floor pale and the ceiling white for contrast. 
Below, there is Charbone from Paint & Paper Library. Keeping your ceiling light will lighten the room and bring balance and contrast to the scheme; team the brown with warming shades like taupe, sandstone, blush and coral will create a cocooning feel that's cosy and uber stylish – just make sure you have a few paler pieces, textures and patterns to add a decorative element.
8. Go back to black with your living room paint ideas
A deceptive but delicious black paint, the blue undertones of this shade give a pleasurable richness and depth. When used with white, it will dramatically change the interplay of light and space in your room. Striking enough to take center stage yet subtle and confident enough to allow other hues to shine, black is a dream to work with.
Use it wall to wall in a room that gets lots of daylight, or highlight architectural features, such as window frames and shutters, in rooms that are more light-starved.
9. Go for deep blue to make a living room intimate
Nothing pops like blue – a shade that has the power to transform. Deep and bright, indigo is surely the most joyful blue hue. Sitting between pure blue and violet on the color spectrum, this intense color is the shade of choice for designers and artists.
10. Create a sky blue living room scheme
For instant grandeur and a nod to heritage, there are few colors that can match the timeless appeal of an inky blue (above). This rich hue with its chalky finish provides the perfect backdrop to jewelled colors and print, but for understated chic mix with wood and white accents. Feeling brave? Add soft green pieces to lift a scheme and create an unexpected, smart look.
See more: 10 most popular Farrow & Ball paint colors, according to the internet
A shade that's always been popular in the world of interiors, soft blue (see below) is set to be next year's color du jour. Powder blue paint has the quality of being both soothing and invigorating and offers plenty of design versatility. Used with crisp white and pebble grey, it creates a calming coastal feel, while as one block of color it can be an enveloping breath of fresh air.
See: Blue room ideas – the cool colours that bring rooms alive
11. Keep it cool with Tiffany blue
If you love blue but are worried that the room you are decorating might feel a little cool afterwards, choose a color with a touch of yellow in it. This produces a much warmer blue that can cope with the coolest of atmospheres. 
This cool color is inspired by the iconic packaging of the jewellery store. Tiffany blue is not a shade for the faint hearted, so if you're nervous of adding bold color all over, use it in alcoves or on one feature wall, instead. The trick is to balance out this dynamic hue by teaming it with white furniture and distinctive color, such as red.
12. Give your living room green credentials
Bringing the outdoors in by having green walls in your home is always a good idea; the nod to nature will create a calm atmosphere however busy the space, so integrating the color into a well-used living room works just as well as in a spa-style bathroom. Greens are also said to inspire creativity and spontaneity, making them ideal for your living room walls.
See: Green room ideas – gorgeous ways to use nature's palette
13. Turn up the heat with yellow
Sophisticated and inviting, yellow brings in warmth and a cocooning feel to the living room. Its rich, textured caramel tones elevate it from just another brown, making it surprisingly tranquil, particularly in small living rooms. The earthy shade sets off the vibrancy in colors such peony pink, apple green and amethyst purple, but also highlights classic stone and white.
See: Yellow room ideas – guaranteed to turn up the heat
14. Warm a cool room with an autumnal color palette
Lazy, far-flung holidays may not be a reality for many this year but you can still evoke the feeling of sun-drenched escapism with a burnt orange paint colour. Walls painted in terracotta create a bold backdrop for building up layers of interest with a pale linen sofa, patterned rug and two-tone accessories.
15. Pick pale pink for warmth and light
Such a strong trend and so versatile, pink is an easy color to pair with others and works particularly well when used with ochre, green, mulberry, coral or orange. At the stronger end of the palette, fuchsia or ruby are impactful, while the softer tones are ideal for a living room. A room painted pink will look warm and inviting all day long, regardless of how much natural light is present, and at night the same space will be wonderfully cozy.
Try using a pink paint in a north-facing space to warm up that cool light. Here, this calm color palette of warm neutrals grounded by black accents allows an electric mix of hand-woven Ethiopian and Mayan textiles to take centre stage. Furniture with simple, clean lines brings balance to the scheme.
16. Be enchanted by warm pink
It's inviting, uplifting and effortless to decorate with, so it's no surprise that pink is now seen as an interiors neutral. But with choices from pastel to bubblegum, the right shade can prove a tricky quest.
There is an unexpected earthiness to a warm pink, recalling the natural landscape, that makes the color a dream companion to other shades. This versatile hue adds freshness when used alongside classic furniture, and impact in a more contemporary setting. Quite simply, it's a pink for grown-ups.
17. Paint a living room with a heritage red
Warm up a living room with a heritage red. No other shade evokes a celebratory mood quite like a rich cranberry red. Add a mix of eye-catching and natural elements, such as wooden furniture, bold pattern and accents of black, for a modern take on a traditional palette.
18. Decorate with an artist's palette
This striking living room composition (below) is perpetually joyful and calls to mind David Hockney's expressive use of bold colors and shapes. Pink and red is an underrated color combination that will translate into a playful and uplifting interior when used on adjacent walls.
Above, there's a cooler, more subtle take on these bolder living room paint ideas.
19. Paint a living room recess
Paint is the perfect way to express your artistic and experimental side. 'I see people being far more creative with paint these days, doing lovely things, such as painting the inside of a recess a darker shade to give it extra definition,' says Joa Studholme, colour consultant, Farrow & Ball. 'Ideas such as these can take as little as 20 minutes and will transform the room.'
The darker shade in the recess allows cherished objects to stand out, while the television successfully blends into the backdrop.
20. Embrace your inner artist
Don't be afraid to experiment with innovative paint techniques. Use brushstroke patterns to add an artistic flourish to any scheme. Choose your favourite color and work with shades from the same palette to create a graduated effect along one feature wall. Think about including inky dyed textiles with soft blurry edges and ombre, watercolour washes for a painterly effect.
Which color paint is best for a living room?
Over the last few years, we have been led to believe that white walls are the only way to go. A plain and neutral base can indeed be a good starting point from which to build a decorating scheme, but if you ignore the spectrum of colors and patterns available in paint, you could be missing out. Be brave and find colors and looks that work for you.
There's no denying that grey living rooms are still the most popular mainstream color choice. It has become the neutral of choice, replacing cream and beige for the modern home.
What is the most popular living room color for 2021?
In 2021, warm, welcoming, calming, natural hues – such as Brave Ground, above – are the living room colors we have been attracted to post-pandemic. And who can blame us. However, all the trends and color experts we have spoken to predict that this desire for comfort will evolve throughout 2021 into a more optimistic excitement, which will translate into brighter, bolder color choices being introduced into our homes. 
This can be seen already in Pantone's Color of the Year 2021: Illuminating – a bold, bright, yellow – although its tempered by its partner Color of the Year, Ultimate Gray – a grounding neutral.
For more paint ideas, see: Paint trends 2021 – the colours you need for the ultimate wonder walls
Back in 2020, a timeless and enduring blue hue, Pantone Classic Blue, was the most talked about living room color – and remains a popular choice. Elegant in its simplicity, it is suggestive of the sky at dusk, and the reassuring qualities of the thought-provoking color highlight our desire for a dependable and stable foundation on which to build as we cross the threshold into a new era.
The color is reflective of the nostalgia trend that's sweeping through interiors, offering comfort, calm and a connection to nature as well as being a beautiful hue to look at. It's all about wellbeing, biophilia, and creating a restful sanctuary within your home.
'We have seen a huge trend in dark blues over the past few years, but now dark rich greens are becoming more and more popular,' says David Harris, Design Director at Andrew Martin. 'These rich tones mixed with softer setting plaster colors work well. Rich golden yellows are also becoming very on-trend. These still have a light feel and look fantastic when layered with framed artwork and photography, against crisp white picture rails and plasterwork.'
What colors make a living room feel bigger?
Paint is a great tool when you need to maximise the feeling of space in a small room. Use lighter colors because they're more reflective and will make the most of the natural light available to make the room feel brighter and more airy. Stick to one shade and paint all surfaces the same color to expand the room.
Be open to other colors – white isn't your only option. Pale shades of blue, grey, green, yellow and cream will do the job just as well. Keep the flooring dark so that it contrasts with the light walls to help the floor area appear bigger and create the illusion of space.
'White and neutral shades are always the go-to color as they make a room look bigger, airier, and more open,' explains David Harris, Design Director at Andrew Martin. 'However, for small space living, you can be more daring. Don't be afraid of dark and rich colors, like coffee or dark grey, such as or try teal or even orange, for a braver burst of color. These hues bring richness, intimacy and extra depth whilst allowing you to show personality and flair. Layering these deep rich colors with artwork also adds fantastic texture and interest.'
What paint can you use in the living room?
Today's paints are, in fact, all about practicality. Chalky finishes are less fragile than before and matts, more wipeable. Pretty much all paints are less smelly than they used to be, and the eco-friendly alternatives now offer a robust covering as well as being socially aware.
Quite simply, there is something for every surface, every room and every shopper. Sure, some colors do come and go, and sometimes brands appear or disappear from the offering in the big DIY stores, but it's fair to say that the color choice is still immense. And, if you can't see it on the shelves, have it mixed for you in whatever finish takes your fancy.