Living room ceiling ideas – 12 ideas that celebrate the ceiling
From paint, to lighting and paneling, make the most of your ceiling space with our living room ceiling ideas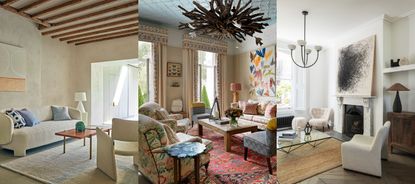 (Image credit: One Represents Ltd | Kit Kemp Design Studio, photography by Simon Brown | Lights & Lamps)
Living room ceiling ideas can transform the look and feel of your living room space, creating an enhanced, thoughtfully considered design that makes the most out of every inch of space available.
When planning your living room ideas, incorporating the ceiling into your scheme can allow for you think creatively about color, texture, lighting and material, adding a unique level of visual interest on a surface that is usually forgotten about.
Decorating the ceiling is often seen as an unconventional choice, however, ceiling ideas do not always have to be big, bold and impactful, they can be as simple as choosing a beautiful pendant light or enhancing the existing original features in the room.
Living room ceiling ideas
To provide you with some inspiration for the 'fifth wall' in your living room, we have gathered a collection of our favorite living room ceiling ideas.
From colorful ceiling paint ideas, to beautiful wooden beams, no matter the size or style of your space, there are options that can integrate into all interiors.
1. Leave wooden beams exposed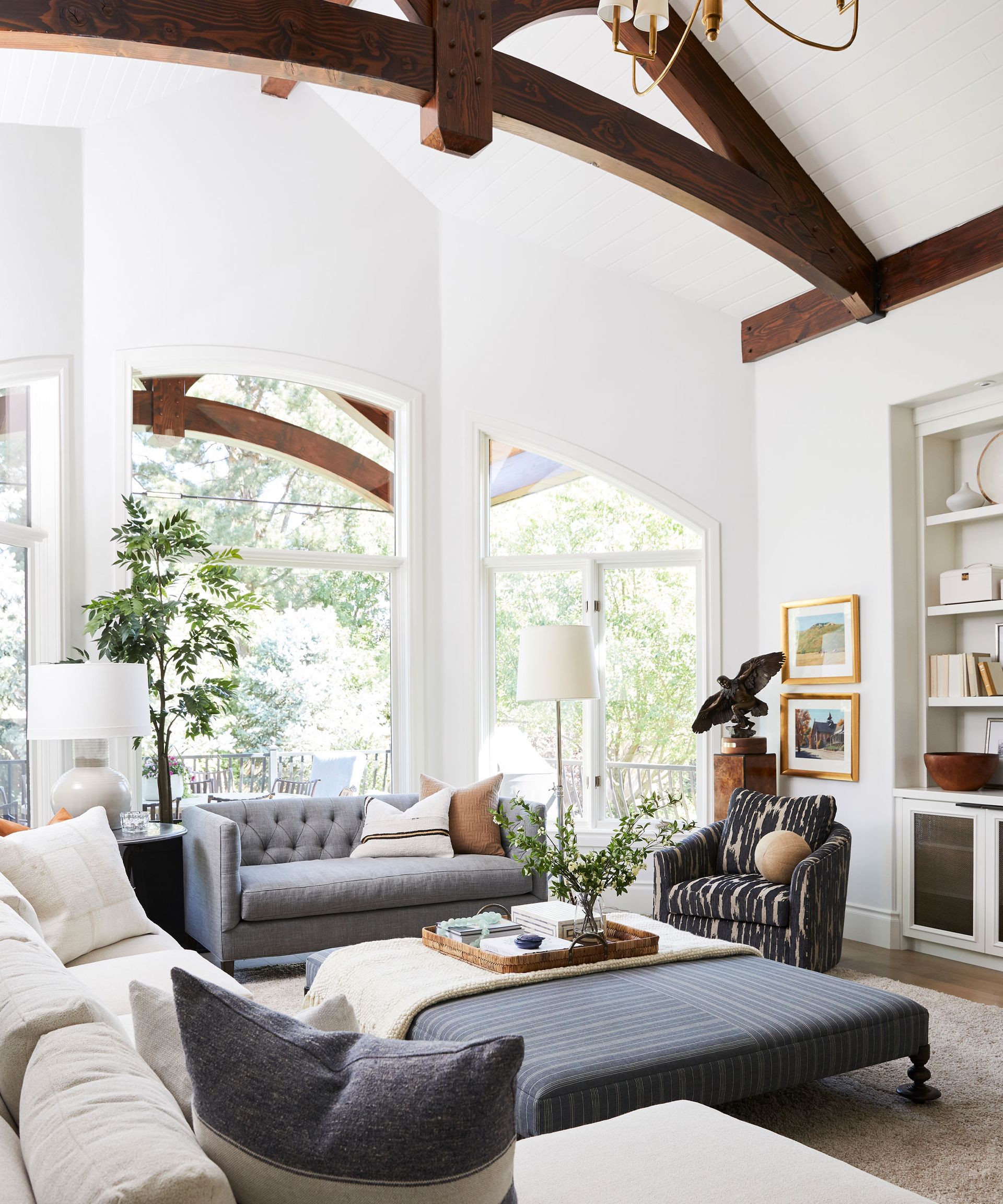 Solid structural supports that have been used for the construction of houses for centuries, exposed timber frames can also provide an attractive decorative feature for your living room ceiling ideas.
With exposed beams and joists adding warmth, texture and depth to a room, they also celebrate the long-lasting beauty and versatility of working with natural materials in interior design.
In this living room, designed by Jessica Bennett of Alice Lane Interior Design, the beautiful vaulted ceiling is defined by eye-catching, dark wooden beams. Making the most of the tall ceilings, the beams add warmth, color and intrigue to the white painted walls and ceilings, as well as perfectly coordinating with the overall neutral scheme.
Whether you enhance and uncover existing ceiling features in a traditional living room, or experiment with faux beams in a modern living room, there are options to suit many different spaces.
2. Make a statement with an artistic design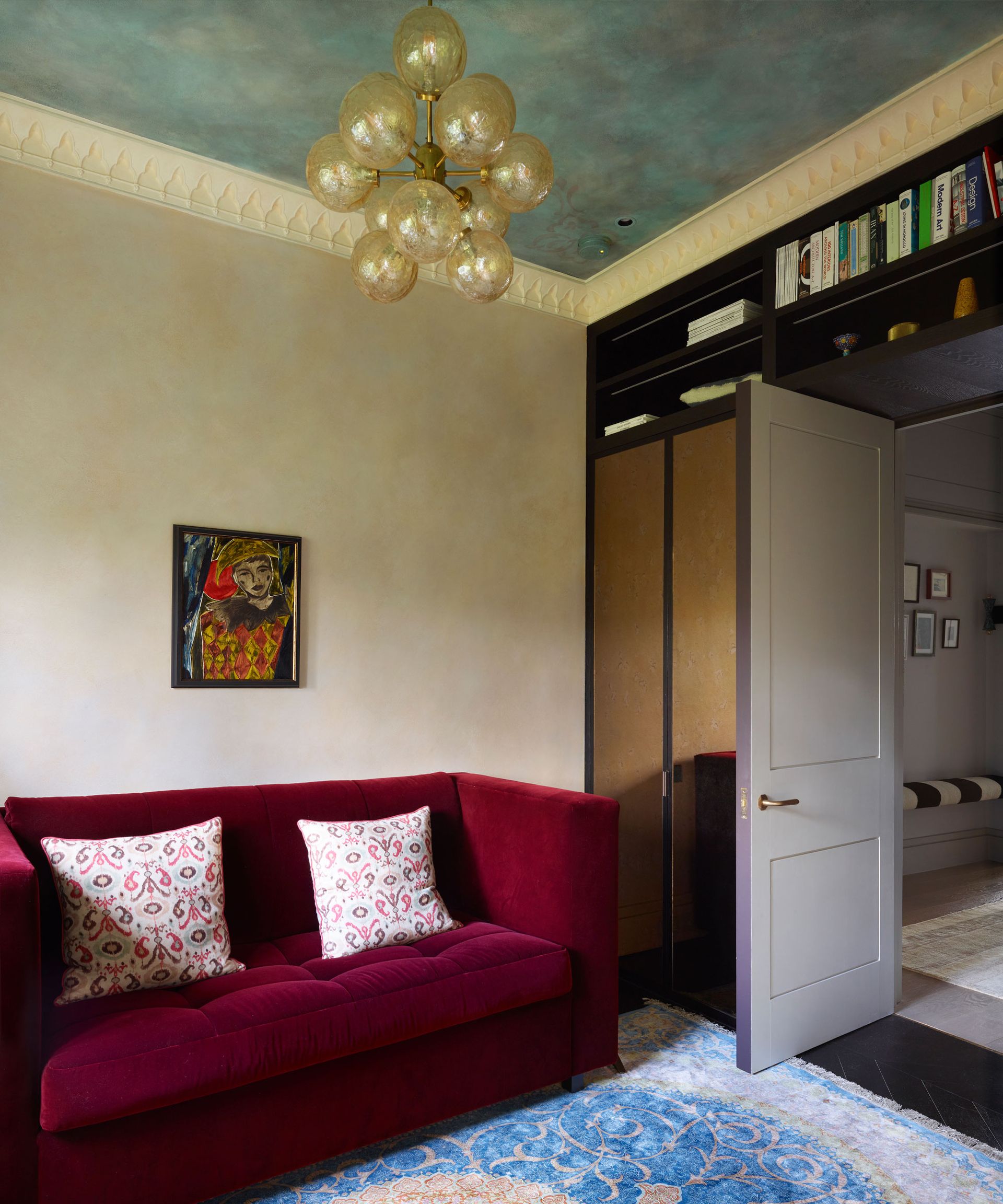 If you are considering a living room feature wall, why not take this one step further and create a stand out artistic design on your ceiling.
From mural ideas to unique, abstract painted designs, making a statement with your ceiling can create an alluring focal and talking point in your living room space.
In this living room, the blue painted design on the ceiling resembles the beauty, colors and movement of the sky, with a similar, textured paint effect also used on the walls. Creating a unique, indoor-outdoor effect, the blue ceiling design is mirrored by the blue rug on the floor, creating an elegant feeling of unity and cohesion. With the red sofa adding a striking element of contrast, this living room may be compact but it is still bursting with personality and character.
3. Enhance your ceiling with decorative lighting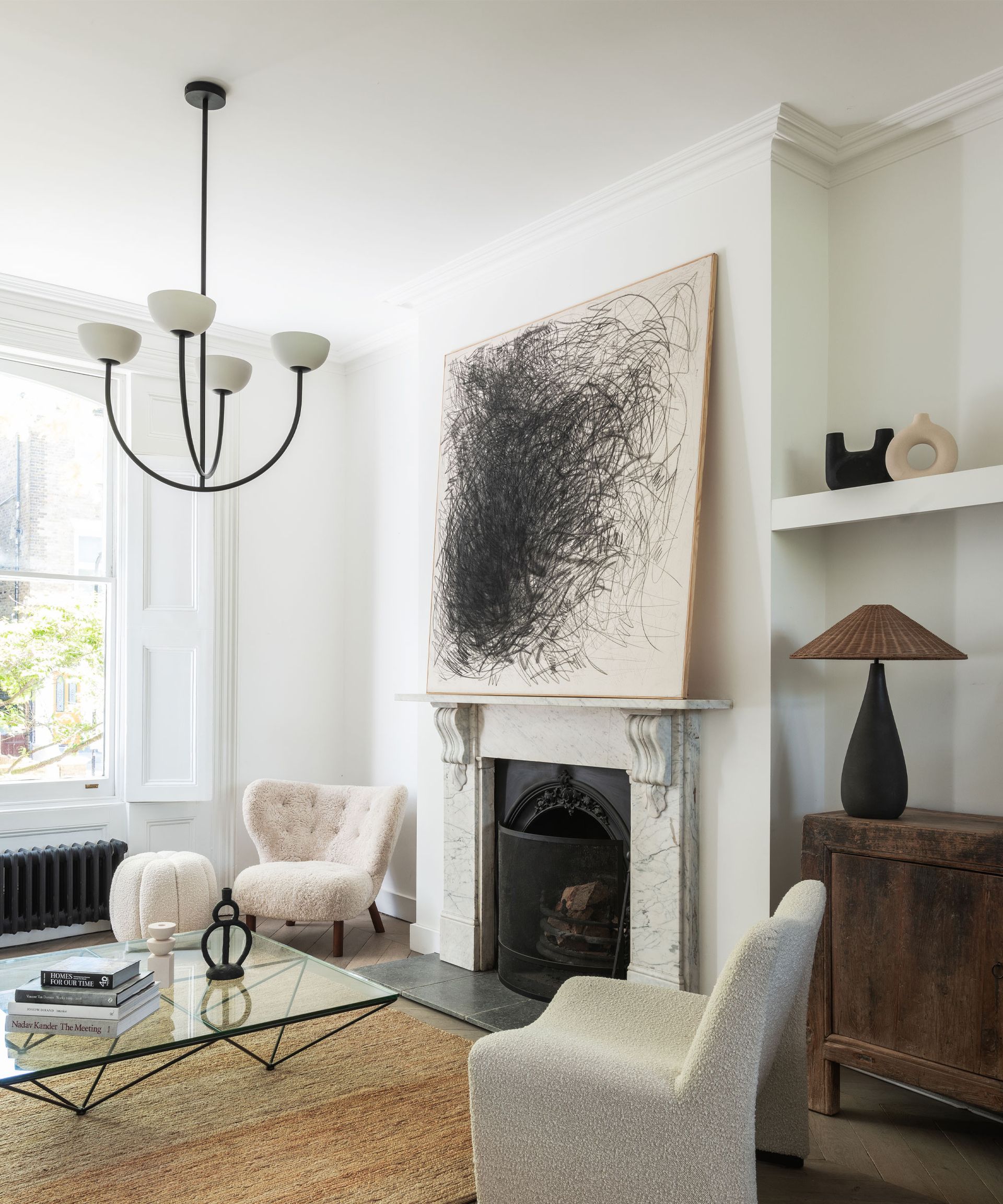 A practical as well as decorative living room ceiling idea, choosing artistic and creative living room ceiling lighting ideas is a simple way to enhance your ceiling space with light and style.
In this room, with a beautiful chandelier by Lights & Lamps, the design unites a sculptural, modern design language with materials and shades that embody a more traditional look.
Niki Wright, co-founder of Lights & Lamps states, 'a larger scale ceiling fitting can make a room feel bigger and grander, even in rooms with low ceilings.'
The position of this light from the ceiling not only helps to create a cozy, inviting seat space, but the design hangs like a sculptural piece of art, creating a beautiful statement in the minimalist living room.
4. Take the lead from your ceiling for the rest of your scheme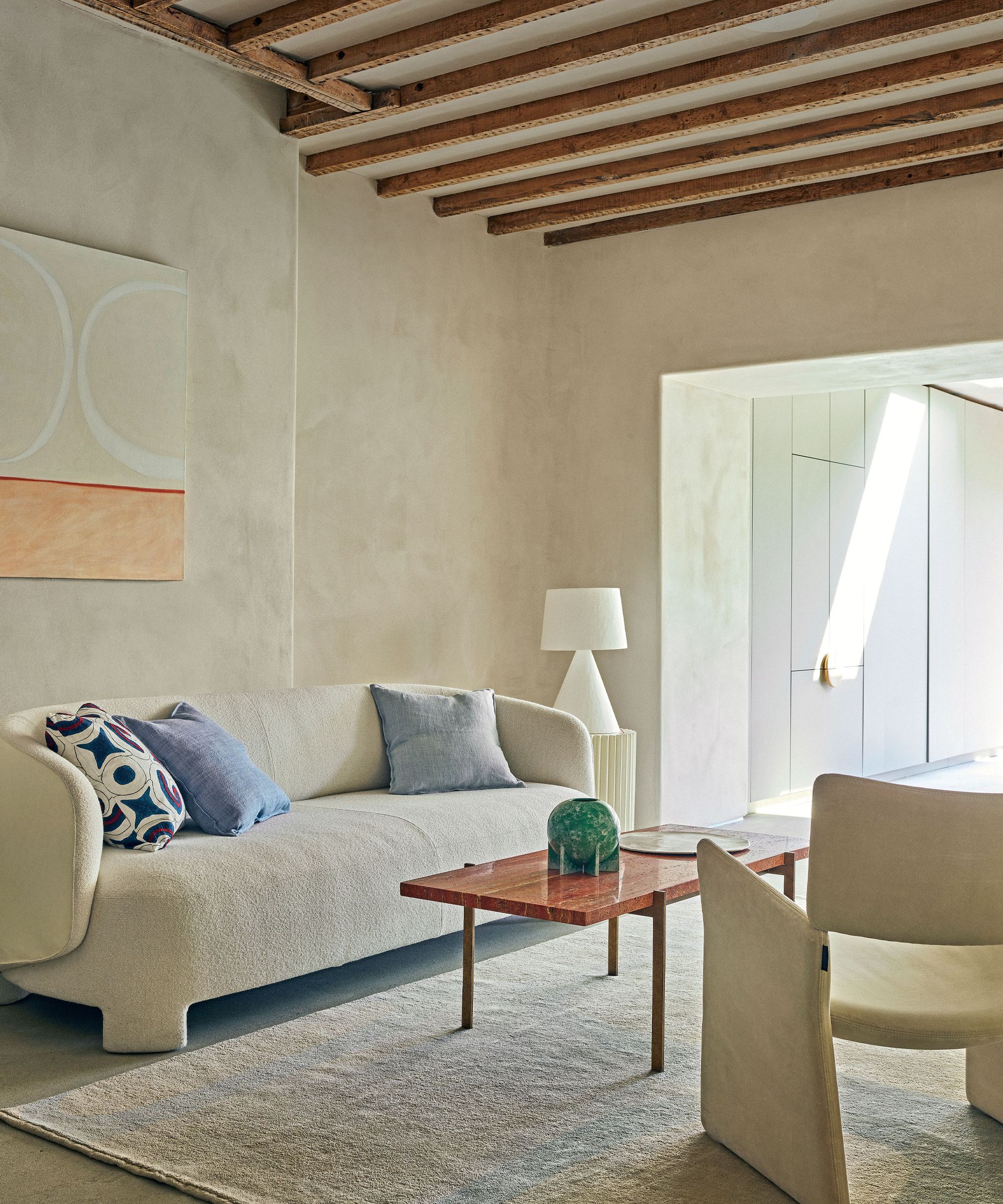 Working with natural textures, materials and colors in interior design often helps to create a grounding, calming scheme that can make us feel more relaxed and at ease.
For living room ceiling ideas, if your space is defined by wooden beams or exposed wooden features, building your scheme around this focal point and creating a room inspired by the calming palettes of nature can make for a timeless, long-lasting and unified design.
Louise Wicksteed, design director at Sims Hilditch says, 'if you are working with an old property that has plenty of visible beams, you might consider leaving these on show. This creates a wonderful sense of history within the space, injecting plenty of character into the ceiling.'
The ceiling in this relaxed, neutral living room, defined by beautiful wooden beams, is complemented by the cream, textured painted walls and furniture pieces. With the wooden coffee table mirroring the wood finish on the ceiling, the overall look feels utterly serene, beautifully celebrating simple textures, color palettes and shapes.
5. Embrace color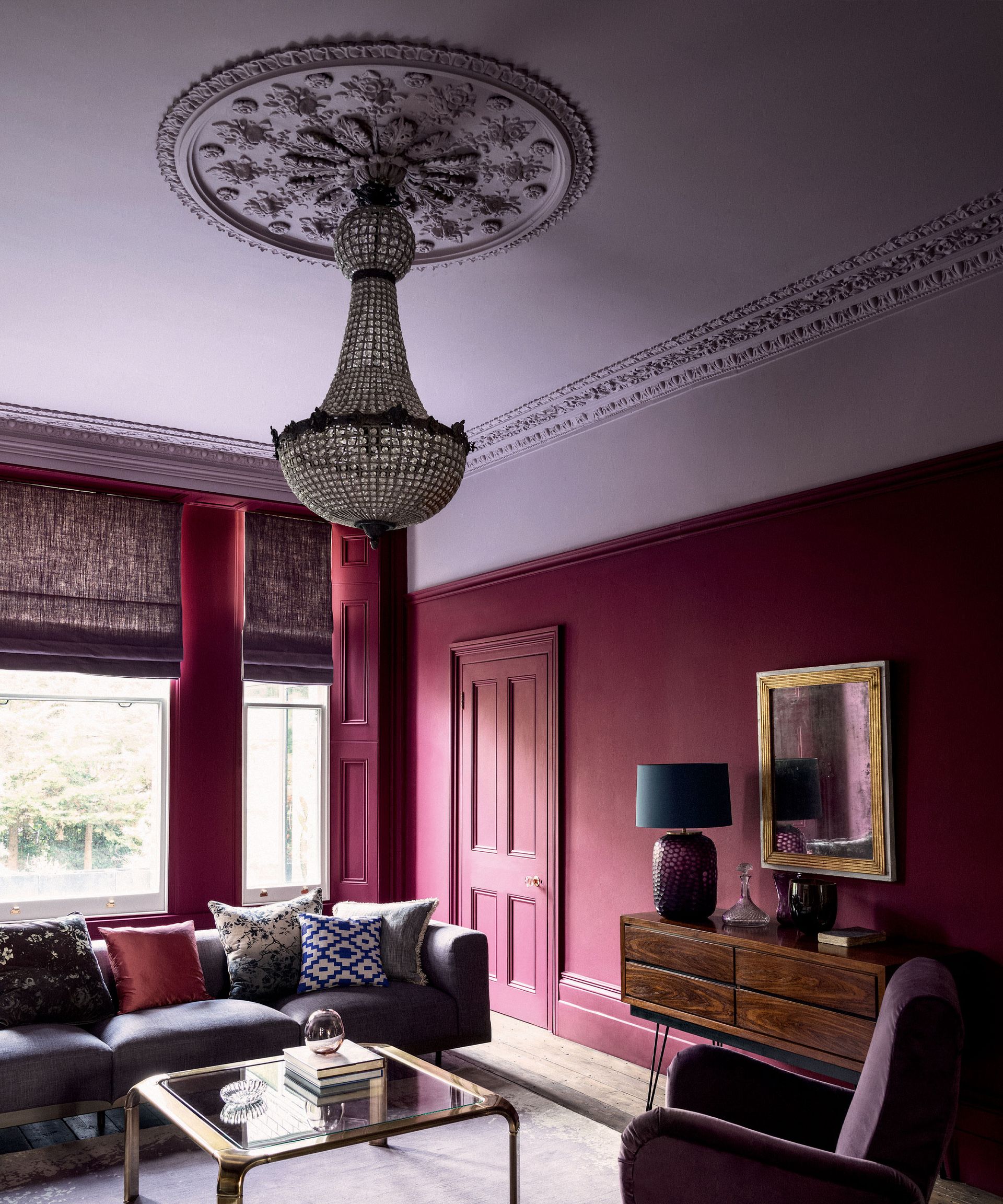 As the living room is one of the main spaces in the home that we spend the most time, carefully selecting your living room color ideas is essential.
When planning color ideas for your ceiling, embracing an uplifting, unique design that reflects your style and favorite colors can be a great choice and make for a stand out design.
As shown in this powerful, purple living room by Paint & Paper Library, the stunning use of color makes for a luxurious look. Andy Greenall, head of design at Paint & Paper Library states, 'architectural features are a fantastic host for making a statement with color, be that skirting, paneling and doors or cornicing and ceiling. Yet these elements are so often - by default - painted white, without consideration for how that affects the space. Here, Grenache on the walls, woodwork and skirting works beautifully with Lady Char's Lilac on the ceiling to bring that sense of drama, as well as the illusion of height,' - one to remember for tricks to make a living room ceiling look higher.
6. Establish an elegant contrast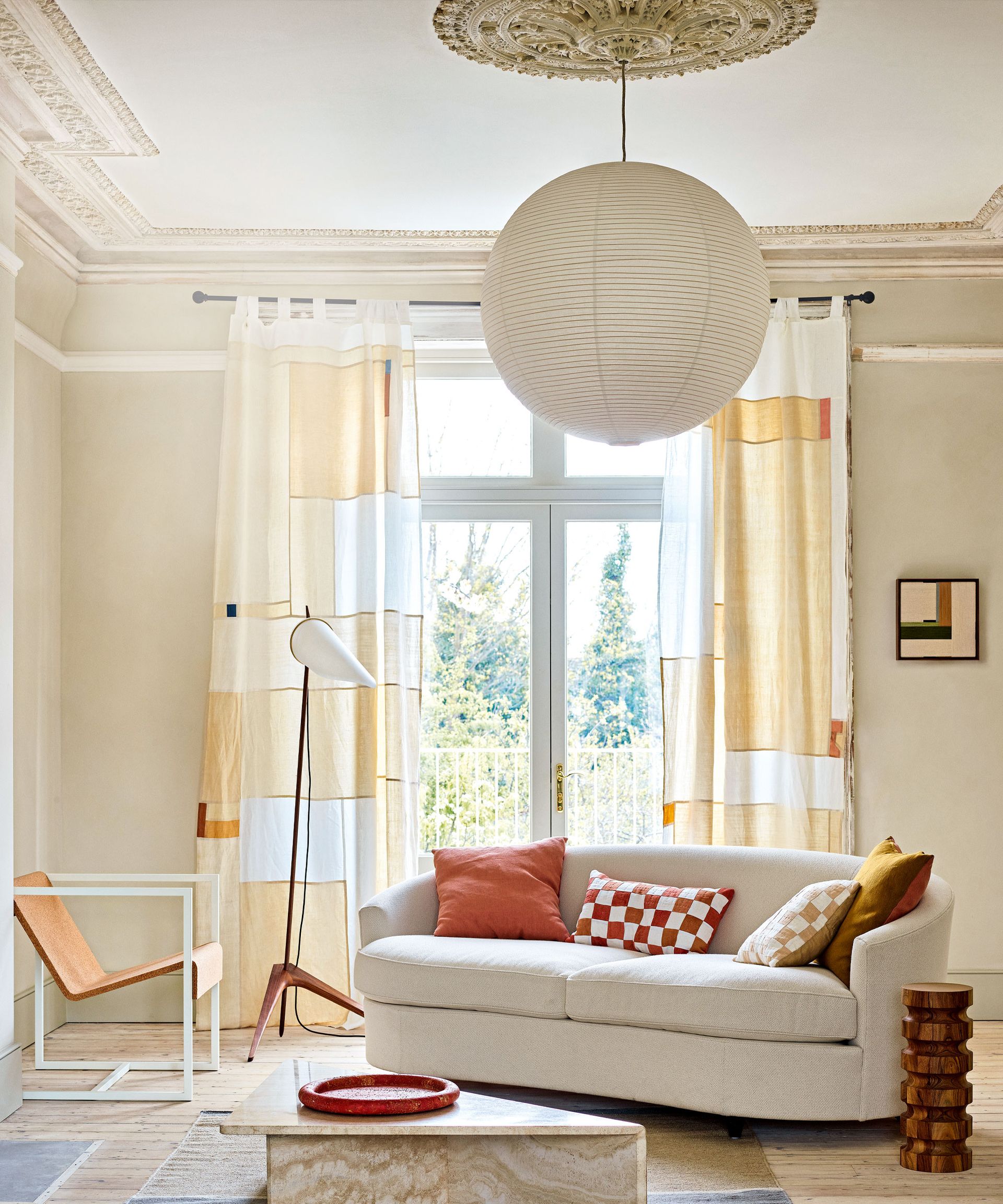 A simple idea that can beautifully marry together different eras and styles of design, why not use your living room lighting ideas to establish an elegant contrast on your ceiling; making for a unique and eclectic look.
A decorative design used to conceal the fittings of a light source, traditional ceiling roses are often defined by intricate, detailed plasterwork. If you have a traditional ceiling rose or ornate ceiling medallion in your living room - or purchase a new design crafted in a traditional style, suspending a more contemporary pendant light or a contrasting fixture from this feature can establish a beautiful juxtaposition.
As shown in this living room, a rounded, white paper lantern from HAY has been suspended from a traditional ceiling rose. With these ceiling rose designs traditionally paired with ornate chandeliers, the simple, organic simplicity of the pendant beautifully contrasts with the intricacies of the plasterwork.
7. Celebrate the beauty of warming wood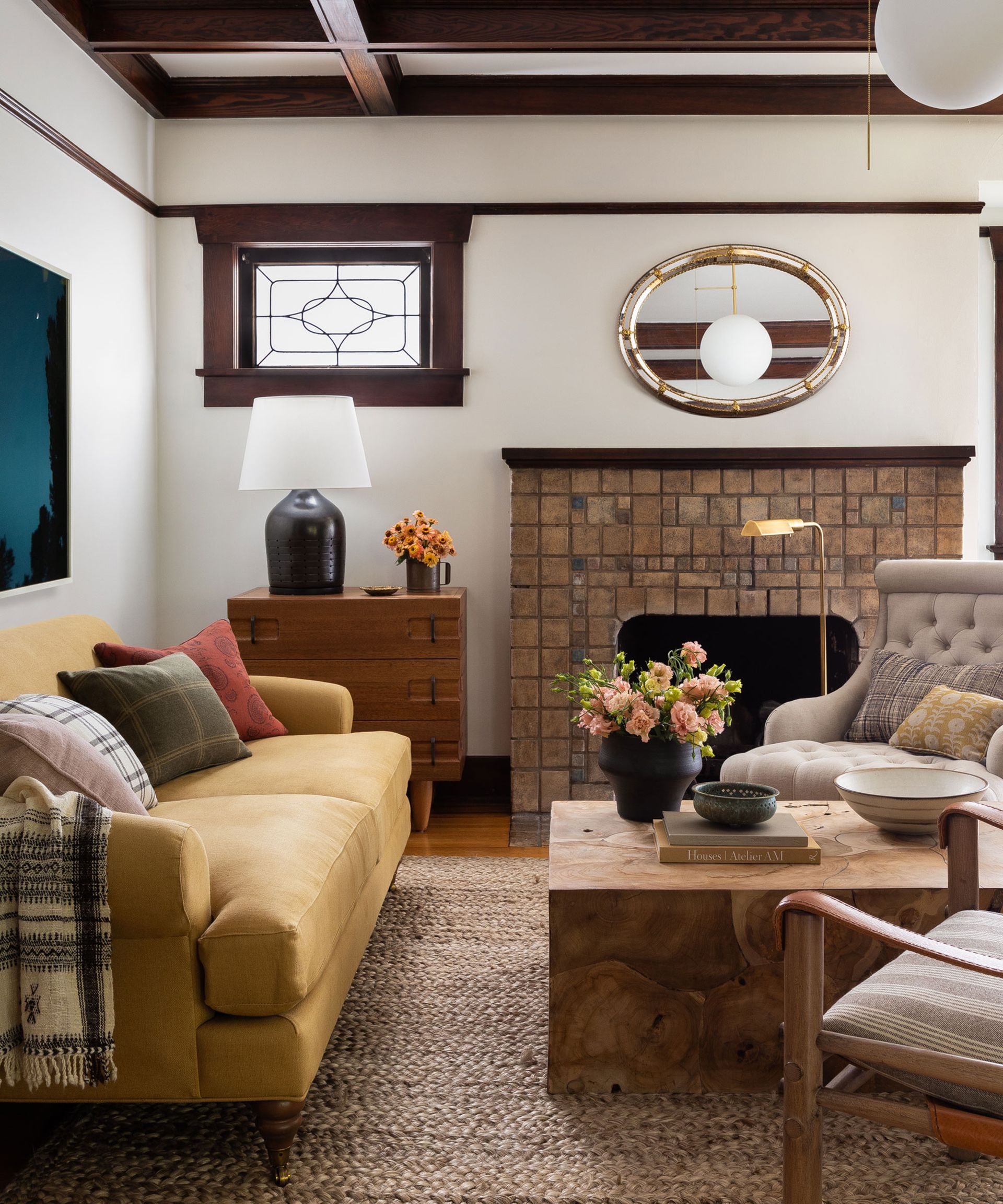 As we have discussed, using wood for your ceiling living room ideas can create a inviting and timeless appeal, and is great for making a large or open plan living room feel warm and cozy.
In this inviting, traditional living room designed by Heidi Caillier Design, she states of the design process, 'the house was built in 1916 and has much of its original character intact. All of the original millwork has been left untouched and we knew it was a detail we needed to work with rather than against as it makes such a strong statement.'
A beautiful space that pays homage to the original structure and design of the home, the warming, dark wood used on the ceiling and throughout the space in this living room truly takes center stage.
8. Keep things light and bright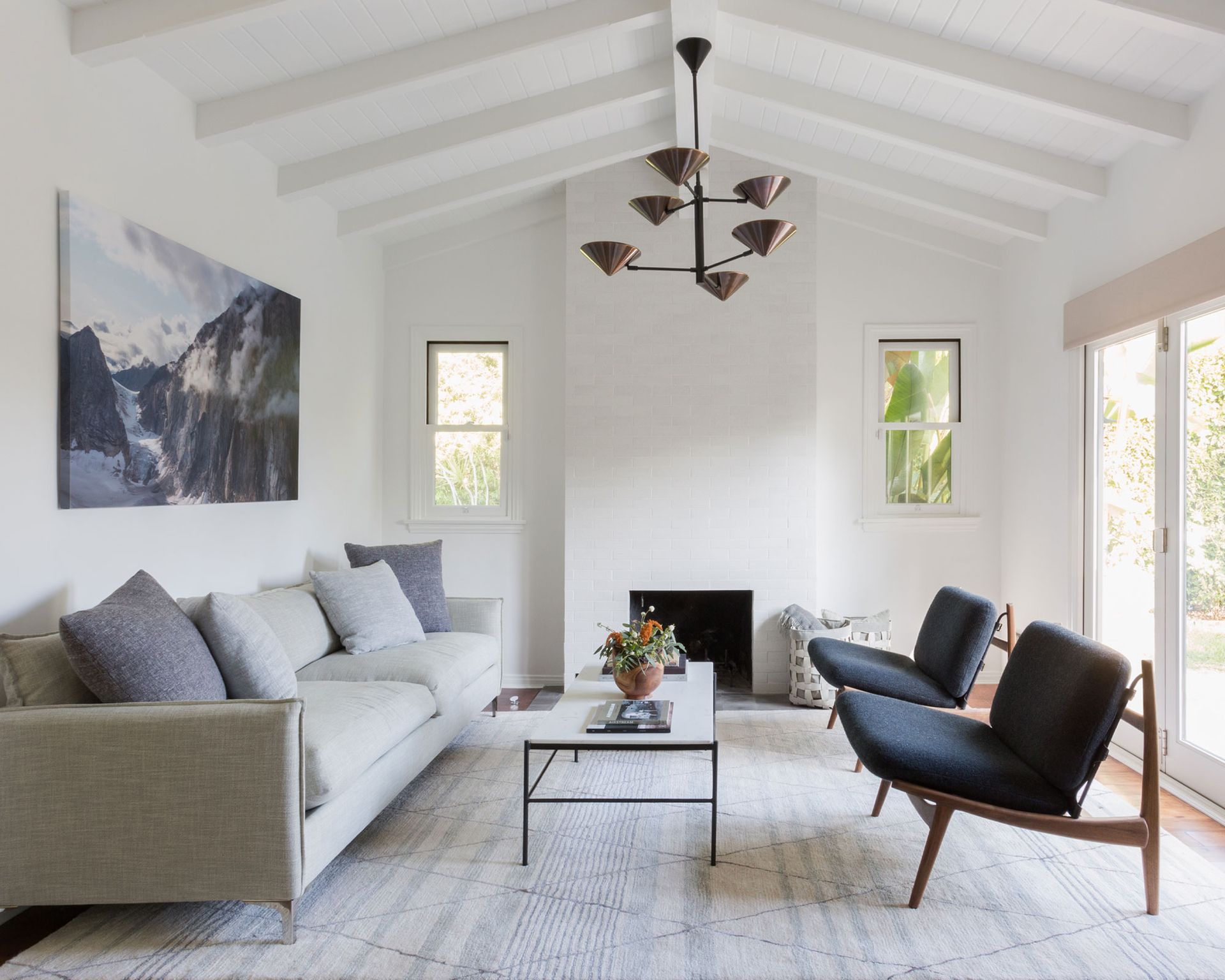 For a more conventional and simple look, keeping your living room ceiling white can help to create a light and bright space, ideal for small living room ideas.
As shown in this living room by Genna Margolis from Shapeside design, the all white painted walls and ceiling makes for a calming and contemporary look.
She states of the design for this Spanish bungalow in Santa Monica, 'originally the living room ceilings were a very heavy dark wood. The goal was to brighten it up, keep it minimal but interesting where every piece serves a purpose, and overall give it a calming and open feel. We painted the ceiling white to start, thinned out the fireplace and kept it consistent from floor to ceiling covering it in a modern farmhouse brick tile from cle tile.'
The white paint used beautifully uplifts the once dark living room space, creating an inviting, calming area area to sit and relax.
9. Make the most out of architectural details
Celebrating the beauty and history of traditional architectural features is a great way to enhance the ceiling space in your home.
In this inviting drawing room by Kit Kemp, which elegantly unites traditional features with contemporary colors and patterns, a stunning look for maximalist decor ideas, the decorative, plastered ceiling has been painted in a eye-catching sky blue paint.
She states of the design, 'we are lead to believe that a ceiling should always be painted white, but we like to challenge these 'rules'. In this drawing room, we have painted the decorative ceiling in a crisp pale blue which adds a freshness to the scheme.
People tend not to add color to ceilings in the fear they will make the room feel smaller, but this room is a perfect example of how to draw the eye up and add height to a space.'
10. Zone the space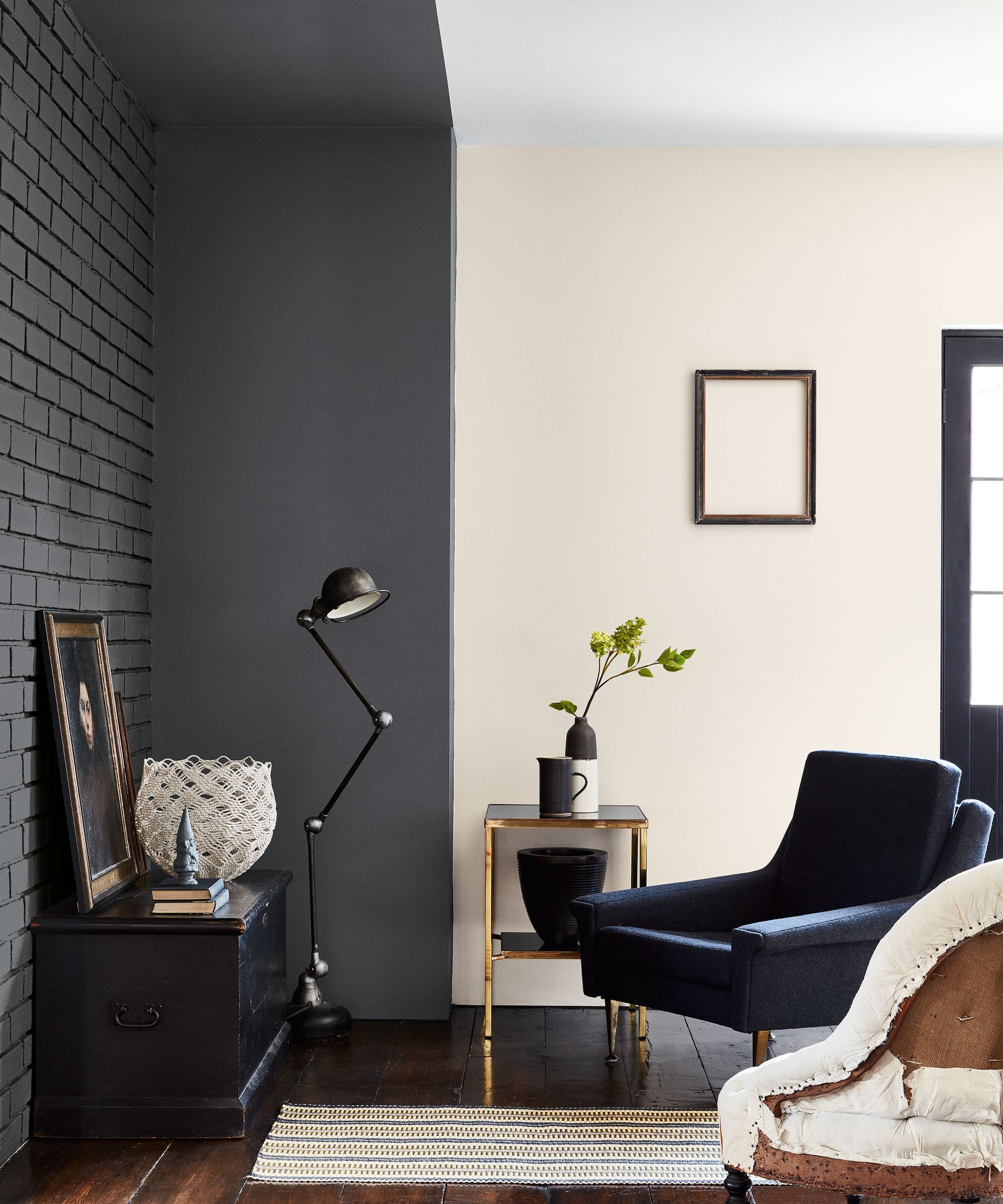 When planning your living room paint ideas, using paint to help cleverly zone the space is great for a larger living room or an open plan design, helping to distinguish set areas for different activities.
In this living room, painted in Slaked Lime Off White and Scree by Little Greene, the dark gray paint has been extended from the walls to the ceiling, establishing a striking, sectioned design.
With this use of color adding a more modern edge to the neutral space, the gray also creates a darker zone in the room, complemented by the black furniture pieces and accessories.
Thinking of more creative ways to elevate the paint ideas in your living room, and embracing clever paint tricks that factor in your ceiling space can make for a unique design for your living room ceiling ideas.
11. Add texture with wooden paneling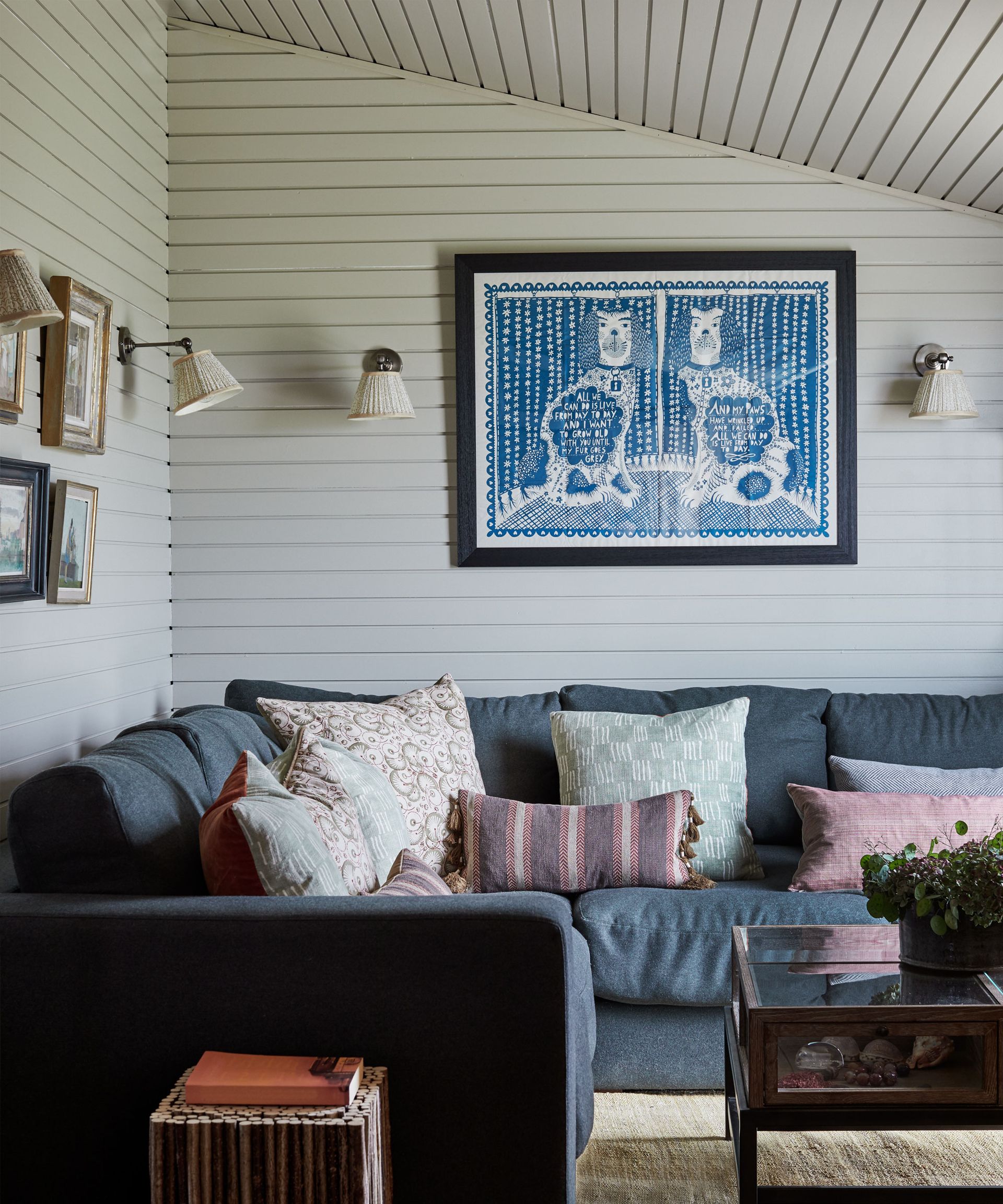 With wooden paneling no longer just reserved for more traditional and period homes, with many modern spaces incorporating bespoke paneled designs for added texture and depth, living room paneling ideas can help to add character and coziness to the space.
In this living room, the white wooden paneling has been used across the walls and ceiling, establishing a clean and structured look that works perfectly for coastal living room ideas.
One to remember for ceiling paneling ideas, white wooden paneling like this can create a more contemporary, light and bright look, whilst still adding inviting natural texture and material to your space.
12. Celebrate a double height ceiling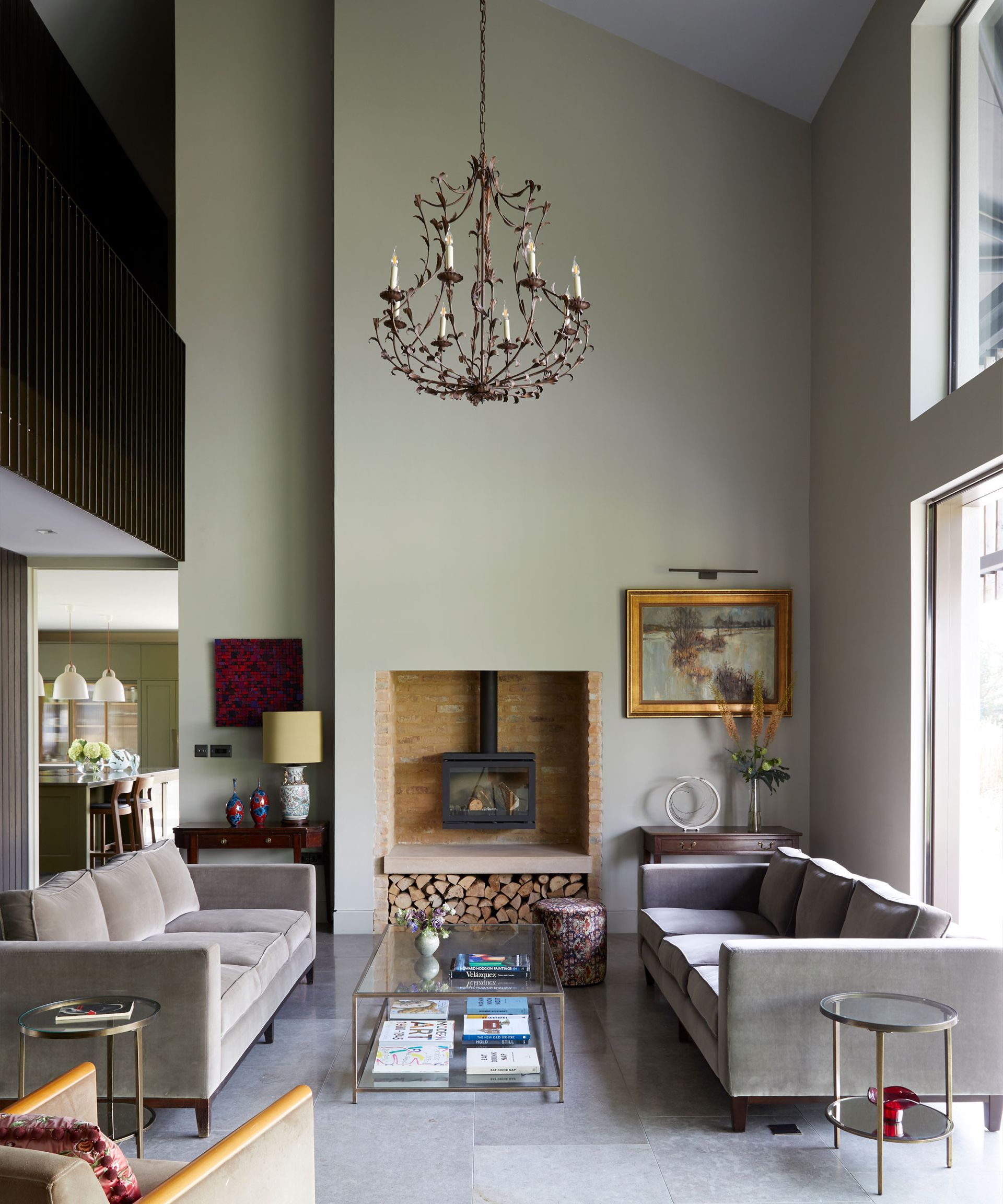 A double height ceiling can add real depth and drama to a space, and allows for a range of creative design possibilities; from living room chandelier ideas to beautiful woodwork and balcony ideas.
When planning living room ceiling ideas for a double-height space, thinking about scale and light sizing is key. As shown in this stand out living room, the impactful, double height ceiling is complemented by a grand, traditional chandelier. Fitting perfectly in the large space, and adding an eye-catching hanging feature, a double-height ceiling should be truly celebrated with effecting, impressive designs.
However, Owen Pacey, the founder of Renaissance London states that chandeliers can be used in living rooms of all shapes and sizes, 'you can use a chandelier in any space no matter how big or small. It's all about the design and size of the chandelier that you choose. Keep chandelier designs in proportion to the area.
For example, if your living room is large, pendant lights need to be sized up or even used in clusters. In smaller living rooms too, you can create a real impact by using an oversized chandelier, or perhaps a flush-style ceiling lamp where ceilings are lower.'
What should I put on my living room ceiling?
When planning what to put on your living room ceiling, finding the perfect balance between practical, functional designs and decorative ideas can make for the perfect look.
As we have explored, the ceiling can be a canvas for unique design ideas, whether you get creative with paint, lighting or paneling, this section of the room should still feel truly integrated into your scheme.
You can celebrate traditional features such as woodwork, paneling and decorative plasterwork, or get creative with a paint brush in a more modern home, there are many options for all.
As Pacey says 'first impressions are everything, so make sure your living room has a serious wow-factor.'
How can I make my ceiling more attractive?
To make your ceiling more attractive, it depends on what kind of look and style you want for the room.
If your living room is lacking natural light, and your ceiling is defined by dark wooden beams, why not add a refreshing coat of white paint to make the space feel more light, bright and inviting.
For a more adventurous look, turn to ceiling wallpaper ideas or paint to make a real colorful impact on a surface that is often left white.
An easy way to transform the look of your ceiling to make it more attractive is thinking about your lighting, as many pendant and ceiling light designs can add a unique decorative detail to a ceiling, as well as acting as a practical light source.
Sign up to the Homes & Gardens newsletter
Decor Ideas. Project Inspiration. Expert Advice. Delivered to your inbox.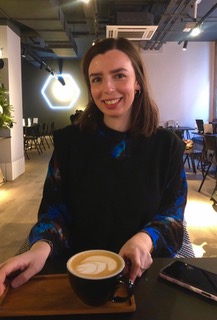 Zara joined Homes & Gardens in February 2022 as a Content Editor. After studying English Literature at University, she worked as an Ecommerce Website Editor, Content Writer and Buying Intern at multiple independent businesses within the luxury retail and lifestyle sectors. Her role at Homes & Gardens unites her love, experience and passion for the world of design and desire to create inspiring written content. She enjoys nothing more than discovering new trends, brands and products, whether that be in fashion, interior design or lifestyle.