Ceiling paneling ideas – 10 ways add drama and detail to architecture
You can beautifully enhance a space with ceiling paneling ideas, from traditional styles to contemporary looks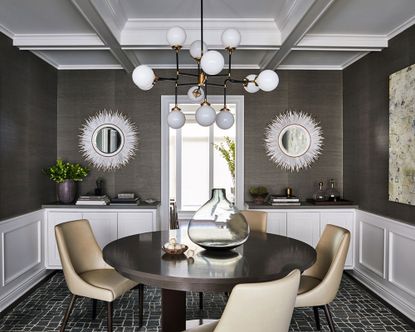 (Image credit: J. Patryce Design, photography by Christian Harder )
Including ceiling paneling ideas in your room's remodel is all about attention to detail, and will ensure for an impactful, well-thought out scheme that makes the most of every inch of space available.
Suited to both classic and modern interiors, ceiling paneling ideas can add depth, character and texture to your home.
For ceiling ideas, paneling can add an architectural, traditional element to a space, as well as making a room feel more cozy and intimate through the layering of materials. Plus, of course, they can complement paneling ideas for walls beautifully.
Ceiling paneling ideas
From modern paneling paint ideas to traditional coffered panels, there is an array of styles to choose from to make a feature out of your ceiling space.
Paneling is not just suited to period properties, it can enhance homes of all shapes, sizes and styles, and as Helen Shaw, UK Director at Benjamin Moore states, is 'an inexpensive way to make a space feel luxurious'.
With there being a collection of different options to choose from, we have gathered our top tips for ceiling paneling ideas for some timeless inspiration.
1. Use paint to create a paneling effect
An easy way to create a luxurious paneled effect, using paint ideas to create a unique paneled design is a great option for the modern home.
In this hallway, the traditional paneled ceiling creates a beautiful contrast with the modern light fittings and decorative wall accessory, with the large white panels used on the walls complementing this reference to a classic style.
2. Coordinate with your wall paneling
For a bold and cohesive look, matching the paneling on your ceiling with your wall paneling can create an enhanced, enveloped effect.
In this dining room, the ceiling and wall paneling at the entryway perfectly zone the space, inviting you into the dining room setting and creating a connection with the paneling used on the lower walls.
3. Choose a contemporary, fluted wood effect
In this large, open-plan dining space, the walls and ceiling have been beautifully decorated in sustainable WoodUpp acoustic wooden slat panels, a stunning look for wood ceiling ideas.
The panels have been designed to not only bring the beauty of the natural world into your home, but to help improve the the acoustic environment also.
Defined by a neat, fluted design, the panels create an inviting rustic effect, working well for the ceiling as well as for paneling ideas for walls.
4. Pick warming wooden panels
For a timeless look that pays homage to the beauty of natural materials, using wooden panels on the ceiling will add inviting texture and depth.
In this dining room, the wooden panels add warmth and create a beautiful contrast with the luxurious marble dining table and metallic accessories.
The combination of traditional materials and contemporary styling creates a stand-out design with a unique indoor-outdoor effect.
5. Create depth with coffered panels
A coffered panel is a sunken ceiling panel that can add impactful depth and drama to a space.
Dating back to Ancient Rome, the panels were originally made out of stone, creating a truly dramatic statement of architectural design.
Today, this style of paneling is crafted from wood, and is a great way of creating an added illusion of space and depth in a room,
In this dining room, designed by Ginny Macdonald Design, the coffered ceiling panels create a beautiful element of grandeur and height. The statement black pendant light also mirrors the geometric features of the ceiling paneling, creating a elegant mix of the old and new.
6. Embrace an all white scheme
For a relaxed look that is utterly timeless, using white painted panels can elevate the feeling of space in a room.
Creating a bright and uplifting atmosphere, white paneling can seamlessly integrate into an array of styled spaces, providing a textured yet subtle backdrop for the rest of your design, perfect for living room paneling ideas.
In this bright, all white living room space by Genna Margolis from Shapeside Design, she states, 'originally the living room ceilings were a dark wood...the goal was to brighten it up, keep it minimal but interesting where every piece serves a purpose, and overall give it a calming and open feel' - a great look for living room ceiling ideas.
7. Choose dark wood for a classic look
For a more traditional design, using dark wood can create a cozy, cottagey feel.
Designed by Heidi Callier Design, the process for the room is described, 'we had to work with the existing woodwork in the dining room and it felt very heavy at first so my mandate was to find ways to brighten and richen. The wallcovering is a linen and I just think it's the perfect foil to the woodwork'.
The dark wood used throughout this dining room space celebrates classic design and the beauty of natural materials. The pairing of the dark wood with modern light fittings and soft materials creates a more balanced look that elegantly combines the traditional with the contemporary, a great look for beamed ceiling ideas also.
8. Refresh traditional style paneling with paint
A simple way to add color and a more contemporary style to your paneling, using paint and bold color choices will make for a striking design in your interior space.
The green paint used throughout this seating area is both impactful and relaxed simultaneously. The pink accents and collection of ornaments and decorative accessories lift the space, with the ceiling paneling adding characterful texture to this blanketed color design.
Using paint on paneling can work well for stair paneling ideas also, adding vibrancy and color to an area that is often over-looked.
9. Opt for a rustic wood effect
For a design rich with texture and character, using rustic wood panels on the ceiling will create a unique focal point, especially if they create an elegant contrast with the rest of the design.
This distressed and aged look is a becoming a real trend for paneling ideas, no matter the age and style of your home, natural materials like wood will always create a timeless and inviting effect.
10. Create a unique paneled effect with lighting
For a paneling-inspired look for your ceiling, why not get super creative with lighting ideas, a great option for bathroom ceiling ideas.
For bathroom paneling ideas, this statement ceiling design is both practical and beautiful. The unique paneled lights create a stunning decorative effect, as well as creating an elegant contrast with the natural veins and texture of the marble.
Design practice Collett-Zarzycki, state of their design, 'we have created a grid of stainless steel angles supporting opalescent acrylic panels that conceal bathroom lighting ideas behind'.
The shapes and styles of panels can create a range of unique, inspired designs for the home, with creations like the above being a great option for modern hallway paneling ideas.
Can you put paneling on the ceiling?
Many period properties come with existing, traditional paneled ceiling designs, often made out of solid wood.
Paneling designs can be put onto new, empty ceiling spaces to mirror this classic effect.
One thing to consider when putting new paneling on a ceiling is the weight of different panel types and if these will work with the structure of your home.
What kind of paneling can be used on ceilings?
There is a range of different paneling styles for your ceiling, from traditional wood designs to more cost effective options.
Wooden paneling can be installed onto a ceiling in an existing property, however not all panel designs and materials are suitable for the ceiling due to their weight and size.
Using options such as MDF, foam and vinyl are an easy way to add lightweight paneling designs to your ceiling space.
Sign up to the Homes & Gardens newsletter
Decor Ideas. Project Inspiration. Expert Advice. Delivered to your inbox.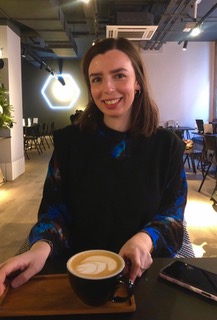 Zara joined Homes & Gardens in February 2022 as a Content Editor. After studying English Literature at University, she worked as an Ecommerce Website Editor, Content Writer and Buying Intern at multiple independent businesses within the luxury retail and lifestyle sectors. Her role at Homes & Gardens unites her love, experience and passion for the world of design and desire to create inspiring written content. She enjoys nothing more than discovering new trends, brands and products, whether that be in fashion, interior design or lifestyle.