Farmhouse decor ideas – 26 stylish ways to embrace this modern rustic look
Take farmhouse decor ideas into any space with our expert breakdown of how to recreate the look in every room in your home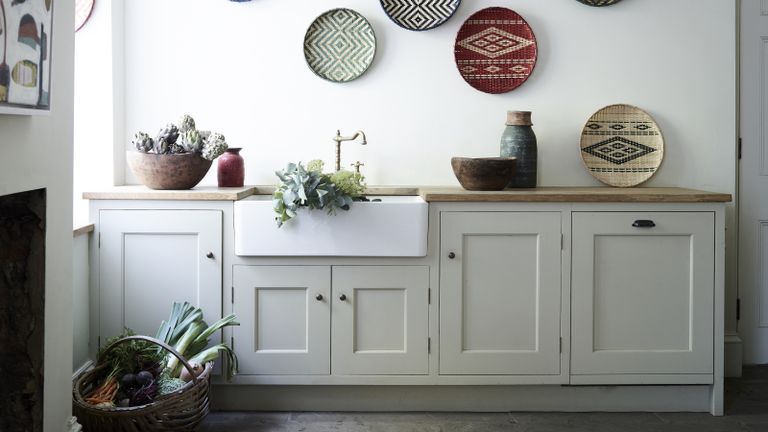 (Image credit: Birdie Fortescue)
By Kaitlyn McInnis , Andrea Childs published
Farmhouse decor has been having its moment in the spotlight over the past few years – and for good reason. This cozy-cool decor trend strikes the perfect balance between sophisticated and rustic; like an escape to the countryside without leaving the city limits.
Hoping to put some fresh farmhouse ideas to work in your own space? We've selected the essential aspects of farmhouse decor – these practical, expert-approved tips and ideas will ensure your home reflects the chic and modern aesthetic while still maintaining a cozy and rustic appeal.
Farmhouse decor ideas
Modern farmhouse style is light, bright, rustic, yet contemporary. According to Kathy Kuo, interior designer and CEO of Kathy Kuo Home, you know you've designed the perfect farmhouse-inspired space when it feels well balanced – serene and sophisticated, fresh yet has character.
Below, we've gathered our favorite farmhouse decor ideas so you can recreate this look with ease.
1. Soften white cabinetry with wood and marble
White kitchen ideas may be timeless, but a classic high-gloss finish can seem cold when you're planning farmhouse decor ideas for a farmhouse kitchen. Instead, break up a run of white cabinetry with wooden doors and a veined marble backsplash.
'Solid white backsplashes can create a harsh brightness,' says a spokesperson for Bushboard, which creates marble-look aluminium panels. 'But white marble with intricate grey veining can add interest, breaking up an overly white scheme while also adding depth.
'The curves of the marble veining add a softness that break up the solid lines and angles found in the kitchen.'
2. Bring in rustic wall decor
Displaying artisan pieces, such as handwoven baskets, is an easy way to bring a rustic feel to your decor – and will work as well in a farmhouse living room as it will in the kitchen.
'To me, farmhouse is about craft, working with your hands, using indigenous materials and then spicing things up with some color,' says Boston-based interior designer, Liz Caan.
'I like using pieces that either were crafted locally. It's about elevating basics and mixing in modern pieces with some heirlooms, and displaying them in a creative way.'
3. Give a home office a farmhouse feel
Create a simple, serene workspace with white walls and pared-back furniture, putting the focus on mindfulness and the task in hand.
For this Vipp Farmhouse, interior designer Julie Cloos Mølsgaard has realized a modern farmhouse that combines historical charm with modern convenience, displaying both functional finesse and interesting art finds.
4. Turn a dresser into a star feature
Get creative with a dresser or hutch and add a fresh spin on traditional farmhouse ideas.
Lining the back of the cabinet with wallpaper adds an extra layer of pattern and color, and you can take the concept further by choosing a selection of different papers to ring the changes on each shelf.
Finish with colorful crockery in folk-art designs.
5. Keep windows clear to let light flood in
While window treatment ideas may be necessary for warmth and privacy, there's no denying that keeping frames free from drapes, blinds and shutters can allow natural light to flood into a farmhouse property.
With contemporary glazing and modern heating systems, there's an opportunity to go as bare as you dare at windows. It's this light, and lightness of touch, that's a hallmark of farmhouse decor, summed up beautifully in this project from Annapolis-based interior designer, Cathy Purple Cherry.
Of course, if you are looking for farmhouse curtain ideas, we've got plenty of inspiration for those, too.
6. Tag lockers for sporty storage
Storage is key when you're working up your farmhouse decor ideas. Here, blue metal lockers add a touch of the unexpected to a hallway.
'I think the concept of modern farmhouse is all about taking the traditional farmhouse vibe and making it your own,' explains Los Angeles designer, Kate Lester.
'It's about mixing board and batten paneling with a steel railing detail, or using a more contemporary light fixture over a vintage dining table.'
7. Invite an elegant entrance
Define your modern farmhouse decor in the entrance hall or stairway, and you'll set the tone for the rest of the home. A shapely stair, rich wood tones and a touch of elegance in the form of artworks and furnishings are key.
'Modern farmhouse is about contrast; a mix of new and old,' states Lauren Meichtry, founder of designer pillow brand, Elsie Home. 'A great way to achieve this look is by using vintage pieces paired with newer, more modern finishes.'
8. Introduce warmth and texture with lighting
Kitchen lighting can be harsh, or major on sleek and shiny surfaces. When it comes to finalising your farmhouse decor and farmhouse kitchen lighting ideas, you can take a softer approach.
Here, the large Seema Raffia Drum Shade from Birdie Fortescue has a fabric base that filters the light above the kitchen island, while the narrow green edging adds a subtle hint of color.
The result: farmhouse decor in a kitchen that has the comfort factor of a snug sitting room.
9. Look up to a painted ceiling
A touch of paint can add depth to an all-wood scheme.
In this Bay Ridge home, designed by Cherry Purple Architects, the panelled and coffered home office features a painted ceiling that draws the eye upwards and creates definition between the beams.
10. Lay a patterned tile floor
Modernize your farmhouse bathroom with a boldly patterned floor tile.
'I think it's really important to push the boundaries and introduce juxtaposition with textiles, patterns and artwork that may not feel traditionally "farmhouse-Inspired"', says interior designer, Kate Lester.
'Keeping the eye moving and adding wow factor to a traditional backdrop is one of the tricks we always use when putting a modern spin on a classic.'
11. Don't be afraid of color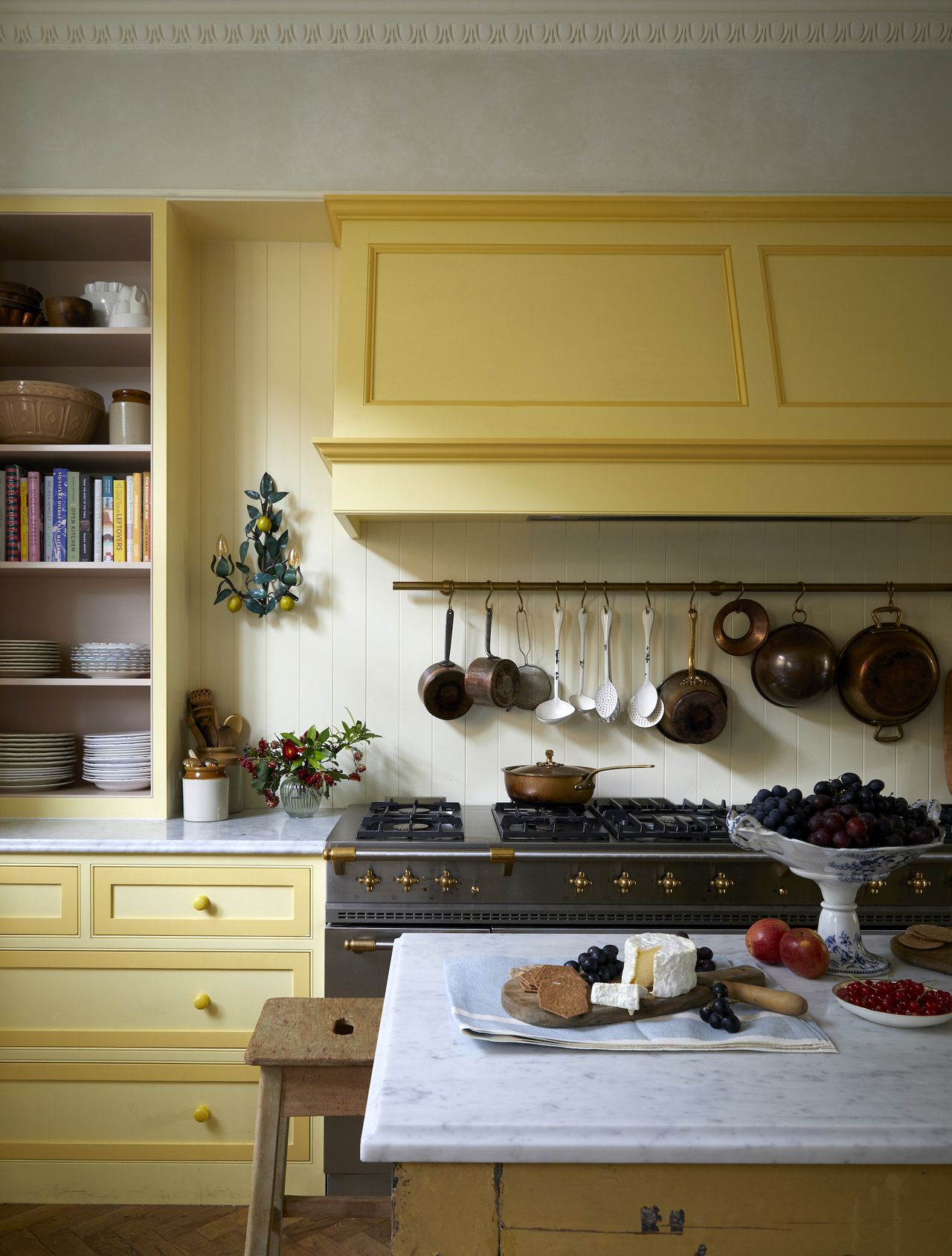 For every rule, there's an exception. So while a modern farmhouse palette may focus on shades of cream, taupe, beige and white, there's room for a buttery yellow in the scheme, too.
Adding color works well in a kitchen, where cabinets and farmhouse kitchen island ideas can easily be painted and a lively decor scheme fits with the busy atmosphere. Search out a hue that fits with the natural farmhouse aesthetic – sunny yellow, cornflower blue and grassy green all tick the color box.
12. Put a spin on classic farmhouse styling
Open shelves; tick. Leather handles; tick. Chunky furniture; tick. But in this modern incarnation, farmhouse style looks fresh and new.
The trick is to take traditional materials, motifs, shapes and set-ups, and configure them in a more contemporary way.
'What I love about this farmhouse style living room is that it's full of subtle surprises, from the staggered shelving to the over-long linen drapes that puddle on the floor,' says Andréa Childs, Editor of Country Homes & Interiors. 'But in terms of tone, textures and materials, it's totally farmhouse.'
13. Hang an amazing light fixture
Farmhouse decor may be laid back but it's not afraid to shout out its style credentials – as in this stunning home office with its supersized pendant light.
The look works because beyond that showstopper fixture, every piece is carefully curated – from the rustic wood side tables to the woven and metal baskets beneath the desk.
14. Take the farmhouse look into the utility
Don't stop your farmhouse styling in the kitchen – take it into the utility room or mudroom, with coordinating cabinets and tiles, for a seamless look.
If you want to switch up the experience, you could opt for the same surfaces in contrasting colors – a black tile with white pattern in the kitchen, say, and the reverse design in the utility.
15. Style a simple mudroom
White shiplap, a slate floor and woven baskets for storage translate to farmhouse decor ideas in even this most practical of spaces.
Choose a paint that's designed to withstand knocks and scrapes, and can be wiped down easily to maintain a fresh and pristine finish.
A half-glazed door replaces the traditional barn-style door for a modern update.
16. Overhaul your entryway with farmhouse decor
Do as Maison Trouvaille have done by starting your farmhouse decor at the beginning – with your entryway. According to the design team, there are many easy and fresh ways to add farmhouse touches to an entryway without having to commit to a full room.
Oozing warmth, character and famed for its timeless beauty and durability, wood is still one of the most popular flooring materials for the home, and it makes the perfect addition to a farmhouse style hall. Invest in a rustic sideboard or console table and adorn with a vase of fresh greenery for a true farmhouse feel.
17. Incorporate pantry storage mindfully
Farmhouse storage is an easy way to get creative and incorporate sustainable, reclaimed elements. Here, Whittney Parkinson Design created a color scheme that exudes beautifully classic yet modern elements.
Who would have thought that a pink room could look so timeless? This controversial hue can actually form a reliable background color that channels anything from a contemporary to a classical farmhouse spirit, as long as you find the right tone for the space and the light.
18. Decorate with a neutral color palette
The kitchen is the perfect place to experiment with farmhouse decor, as this scheme by Beth Webb Interiors shows.
Neutral colors tend to be calming, easy and super stylish to decorate with, making them the favorite choice for a modern farmhouse style space. One important aspect to consider, when decorating with neutrals is to bring in as much texture as possible as it creates interest and layers – important factors when strong colors are out of the picture. Consider pairing this cozy palette with raw materials, such as wood and sisal for added texture and interest.
19. Mix modern and rustic elements
A well-done farmhouse bathroom is the epitome of luxury when it comes to blurring the line between cozy and chic. Not only is it rustic and charming, but it also offers a sophisticated oasis for you to unwind at the end of the day, or get a jump-start on a new one. Intertwine modern sanitaryware with homespun accessories for a truly modern take on farmhouse decor.
20. Consider creating a gallery wall
Farmhouse living room wall decor ideas can help you maximize the impact of your favorite pieces of art with a few simple design tricks, and put added heart into your art, as Leanne Ford Interiors has done here.
Farmhouse decor ideas often provide the perfect canvas for displaying art and objects. Play around with the layout of your frames before hanging; try out evenly spaced rows and columns, or experiment with asymmetrical formations for something a little different .
21. Take a cue from classic interiors
When it comes to classically-inspired farmhouse living room ideas, there's plenty to think about, from wall colors, flooring types, that all important living room suite and window treatments to those vital finishing touches. If you have a farmhouse property, the best place to start is by looking at what you already have, advises Ruth Mottershead, Little Greene's creative director.
'To create a timeless scheme, consider the architectural period of your home as well as the atmosphere you wish to create; often the most enduring design schemes are those that are a natural fit for the style of property,' she says.
22. Pretty up with an accent wall
Rethink accent walls – or feature wall, as you may have heard it called. Whether it's wallpaper, paint or textural finishes, changing just one wall can bring character to your space.
Here, Sarah Solis Design Studio has created a feature out of a collection of sun hats. We're used to transforming a room with paint and patterned wallpaper, but textured materials, interesting objects and treasured heirlooms can all breathe new life into a space.
23. Don't overdo it on the window treatments
Farmhouses are pretty as they are – and quite often need very little in terms of window treatments or dressings.
'Floor length curtains – in a neutral colorway – create warmth and layers of texture in a sitting room or bedroom,' says interior designer Natalia Miyar. 'If the room has strong statement furniture, I choose a soft, textured fabric or multi-toned curtains to subtly add another dimension to the space.'
24. Think about every detail – from color to materials
In order to make the aesthetic feel more organic, while also complementing the style you set in the rest of the home, Kathy Kuo suggests incorporating the farmhouse look into a room through the details, such as palette and materials.
'For the color palette, select hues that radiate warmth and comfort. If you want to layer other colors into your space, draw from earthy and natural tones: a soft sage or grassy green, a soft off-white, muted sky blues, lush lavenders, and misty grays,' she suggests.
25. Consider moving away from shiplap
In lieu of shiplap, Jill Valeri, owner of The Welcome Home: Interior Design Solutions, suggests choosing a material that is appropriate to your location and the architecture of your house. 'Very few parts of the country use shiplap in their early construction techniques,' explains Valeri. 'It is not appropriate in every home.'
26. Bring natural wood inside
Wood is the perfect accompaniment to a farmhouse style interior scheme. Raw wood remains an enduring choice for interiors and is the ideal for almost anything –from flooring to bringing warmth and character to the kitchen.
Solid wood looks beautiful and is wonderfully versatile – rustic or reclaimed boards look fabulous in a country or traditional kitchen while exotic woods are perfect for a contemporary scheme.
What colors go with farmhouse decor?
When it comes to color schemes for an authentic modern farmhouse decor look, Barak Alberro, architect and head of design, Banda Design Studio, advises: 'Gray, taupe and mustard are versatile colors which pair well with wood furniture and natural materials. It works particularly successfully in large spaces where a bolder color would be too much.'