Farmhouse decor ideas – stylish ways to embrace this on-trend look in your home
Take the on-trend farmhouse decor style into your space with this breakdown of how to recreate this look in any room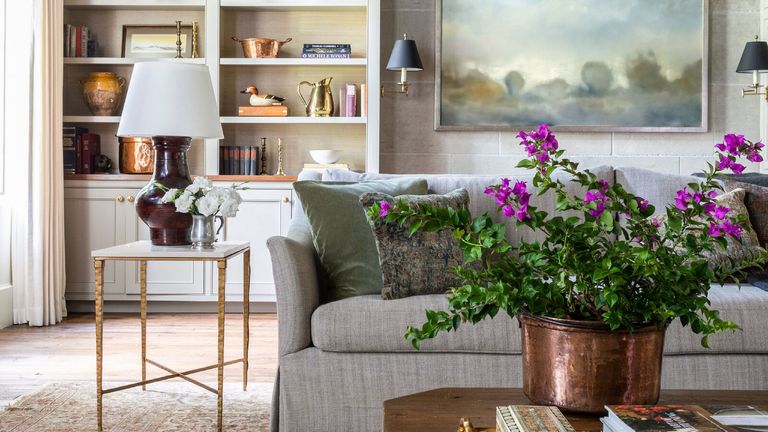 (Image credit: The Expert / )
Farmhouse decor has been having its moment in the spotlight over the past few years – and for good reason. The cozy-cool decor trend strikes the perfect balance between sophisticated and whimsical; like an escape to the countryside without leaving the city limits.  
See: Modern farmhouse ideas – creative ways to perfect this style in your home
According to Kathy Kuo, Interior Designer and CEO of Kathy Kuo Home, you know you've designed the perfect farmhouse-inspired space when it feels well balanced –serene and sophisticated, fresh yet has character.   
Hoping to put some fresh farmhouse ideas to work in your own space? Read on to discover the essential aspects of farmhouse decor – these practical, expert-approved tips and ideas will ensure your home reflects the chic and modern aesthetic while still maintaining a cozy and rustic appeal.
1. Overhaul your entryway with farmhouse decor
Do as Maison Trouvaille have done by starting your farmhouse decor at the beginning – with your entryway. According to the design team, there are many easy and fresh ways to add farmhouse touches to an entryway without having to commit to a full room.  
Oozing warmth, character and famed for its timeless beauty and durability, wood is still one of the most popular flooring materials for the home, and it makes the perfect addition to a farmhouse style hall. Invest in a rustic sideboard or console table and adorn with a vase of fresh greenery for a true farmhouse feel.
2. Incorporate pantry storage mindfully
Farmhouse storage is an easy way to get creative and incorporate sustainable, reclaimed elements. Here, Whittney Parkinson Design created a color scheme that exudes beautifully classic yet modern elements. 
Who would have thought that a pink room could look so timeless? This controversial hue can actually form a reliable background color that channels anything from a contemporary to a classical farmhouse spirit, as long as you find the right tone for the space and the light.
See: Farmhouse kitchen ideas – introduce modern rustic elements for a laid-back look
3. Decorate with a neutral color palette
The kitchen is the perfect place to experiment with farmhouse decor, as this scheme by Beth Webb Interiors shows. 
Neutral colors tend to be calming, easy and super stylish to decorate with, making them the favorite choice for a modern farmhouse style space. One important aspect to consider, when decorating with neutrals is to bring in as much texture as possible as it creates interest and layers – important factors when strong colors are out of the picture. Consider pairing this cozy palette with raw materials, such as wood and sisal for added texture and interest.
4. Mix modern and rustic elements
A well-done farmhouse bathroom is the epitome of luxury when it comes to blurring the line between cozy and chic. Not only is it rustic and charming, but it also offers a sophisticated oasis for you to unwind at the end of the day, or get a jump-start on a new one. Intertwine modern sanitaryware with homespun accessories for a truly modern take on farmhouse decor.
See: Farmhouse bathroom ideas – mix rustic decor with chic design for true luxury
5. Consider creating a gallery wall
Maximize the impact of your favorite pieces of art with a few simple design tricks, and put added heart into your art, as Leanne Ford Interiors has done here.
A farmhouse decor scheme often provides the perfect canvas for displaying art and objects. Play around with the layout of your frames before hanging; try out evenly spaced rows and columns, or experiment with asymmetrical formations for something a little different. 
6. Take a cue from classic interior
When it comes to classically-inspired farmhouse living room ideas, there's plenty to think about, from wall colors, flooring types, that all important living room suite and window treatments to those vital finishing touches. If you have a farmhouse property, the best place to start is by looking at what you already have, advises Ruth Mottershead, Little Greene's creative director. 
'To create a timeless scheme, consider the architectural period of your home as well as the atmosphere you wish to create; often the most enduring design schemes are those that are a natural fit for the style of property,' she says. 
7. Pretty up with an accent wall
Rethink the accent wall – or feature wall, as you may have heard it called. Whether it's wallpaper, paint or textural finishes, changing just one wall can bring character to your space. 
Here, Sarah Solis Design Studio has created a feature out of a collection of sun hats. We're used to transforming a room with paint and patterned wallpaper, but textured materials, interesting objects and treasured heirlooms can all breathe new life into a space.
8. Don't overdo it on the window treatments
Farmhouses are pretty as they are – and quite often need very little in terms of window treatments or dressings. 
'Floor length curtains – in a neutral colorway – create warmth and layers of texture in a sitting room or bedroom,' says interior designer Natalia Miyar. 'If the room has strong statement furniture, I choose a soft, textured fabric or multi-toned curtains to subtly add another dimension to the space.' 
See: Farmhouse bedroom ideas – rustic designs for your sleep space
9. Think about every detail – from color to materials
In order to make the aesthetic feel more organic, while also complementing the style you set in the rest of the home, Kathy Kuo suggests incorporating the farmhouse look into a room through the details, such as palette and materials.   
'For the color palette, select hues that radiate warmth and comfort. If you want to layer other colors into your space, draw from earthy and natural tones: a soft sage or grassy green, a soft off-white, muted sky blues, lush lavenders, and misty grays,' she suggests. 
10. Consider moving away from shiplap
In lieu of shiplap, Jill Valeri, Owner of The Welcome Home: Interior Design Solutions, suggests choosing a material that is appropriate to your location and the architecture of your house. 'Very few parts of the country use shiplap in their early construction techniques,' explains Valeri. 'It is not appropriate in every home.'
11. … But do bring natural wood inside
Wood is the perfect accompaniment to a farmhouse style interior scheme. Raw wood remains an enduring choice for interiors and is the ideal for almost anything – from flooring to bringing warmth and character to the kitchen. 
Solid wood looks beautiful and is wonderfully versatile – rustic or reclaimed boards look fabulous in a country or traditional kitchen while exotic woods are perfect for a contemporary scheme. 
What colors go with farmhouse decor? 
When it comes to color schemes for an authentic modern farmhouse decor look, Barak Alberro, architect and head of design, Banda Design Studio, advises: 'Gray, taupe and mustard are versatile colors which pair well with wood furniture and natural materials. It works particularly successfully in large spaces where a bolder color would be too much.'