Farmhouse living room ideas – 38 rustic designs for a cozy scheme
These farmhouse living room ideas will introduce texture, neutrals and natural character to a home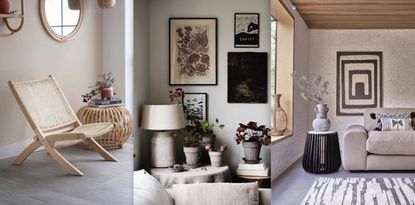 (Image credit: Garden Trading / Bergs Potter/ Barker and Stonehouse)
Farmhouse living room ideas are all about getting cozy and warm at home – in fact, you could almost think about it like the design world equivalent of hygge. It's all about fostering a rustic – yet sophisticated – space for friends and family to gather around and enjoy each other's company.
Whether you're looking to create a brilliant modern farmhouse living room at your cottage in the woods or hoping to channel those rustic elements and make your apartment in the city a little more homely and warm, these smart farmhouse living rooms will mean you set off on the right foot.
Farmhouse living room ideas
Modern farmhouse living room ideas are much more reliant on streamlined shapes combined with more traditional elements. If you are looking for living room ideas for a farmhouse – whether a period home or a more contemporary space, think rustic materials matched to a modern aesthetic.
1. Double up on tables
Twin tables will add a sense of spontaneity to your farmhouse living room ideas, taking some of the formality from the usual fireplace, low table, couch combo.
Matching the items on the tables – here, with complementary display trays – doubles down on the double-up for your coffee table styling ideas. Repetition like this is a trick interior designers use to create both symmetry and flow.
2. Perfect a peaceful palette
A farmhouse palette has a sweet tooth without being saccharine – think shades of caramel, toffee, chocolate and cream.
'Pick a warm white color as your base and add contrasting tones and a variety of textures through furniture and accessories,' suggests Claire Hornby, Head of Creative, Barker and Stonehouse. 'A palette of charcoal, gray and ecru will help you achieve that distinct look.'
Don't forget darker tones that give depth to the soft taupe color scheme. If you're using this look as part of your farmhouse kitchen ideas, black hardware and handles can add definition to the decor.
3. Curate a quiet corner
Restfulness and ease are key to a farmhouse living room. This quiet spot, complete with a carefully curated selection of Simona pots from Bergs Potter, is a favourite corner in the home of Jeska Hearne, founder of The Future Kept artisan store.
Late mornings, quiet afternoons, and dusky evenings are always spent in this nook with a book, cup of tea and something sweet. A poetic corner of nature, art and light.
'Seek items you want to pass down through generations; items made with love and care,' says Jeska. 'Small run, handmade, artisan and vintage products that show the maker's touch or the wear of time will make each piece unique. Choose durable quality, made with a sustainable and ethical approach.'
4. Refine your rustic storage
Whether it's TV controls, paperwork, or games, having a dedicated space for storage ideas will keep your farmhouse living room looking serene and clutter free.
A chest of drawers made from textured wood is a natural choice, with ironwork handles that reference a farmhouse aesthetic.
Use the cabinet top as a display space to soften the functionality of the furniture.
5. Add joyful color
Add a happy-go-lucky feel to a your farmhouse living room ideas with a bright couch – just one easy room color idea.
'This is such a simple way to add personality to a simple farmhouse scheme,' says Andréa Childs, Editor of Country Homes & Interiors magazine. 'Choose removable slipcovers and you can update the look seasonally, introducing florals in the springtime and gold and russet tones in the fall.
'The trick to dialling up color is simply to choose a shade or two brighter or stronger than your usual farmhouse palette. Root the colors in nature and you won't go wrong.'
6. Add a laid-back seat for one
While farmhouse living rooms are welcoming spaces to gather, you can create a place to pause amid the hubbub.
Rather than looking lonely, a beautiful laid-back chair invites you to sit, rest and appreciate the room around you.
'Every entertaining space should have a "quiet zone" like this,' says Andréa Childs. 'If you want to create a place for conversation, add another chair and settle in for a chat.'
7. Make it into a sunroom
This sunroom idea elevates the traditional farmhouse living room to next-level elegance.
The work of Indianapolis-based designer Whittney Parkinson, it takes the pale farmhouse palette into the sun-drenched space and adds a statement light fixture for a touch of urban chic.
8. Choose a leather couch
Tan leather is a farmhouse staple, but the ribbed shape of this sofa from Cotswold Grey updates it for a modern look. Leather works so well for farmhouse living room ideas as it looks better with age, adding to the lived-in, relaxed mood. And if it does begin to look a bit worn, there are simple ways to repair a leather couch to try.
Contrast the contemporary shape with throw pillows in natural linen and cotton the color of stonework for a homey feel.
9. Introduce some French finesse
Add a touch of finesse to your farmhouse living room ideas with some French country decor style furnishings. Fabric designer Zoe Glencross, whose Vivre le Reve collection is pictured here, has some advice…
'Start with core items such as natural stone or vintage oak flooring, oversized curtains and oversized decorative mirrors as your main focal points, then adding a few little delicate, handcrafted accessories to style,' she says.
'Colorwise, I prefer sticking a mainly neutral palette of off-whites and putties with the odd touch of inky blues and warm rose pinks as an accent colour.'
10. Layer on beautiful fabrics
Beautiful fabrics decorated with delicate, nature-inspired motifs will bring a luxe softness to your farmhouse living room. Dress the couch with pillows and throws, and add drapes at the window to block out draughts and soften the edges of the room.
'For a relaxed, modern farmhouse feel, texture is important and can be created with layers of soft furnishings, which will also give the room a warm, inviting ambience,' explains Debbie Leigh, Design Manager, ILIV.
'Neutral color palettes based on heritage prints work well in farmhouse interiors and are easy to incorporate with plenty of blankets, throws and varying cushion sizes.
'Neutral tones also look great with wood, which is often on display in a farmhouse style room with elements such as exposed beams. If space allows, go for drapes – the longer and wider the better for a homey farmhouse feel.'
11. Make use of rustic columns
'Wood detailing is synonymous with farmhouse living rooms, so wood beams and panelling immediately evoke a more country look,' says Heather Hilliard, Founder of Heather Hilliard Design.
'To make them a little more modern, paint the entire room, including any wood columns, white. It will immediately give it a clean lift and more contemporary, gallery like, feel.'
The designer of this space, Julie Cloos Mølsgaard, chose neutral tones to add a sense of serenity, and added tactile textures for vibrancy and movement.
12. Go for a calming scheme
'The modern farmhouse should exude comfort, particularly in the main living area,' says Interior Designer Cherie Lee. 'A neutral, calming scheme with warm timbers and vintage touches will help to achieve a stylish but lived in feel.'
'Avoid anything with too much shine and keep fabrics relaxed and tactile.'
13. Don't forget wooden exposed beams
'The core of modern farmhouse style is mixing contemporary elements with ones most often associated with country life, such as exposed wood beams and rustic elements alongside neutral clean lines,' says Heather Hilliard of Heather Hilliard Design.
In this farmhouse living room, the white painted beams give a modern feel to the traditional farmhouse style.
14. Fashion rustic furniture
'Farmhouses are inherently rustic,' says Jessica Davis of Atelier Davis. 'The idea is to create a feel that is casual (since no farmhouse is ever formal) and worn in like it has been around for a while. That's why rustic items that have a sense of age really work with farmhouse style.'
15. Use neutral colors
Rustic, true materials are at the core of farmhouse style according to interior designer Jessica Davis, who says the key to making the style more modern is to use clean lines and to pare back your palette.
This space, designed by The Cotswold Company, uses neutral colors and rustic materials to achieve the ultimate modern farmhouse living space.
16. Opt for woven decor
'These baskets are timeless,' says Jane Badu of We Are Nomads. 'Bypassing trends, their geometric patterns and natural textures fit beautifully into eclectic interiors, the handmade nature of the baskets align with the rustic nature of a farmhouse.'
This woven basket adds warmth and character to the whites and greys of the modern farmhouse living room.
17. Consider an eclectic look
'You need patterns, colors, and texture in any project to create a rich and vibrant home, especially in a modern farmhouse where the foundations of the design in the architecture are more simple,' says interior designer Phillip Thomas .
'You can have a neutral colored background but once you begin to layer it with your favorite color-filled art or objects, or a luxurious textured sofa or woven rug – then it really starts to pop and become personal to you.'
18. Focus on the furniture
According to Neptune Home Designer George Miller, incorporating furniture with modern yet traditional elements is the perfect way to create a farmhouse living room aesthetic.
Neptune's Audrey chair featured in the space has a 'minimal and understated design, but with the new tweed fabric adding texture and earthy hues,' says Miller.
19. Pair neutrals with accent colors
'Farmhouse living rooms are all about natural materials, muted shades, rustic finishes – but with a timeless appeal,' says Paul Deckland, buying director at The Cotswold Company.
When it comes to furnishing, Deckland suggests pairing sofas in shades of grey and cream with accent cushions to add interest.
20. Consider wall decor for farmhouse living rooms
Placing wall hanging baskets in your farmhouse living space is the perfect way to complement earthy tones. Or, in an open-plan farmhouse kitchen, living room and diner, hanging a plate wall will look cute. Adding subtle, natural textures to clean lines will create a rustic yet warm feel.
21. Mix natural materials and textures
'Modern Farmhouse style is all about the juxtaposition of clean lines with more organic, rough hewn lines,' says interior designer Phillip Thomas who suggests mixing natural textures and materials such as wood with simple, soft pieces to create a balance.
In this farmhouse living room, crafted by Nordic House, there is a mix of soft and natural textures to achieve a rustic yet comfortable space.
22. Consider vintage mirrors
If you're looking for farmhouse living room ideas for spaces with less light and smaller windows, Interior Designer Alexander Waterworth suggests placing vintage mirrors to help reflect light back into the room while creating a rustic feel. 'Antiques can also add intrigue and depth to the space,' says Waterworth.
23. Mix dark and light tones
'Keep the space fresh, embrace existing materials by rejuvenating them sympathetically,' says Alexander Waterworth. 'Introduce darker tones through furniture, avoid large patterns keeping tones and textures at the forefront of selection'.
24. Take inspiration from the outdoors
Of course, the easiest way to foster a cozy, farmhouse-inspired space is by taking inspiration from the outside. 'Use art and accessories that reference the outdoors,' suggests Interior Designer Jill Valeri. 'Decorating with plants, animals and landscape paintings are great – but avoid anything kitsch.'
25. Decorate with a simple color palette
Don't over-accessorize when it comes to modern farmhouse living rooms. In this space, designed by Leanne Ford Interiors, the more minimal the better. An all-white color palette is cool, calm and collected, while woven elements add subtle texture and interest.
'Farmhouse-inspired makes me think about wide-open fields, breathtaking views, and the idea of the outdoors and open space,' says Interior Designer Beth Brown. 'Don't cramp the room with items just to fill it. Select a couple of standout pieces and work around them for heightened results.'
26. Add high contrast colors
'High contrast color is a hallmark feature you will see in many modern farmhouse ideas,' says Eric Ross, Founder of Eric Ross Interiors. 'You typically see black and white; however, I like to take a different approach with spaces using multiple colors.' This can easily be done by adding unexpected linens, wallpapers, and even tiling.
In this light and bright living room, designed by Kate Marker Interiors, a selection of complimentary colors – from opposite ends of the color wheel – are guaranteed to add drama to any room. By taking shades that sit opposite each other on the wheel, such as orange and blue, you can create a rich, vibrant scheme packed with energy.
27. Mix modern materials with antiques
'The more modern approach to country decor is an approach that I am really enjoying,' says Susan Peters, Interior Design at 9108 Designs. 'I love the idea of using some of those antiques and classic pieces, while at the same time putting a more modern twist in your room. One of my recommendations would be to mix antique and modern furniture, accessories and so forth. This can achieve a curated updated look that will help your home be an original.'
In this space, crafted by Leanne Ford Interiors, the designer masterfully mixes modern with classic elements for a truly tremendous farmhouse living room scheme.
28. Go for statement lighting
'Light fixtures are a great place to put a bit of modern into your home; don't be afraid to couple a modern light fixture in your space,' says Susan Peters. 'By mixing in some of each style, you can achieve a modern-farmhouse look.'
29. Consider meaningful art
Your artwork can also be something that helps to mesh two styles. Susan Peters suggests choosing a thin black metal frame to house a collection of vintage maps, botanicals, or artful sketches.
Designed by Rachel Halvorson Designs, this farmhouse living room exudes personality and character – an important element when choosing a rustic interior scheme for your home.
30. Don't forget your own personal taste
It can be tempting to take a page out of the all-white, heavily curated farmhouse living room style, but according to Interior Designer Kathy Kuo, one of the most important aspects when designing a farmhouse room is bringing in a sense of charm. 'Find pieces you love that are timeless, chic and accentuate your personality; this makes your room unique and adds some character.'
Here, designers Ashe Leandro, have crafted a fun, unique room. One that makes you instantly smile on arrival.
31. Combine Scandinavian design elements
'Avoid going overly rustic. Instead, include modern or industrial elements to complement the more traditional farmhouse elements,' suggests Melissa Marcus, Founder of Melissa Marcus Designs. 'This will give the space an elevated look. I like to combine clean lines from a Scandinavian or Mid-century modern décor with the shabby chic / natural wood elements we think of when we think farmhouse.'
32. Go for different metals
When it comes to accents for farmhouse living rooms, Melissa Marcus suggests predominantly sticking with iron, which offers a bold yet neutral aesthetic that can easily be built upon. However, she also suggests sprinkling in another metal, either gold or silver, depending on the design, to add some visual interest to the space.
33. Don't forget the ceiling
'When it comes to modern farmhouse design in a living room, I always say that the ceiling is just as important as the other walls in a room,' says Lindsay Hendrix, Founder of Hi-Luxe Interiors. 'For a layer of texture, warmth and interest, wood beams on the ceiling are always a gorgeous addition. Faux wood beams can be incredibly light and easy to install, and when you walk into the room, it really gives that wow factor.'
34. Opt for earthy tones
'I suggest mixing wooden and darker earthy tones with modern textures and neutral tones,' says Ana Bueno of Ana B Arch Design. 'Background paints should be a clean/neutral tone since everything else will be bolder and dense.'
Brimming with warmth, character and famed for its timeless beauty and durability, wood is still one of the most popular materials for the home. Here, designer Ashe Leandro uses it to perfection.
35. Look to your library for modern farmhouse inspiration
Love home library ideas and decorating with books? According to Michelle Harrison-McAlliser, Founder of Michelle Harrison Design, layering vintage books on the coffee table or displaying them on an airy shelf is the easiest way to lend a cozy aesthetic while showing off your personality.
36. Don't forget the fireplace
Lucky enough to have an existing fireplace in your space? Consider making small tweaks to help bring out the modern elements. 'If you have a fireplace, swap out the traditional log for white birch wood ones,' suggests Harrison.
37. Employ ropes and strings
'Something we are loving right now in our farmhouse living rooms is adding in items that have ropes and rattan texture,' says Heather Fujikawa, Owner and Principal Designer of House Sprucing. 'Whether it is a roping detail on the side of a chair, a light fixture hanging from a thick rope or drapery tie backs with rope – we can't get enough of this textured detail that adds some fresh impact.'
Studio LIFESTYLE designed this living room for comfort and quiet reflection – a theme seen in many modern farmhouse spaces.
38. Go for a bright ceiling