Sunroom ideas – 19 high-style room designs that let the light in
Increase the natural light in your home with these sunroom ideas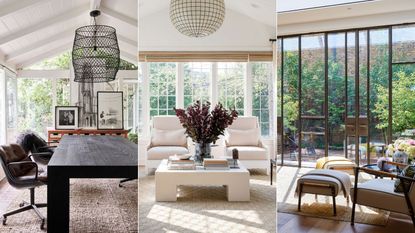 (Image credit: Future)
Bridging the gap between outdoors and in, sunroom ideas allow you to enjoy the beauty of the outdoors while maintaining all of the necessary creature comforts.
Despite not being a typical home addition here in the US, sunroom ideas are very popular across the pond. They provide the perfect space to relax and enjoy the beauty of your backyard, especially when the weather is less favorable.
Whether you are looking to turn a screened-in porch into a four-season room; are adding a sunroom as part of a more extensive home renovation, or simply want to take your existing sunroom to the next level, we've asked leading design experts for their favorite sunroom ideas.
Sunroom ideas
Rather than the predominantly glass structures of orangeries and conservatories, sunroom ideas combine a glazed extension with a solid roof. A great way to increase natural light, the sunroom provides a transitional space between the home and garden, they are primarily designed to showcase the landscape while providing shelter from the weather.
However, they can be tricky to get right. Renowned for being too hot in the summer and too cool in winter, it is essential that you factor in steps to ensure your sunroom ideas are usable all year round.
From sunroom furniture inspiration and room layouts to architectural details and exteriors, these sunroom ideas will break open the possibilities.
1. Keep it cool
Temperature is the biggest challenge of a sunroom design. Get it right and you'll have a space that is usable all year round, but get it wrong and you'll find yourself struggling whenever the thermometer edges to one extreme. Window blinds are the quickest and easiest way to control heat. Add to this by opting for a design that has plenty of windows and vents to create a through-draft, there are even some that will open automatically when the temperature starts to rise.
For increased versatility, don't settle for a single option. 'To dress sunroom windows, consider using a combination of window treatments such as sheer curtains or shades, along with heavier drapes or shutter ideas. This will provide privacy while also allowing natural light to filter through,' advises Artem Kropovinsky, interior designer and founder of Arsight. 'Additionally, using light-colored window treatments and keeping the windows shaded during the hottest parts of the day can also help to keep the room cool.'
Don't be afraid to change your window treatments in response to the seasons – when decorating for fall, opt for heavy velvet drapes to create a cozy environment, then switch these out for a lighter blind or curtains in summer.
2. Make it a warm space
Keeping your sunroom warm starts in the planning stages – it is much harder to factor in later. Insulation is essential, and the more you include the warmer your space will become the winter. 'Opting for a solid roof enables you to incorporate much more and will also make the space feel more solid and usable. It also makes the space feel cozier, removes the because sitting under the rain can be noisy and unwelcoming,' explains Merry Albright, creative director at Border Oak.
'I would really consider if you need glass on all sides and if not, you will have the ideal place to add more insulation and have a wall to place furniture against or give your space to decorate with art.'
Once you've got your insulation in place, you need to consider heating – there are plenty of eco-heating ideas too. 'Select high-performance glazing so you can include some thermal value and a controllable heating system such as underfloor heating with a thermostat. It might also be worth looking at a timber floor rather than a stone floor, which may feel colder – although stone floors can warm up in even winter sun and hold the heat which they release slowly. Engineered timber tends to be compatible with underfloor heating. Woodburners are also a popular choice, especially if extending the heating source from the main house is not simple.
3. Durability is key
The aim of a sunroom is to provide better access to the garden. This inevitably means that your flooring needs to be able to withstand a barrage of wet feet and muddy paws. Therefore, durability is key. Stone is a popular option due to its durability and classic appearance and there are plenty of stone flooring types from which to choose.
'A stone floor is a timeless investment that can strike the perfect balance of both beauty and practicality in the home. As a conservatory or sunroom will see higher light levels than most other spaces, it is important to consider the color of the floor tiles. We would therefore recommend a light-mid tone natural stone or a stone effect porcelain tile for its UV stability,' says Joshua Fernandez co-founder of Quorn Stone. However, stone can feel cold underfoot in the winter so dress with a durable natural fiber rug – purchased from one of the best places to buy a rug – or pair it with underfloor heating.
Alternatives include the more affordable stone-look tiles or the delightfully rustic terracotta tile ideas which channel traditional conservatory vibes. If considering wood, opt for engineered wood as it is more stable than solid wood meaning it won't shrink or swell in response to temperature changes and is compatible with underfloor heating. If opting for wood, be sure to opt for a design finished with a UV lacquer to prevent fading.
4. Choose the right furniture
Choosing furniture for your sunroom ideas is a little more complex than that for other rooms. Of course, the same concerns of style, size, and position come into play, but so must thoughts of durability, UV resistance, and the effect of the seasons. Your sunroom will have more of an outdoor feel, capitalizing on natural materials and those that are durable to the elements.
Using traditional wooden outdoor furniture or patio furniture as part of your interior scheme will ensure they are able to resist fading when under glass and can also be used in the backyard come the warmer weather, enabling you to truly open up the space.
5. Think about lighting, both inside and out
While in the height of summer, lighting will not be a problem. Come the winter or into the evenings your sunroom will quickly be plunged into darkness. Therefore, ambient lighting is essential. 'With sunroom ideas, the first place to start is with the garden. Invest in lighting up the greenery beyond the glass – there are plenty of solar lighting ideas which are easy to install. This draws the eye outside and keeps the space from feeling eerie at night - otherwise, you'll be greeted by vast amounts of black glass,' explains Nick Boatright-Wiltshire, brand manager at där lighting.
Opting for solar lights at different heights – ground level, staked and within trees – to add depth to the lighting scheme. These Firework-style decorative outdoor solar lights on Amazon are available in several different colors and create an eye-catching feature.
'Maximize the benefits of the outdoor lighting, by keeping the inside on a lower light level to minimize reflections and glare. Create a cozy ambiance with one or two decorative tables or floor lamps fitted with soft, warm bulbs and if you're hoping to see the stars, avoid uplighting the room. If the space is being used as a dining room, a narrow ceiling pendant hanging above the table adds a nice touch too – just remember to dim it so that it doesn't detract from the garden outside.'
6. Add a rug
Creating a cozy environment is key to achieving the perfect sunroom design. Take inspiration from cozy living room ideas and pair soft furnishings such as rugs and cushions with layered lighting schemes and warm hues.
'I enjoy putting large area rugs into sunrooms because they help the room to feel like a space on its own. The right rug also adds a cozy element which will be appreciated in the colder months when you're watching the rain or snow falling outside. When selecting a rug, I look for tight stitching and durable texture, especially if your sunroom has an entry point into your house. Having a rug that is easy to clean and will not be damaged by shoes is a great way to reinforce the feeling of an indoor-outdoor room,' says Channa Alvarez, production designer at Living Spaces.
When researching rug trends for your sunroom ideas, take inspiration from hallway runner ideas. Like a sunroom, hallways must withstand high traffic and be able to withstand people going from outside to in. Rugs made from natural materials – like this Leather Twined Jute rug from Anthropologie – are a great choice for your sunroom ideas, not only are they highly durable but their rustic aesthetic combines the indoor and outdoor aesthetic.
7. Try an all-white sunroom idea
Capitalize on the light flooding into your room with a fresh coat of white paint on the walls. Since white is reflective, it'll bounce the light around the room and make the space appear even brighter. Designer Leanne Ford, known for her way with white, offers up a perfect example in her own home, above.
8. Or, try a moody sunroom idea instead
If you've been looking for a place in your home to test out a dark color, the sunroom might be just the spot. If it seems counterintuitive to go dark in a space that's all about celebrating light, take heart: lots of natural illumination means that your sunroom will still feel bright and welcoming even with a deep hue on the walls.
The walls of windows and overhead skylight in this sunroom design, from Chicago-based designer Summer Thornton's book Wonderland, create a flood of natural light that lets the nuances of the rich blue wall color show through.
'When you've got a sun room that's flooded with light, it gives you the ability to go moodier and deeper with your palette without things feeling dark. We applied this amazing burlap wall treatment to the walls in Spellbound by Benjamin Moore because it gave a richness to the space,' explains Thornton. 'Then we played with tonals with a rich blue couch. With windows on three sides and a huge skylight above, the room remains sunny and bright, but never preppy or sugary sweet. It makes it the perfect space for a home office or to cozy-up and read a book.'
9. Arrange sunroom furniture to capture a view
If your sun room has a view, take full advantage by arranging your sun room furniture to face the windows.
In this petite space, designer Clara Jung of Banner Day Interiors positioned a pair of chaise longues and a rattan swing towards the window, providing a sweet spot to take in both the sun and the views.
10. Turn a screened porch into a sunroom
If you already have a screened-in porch or are looking at front porch ideas that are enclosed, you're just a few steps away from a sunroom you can enjoy for much of the year.
When the summer season is over, extend the life of your porch with tempered glass windows or vinyl glazing, which will help protect the space from the elements like wind, snow, and cold. Depending on the climate where you live, this simple addition can convert your porch to a three-seasons sunroom, or be enough to enjoy your new sunroom year-round - with glass being a great option for porch ceiling ideas.
The porch-meets-sunroom above is by Rachel Halvorson.
11. Let the light in from all angles
Floor-to-ceiling windows are a requisite of sunroom addition ideas. However, if you're looking to let even more light in, add skylights or a glass ceiling to the space.
Adding a glass roof to your sunroom design is also a classic conservatory idea, so take a cue from the sunroom's gussied-up cousin and fill the room with plants. It'll only add to the sense of escape.
12. Extend your living space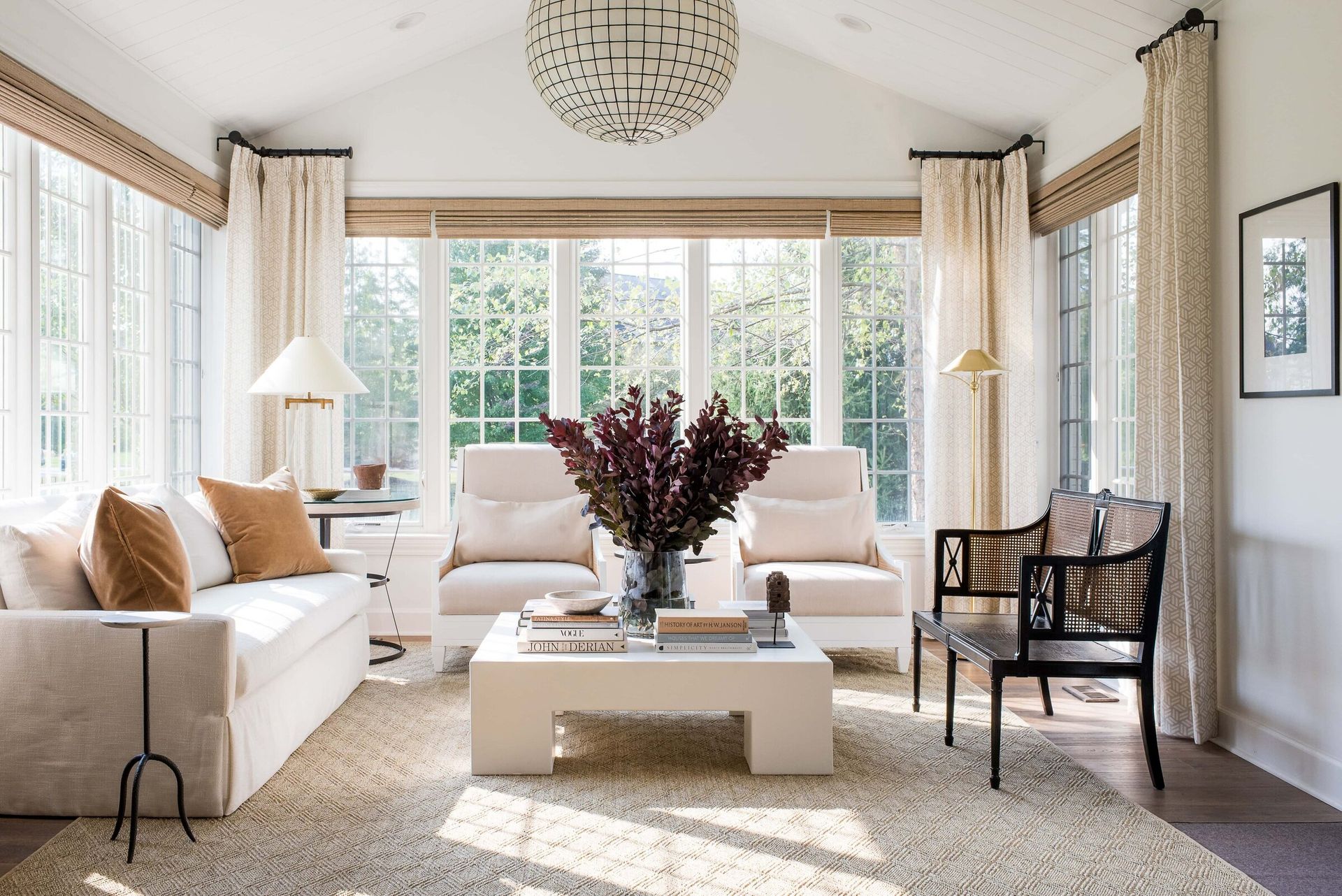 While some sunroom ideas are fully finished bonus rooms with lots of windows, others are glorified patio ideas; think brick pavers with walls and a roof. If yours is the latter, consider adding insulation and a flooring that's more traditionally suited to indoors.
This will take your sunroom design from a space you use only when it's warm, to a year-round living area that can add valuable square footage to your home. Plus, what space is better suited to a living room than one that's drenched with light?
Above, Indianapolis-based designer Whittney Parkinson turned her client's dated sunroom into a showpiece in the home thanks to a statement light fixture and a peaceful, pale neutral palette.
13. Paint it black
Have an urban view outside the sun room windows? Consider painting your sun room black. 'There is a beautiful city view from three sides of this sunroom, so I decided to paint the walls dark so nothing would conflict with the sparkling lights of the city at night,' says Betsy Brown, who created the above sunroom for a client. 'It's a wonderful place to lounge on weekends. The days are sunny and the nights are sparkly. It's like looking at a Christmas tree all night long."
Regardless of what lies beyond the windows, black can be a beautiful choice for maximizing the view. 'The benefit of painting a sun room black – from the walls to the framing of the windows – is that the black recedes visually, allowing the colors in the garden beyond to advance,' adds Lucy Searle, Homes & Gardens' Editor in Chief. 'This is a great way to really bring the outdoors in.
'However, if you are going to do this, I would advise choosing pale-colored furnishings and flooring, and to keep the ceiling light; this will allow the room to feel bright, despite the moody wall color.'
14. Add a pool
Love the water? You might like to combine pool house ideas with sunroom addition ideas. If your home addition costs allow, you really won't find any better sunroom ideas than adding a pool to your indoor-outdoor oasis, like in this dream-worthy space by Connecticut-based Parish Conservatories. For the ultimate year-round enjoyment, add oversized windows or doors that can be opened up during warmer months to take advantage of good weather.
Inspired to take a more creative direction with your sunroom ideas? Parish Conservatories' Paul Zec says the company gets all manner of outside-the-box requests for its additions. 'We build our sunrooms for all kinds of different uses, like orangeries, working greenhouses, conservatories, kitchens and, yes, pool and hot tub covers,' he says.
15. Create a sunroom breakfast nook
If your sunroom addition ideas are on the small side, consider using the area as a breakfast nook. Take a cue from this Hamptons home by Rachel Halvorson, and add built-in banquette seating around the perimeter of the room, a pedestal table in the center, and a bold light fixture above for a smart setup.
The result is a casual alternative to a formal dining room, and your new favorite spot for morning coffee.
16. Consider a detached sunroom idea
Traditionally, a sunroom is attached to your home, but it doesn't have to be. If you have the space in your yard or garden, consider adding your sunroom as a freestanding structure – or garden room, as they're called in the UK. This only elevates its status as a retreat, and offers the perfect solution for a home office or gym, or a quiet spot for reading or reflection.
17. Go for a minimalist sunroom scheme
In this Connecticut sunroom, designer Chango & Co.'s well-edited furniture selection creates a calming atmosphere free of any visual clutter. At the same time, larger furniture silhouettes ensure the space is still cozy, while black drapery hardware and a pair of oversized pendants add just enough contrast to keep things interesting.
18. Take cues from the outdoors
Take a cue from the view beyond the sunroom windows with sunroom decor that blends indoors and out.
When designing the above room for the 2022 Kips Bay Decorator Show House Palm Beach, designer Paloma Contreras says she chose 'a fresh color palette of green and white to beckon the outdoors in.'
Crisp botanical prints and rattan furniture add to the outside-in vibe.
19. Add a fireplace
Sunrooms are designed to let as much light in as possible, which means lots of windows. That also means these rooms typically have less insulation and lose heat faster in the winter. If you're planning a home addition with a sunroom up north, consider fireplace ideas, which could be a new model – or perhaps you can build your sunroom ideas around an existing chimney to create a cozy ambiance regardless of the temperatures outdoors:
Above, designer Rachel Halvorson centered her client's sunroom design around a large, wood-burning fireplace.
Can you put a regular couch in a sunroom?
Yes, you can put a regular couch in a sunroom – however, it is best to opt for a light-colored design as this will prevent it from fading over time.
'When it comes to a couch, I encourage everyone to go with the option that is most comfortable and inviting to them. Couches are meant to be sat on and if yours isn't comfortable you'll never end up using it! If you're looking to create an indoor-outdoor look, I'd recommend trying out wicker furniture because this material is made for outdoor use but can be dressed up with plush cushions, pillows, and throw blankets. To me, dressed-up wicker couches are the perfect blend of durability and cozy for a sunroom,' says Channa Alvarez, production designer at Living Spaces.
What are the best sunroom furniture ideas?
The options for furnishing your sunroom are almost endless. To help you whittle down your sunroom furniture ideas, here are a few of our favorites.
Choose outdoor furniture
If you live in an especially warm or sunny climate and plan to spend a lot of time in the sunroom with the windows wide open, opt for outdoor furniture. Classic outdoor materials like wicker and teak will give your indoor-outdoor room vacation vibes, and the fabrics will be better suited to stand up to the UV rays flooding in.
Make it a home office
If your sunroom is an addition or ancillary to your main living space, they make an excellent home office space, especially if there's a door that can be closed. If your sunroom is large, give it a dual purpose with a desk and a separate sitting area.
Go for all-white furnishings
There are a few reasons that white just works in a sunroom. For one, sunlight can fade fabrics, so white eliminates any worry over sun bleaching. Plus, white reflects light and will make your whole room feel that much brighter. If you're worried about kids and pets, choose a performance fabric with a tight weave.
Add a cozy sectional
Everyone loves a sunny spot, so why not make room for the whole family with a large sectional couch? Add a TV to create a light-filled lounge, or keep it a tech-free zone for rest, reading, and relaxation.
How much does a sunroom cost
If you're building your sunroom from scratch or planning one as part of a new construction, you'll need to set a budget for the space. So how much does a sunroom cost?
Like all construction projects, the range is wide and depends on the size of your space and the finishes you choose.
According to Home Advisor, the average cost to build a simple covered patio enclosure ranges from around $8,000 to over $25,000, with the average national cost hovering around $16,000. If you're building a sunroom as part of a home addition, sunroom costs average just over $46,000.
How can I make my sunroom look good?
The secret to making a sunroom look good is minimalism – take inspiration from minimalist home staging. A sunroom is a space designed purely for relaxation, something that is impossible if the room is full of clutter and items that don't fit anywhere else in your home. If an item doesn't aid your relaxation, remove it from the space.
'Just like any other room, it's the design details that will take a space from looking good to great! When designing a sunroom, I like to look for decor that will add to the outdoors-in vibe by adding a mini garden. A room filled with light is practically begging for plants and plant accessories. I'm especially fond of using a simple set of terracotta planters as the natural red clay is a perfect way to brighten up a neutral color palette and is reminiscent of rustic Italian, Spanish, and Mediterranean styles. Fill them with the best winter houseplants to inject life into the space,' says Channa Alvarez, production designer at Living Spaces.
'I'm also a fan of decorating with working candle holders such as these Whitewashed Cone Wood Pillars. Candlelight is the perfect way to bring in a natural form of light and create a cozy environment at times when the sun may not be shining. Whether the sun hasn't come up yet or it's hiding behind some clouds – odds are you'll still want to use your sunroom and candles will help you avoid needing a bright overhead light.'
Sign up to the Homes & Gardens newsletter
Decor Ideas. Project Inspiration. Expert Advice. Delivered to your inbox.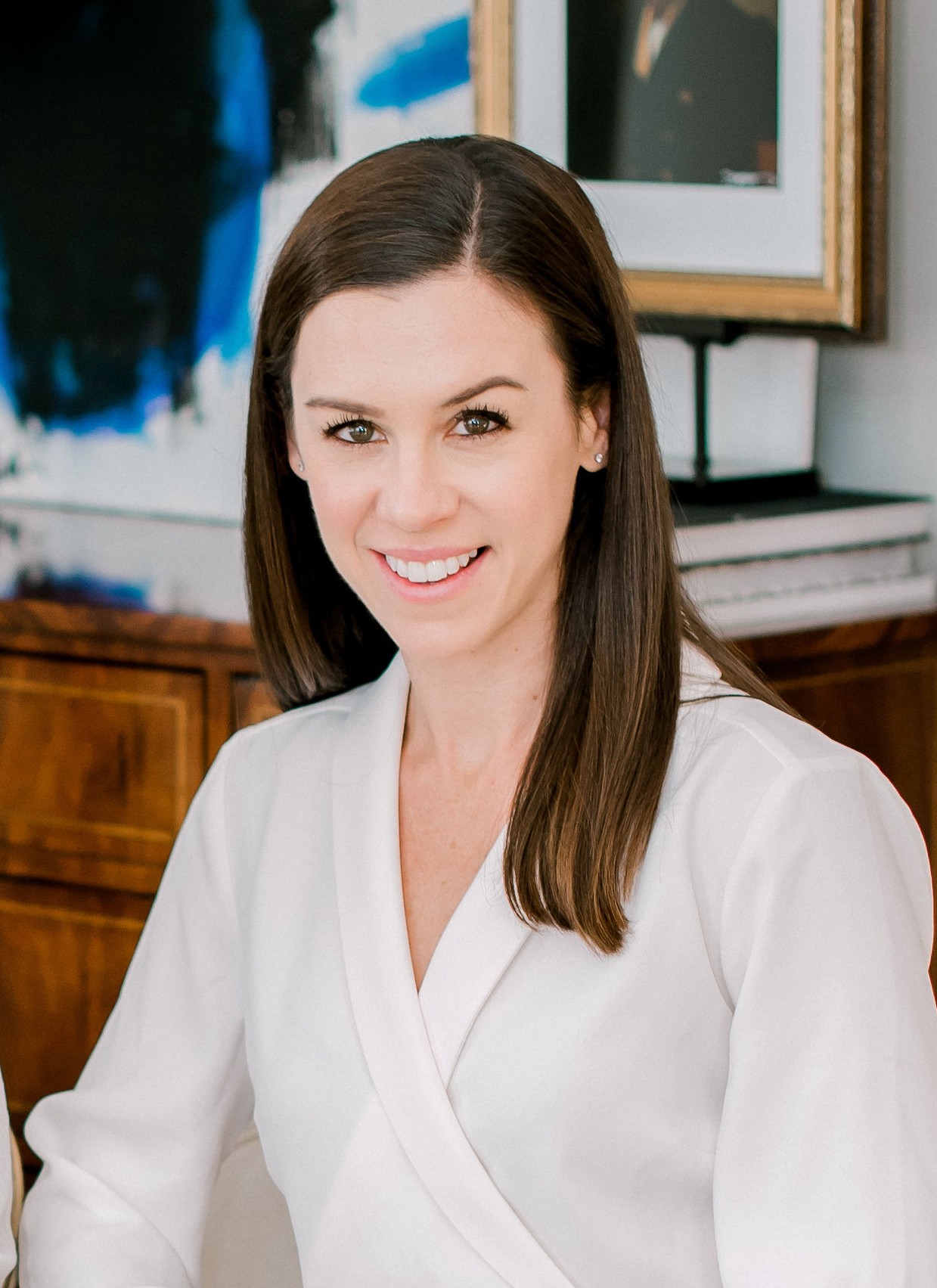 Executive Editor, Homes & Gardens
Kaitlin Madden Armon is a writer and editor covering all things home. Her work has appeared in Real Homes, Architectural Digest, Martha Stewart Living, Refinery29, Modern Luxury Interiors, Wayfair, The Design Network, and lots more. She graduated from Northeastern University with a degree in journalism and currently lives in Connecticut with her husband, three kids, and black lab.