Shutter ideas – 15 smart solutions for windows
These shutter ideas will let you control light levels, ensure privacy, and keep spaces stylish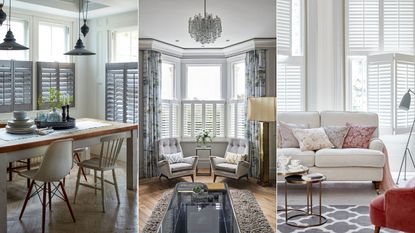 (Image credit: Shutterly Fabulous/Future/Shutter Store)
Rising in popularity, shutter ideas are fast becoming the sophisticated way to dress your windows. A suitable option for every room of the house they will look smart, stand the test of time, and are easy to maintain.
One of our favorite window treatment ideas, shutter ideas are loved due to their versatility and enduring aesthetic credentials, however, it's important that you pick the right style for your home as they do mark a significant investment.
In terms of materials, wood is the authentic choice – whether painted or natural – while vinyl options are a durable choice for bathrooms or kitchens as they can withstand the moisture and humidity of these areas.
Shutter ideas
Endlessly versatile, shutter ideas can be combined with curtain ideas or used alone for a streamlined dressing, creating privacy and controlling light in interiors, and they can even be fitted to create shade on your front porch ideas.
'Shutters can be fitted to all types of shapes meaning you can cater to any awkwardly shaped window or doorway,' says Sam Tamlyn, general manager, Shutterly Fabulous (opens in new tab). They can also help insulate rooms in colder regions, and keep the heat out when it's warm – making shutter ideas a great option wherever you live.
1. Opt for tier-on-tier shutters for ultimate control
Combining the best of both worlds, tier-on-tier shutters boast the privacy, light control, and aesthetics of full-height shutters, while also incorporating the flexibility of café-style shutters – as each section can be opened independently.
'If your windows have a natural break, opt for tier-on-tier shutter ideas with a mid-rail positioned over the break,' advises Sam Tamlyn, general manager at Shutterly Fabulous (opens in new tab).
2. Choose cafe-style shutters for street facing rooms
For street-facing or overlooked rooms, café-style shutters are a great option. Only installed on the lower part of the window, they allow the influx of natural light without compromising privacy. They can also be thrown wide when needed to open windows or let in light.
Cafe-style shutters are also a great way to achieve the coastal kitchen look – especially when paired with a blue and white color scheme or shiplap wall ideas.
3. Vinyl shutters for a peaceful bathroom
It is good practice to leave your window open when showering or bathing, regardless of whether you have an extractor fan, to get rid of condensation inside windows. However, with blinds, this practice can impede privacy or create a noisy environment as the blinds bang against the frame. A vinyl shutter, on the other hand, is a great bathroom window treatment as it can be opened to access the window, then securely closed, leaving the window open without compromising your privacy.
4. Select solid shutters to add architectural interest
Solid shutter ideas are a stunning addition to any style of the room – especially one that's lacking original features or architectural character. Providing texture and interest, whether open or shut, solid shutters can be paired with windows or enhance French door ideas. Since they are single panels with no gaps for draughts to pass through, solid shutters are also great for keeping your home warm and helping you to cut your energy bills this winter.
5. Use your shutters to add color and interest
Opting for shutters, instead of window blind ideas, doesn't mean that you have to reject creativity. There are myriad different colors and designs available, allowing you to make a statement with your window treatment. Paired with complementary pale lime walls and an array of accent cushions, these green Waterbury shutters from Thomas Sanderson (opens in new tab), make an instantly eye-catching statement that could rival even the best accent wall ideas. Shutter ideas also help to add structure and shape to the room, while the louvers offer flexible light levels and essential privacy when needed.
6. Team shutters with drapes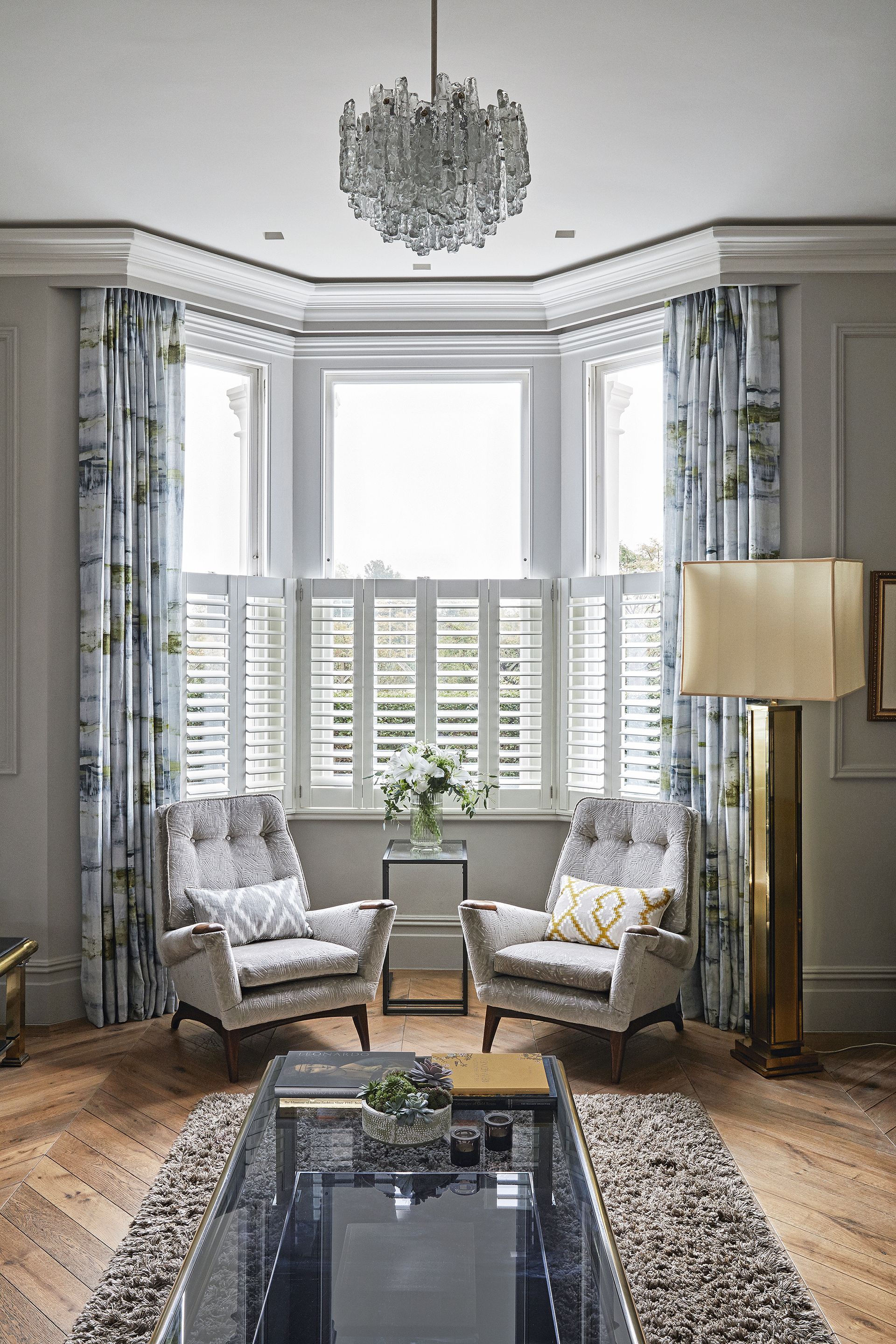 For a stylish treatment for bay window ideas, consider combining shutter ideas with curtains. The shutters can fulfill the role of providing privacy in an overlooked room – and here it's only café-style shutters that cover the lower part of the window that is required – while the curtains add softness to the interior.
'Shutters plus curtains is one of our favorite living room ideas,' says Lucy Searle, global editor in chief of Homes & Gardens. 'The curtains frame the elegant window and provide color and pattern, and shutters prevent the room from being overlooked.'
7. Make a statement with black
While shutter ideas often feature white or wood finishes, think black to make a striking statement with your window treatment. In this room, they're part of a palette that combines black with gold accents in a modern living room design. When open these solid shutters leave the large window exposed, keeping the room filled with daylight.
8. Match shutters to wallpaper
To create an interior that feels cocooning and cozy, complement wallpaper ideas in rich colors, such as when decorating with green, with shutters that repeat a hue from the design – it's one of the options available in any room in which you use shutter ideas as a window treatment.
'Look at whether you would like your shutters to match and blend into the wall color and room décor or whether you would like to create a design statement and focal point through a contrasting or vibrant color,' says Sam Tamlyn.
9. Control light and privacy with shutters
Featuring adjustable louvers, plantation shutter ideas offer control over light and privacy while also adding a layer of insulation to windows. Easy to wipe clean, they can also 'allow in considerably more light due to light from the louvers being reflected onto the ceiling making a room feel lighter, says Livia Gusman of Just Shutters (opens in new tab).
10. Keep it natural
Wood shutter ideas are a great alternative to painted finishes when considering living room color ideas. They're ideal for interiors featuring neutral tones and will up the quotient of natural finishes in any room.
Want a natural element but a more dramatic effect? Go for wood stains in richer and darker tones.
11. Make a feature of solid wood shutters
If you're lucky enough to have a property complete with beautiful original solid wood shutters, be sure to celebrate them. If they have an original wood finish then take care to preserve this, alternatively, if they have already been painted try highlighting them in a bold color.
'Painting traditional wooden window shutters allows for almost floor-to-ceiling color without taking a bold color onto the walls,' says Andy Greenall, head of design at Paint & Paper Library (opens in new tab). 'To maximize architectural detailing on the shutters, opt for a satin finish such as Architects' Satinwood which, as well as being practical and durable, offers a 30 to 35 percent sheen level, which will highlight the paneling and create a beautiful light-reflecting surface.'
12. Bring shade to a porch
Think shutter ideas to keep a back or front porch cool and comfortable when the sun is high. Using them here can create a cohesive feel between the interior and exterior of a house if they're the chosen window treatment inside rooms.
Choose a soft green color for them and the shutters will link to the foliage of the yard, too, and create a soothing light for a space made for relaxing.
13. Ensure the perfect fit with custom shutters
Windows are a huge part of the character of a period property, and to preserve this it's important that they are given sympathetic window treatments. Opting for a made-to-measure service will ensure that blinds or shutters can be designed to fit around the architecture of your home, even if your windows are shaped or curved.
An ideal bedroom window treatment, when closed the shutters will block out the light, creating a cozy and welcoming atmosphere.
14. Choose vinyl shutters for a bathroom
Offering the ability to alter light levels without compromising on privacy, shutters are a brilliant bathroom idea. However, it's important to consider material as wood can warp in humid areas.
'For bathrooms, we recommend choosing vinyl shutter ideas or faux wood Venetian blinds,' says Yvonne Keal, senior product manager at Hillarys (opens in new tab). 'Both mimic the look of real wood but will withstand moisture – giving you the best of both worlds.'
15. Opt for flexibility
Tier on tier shutters are a flexible option for a room like a bathroom in which different levels of privacy might be required during a day. They allow just the lower part of the window to be covered, or the whole expanse of glass as needed.
In this room a pink finish has been selected that adds welcome warmth to the space.
What is the most popular shutter style?
Inside a home, Shaker style solid panel shutters are a popular option. They'll block light effectively when needed and are ideal if streetlights are intrusive or to prevent daylight interrupting sleep.
Louvered shutters are also a good choice for interiors that's often favored. They can be full height to cover the entire window or café style across the bottom, and allow fine light control, making them ideal for living spaces and home offices to avoid glare on screens.
What goes well with shutters?
Curtains go well with shutters, creating an elegant window treatment. The pleats of the fabric bring softness that contrasts with the line and material of the shutters, and they'll frame the window. Plus, in a cold climate, using both will result in optimum insulation for the window.
Measure for curtains that hang to the floor to make the window look as tall as possible, and fit them so that they draw back completely from the glazing and expose the shutters fully when they are open.
Fit the shutters first to ensure they can be mounted as necessary and their panels open without the curtain rod causing an obstruction.
Do shutters make a room warmer?
Shutters do make a room warmer. Helping to reduce draughts and provide an additional layer of insulation in front of your windows, shutters are a great way to retain heat in your room.
Do shutters brighten a room?
Yes, shutters are a great way to brighten a room. 'There are lots to make to increase the amount of natural light and brighten your home, without the need to feel exposed with bare windows from wall to wall,' comments Rachel Davies, design expert at Shuttercraft (opens in new tab). 'Shutters in subtle shades like white and cream can help optimize light levels in the home even when completely closed. Shutters with wide slats are ideal if you want the room to bask in natural light.'