Bathroom window treatment ideas – 11 ways to frame your windows
Give your bathing space the perfect finishing touch with these practical and stylish bathroom window treatment ideas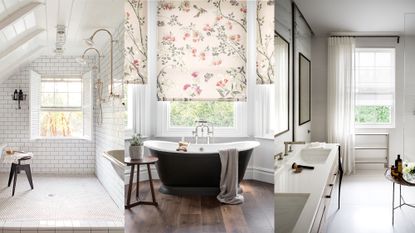 (Image credit: Max Kim-Bee photography / Surface View / Future)
Bathroom window treatment ideas are the perfect finishing touch to a beautiful bathing space. Offering that all-important privacy and the ability to control lighting and ventilation, window treatments play an important practical role in enhancing your wash room, but they also offer the opportunity to create a decorative focal point.
Being private spaces where we can truly unwind, bathrooms are the perfect place to create a scheme that truly reflects our personality and a beautiful window treatment can play a big part in this as it can instantly change the look and feel of a room. With so many practical yet stylish treatments available, from made-to-measure shutters and blinds to roller and Roman blinds, there's guaranteed to be design to complement your scheme.
To help get you inspired we've rounded up an array of window treatments suitable for bathroom ideas along with some handy tips from the experts.
Bathroom window treatments – what to consider
The bathroom window treatment ideas that work for your space will be dependent on a host of factors including the size of your window, its position in the room and your personal taste, however, one of the most important things to consider is the type of room they are intended for.
In rooms with high humidity such as wet rooms and small bathrooms it's best to use window treatment ideas that are water resistant, such as polyvinyl shutters or Venetian blinds, or synthetic roller blinds, as these will not be damaged when in contact with water plus are easy to wipe clean. Fabric and wood options can be prone to mould and mildew in damp environments, while wooden blinds can be at risk of warping.
In large bathrooms, such as family bathrooms and master bathrooms, and in areas which are well ventilated, fabric bathroom blind ideas and curtains may be used. While shutters and blinds are the most practical choice, fabric blinds and bathroom curtain ideas should not be overlooked as they are a brilliant way to soften the clinical appearance and hard surfaces of bathrooms, plus give the opportunity to experiment with color and pattern.
Being small, occasional spaces with just a WC and sink downstairs, cloakrooms and powder rooms are perfect places to showcase fabrics, too.
1. Control light with shutters
With adjustable slats or 'louvres' that allow you to control the amount of light entering the room while maintaining privacy, shutters make popular bathroom window treatments and are often the recommended choice of experts for moist environments.
'Window dressings in a bathroom environment are subject to moisture and humidity on a daily basis, so you'll need a product that will stand up to those pressures,' says Yvonne Keal, product manager at Hillarys. 'We'd recommend water-resistant shutters or our faux wooden Venetian blinds for this room; both of these are made from specialist materials that won't warp in the damp bathroom conditions, and they look great.'
'Tier on tier shutters are a versatile option as the top and bottom halves of the shutters open independently of each other, so you can throw open the top set to let some sunlight in while keeping the bottom set closed for a little more privacy,' adds Yvonne Keal. 'Choose larger louvres to allow more light into your room.'
2. Create calm with sheer curtains
Sheer curtains can make a practical bathroom window treatment as they offer privacy whilst keeping rooms feeling bright and airy. Softening harsh light and boasting a gentle texture, they are also a brilliant way to create a feeling of spa-like tranquillity in a luxury bathroom.
'Balancing the need for light and privacy can make curtains in the bathroom tricky,' says Rebecca Craig, head designer at Sanderson. 'Light, washable curtains work well in the room, and layering them with blinds or shutters will provide ample privacy.'
3. Add a color pop with a Roman blind
'Whether a style choice or perhaps for practicality, fabric blinds can be a wonderful way to bring color and pattern into your bathroom,' says Lee Clarke, director of Warner House.
A brilliant small bathroom idea, a Roman blind in a colorful fabric will bring instant life to rooms which are tight on space and that offer limited opportunity to make a design statement. In this snug ensuite idea by Sims Hilditch white walls help give the illusion of space while a blind in Kate Forman fabric creates a decorative focal point.
4. Make a statement with roller blinds
Functional yet stylish, roller blinds are a popular bathroom window treatment idea as they have a wealth of practical benefits yet also come in a huge array of decorative designs.
If you have a large master bathroom, why not create a statement at your window with a large decorative printed roller blind? Printed with a stunning chinoiserie design from the V&A archive, this roller blind from Surface View conjures a feeling of Far-Eastern opulence.
Made in treated or synthetic fabrics roller blinds are easy to wipe clean and 'are a perfect choice if you are looking to maximize daylight and make smaller windows appear taller,' says Harry Cole, founder of Loom & Last. 'Neat and tidy they roll up and hide a small portion of the window pane ensuring full visibility and sunlight throughout the day,' he adds.
5. Double up for ultimate control
If you're looking for maximum control over privacy and light levels, consider paring two different bathroom window treatment ideas as done with this window which is framed with cafe shutters and a Roman blind. This can be an effective solution for large windows.
Covering just the lower section of a window, cafe shutters offer privacy without compromising on light so are prefect for creating a bright yet secluded space. The addition of a Roman blind will give the option to block out more light for those times when you want an atmospheric escape but it also helps make the window a more decorative focal point.
6. Use full length curtains for a traditional feel
If you have a period home with grand proportions or are looking for traditional bathroom ideas then consider full length curtains. Provided the room is well ventilated and the curtains are easy to clean and wash, curtains can bring unrivalled elegance and luxury to a bathroom.
'Curtains are an opportunity to bring a layer of softness and coziness to every room. You can introduce color and pattern on a large scale, and from which you can choose a complementary paint color for the walls and co-ordinating fabrics for the scheme,' says interior designer Penny Morrison.
7. Use waterproof shutters for a wet room
Wet rooms and shower rooms are areas of high humidity so it's important to opt for water-resistant window treatments in these areas, especially if the window is located in the shower. Unlike wood, shutters made from polyvinyl will not warp, rot or discolor and can easily be wiped down with a cloth.
Part of the appeal of wet rooms and shower rooms is their streamlined look which is achieved through having either no shower tray or one that is flush with the floor and floor to ceiling tiled surfaces – made-to-measure, plantation shutters can work perfectly to enhance this look. Not only can they fit neatly into a window frame some companies offer a color matching service so that the window treatment blends the existing decor.
'Shutters, unlike curtains will not mould due to steam and will help to create a clean and uniformed look that is suited to any taste,' says Sam Tamlyn, general manager at Shutterly Fabulous.
'Our color matching service provides the possibility of mirroring the tones of walls and furnishings to create a streamlined look. Alternatively, shutters can be used to create a great focal point by adding a splash of bright and vibrant color to your bathroom.'
8. Embrace chintz with a patterned blind
If you have a spacious bathroom why not use the space to make a real statement with wall to wall pattern and a matching bathroom blind? A fabulous vintage bathroom idea, this chintzy Les Pecheurs fabric print from Warner House depicts an 18th century chinoiserie-style scene.
'Don't be afraid to use a bold, statement design in the bathroom,' says Lee Clarke, director of Warner House. 'Bathrooms are a great place to create a sense of drama so be brave and use the same pattern on all the walls and even the same design on blinds or curtains. Whether you are going for a classic or an ultra-modern look, there is a wide choice of designs to suit all styles.'
9. Try a Venetian blind
Similarly to shutters, Venetian blinds are excellent for light control due to their adjustable slats and are available in real wood or faux wood as well as a range of finishes plain or grained finishes.
'Faux-wood blinds are ideal for the bathroom, made from water-resistant uPVC, they bring an element of the outdoors in by providing consumers with all of the visual qualities of real wood but without the risk of warping,' says Kate Duckworth, senior digital marketing manager, Swift Direct Blinds.
In this white bathroom idea the Venetian blinds have been taped as an alternative to cords to offer a sleek more polished look – to make a statement you could consider having the tapes in a contrasting color.
10. Choose practical window film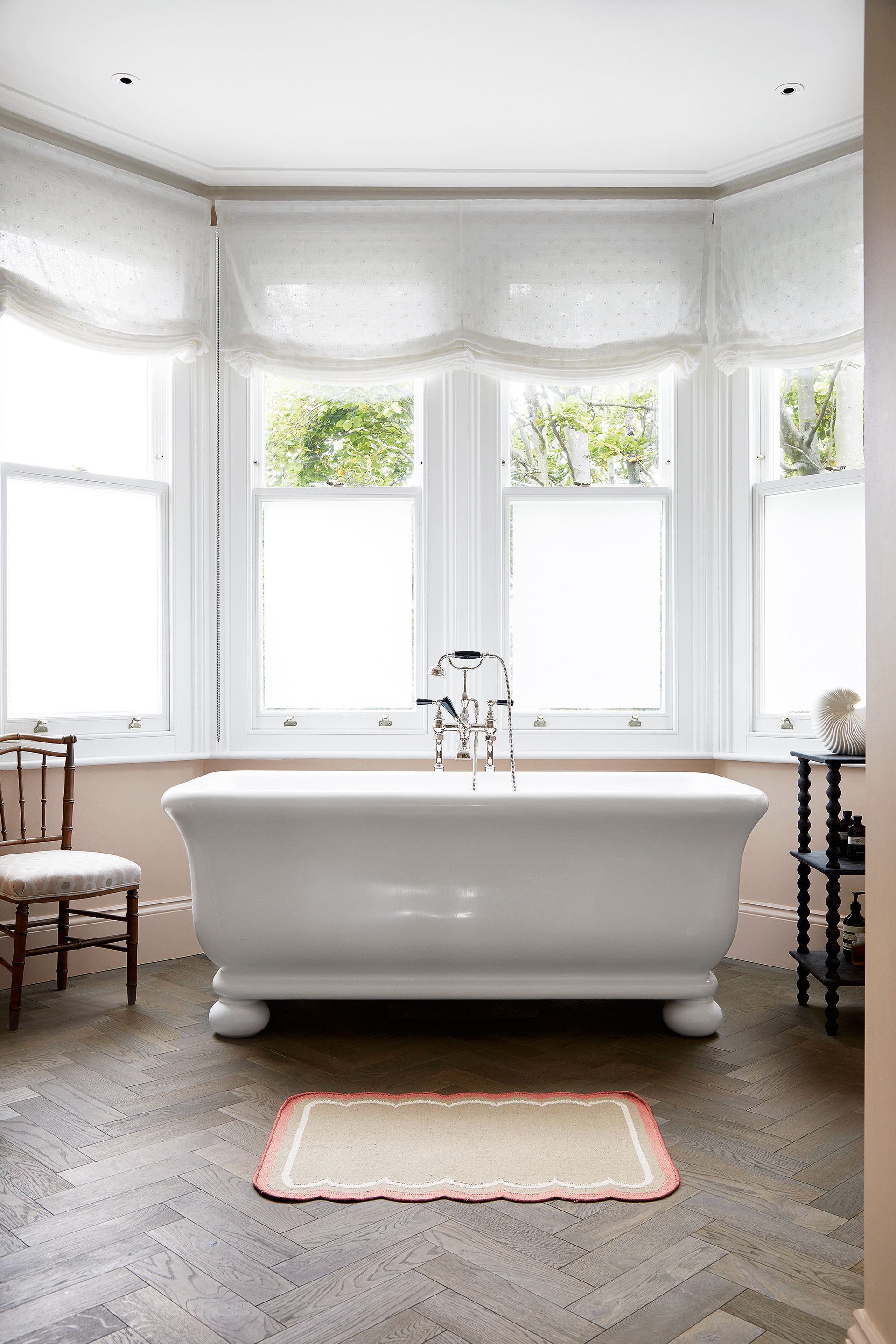 While it may not be the first bathroom window treatment that springs to mind, window film can make a practical alternative to shutters and blinds when it comes to finishing a bathroom, as Joanna Baumard, co-founder of Purlfrost, explains.
'It goes without saying there are a lot of options within the window dressing space; curtains, blinds, shades, you name it, but a window film can offer more than just privacy. The self-adhesive film is easy to use and instantly injects personality into a room, they also allow full control over the amount of sunlight you let in, without having to shut away the outside completely. Some even have the added benefit of solar control as well as UV protection to prevent fading furnishing and guard cherished art work.'
11. Bring personality to a powder room
Powder rooms can easily be overlooked when it comes to decorating, but they can make great spaces to experiment with color and pattern, as they are only used for short period of time.
Providing the perfect finishing touch to this small space, this abstract Roman blind complements the geometric wallpaper whilst also picking up on the blue of the ceiling, helping to tie the whole scheme together.
What is a good window covering for a bathroom?
Shutters and Venetian blinds made from water-resistant materials such as uPVC and polyvinyl are good window coverings for a bathroom as they offer privacy and flexibility over lighting, but equally will not be damaged by moisture and are easy to clean.
'For blinds that are likely to get wet regularly or deal with a significant amount of humidity, it's advisable to select PVC and vinyl blinds, or faux wood blinds as these materials are highly water resistant and easy to wipe clean,' says Oliver Hudson, director at Blinds by Post.

Should you put curtains in a bathroom?
Curtains can be used in a bathroom provided the room is well ventilated and consideration is given to the material used explains Emma Joyce, Brand Manager at House of Rohl.
'A bathroom is a humid environment, so be conscious of this when choosing the curtain material. Consider a lightweight, washable fabric so that you can clean regularly. Man-made fibres are better at resisting mold and mildew, though natural materials such as linens and cottons will provide a more natural look.'
While shutters and blinds considered more practical for areas with moisture, curtains do have certain advantages when it comes to decorating. Not only do they bring instant warmth and softness, 'curtains in the bathroom are a great way to introduce color and pattern into a traditionally plain space,' says Rebecca Craig, lead designer at Sanderson.
Unlike in other rooms in the house, choosing the right fabric is key when it comes to a bathroom curtains. Generally light, machine washable fabrics are preferred for bathroom curtains, but in large bathrooms where the curtains are positioned away from baths or showers, then heavier fabrics may be used.
'Unless the bathroom isn't used very much, or you're quite happy with a very relaxed look, we would advise avoiding 100% linen fabrics because the fabric shifts and moves (stretches) with changes of temperature and humidity,' explains Harry Cole of Loom & Last. 'A cotton/linen mix or a viscose/linen mix would probably be ok but it's safest to stick to 100% cotton. Like all fabrics, natural fabrics are susceptible to damage/mould and the key to keeping your bathroom blinds mould and mildew free is to keep your bathroom well ventilated to ensure the fabric has a chance to air and dry.'
Sign up to the Homes & Gardens newsletter
Decor Ideas. Project Inspiration. Expert Advice. Delivered to your inbox.
Pippa is Content Editor on Homes & Gardens online contributing to Period Living and Country Homes & Interiors print issues. A graduate of Art History and formerly Style Editor at Period Living, she is passionate about architecture, creating decorating content, interior styling and writing about craft and historic homes. She enjoys searching out beautiful images and the latest trends to share with the Homes & Gardens audience. A keen gardener, when she's not writing you'll find her growing flowers on her village allotment for styling projects.