13 vintage bathroom ideas – create a timeless space you will love for years
These vintage bathroom ideas exude country charm and elegance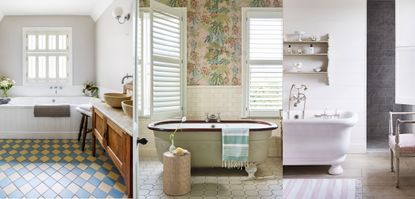 (Image credit: Future)
If you're looking for vintage bathroom ideas then you're in luck as there are a wealth to choose from. Taking inspiration from period homes and traditional bathrooms from across the centuries, vintage bathrooms are elegant, timeless spaces that are stylish but also practical, providing somewhere to relax and unwind at the end of a busy day.
Whether you're looking for easy updates or starting a new vintage bathroom design from the planning stage, we've rounded up our favorite vintage bathroom ideas along with tips from the interior experts.
Vintage bathroom ideas
There are many ways to channel vintage bathroom style for your master bathroom, from adding in ageless fabrics through curtains and blinds for a cottage bathroom feel, to fitting wood paneling for a traditional bathroom aesthetic.
1. Wow with vintage-inspired floral wallpaper
Your bathroom may be the smallest room in the house, but with the right wallpaper it can easily be the room that packs the most personality. Start off by thinking about color. The palette you choose will guide your decisions when it comes to choosing the perfect vintage floral designs – and will act as the basis for pulling your scheme together.
When working floral prints into a small bathroom, think about the scale of the flowers in the patterns. Large prints can make small rooms appear even smaller so stick to daintier designs to create an illusion of space. For added intrigue, take your paper all the way up to the fifth wall – the ceiling.
2. Decorate in a modern vintage color scheme
Are you after a bathroom color scheme that beautifully blends contemporary with vintage design? 'The secret is to pick one color as a foundation – from a favorite artwork, image or piece of clothing – to form the thread that runs through the bathroom,' says Charlotte Archer, head of brand, Sanderson. 'Build your palette around this with complementary or tonal shades. My number one rule is: decorate for yourself, not others – choose heritage tones that you love and you won't go wrong.'
However, if you prefer a truer retro aesthetic, then look to design movements of the era, such as Bauhaus from which you could choose from primary colors such as cobalt blue or tomato orange. These vintage colors need to be bold but not bright, so choose hues that are knocked back to give them a more authentic tone.
3. Invest in luxurious materials
Materials matter when it comes to designing a luxury bathroom that embraces a vintage aesthetic. Tactile finishes please the senses and introduce visual style to a vintage scheme that puts comfort over style. For many years, bathrooms have been all about ultra-practical smooth surfaces, brassware and tiles. But increasingly the design has focused less on pure functionality and more on practicality mixed with comfort and style – and the tactile quality of traditional fittings and fixtures have moved to the fore.
4. Bathe in a luxurious roll-top bath
If you're looking for inspiration to create a luxury bathroom with classic elegance, then this beautiful room with its delicate cream and duck-egg scheme has all it all. Taking center stage is a classic cast iron roll-top bath – guaranteed to bring period elegance to you bathing space.
Team this with a beautiful sinuous floral such as Colefax & Fowler's Snow Tree wallpaper in Aqua, traditional panelling and an opulent light fitting from Fritz Fryer and you have all the ingredients for five-star scheme worthy of a boutique hotel.
5. Add vintage pattern with a basin skirt
Adding fabrics and ruffles to a bathroom is a guaranteed way to add vintage charm. For simple yet effective interest, try adding a basin skirt, made from your favorite fabric. As we transition to 2022, this more confident approach to interiors has encouraged a step away from safe, muted tones of the past, in favor of expressionist trends that rich color palettes,' says Louisa Tratalos, Head of Brand, Arley House.
'Bathrooms, a bit like kitchens, can easily feel quite stark and clinical. I like to warm them up with lots of ruffled fabric, so for my daughter's bathroom I added a skirted basin and a pretty blind,' says Louise Roe, founder of Sharland England.
'Searching for vintage accessories really helps too, so rather than a chrome hand-towel holder, I found an old brass one with a similar shell detail to the sconces.'
6. Showcase a vintage-style floral wallpaper
If you are lucky enough to have a period bathroom with large proportions and high ceilings, then why not use the ample wall space to show off a beautiful vintage-style wallpaper? Often large bathrooms run the risk of feeling cold, but wallpaper can help make large bathrooms feel more warm and inviting, as Penny Morrison explains.
'Wallpaper adds a layer of texture or pattern to a room. It is more interesting than paint and can make a feature in any space. I love using it in bathrooms as these rooms can often feel slightly forgotten or a bit boring in their design.'
'It's also worth choosing nickel over chrome for fittings as it has a warmer tone,' she adds.
7. Upcycle vintage furniture into a unique washstand
Why not inject some salvaged-style into your bathroom with a piece of upcycled antique furniture such as this Victorian washstand which has been mounted with a pair of modern basins to create a characterful yet practical vanity unit. Not only is upcycling furniture a brilliant way to blend the old with new, it is also more cost-effective than buying brand-new pieces. Plus, it is kinder to the environment, too.
8. Give a bathroom a vintage feel with painted wood panelling
If you are searching for vintage bathroom ideas, there's no doubt that paneling ideas for walls will be high up on your wishlist. Georgian-style tongue-and-groove paneling is an elegant choice, which can also be easily installed in a bathroom over a weekend. Many brands offer pre-made paneling which can be bought in sheets, fitted by a competent DIYer, and painted any color you fancy.
Cottages tend to have uneven walls, which a skilled carpenter can regulate with a skilled approach to create the panelling. However, if you like your cottage's irregularities, hanging a bathroom-approved wallpaper with a panelled effect can be an excellent compromise.
9. Use chinoiserie prints on the wall
Chinoiserie is a cultural phenomenon that first swept across Europe and America in the 17th and 18th centuries, flooding vintage bathrooms with all manner of things inspired by the Far East.
Channeling 18th century exocitism, this beautiful bathroom designed by VSP Interiors features an exquisite chinoiserie wallcovering from De Gournay which is teamed with an antique rug, and the vanity units from Ikea, which have been specially painted by Adrian Everitt for a paradisiacal escape from reality.
10. Let period features shine with a neutral scheme
If you're lucky enough to have a period home with beautiful original features such as wooden ceiling beams, wood floors, authentic fireplaces or exposed stone walls then consider opting for a pared-back scheme by decorating with neutrals; often less is more when it comes to vintage bathroom ideas.
'Original features are what give period homes their unique charm,' says Melanie Griffiths, editor of Period Living. 'Wherever possible it is best to showcase these features within interior design rather than covering them up.'
11. Create a modern vintage sanctuary
A beautiful floral will immediately bring a modern farmhouse feel to your vintage bathroom scheme. It's a look that works particularly well in an en suite bathroom, where you can carry through the decor from the bedroom to create a sense of connectivity between the two spaces.
Wallpaper and soft furnishings can be a wonderful way to bring color, pattern and texture to your bathroom,' agrees Lee Clarke, Director of Warner House. 'Not only can they add drama, personality, and visual interest, but they can also bring warmth and a sense of coziness to vintage interiors.'
12. Introduce a vintage backsplash
The devil is often in the detail when it comes to designing a vintage bathroom scheme. Vintage designs often top the list of country and cottage bathroom ideas because they suit period properties and rural homes so well. But that doesn't mean you can't refresh the look. Combining antique bathroom tiles and soft bathroom paint in a pastel tones, alongside a period-style basin and flea market-found mirror, will add a contemporary update.
Alternatively, if sourcing antique tiles is proving tricky, invest in Victorian-style floral postcards and cover them with a panel of perspex to recreate the above look.
13. Choose traditional sanitaryware
Opting for traditional baths, showers, basins and toilets, including high-level cisterns is a great way to achieve a vintage bathroom look. There are many companies that offer designs inspired by traditional 19th- and 20th-century designs but which are fully compatible with modern plumbing, such as Albion Bath Company, and Thomas Crapper.
'Quieter flushing is one of the standout new technologies,' says Ideal Standard designer Bart Sobieszczanski, 'and you can now get toilets that are 80% quieter than standard.' Also seek out quiet cisterns that conceals the sound of the cistern filling, and slam-free soft-close seats.
How can I make my bathroom look vintage?
Making your bathroom look vintage is a joyous task. Firstly, where possible preserve and showcase any original period features as this will bring inimitable vintage charm to a bathroom. Opting for neutrals, dusky tones and colors with natural pigments are brilliant for creating laid-back looks – and for letting period features shine.
We recommend introducing a plethora of patterned fabrics in the form of vintage curtains, blinds and sink skirts to bring warmth, softness and a nostalgic feel. Plus, opting for fittings such as towel rails and light fittings in warm textures such as brass and burnished finishes will only serve to enhance an authentic vintage feel to your space.
Introducing antique furniture and accessories is another smart way to create a unique look, which is not only affordable, but also incredibly sustainable. Start by scouring your local flea markets and auction houses for preloved items.
Finally, who could forget the fittings – no vintage bathroom is complete without a traditional roll top bath and vintage-style taps, and sanitaryware.
How do you mix modern and vintage in the bathroom?
If you want to mix modern and vintage in the bathroom there are a few things you must first consider. Vintage bathrooms are beautiful but in order to be suited to 21st-century living they need to also incorporate modern comforts. Creating a design that combines vintage bathroom ideas with new, practical elements is often the best way to create characterful yet functional interiors.
Opting for sanitaryware inspired by authentic Victorian design is a good place to start. You should also consider sourcing reclaimed pieces from local craft fairs, antique dealers and flea markets. Do always be sure to buy from a reputable dealer, and to check the condition of the pieces before purchase.
Choosing vintage-inspired floral prints on fabric curtains or through wallpaper is a brilliant vintage bathroom idea which won't compromise on the functionality of a space. Consider upcycling vintage furniture to create characterful wash stands, or simply introducing antique pieces such as vintage wall cabinets.
Finally, smart bathroom lighting ideas are an integral design element that should be planned at the start of a project. 'Layers of light, on dimmers and separate circuits, will allow you to switch between bright light needed for cleaning and softer levels for a relaxing mood,' says Sally Storey of John Cullen Lighting.
'I keep the lighting at a lower level, on dimmers, with sconces; it's much nicer at the end of a long day to have a bath in calm lighting, rather than bright downlighters,' says Louise Roe of Sharland England.
Sign up to the Homes & Gardens newsletter
Decor Ideas. Project Inspiration. Expert Advice. Delivered to your inbox.
Pippa is Content Editor on Homes & Gardens online contributing to Period Living and Country Homes & Interiors print issues. A graduate of Art History and formerly Style Editor at Period Living, she is passionate about architecture, creating decorating content, interior styling and writing about craft and historic homes. She enjoys searching out beautiful images and the latest trends to share with the Homes & Gardens audience. A keen gardener, when she's not writing you'll find her growing flowers on her village allotment for styling projects.