Cottage bathroom ideas – 22 practical spaces full of character
Create a serene sanctuary full of rural charm with these cottage bathroom ideas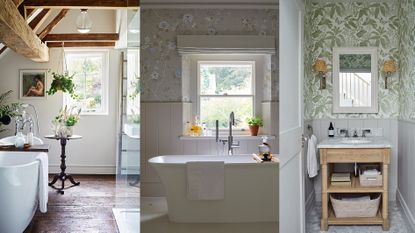 (Image credit: Brent Darby / Sims Hilditch )
Sign up to the Homes & Gardens newsletter
Decor Ideas. Project Inspiration. Expert Advice. Delivered to your inbox.
Thank you for signing up to Homes & Gardens. You will receive a verification email shortly.
There was a problem. Please refresh the page and try again.
Cottage bathrooms are beautiful spaces that combine practicality with timeless style and country charm.
While they are awash with period features, cottages often have small rooms with unusual angles, which can make designing a bathroom tricky. However, with some clever thinking, there's no reason why you can't have a bathroom with all the modern comforts.
The key to designing a cottage bathroom is to pay homage to its rural and historic character. For a timeless yet characterful look let the architecture take the lead and choose fixtures and fittings, decor, and colors to complement. You can't go wrong by turning to nature for inspiration and using natural materials and earthy, muted tones.
However, if you do like bold patterns and color, bathrooms also make a fantastic space to get a bit creative, after all, they are private spaces designed for relaxation so it's important they reflect our personalities.
Whether you are looking to create a new bathroom in an old cottage, or simply love the cottage style and want to recreate it in a modern home, we've rounded up some beautiful bathroom ideas along with some expert tips guaranteed to inspire.
Cottage bathroom ideas
When it comes to creating cottage bathroom ideas having a small space doesn't mean that you have to compromise on style. From perfectly proportioned bathtubs perfect for small bathrooms to stunning attic conversions and country bathrooms, we've rounded up the very best cottage bathroom ideas that are sure to inspire your own project.
1. Don't be afraid to mix old with new
Modern luxury and stunning period features combine in this beautiful cottage bathroom which proves that even if you have an old home you can still create a spa-like sanctuary. Homeowner Holly Clements opted for sleek and simple fittings including a simple bath, wall-hung sink, and a sleek glass shower enclosure so as not to distract from the room's spectacular beams and floorboards.
'Cottage style is all about charming coziness, natural textures and clever use of space. In an ideal world there would be a freestanding ball-and-claw bathtub, but if not, the addition of a side-panel made from tongue-and-groove can be painted to coordinate with the rest of the bathroom,' says Simon Temprell, interior design manager at Neptune.
2. Create a traditional feel with paneling
Paneling brings instant country charm to any space – if you have original paneling then be sure to preserve it as done here in a project by interior designer Jamie Haller, alternatively it can easily be retrofitted to walls.
'I love to embrace the authentic textures of historic and older homes. It wasn't that I was creating cottage design in a new home. It was about working with what is already beautiful in a historic craftsman home and embracing the cottage elements in a way that felt fresh and modern for the family,' says Jamie Haller. If you do retrofit paneling choose solid wood rather than MDF suggests Haller.
One way I can add this authentic texture (if it is missing) is with period-correct tongue and groove millwork. Using the authentic style of real wood as opposed to the big box sheet of MDF beadboard goes a long way in recreating a soulful space. The correct materiality offers the correct energetic experience. That might sound a little woo-woo, but you need that real wood. You can feel the difference.'
Always paint bathroom paneling in a wipeable paint formulated for use in bathrooms. For a classic country look you can't go wrong with sage green paneling and neutral walls, alternatively, for a playful twist on a traditional cottage look, try pairing paneling with a chintz bathroom wallpaper such as this Artemis design by House of Hackney.
3. Showcase original features
If you're lucky enough to live in a home full of original features be sure to preserve and enhance these through a sympathetic rustic bathroom design. Here the muted palette allows the original beams and stone masonry to take the lead while an upcycled washstand made from a vintage chest of drawers adds to the rustic character of the space. Mosaic marble bathroom floor tiles bring a gentle texture that beautifully complements the rustic patinas in the space.
4. Keep it serene with neutrals
Decorating with neutrals is guaranteed to bring a soothing and timeless feel to a traditional bathroom. Greys and whites can leave the space feeling sterile, so for a more soothing and comforting feel opt for warm neutrals like beige, and stone as done in this scheme by Sims Hilditch. 'Half-height tongue and groove paneling in Neptune's Driftwood paired with a gently patterned botanical wallpaper from Lewis & Wood brings a soft country aesthetic,' says design director Louise Wicksteed. 'A linen bathroom blind completes the relaxed feel of the room, bringing a welcome natural texture.'
5. Brighten the space with light and color
Lighting is important in any bathroom but even more so in a cottage bathroom where windows are often small so lighting is limited.
'When it comes to bathroom lighting, people tend to sway more towards functionality however there are many designs that can achieve both functionality and style,' says Rohan Blacker, founder of Pooky. 'For a traditional bathroom scheme, the use of paired wall lights works really well. This could mean placing them on either side of a bathroom mirror or to frame a bathtub. Choose curved, delicate detailing and antique brass designs to complete the look.'
Brightening the space in more ways than one, these Mini Elbow wall lights from Pooky will bring a soft glow perfect for a relaxing atmosphere but will also bring an uplifting pop of color.
Cottage bathrooms are often on the smaller side, so wall-to-wall color can often be overwhelming. To keep the space feeling bright and airy consider limiting color to small areas or introducing it through accessories like cottage lighting – you could even paint a bath or the woodwork of a window for a playful twist.
6. Decorate with fabrics
Bathrooms can so often feel sterile and cold – decorating with fabrics is a wonderful way to soften the space and create a more relaxed, comfortable atmosphere. Try adding pleated cottage curtains or you could even add a small curtain or valance under the sink.
7. Choose furniture in natural materials
A bathroom vanity idea that doubles as a storage unit are a great way to conceal clutter helping to keep your bathroom feeling clear and uplifting. Complement the tones and textures of a country cottage with designs in natural timber such as this Edinburgh oak washstand with a marble top from Neptune. 'If you are short of storage then consider the use of Shaker-style peg rails and then you can hang up storage baskets, as well as towels, robes and pictures,' says Simon Temprell, interior design manager at Neptune.
8. Think about space saving solutions
Maximize floor space in a small cottage bathroom by switching a vanity for wall hung sink or a floating shelf fitted with a pedestal sink. A surface made from rustic timber will bring country charm to muted spaces, however, it will require periodic oiling or varnishing so that it remains water-resistant.
9. Choose practical yet stylish window shutters
Window treatments are an important consideration in any bathroom as they allow you to control light levels and bring essential privacy. In small spaces with little ventilation water-resistant louvered vinyl shutter ideas is a practical solution as they will not warp and are easy to wipe clean. These cafe-style shutters bring privacy without compromising on light levels plus can be ordered in a custom color to match your interior.
10. Inject color and personality with tiles
As transient spaces bathrooms are great spaces to experiment with bold colors. To bring interest to a compact shower room without overwhelming the space try tiling a shower area with a vibrant design. Not only will this add a playful personality, but it can also serve to draw the eye and help make the room appear larger than it is.
11. Add personality with artwork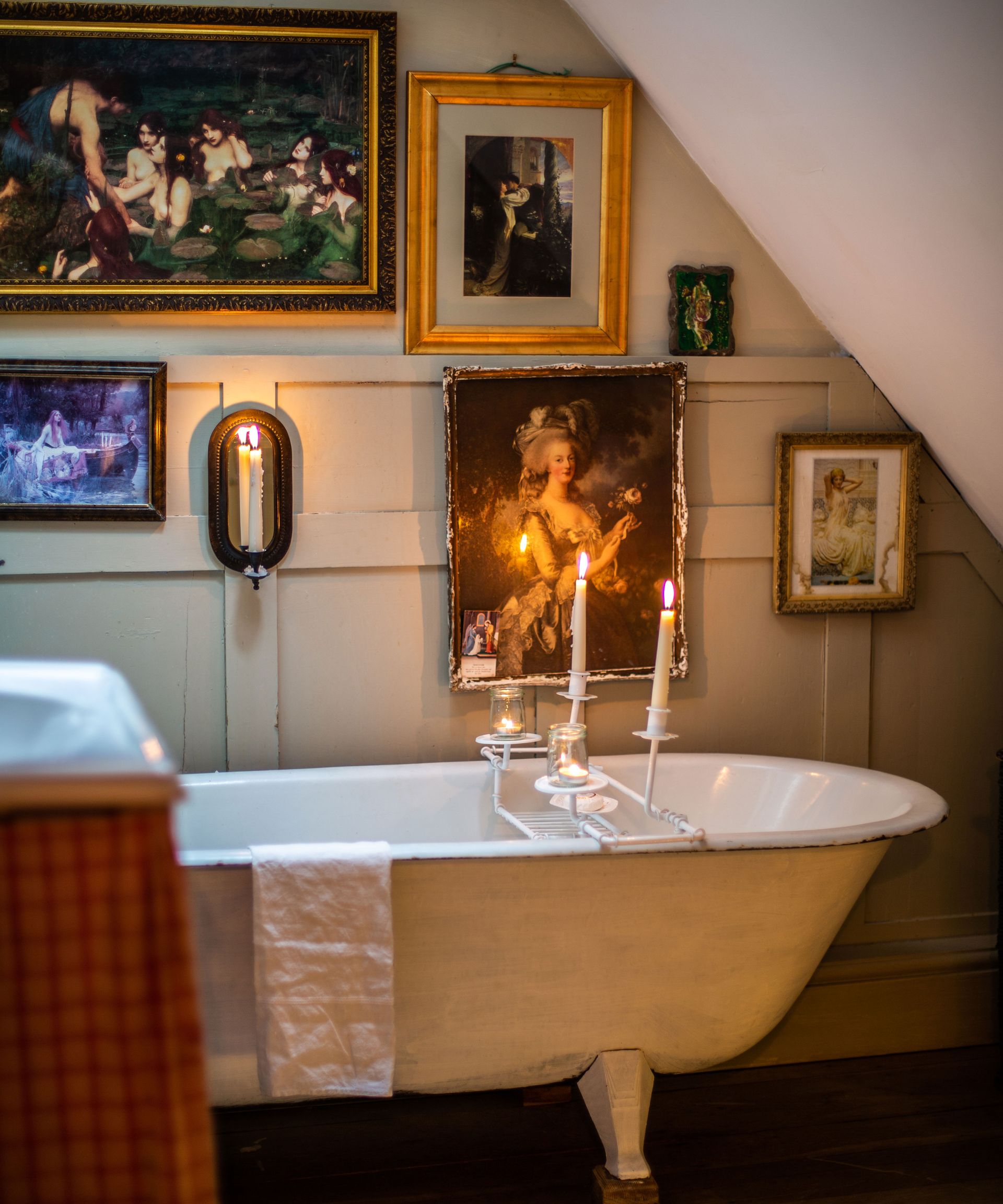 Even the smallest of spaces can be brimming with character as this space proves. For a quirky cottage look create a busy gallery wall with mix-and-match artworks in an array of frames. Bathrooms are wonderful spaces for decorating with art; this relaxation room is the perfect place to indulge and get creative. Bathrooms are steamy spaces, so when choosing and hanging bathroom art consider pieces that aren't too valuable and that you aren't too precious about, and be sure to place them in a splash-free area.
12. Install a roll-top bath to give your cottage bathroom the period treatment
The roll-top bath is an iconic piece that will add authentic appeal to a cottage bathroom. With its sweeping curves and ornate feet, this bath is a classic luxury fitting. We love the soft sage shade of this understated slipper bath.
Choosing a bath that stands on feet, rather than the floor, helps to make the room feel larger, as it keeps your beautiful flooring on show, rather than boxing it off. This is ideal for cottage bathrooms, which are often smaller in size.
If you face the challenge of undulating floors, then look for a roll-top bath with adjustable feet which are essential for leveling your bath.
13. Give your cottage bathroom personality with a bespoke colored bath
The bath is the largest piece of furniture in the cottage bathroom and gives you space to be bold. Opting for a shade like this rich orange color adds instant warmth to the room and immediately draws the eye to its stunning silhouette.
If you want to give your roll-top bath a statement update, its fairly straightforward. 'It's essential that you remove any rust with a proprietary rust remover before painting, then need to prime your bath with an oil-based metal primer,' says Lauren Foulds, product manager at Heritage Bathrooms. 'Regardless of whether your bath is older or a new investment, paint it with acrylic, polyurethane, or epoxy-based paint for added durability.'
Alternatively, for a stress-free color experience, opt for a pre-painted bath – there are endless shades to choose from.
14. Brighten your cottage bathroom with a mirror
'If your space is on the smaller side, mirrors are a great way to create an illusion of more room. You want your cottage bathroom to be bright and airy, so placing a mirror opposite a window is an effective way of reflecting any natural light that comes in,' Scarlett Blakey, creative partner of Ophelia Blake Interior Design.
12. Careful planning helps you make the most of small spaces
With a tiny cottage comes an even smaller cottage bathroom. But even the smallest space includes the luxury of a bath. Measuring only 4ft in length, Albion Bath Company's Tubby tub is the perfect solution for cottage bathrooms.
Although small in stature, it is deceptively deep, easily allowing an average-sized person to fully submerge themselves. Pair with an over-bath shower to create a versatile design that offers both the day-to-day practicality of a shower, while still maintaining the luxury of bathing.
15. Create a luxurious cottage bathroom in the attic
Many period homes have a downstairs bathroom, but you can add an extra bath by considering converting the loft into a master suite, to provide you with the benefit of an extra bedroom and ensuite, without having to sacrifice space elsewhere. Install a roof window to flood the room with natural light.
16. Use patterned tiles to add personality to a cottage bathroom
Creating a feature floor with statement bathroom floor tiles is a wonderful way to bring personality to white bathroom ideas.
'Cottage bathrooms often have a quirky character all of their own, which will encourage you to express your creativity and personality,' says Lee Thornley, founder of Bert & May.
'Pattern and texture add interest, and our encaustic tiles have a chalky finish, which looks particularly striking when combined with raw plaster and natural materials that lend themselves to the cottage aesthetic. Alternatively, colorful gloss tiles laid in a herringbone pattern will add character without overwhelming the space.'
17. Use dark colors to create an intimate atmosphere
'Dark colors work particularly well for a small cottage bathroom with little light as this will make the room feel more intimate and relaxing and draw the eye away from the size,' says Charlotte Cosby, head of creative at Farrow & Ball 'Rich warm tones such as Brinjal are ideal for creating a cozy atmosphere, perfect for a cottage bathroom.'
18. For a unique feel, choose a bathroom wallpaper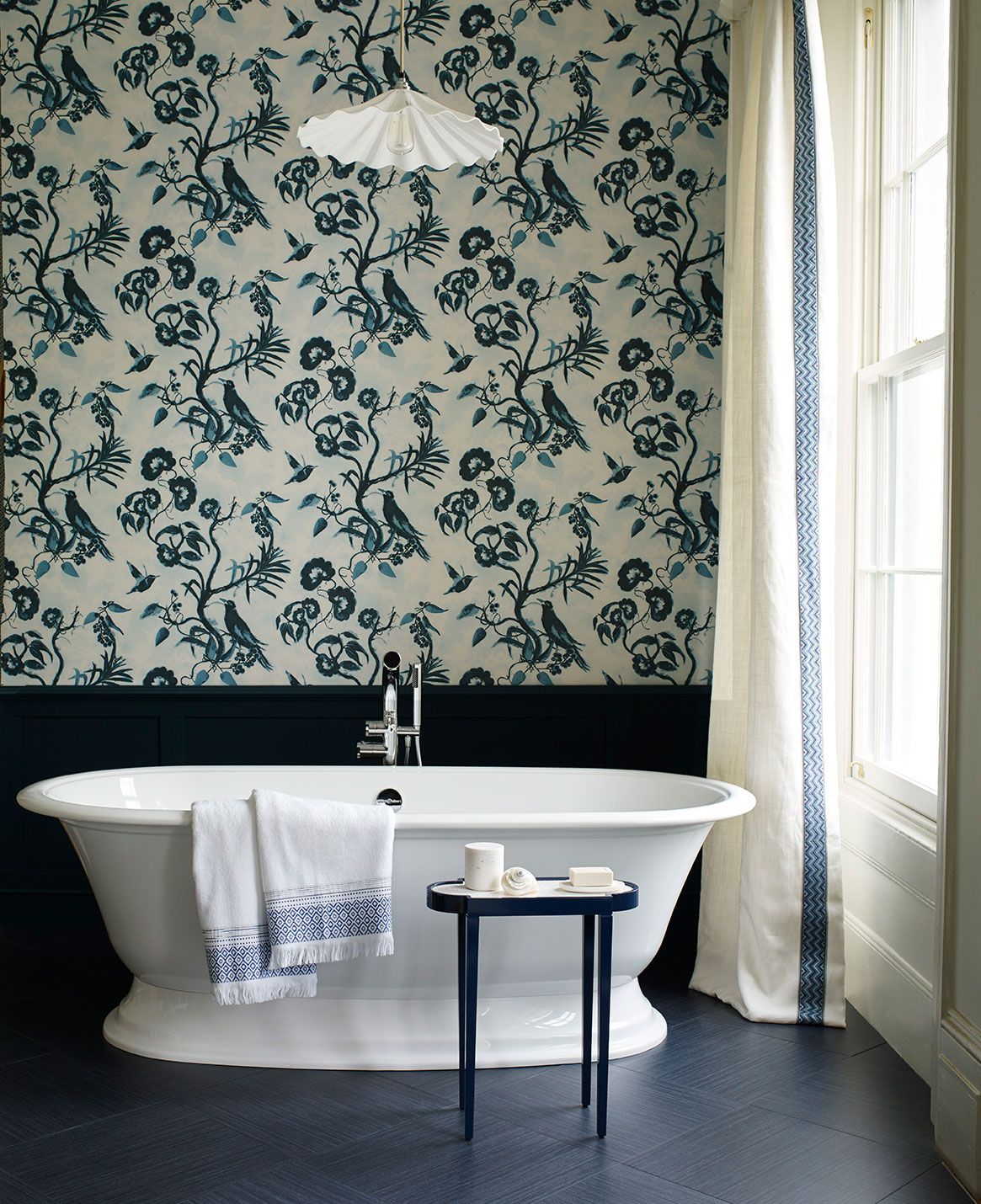 Embrace the vintage charm that is integral to the quintessential cottage look with a floral print. Many of us would never think of wallpapering our bathroom, but it's been done to great effect in this cottage home. This wildflower print adds a beautiful burst of color and pattern and draws the eye to the statement piece of the room.
Alternatively, take the cottage wallflower aesthetic to blinds, to evoke a similar cottage bathroom ambiance.
19. Use window treatments to create a private sanctuary
Being able to shut off from the world is essential in creating a soapy sanctuary, but bathroom window treatments can be challenging as curtains and fabric blinds don't stand up well to damp conditions. Louvered shutters are an ideal solution, being impervious to water and providing privacy, whether open or closed.
20. Complement your home's natural materials with a copper bath
A copper bath is a stunning addition to any home but will particularly shine in a cottage bathroom. Its polished exterior ages gradually over time, transforming from a deep pinkish hue to a warming red-brown, that will complement your home's original charm.
Plus, copper's inherent properties mean that it heats up faster and retains its warmth longer than enamel or acrylic tubs. The deep style of this bateau bath with an artisan tin interior from William Holland allows you to fully immerse yourself for the ultimate soak.
21. Pick a soothing color scheme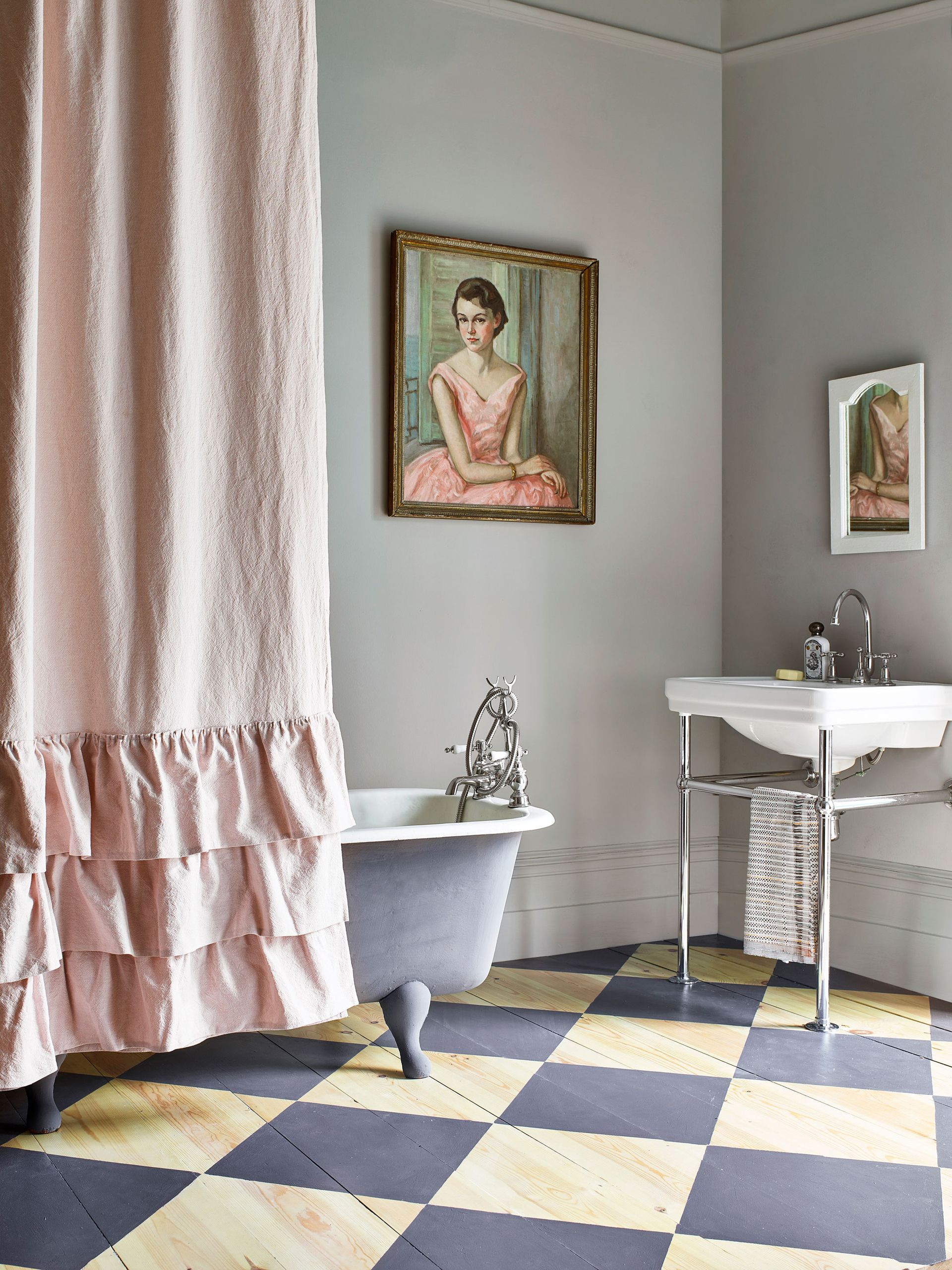 Cottage bathrooms are sometimes a little dark and cool feeling, so it is important to consider the color scheme really carefully. Grey bathrooms are, of course, classic and elegant, but picking a warm shade is vital; and accessorizing the grey with warmer colors in the same tone will add extra warmth.
22. Add pretty decorative touches with these cottage bathroom ideas
Cottage bathrooms are all about the detailing – whether a pretty light fitting or a printed fabric skirt on a vanity unit, antique furniture, or a characterful mirror frame. Note, too, in this bathroom, how muted the colors are – this approach to a color scheme will create a more traditional, authentic look for a period cottage.
Find more decorative inspiration from our take on the renewed trend for frills and ruffles in interiors.
How do you make a timeless bathroom?
The best way to create a timeless bathroom that will remain functional and beautiful across the decades is to combine high-quality, simple sanitaryware, fixtures, and fittings with a neutral palette. Certain colors come and go out of fashion, so for the high-cost elements of a bathroom, like tiles, choose neutral designs and think instead about adding color through accessories or window treatments that can be easily switched as and when tastes evolve.
Sign up to the Homes & Gardens newsletter
Decor Ideas. Project Inspiration. Expert Advice. Delivered to your inbox.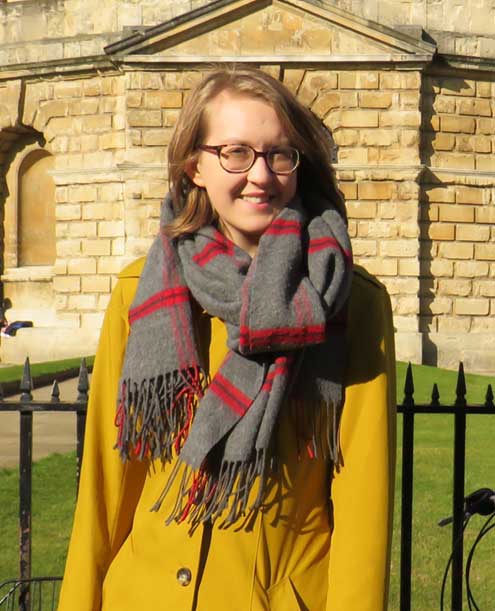 Content Editor and Sub-editor
Having graduated with a first class degree in English Literature, Holly started her career as a features writer and sub-editor at Period Living magazine, Homes & Gardens' sister title. Working on Period Living brought with it insight into the complexities of owning and caring for period homes, from interior decorating through to choosing the right windows and the challenges of extending. This has led to a passion for traditional interiors, particularly the country-look. Writing for the Homes & Gardens website as a content editor, alongside regular features for Period Living and Country Homes & Interiors magazines, has enabled her to broaden her writing to incorporate her interests in gardening, wildlife and nature.
With contributions from