Cottage lighting ideas – 20 pretty ways to brighten your cottage
From task lighting to beautiful pendant shades, these cottage lighting ideas create the perfect ambience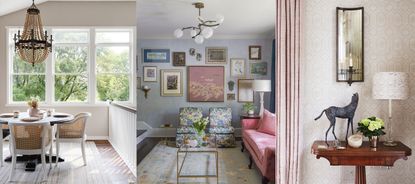 (Image credit: Interior Impressions/Susan Currie/Alicia Taylor)
If you're redesigning your cottage, then cottage lighting ideas are a must. Often overlooked, lighting is a vital aspect of renovating a room and should be considered from the outset rather than added as a finishing touch.
When opting for the perfect lights to complement your cottage decorating ideas, it is important to select pieces that will both sing against your decor and illuminate your space.
'If you have a classic rustic vibe in your cottage, then something like a steel and oak chandelier could be the perfect touch. Alternatively, if you have a more rustic look then an industrial wall light may appeal to you more,' says Mark Feldman, Chief Home Officer of Riverbend Home. 'Coastal cottage style is always popular and adding a pair of white seashell lamps is a great way to instil the coastal style in a subtle way. There are a lot of great options out there, stay true to your style, and the lighting needs of the room and you can't go wrong.'
Cottage lighting ideas to illuminate your home
Of course, cottage lighting ideas aren't just about pretty designs – though that's a big part of it – you must also think about the practical purpose your lighting needs to play.
'Begin by thinking about how you use the room,' says Period Living magazine editor Melanie Griffiths. 'If it's a space where you like to relax, then create layers with dimmable lamps and wall lights that can be adjusted to suit your needs. Alternatively, if it's somewhere like the kitchen, then good task lighting is a must.'
1. Consider beaded chandeliers for characterful cottage lighting
If you are searching for statement cottage lighting ideas to complement your dining room ideas, then it is important to opt for a design that doesn't overwhelm the space but still catches the eye.
'I love the idea of taking an old world design element like a chandelier, and modernizing it, the way that you see here in this wood bead chandelier. It is the perfect contrast between traditional and modern, and creates a unique spin on a classic piece,' says designer Amy Leferink of Interior Impressions.
2. Glass shades to increase the throw of light
Cottages have a reputation for being a little on the dark side. This means that your cottage lighting ideas have to work extra hard to illuminate your room. One way to maximize the throw of light from a pendant is to opt for a design with a clear glass shade.
With an elegant, minimalist appearance, a glass shade creates a beautiful centerpiece above your dining table, while directing the light all around the room, rather than just downwards.
Whether used on walls or as a pendant, transparent shades are also a great idea for small rooms, which cottages often have in abundance. Glass shades add interest without dominating the aesthetics of the space, and due to their neutral design also pair well with an abundance of other small room ideas.
3. Add character to a cottage living room with a handmade pendant
You can't beat the rich character that handcrafted pieces bring to a cottage-style interior. Oozing personality in a way that is impossible to replicate in mass production, consider adding a handcrafted light into your cottage living room ideas.
'We like including something a little unexpected when lighting cottages. Often the rooms don't have recessed cans, so we add ambient light and drama with hand-made chandeliers. This branching fixture from Luxe Light & Home with hand-blown milky glass globes is full of charm – which is the essence of cottage style! We love the organic shape. It's definitely a showstopper!' says Susan Currie of Susan Currie Design.
4. Add heritage charm with a mirrored sconce
When homes were lit by candlelight the mirrored sconce was an essential feature. Holding a single candle, it was designed to reflect the light back into the room.
For the modern cottage, consider an updated design. Featuring an electric candle-style light set against a vintage mirror, it provides practical cottage lighting ideas while also bringing with it heritage charm. 'When working with lower ceilings, wall sconces are a game changer. They'll volumize the space and will also provide a more architectural touch,' says Devin Shaffer, lead interior designer from Decorilla.
5. Add a rise and fall pendant in rooms with low ceilling height
Rise and fall lights have been around since the 1900s and get their name from their ingenious design. Unlike normal pendants, which are installed at a fixed length, rise and fall lights can be adjusted via a pull cord. This is ideal for cottages, where low ceilings might preclude you from having a fixed pendant. Instead, you can simply pull your light down when needed and push it back up when no longer necessary.
Consider adding rise and fall pendant lights into your utility room ideas or walk-in pantry ideas for a flexible choice of illumination.
6. Create an relaxing ambience in the bathroom with wall lights
Lighting is a vital part of your cottage bathroom ideas, ensuring that your bathroom is welcoming and cozy. 'The key to creating the perfect ambience in your bathroom is to make sure the light reflects the kind of sanctuary you are trying to achieve. Introducing symmetrical wall lights either side of your wash basin will limit shadows, while a bold yet beautiful pendant light above your basin can really make a difference to the look of the room,' says Scarlett Blakey, creative partner of Ophelia Blake Interior Design.
7. Opt for materials that evoke a cozy atmosphere
Cottages are warm and welcoming spaces, and their interior style should embody this atmosphere, especially as part of your cottage bedroom ideas. Opt for cottage lighting ideas made from softer materials such as wood or plaster for a delicate touch to the scheme.
'Cottages are retreats where comfort and quiet elegance trump formality. Consider light fixtures in materials other than metal and glass to create cozier atmosphere. Here, a white plaster chandelier and painted, wood table lamps cast a soft glow throughout this nature-inspired bedroom, quietly complementing its woodland setting,' says Hope Austin from Hope Austin Interior.
8. Consider the size of the room when choosing your cottage lighting ideas
When selecting the right cottage lighting ideas for your space, it is vital to consider proportions. 'Let overall size of the space and the height of the ceiling guide you,' says Hannah Thompson of Lam Lighting. 'For example, pendants can still work well with low ceilings, providing they are not oversized and the cable has been adjusted to suit the ceiling height.'
Where there is a low ceiling, consider lower level pendant lighting, as in the bedroom above, or do without ceiling lights and wire table lamps to the main light switch for efficient, cozy lighting.
9. Opt for reclaimed lights to add character and charm
We all know the importance of sustainability and that we should try to reduce our waste whenever possible, this extends to our cottage lighting ideas.
A large part of being a conscious consumer is thinking about the life of your purchase beyond its time with you. If you buy a piece secondhand – let's call it vintage – you are lessening your impact on the environment. The upside? A reclaimed piece will add character and charm that a new cottage lighting buy can't.
10. Use wall lights in rooms with low ceilings
Low ceilings are a common challenge for cottage lighting ideas. This is where wall lighting and lamps come into their own. However, when not relying on a single pendant to provide your main source of lighting, it can be hard to figure out the quantity of lights needed.
'Let yourself be led by the natural architecture of the room. The key is to find a healthy balance. You don't want to 'over light' an area and make it feel artificial. Where it might be difficult to install overhead lights, wall lights are a fool-proof go to,' says Jim Lawrence founder of Jim Lawrence
11. Illuminate your cooking with task lights in the kitchen
When you're cooking, the light levels are essential but this needs special consideration in cottage kitchens, which are notoriously dark. Installing pendant lights over your worktops offers focused task light.
However, you can boost that with spotlighting. If you want an unfitted look that complements the style of your cottage kitchen, you can have clamp lights like this mains wired.
12. Use pendant cottage lighting to brighten your kitchen
When you are redesigning a kitchen, the lights can often get overlooked, even though it is critical to both the atmosphere and functionality of a space. A pendant light makes a striking feature over an island or dining table, and adds to the authentic personality of the space begin the true engine room of the home.
Pick a shade in a color that contributes to the color scheme – here, the green is part of a pretty, multi-colored scheme that's reflective of florals.
13. Create an cozy ambience with lamps
'Lamps are the key ingredient to any scheme, the light is more comfortable and relaxed then overheads. In a cottage this will have the effect of dialling up the cosy cottage feel.' says interior designer Susie Watson of Susie Watson Designs
'Using warm white bulbs at eye level will draw everything in, making the feel of the room warm and inviting. Position your lamps around precious ornaments and much loved artwork you want to showcase.'
14. Consider bulb color as well as shades and design
While the look of the shade and fittings are very important, don't overlook the bulb itself as this can have a huge impact on effect the lights has on a room.
'The color of your light can make or break the scheme,' says Lam Lighting founder Hannah Thompson. 'New LED's offer a much wider range of color, from cool blues to very warm yellows. For a cottage we would recommend a warm bulb, reminiscent of traditional filament bulbs – somewhere between 2200 to 2800 kelvin.'
151. Be inspired by layered cottage lighting ideas for a relaxing bedroom
Of all the rooms in your home, the lighting in the bedroom is one of the most important. A glass pendant is a great choice for a main light as it will subtly diffuse light throughout the room to create a relaxing ambience, perfect for winding down for bed. Pair this with bedside lamps to give you greater flexibility over light levels.
Smaller task lights attached to the wall on either side of the bed are a great choice if you like to read in bed, and will provide ample light.
16. Experiment with cottage lighting ideas by adding prints and patterns on lamp shades
Accessories provide the perfect space for your to experiment with bolder patterns a colors. This beautiful Furry Folk shade designed by illustrator Maude Smith for Pooky features hand drawn deer, birds and squirrels and is perfect for bringing a touch of woodland magic to a cottage interior.
17. Combine contemporary design with traditional
Contrasting lighting design with the rest of the room is a clever way to make it stand out. Here, a cottage bedroom is lit by a modern bedside table lamp whose simplicity means that it's the perfect fit – but also a clever contrast – to the more traditional elements of the room. Its simplicity makes it stand out beautifully.
18. Use cottage lighting ideas to play with scale
Playing with scale in any interior is a decorative trick that interior designers like to use to create a focal point, added impact and instant character. A cottage typically has smaller rooms which means those focal points have to be cleverly thought out and often practical, too. Here, the effect is created effortlessly with twin table lamps that are separately proportionally too large for a cottage living room, but perfect as a decorative trick.
19. Choose task lighting with character
Some contemporary light fittings hit just the right note for cottage interiors – and can provide better functionality than traditional pieces. Notably this applies for task lighting, wherever that might be needed in the house. For avid home office workers or bedtime readers, this might mean an angled lamp that's really ergonomic but fits right in to your cottage interior.
20. Don't forget outdoor cottage lighting
So now you've sorted out your interior lights, it's time to turn your attention outside. Not only will adding outdoor lighting ideas to the front of your house help you find you keys and unlock your door in the darker evenings but it will also enhance your home's security.
While it is common to only have one outdoor light, if your door in the center of a wall or porch, then placing a light either side of the door creates a beautiful symmetry which will complete your cottage and your cottage garden ideas.
How do you light a dark cottage?
Layering lights is a great way to light a dark cottage. Pairing pendants with task lighting and adding lots of table and wall lights is a great way to illuminate a dark cottage.
Pair these cottage lighting ideas with other ways to increase natural light, too: paint the walls in light colors and think about decorating with mirrors to help the light to bounce around the room.
How do you light a low ceiling cottage?
Wall lights are one of the best ways to light a low ceiling cottage. Compact yet offering lots of illumination, they provide the perfect way to illuminate a room without compromising on space.
'Cottages are known for being smaller than the normal home and because of this all the rooms in the interior are naturally small in scale,' says Devin Shaffer. 'Due to lower ceiling heights, pendants may not always be an option, but an array of finish options exist for flush mount fixtures and floor and table lamps, and will look just a great.'
Sign up to the Homes & Gardens newsletter
Decor Ideas. Project Inspiration. Expert Advice. Delivered to your inbox.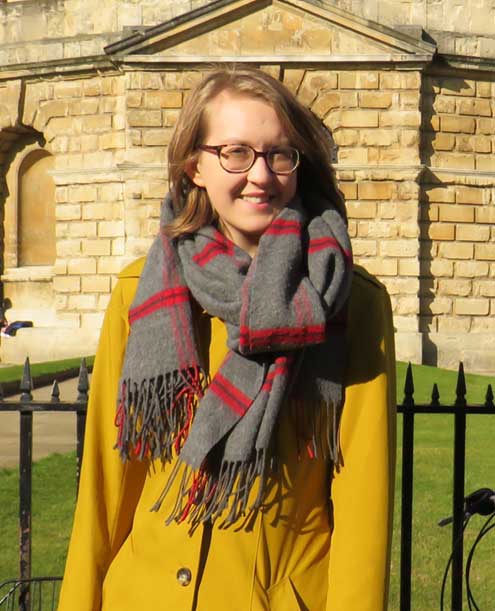 Content Editor and Sub-editor
Having graduated with a first class degree in English Literature, Holly started her career as a features writer and sub-editor at Period Living magazine, Homes & Gardens' sister title. Working on Period Living brought with it insight into the complexities of owning and caring for period homes, from interior decorating through to choosing the right windows and the challenges of extending. This has led to a passion for traditional interiors, particularly the country-look. Writing for the Homes & Gardens website as a content editor, alongside regular features for Period Living and Country Homes & Interiors magazines, has enabled her to broaden her writing to incorporate her interests in gardening, wildlife and nature.