Walk-in pantry ideas – 10 tips for stylish and spacious kitchen storage and utilities
For both keen cooks and neatness enthusiasts, walk-in pantry ideas are an organizational haven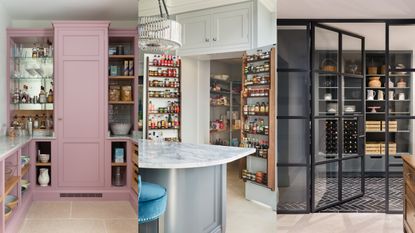 (Image credit: The Secret Drawer/Martin Moore/Jake Fitzjones Photography Ltd/Mowlem & Co)
Walk-in pantry ideas are a friend to avid cooks, minimalism devotees and organization enthusiasts alike.
Adding a considerably sized pantry space to your kitchen ideas not only helps keep the wider space stay neat and tidy, but can add ergonomic ease to your cooking experiences.
'If you are a keen cook, a walk-in pantry is a really practical adjunct to the working areas of the kitchen, keeping all your ingredients in one place and readily to hand,' says Richard Moore, Design Director at Martin Moore.
'Good zoning makes all the difference to how a kitchen looks and performs, and with a much larger number of us now cooking and entertaining more at home, it has become increasingly important for our clients to have a place to store all the necessary ingredients, spices, and kitchenware.'
Walk-in pantry ideas
From thoughtful design flourishes to handy organizational tips, we asked experts to share their favorite walk-in pantry ideas, and found some stunning examples to inspire you.
1. Personalize the space to your needs
'Remember, every kitchen pantry can be tailored to your needs,' says Tom Howley, Design Director at the eponymous kitchen design brand. 'If you have an idea of the use and practical elements you want to include within the kitchen it becomes easy to plan out.'
No homeowner's pantry ideas will be the same and nor should they be – so make sure the design of your space reflects how you use your kitchen and what you need. For example, this kitchen by The Secret Drawer features a bar area, including space for glasses, spirits bottles and cocktail paraphernalia.
'There are so many iterations and designs, both traditional and contemporary,' says Graeme Smith, Head of Retail & Commercial Design at Life Kitchens. 'The design is highly personal too and can be designed with your interests at the heart of them: spice racks for meals, deep shelves for pickling jars and hidden work surfaces for food prep.'
You could also make use of a range of pantry organizers to help store your staples, and to minimize the amount of space this takes up in your pantry.
2. Store appliances to allow your kitchen to stay minimal
As the kitchen becomes increasingly used as a space for entertaining as well as cooking, more and more of us are opting for a minimal look in our kitchens, especially across our worktops. This means kitchen storage ideas need to work harder than ever before, hiding the messy facts of food production – and this is where a walk-in pantry becomes even more desirable.
'A walk-in pantry is a great place to store small appliances that can sometimes take up too much space in your kitchen, such as a kettle, blender or toaster,' says Melissa Klink, Creative Director at Harvey Jones. 'Don't forget to include some power points, so you can plug and use the appliances on the walk-in pantry worktop, so you don't have to carry them through to the kitchen whenever you want to use them.'
3. Light it up
Usually window-less and always able to trap more than a few shadows, walk-in pantries are always in need of thoughtful kitchen lighting ideas to make them a space you actually want to walk into.
'Careful use of lighting means that these are no longer dark recesses for hiding unsightly Tupperware and tins, but are incredibly useful and intuitive storage,' says Smith.
'In terms of lighting, why not consider installing thoughtfully placed spotlights in your kitchen and pantry?' adds Louise Wicksteed, Design Director at Sims Hilditch. 'Task lighting is essential when working in a kitchen or pantry space, helping to create a well-lit and safe area in which to cook and store food.'
In this space by Humphrey Munson, even a pantry with a black interior gets enough lighting to be useful both night and day, thanks to concealed downlighters amid the open shelving.
4. Use a partition wall to section off a pantry in a large kitchen
The first step in putting together your walk-in pantry is deciding where to put it. The easiest time to do this is when designing a kitchen from scratch – if you don't have a convenient nook or alcove in which to put it, you can consider creating one yourself through the construction of a partition wall.
'An experienced kitchen designer will be able to provide useful and valuable storage in whatever space is available, from combining several small rooms such as a coal store, hallway and boot room to create one large space or to putting up a partition wall to or sectioning off a corner of a room for a walk-in pantry,' says Moore.
Here, the pantry is placed conveniently next to the central cooking area, but extends deeper than the alcove that holds the oven. A layout like this could be achieved through the addition of what is now the pantry's exterior wall, carving out a useful storage area from ample open space.
5. Show off your pantry with glass doors
If you're proud of your walk-in pantry, why not show it off to the world? This example by Mowlem & Co does so through the use of spectacular crittall glass doors, but a more subtle effect can also be achieved by fitting glass panels into your pantry's kitchen cabinet ideas
'Many people may shy away from open pantries as a storage option fearing that it may leave the kitchen looking cluttered or untidy but, done well, it actually helps to open up the kitchen and create a sense of space,' says Howley. 'Glass is an excellent finish for kitchens. Not only do glazed cabinets break up the monotony of repetitive, solid fronted doors – especially in large spaces – they maximise the flow of light into darker corners.'
'If your walk-in pantry is hidden, it can have a completely different look to the main kitchen, however, if it's semi-open, opting for a similar style will create a seamless and coherent feel, so that the walk-in pantry looks like it's a natural extension of your main kitchen space,' adds Klink.
This also makes it easy to showcase your wine collection, as pictured above, whilst housing it away from the space in which you use to cook. Whether in a wine fridge or a wine storage rack, that is.
6. Decorate the interior like you would a kitchen
'In this project, we used our signature detail and personalisation to create a beautiful pantry space,' says Katie Glaister, Co-Founder of K&H Designs. The result is a prime example of why you should dedicate the same level of care and attention to the interior design of your pantry as you would give any other room, right down to the kitchen tile ideas.
'The London-based clients had previously lived in New York and they asked us to include a nod to their transatlantic lifestyle somewhere in their new home. In response, we proposed New York tin tiles for the pantry ceiling. Wanting them to have the feel of old tiles without the risk of unhygienic flaking of old paint, we arranged for them to be aged and stained appropriately to the agreed style.'
'Involving the children in the design of this much loved nugget of a room, we sourced the lights and arranged for the words 'Full English' and 'Chocolate Brownie' to be screen painted on to each light.'
7. Use open shelving for accessibility and display
If anything, getting your walk-in pantry organization ideas right is even more important than with a smaller space – no one wants to walk into a mess. Using open shelving will force you to keep things tidy, and will also make the space easier to use.
'The key to a successful walk-in pantry is to be able to walk in, take a look around and quickly grab ingredients or utensils, so open shelving is a great choice,' says Klink. 'To make the most of the space and increase storage, consider running your shelves all the way up to the ceiling.'
'There has been a trend toward sustainable packaging meaning that the stylish homeowner no longer uses their cupboards to hide away plastics,' adds Glaister. 'Instead, beautiful ceramics, glassware and wicker storage pieces can be both practical as well as pleasing on the eye.'
8. Add storage to the inside of your doors
Even in a large pantry, you'll want to choose kitchen cupboard storage ideas that make use of every last inch of space – including that open hollow directly behind your doors.
'A pull-out rack and shelving on the inside of the cupboard doors are also useful space saving techniques to keep in mind when designing a pantry,' says Wicksteed. While not best equipped for holding heavy or bulky items, this party of your pantry is ideal for smaller bits and pieces.
'If you have space, include a rack for spices on the inside of the door,' adds Howley. 'It's convenient if you're cooking and need to go straight to the ingredients you need.'
9. Create a three-sided walk-in space with a double pantry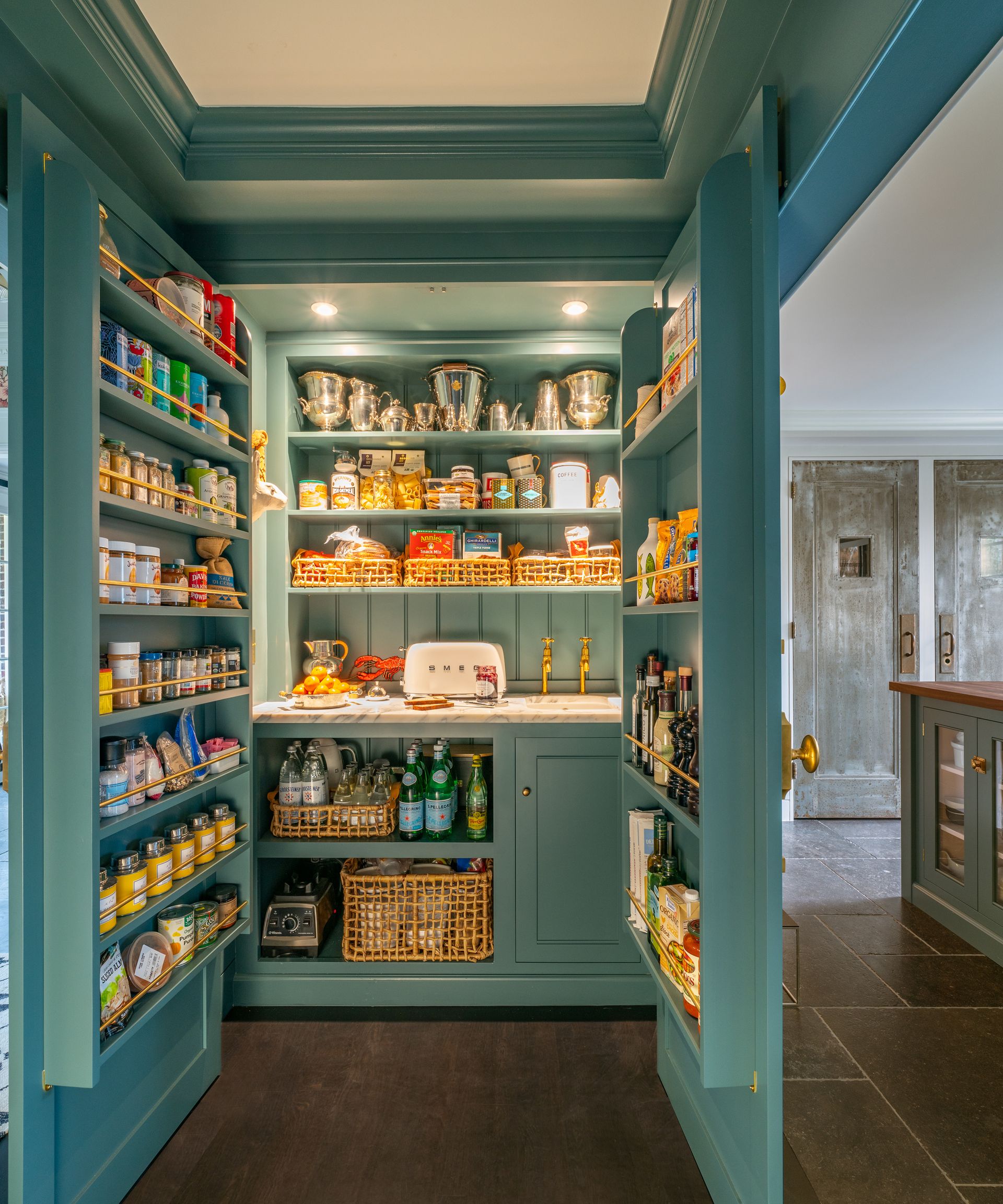 'For me, the most memorable part of the most fabulous kitchens is a double pantry – laden with interesting bottles of infused oils, rustling packets of the finest truffles, artisanal jarred vegetables and special seasonings,' says Howley. 'The act of opening a double pantry is truly a moment of awe and gives the process of cooking and entertaining a real sense of occasion.'
A walk-in pantry isn't possible in every home but, as long as it fits in with your kitchen layout ideas, a double pantry can give the sensation of a tree-sided walk-in space. In the home of designer Liz Caan, a small corridor space leading out of the kitchen houses a built-in pantry with large double doors, which open up to give the sensation of a whole new room. As well as shelving on both doors, the breakfast bar includes its own sink.
10. Minimize intrusion into the kitchen with bi-fold doors
Pantry doors are great until you leave them wide open and you have to squeeze between them and the island. If you're planning for a walk-in pantry adjacent to a small kitchen, then consider using bi-fold doors to minimize their intrusion into the space when they swing out. If you can't decide between an open or closed pantry, consider pocket doors that can be slid entirely out of view and into a wall cavity.
What should be in a walk-in pantry?
A walk-in pantry should house whatever you need it to. It can be simply a store cupboard for non-perishable foods, or can act as an area to hold both large and small appliances, from the fridge to the food processor. Regardless, it's important to keep items zoned and organized.
'With a greater shift towards keeping worksurfaces clear of clutter, to give a more minimalist feel and allow for more prep space, the pantry serves as an excellent solution for concealing appliances,' says Howley.
'The pantry provides huge versatility when it comes to stockpiling ingredients,' Howley adds. 'Group similar goods together using baskets and shelf organisers, this not only looks tidy but stylish when the doors are open. Integrated drawers are perfect for storing more perishable items such as fruit, vegetables or breads.'
'The easy-to-reach middle section of your kitchen pantry is perfect for tins and jars. Use dividers or shorter spacing to keep foodstuffs separate so you can see everything you need at a glance.'
How deep should walk-in pantry shelves be?
Before you become set on the depth of your pantry shelves, work out exactly how much space you have to give to them.
'When starting to design a walk-in pantry, think about how much space you can allocate to it, as this will dictate the overall layout,' advises Klink. 'As a rule of thumb, allow at least 1000mm for the width of the walkway within the space. If you want the walk-in pantry to have larger features and appliances, such as a fridge, sink or microwave, allow a space of around 2.4m x 3m.'
The next step is to work out exactly what you're intending to store. 'Getting the shelf spacing right can maximise the room you have for storage,' says Howley. 'Large, deep cupboards with integrated workspace are ideal for storing appliances you may not want on your kitchen work surface… If including baskets or larger storage combinations, take into consideration shelf height and depth.'
To really ensure you're getting the maximum out of your shelves, bespoke is best, advises Wicksteed. 'Bespoke cabinetry is a great idea if you are working with an awkward or small space, helping you to make the most of what is available to you,' she says. 'Recessing shelving into the walls also works well with this in mind.'
Ailis started out at British GQ, where a month of work experience turned into 18 months of working on all sorts of projects, writing about everything from motorsport to interiors, and helping to put together the GQ Food & Drink Awards. She then spent three years at the London Evening Standard, covering restaurants and bars. After a period of freelancing, writing about food, drink and homes for publications including Conde Nast Traveller, Luxury London and Departures, she started at Homes & Gardens as a Digital Writer, allowing her to fully indulge her love of good interior design. She is now a fully fledged food PR but still writes for Homes & Gardens as a contributing editor.