23 kitchen layout ideas – clever ways to arrange cabinetry and configure your space
These kitchen layout ideas and expert design tricks will help you to make the most of your floor space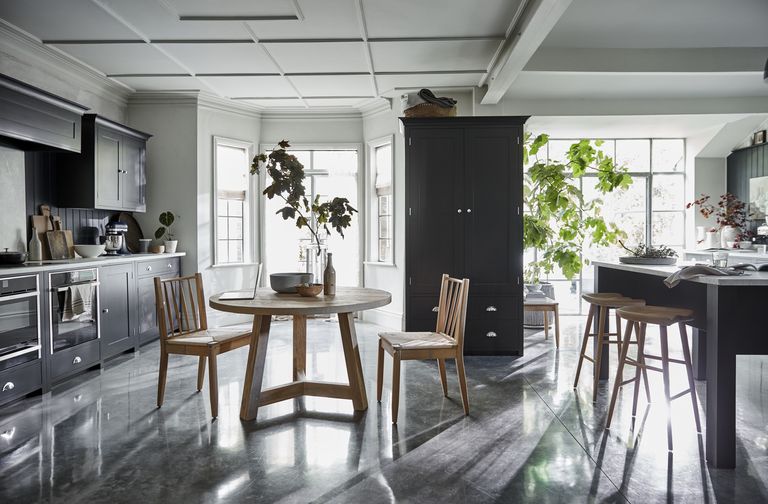 (Image credit: Neptune)
Are you looking to reinvent your space with some new kitchen layout ideas? These professional design hacks should meet your needs and make the most of your kitchen floor space. 
Kitchens come in all shapes and sizes, and you can be spoilt for choice with kitchen layouts and formation options when starting out on a project. The key is to take things slowly, and think carefully about how you use and move within the space. 
Also consider how you see your family might use the room in the future. It may be all about food prep now. But down the line, it may need to double as place to finish homework, a 'teaching area' where your kids learn to bake, or a sophisticated entertaining spot.  
Practicality is key for kitchen ideas, and the shape you select should be able not only to accommodate your lifestyle, but enhance it. We've got plenty of food for thought, so go ahead and dive into our layout options.
What are the six types of kitchen layouts?
There are six key kitchen layouts: 
The galley layout
The L-shaped layout
The U-shaped layout
The island layout
The peninsula layout
The one-wall kitchen
Kitchen layout ideas
Our guide will explore all the key kitchen layout ideas, starting with the most popular, the galley...
1. Use the galley layout for space efficiency
Galley kitchens are one of the most space-efficient layouts, ideal for keen cooks and perfect for maximizing storage and work surface space in smaller kitchens. This super-efficient layout is ideal if you are looking for small kitchen ideas that maximize every inch of space.
Allison Lynch, of kitchen design company Roundhouse, says: 'A galley kitchen usually occupies a relatively small space – they are often a walkway between two rooms. An ideal length would be 3.5 – 5m with space either side of the door opening to allow at least a standard depth worktop. 
'Although they tend to be quite small, they are very ergonomic spaces with everything usually within arms' reach – with, ideally, the sink one side and the hob on the other.' 
Placing these two important elements centrally within each run of units is the best approach, with the dishwasher on the sink side of the run and the refrigerator on the side of the hob.
2. Share your space with a U-shaped layout
U-shaped kitchens are ultra-practical as they are comprised of worktops on three connecting sides, allowing plenty of room for cooking. 
It's one of the most efficient layouts to have in both small and open plan homes alike, and the easiest way to achieve the ergonomic triangle that is so often talked about in kitchen design – where your fridge, cooker and sink are all within easy reach of one another.
It also easily allows for two cooks in the kitchen at once for a team dinner-making effort.
Allison Lynch says: 'U-shaped kitchen ideas work best in spaces ideally from 3 – 3.5m, but remember that the bigger the space the more crossing the room you have to do.'
Larger kitchens can often accommodate the addition of a central island, too. With plenty of room for cabinetry and built-in appliances around the edge, the island provides a casual seating area and additional preparation space.
3. Entertain in an L-shaped layout
The most common layout is some sort of L-shape, with at least one straight run. The classic design uses two adjoining walls of a room to allow a continuous flow of worktops and cabinets. 
The central area is kept free, so you can enjoy a spacious feel or add an island for extra worktop space and storage.
'L-shaped kitchens are a classic, timeless design,' say the team at Magnet. 'And the open floor space it creates allows the kitchen to be accessible from any angle.'
4. Create distinct zones with an island layout
Large kitchens and big families can really benefit from utilising kitchen island ideas to add extra storage and preparation space. 
Multi-use spaces are increasingly sought after, and an island can be used to prepare dinner while also keeping an eye on the kids, as well as doubling up as a socialising area, work space, or homework desk.
'The benefit of an island layout is that it is great for zoning in open plan areas, which is what most people opt for today,' says Roundhouse's Allison Lynch. 'It's a good piece of social furniture and effectively creates two different spaces, one for cooking and one for prep, with one person at the island and the other at the worktop. 
'Another big benefit in an open plan space is that an island can be made to look more like a piece of furniture.
'An island allows free movement all the way around, and people can enter the space from different directions. It can feel less monolithic, a much lighter piece of furniture than a peninsula, and with judicious use of plinth lighting it can be made to look like it is floating.'
5. Use a peninsula to disrupt a thoroughfare
A kitchen island is wonderful, but if it will create a natural passage through the cooking space from one area to another, such as from the hallway through the kitchen into a garden, a peninsula may be a better choice.
'Consider alternatives to a kitchen island, even if you have space,' advises Homes & Gardens' associate editor Busola Evans. 'A peninsula, for instance, can provide many of the benefits of an island without interrupting the cooking workflow.'
6. Keep kitchen layouts simple to enhance space
'Using light kitchen color ideas and mirrored splashbacks will open up spaces,' says Allison Lynch. 'Keep things simple. In galley kitchens in particular, keep tall cupboards for dry food storage and the fridge to the ends of the room, and perhaps limited to one side but not both.
'Too many details will crowd the space – keep to simple clean lines and lose the clutter.'
7. Pick storage that's truly ergonomic
Never underestimate the importance of good kitchen storage ideas. Nerine Vacher, kitchen designer at Neptune Fulham in London, advises: 'Effective storage is one of the simplest ways to create a happy and homely kitchen. 
'By including a single piece of furniture, like our Suffolk larder (above), a bi-fold cabinet, or even an island, you can completely transform your kitchen, by creating more surface space and keeping clutter out of sight.'
H&G's Busola Evans adds: 'Ensure your bottom units are drawers rather than cabinets. Deep drawers are a more efficient use of space and give easier access to items at the back.'
8. Consider the second work triangle, too
'I've moved house seven times – and designed seven new kitchens for myself,' says H&G's Editor in Chief Lucy Searle. 'Plus, I've interviewed countless kitchen designers over the years, both for my kitchen remodels, and professionally. 
'In time, I've realised that there's a second kitchen work triangle that no one talks about overtly – but it's really important.
'The second kitchen work triangle is between the kitchen sink, the bin(s) and the dishwasher. These three elements need to be as close to one another as possible to make tidying up after dinner as easy as possible. You want to scrape plates, rinse them and stack them all in one easy move, without pacing up and down the length of the kitchen. 
'If you can ensure that the dining area is towards that end of the kitchen when planning its layout, too, you'll find it makes life even easier.'
9. Get in the zone
When planning your kitchen layout, one key aspect is to consider how you want to use the kitchen and where you want items to be stored. 
Naturally, heavy pots and pans should be kept in lower cabinets, and within easy reach of your oven and hob. 
Likewise, mugs should never be too far away from your kettle. In this open plan kitchen, the dining table is in the same space as the kitchen area, so the addition of a tall dresser provides storage for crockery and cutlery, to make laying 
the table quick and easy.
10. Put in a pantry
Larder or pantry ideas separated 
from the rest of your kitchen can help keep things clear and tidy, as they are an ideal space to keep store cupboard staples and baking equipment. 
In this barn conversion project, the ceilings were low and natural light was limited, so a walk-in pantry was designed by Sustainable Kitchens. It has internal windows and under-counter cabinets only, so that it feels bright and connected to the rest of 
the kitchen. Automatic lighting makes it extra bright inside.
11. Maximise storage and workspace
Most L-shaped kitchens are fitted onto adjacent walls of a room, creating a practical corner design. They provide plenty of work surface as well as storage, though be mindful of where the two runs of cabinetry meet – the addition of pull-out drawers or an internal carousel will help to avoid wasting useful storage space. 
Consider keeping wall cabinets to one side of an L-shaped layout, opting for open shelving on the other so as not to make the room feel overcrowded. If space allows, you could add a dining table.
12. Lean into the L shape for a party kitchen
'This L-shaped kitchen design keeps the central area free, so you can add an island to fill with cocktails, dinner party dining table, or keep it bare to create a more open feel,' says the team at Magnet. 
'The L-shaped kitchen is perfect for entertaining, as it is compact yet spacious and allows plenty of room for mingling, or even a spot of dancing with loved ones.'
13. Use your alcoves
You are likely to inherit some unusual nooks in older country properties, so taking a flexible approach to your kitchen design may be necessary. 
Look for alcoves and recesses that you can build storage into and toss 
out the idea of a conventional fixed layout. Add single runs of cabinetry wherever they fit best in the space you have to work with, incorporating your appliances in between. 

To add to this flexible approach, go for a portable kitchen island or 
freestanding island design – units on legs open up the amount of floor space on show and can be moved around if needed, too. 
14. Build banquette seating
You can fit more seating into the available space when it is built in to the design of 
your kitchen, like this banquette kitchen island seating idea built into one side of the smart L-shaped layout.
The fitted, upholstered benches not only provide storage beneath, but are a clever way to hide any unsightly wires or pipework. 'These are 
a necessary evil that may have to be boxed 
in to be concealed,' says Daniela Condo, designer at Life Kitchens. 'See if services can be re-routed inside bulkheads, voids or under the plinth of the kitchen.'
15. If you're a keen cook, choose a galley layout
The galley kitchen is one of the most space efficient layouts, making it ideal for keen cooks and smaller kitchens. It features two parallel worktops with a modest space to move around in between. 
This specific layout is perfect for cooking, as you can alternate between each worktop with ease whilst preparing your meal, often between hob on one side and spacious worktops on the other. 
It generally offers a generous amount of food preparation space and multiple kitchen storage possibilities, so everything you need to create your delicious dish is conveniently close by.
16. Enjoy layout flexibility with freestanding furniture
Often found in rustic-style homes, free-standing furniture offers a more flexible approach to kitchen design. It's a relaxed look, enabling you to add single runs of cabinets around the kitchen to create your ideal layout, incorporating your appliances 
in between. 
This mix-and-match method works particularly well in older, country-style properties where the room may be unusually shaped. Paired with complementary wall-hung cabinets, a run of wooden free-standing cabinets will provide ample storage for small kitchens, as seen in this example by deVOL.
17. Design around a table
A kitchen-diner layout is ideal for busy family households, where both the cooking and dining zones sit within the 
same design. 
'When planning 
a kitchen, take inspiration 
from the existing features 
in the room, such as doors, thoroughfares and windows,' says Sally Hinks, kitchen designer at Harvey Jones. 'Looking at these elements 
will help you site the table in the best possible position.'
18. Pick a peninsula for a small kitchen
We've already discussed the peninsula layout as a a good way to create a flowing passage between one cooking space and another, but it's also a good bet for a smaller room.
'Choosing the right kitchen for a smaller space can not only increase functionality, but can also add to your desired aesthetic,' say the team at Magnet. 'The peninsula kitchen provides all the benefits of an island kitchen, but requires less floor capacity.
'Rather than a free-standing workspace, the island surface is attached to a wall on one side and can be used in a variety of ways: for countertop food preparation, additional storage or as a casual dining area.
'This particular layout is a great idea for small kitchens, as it offers plenty of storage room and the use of the extended counter-top means it can double up as a kitchen/dining area without taking up valuable space.'
19. Go with the flow
'Always walk through the plan in your mind to ensure it flows well and works efficiently, making sure that you can easily and fully access appliances so there are no pinch points,' says Jayne Everett, creative director of Naked Kitchens. 
'If you go for an island, make sure there's enough space around it to pass through and open cabinets,' she adds. It's the well-planned, seamless flow around the U-shaped layout and the double-ended island that makes this kitchen design work well.
20. Make the most of a large kitchen
It's easy to be spoilt for choice when considering kitchen layout ideas for a large area, but don't overlook one of the most popular layouts, the U-shape, which can be the perfect match for a generously sized kitchen. 
To suit the open space, this particular layout is comprised of worktops on three connecting sides to allow for ample room for cooking. This design – by Magnet – is created for high efficiency cooking and accommodates the 'working triangle' perfectly, meaning you can easily move between the three key cooking components, sink, oven and refrigerator. 
This kitchen layout encourages smooth food preparation, plenty of practical storage space and allows two chefs to be operating at once, making mealtimes a real team effort. It also incorporates a peninsula breakfast bar idea, so visitors aren't excluded from the action.
21. Include an island in a different color
With open plan living proving increasingly popular, islands today come in a range of styles, functions and sizes to suit your space. Offering the possibility of extra room for 
both cooking and seating, they can help turn a kitchen into the hub of the home. 
To make an island the focal point, choose one in a different color from the rest of your cabinetry, as shown in this traditional kitchen design that combines earthy brown and off-white. 
The length of this island allows a variety of different elements to be included, including a sink and ample storage.
22. Create the heart of a family kitchen
To tie a family kitchen together, the addition of an island can be the final piece to the puzzle. Usually suited to medium-to-large sized kitchen layout ideas, an island can contribute valuable extra storage and worktop space that's so sought after by large families. 
When prepping meals at the island, parents can keep one eye on dinner and one on the kids, too. Then in the evenings it can transform into a dining table or even an office and homework club, offering the family a place to catch up and congregate, like the multi-purpose island in this stylish gray kitchen.
23. Position your hob for socialising
If your U-shape is more generous, it's worth sticking to the work triangle principle as closely as possible, but ensuring the three important elements are grouped on just two sides of the kitchen, with the third side given over to kitchen storage. 
'If your kitchen's third side is an island, like the one above, storing cutlery, plates, china – in fact any items use use for dining – is the best option,' advises Homes and Gardens' Editor in Chief Lucy Searle. 
'If you are keen, unflappable cooks who like to entertain regularly, having the hob on that unit with the cookware you need below will also work brilliantly – and be much more sociable.'
How do I design a kitchen layout?
To avoid any costly kitchen design mistakes, the first step is to think carefully about how you move within the space and how you see your family using the room in the future – and this is where the well-known kitchen work triangle comes into play.
'The "work triangle" is the common sense principle that a kitchen plan revolves around the location of the sink, cooker and fridge and that the kitchen plan should be based on the most efficient workflow using these elements,' says Adrian Bergman, senior designer at British Standard by Plain English. 
'This is, of course true, especially in a busy kitchen, but there can be other considerations such as aesthetics and respect for the architecture of a room, so there are occasions where we might stretch the layout rules to achieve a result that pleases the eye as well as the brain.'
Adrian continues: 'Usually, the size and shape of the room will suggest the best kitchen layout ideas, but often there is a choice and there are pros and cons to each; a single long run, for example, can look smart but means a lot of walking between elements and the fact that guests will be looking at the chef's back while they cook. 
'I find that the best approach is to mock up and test any kitchen layout ideas in the actual space using battens and trestles, or with blocks of paper on the floor to represent the cupboards and appliances.'