Kitchen peninsula ideas – 9 compact designs to reinvent your space
Discover these kitchen peninsula ideas – the trend that's set to replace the kitchen island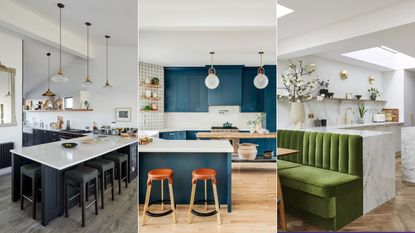 (Image credit: Chris Snook for The Main Company/IDF Studio/John Lewis of Hungerford)
Growing in popularity, kitchen peninsula ideas are quickly becoming a favorite design for homeowners who are looking to combine the versatility of an island but want to save space in their layout.
So, when you are researching your kitchen ideas, take a moment to consider whether a peninsula might be a better fit for your home and lifestyle. Incorporating storage, seating, and workspace, there isn't a need that this stylish addition cannot meet.
Kitchen peninsula ideas
While kitchen islands have reigned supreme in kitchen layout ideas for the last four decades, it appears that the peninsula is making strides to take its place as the must-have kitchen feature.
The word peninsula can be etymologically broken down to mean 'almost an island' and that's exactly what it is. Geographically a peninsula is a landmass surrounded by water on all but one of its sides. In the kitchen, a peninsula is a workspace that is surrounded by space and all but one of its sides – which is attached to the wall.
'A peninsula can work as a demarcation zone or as a multi-function area, to double up worktop space and dining for instance. It's a great feature to help you achieve a similar look to an island in a more compact space. It's also an incredibly versatile piece, as it can be designed around existing architectural features (such as a supporting pillar) to make the most of the available space,' explains Melissa Klink, creative director at Harvey Jones.
1. Use a peninsula to zone your kitchen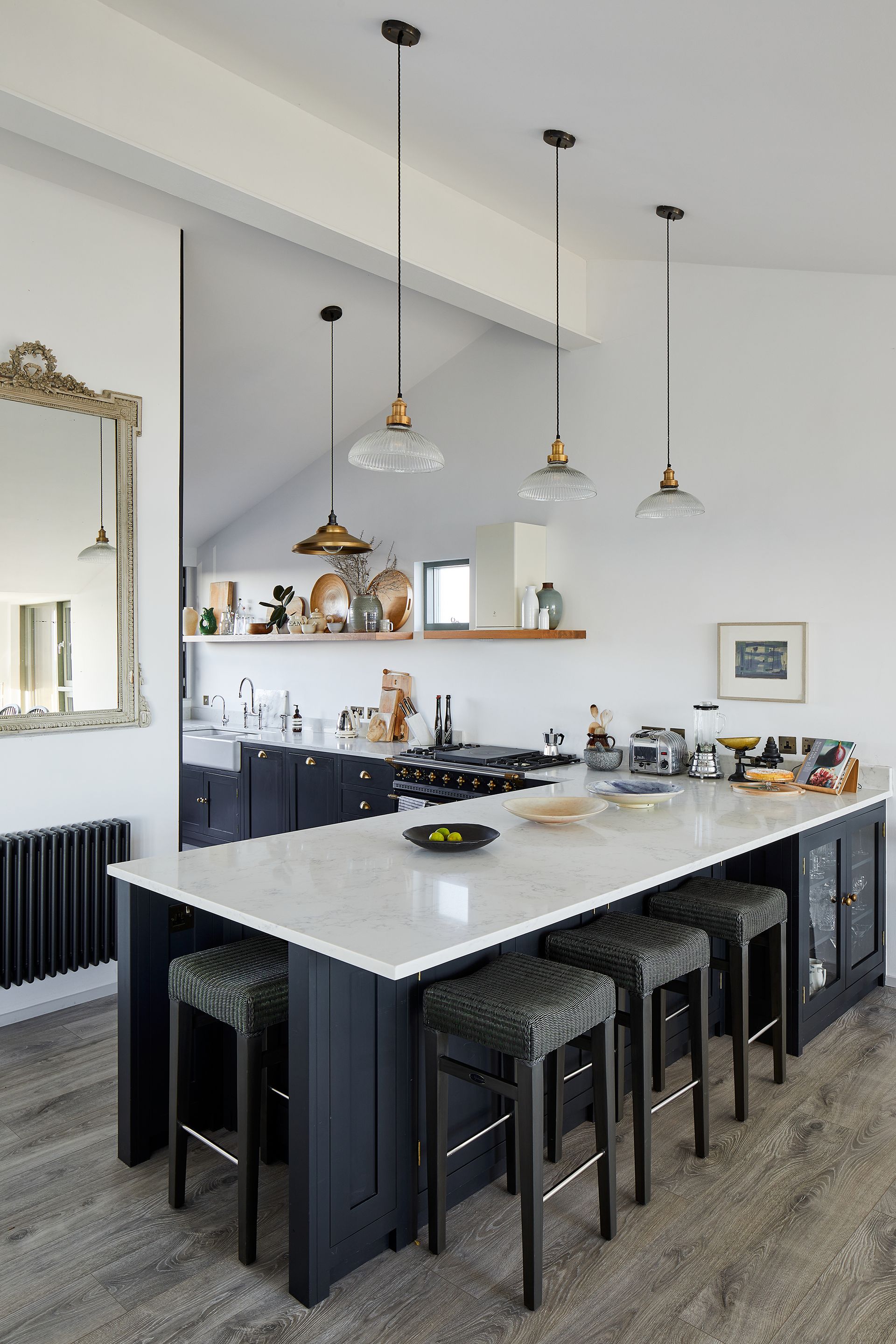 The rise of open-plan kitchen ideas has meant that zoning has become a vital part of kitchen design. The peninsula provides the divider, creating a U-shaped kitchen that physically separates the working area from the living space – as seen in this design from The Main Company.
'As we all start to design our homes with our daily requirements in mind, "broken plan" living becomes a more functional solution for modern living. Broken plan fully utilises an open plan scheme but focuses on creating individual functioning zones within the space for dining, cooking, working, etc. Incorporating a peninsula to your kitchen can be the first step to achieving this style of living. A multifunctional feature, they can be used as a working, dining and food-preparing space as well as providing you with ample storage options and helping in zoning the space,' says Graeme Smith, Head of retail and commercial design at Life Kitchens.
2. Incorporate a seating area on the reverse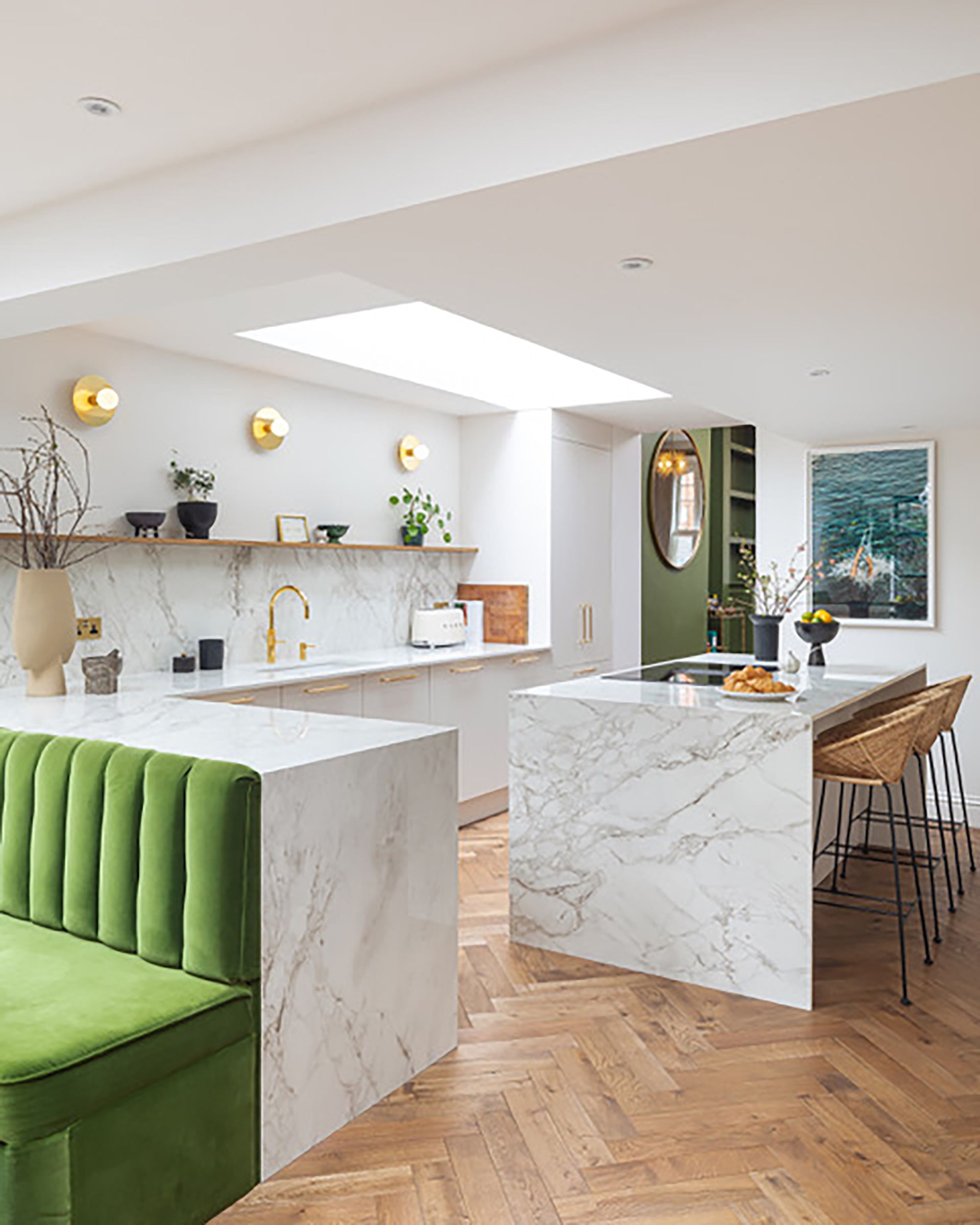 While you can easily add bar stools to a kitchen island, kitchen island seating ideas can sometimes feel awkward and unsociable. Kitchen peninsula ideas, on the other hand, offer the perfect opportunity to integrate banquette kitchen seating ideas to create a friendly, laid-back space – perfect for relaxing and casual dining. In this kitchen, designed by John Lewis of Hungerford, luxurious green velvet banquette seating adds a colorful contrast to the marble countertop, giving this elegant kitchen a modern lifestyle edge.
3. Create a versatile centerpoint in the kitchen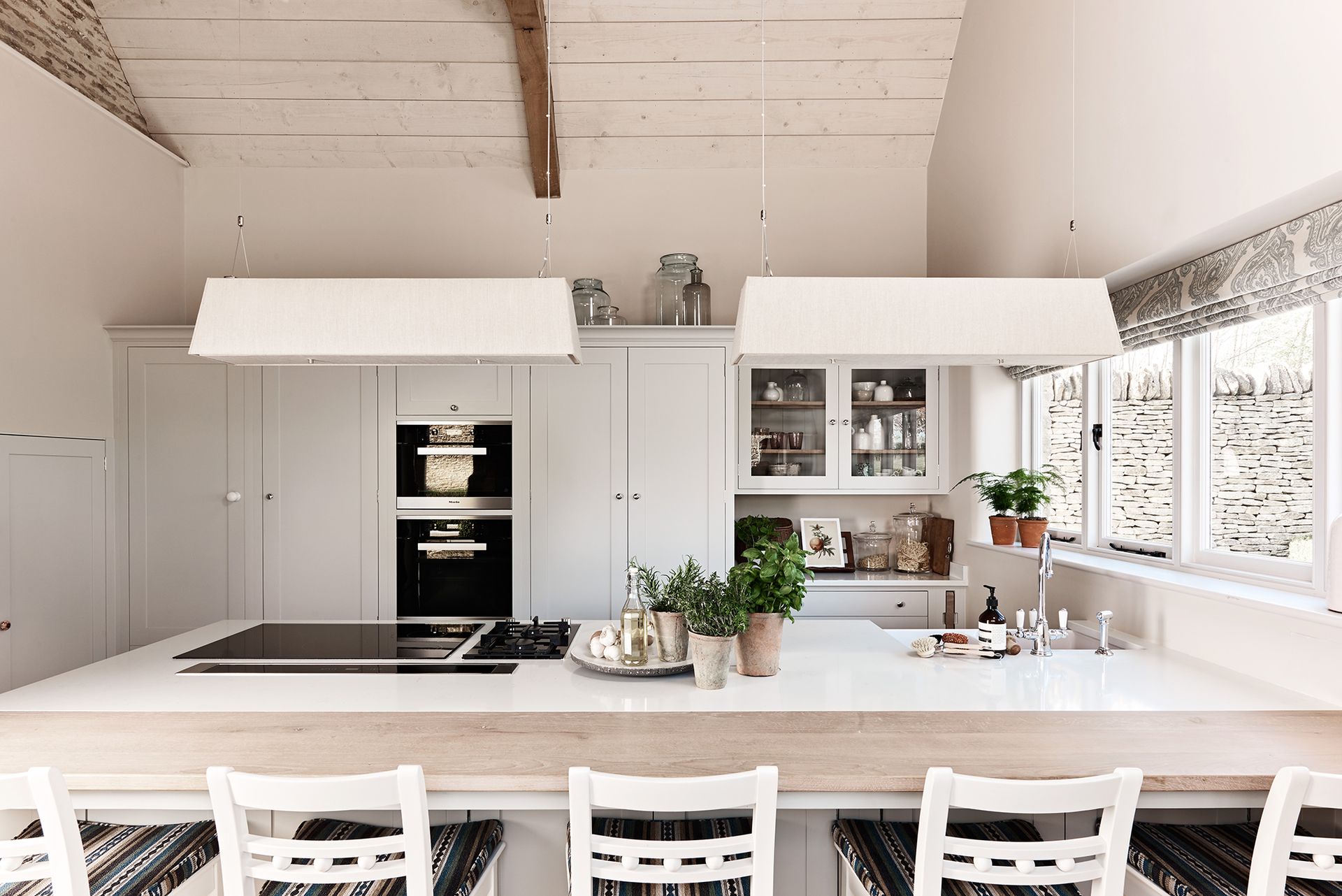 When it comes to functionality, opting for a kitchen peninsula ideas over an island doesn't mean you have to compromise. 'A peninsula was the better option in this country kitchen due to the width of the room. Attaching one side of the peninsula to the wall enabled us to install a large and functional space that included a hob, a sink and room for five seats, while still allowing enough space for a cupboard on the far side,' says Louise Wicksteed, design director for Sims Hilditch.
4. Opt for mixed countertop materials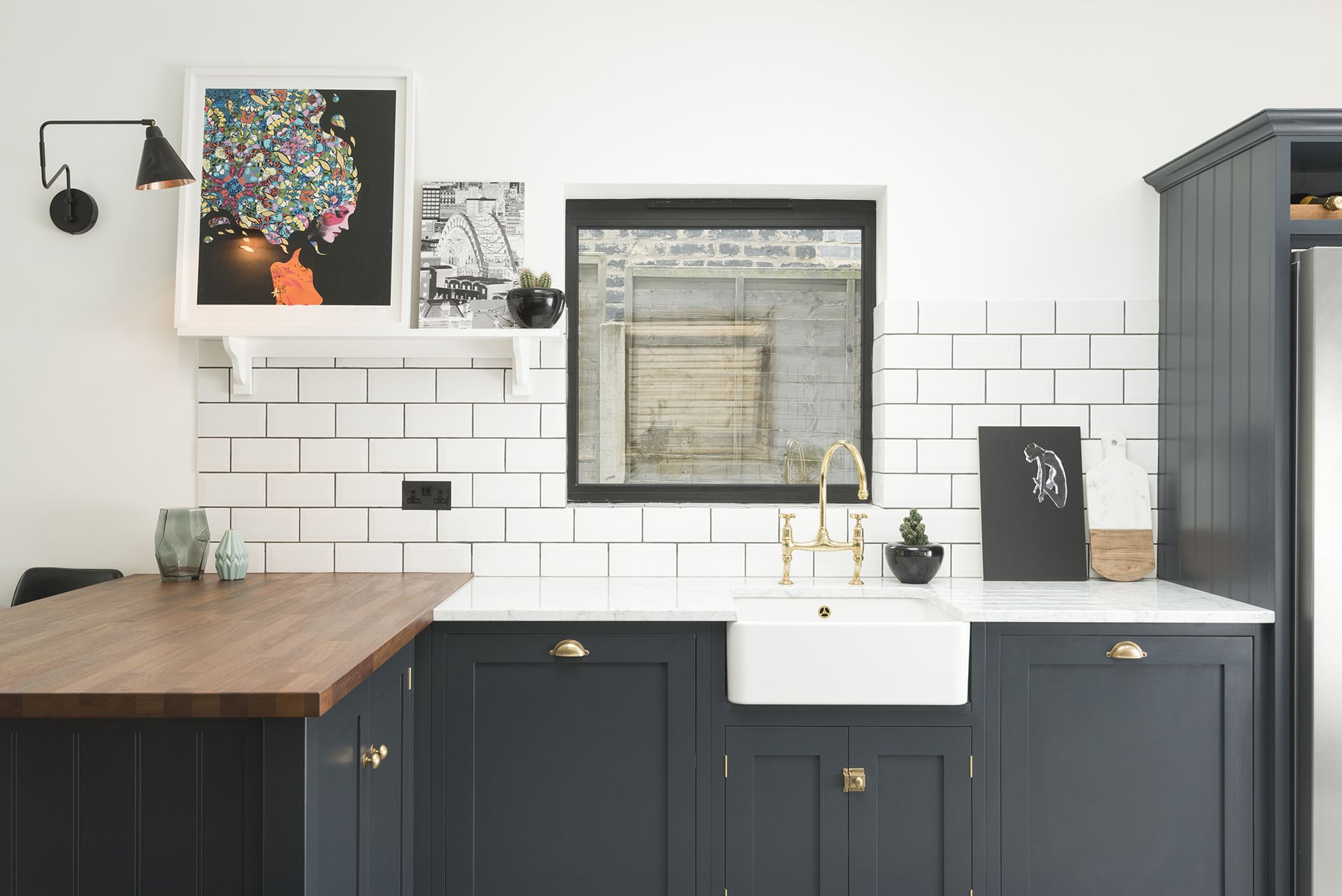 Take the versatility of your kitchen peninsula ideas to the next level by opting for a worktop that caters to all your needs. In this space, designed by Devol, marble countertops on either side of the sink offer a practical workspace, while a softer wooden material on the arm of the peninsula is perfect for serving and dining, as well as bringing a new texture to the space.
5. Illuminate over the peninsula as you would an island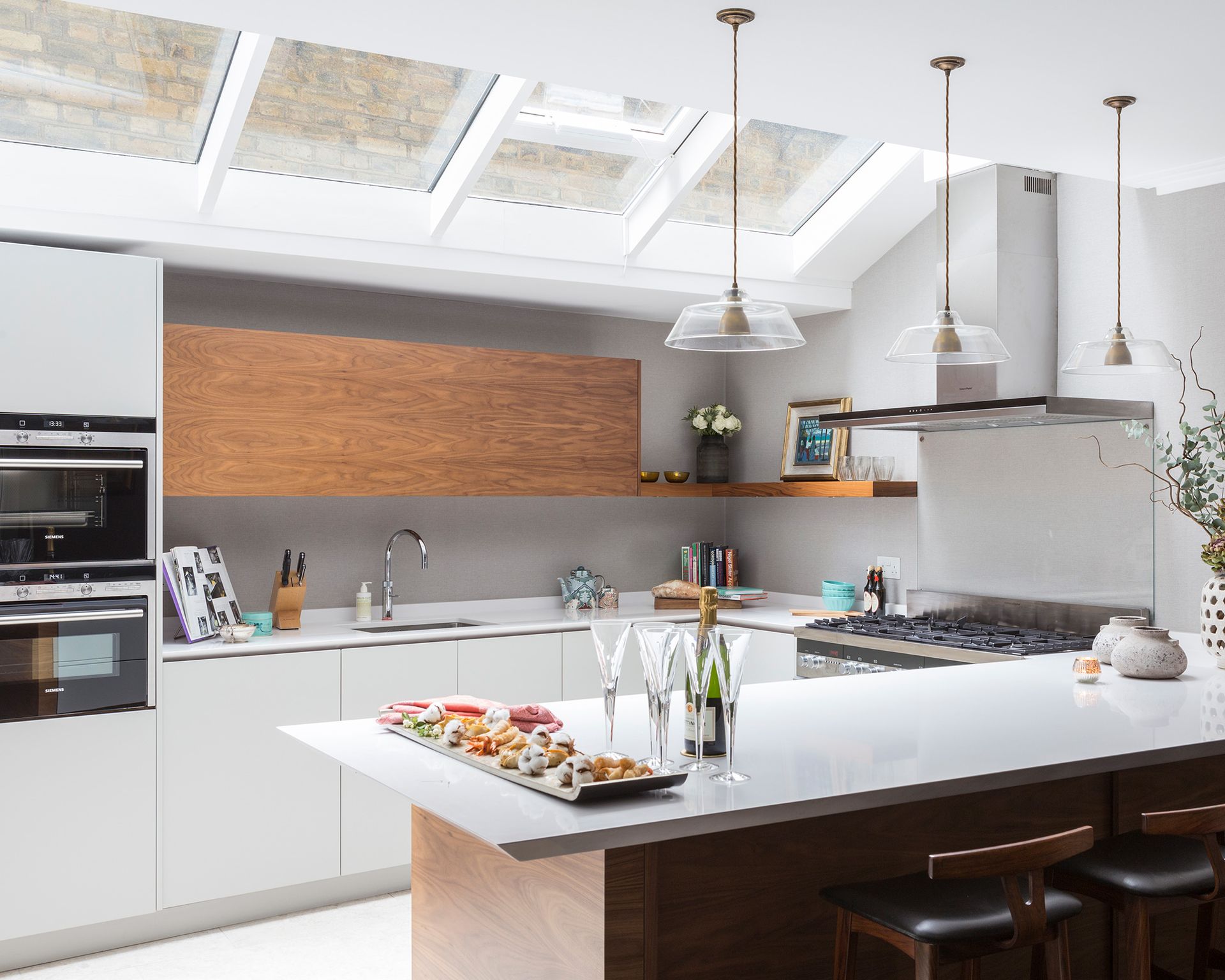 Never underestimate lighting. It has the power to transform the look and feel of a space with just the flick of a switch. We all know the rules about pendant lights over an island, but what about a peninsula that is by design off-centre? Rather than a single pendant which will be off-kilter to the rest of the room, instead opt for a triptych that will provide both a balanced appearance and even light throw.
6. Use a peninsula to maximize square footage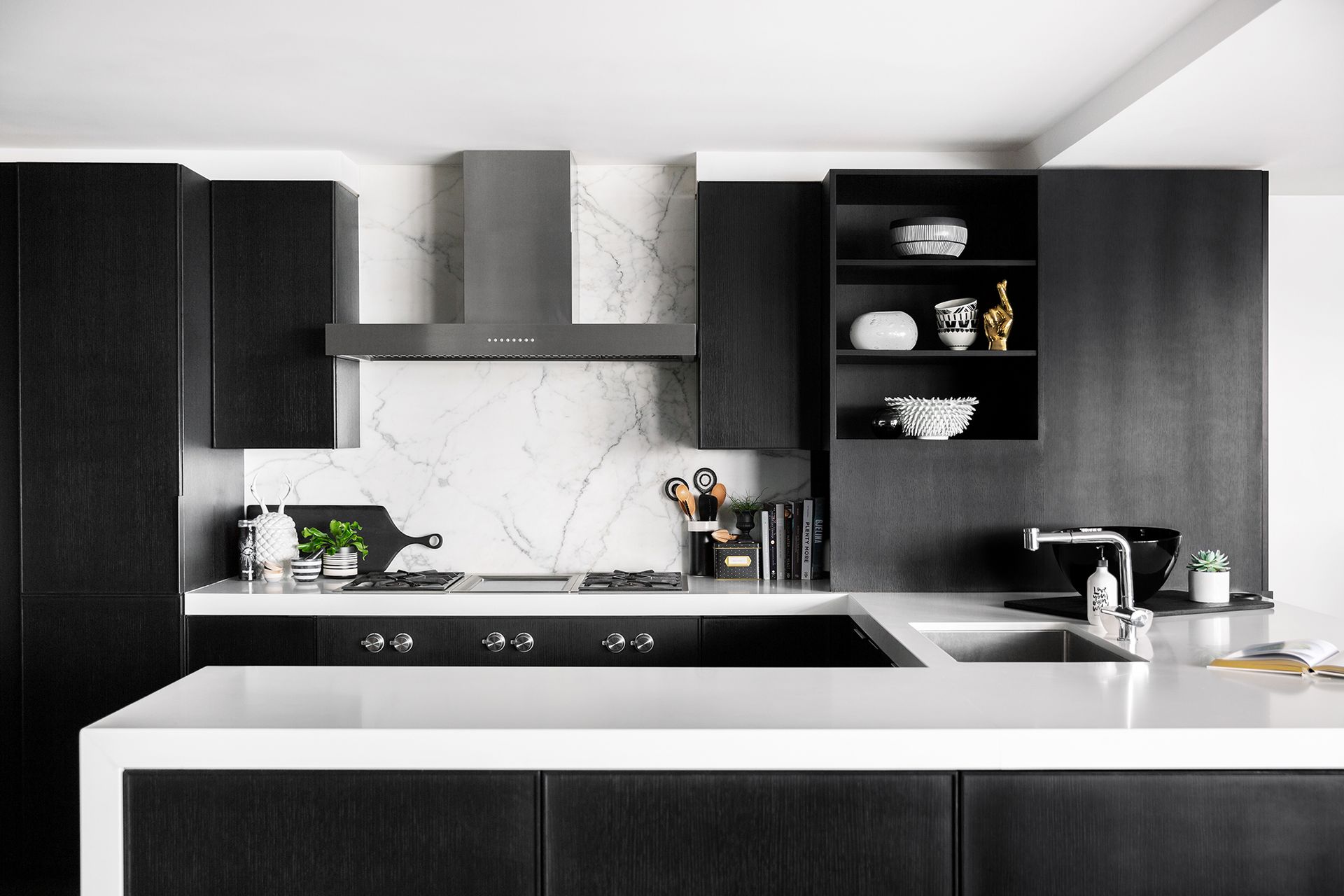 Create a high-drama kitchen by pairing kitchen peninsula ideas with black and white kitchen ideas. 'Almost equal amounts of black and white with veined marble that marries the two. With limited square footage, a return gives you the benefits of a kitchen island without the large footprint. It's one of the best space-saving ways to get storage, seating, and extra serving/workstations. Both sides open for maximized storage,' says Tiffani Baumgart, founder of Tiffani B Interiors.
7. Double up with an island and a peninsula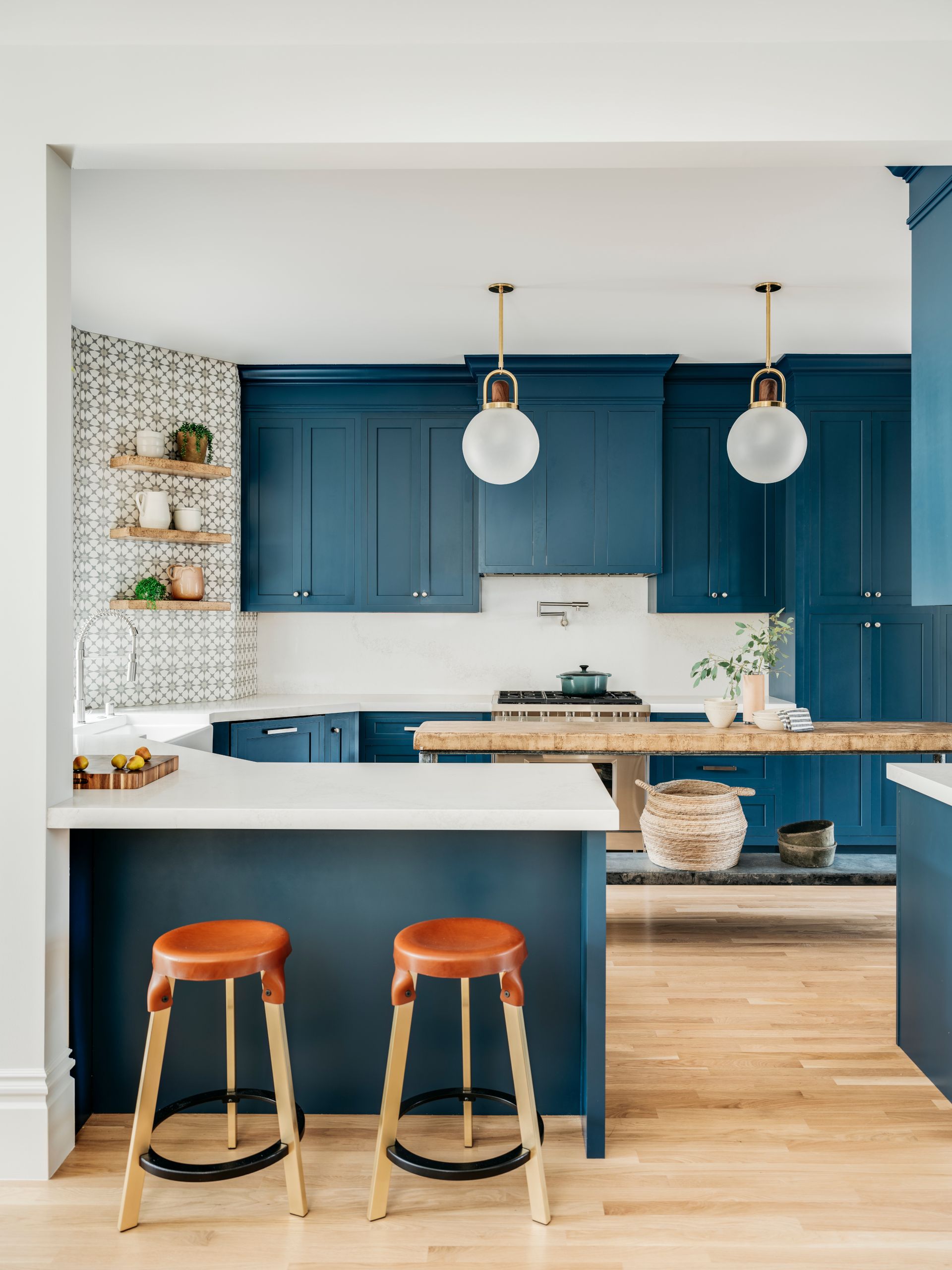 If you have the space, then why not double up and incorporate both a peninsula and an island into your kitchen design? Combining the best of both worlds, the peninsula helps to contain the workspace in the kitchen – and offers seating – while reserving the slim, reclaimed wood island as a functional workspace.
8. Combine a peninsula with patio doors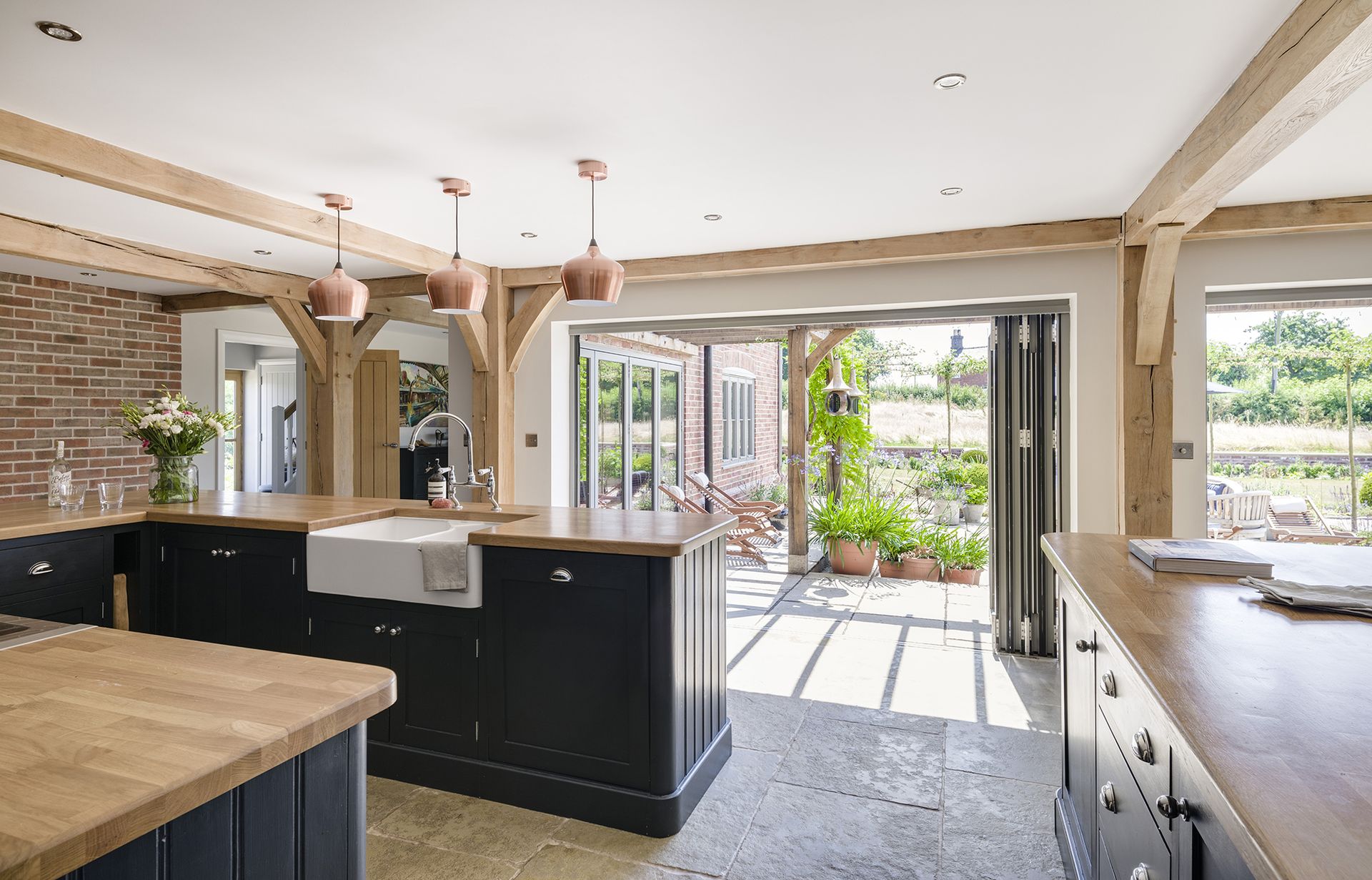 The kitchen peninsula is the perfect partner to an indoor-outdoor kitchen, as seen in this kitchen extension by Border Oak. When positioned opposite sliding or bifold doors, the peninsula arm provides the perfect joining point between the indoor kitchen and the outdoor dining area – ideal for serving food or drinks. However, come the colder months, the addition of barstools brings the dining area inside, with the peninsula ensuring the kitchen works to the best of its ability all year round.
9. Use the kitchen peninsula to add pattern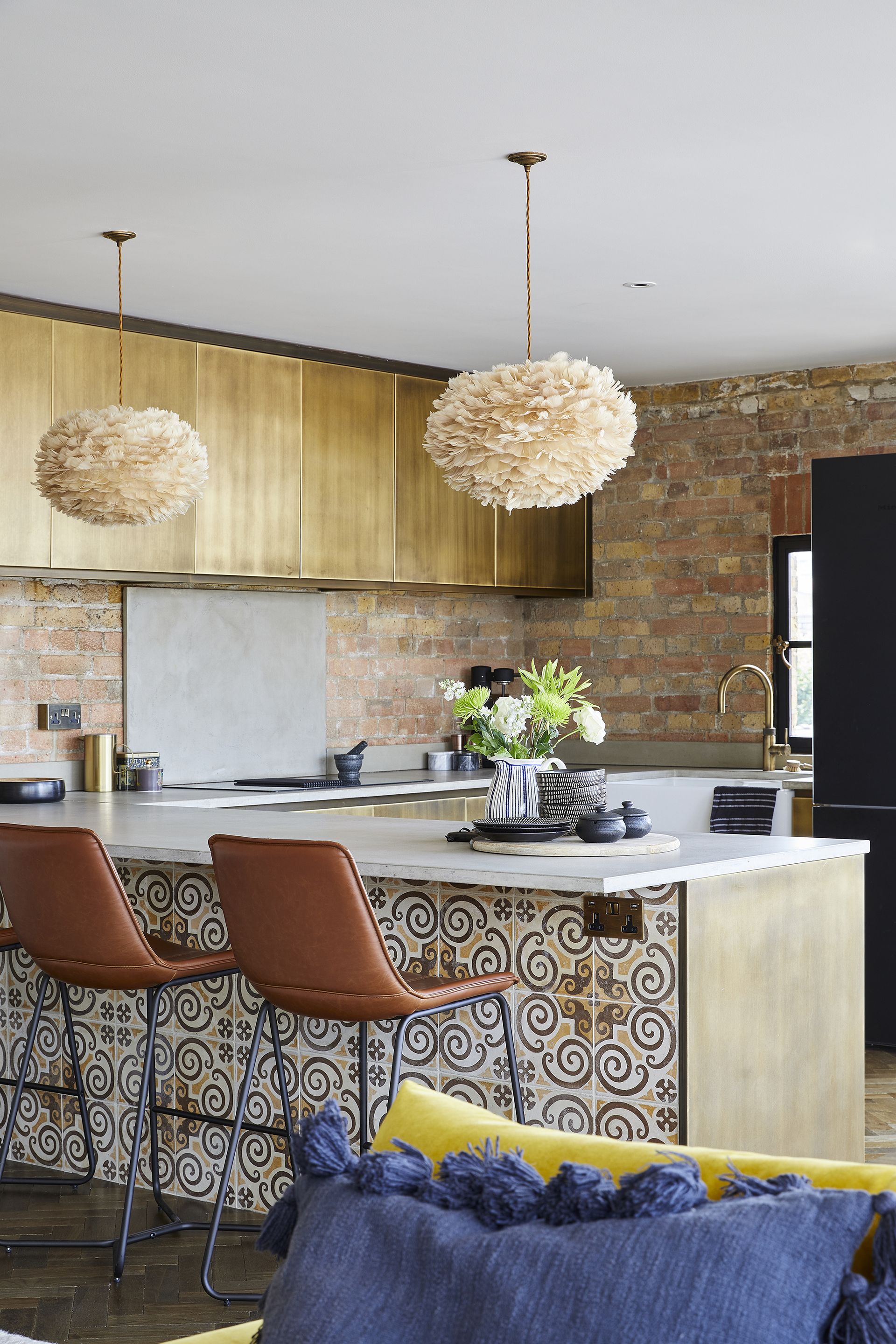 Any empty surface presents the opportunity to bring pattern and colour to your kitchen. In this petite space, reclaimed tiles by Bert and May add to the boho kitchen decor and give an otherwise understated design a burst of colour and texture, tying the space in with the decorative living area beyond.
Which is better kitchen island or peninsula?
For a small kitchen, a peninsula is a better option as it offers the same functionality as an island but with a smaller footprint. If your kitchen is a part of an open-plan layout, then you need to think about how you want the space to feel. If you want to make your kitchen blend seamlessly with the wider living area then an island is the better option. However, if you want your kitchen area to be more zoned, opt for a peninsula.
If you have the space, then why not incorporate both an island and a peninsula to enjoy the benefits of each design element?
Can you put a peninsula in a small kitchen?
Yes, you can put a peninsula in a small kitchen – in fact it's a great idea. Not only does it maximize the footprint available, but it also offers you increased flexibility in the way you use your space. From meal prep to dining and entertaining, a peninsula can be a transformative addition to your space.
Sign up to the Homes & Gardens newsletter
Decor Ideas. Project Inspiration. Expert Advice. Delivered to your inbox.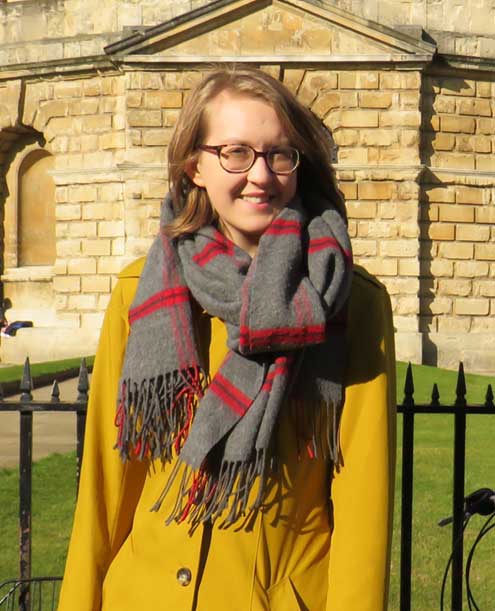 Content Editor and Sub-editor
Having graduated with a first class degree in English Literature, Holly started her career as a features writer and sub-editor at Period Living magazine, Homes & Gardens' sister title. Working on Period Living brought with it insight into the complexities of owning and caring for period homes, from interior decorating through to choosing the right windows and the challenges of extending. This has led to a passion for traditional interiors, particularly the country-look. Writing for the Homes & Gardens website as a content editor, alongside regular features for Period Living and Country Homes & Interiors magazines, has enabled her to broaden her writing to incorporate her interests in gardening, wildlife and nature.