Black and white kitchen ideas – 10 marvellous monochrome kitchens
These black and white kitchen ideas will help you to create a space that's monochromatic but marvellous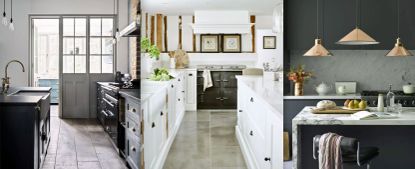 (Image credit: Future)
Black and white kitchen ideas are a classic choice – timelessly elegant, unlikely to date and easy to decorate. Choosing a mostly white kitchen with touches of black is the safest choice, while black cabinetry matched with white countertops is a braver option that can look smart, dramatic and always neat.
Whichever way you tip the color balance, a black and white kitchen design easily lends itself to a modern scheme and period properties, too. You can team black and white with rustic wood for a warmer finish, marble for an elegant feel, and metallics for a more contemporary finish.
Adding pattern will bring character and interest to your kitchen ideas. As for brighter, bolder colors, these can be swapped in and out through everything from paint to accessories.
Black and white kitchen ideas
If your search for kitchen color ideas has led you to favor black and white kitchens over all other options, we congratulate you. This is one of the most elegant of combinations, it will never date, and can be given character and personality so easily with the introduction of other materials, particularly wood.
Below, we have selected our favorite black and white kitchen ideas to inspire you.
1. Rustic elements add warmth to black and white kitchen ideas
A monochromatic palette in a white kitchen can conjure up thoughts of a sterile space – albeit one that's sleek, modern and not often considered in a period setting. However, it can work really well in more traditional homes, as shown in this stunning kitchen by Neptune.
One element that is key in this space is the use of wood – it warms up the kitchen and acts as a 'middle man' between the black units and white walls. It's important to choose the right tone of wood too – if you go too pale, it will look washed out. A mid-tone such as that of the basin unit and island countertop is spot on.
2. Combining black and white with marble is elegant
A black kitchen will always benefit from texture in its surfaces – so if you want to create interest, consider marble for your countertops. It will create a decorative aspect that will soften the overall feel of the space, and gray kitchen counter marble veining can be a really pretty addition, like in the space above.
When choosing metallics for black and white kitchen ideas, it's worth knowing that you can also soften the scheme with warm-toned metallics, such as brass, gold or copper, like these pendants from Pooky.
3. Wood flooring suits a Shaker style kitchen
Wood, as we have said above, is a wonderful foil for the sterility of a black and white kitchen scheme. We asked Calven Gurr, manager at Havwoods, for his advice on choosing wood kitchen flooring for a black and white scheme:
'For darker kitchen color schemes, we would recommend selecting boards with warm undertones; this will create a feeling of spaciousness, which can help to make the room appear bigger and brighter. To add depth and character, choose boards with texture or even opt for reclaimed wood as the inherent knots and marks will add a unique touch to the space.'
What we love about the floorboards in this kitchen is how they tie in visually with the exposed brick around the fire surround. These features all help to create a warm black and white kitchen scheme.
4. Contemporary black and white kitchen ideas are perfect for open-plan spaces
Black and white kitchen ideas lend themselves to an ultra modern space. You can see how fabulous they look in this contemporary, open-plan space, where a black and white palette is the perfect backdrop for the softer side of the room.
'Black acts as a neutral as it goes with most colors and finishes. We often use materials such as carbon oak veneer, flamed granite or even porcelains such as Kerlite,' says Richard Atkins, design director at DesignSpace London. 'Set against, say, white lacquer, their texture and profound depth of color adds life and interest'.
5. A splash of black can transform an all-white kitchen
If your kitchen is small or has low ceilings, it makes sense to consider a predominantly white color scheme above all others – but you can inject a little drama by installing one single but impactful black element, such as a range cooker, to your scheme.
In this Neptune designed kitchen, the black is subtly carried through into the base unit handles and picture frames – this is a great example of how to make it work when you play with balancing light and dark.
6. Subtle touches of color enliven black and white kitchens
There's a preconceived notion that if you choose a black and white kitchen scheme you can't add in other colors, but in fact, it can be used as a blank canvas for just that, as Richard Atkins explains:
'White is less affected by fashion and taste than other colors and finishes that tend to date, and monochrome is timeless… a white kitchen with dark accents will never go out of fashion. White on white works well and as a neutral, it also coordinates with a wide range of other materials and finishes including woods and a wide choice of colors.'
Artwork is a fabulous way to introduce color and you can carry the mains shades through into accessories on your countertops.
7. The right shade of black is vital
For painted kitchens, there are many shades of black to choose from – you can find blacks with a hint of red, green, blue and brown, and some are harsher than others to the eye. So it is always worth testing out your cabinetry color, whether black or white, before picking out the final color.
Farrow & Ball's Railings No.31 is classed as a 'softer' black. It has undertones of blue which creates a dramatic more enveloping feel.
Another consideration when you decide how to paint kitchen cabinets is the finish: full gloss will work well for a modern scheme, whereas a softer sheen will create more of a relaxed feel in a period-style kitchen.
8. Warm metallics are the perfect complement
The oh-so-smooth finish of a black and white kitchen might be, quite frankly, too sterile unless you love the minimalist look. However, there are some great tricks you can use to give it warmth and texture while enjoying the black and white elements.
Brass – and other warm metallics – is one of the big kitchen trends right now, and it looks fabulous in this kitchen by Maestri Studio. It gives it a luxurious glow and breaks up the monochromatic scheme perfectly. Another key addition here is the textured white wall tiles; they add a lovely tactile feel which gives this space that extra bit of style.
9. Match black and white to softer gray
If you are wavering between a gray kitchen design and black and white kitchen ideas, you'll be pleased to know that you can have the best of both worlds. Gray cabinetry is softer and more space-enhancing than stark black, and more adventurous than white cabinetry – but if you combine both black and white into the scheme, too, you'll create a room that's the perfect compromise.
We love the nod to on-trend green kitchen ideas with the addition of the green and white gingham here – it's the ideal accent shade to further soften the scheme.
10. Limiting the black to the kitchen island is a safe option
If the black and white kitchen ideas you've been considering are just a little too bold, why not consider kitchen island ideas that are painted black, with the cabinetry around the boundaries of the room a safe white?
This creates an interesting, impactful feel, and is also great if you're wondering how to make a small kitchen look bigger, especially if the countertops are light colored.
What colors go with a black and white kitchen?
Colors that go with a black and white kitchen include gray, green and woody tones. You can successfully match stronger colors, such as berry shades, warm blues and muddy, earthy tones – from pink to yellow – with a whole host of black and white kitchen ideas, too.
The colors to avoid when using a black and white palette are primaries – yellow, red and blue kitchen accents – which are too stark against the monochromatic color scheme.
How do you add warmth to a black and white kitchen?
The very best way to add warmth to black and white kitchen ideas is through wood – those with a strong grain add both texture and warmth really effectively. You can use wood on both floors, countertops, in shelving, in the room's architecture and in accessories.
The next best thing to add warmth to a black and white kitchen is to introduce texture – black cabinetry with a textured finish will look warmer than flat-fronted or high gloss doors. Other natural textures – such as wicker, sisal and warm-toned marble can work, too.
Then introduce greenery through houseplants displayed in terracotta pots, ensure the scheme makes good use of kitchen lighting ideas, and include soft furnishings, such as dining chair cushions.
Sign up to the Homes & Gardens newsletter
Decor Ideas. Project Inspiration. Expert Advice. Delivered to your inbox.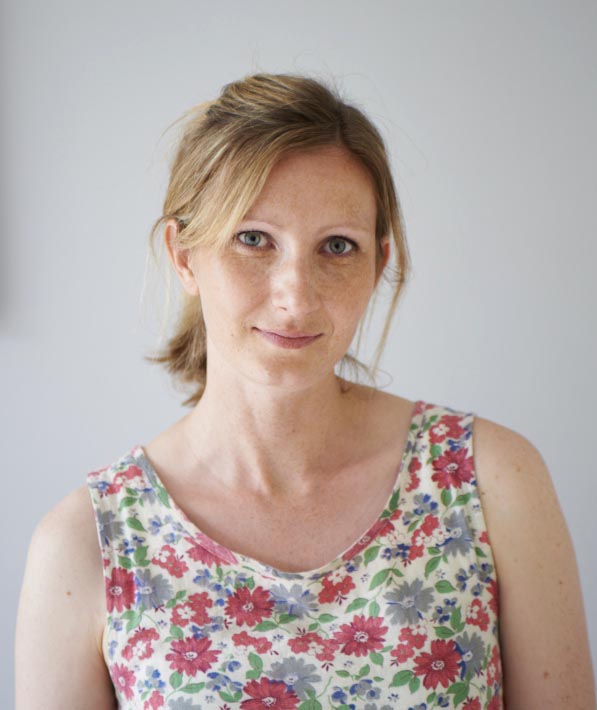 Sophie has been an interior stylist and journalist for over 20 years and has worked for many of the main interior magazines during that time, both in-house and as a freelancer. On the side, as well as being the News Editor for indie magazine, 91, she trained to be a florist in 2019 and launched The Prettiest Posy where she curates beautiful flowers for modern weddings and events. For H&G, she writes features about interior design – and is known for having an eye for a beautiful room.