Wood kitchen flooring: Is wood flooring suitable for kitchens? The experts explain
Unsure whether wood kitchen flooring will work in your space? Take the advice of interiors professionals to find out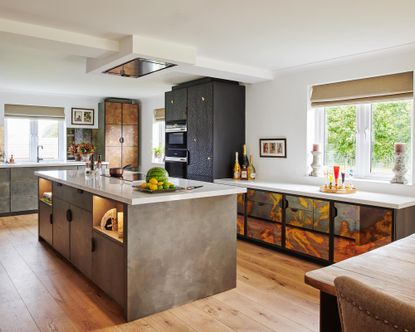 (Image credit: Christopher Horwood)
Sign up to the Homes & Gardens newsletter
Decor Ideas. Project Inspiration. Expert Advice. Delivered to your inbox.
Thank you for signing up to Homes & Gardens. You will receive a verification email shortly.
There was a problem. Please refresh the page and try again.
Many homeowners are unsure whether wood kitchen flooring is an appropriate choice for their space.
Wood is an ultra-desirable flooring choice because it has natural beauty, appealing warmth, durability and a look that won't be overtaken by the tides of interiors fashion. But is it suitable for kitchens?
Both heat and moisture in the environment affect wood, causing warping, swelling and shrinkage and, because of the activities that take place in a kitchen, wood kitchen flooring is far more exposed to changes in temperature and humidity than if it was in a living space or a bedroom.
Many different kitchen ideas feature wood flooring, and today it looks the part in both contemporary rooms, farmhouse kitchens and a whole host of designs in between, showing that our passion for the material is undimmed.
So should wood be seen as a good kitchen flooring option? We've asked the experts to provide the inside track on solid and engineered timber, as well as reclaimed wood, so you can find out if wood kitchen flooring is suitable for your space.
Is wood kitchen flooring a good option?
'The average kitchen is a hive of activity and a hub for families to congregate in during the course of the day, so it is essential the choice of flooring is able to withstand this,' says Rosie Ward, creative director of London-based interior designers Ward & Co.
'Wood is not only a lovely natural resource that looks fantastic, but it also has great durability and therefore suits most kitchens well. In terms of style, I often like to keep the same flooring from one room to another; it provides great continuity and flow across spaces as well as helping to achieve a level of calmness.'
Bear in mind, though, that both the composition of your household and the kitchen's location in the home should inform your decision, as a wood kitchen flooring won't be right for every situation.
'Many of my clients love the touch of warmth that wood floors lend their kitchens,' says Benjamin Johnston of Benjamin Johnston Design 'But regardless of whether they are engineered or real wood, they can take a beating in this high-traffic space.
'Kitchen floors are faced with spills of all kinds and the occasional drop of a dish or utensil while cooking. If you prefer a pristine or highly polished look, I suggest steering away from wood floors in your kitchen.' – so you may want to consider stone or different kitchen floor tile ideas instead.
'On the other hand, if you prefer a home that celebrates a relaxed, casual environment, any dings and dents wood kitchen flooring might take on over time can play up the charm of a well-loved and oft-used kitchen.
'If you decide to go with wood kitchen flooring, consider a matte finish (in both real and engineered options) as it tends to be more forgiving, or go with reclaimed wood flooring that already has an inherent character from its previous life.'
The kitchen's position should count when selecting the flooring too, because if it's the space accessed directly from the garden, a pool deck or the garage, damp and dirt could get regularly tracked onto it, causing harm to the surface.
Although wood can be refinished if it's damaged, these scenarios should give you pause before investing in a wood kitchen flooring, as other choices might need less care to stay looking their best.
Is wood flooring suitable for kitchens?
Yes, wood flooring is suitable for kitchens – but some wood types and constructions more than others. We've gathered the experts' advice on all types of wood kitchen flooring, and the answers to your wood flooring questions.
Solid wood kitchen flooring
If nothing but a solid wood floor appeals, is this a sound pick for a kitchen?
'Wooden floors are a popular choice for kitchens as they feel warm under foot and lend an element of natural beauty to any style of kitchen, contemporary or traditional,' says David Papworth, general manager of Junckers.
'Shiny surfaces and hard materials often found in kitchens are instantly softened with a wood kitchen flooring; it gives the room a balance and makes it look more homely.
'Hardwood timbers are perfect for busy living areas as they are durable and easy to maintain. There's also the option to install underfloor heating, although not all solid wood floors are compatible: check with the manufacturer or installer. '
Care of wood kitchen flooring needn't be onerous. 'Solid hardwood floors are easy to clean and maintain,' David explains. 'Vacuum or use a clean, damp mop weekly and remove rubber heel scuff marks and other non-water dispersible marks with a little white spirit on a damp cloth. Remove any excess of water on the surface immediately.'
Engineered wood kitchen flooring
An engineered wood floor could be a suitable option for your kitchen. It is still a real wood floor, and can have an appearance that's hard to tell apart from solid wood flooring. So how is it distinguished from solid wood kitchen flooring, and does it have any advantages over it?
'The main difference is the way the planks of flooring are constructed,' explains Robert Walsh, owner and founder of Ted Todd Fine Wood Floors. 'Engineered wood floors are available as planks, parquet and panels and can be really transformative in any space.
'Created by layering sections of solid wood bonded together with the grain of each piece running in a different direction to its adjacent layer, it enhances the plank's strength and resilience.
'Layering wood in this way also reduces the wood's natural tendency to expand and contract, meaning it is perfect to lay over underfloor heating and to use in areas like kitchens.
'The quality of an engineered wood floor is largely determined by the depth of the top layer of wood (known as the wear layer). The thicker the wear layer, the better in terms of look, feel, sound and durability.'
Reclaimed wood kitchen flooring
Reclaimed wood is another timber flooring option, and can be sourced either as solid wood or in the form of an engineered floor. But is it suitable for kitchens?
'There is nothing to say that reclaimed and antique flooring shouldn't be used in a kitchen area, especially if they have an engineered construction,' says Robert Walsh. 'It's always best to avoid large build-ups of water when using a wood floor, but thanks to our in-house finishes, our antique and reclaimed woods are able to battle back against everyday splashes and spills.
'Reclaimed pine, for example, is a wood that is naturally very clean and light, whilst having calming properties, making it ideal for use in the kitchen, whilst reclaimed teak resists rot, insects and decay, meaning it's another lifetime choice for any room, including the kitchen.
'Choosing reclaimed or antique wood kitchen flooring goes a lot further than buying character,' he adds. 'Reclaimed timber reduces environmental impact through re-use, helps to preserve forests by decreasing the need for new timber, and reduces any environmental footprints associated with producing a new wood floor.
'Wood flooring that has been crafted from reclaimed and antique wood not only gives the wood a new lease of life, it also prevents the need for more trees to be cut down.'
Wood lookalikes for kitchen flooring
If you've ruled out a wood floor for your kitchen because it isn't appropriate for your kitchen's location, your household, or your budget, there are alternatives which can create a similar look.
Luxury vinyl kitchen flooring ideas can have an authentic wood appearance thanks to today's technology and manufacturing, and some vinyl tiles even have a wood-like texture. It is easy to clean and maintain.
Laminate has long been popular as an alternative to wood at a lower budget; it won't look identical, of course, but can create a similar warm impression and caring for it isn't hard work.
Consider tile, too. Both ceramic tile and porcelain can replicate the appearance of wood and prove easier to care for in a busy household.
What is the best wood floor for a kitchen?
The best wood floor for a kitchen will depend on your particular circumstances and lifestyle, but solid wood, engineered wood and reclaimed wood can all be possibilities.
'One of the perks of solid wood is that it can easily be sanded down and re-finished in a different tone if you decide to re-decorate,' says Rosie Ward. 'I would go for a hardwood such as oak, maple or cherry, as opposed to a softwood, for greater longevity – it is worth the investment. Engineered wood is a more cost-effective option.
'Reclaimed flooring is more expensive than solid wood, but is the most sustainable wood kitchen flooring option.'
When you're selecting wood kitchen flooring, think too about aspects such as the color, thickness, size and style of boards, advises David Papworth.
'A wide board wooden floor really comes into its own in a large, open space where the plank width and length can be fully appreciated,' he explains. 'A more rustic and country-style look can be achieved by using a floor with lots of natural variations in the timber.
'The grading of the timber flooring makes a big difference to the appearance of the finished room – a more natural or rustic grade can make a large area look interesting, whereas a more uniform floor can add a very polished look to modern kitchens.
'While oak is a perennial favourite, very pale floors make the most of natural light by reflecting it back into the room. Choosing a dark floor can create wow factor and a more dramatic look. Parquet floors, especially herringbone patterns, are becoming more and more popular and they are now available in many different timbers and finishes.'
What is the best flooring for a kitchen?
The best flooring for a kitchen is one that has the visual appearance and feel you prefer, and suits your household and lifestyle in terms of durability and maintenance.
Balancing up these elements when choosing the best kitchen flooring for you is crucial for a successful room design and flooring that stands the test of time.
Wood kitchen flooring is the right choice for many and solid wood, engineered and reclaimed all have their individual merits.
If you are concerned about kitchen flooring costs, though, a wood lookalike in vinyl, tile or laminate (see above) can provide a similar appearance on a budget, although the feel will be different.
If you want a flooring material from nature but wood isn't right for your home, natural stone tile, properly sealed, is easy to look after and hard wearing.
Sign up to the Homes & Gardens newsletter
Decor Ideas. Project Inspiration. Expert Advice. Delivered to your inbox.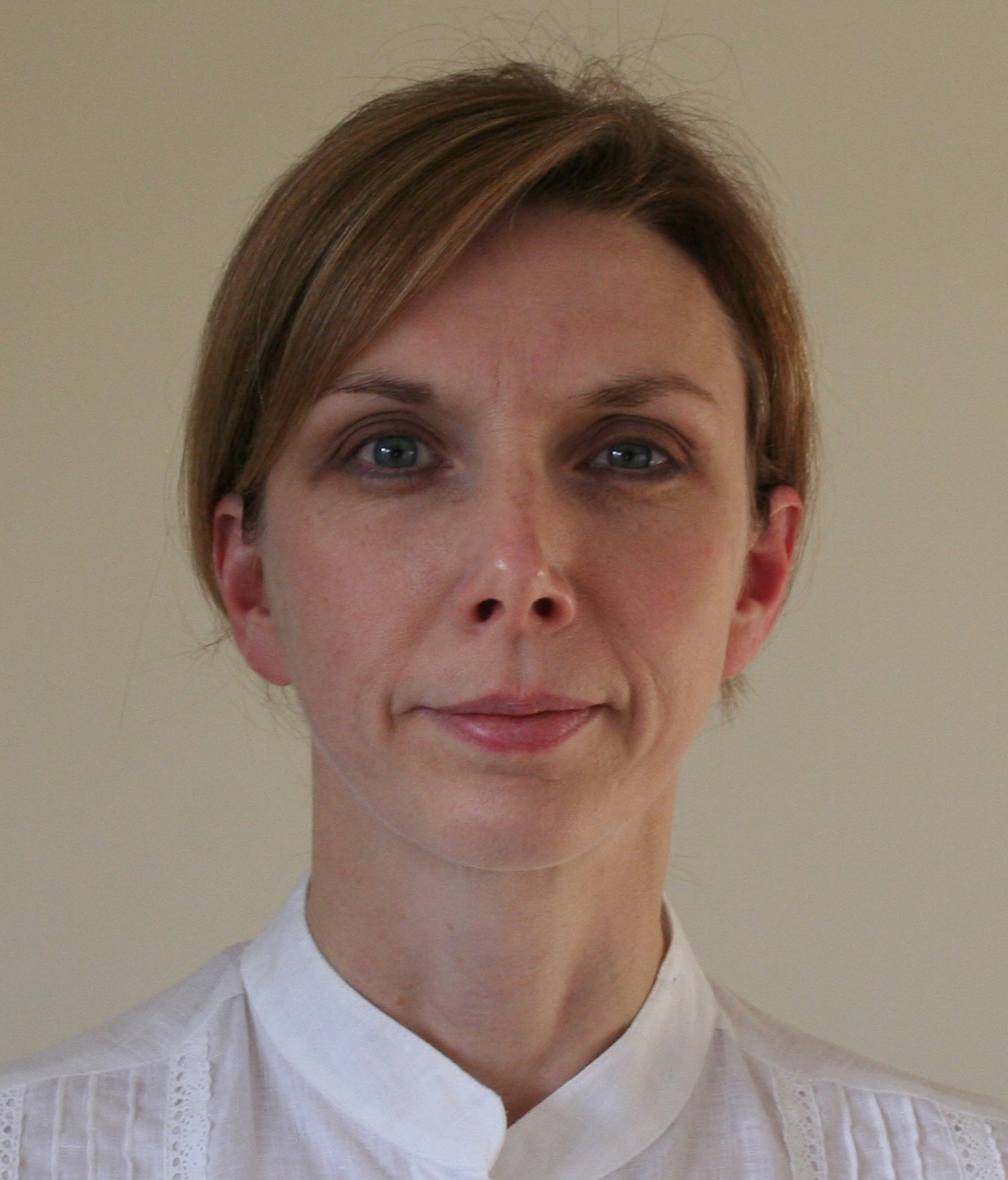 Sarah is a freelance journalist and editor. Previously executive editor of Ideal Home, she's specialized in interiors, property and gardens for over 20 years, and covers interior design, house design, gardens, and cleaning and organizing a home for H&G. She's written for websites, including Houzz, Channel 4's flagship website, 4Homes, and Future's T3; national newspapers, including The Guardian; and magazines including Future's Country Homes & Interiors, Homebuilding & Renovating, Period Living, and Style at Home, as well as House Beautiful, Good Homes, Grand Designs, Homes & Antiques, LandLove and The English Home among others. It's no big surprise that she likes to put what she writes about into practice, and is a serial house renovator.