Vinyl kitchen flooring ideas – 17 practical, easy to clean floors that emulate luxury materials
These vinyl kitchen flooring ideas mean you can get a high-end look without the high maintenance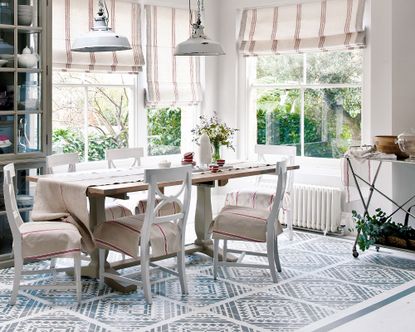 (Image credit: James Merrell)
Vinyl kitchen flooring ideas don't always have the best reputation in terms of aesthetics, but the material has a myriad of benefits, many of which make it a great choice for kitchens, particularly in second homes, where you may not want to spend as much as you would in your main home, or in coastal properties, where practicality and comfort battle for priority.
Vinyl is constantly improving in quality with new technologies, and also offers a wide range of design opportunities that will suit a variety of kitchen styles.
Vinyl is a versatile and practical choice for your kitchen flooring ideas. From spectacular patterns that mimic the most elaborate of kitchen floor tile ideas, to wood-effect panels that channel the natural world into your home, vinyl kitchen flooring ideas can help to transform your space with minimal fuss.
Vinyl kitchen flooring ideas
Aside from a plethora of patterns and colors, you really have one key choice to make when selecting vinyl kitchen flooring – standard vinyl or luxury vinyl? The former is predictably cheaper, and tends to be available either as tiles or as one large sheet.
Luxury vinyl is made up of multiple layers of vinyl, and is thus thicker, more durable and more expensive. Its rigidity means that it is largely available as tiles (LVT) or planks (LVP) and has a more convincing appearance when emulating natural materials. It can also be clicked together at the sides, rather than stuck down with glue.
'Vinyl is a great and inexpensive way to add color, pattern and personality to kitchen flooring ideas without compromising on safety or quality', says David Snazel, Hard Flooring Buyer at Carpetright. 'Being highly durable, slip-resistant and moisture proof, it is ideal for busy households with young children.'
Explore below our top 17 vinyl kitchen flooring ideas, along with some expert advice and tips, for some great inspiration for your kitchen space.
1. Choose an elegant tile design
New for 2022, Amtico Flooring and the National Trust have joined forces to create a range of vinyl flooring designs, with the LVT Octagon Key design shown here, inspired by the Georgian era.
Creating an atmosphere of traditional elegance, the geometric pattern adds interest and intrigue to the kitchen floor, beautifully complemented by the dark gray cupboards and white walls.
Uniting the beauty of tradition with the practical needs of a modern kitchen, this elegant vinyl tile design can integrate into both classic and contemporary styled kitchen spaces.
2. Create a dark wood effect
If you want the wood kitchen flooring effect without the price tag, there are an array of wood vinyl designs available out there to choose from.
Dark wood is great for creating an inviting, warming atmosphere in a kitchen, as well as adding depth to the space. The dark wood LVT used in this kitchen creates a luxurious effect, contrasting beautifully with the blue painted kitchen island and dark gray marble countertops.
3. Be bold with color & shape
A simple way to be bold with color and shape, picking a colorful vinyl pattern can make a statement and completely transform your kitchen space.
This bold yellow and white tiled effect enhances this dark wood and white scheme. The yellow, acting as a beautiful accent color, uplifts the space, and adds a geometric, modern edge to the kitchen space. For more inspiration and guidance on the perfect color combinations for your vinyl flooring, view our exploration of the color wheel.
4. Pick a warm gray
Timeless and sophisticated, a warm gray vinyl flooring for your kitchen is both versatile and long-lasting.
There are a huge range of accent colors for gray, which make it a very popular color choice for flooring throughout the home. A warm gray shade for your kitchen flooring will stand the test of time, especially if you want to change other features in the kitchen, as it will be able to seamlessly coordinate with changing décor styles.
In this kitchen, the LVT warm gray, stone tile effect creates a relaxed atmosphere, perfectly complementing the neutral palette and natural materials used in this kitchen space.
5. Mix colors and patterns
Vinyl provides a huge number of options for your kitchen flooring, you do not have to pick one set pattern or color to use throughout, there are many designs that unite a number of beautiful flooring effects.
The statement LVT flooring used in this kitchen is a collaboration between Amtico Flooring and the National Trust. The flooring shows a traditional Victorian Star tile design and a stone effect design working as one. The warming terracotta color adds a contemporary twist to a classic, intricate style, with the matte pebble gray acting as the perfect complementary shade.
The pattern placement on the vinyl flooring in this kitchen also beautifully zones the space; the kitchen island is both grounded and celebrated simultaneously. Using a mix of pattern and color to enhance pieces of furniture and zones in your kitchen space can create a truly unique and eye-catching design.
6. Vinyl doesn't have to look like vinyl
'In recent years, there have been many developments in design and styles that mean the effects vinyl kitchen flooring ideas can create, such as tile or wood, are incredibly realistic', says Snazel.
If you're looking to emulate natural stone or wood kitchen flooring without the associated price tag and maintenance, luxury vinyl tiles are an excellent — and almost indistinguishable — alternative, says Sarah Escott, Design Manager at Amtico.
'Stone and wood LVT are designed with authentic colors and textures inspired by natural materials, and are available in a multitude of colors, so they are the best kitchen flooring option if you want to recreate the appeal of natural wood and stone without thinking about the maintenance required.
'LVT boasts a huge number of benefits that simply cannot be replicated with its natural counterparts. On top of being water and scratch-resistant, LVT is also easy to clean and look after.'
7. Conjure polished concrete floors with single sheet vinyl
While LVT has its benefits, so does single sheet vinyl. In this kitchen, large format sheets have been used to create a seamless look, one that replicates that of a polished, poured concrete floor at a fraction of the cost and fuss.
No joins means no visual distraction, just pure uninterrupted color — in this case, a glistening gray that runs throughout the large open plan kitchen.
'Open plan kitchen layouts are growing in popularity, and selecting a contemporary style floor that can flow through all areas connects the zones and creates the illusion of a larger space', says Snazel.
8. Renew classic chessboard patterns with gray
While black and white checkered floors have hundreds of years of history, they are heavily associated these days with mid-century vinyl kitchen flooring ideas.
To shake off thoughts of a bygone era, update your chessboard floor by switching black for gray. In this chic gray kitchen, a checkerboard floor is created from medium-sized format LVT, with both the white and dark gray panels mottled with a natural stone effect. The result is a gentle softening of the most classic of contrasts.
9. Get the pale, warm wood trend, but make it vinyl
Both natural textures and pale colors are trending right now, so get the best of both worlds with a vinyl that mimics dreamily pale woods.
'If you are looking for small kitchen ideas, lighter floors will help open the space and create the perfect base to build upon with trending accessories,' says Snazel.
This pale oak-effect LVT laid in a parquet style is combined with pale neutrals across the rest of the room to create a calming space.
10. Emulate complex tiling patterns affordably
Tiling is having a big moment in kitchen and bathroom design. Complicated patterns, using multiple colored and unusually shaped tiles, are a standout among the genre's latest trends — but laying them is a messy process that takes time, skill and, of course, adds to your kitchen flooring costs.
Speed things up by opting for sheet vinyl or larger vinyl tiles that emulate this look. In this kitchen, a 3D-style patterned floor looks like it is made of many small diamond porcelain tiles, when it is in fact made of fewer, larger vinyl tiles.
11. Add a lot of color with little fuss
If you want not just a pop of color but a bang, vinyl flooring is an easy way to add bold kitchen colors into a room in one swift act.
It needn't be a garish addition — this kitchen contrasts traditional-style, green-gray cabinets with a warming red ochre vinyl floor, that is softened with a subtle texture, that hints at gentle leather-like ageing.
12. A natural stone effect that doesn't cost the earth
Wood and ceramics aren't the only materials vinyl can imitate – natural stones like slate can be deftly recreated for a considerably smaller cost.
'For the authentic country kitchen feel, muted wood or stone flooring offer a chic yet rustic look,' says Snazel. 'If your budget won't stretch to authentic stone or reclaimed timbers, consider using a hard flooring or vinyl solution. They look convincing but cost a fraction of the expense of sourcing and fitting stone floors, and take far less time to install.'
13. Channel Mediterranean-style encaustic tiles
The encaustic tile trend has taken the motifs of the Mediterranean around the world – but it's more than possible to get a similar look in easier-maintained vinyl.
Encaustic tiles are made from different colored cements that are pressed together – this means their elaborate patterns are long-lasting, but their porous nature can make them tricky to clean.
In this kitchen, vinyl tiles are decorated with similar multicolored motifs and can be wiped clean with ease.
14. Mix natural textures with modern geometric layouts
As this kitchen demonstrates, you don't need to choose between a jazzy geometric pattern and a natural wood look. Do both by embracing different tones of wood and stone – an easier thing to do with purpose-manufactured vinyl than with its organic counterparts.
This LVT floor from Amtico arrives as tiles in different wood tones, with instructions on how to lay them to create this undulating herringbone pattern.
15. Catch onto contemporary tile styles (without the commitment)
Tile trends come and go – but porcelain and stone tiling is designed to last you a long time. If you're enamored by a certain flooring trend right now, but not sure how you'll feel about it in a few years time, try it out in vinyl.
This hexagonal-patterned vinyl floor is an on-trend winner, and as well as being easier to lay, it's much easier to change around in the future if another style takes your fancy.
16. Dare to stand out with patterns on patterns
If you've gone all out with bold walls, why not take the party to the floor too? In this kitchen, a vintage-style red and white wallpaper is contrasted with a blue and white vinyl sheet floor, mixing a curved, nature-inspired print with an intensely geometric look.
Snazel warns, however, that you should be sure you have the right space to make it work. 'In awkward spaces with curved walls or tight corners, try to avoid patterned floors as the pattern may be interrupted', he says. 'It's best to employ an experienced fitter who will be able to ensure that the floor is properly laid and aligned in these spaces.'
17. Go both big and small with your tile choices
If you're not quite in the market for all-out pattern but are looking to add a touch of visual interest to a pared-back floor texture, consider playing with scale in your vinyl kitchen flooring ideas.
In this kitchen, a combination of smaller and larger square tiles in the same concrete-inspired finish are tessellated together to add a contemporary quirk to what could be a very straightforward flooring choice.
Can vinyl flooring be used in the kitchen?
Of course – both standard vinyl and luxury vinyl work well in a kitchen environment.
'LVT can absolutely be used in the kitchen', adds Escott. 'LVT is hard wearing and durable thanks to its multiple layers, meaning it is able to withstand the demands of a busy kitchen. LVT is also water and scratch-resistant, so drink and food spills and dropped cutlery will not leave any marks or affect your floor.
'It is also easy to clean and look after. The kitchen is one of the most high-traffic areas in the home and so picking a floor that requires low maintenance is key.'
What is the best vinyl flooring for kitchens?
When making a choice between standard and luxury vinyl, you'll most likely find that the decision hinges on cost. Luxury vinyl trumps standard in almost every way, but is more expensive.
'Vinyl is a great choice for busy families with children as it is highly water-resistant and durable whilst being softer and warmer underfoot than laminate,' says Snazel.
'Alternatively, luxury vinyl is an elegant choice as it effectively emulate more expensive design styles, whilst being incredibly practical. Just as easy to maintain as vinyl flooring, luxury vinyl is also water resistant, ideal for kitchens and bathrooms, and is compatible with underfloor heating; which will resolve any concerns that feet will be cold.'
Be aware that the key advantage sheet vinyl has over luxury vinyl is a little extra waterproofing – no joins means no cracks for water to seep through.
Sign up to the Homes & Gardens newsletter
Decor Ideas. Project Inspiration. Expert Advice. Delivered to your inbox.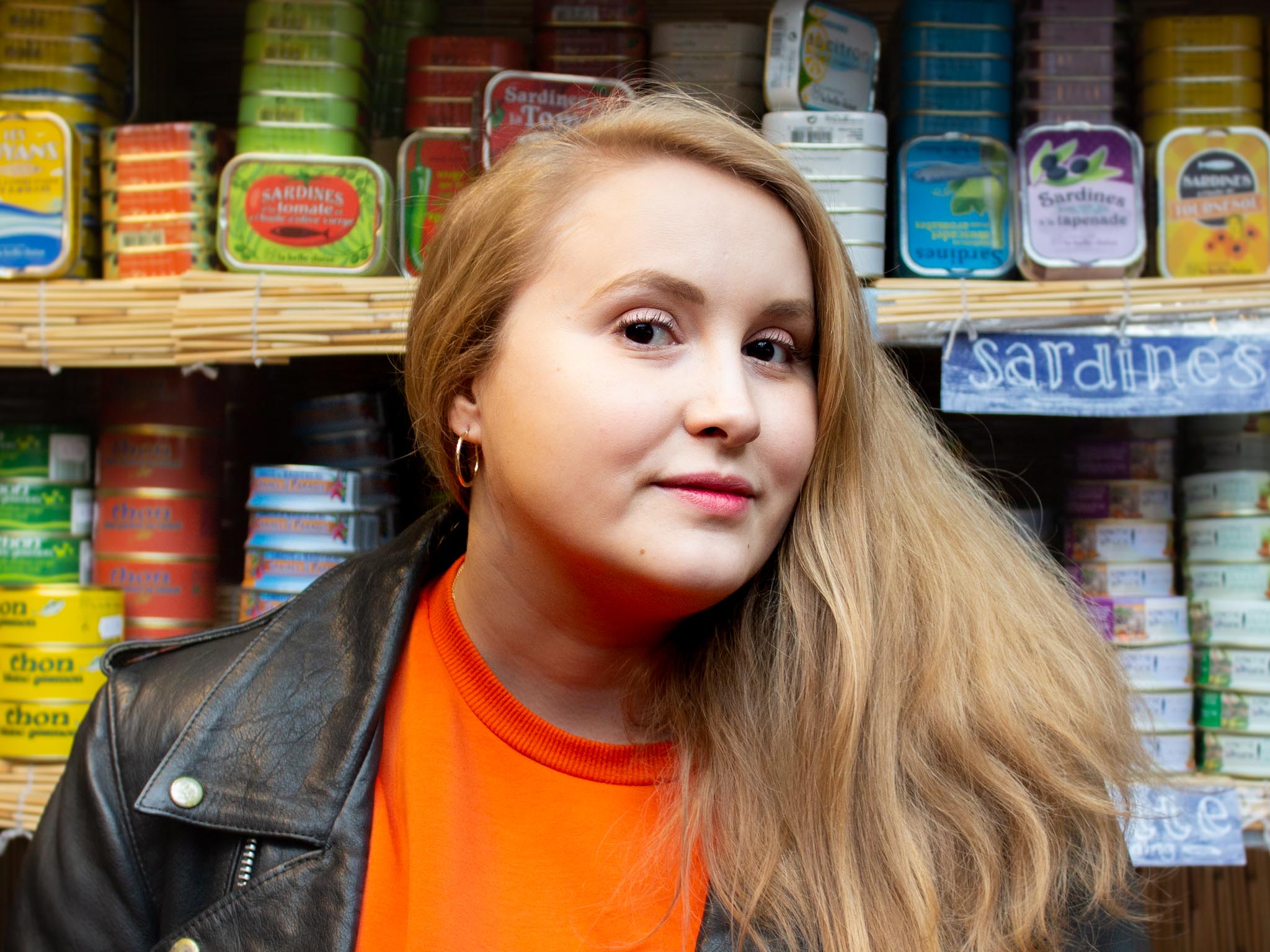 Ailis started out at British GQ, where a month of work experience turned into 18 months of working on all sorts of projects, writing about everything from motorsport to interiors, and helping to put together the GQ Food & Drink Awards. She then spent three years at the London Evening Standard, covering restaurants and bars. After a period of freelancing, writing about food, drink and homes for publications including Conde Nast Traveller, Luxury London and Departures, she started at Homes & Gardens as a Digital Writer, allowing her to fully indulge her love of good interior design. She is now a fully fledged food PR but still writes for Homes & Gardens as a contributing editor.