Kitchen floor tile ideas – 19 handsome but hardwearing choices
These kitchen floor tile ideas show how you can create endless looks for your space, all the while keeping it super practical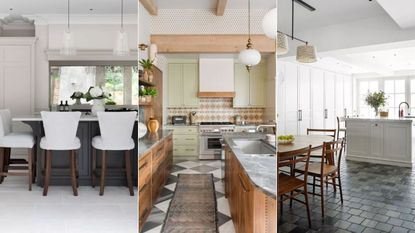 (Image credit: Humphrey Munson / Cortney Bishop / Anna Stathaki )
Feeling a little overwhelmed in your hunt for kitchen floor tile ideas? We don't blame you – tile is having a serious style moment, and now comes in more shapes, sizes, colors and finishes than possibly ever before.
Tile is among the best options for kitchen flooring, as the kitchen is a room of the house that not only sees a lot of footfall but also the occasional messy accident. More durable than the likes of hardwood, vinyl and laminate, tiles also tend to be more waterproof and generally easier to clean.
What's more, the design possibilities with tiles are endless. Colored porcelain tiles allow you to inject individuality into your kitchen ideas, while the enduring appeal of natural stone can lend either luxury or rusticity, depending on your desired end result.
Kitchen floor tile ideas
To help you pin down the right tile (or tiles) for the hub of your home, we've pulled together some advice from industry experts as well as examples of inspiring kitchen floor tile ideas that we love.
1. Try stone-effect porcelain tiles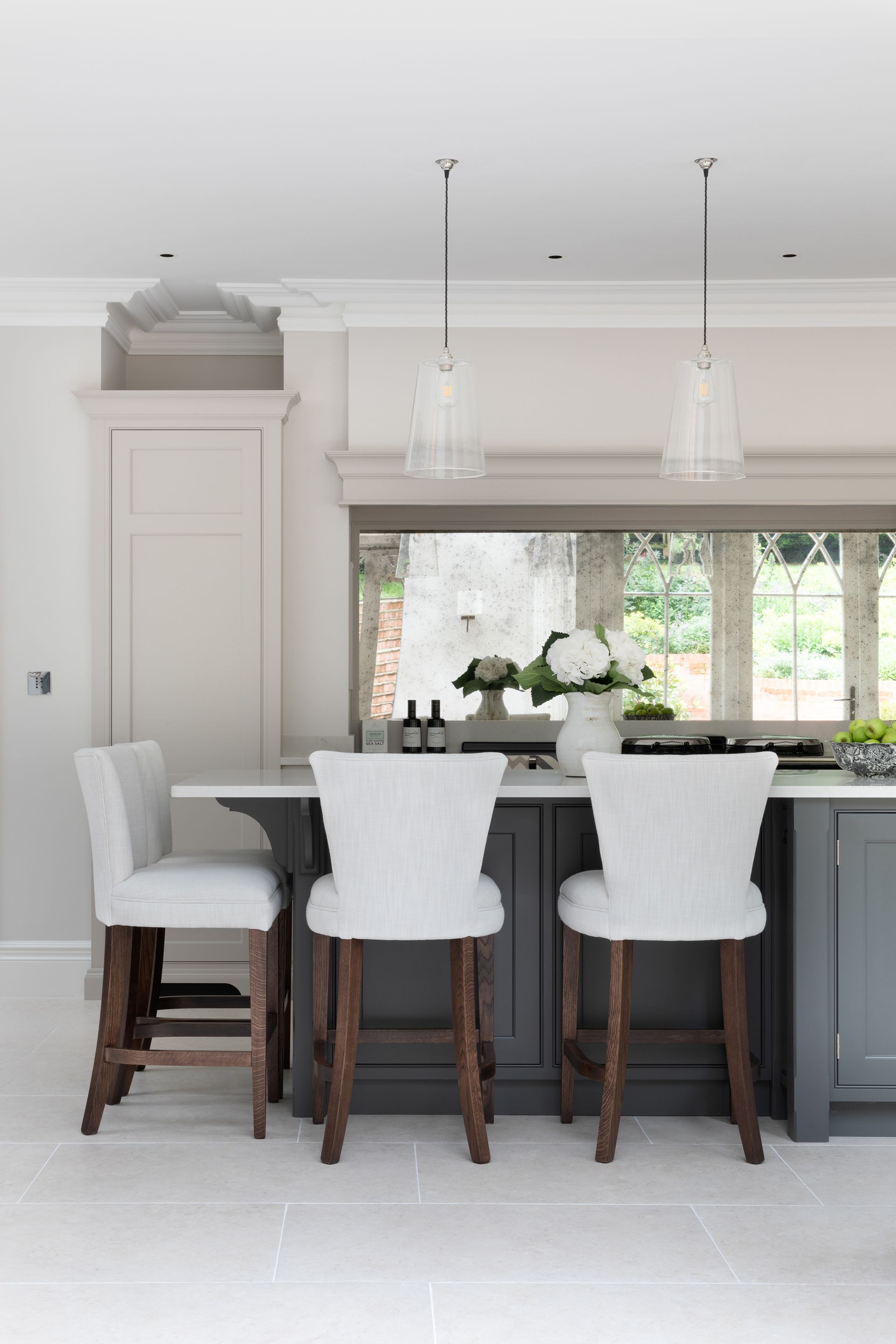 Combining the beautiful look of natural stone with the practical benefits of being durable, easy to lay, clean and maintain, stone-effect porcelain is a brilliant choice for kitchen floor tiles. Available in a huge variety of stone effects finishes, porcelain tiles are non-porous so do not require sealing like many solid stone tiles, plus they are generally more affordable than stone, too.
To reflect ample light back into the room and bring an uplifting feel, consider using an off white design as demonstrated here in this kitchen addition.
'This Wilton natural effect porcelain captures the softness and innate uniqueness of limestone perfectly,' says Louisa Eggleston, creative director at Humphrey Munson. 'The Wilton porcelain tile is durable and hardwearing, is perfect in both traditional and modern schemes, and can help to create a feeling of light and space as well as bringing warmth to a scheme thanks to its golden tones.'
2. Add texture with a cobbled floor
Different stone flooring types can be used to create varied effects: large-format, high shine kitchen floor tiles are perfect for modern kitchens; farmhouse kitchens will benefit from a more authentic approach with cobbles.
'A fairly plain, pared-back kitchen design can be given instant character with a natural stone kitchen floor tile,' says Lucy Searle, Homes & Gardens' Editor in Chief. 'Consider the color of the stone: a gray, like this stone, will look cool and calm in a sunny room, while a north-facing space might need a warmer terracotta.'
3. Create a seamless link between kitchen and yard
Kitchen floor tiles suitable for indoor and outdoor use are becoming increasingly popular in kitchens as we seek to use patios as an extension of open plan kitchens and living spaces.
'Choosing tile which is suitable for use in the house and also outside can be the perfect way to create a unified look and add flair to your home,' explains Harriet Goodacre, brand communications manager and tile consultant at Topps Tiles.
'We'd recommend opting for porcelain tiles with high slip resistance, such as vitrified porcelain, as these tiles are impervious to frost, mould and staining, making them a perfect investment for your home. Porcelain tiles are also easy to clean and maintain throughout all seasons, making them the ideal choice for an indoor-outdoor look,' she adds.
4. Bring warmth with brick kitchen floor tiles
if you're looking to bring a lived-in, rustic look to a cottage kitchen then consider bricks. 'With their unique and characterful surface, bricks provide a warm and traditional feel to a kitchen,' says Adrian Bergman, design manager at British Standard by Plain English.
While they look beautiful they do have some drawbacks he explains. 'It is worth bearing in mind that they are difficult to maintain and clean, so we tend to recommend them for ancillary spaces such as mudrooms, utility rooms and pantries where the footfall tends to be lower.'
5. Create a vintage feel with encaustic tiles
Whether you're looking for kitchen floor tiles for a period home or love the vintage kitchen look, patterned Victorian-style floors make a great feature in a kitchen.
To be sure it is both stylish and durable do consider the material of the tile advises Adrian Bergman, design manager at British Standard by Plain English. 'If you are looking to incorporate an intricately patterned tile, such as those seen in historic Victorian buildings, then opt for an encaustic tile,' he says. 'Unlike a glazed tile, these tiles are made up of two or more colours of clay or cement inlaid together so the pattern won't wear off over time.'
6. Update checkered flooring with marble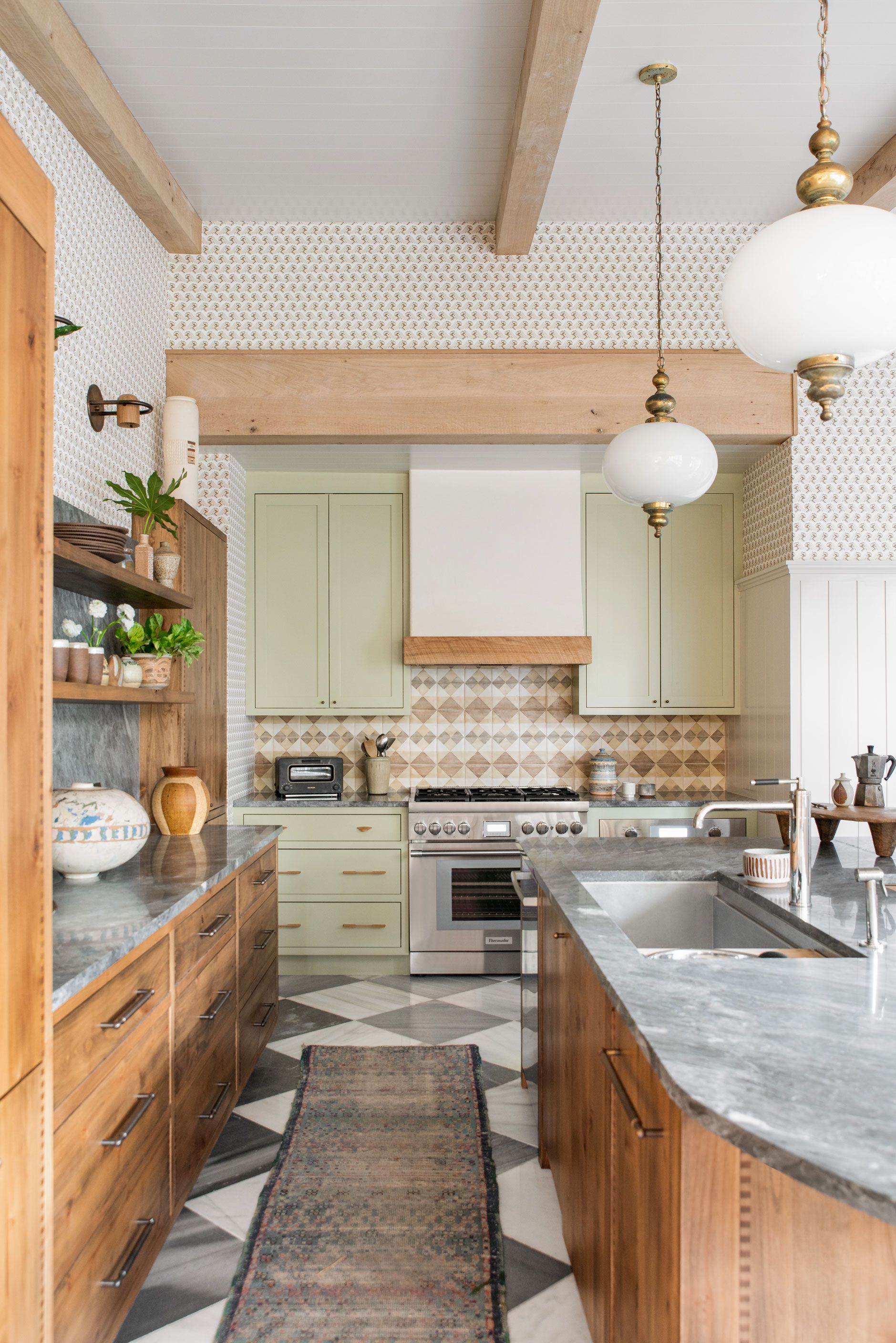 The black and white checkered floor is a design staple when it comes to kitchen floor tile ideas, with not just hundreds, but thousands of years of history. To keep yours very 2020s, consider softening this statement with marbled tiles, layered with a kitchen rug.
Black can even be substituted for a darker gray with white veins, as seen in this room by designer Cortney Bishop, while a Calacatta-style white marble pulls in the gray from its neighbour to make the contrast a little more considered and subtle .
7. Add a pop of color
If opting for bright walls or kitchen cabinet colors feels a little too 'in your face', take your pop of color below eye level.
In this kitchen, a farmhouse-style, neutral kitchen is emboldened with a red tiled floor. A mismatched geometric pattern brings both modernity and a sense of fun to the room, while a carefully chosen tint of pale red allows the floor to harmonize with the cream fixtures and fittings.
8. Lighten a room with pale natural stone
If you want a kitchen that's light and bright from top to bottom, an almost-white natural stone, as used in this elegant white kitchen, combines freshness with depth thanks to subtle organic markings.
'For rooms that require effortless peace and tranquillity, the "barely there" look is all about soft kitchen color ideas in natural, neutral and nude tones,' says Hamish Smith, creative director at Ca' Pietra.
'This palette complements all projects, from period properties and barn conversions to rustic retreats, eco builds and more. It's a style that embraces a "no colour" rule – think of hues that are warmer than white, with soft, gorgeous shades which are instantly relaxing the moment you enter the room.'
To make the most of its light-bouncing qualities, choose polished kitchen floor tile ideas with a moderate shine, and keep the edges of stones ultra crisp. Ensure your grouting is of a similar color to ensure a seamless impression across the room.
9. Get on trend with hexagon tiles
Fashion forward folk should think outside the box with their kitchen floor tile ideas and plump for tessellating shaped tiles. Swap four sides for six with on-trend hexagonal tiles, which work for floors in all sizes, from large stone slabs to small, mosaic-like ceramics.
You can opt for subtle tonal variations to create a sense of movement in the floor, or get funky with a contrasting color scheme like in this burnt orange, black and white kitchen.
10. Shake up a contemporary kitchen with diagonal tiling
With all their slick lines and exacting corners, ultra-modern kitchens can run the risk of looking all too square. To inject a little more personality into the room, consider ditching the perpendicular when laying your kitchen floor tiles and go diagonal.
A pleasant visual surprise, the diagonal layout in this earthy gray kitchen helps open up the space and subtly loosen any rigidity.
11. Pick patterns with Mediterranean-style encaustic tiles
For pattern inspiration for your kitchen floor tile ideas, take a trip to warmer climes. Take inspiration from the likes of Portugal, Spain, Morocco, the Amalfi coast and the south of France for tiles with bold repeated patterns.
These patterns traditionally appear on encaustic tiles, a tile made with different colors or bonded cement, meaning the pattern isn't painted on but intrinsic to the tile's fabric.
12. Use kitchen floor tile ideas to zone areas
While entirely tiled floors can be the best kitchen flooring choice, tiles can also be used more selectively to zone areas of a larger open plan space.
In this example, geometric patterned tiles pick out the breakfast bar area while wooden floorboards stretch across the rest of the kitchen.
Instead of using differing materials, you can even use kitchen floor tile ideas to zone areas by using different colors or patterns to lend distinction to sections of the room.
13. Pair terracotta with blue for a balanced color scheme
As a color, terracotta is trending across all parts of the home right now, from wall paint to textiles. If you're enamored with its earthy tones, embrace it in its original form and use the material for your kitchen floor tile ideas.
To modernise its orangey tones, pair it with a refreshing, intensely hued blue. In this kitchen, herringbone tiles contrast vividly with Prussian blue cabinets, alternated with white for yet another hint of the Mediterranean.
14. Mix rustic kitchen floor tile ideas with modern fittings
Tiling has stood the test of time for millennia, meaning there's no reason why it won't work in an ultra-modern kitchen in 2021. You can keep things slick with large slabs and minimal grouting, or dive head into contrast by mixing rustic kitchen floor tile ideas with contemporary fixtures and fittings.
In this farmhouse kitchen, high-gloss black cabinets and chrome worktops contrast with mismatched aged terracotta tiles, paying homage to the house's history amid a stylish update.
15. Embrace nature's tonal range
When it comes to natural stone, no two tiles are ever going to be the same. That's a beautiful thing, so instead of hiding the tonal differences that appear in your tiles, make a feature of them.
'When choosing a natural stone it's always important to think about how the space is going to be used,' says Smith. 'If it's a family home and there is a lot of lifestyle activity with socialising, entertaining, cooking, family and pets, then more characterful kitchen floor tiles with fossil content, texture and tonal variation will withstand the most active of lifestyles.'
In this kitchen, a high-shine granite flooring laid in square tiles showcases a real range of shades, placing darker pieces of stone next to lighter tiles to really demonstrate the material's breadth.
16. Stay trendy with terrazzo
Fun, wide-ranging and visually entrancing, terrazzo tile trends are taking over walls, floors and more.
Combining the unpredictable wonders of natural stone with endless colorways and a touch of vintage chic, the hugely popular pattern makes for super stylish kitchen floor tile ideas (and also helps to hide any crumbs left behind by the kids).
In this kitchen by Ca' Pietra, a large format pattern allows for plenty of neutral space between its colored shards, which pull in colors from across the rest of the design.
17. Keep the edges sharp for contemporary slate floors
Gray slate tiles are an enduring favourite when it comes to kitchen floor tile ideas. The key to keeping them up to date is ensuring a crisp silhouette — make sure the edge of each tile is sharp and the grouting is relatively indistinct from the tile itself.
To balance slate's darker tones, take some notes from this kitchen and pair it with lighter brown woods, and even an exposed brick wall
18. Create bespoke pattern with multicolored kitchen floor tile ideas
Your tiled floor doesn't have to be just one color — and if you're working with more than one color, there is no rulebook that says how you have to lay them. That means it's time to get creative with your kitchen floor tile ideas by using different colored and shaped (as long as they all tessellate) tiles, to create a completely unique floor design for your kitchen.
Here, a collection of different shaped tiles in a range of grays and a deep green-blue are placed together to create an eye-catching irregular pattern that acts as a border around the edge of the room.
19. A little underfoot texture is no bad thing
Love the unpredictable patterns that come with natural stone? Then learn to love its organic texture too.
For a more rustic approach perfect for farmhouse kitchens, consider swapping smooth tiles for those with a little underfoot texture, like these used in this rustic galley kitchen. Light catches the crevassed surface of the stone, preventing it from feeling too dark.
What are the best tiles for a kitchen floor?
When it comes to pinning down the best material for your kitchen floor tile ideas, you need to think about how you use the room and what your priorities are. If you have kids, are a keen cook or even just a little clumsy then you're going to want something easy to clean — for that, opt for porcelain, which is sealed.
'Porcelain has come a long way in recent years and the designs produced in Italy and Spain are second to none and extremely uncanny to a stone', says Isabel Fernandez, director of Quorn Stone. 'A porcelain tile is non-porous and will therefore provide a stain proof option, which can be preferable with young children!'
'Natural stone flooring can be one of the most forgiving floor coverings if the right stone and finish are chosen', adds Fernandez. 'Naturally some stones will be denser than others which provides more durability, however all natural stone will be subject to a little wear and tear over the years. A tumbled finish provides an aged look. Its worn edges, textured surface and natural markings makes it extremely forgiving with day to day crumbs and dirt.'
If pattern is an absolute must, then encaustic tiles are much more durable than painted ceramic tiles — as their pattern is pressed into the tile itself, it won't wear away. They are, however, porous and more difficult to clean.
What's trending in kitchen floors?
Lighter tones are trending across all kitchen flooring materials, as well as natural materials, all contributing to the increasingly popular 'barely-there' look.
'At the moment we find customers are leaning towards larger tile sizes, as often minimising the number of grout joints is a priority,' adds Fernandez. 'In terms of trends, we always advise customers to steer clear of kitchen trends and go for a classic style in the kitchen area.'
If you want a natural wood kitchen flooring texture with the ease of installation and care that comes with tiling, consider new vinyl kitchen flooring ideas such as luxury vinyl tiles (LVT). These can be made to convincingly resemble wood or natural stone but are waterproof and easy to clean.
With regards to kitchen floor tile ideas, ditching the oblong is proving hugely popular, with hexagonal, chevron and diamond shapes all shaking up the status quo. Laying oblong tiles in a herringbone shape is also trending across both kitchen floors and walls. Terrazzo is another huge trend dominating both kitchens and bathrooms, also providing a fun spin on classic tiling.
Sign up to the Homes & Gardens newsletter
Decor Ideas. Project Inspiration. Expert Advice. Delivered to your inbox.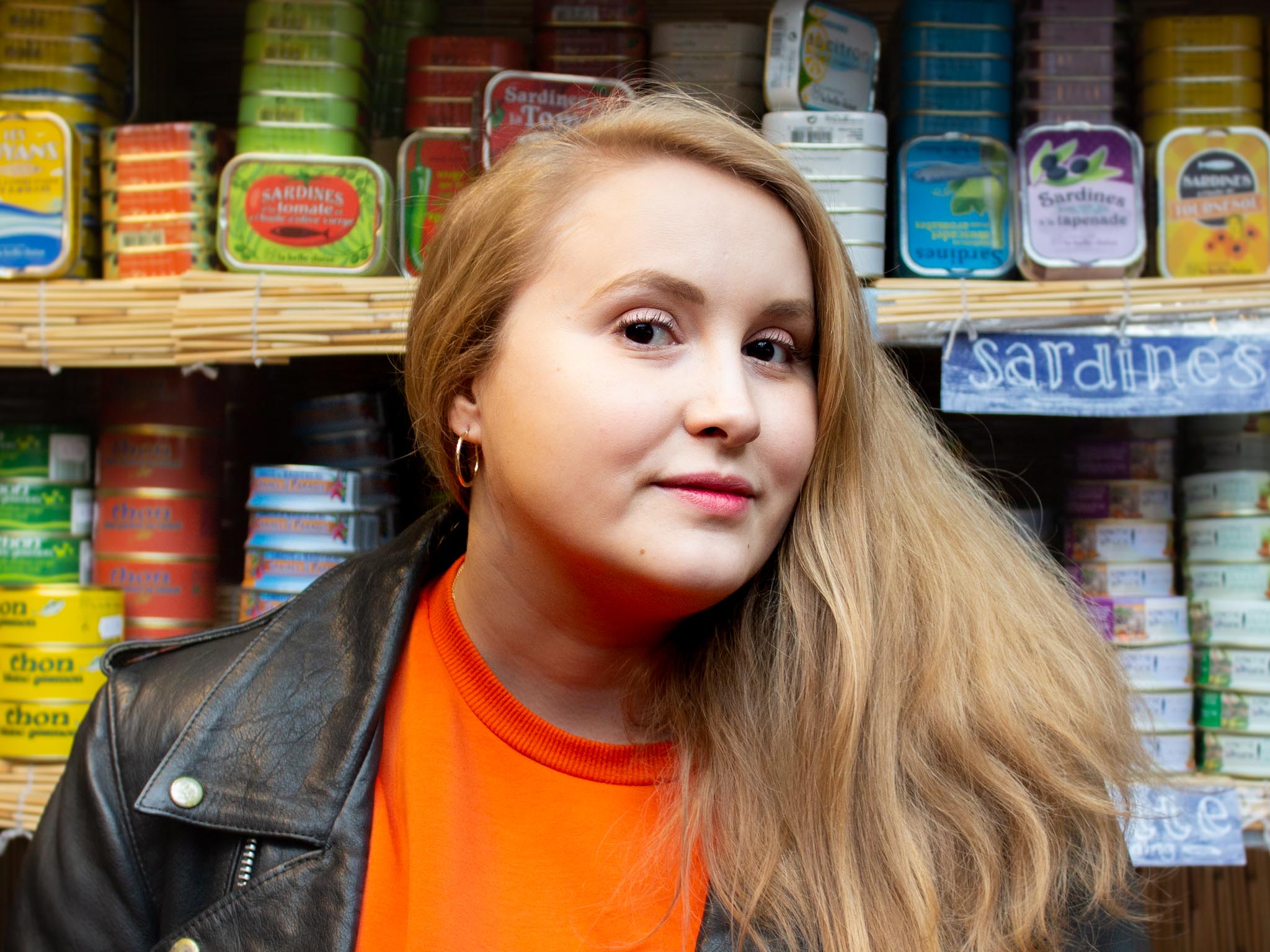 Ailis started out at British GQ, where a month of work experience turned into 18 months of working on all sorts of projects, writing about everything from motorsport to interiors, and helping to put together the GQ Food & Drink Awards. She then spent three years at the London Evening Standard, covering restaurants and bars. After a period of freelancing, writing about food, drink and homes for publications including Conde Nast Traveller, Luxury London and Departures, she started at Homes & Gardens as a Digital Writer, allowing her to fully indulge her love of good interior design. She is now a fully fledged food PR but still writes for Homes & Gardens as a contributing editor.
With contributions from