Modern kitchen ideas – 35 contemporary designs for cooking and entertaining
Our modern kitchen ideas encompass every aspect of decor, from cabinets and countertops to storage and backsplashes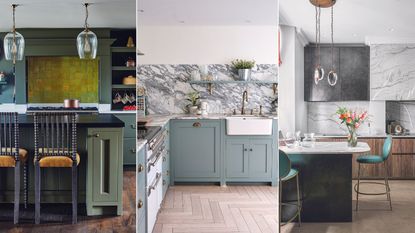 (Image credit: Future)
Welcome to the world of contemporary kitchen design. Our modern kitchen ideas move beyond the pared-back boxy styles of old to explore the exciting range of materials and finishes now available for cabinetry, floors and walls.
Newer kitchen ideas focus on creating mood and recognize the time we spend in the space – so versatility, comfort, lighting and entertainment have become super important.
The old cliché of 'hub of the home' is truer than ever – all life happens here, so even dedicated work stations are finding their way into modern kitchen layouts. Appliances are quieter, while new technology is super-connected so dinner can almost take care of itself.
And because we don't want to spend all day looking at the nuts and bolts of our kitchen, modern solutions hide it all away behind tall cupboard doors, using clever storage systems to make the most of the full height of space.
When it comes to designing a modern kitchen, think about what you need from your space. The latest trends in kitchen design include to easy-clean surfaces, more storage – go ahead and prioritize that walk-in pantry – and hydroponics that will bring the herb and salad garden indoors.
Modern kitchen ideas
From the most advanced of appliances, to modern kitchen lighting and cutting edge cabinetry, we bring you the best contemporary kitchen ideas for design inspiration.
1. Add edge with deep countertops
Give a modern kitchen extra wow by adding a statement stone-topped island as the centerpiece of the scheme. Create a plush look with bespoke island countertop ideas with a generously deep overhang instead of a standard thickness top. A modern twist on the classic waterfall edge, it stops short of the floor, leaving space for extra units underneath while still looking super-luxe.
'It's brilliant for showing off a statement stone, like this Patagonia quartzite,' says Alice Hood, Roundhouse designer. 'And unlike with a waterfall, you don't sacrifice storage. The cabinets beneath this chunky countertop are full height.'
2. Keep it pale and interesting
White is often the go-to color when it comes to modern kitchens, but if not designed carefully, white kitchen ideas can sometimes end up feeling quite harsh and clinical looking. Bringing in warmer wood tones, whether on cabinetry or timber flooring, can be a good compromise that will add warmth and character while still feeling fresh and modern.
'White alone can look a touch stark,' says Leila Touwen, co-founder, Pluck. 'Pairing wood with white cabinetry brings warmth to this scheme, alongside texture and depth. Warm timber accentuates the subtle undertones that exist in all whites.'
Putting a warmer color on base cabinets (instead of top units) is a great way of grounding a kitchen scheme, while using a paler color above will add height and make a kitchen feel more lofty, which can be a useful trick when space is tight.
3. Opt for modern monochrome
Can't decide which color kitchen to go for? Get the best of both and opt for a two-tone kitchen combination. Using two colors is a growing trend in kitchen design right now which gives the freedom to mix things up a little and can be a great way of working in a bolder color without it dominating the space.
Black and white kitchen ideas are the perfect color combination for a modern kitchen, either with a single run of units in dramatic black with a contrast white island - or vice versa. Alternatively, consider black base units with a run of top units in white to add height to a small kitchen set-up.
'A monochrome kitchen is a particularly timeless choice for a two-tone kitchen whether you opt for a classic or more contemporary look,' says Rebecca Nokes, Head of Design & Brand Creative at John Lewis of Hungerford. 'Adding a statement piece such as this striking white marble kitchen island against the dark cabinetry prevents the overall look from becoming too dark and helps open up the space and make it appear even larger'.
4. Make it dark and dramatic
Give a dark wood kitchen a modern edge by adding equally-dark countertops and backsplashes in rich, sultry tones. Matching countertop material to backsplash ideas is an easy way of giving even the simplest of kitchens a high-end look. Whether stone, composite, marble or metallic, opt for an extra-tall backsplash on a single wall with a longline shelf above instead of a run of units. A dark color makes a high-contrast backdrop for a display area that will make kitchen pieces pop.
'Dark-colored countertops are a rising trend in kitchen design,' says Mor Krisher, Chief Designer at Caesarstone. 'Dark colors are bold and dramatic. They can have within them so many different nuances, tones and tactilities that give them different character. They can be basic or sophisticated, daring or elegant, industrial or classic, traditional or modern.'
'There is a warm intimacy that comes with the dark; a sense of quiet and calm that cossets and cocoons, that creates an atmosphere that encourages us to gather and eat and drink. A different mood descends,' adds Mor.
5. Add shine with modern metallics
From tiles and countertops to door fronts and appliances, kitchens are full of hard surfaces, which can sometimes feel a little harsh and unforgiving. Introducing a contrast element, such as a luxe metallic or rustic timber is a fabulous way of adding both a visual and tactile element to a kitchen which can help to soften the mood.
Add warmth with a metallic backsplash in a burnished bronze finish providing contrast against dark ebony wood kitchen units. Continuing the same finish onto a statement island adds extra sparkle and really ups the wow factor.
'The metallic surfaces are sheet aluminium with a patinated bronze dust finish,' says Richard Atkins, managing director, DesignSpace London. 'As well as providing warmth and interest, it comes in large sheets, which avoids unsightly joints.'
6. Focus on the finish
Finishing details are key and can be an easy way of giving a plain-colored kitchen a luxe, modern touch. This classic olive green painted kitchen by RW Armstrong feels warm and grounded, but is given an extra dash of glamor by the addition of brass accents on lighting, handles, faucet and window blind fabric.
'Pure White is always on our bestsellers list but it's been really interesting to see some newcomers which are full of confident color,' says Dominic Myland, CEO of Mylands paints. 'Messel No.39 is a new entry and is an intense rich olive and an interpretation of a color used by Oliver Messel the English artist and one of the foremost stage and screen designers of the 20th century.'
'We've seen greens in general surging in popularity over the last year,' adds Dominic. 'For homes that are decorated with palettes of greys, navy blue or red, olive green is a great tone to add warmth to an interior.'
7. Go with the grain
Combine rustic and modern with an all wood kitchen cabinet ideas that puts the focus firmly on the natural beauty of the timber. Made using upcycled oak from old French barns and railway sleepers, despite its vintage heritage this kitchen maintains a contemporary style with its clean lines, handle-free doors and drawers and lack of frills or unnecessary extra details.
8. Stay sleek and streamlined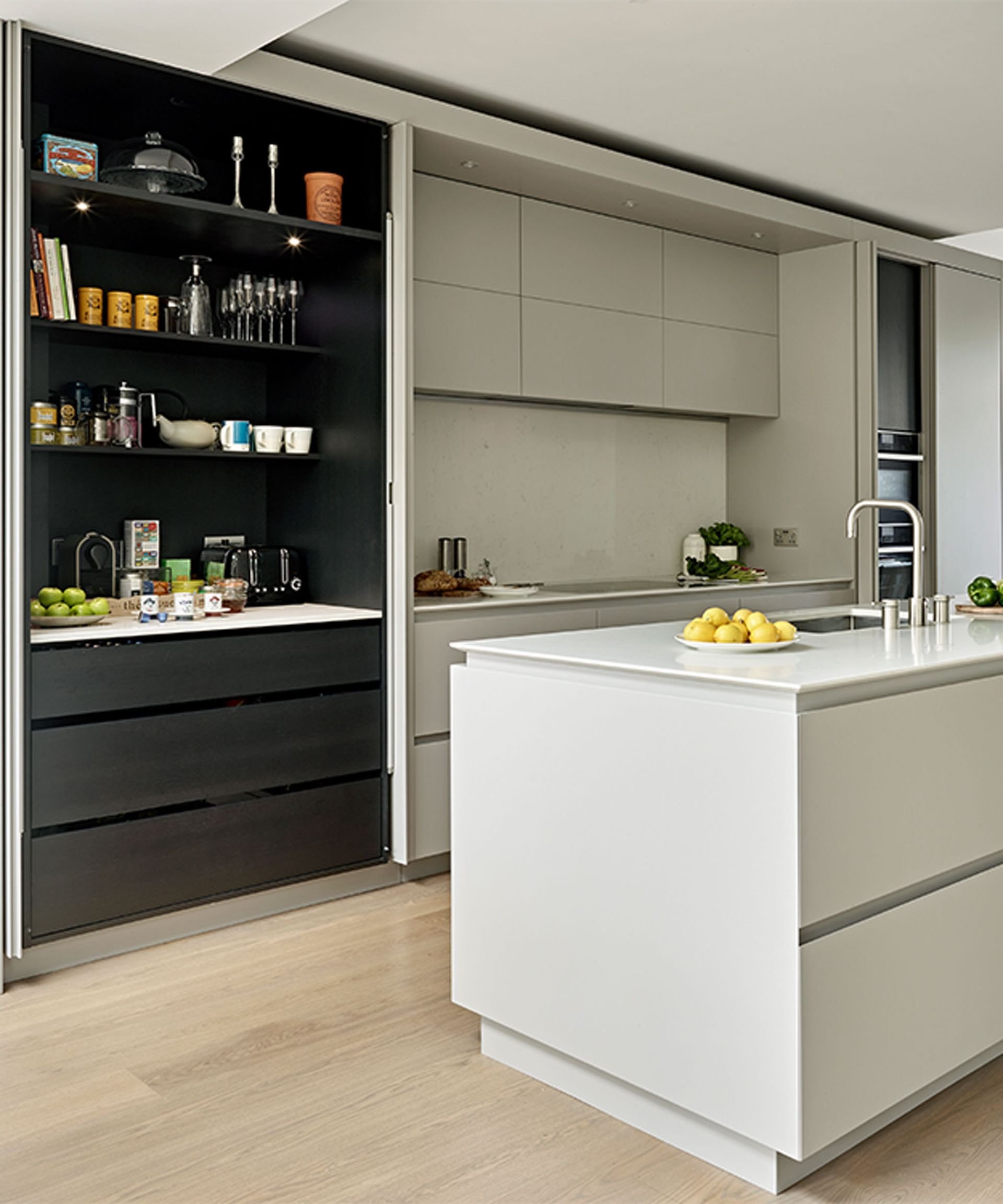 Clean lines, clear surfaces and a calm aesthetic are key when it comes to modern kitchen design, so keeping clutter out of sight is a must.
Keeping appliances behind closed doors has long been a way of concealing those less-than-lovely items, such as dishwashers, refrigerators and washing machines in integrated cabinets. Breakfast stations are the latest modern kitchen concept that sees tea, coffee and toast-making essentials tucked tidily away into one zone.
A clever way of keeping must have items organised and in one place, pocket doors or bi folds neatly tuck out of the way for easy access when in use and then close and conceal the contents when breakfast is over.
'In the flurry of action in the mornings before work and school, it makes complete sense to have your favourite breakfast items organised and in one place to get the day off to an ordered, easy start,' says Tom Howley, director of Tom Howley.
9. Opt for a supersized island
In an open-plan kitchen space or a large kitchen-diner, an island is the perfect way of creating a central focal point that visually connects the different areas. And a generously-sized space calls for an island with equally generous proportions so that it doesn't appear lost in such a vast space.
Using contrast materials for the main kitchen and an island unit adds another dimension and helps to create a change of pace. Too much of one material can look boring or feel too oppressive, so mixing it up will prevent that and add plenty of visual interest.
'A bank of built-in tall units on one side of this kitchen feature cupboard fronts made from liquid metal in a specialist shagreen finish that provides a stunning backdrop to the island,' says Ledbury Studio founder, Charlie Smallbone. 'The island is another talking point thanks to the verdigris copper panels edged in black-stained oak on one side and the black-stained oak cupboard doors surrounded by aged brass on the other.'
10. Embrace color
Adding a flash of bold color is a wonderful way of perking up a plain kitchen or giving a neutral space a more playful edge. Be as brave or as reserved as you wish, introducing colour little by little, starting with ceramics and kitchenware or experimenting with a bold floor runner or upholstered kitchen stool.
Opting for a freestanding kitchen ideas, such as an island in a standout shade is another easy way of introducing a livelier shade without it overpowering the room completely. Painting just the back panel of an island in a bold shade makes instant impact for just an afternoon's work - and can easily be re-painted should you grow tired of the color.
11. Extend a welcome
The kitchen extension is by far the most popular home improvement project, and it's no surprise. If we want to entertain in style and comfort, space is key.
Consider your needs for all scenarios, from dinner with friends to lazy Sunday mornings and family multi-tasking throughout the week. The right kitchen extension ideas can offer all sorts of clever ways to stretch your space.
12. Go wild for tiles
Vibrant kitchen backsplash ideas, and colorful tiles in general, have become increasingly popular over the past few years. They are a great way of incorporating color into a kitchen if you prefer keep core paint colors more neutral.
13. Merge old with new
If you're lucky enough to have original features like wooden beams, exposed brick or fireplaces, there's every reason to incorporate them when designing a modern kitchen.
The mix of old and new adds interest to the room and gives your home its own unique twist, a great option for adding character and texture for your kitchen ceiling ideas.
14. Play hide and seek
The pantry and utility have long hit the top of the wish list for a country kitchen, and it's turned out to be a contemporary kitchen dream too.
It's a practical set up for a sleek kitchen designed for entertaining, as it keeps the service areas out of sight. But, when you have pantry ideas this good, you might not be so keen to hide them away.
15. Light it right
A well-designed lighting scheme will take your kitchen from day to night, providing different light levels in different areas to suit all tasks. You will need bright light where you cook and prep, and softer ambient light over seating areas.
Consider how the light fittings look lit and unlit – whether you prefer a statement piece, like in this modern luxe L-shaped kitchen, or something more discreet that is happy to blend during the day, coming into its own after hours.
16. Make it easy on the eye
Be playful in the design and detailing – it's more restful for the eye. Flat-fronted doors don't have to be uniform. Mix and match kitchen cabinet ideas with different colors and tones, and break the gridlock with unusual insets.
17. Work around a table
A central kitchen table puts guests at the heart of your kitchen design. It's a long-established layout that goes back to the farmhouse table, but you do need sufficient space.
Plan for good clearance all round, and make sure there are clear pathways to any built-in appliances.
18. Have multiple seating areas
Where space allows, include a couple of different seating areas. Bar stool seating is fine for breakfast or pre-dinner drinks with guests, but it's good to have a standard height table for meals and homework.
Built-in banquette seating can be space-efficient, allowing more people able to pile in at convivial gatherings – in this case, it shares a beautiful backdrop from the relaxed living space beyond.
19. Love your separates
The open plan layout isn't for all cooks, and not all homes have the space.
There are advantages to having a separate kitchen: you can cook in peace and make as much mess as you please, plus the double galley kitchen layout is still one of the most efficient – all the more so if you take storage the full height of the room.
20. Put value in surfaces
The smooth surfaces of the contemporary kitchen are easy to care for and a cinch to keep clean. Composite surfaces are super tough and naturally anti-bacterial, which is a bonus, and they are available in a wide range of colors as well as natural stone finishes.
Silestone and Dekton both report a trend for slimline 20mm worksurfaces. 'Looking ahead to the future of kitchen design, we're expecting to see more earthy hues, with the introduction of dark brown or black surfaces in a textured finish,' says Laura Davie, marketing manager for Cosentino UK.
The new Khalo by Dekton is inspired by Patagonia Granite – one of the world's most sought-after stones due to its unique pattern and tones.
21. Go green
More than ever we are looking to connect with nature, with more glass for garden views and calming shades of green kitchen cabinetry the growing trends.
Planting indoors is also possible where there is light – even if it is just a sunny windowsill. Planters filled with herbs provide a cook with the freshest flavours at his or her fingertips, while hydroponics promise to be the future for indoor leaves.
22. Go dark
Dark shades and natural stone create a grown up kitchen with a luxe feel. The sheen of polished stone tends to reflect light so there will still be a natural play of light across the surface.
It looks smart by day and recedes by night, only coming to prominence when you choose to light it.
23. Clear the air
If the idea of island cooking appeals, choose a hob with built in down-draft extraction that tackles steam and cooking odours at source, before they can waft into the kitchen.
The latest smart technology automatically responds to the volume of steam, and this induction hob from Bosch also features flexible cooking zones and a PerfectCook sensor that precisely controls the temperature of liquids inside the pan for perfect results.
24. Connect your cooker
The latest Vivosceen Max ovens from Smeg have a super-sized screen to help view and select its automatic cooking functions.
With more than 100 customizable recipes to choose from and the facility to store 64 of your own, it takes the hassle out of dinner. Connectivity to the SmegConnect smart App means you can start cooking before you get home too.
25. Embrace cafe culture
Whether it's your get up and go or last course in entertaining, coffee has become a kitchen essential. 'Coffee is now the most popular drink in the UK,' says Neil Pooley, category manager for kitchens at Miele, 'and a built-in coffee machine can be a stylish addition to a bank of integrated appliances.'
Look for professional features such as programmable profiles and a full range of hot drink capabilities.
If you love this white kitchen's minimalist, clutter-free aesthetic then incorporating the right kitchen storage ideas is crucial.
26. Lower the volume
If the kitchen has become a home study area or is doubling up as an office, whisper quiet appliances are a must.
'Check decibel levels before you buy to ensure you won't need to talk over the noise of the extractor, and hide the washing machine and dishwasher out of sight in a utility area,' suggests Daniel Bowler, Director of Eggersmann UK.
This kitchen by Eggersmann makes use of sleek, handleless cabinetry for a streamline design.
27. Celebrate cocktail hour
The joy of a bespoke kitchen is that your design will make the most of the space and truly reflect your lifestyle.
A kitchen bar area is a wonderful addition for entertainers. Line it with a luxe material for some old school glamor and add a wine fridge and chiller drawers for ice, beer and soft drinks to make it an all-round party station.
28. Tap into trends
Longevity is an important trend across home and fashion, and investing in quality cuts down on waste.
Perrin & Rowe has looked to the industrial past for its Armstrong Mixer tap. It employs the same production skills used to build locomotives for the Great Western Railway, and is available as a single lever or bridge mixer in a choice of eight finishes, optional pulldown rinse and the choice of a knurled grip handle for an industrial look.
29. Incorporate a breakfast bar
Breakfast bar ideas are a brilliant use of space, offering seating without the need for a clunky dining room table.
Many kitchens are now designed so their islands incorporate a breakfast bar, either with an overhanging lip or with space for stools to be added.
30. Create contrast with a kitchen island
If you want to inject a bit of color into your kitchen without going for anything too bold, why not make a statement with a standout island?
A trend that's cropping up more and more is having the kitchen island a different color to the rest of the room - which is perfect if you want it to be the social hub of the space.
This one uses a black island to contrast with the white cabinets and walls - but the modern kitchen island ideas and possibilities are endless.
31. Mix up materials
If you've got a stainless steel kitchen surface then mix things up with some wooden bar stools and use a different type of wood for the table, like in this contemporary kitchen.
Mixing and matching materials will give texture to the space and bring it to life.
32. Embrace your space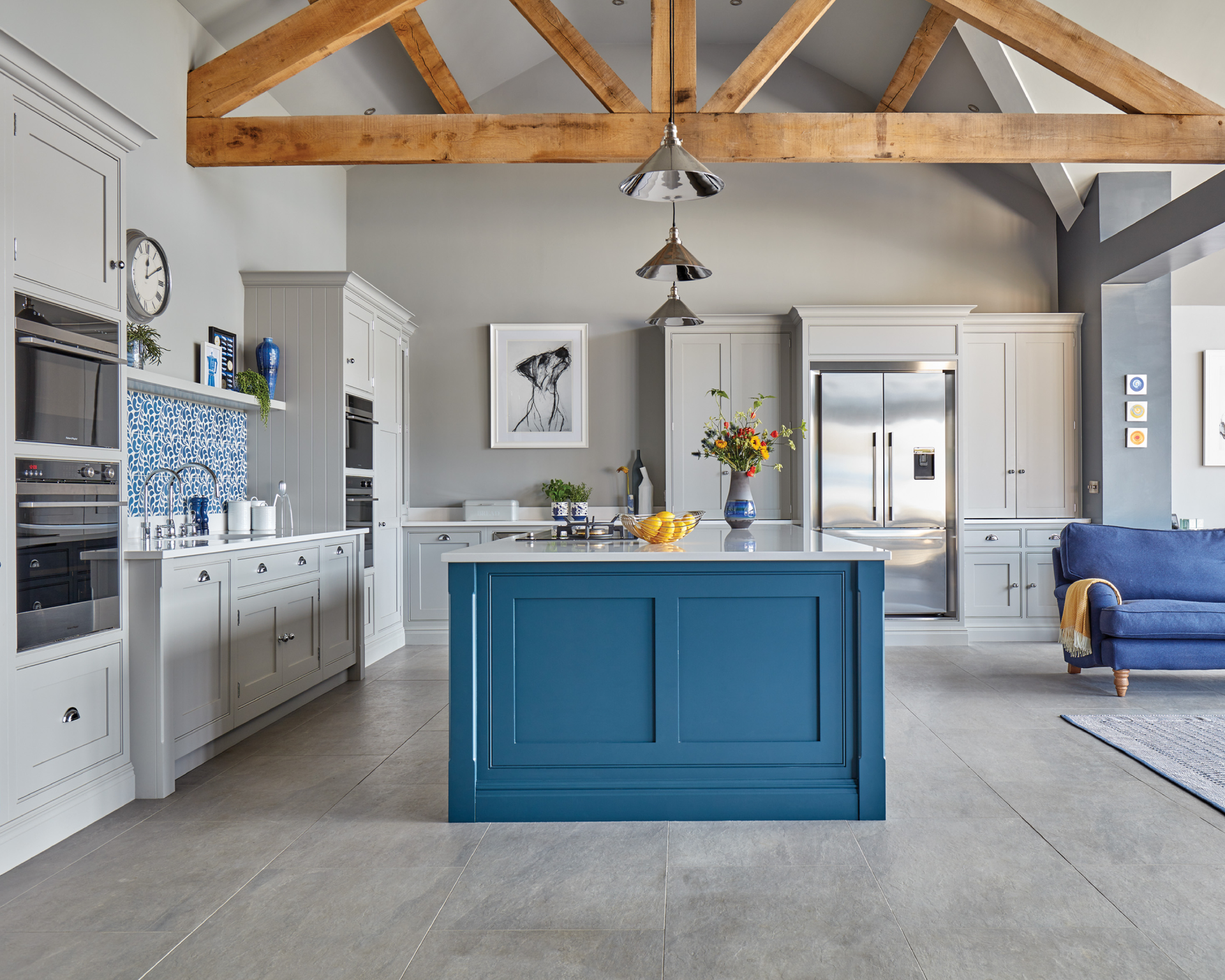 If you have the floor space, why not opt for a full-on open plan kitchen, creating a three-in-one space with a kitchen, dining room and a lounge. This is the ultimate set-up for entertaining, after all, and works well for larger families.
33. Make a statement by mismatching
A kitchen is likely to be the room in the house that you're spending most of your time in, so there's every reason to go all out with the decoration.
When it comes to kitchen color ideas, why not go for an unconventional scheme such as blue and pink, or something even brighter like a turquoise?
Don't forget to play with tiles, as well as kitchen wall decor ideas such as wallpaper and paint mural options, to really make the room pop.
34. Get creative with windows
Whether it's with an impressive skylight or floor to ceiling double doors, there are so many ways to bring a little more light into your kitchen.
And, remember, a lighter space is a brighter space – so this clever design trick will make a room look bigger to the eye, perfect when planning small kitchen ideas.
35. Play with industrial accents
An industrial edge is fast-becoming the hallmark of modern kitchen ideas, as it's a trend that's been evolving over the past few years.
Whether it's through cabinet handles, light fittings or a portable trolley-style island, there are a number of ways to incorporate these urban touches.
Also there's no reason you can't have color alongside these industrial flourishes. The above kitchen is a great example of how playful pops of color work well through the use of mismatched yet coordinated kitchen tile ideas, with an industrial style light fitting and tap.
What modern kitchen trends should I look out for in 2022?
One of the big trends for modern kitchens that can have a big effect on the overall look of a kitchen is new and exciting ways with kitchen backsplashes. Whether innovative use of materials, from marbles, stones and granites to backsplashes in bold colours, curvaceous shapes or sinuous set-ups. Swapping a kitchen backsplash is an easy way of updating a kitchen that won't necessarily involve a complete remodel.
Clever and exciting use of textures, materials and finishes is another big trend that's coming through for modern kitchens, from wood panelling, fluted finishes, textures surfaces and curved edges. While dramatic use of color is key too, from unexpected color pairings to bold and playful brights, as well as dramatic all-black kitchens also being seen more and more.
What are the must haves in modern kitchen design?
Modern kitchen design is all about a clean, pure aesthetic, so choice of cabinetry and finish will play a big part in this. Frameless cabinets, slab door fronts and handle-free profiles all keep the look fluid and streamlined, aided by glossy surfaces or low-sheen finishes, understated colours, natural materials and minimalist features.
All that being said, modern kitchen design is not without its 'wow' elements. Bold, statement pieces can be a key feature of modern kitchen design, whether it's a standout backsplash in luxe marble or a striking stone, or a grand statement island as a focal point feature. The trick with modern kitchen design is that ultimately less is more, so it's fine to go 'big' with one key standout feature, as long as the rest of the scheme is reserved and restrained in comparison.
What should a modern kitchen look like?
A kitchen has to function well, and a good designer will make that happen but, if you're going to spend time here, surround yourself with things you love.
Night owls might like to immerse themselves in a rich dark scheme with plenty of texture and flexible kitchen lighting ideas that create mood.
If your kitchen is the family hub and office, create a series of zones and add whisper-quiet appliances and bright functional finishes with a hint of color to keep the energy flowing.
What kitchen styles are on trend in 2021?
If you're wondering what 2021's kitchen trends are, they are very much led by the need for the spaces to feel warm, welcoming and above all practical.
Wood is back and is classically rich and elegant – think walnut paired with metal, texture or boldly-veined stone and hints of leather with the feel of an Art Deco bar or sumptuous home library.
In the brighter spectrum, we are seeing pared-back simplicity in plywood with candy-colored doors. It's a playful look with cubby hole storage that is functional but treads the style-line well to feel more Scandi than schoolhouse.
Open kitchen shelving ideas and storage with glass doors are here to stay, so prepare to tidy and curate a display.
What should a modern kitchen have?
Now down to the functional requirements. What should all modern kitchen ideas have? At the minimum, a contemporary kitchen should contain the following things:
1. A pantry – this is a must-have for modern kitchens, where wall-to-wall cabinetry is less important than a streamlined look where the majority of the storage is hidden away.
2. Space for dining – while many of us have opted for open-plan living over the past few years, the pandemic made us rethink kitchen layouts, meaning that modern kitchens are often part of a broken-plan layout or separated entirely from living spaces. That means dining space is important in modern kitchen ideas, whether at a roomy kitchen island, with banquette seating around a generous table, or at a breakfast bar.
3. State of the art appliances – two ovens, a combi microwave/convection oven, a gas or induction hob (depending on preference) and a fridge-freezer built for modern living. Incorporate dishwashers in drawers with the quietest of running cycles. Interested in smart appliances? See more on those below.
4. A double sink and a draining board notched into the kitchen worksurface material – or a ceramic or Corian-moulded sink and draining board in one.
5. A kitchen island – kitchen island ideas are perfect for sociable cooking, for snacking, and for children to work at while adults cook. If you have the space, plan an island in.
6. The best backsplashes – think natural materials or incredibly durable, good-looking composites that can mimic the look of natural materials but that are just about maintenance-free.
7. A well-planned kitchen lighting scheme – with separate circuits to control under-cabinet lighting, kitchen island lighting and worksurfaces, and the lighting over the dining area. Controllability is all.
What's the latest technology in appliances?
If you're unsure about the latest technology in appliances, the thing to remember is that it's all about connectivity.
Smart appliances have been sitting on the horizon for some time, focusing on great results for all cooking abilities. Ovens with pre-programmed cooking functions ensure success, and most allow you to add your own recipes too. Look for interactive control screens and interior cameras that let you keep an eye on the cake from your smartphone.
Cooktops with integrated extraction give more flexibility on where you can place the hob, while separate extractors can also talk to compatible hobs, removing steam automatically.
Samsung's Family Hub smart refrigerator streams music and television, and also has an interior camera so you can check the milk from the supermarket. Reducing food waste is top of the refrigeration agenda.
'Look for appliances with an effective fan to circulate the cool air. Separate fridge and freezer air circuits give better control,' explains Richard Treffler, manager for refrigeration at Miele. He also recommends models with drawers that control humidity, to help keep food fresh, reduce waste and save money – 'at Miele we call this PerfectFresh Pro,' he adds.
Smart technology is popular across smaller countertop gadgets from coffee machines to toasters. With these connected gadgets, you can get Alexa on to breakfast while you're in the shower.
Editor-in-Chief, Homes Audience
Amy Cutmore is Editor-in-Chief, Audience, across Future's Homes portfolio. A homes and interiors journalist of 20 years standing, she has spent much of that time writing about technology, appliances and kitchens. While other people count how many countries they've visited, Amy tots up how many countries' washing machine factories she's toured (it's eight by the way, from South Korea to Slovenia). She can't leave the house without a decent pair of noise-cancelling headphones, and is always ready to explain an acronym – be it QLED, DAB or HDMI.