Breakfast bar ideas – stylish ways to create space for snacking
Flexible by nature, breakfast bars come in a wide range of styles to suit any type of kitchen, no matter the size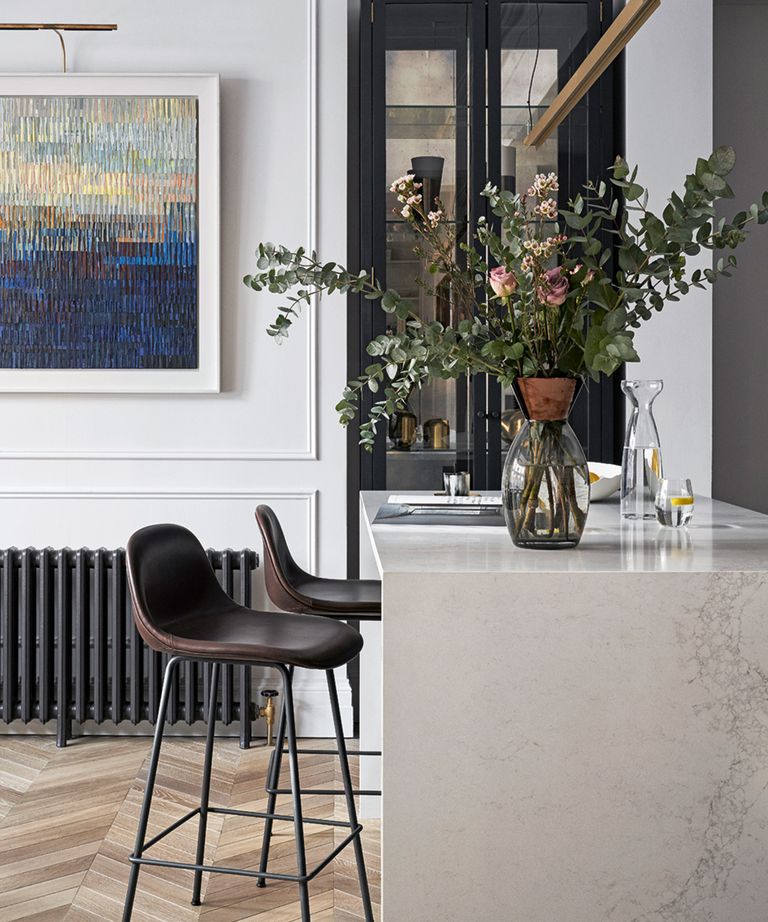 (Image credit: Davide Lovati)
If your kitchen is on the small side, a breakfast bar is the perfect solution, as it takes up far less space than a table and chairs and can double up as somewhere to prepare and present food. 
Where to install one depends on the shape and layout of your kitchen, but you could add a raised or dropped breakfast bar to an island, a peninsula or at the end of a worktop – there are so many kitchen ideas to consider.
The standard height is 900mm but if it's raised above the worktop, it should be 1200mm. Use height adjustable stools with foot rests so that everyone can sit comfortably.
Breakfast bar ideas
Before you consider our breakfast bar ideas, think: space. 
Kitchen designer Neil Lerner recommends a minimum 30cm/12in overhang to give room for bar stools. 'It's also important to allow enough room, say 60cm/24in, between the breakfast bar and any wall behind it for easy access,' he adds. 
'It can also be used as a barrier to keep children and guests from getting under your feet while cooking. Curved edges are particularly effective at guiding traffic around spaces.'
Take a look at our breakfast bar ideas for more inspiration and advice.
1. Include a breakfast bar into a kitchen island design
'Typically incorporated within the kitchen island or a peninsula scheme, breakfast bars create a relaxed, informal area,' explains says Melissa Klink, Harvey Jones Head of Design.
Stylish and practical, they offer additional worktop space and storage opportunities, while also providing a social focal point where people can gather, entertain and enjoy a quick meal. 
See: Kitchen island ideas – clever ways make a statement
2. Choose a contrasting breakfast bar material
With the addition of arresting light pendants or an eye-catching countertop, a breakfast bar on a kitchen island can become the room's design centerpiece – and this can effect can be exaggerated by choosing a contrasting material for the breakfast bar itself. 
'The addition of breakfast bar seating can create intimacy in the largest kitchen, and only requires a 40cm worktop overhang to dine in comfort,' says interior designer Abigail Hall.
3. Make it multi-functional
Connect both water and electricity, and your breakfast bar will become an impressive workhorse, incorporating cooking, washing and cooling appliances. 'This will free up surfaces in the rest of the kitchen but we also see the island as an opportunity to have extra ovens or specialist appliances such as a teppanyaki, wok burner or BBQ grill,' adds Neil Lerner.
4. Define a breakfast bar with a change of level
'Whether freestanding or built-in within the island, breakfast bars can be designed in the same material as the rest of the countertops to give the space a cohesive feel. 
'Alternatively, splitting the two areas with different materials, quartz and wood for instance, and elevating the breakfast bar slightly above the surface will help zone the kitchen,' says Melissa Klink, Harvey Jones Head of Design.
5. Fit a U-shaped layout
For anyone researching U-shaped kitchen ideas, placing a set of stools on the outside of the peninsula will create an instant breakfast bar area without any renovation work required. 
See: Kitchen island seating ideas – ways to use bar stools and dining chairs
6. Extend an island with a breakfast bar
To achieve a more styled look, why not fit a countertop surface that extends over the an island or run of units? This will give it the same feel of a dining table. And will also give family and friends more legroom, whilst also ensuring every inch of space is utilized to its full potential.
7. Add a breakfast bar to banquette seating
'One of the advantages of a breakfast bar is its size. Freestanding breakfast bars take up much less space than a dining table, particularly considering they are usually styled with stools that will be tucked underneath. If the breakfast bar is incorporated into an island, there really is no need for a dining table, unless you have the space for it,' says Melissa Klink, Harvey Jones Head of Design.
See: 10 times banquette seating has transformed a small kitchen
8. Pick natural materials
Breakfast bars had a bad rap in the past, but anyone looking for good looking small kitchen ideas will be relieved to know that they can be super stylish – and the best way to achieve this is by constructing yours from natural materials, such as exotic stone – whether real or lookalikes – matched with shapely bar stools.  
Pretty up your bar with an enormous bouquet of flowers, glass decanters and leather stools. You'll wonder why you never had a special spot for breakfast before.
9. Create a sociable curved breakfast bar
If you have the space, a curved breakfast bar will create a more sociable feel – important if you tend to entertain in your kitchen or regularly sit to eat at the bar as a family. 
10. Add a touch of luxury with upholstery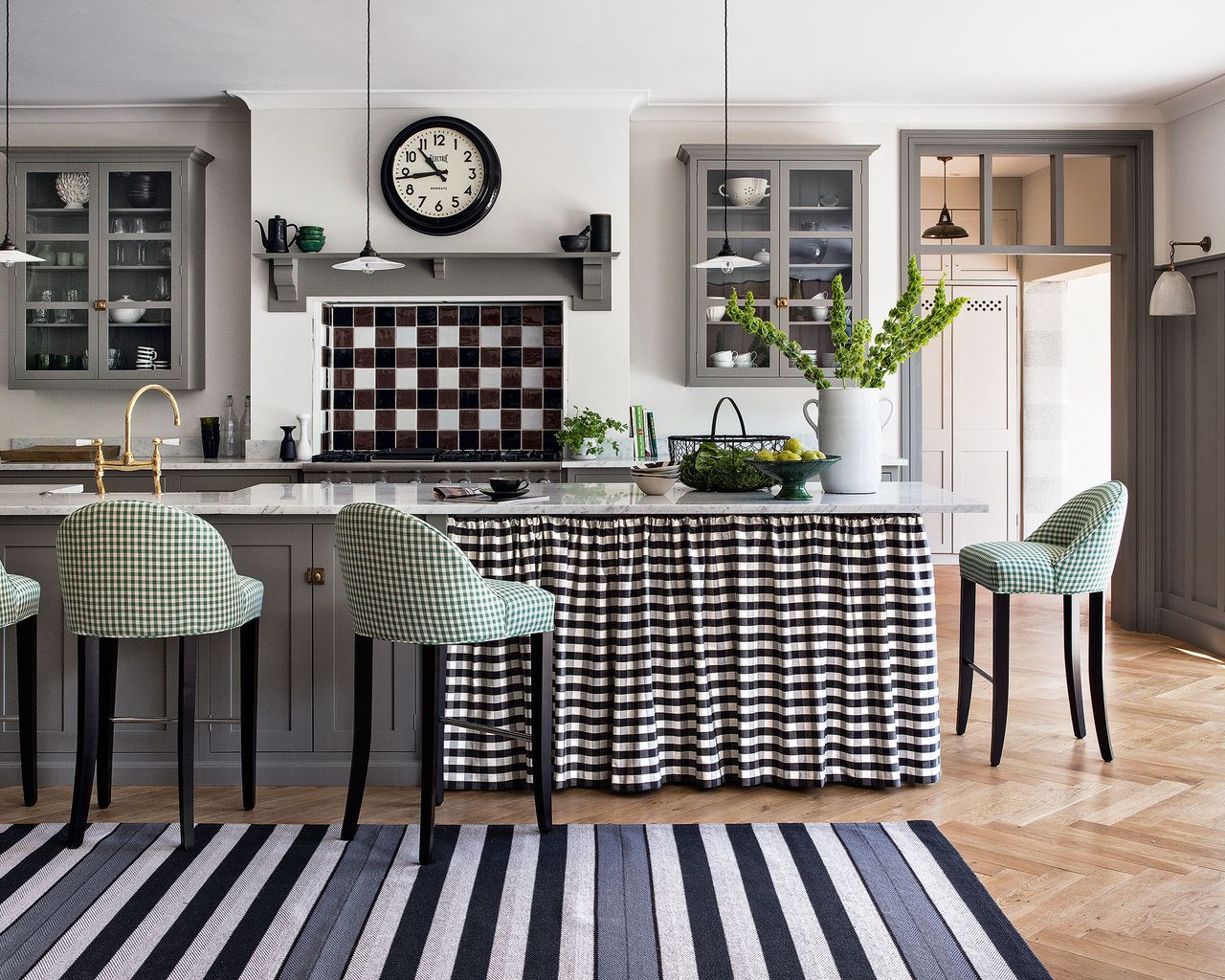 Fabric will soften a breakfast bar, so pick bar stools to tuck under that are generously upholstered, and include complementing fabrics to use elsewhere within the kitchen design to exaggerate the effect.
11. Consider L-shaped breakfast bar ideas
If curves won't suit the style of your kitchen's design, another way to create a sociable breakfast bar is to create one that's L-shaped. Here, different materials and levels have been worked into the kitchen island design to create a defined dining zone, but you can make the look subtler by simply creating an overhang on two sides of your island.
This breakfast bar layout will require plenty of space around the island, especially on these two sides – ideally you need 60cm/24in from the edge of the breakfast bar to the next unit so that there is room to push back stools safely.
12. Create a dropped breakfast bar for a flexible approach
If your kitchen has the depth, extending the breakfast bar at right angles to an island and dropping its countertop height can give you the best of both worlds – a dining area that feels comfortable, but which doesn't take up the space of a separated element.
What do you put on a breakfast bar?
Breakfast bars are often kept clear as their sole purpose is for dining. However, putting some items of display on them – from a favorite display of china to a vase of flowers – can soften their look.
Don't forget to light your breakfast bar – whether you have put anything on it or not, it will need highlighting for both decorative and practical purposes.
See: Kitchen island lighting ideas – how to light up this prime spot
How big should a breakfast bar be?
How big a breakfast bar should be really depends on available space. At the very least, i needs to be 40cm/15in deep with a 30cm/12in overhang, and should ideally sit at least two people, so needs to be around 200cm/80in wide. 
See: Designing a kitchen island – expert tips and planning advice
Remember that there needs to be a gap of around 60cm/24in between the breakfast bar's front edge and the next piece of furniture or wall so that stools can be pushed back comfortably.
As for height, this can vary depending on the type of seating, but between 75cm/30in, 90cm/36in and 105cm/42in will be comfortable.