L-shaped kitchen ideas – 18 hardworking solutions for your home
L-shaped kitchens are classic and flexible, suiting every style and size of room. These inspiring ideas will work in any space, whatever its size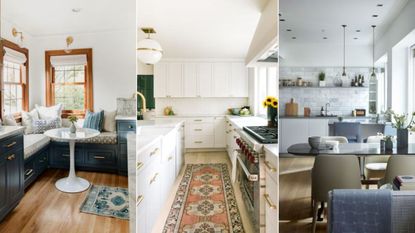 (Image credit: Jessica Nelson Design/Carina Skrobecki Photography/Future/Jan Baldwin)
It's not difficult to see why the classic L-shaped kitchen still remains such a popular layout. This classic, two-sided design works brilliantly in big and small kitchens alike and is a fool-proof layout for creating a practical and efficient workflow while you are cooking and preparing food. L-shaped layouts work with both contemporary and traditional cabinetry, and the form is flexible enough to adapt to structural needs, such as sloping ceilings or large windows.
As with all kitchen layouts, your choices are to a great extent dictated by the shape and size of your room, but that doesn't mean you have to be restricted when it comes to designing your ideal kitchen ideas.
Traditional L-shaped kitchens can easily include the 'kitchen triangle' concept so the three essential functions (the refrigerator, stove and sink), all remain within easy reach. If you prefer a more linear way of working, L-shaped kitchens are perfect for this too: position the main functions along one run of units or add in an island unit to create a flexible and ergonomic galley layout.
L-shaped kitchens are also great at maximizing storage opportunities and yet the basic layout of two runs of units ensures the space doesn't feel too enclosed.
'L-shaped kitchens are a great option if you want to make the most of a space or even open it up,' says William Durrant, owner of Herringbone Kitchens. 'They come in all shapes and sizes and can be a great alternative to islands in smaller spaces. Having L-shaped countertops can make a space both functional and social.'
L-shaped kitchen ideas
We've rounded up a selection of our favorite L-shaped kitchen ideas to help you decide if this is the right layout for you.
1. Double up on the L-shape
Consider a pair of L-shaped units for a hardworking, flexible design that makes good use of available space. Kit out one of the L-shapes with the more functional aspects of the kitchen – cooker, sink and refrigeration – and the other with a perch or breakfast bar for sociable gatherings.
Using two L-shaped units opposite each other creates a harmonious symmetry that's visually pleasing and connects every element of the kitchen for an intimate mood. In this kitchen, the use of wrap-around pure white kitchen ideas – on cabinets, walls and countertops – allows the geometry of the kitchen to be the star of the show.
2. Utilize awkward corners
L-shaped kitchens naturally have corners to design around, some of which may be awkward areas, especially if they are particularly deep or hard to reach. To ensure these corners do not become redundant, unused zones in the kitchen, seek out clever kitchen storage ideas.
In base cabinets, install a magic corner unit, with sturdy wire baskets that cleverly pull out so every inch of space in a tight, blind corner is accessible. On countertops, try a breakfast cupboard that sits directly on the counter and hides away cereals, bread crocks and preserves – it can even be fitted with plug sockets for coffee makers and toasters.
'You can fit about anything into a kitchen space if you design it smartly,' says William Durrant, owner of Herringbone Kitchens. 'Adding a breakfast cupboard with a bi-fold door makes a corner space work really hard for you. Not only does it create usable storage space that can be kept open as you make breakfast or coffee, but it also hides away items you don't need on display at all times. It also looks fantastic!'
3. Squeeze in a seating nook
One solution to utilizing an awkward corner in an L-shaped kitchen is to fit in a comfortable seating nook, which you can do with banquette seating ideas. This built-in window bench, with extra storage underneath, makes best use of the natural light pouring in through the double aspect corner. Offset with a simple circular table to soften the hard lines and sharp edges.
'We love this comfy L-shaped nook,' says Jessica Nelson, a Seattle-based interior designer. 'With windows flanking the corner, it brings in lots of natural light and makes it the most inviting spot in the house. A super functional and chic bar area to the left and the range to the right, makes this corner the place to be for breakfast or happy hour!'
4. Mirror with an L-shaped island
Large spaces don't necessarily equal more walls to design your kitchen around. This spacious kitchen is taken up with one wall of floor-to-ceiling glass windows, leaving L-shaped units on the perimeter. To maximize functionality and storage, the solution was to mirror both runs of units with a large L-shaped kitchen island.
'Large areas of glass walling limited the physical area available for kitchen cabinetry,' says Richard Moore, design director of Martin Moore, 'so we devised two L-shaped runs, one fitting within the other to create a brilliantly ergonomic solution. The outer runs includes a beautifully fitted out larder cupboard, an appliance cupboard and tall fridge freezer. The return has been cleverly extended visually to run out into the glass roofed area, creating generous space for the large hob, flanked by ovens and extensive storage.'
Mirroring the L-shape, the island puts every facility within immediate reach: two warming ovens situated just below worktop height directly face the hob zone for idea functionality. A deep overhang creates an informal seating area.
5. Work around tricky architecture
L-shaped kitchens handle awkward spaces and tricky architecture incredibly well. If you have a sloping ceiling, install two runs of fitted base units and then add rows of open shelving and single wall-hung cupboards to bump up storage. The beauty of a simple, L-shaped layout is that you can let your imagination run wild with color, texture and material to create a personality-packed space. This dark emerald green kitchen is paired with dramatic veined marble tops, gold handles and striking wall art to prove L-shaped layouts are anything but basic.
'The L-shaped run is beautifully simple, made up of mostly base cupboards and one tall appliance cabinet tucked away neatly at the end, housing two ovens and a fridge,' adds deVOL's creative director, Helen Parker. 'A big classic glazed wall cupboard displaying lovely crockery is the perfect finishing touch.
'I love it when people take a risk with their interiors, take a look at that marble – being brave with these things makes for a fascinating room that is almost a painting in its own right.'
6. Play with earthy shades
The simple, unfussy dynamic of an L-shaped kitchen allows you to experiment with color. Play around with pastels, neutrals or deep jewel-like tones on cabinet fronts, kitchen countertop ideas, wall colors and tiles for an individual look. Two tone kitchens, sticking to two shades, will help keep the look streamlined and sophisticated. The dark, earthy hues on the base units ground the kitchen, especially when paired with the soothing pale sage on the walls.
'L-shaped layouts are one of the most versatile options you can go with, so deciding on the perfect color combinations can be a little overwhelming,' says Aaron Markwell, color curator at COAT Paints. 'Most people tend to go for a lighter shade in smaller spaces, but the room can actually feel bigger with a darker color. As the cabinets run on adjacent walls, the layout will still feel spacious and deep colors will create a sense of warmth and coziness.'
7. Maximize a narrow space
L-shaped layouts might be the perfect narrow kitchen ideas, generally consisting of one longer run of units and a shorter return. To maximize the potential of a narrow room, consider adding a long, slim island unit to echo the longer bank of cabinets – but do make sure you have enough space to comfortable move and work around.
'You need space for an island in an L-shaped kitchen, meaning at least 3 feet around it for the proportions to work,' says Allison Lynch, senior design consultant at Roundhouse. 'If you have a lot of activity in the area where the sink is, around the dishwasher when loading and unloading, or when cooking, you must consider the distance between these appliances and the island. So, you may need to increase the gap to 3ft.'
8. Create a family eating hub
In a large space, L-shaped layouts can incorporate every element for a hardworking yet sociable family space. In the ground floor apartment of this Georgian property, the kitchen has been totally reconfigured to become a contemporary kitchen diner – with an L-shaped island taking center stage.
'The kitchen was designed in an L-shape with two main runs of stainless steel cabinetry with English Ash accents,' says Tony Lister, designer at Simon Taylor Furniture. 'The clients wanted a large kitchen island for food preparation and also an informal, breakfast dining area as the central hub of the room.'
To make best use of available space, the island incorporates the wet area (with a double sink and tap) and a built-in banquette seating, also in an L-shape to complement the aesthetic. It faces out to a tall bespoke cocktail cabinet (in co-ordinating stainless steel), with pocket doors that retract into side recesses to reveal an integrated, slimline TV, so the family can relax and watch television while eating.
9. Try color pop tiles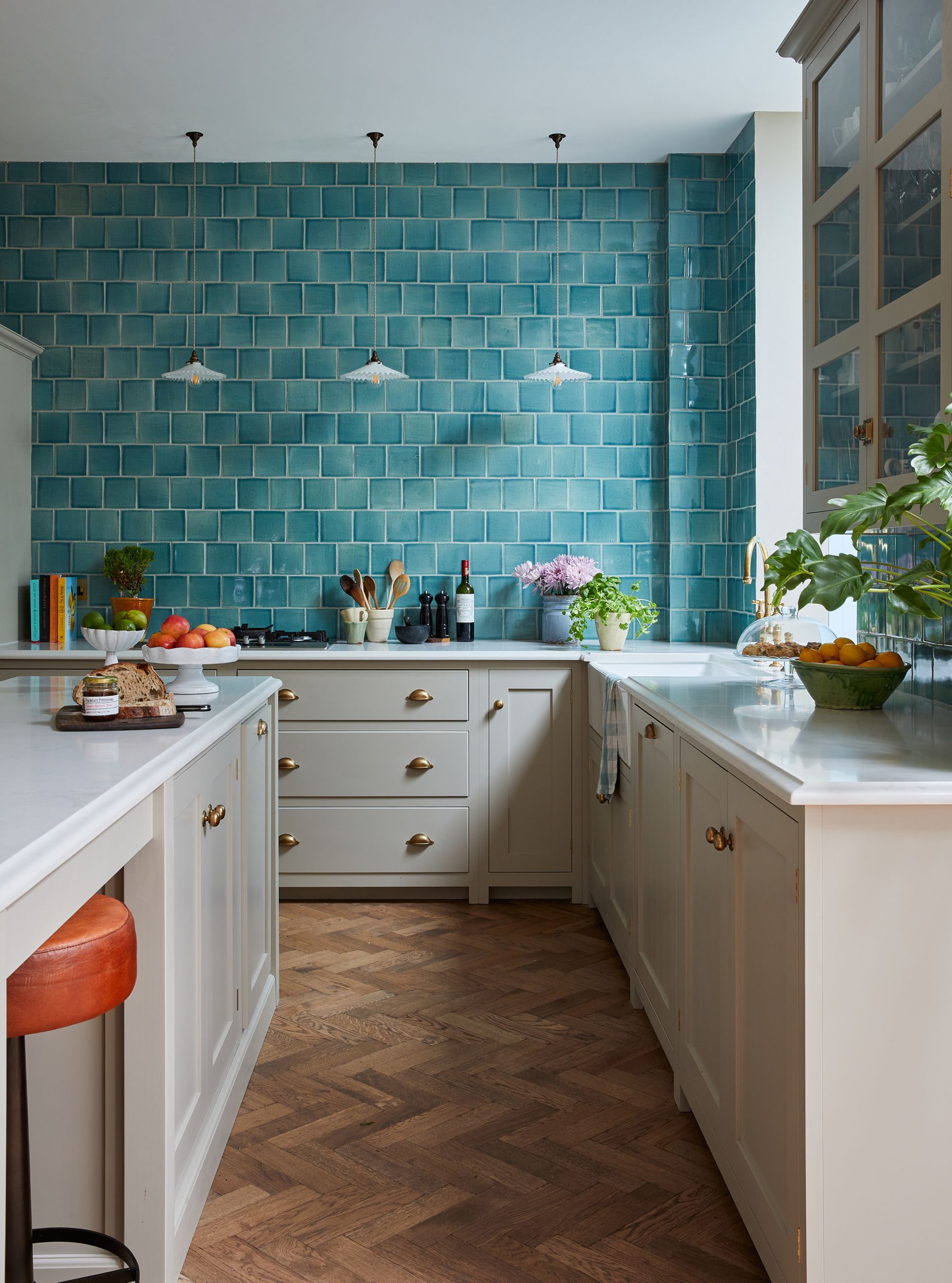 You can afford to go for bold kitchen wall decor ideas in a space made up of neutral colored cabinetry. The classic-style doors and lofty architectural bones create the perfect backdrop for the punchy aqua tiles that stretch up to the ceiling.
'The owner of this space loved color and this L-shaped kitchen was blessed with tall ceilings,' says interior designer Laura Stephens. 'I wanted to keep the color to the walls and decided upon these saturated aqua blue glazed tiles which have so much texture and depth. They're tempered by a neutral color on the cabinets which have such a timeless quality, and because the units are arranged in an L, a narrow island creates a good triangular workspace.'
10. Utilize an L shape in an open plan kitchen
Just as our expectations of the kitchen have changed radically over the last 20 years, kitchen layouts have evolved to suit.
You may hear designers refer to the 'work triangle' – the arrangement of the key work stations of fridge, sink and cooker in this pattern, which cuts down on the distance travelled when prepping and cooking.
The work triangle is still used, but it's not as dominant as it once was; there is a move to a more linear approach in modern kitchen ideas, inspired by the long work benches of the restaurant kitchen.
Of course, ergonomics are not the only deciding factor. Room shape and size play a vital part. Sometimes your only option in small kitchens is to opt for a galley kitchen.
Lifestyle and aesthetics are also important factors – an open plan kitchen for example has to look fabulous as it's always on show.
If space allows, a built-in banquette in the shape of an L, like the one above, could be just what your open plan space needs.
11. Work a narrow space
The L-shaped kitchen layout is best in long, thin rooms, where space for an island or cabinetry on the opposing wall may not be possible.
Small kitchen layouts do not have to mean a lack of style, however. Open shelving at the end of the L gives an airy, spacious feel to this narrow kitchen.
12. Incorporate an L-shaped layout in a large kitchen
Fitting your cabinetry, countertops and kitchen storage into an L shape leaves the remainder of your kitchen free for you to express yourself.
The L-shaped layout works exceptionally well in a large kitchen. It is also the ideal layout for an island that doubles up as a breakfast bar.
13. Cook together as a family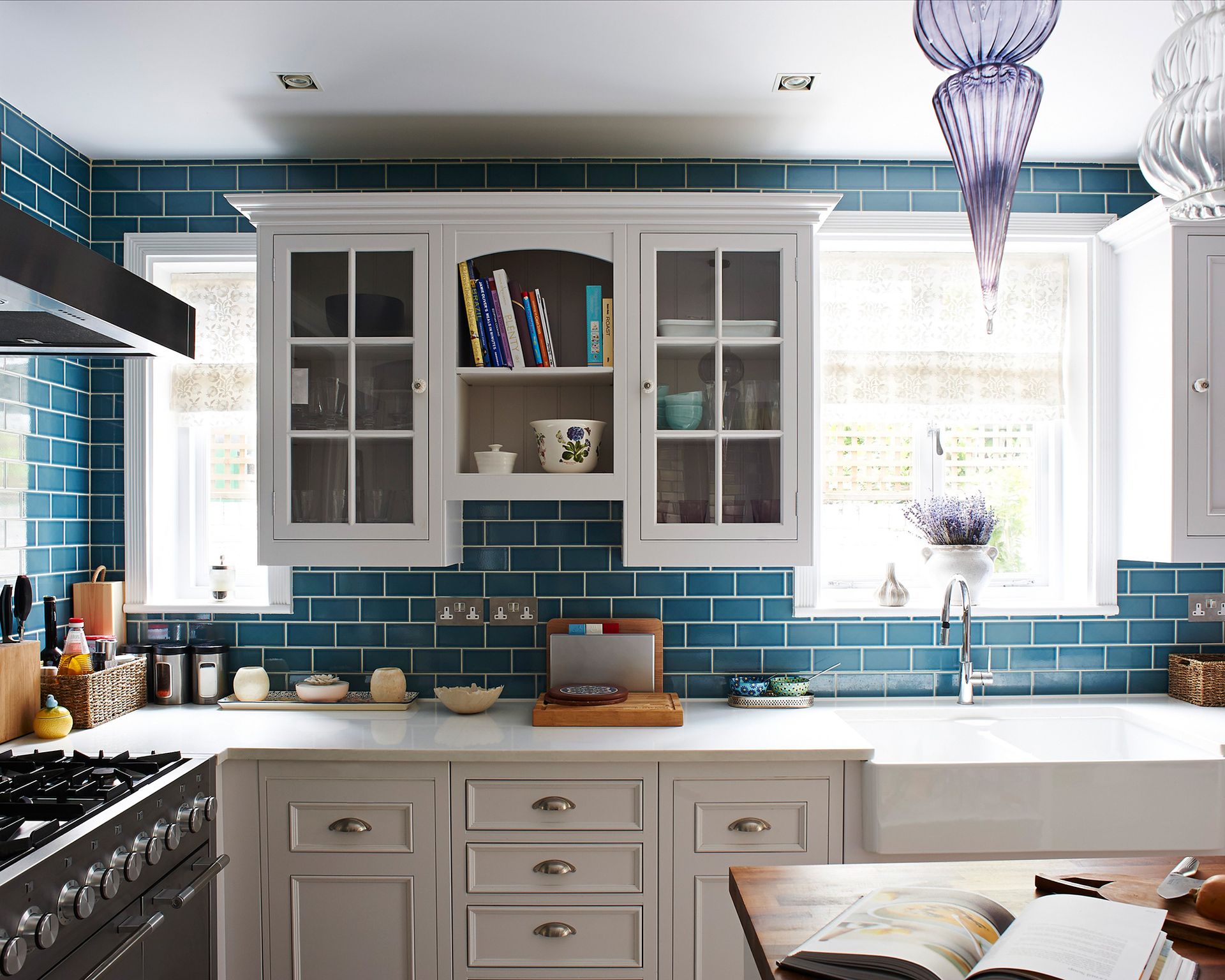 If you enjoy cooking with a partner, family or friends, then an L-shaped kitchen could be the perfect choice for you.
Key to creating successful family kitchen ideas – for cooking and socializing – is planning. 'The design should be carefully thought out so as to maximize convenience without blocking the flow of space,' explains Jane Stewart, design director of Mowlem & Co. The last thing you want is to get in the way of someone else.
An efficient way to do this is to create zones for each area, with everything needed for prep and cooking in one, and table linen and crockery in the other.
14. Break up an open space with an L
Use an L-shaped design to break up an open plan living space.
Keep the cooking and kitchen chores tightly together in an L, and let the rest of a large room be given over to family life.
Even the most practical kitchen island won't provide as much preparation and storage space as an L-shaped run of units along the sides of the room would.
15. Make your kitchen flow
L-shaped kitchens are one of the most ergonomically accurate kitchen designs in terms of practical and efficient workflow.
This layout perfectly demonstrates how well an L-shaped kitchen can work within an open plan space that includes a side return kitchen addition and casual dining area.
This scheme is particularly space-efficient and convenient because there is no physical barrier between the kitchen workspace and the dining table – and both areas can share some of the floor space.
16. Go big in your home
Create a space that is fit for socializing and large families.
This layout utilizes the two adjoining walls of a room to allow a continuous flow of countertops and cabinets, keep the rest of the space free for an island and dining table.
'L-shaped kitchens are perfect for entertaining, as they are compact yet spacious and allow plenty of room for mingling, or even a spot of dancing with loved ones,' explain the experts at Magnet.
17. Factor in an island, if space allows
Kitchen trends are constantly changing – think broken-plan kitchens and zoning – yet classic arrangements that are designed to be ergonomic are still at the heart of the modern kitchen.
Although L-shaped kitchens work best in narrow spaces, they also work well with an island in bigger rooms, as seen here. You will need at least 3 feet around the perimeter of any central furniture to make this layout work for you.
18. Use freestanding furniture to create a false L
The ability to try out various layouts to find out what truly works reduces the pressure to get your kitchen right first time.
There's also a great deal of reassurance to be found in the knowledge that freestanding kitchens can be configured in different ways to meet your family's changing needs. There is just something beautifully chaotic yet cozy about this broken L-shaped kitchen.
What can I do with an L-shaped kitchen?
If you're wondering what you can do with an L-shaped kitchen, it's important to keep practicality in mind – as with all kitchen designs.
From an aesthetic viewpoint, small L-shaped kitchens can be made to seem larger by opting for pale or neutral-colored cabinetry, which gives an impression of space. Deep kitchen color schemes do the opposite, seeming to contract the room, but they are also warming so work well in larger kitchens.
Open shelving prevents a small kitchen from looking too busy, while banks of cabinets look stunning in a large kitchen as well as providing an abundance of storage.
Whatever the size of your kitchen, the beauty of the L-shaped layout lies in its simplicity and flexibility, and the ease with which it can be adapted to suit practical requirements and different design tastes.
According to Marco Rossi, head of product at Magnet: 'Each main working station should be within 6 feet of one another – where the fridge, sink and cooker make up a working triangle.'
Sofia Bune Strandh, managing director of Sola Kitchens, agrees. 'L-shaped kitchens make excellent use of space. They are easy to work in since the work triangle can be easily established.'
How do you arrange L-shaped kitchens?
It's also important to think about your day-to-day life in the room, as this will help you arrange an L-shaped kitchen.
An L shape has the potential to be quite an awkward space to work in, especially at the corner point. It's not the most sociable layout either.
However, if the hot, wet and prep areas are well spread out, L-shaped kitchens can prove very practical.
When it comes to smaller kitchens, an L-shaped layout is ideal as it concentrates all storage and appliances into two sides of the room, leaving the others free and open, so making the overall space seem bigger.
For larger kitchens or open plan designs, an L-shaped layout can serve as a divider between cooking and living zones, or as an informal dining area by incorporating a breakfast bar into the bottom of the L shape.
Sign up to the Homes & Gardens newsletter
Decor Ideas. Project Inspiration. Expert Advice. Delivered to your inbox.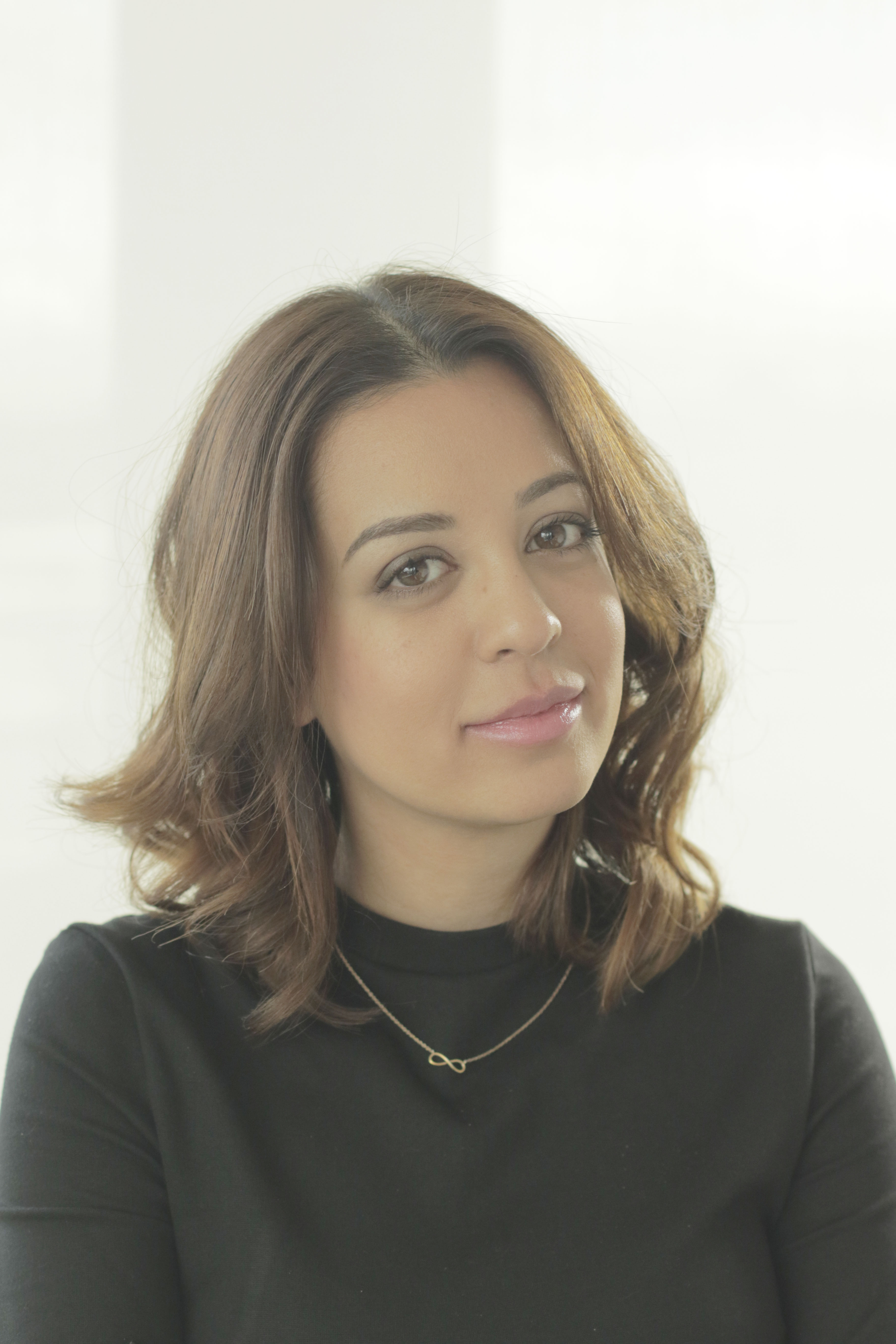 Jennifer is the Digital Editor at Homes & Gardens. Having worked in the interiors industry for a number of years, spanning many publications, she now hones her digital prowess on the 'best interiors website' in the world. Multi-skilled, Jennifer has worked in PR and marketing, and the occasional dabble in the social media, commercial and e-commerce space. Over the years, she has written about every area of the home, from compiling design houses from some of the best interior designers in the world to sourcing celebrity homes, reviewing appliances and even the odd news story or two.