L-shaped kitchen ideas – a classic layout that works in any size space
The L-shaped kitchen is practical, concise and looks great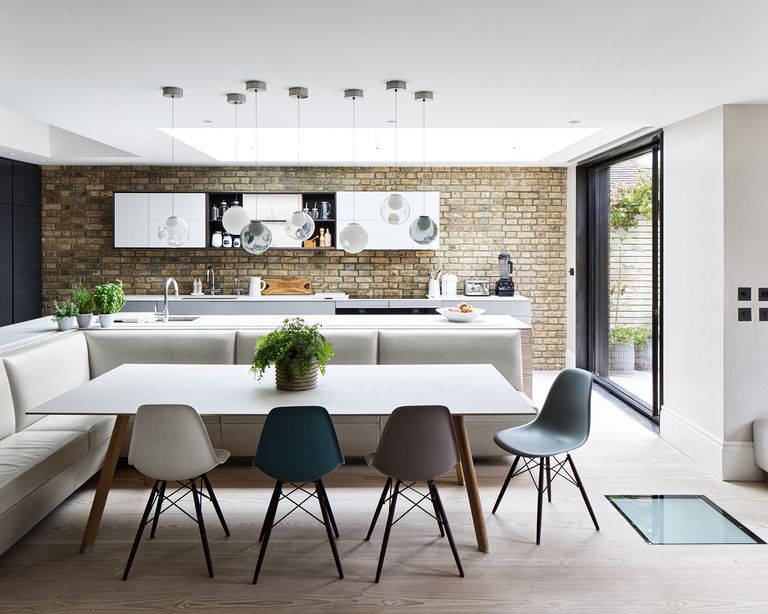 (Image credit: Future)
Whether the space is small, medium or large – an L-shape kitchen layout works with both contemporary and traditional cabinetry, and the form is flexible enough to adapt to structural needs, such as sloping ceilings or large windows.
With kitchen ideas, your choices are to a great extent dictated by the shape and size of your room, but that doesn't mean you have to be restricted when it comes to design.
We've rounded up a selection of our favorite L-shaped kitchen ideas to help you decide if this is the right kitchen layout for you. 
1. Utilise an L-shape in an open-plan kitchen
Just as our expectations of the kitchen have changed radically over the last 20 years, kitchen layouts have evolved to suit. 
You may hear designers refer to the 'work triangle' – the arrangement of the key work stations of fridge, sink and cooker in this pattern which cuts down on the distance travelled when prepping and cooking. 
The triangle is still used but it's not as dominant as it once was; there is a move to a more linear approach inspired by the long work benches of the restaurant kitchen. 
Of course, ergonomics are not the only deciding factor. Room shape and size play a vital part, as do lifestyle and aesthetics – an open plan kitchen has to look fabulous as it's always on show.
If space allows, built-in banquet, in the shape of an L, could be just what your open-plan space needs. 
2. Work a narrow space
Shaped like the letter L, this layout is best in long, thin rooms where space for an island or cabinetry on the opposing wall may not be possible. 
Lack of size does not have to mean lack of style. Open shelving at the end of the L gives an airy, spacious feel to this narrow kitchen.
3. Incorporate an L-shape layout in a large kitchen
Fitting your cabinetry, worktops and storage into an L shape leaves the remainder of  your kitchen free for you to express yourself. 
The L-shaped layout works exceptionally well in a large kitchen, it is also the ideal layout for an island that doubles up as a breakfast bar.
4. Cook together as a family
If you enjoy cooking with a partner, family or friends, then an L-shape kitchen could be the perfect choice for you. 
Key to creating a successful kitchen – for cooking and socialising – is planning. 'The design should be  carefully thought out so as to maximize convenience without blocking the flow of  space,' explains Jane Stewart, design director at Mowlem & Co. The last thing you want is to get in the way of someone else. 
An efficient way to  do this is to create zones for each area, with everything needed for prep and cooking in one, and table linen and crockery in the other. 
5. Work an L into an open-plan space
Use an L-shaped design to break up an open-plan living space. 
Keep the cooking and kitchen chores tightly together in an L and let the rest of a large room be given over to family life. 
While practical, an island unit won't provide as much preparation and storage  space as a run of units along the sides of the room would.
6. Make your kitchen flow
The L-shaped kitchen is one of the most ergonomically accurate kitchen designs in terms of practical and efficient workflow.  
This layout perfectly demonstrates how well an L-shape kitchen can work with in open plan space that includes a side return and casual dining area. 
This scheme is particularly space-efficient and convenient because there is no physical barrier between the kitchen workspace and the dining table – and both areas can share some of the floor space.
7. Go big in your home
Create a space that is fit for socialising and large families. 
This layout utilises the two adjoining walls of a room to allow a continuous flow of worktops and cabinets, keep the rest of the space free for an island and dining table.
'The L-shaped kitchen is perfect for entertaining, as it is compact yet spacious and allows plenty of room for mingling or even a spot of dancing with loved ones,' explains the experts at Magnet.
8. Factor in an island, if space allows
Kitchen trends are constantly changing – think broken-plan and zoning – yet classic arrangements that are designed to be ergonomic are still at the heart of the modern kitchen. 
Shaped like the letter L, this layout is best in narrow kitchens. It also works well with an island in bigger rooms, as seen here. You will need at least one metre around the perimeter of any central furniture to make this layout work for you. 
9. Use freestanding furniture to create a false L
The ability to try out various layouts to find out what truly works reduces the pressure to get your kitchen right first time. 
There's also a great deal of reassurance to be found in the knowledge that a freestanding kitchen can be configured in different ways to meet your family's changing needs. There is just something beautifully chaotic yet cozy about this broken L-shaped kitchen. 
What can I do with an L-shaped kitchen?
If you're wondering what you can do with an L-shaped kitchen, it's important to keep practicality in mind - as with all kitchen designs.
From an aesthetic viewpoint, small L-shaped kitchens can be made to seem larger by opting for pale or neutral-colored cabinetry, which gives an impression of space; deep colors do the opposite, seeming to contract the room, but they are also warming so work well in larger kitchens. 
Open shelving prevents a small kitchen from looking too busy, while banks of cabinets look stunning in a large kitchen as well as  providing an abundance of storage.  
Whatever the size of your kitchen, the beauty of the L-shaped layout lies in its simplicity and flexibility, the ease with which it can be adapted to suit practical requirements and different design tastes.
According to Marco Rossi, head of product at Magnet: 'Each main working station should be within a couple of metres of one another – where the fridge, sink and cooker make up a working triangle.'
Sofia Bune Strandh, managing director at Sola Kitchens, agrees. 'An L-shaped kitchen makes excellent use of space. It is easy to work in since the work triangle can be easily established.'
How do you arrange an L-shaped kitchen?
It's also important to think about your day-to-day life in the room as this will help you arrange an L-shaped kitchen.
An L-shape has the potential to be quite an awkward space to work in, especially at the corner point. It's not the most sociable layout either. However, if the hot, wet and prep areas are well spread out, L-shape kitchens can prove very practical.
See: Small kitchen layout ideas – ways to maximize that small space
In a small kitchen an L shape is ideal as it concentrates all storage and appliances into two sides of the room, leaving the others free and open, so making the overall space seem bigger. 
For larger kitchens or open-plan designs an L-shaped layout can serve as a divider between cooking and living zones or, as an informal dining area with the bottom of the L becoming a useful breakfast bar.