Freestanding kitchens — 10 unfitted kitchen ideas and designs
These freestanding kitchens will create a flexible design, whether with fully unfitted cabinetry or freestanding elements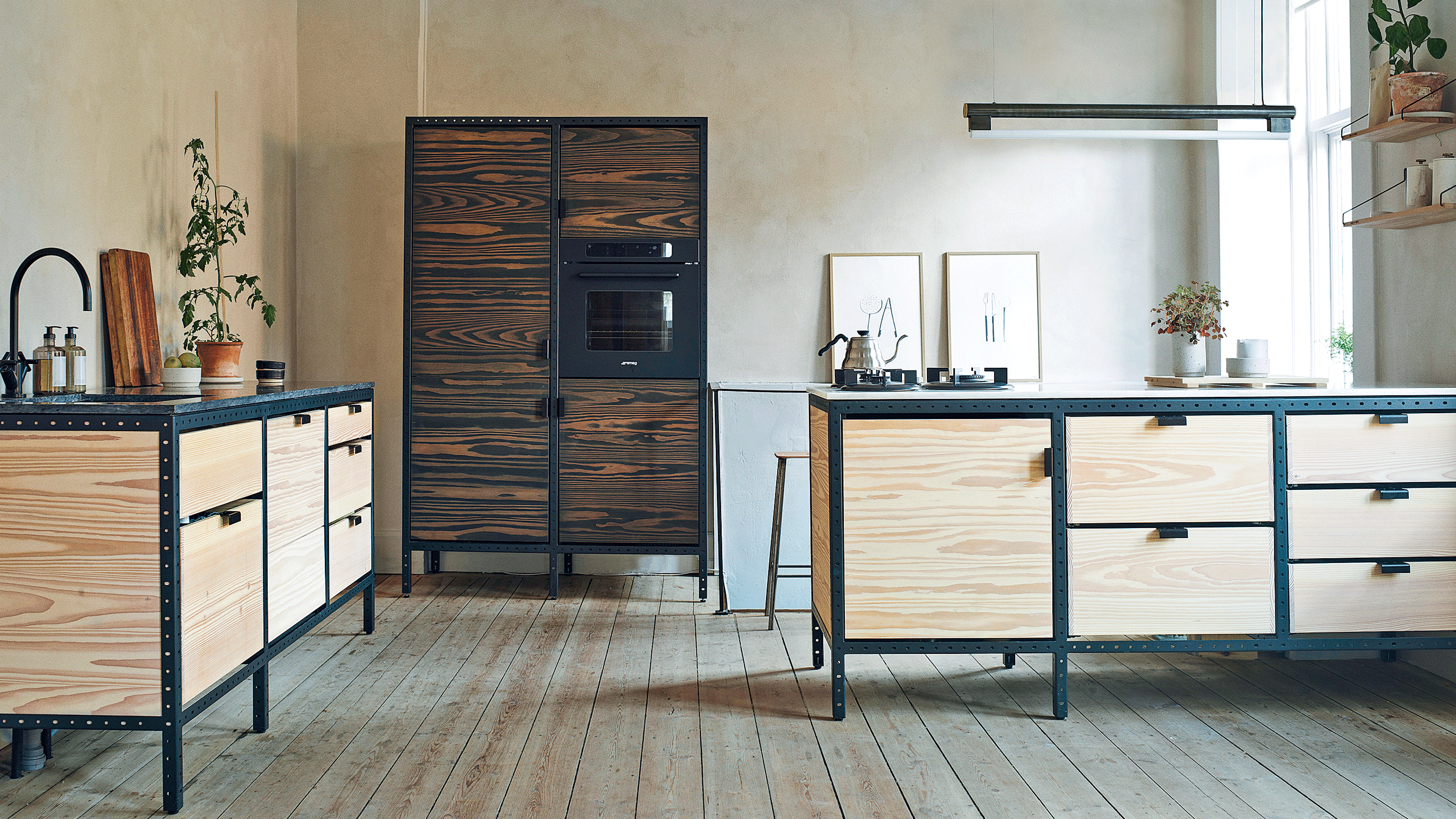 (Image credit: Michael Rygaard)
There has been a rise in incorporating freestanding kitchen ideas into modern designs.
While fitted kitchens are unlikely to ever go out of style, there has been a gradual move towards more relaxed-looking kitchens.
Freestanding kitchens range from fully unfitted spaces to single pieces, such as a standalone pantry cupboard or island on wheels so they can move as your needs change, and even move homes with you.
Not only is a freestanding kitchen more affordable than a traditionally fitted one, it's an easy way to update an existing one.
And if you're looking for kitchen ideas with character and personality, adding freestanding elements will take the space from looking functional to fantastic.
Freestanding kitchens
Freestanding kitchens can be fully fitted, too, but with an unfitted look that gives you the best of both worlds: an efficient use of space and a relaxed feel. Here, we explore all the options.
1. Opt for a farmhouse table
When planning a kitchen, it is always very tempting to go for a kitchen island if you are fortunate enough to have the space for one. But far too often, islands can feel like a monolithic obstruction in the middle of the room.
However, you can take a different approach to typical kitchen island ideas: a farmhouse table. 'This can be all it takes to prevent kitchens feeling too fitted, while also proving extremely useful,' says Merlin Wright, design director, Plain English.
'The addition of any freestanding piece is an opportunity to add texture and variety as a counterpoint to the kitchen's fitted cupboards, be they vintage, antique or very crisp and modern; all add interest and personality.'
2. Adopt a fully unfitted look
A fully freestanding kitchen has several benefits, starting with transportability. Taking it with you when you move makes the initial investment more attractive, so this could be the perfect option for people who rent in particular.
As the cabinets are not physically attached to walls or floors, they can also work in properties where panelling or materials are protected or fragile. Few do fully freestanding better than Copenhagen-based Frama, which makes semi-customizable metal-framed pieces in painted and timber finishes.
This approach might seem ideal for flexible kitchen layout ideas in a large, open-plan space. However, the only elements you will want to move once they are in place are lighter items or those on wheels. Anything else will be unwieldy and/or dependent on plumbing or electrics.
3. Raise your units on legs
Just because an island unit can't be moved, doesn't mean it can't appear freestanding. Elevating the unit on legs allows light to flow underneath, creating an air of portability.
Run power supplies for appliances inside or behind the legs to suspend the illusion. Plumbing can be concealed centrally in deeper island units. Don't forget, the longer the legs, the less storage you'll achieve so do balance the design to suit your needs.
4. Mix materials for a luxurious look
Looking for a high-end, luxurious take on freestanding? This is particularly important in open-plan kitchens where you are combining a kitchen with a living space.
The key when thinking about kitchen styling is to find commonality between each piece, so they match in spirit not precise detail, says Lanserring, makers of this kitchen designed by MWAI.
'By deliberately mismatching components, each item can be designed with precision as a stand-alone piece. However, when they are curated together the feeling is rich but less formal,' explains Alex Beaugeard, director of design, Lanserring.
5. Add a splash of color in a neutral scheme
If replacing your kitchen isn't an option at the moment but perhaps you are looking for kitchen color ideas to refresh it a little, a new freestanding piece can add both more storage and a splash of welcome color.
'Freestanding elements can easily be painted to provide a pop of color and bright focal point in a neutral scheme,' says Leisha Norman, designer, Harvey Jones.
In the kitchen picture above, a standalone larder in Farrow & Ball's zesty Charlotte's Locks stands out against fitted cabinetry in cool Wimborne White. 'Whether your style is naturally eclectic or more coordinated, incorporating just one eye-catching freestanding piece can make a big impact,' she adds.
6. Use portable furniture for versatility
'Portable furniture is a helpful way to enjoy extra countertop or storage space as and when it's needed,' says George Forsyth, director, Drew Forsyth & Co.
'A freestanding chef's table or butcher's trolley, for example, can be brought in for those busy times, such as when entertaining, then moved out of the way when more floorspace is required.'
For portable kitchen island ideas like this one, request castors with brakes for easy mobility.
7. Add a glass dresser to display personal pieces
'We've definitely witnessed a slow move towards more freestanding kitchens over the last year or so, which, as our roots are firmly based in this look, is pleasing to see,' says deVOL's creative director, Helen Parker.
One of the simplest, and most useful, ways to take your kitchen in a more un-fitted direction, she adds, is by popping a freestanding dresser or larder at the end of the kitchen units.
8. Go for a clean and simple design
One design, one color, no fuss and no frills. Freestanding kitchens are generally less complicated than fitted but Vipp's modular collection deliberately boils down the complexities of planning for those who find choice overwhelming.
Simply pick and mix from four modules – island, island with breakfast bar, wall and tall modules – add appliances and relax in the knowledge this timeless Danish-built design will last a lifetime.
9. Fit the same countertop to unify your separate units
One downside of an entirely freestanding kitchen is the lack of seamlessly fitted countertops, without crumb-trapping joints between or at the back of units.
Solution one is to sacrifice flexibility in favor of hygiene by fitting worktops across multiple freestanding units. Or you can make the separation feel purposeful by leaving a generous, cleanable gap, as shown here.
Add a generous island unit or butcher's trolley to spread out while baking.
10. Create separate working zones for more efficiency
Inspired by a carpenter's workshop, bulthaup's b2 range consists of three standalone modules: a workbench, tool cabinet and appliance cabinet.
'The beauty of this modern zoned set up lies in its incredible efficiency when cooking,' explains Alex Saint, design manager, Kitchen Architecture.
'For example, the tool cabinet hosts an impressive array of pans, utensils and glassware, making gathering everything you need a one-trip task.'
How do I include a freestanding kitchen sink?
It is best to include a kitchen sink in a freestanding kitchen against a wall so that the plumbing can be conveniently and easily hidden.
However, this is not a must: kitchen sinks can be incorporated into freestanding kitchen islands, with the pipework hidden within or behind the legs.
Or drainage exiting straight down into the center of a larger kitchen island, where it can't be seen – except if you were on your hands and knees retrieving something from beneath the island.
Can a kitchen island be freestanding?
Yes, freestanding kitchen islands are an excellent way of adding extra storage and countertop space in a kitchen, whether or not the rest of the cabinetry is fitted or freestanding. Freestanding kitchens can include elements such as hobs, ovens and sinks, with wires and plumbing hidden beneath.
Otherwise, a freestanding kitchen island that incorporates smart kitchen island seating ideas, extra kitchen storage and countertop space can create a fabulous focal point in any kitchen, and act as a useful zoning device in open plan spaces.
If you want true flexibility, and at the other end of the scale, you can make them countertop and storage only, put them on wheels (with brakes) so you can move them about to suit your needs.