Kitchen styling – 10 essential kitchen styling ideas and tips for a beautiful space
Whether you remodelling from scratch or want to pep up a kitchen in a rented home, this is how the professionals tackle kitchen styling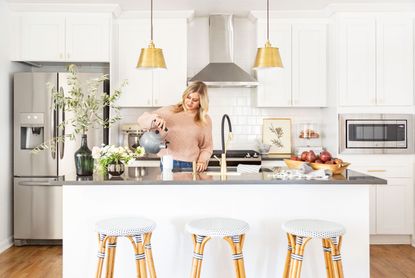 (Image credit: Lee Mayer and Emily Motayed/Ten Speed Press, an imprint of Random House, a division of Penguin Random House LLC)
'Kitchen styling' is a lose term that covers everything from some of the major design decisions you're going to make to tiniest of room dressing and decor details that will really make the room feel characterful, curated – and very much your own.
We asked the experts – from interior designers to a professional chef to our team of in-house experts – for their top kitchen styling ideas and tips. Adding them to your list of must-have kitchen ideas will ensure a more charming space, and needn't drive up your budget, but will create a unique room you, and your guests, will want to spend time in.
Kitchen styling – ideas, tips and essential advice
Sometimes when you're scrolling through pictures of kitchens you come across a room that is just perfect – but it's not always easy to nail exactly why. It might be the mix of materials, a balanced color palette, decorative details... or just those clever finishing touches and kitchen styling that only the professionals – or the gifted – seem to get right.
Here, we break a few of them down, so that you can hone your own eye for kitchen styling detail.
1. Aim for a mix of materials and textures in a kitchen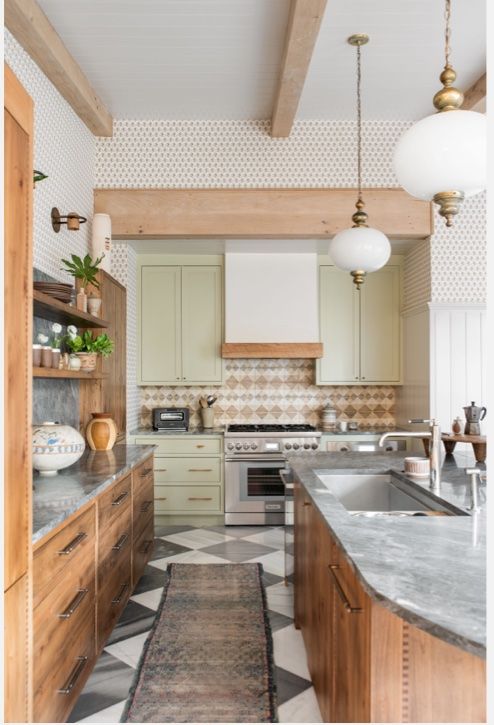 This is one of the kitchen styling decisions you need to make right at the start of a kitchen planning schedule: which kitchen cabinet ideas can you introduce to allow materials and textures to create texture and character?
Here, South Carolina-based interior designer Cortney Bishop offers a masterclass in kitchen styling by tapping into the enduring trend for mixed material kitchens. In doing so, she not only creates defined zones through the different cabinetry and countertop materials, she also has ensure that this kitchen is characterful before any accessories are even added into the mix. Genius.
2. Create a countertop vignette
Lee Mayer is one of the design gurus behind online interior designer agency Havenly. Renowned for their stylish, liveable interiors, they have just published a book – Design The Home You Love. Packed – as you would expect – with essential advice, it covers every aspect of design, including kitchen styling.
We were especially fascinated with Lee's take on quick, chic but inexpensive revamps that would suit not just homeowners who want to refresh their kitchens quickly and easily but renters who are keen to do so without spending on fixtures and fittings.
'Not all of us are Martha Stewarts in the kitchen, but there's no reason your kitchen can't look just as well designed as the rest of the house. Similar to bathrooms, sometimes it can be hard to do renovations to get a kitchen upgrade, so think about using styling elements to create an inexpensive upgrade,' says Lee.
'For me, the key to kitchen styling are kitchen countertop ideas – or the countertop vignette. If you follow any home accounts on Instagram, you've probably seen a lot of beautifully styled kitchens, and you probably also know that you can really use the functional as decor in a kitchen.
'Find a few items with varying heights and materials. I love displaying large, rustic wood cutting boards together with earthenware in odd number combinations. Make sure you place pieces of different heights in front of one another, to create some dimension with your everyday items.'
3. Consider the backsplash as a kitchen styling element
Anyone looking for backsplash ideas for kitchens will know that practicality and aesthetics should be given equal attention – but they can also be an important kitchen styling statement, with on-trend tile shapes, sizes and even layout having an important effect on how your kitchen looks when it's finished.
Founded by husband and wife team Syd and Shea McGee, Studio McGee specializes in the high-end casual look. Neutral color schemes, natural wood finishes and relaxed open shelving are their bread and butter. And the results are incredible, especially in the kitchen.
One of Shea McGee's top tips from their Netflix show was to stack your kitchen tiles instead of a typical brickwork layout. It is a simple thing that will give your kitchen a more modern and luxe finish, as will a more complex layout, such as the herringbone look, above.
4. Keep accessories simple
'I personally don't think you need to display fancy china, and, in fact, I prefer the simpler or more rustic pieces in my kitchen vignettes,' says Havenly's Lee Mayer. 'These days, we're finding more people avoid the heritage bone china in favor of simple but interesting dishware.
'I personally like to mix and match whatever I have that's clean. My favorite items to display include a wooden bowl from Amazon, near a marble cheese board, with a couple stacks of my favorite every day white dishware.'
5. Display art as part of your kitchen styling
'Kitchen wall decor ideas are a vital part of styling a kitchen,' says H&G's Editor in Chief Lucy Searle. 'A small print or framed picture can be all it takes to elevate an ordinary kitchen to something special. If you don't have the wall space to hang a picture, rest it on the counter top or a shelf – I have gone for a combined approach in my kitchen, which has plenty of wall space because I have very few wall cabinets.
'Just be careful to keep it away from the sink or any potential grease splatters – and don't hang anything valuable that might be damaged by the steam and heat of cooking.'
6. Introduce dark paint colors to a kitchen
Kitchen color ideas should reflect the color scheming in the rest of your home. And while white kitchens are enduringly popular with home buyers, and neutral color palettes are a significant part of the Studio McGee aesthetic, interior designer Shea knows the power of a dark finish.
On Instagram, she demonstrates how a dark blue finish on kitchen cabinets can offset a bright space beautifully. In her own kitchen, Shea selected a dark brown stain for her central aisle to add extra depth to her white color scheme. And we applaud this approach – if you love dark kitchen ideas, your kitchen has enough natural daylight to cope with dramatic shades, and it suits your home's color scheme, it's a kitchen styling trick that can work wonders.
'And don't forget,' adds Lucy Searle. 'The dark colors can be limited to the walls, window frames and treatments, to accessories and flooring, so that even a naturally dark room can remain bright, but still feel dramatic.'
7. Use accessories and food to as kitchen styling ideas
'I love that in the kitchen you can use food as styling props,' says Lee Mayer. 'I peel the stickers off my lemons and place them in a bowl for a pop of yellow or place my weekly parsley stash in a mason jar to add in some inexpensive color (and bonus, it's also delicious to eat).
'Another item that you are guaranteed to have in your kitchen that can double as a styling item? Cookbooks. I have a ton of beautiful hardcover cookbooks. Arranged on floating shelves or at the ends of counters, the books can be within reach when you want to make a roast chicken but add a bit of functional decoration as well.'
Shea McGee is keen on cookbook stands – not only helpful when checking to see what ingredient you need next, but it can also for displaying your collection of cookbooks.
Many cookbooks feature incredible food photography that deserves to be shown off. You can change the recipe on display as you cook or with the season. Perhaps as a prompt to lure you back to your mixing bowl.
And both Lee and Shea are fans of Le Creuset buys as kitchen styling props.
'Yes, yes, I know: there are less expensive versions of these kitchen essentials. But I use my white Le Creuset (previously, I used a red one in a kitchen that needed a pop of color), as art. It really can be a great decorative item that breaks up the monotony of a stovetop. Added bonus: staring at it every day is a good way to get inspired to cook delicious braised meals.'
8. Add color and texture with kitchen towels
'I love kitchen towels! I have a whole drawer full of them in various shades of blues and grays. I use them a lot when I'm cooking (I challenged myself this year to cook at home at least 4 days of the week), and kitchen towels are great for quick clean ups while I'm whipping up something (mostly) delicious,' says Lee Mayer.
'Towels are an inexpensive but an easy way to make the kitchen feel lived in, and add softness to the overall space. Buy a bunch of clean kitchen towels from Target in your favorite color palette for an instant upgrade to your kitchen. Fold them and hang them over the handles of your dishwasher or oven, or just leave them on the counter by your vignette for an artfully lived in look.'
9. Use lighting as a key kitchen styling idea
'When a major kitchen remodel is not doable – either because it's not in your budget or your landlord doesn't have it on the radar – kitchen lighting ideas can be a big opportunity to inexpensively change your kitchen's look and feel,' says Lee Mayer.
'In fact, I've used lighting to rescue a few very sad rental apartments, buying inexpensive stick-on under-cabinet lighting and adding some hanging pendants (or changing out your rental pendants).
'In each case, the added lighting softened up the horrible fluorescent lighting and created some design detail that helped the eye keep moving vertically. It was also cheap to replace and easy to remove when my rental contract was over. (Yay, security deposit!)'
The rug in this kitchen is another kitchen styling element that will help your room feel more like a living space and less like one that's solely practical.
10. Style a kitchen like a professional chef
If you're serious about cooking, you might want to consider kitchen styling like a chef does. Galton Blackiston is the owner and chef patron of the Michelin-Starred Morston Hall country house hotel and restaurant in Britain, and he has two distinct kitchen styling tips to pass on, both of which create a professional feel for a kitchen, and one of which encourages sociability, which is so important when designing a kitchen.
The first is around kitchen island ideas. 'I love my island', says Galton. 'It's a really sociable part of the kitchen where people can gather and chat. It has plenty of workspace for prepping and a hob for cooking; and because it's centrally positioned, I can face my guests while I'm prepping dinner without turning my back on anyone.
'If you have the space, kitchen island seating ideas mean people can gather around and enjoy little pre-dinner tasters.'
Galton goes on to tackle an important element of kitchen design that has a distinct effect on its styling. 'You can easily recreate a professional chef's kitchen at home with banked appliances along one wall. They're positioned at eye level to make using everything easy,' advises Galton Blackiston. 'Having the oven, microwave and hob quite close together create a flexible, functional cooking zone which simply means you're not constantly going backwards and forwards.'
How do you style a kitchen?
To style a kitchen there are three elements that you can tackle, from large to small. Larger kitchen styling elements are the cabinet finishes, wall materials, paint colors and flooring. Picking finishes, natural textures and materials, and colors that are complementary, calming but have an element of contrast will add interest.
The next kitchen styling element is the furniture and furnishings: bar stools in interesting materials and shapes; patterned, colorful rugs for the floor; eye-catching light fittings.
Finally, look at the small details – kitchen shelving ideas are an excellent way to show off and store pretty china or cookware, books, art and objets, but even well-placed, attractive kitchen towels or a bowl of beautiful fruit or flowers can elevate a kitchen quickly.
How do I make my kitchen pretty?
To make a kitchen pretty, you might like to consider adding pattern to the room that complements some of the colors you have used. This might mean considering country wallpaper ideas for kitchens that have an element of floral pattern and sunny colors, or you can choose beautiful kitchen tile ideas that can bring a decorative element to either walls or floors – or both.
Another option is to add pretty window treatments – again, country curtain ideas for kitchens will add warmth, texture, pattern and color, and make the room feel snug. Layering a kitchen with patterned or colorful rugs is another way to make it look pretty, as is introducing textiles, such as kitchen towels, in cute patterns.
Last, but not least, choosing a pretty color for your cabinetry is going to have the biggest impact on making a kitchen pretty – pastel shades of blue, green and even yellow and pink can be very effective, even if your kitchen is contemporary and streamlined.
Lucy Searle has written about interiors, property and gardens since 1990, working her way around the interiors departments of women's magazines before switching to interiors-only titles in the mid-nineties. She was Associate Editor on Ideal Home, and Launch Editor of 4Homes magazine, before moving into digital in 2007, launching Channel 4's flagship website, Channel4.com/4homes. In 2018, Lucy took on the role of Global Editor in Chief for Realhomes.com, taking the site from a small magazine add-on to a global success. She was asked to repeat that success at Homes & Gardens, where she has also taken on the editorship of the magazine.