12 best Le Creuset buys – the H&G tried and trusted edit
Here's what to buy from Le Creuset – and why to spend your money on this cookware – if you are looking to invest in the best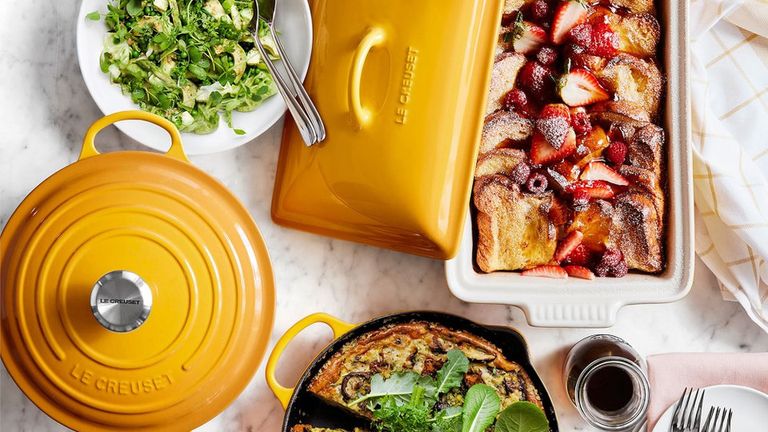 (Image credit: Le Creuset)
You probably already have a few Le Creuset pieces dotted around your kitchen, but should it finally be time for your collection to expand, then you've come to the right place for inspiration.
Welcome to the Homes & Gardens edit of the best Le Creuset buys for your kitchen – these Le Creuset must-haves are used and loved by our team every day. From the iconic casserole dish to the dreamy Le Creuset stoneware cafetière, it's all here.
Why invest in Le Creuset cookware? This oven-to-table cookware is of the highest quality and will last a lifetime with the proper care and kitchen storage ideas. It's also no secret that Le Creuset win all the points in the looks department – who wouldn't want to display their matching Le Creuset cookware proudly?
And let's not forget that this iconic cookware is non-stick, the majority is suitable for use on all hobs and for the dishwasher.
Keep scrolling for our 12 best Le Creuset buys for 2021.
1. Classic Le Creuset mugs
(opens in new tab)
A mug cupboard filled with the Le Creuset Stoneware Mugs (opens in new tab) is the stuff of our dreams. Tea drinker or coffee lover, enjoying your morning drink in one of these will keep your beverage hot for longer, and, they are nice to look at.
'I've been building up my collection of Le Creuset stoneware mugs since buying my first home. Each one, in its different hue, scrubs up well by hand and in the dishwasher with no tea or coffee stains ever present. They're also resistant to chips (so far) and just feel really nice to hold, with a good weight to them.' – Jennifer Oksien, H&G Appliances Editor
2. The Le Creuset casserole
(opens in new tab)
It should come as no surprise that the Le Creuset Casserole Dish (opens in new tab) is on our list. We often spot it in friends' kitchens – and for good reason, too. Use it on your hob, in your oven and then pop it on your table for serving up.
'This is the perfect size for cooking a casserole, soup or stew for two (hungry) people, or for when I want to make a big portion to freeze. I love that I can take it from hob, to oven to table and with the lid it retains heat well – perfect if you are always going back for seconds...' – Lindsey Davis, H&G Ecomms Editor
3. The hob-compatible Le Creuset kettle
(opens in new tab)
We like to picture the Le Creuset Traditional Kettle (opens in new tab) atop an AGA stove. Not only does this kettle get five stars in the looks department, but feature-wise it's induction-compatible, it heats up fast and it has a heat-resistant handle. How to know when your water is hot enough? It'll whistle!
'I love the stove top kettle, which I have in the classic orange. It's really sturdy and durable so it's lasted for years and years, and it looks fabulous.' - Lucy Searle, H&G's Global Editor in Chief
4. The Le Creuset frying pan
(opens in new tab)
There are quite a few Le Creuset frying pans to choose from, but we love the Toughened Non-Stick Deep Frying Pan with Helper Handle (opens in new tab): it's easy to use with not one but two handles, and it has an incredible non-stick coating. When it comes to the clean-up, it's dishwasher-safe so you needn't get your hands dirty.
We're currently testing this pan – and so far, so good.
5. The Le Creuset teapot
(opens in new tab)
Should you be a serious tea drinker, and prefer to have a pot on the go rather than to make several trips back and forth to the kettle, the Le Creuset Stoneware Grand Teapot (opens in new tab) is well worth the price tag. In fact, it can hold up to five cups of tea or coffee and it has a large handle for easy pouring. Not just that but a locking lid prevents accidents, and a drip-resistant spout will keep your tablecloth clean.
'A friend of mine swears by hers – and I have noticed that our usually extended tea-drinking sessions aren't spoiled by a pot-gone-cold.' - Lucy Searle, H&G's Global Editor in Chief
6. Le Creuset oven dishes
(opens in new tab)
Mis-matched dishes do not look great, inside your oven or out. The Le Creuset Stoneware Heritage Rectangular Dishes (opens in new tab) are pretty enough to bring to the table, and they come in three sizes. Our shopping editor owns a set of three of these in the classic Volcanic Orange...
'These oven dishes make batch cooking a breeze, not to mention that they are efficiently non-stick and they wash up in the dishwasher so well. They look nice when taken to the table, and the fact they come in all different sizes is great. I get the most use out of the medium-size one.' – Annie Collyer, H&G's UK Shopping Editor
7. The Le Creuset pan set
(opens in new tab)
Investing in some new saucepans? The Le Creuset Toughened Non-Stick 3-piece Saucepan Set (opens in new tab) will last you a lifetime. Three pans measuring all different sizes, all with lids – and they are non-stick and compatible on all hob types. Pop them in your dishwasher after use, and stack them when storing to save cupboard space.
Again, these are on test and we're impressed so far.
8. The Le Creuset butter dish
(opens in new tab)
Available in all of the classic Le Creuset colours, the Stoneware Butter Dish (opens in new tab) is an easy, and definitely better looking, way to store butter – both on the table and in your fridge. It is microwave-safe, and on warm days, it really comes into its own as it retains cooler temperatures with ease.
'Butter dishes are unremarkable, except when the weather is hot. That's when the Le Creuset butter dish stands out from the crowd. Lift the lid and, rather than being greeted by a pool of melted butter, you have a more solid pat that's protected from the worst of the heat by Le Creuset's classic design.' – Lucy Searle, H&G's Global Editor in Chief
9. Le Creuset salt and pepper mills
Salt and pepper mills are often overlooked when it comes to shopping for the kitchen, but we actually think they are one of the most important buys. They go from the kitchen to your table, and they are quite often used by your guests.
'I own both the small and normal size versions of the Le Creuset salt and pepper mills. The small ones are plastic, but they are great for keeping in a second dining room or in my case, my home office for when I am eating lunch at my desk. The large ones we use every single day and they are ceramic. You can adjust them both to make salt or pepper finer or coarser, too.' – Annie Collyer, H&G's UK Shopping Editor
10. The Le Creuset cafetière
(opens in new tab)
The Le Creuset Stoneware Cafetière (opens in new tab) is easy to use, it looks great on display and it also makes a great gift for a coffee lover. It can make up to one litre of coffee at one time, and you can use it for hot or cold brews.
'The cafetiére is much easier to clean than glass and does keep coffee warmer for longer. The lid has chipped in a few places over the years, but that's down to my careless handling of it – if it had been glass I'd have shattered it long ago. As it is, it just goes on serving up hot coffee every morning.' – Anna Cottrell, H&G's UK Consumer News Editor
11. The Le Creuset griddle pan
(opens in new tab)
Not just great for cooking meat, the Le Creuset Cast Iron Square Grillit (opens in new tab) is a must-have for healthy meals since all of the fat gets collected in the ribs of the pan. Use it to cook steaks, chicken, vegetables, fish and more.
'I inherited this from a family friend who found it too heavy, but the thickness – and thus heaviness – is what makes it retain heat well. The heat is also well distributed through the pan so I don't find you get cold spots round the edge like I have had with other griddle pans. It is dishwasher safe but I like to soak mine to remove anything burnt on, then clean very carefully to avoid removing the seasoning to the non-stick coating.' – Lindsey Davis, H&G's Ecomms Editor
12. Le Creuset espresso mugs
(opens in new tab)
We don't need to say much about these Le Creuset Stoneware Espresso Mugs, except that they are perfectly sized and can also be used for serving desserts.
'I've had my Le Creuset espresso cups for years, they were a treat to myself when I moved out of an apartment share (no mug survived in that house). I got them in a set of three and they are perfect for well... espressos but they are big enough to add a tiny bit of steamed milk on top if, like me, you aren't always hardcore enough for an espresso.' – Hebe Hatton, H&G's Style Digital Editor
Annie is Deputy Ecommerce Editor at Homes & Gardens. With a penchant for shopping, a first-class Journalism degree, and four years of eCommerce experience behind her, she is our shopping guru when it comes to what to buy for your home, when to invest — and where to do your shopping. Her eCommerce experience has inspired countless online purchases across the titles of Ideal Home, Livingetc, Gardeningetc, Real Homes, and Woman & Home. Annie and her team currently curate shopping content for Homes & Gardens, so whether you're searching for luxurious towels to spruce your bathroom or a pantry organizer to maximize space and add style, they can recommend a product (or 10).