15 best Le Creuset buys – the H&G tried and trusted edit
If you are looking to invest in the best, here is what to buy from Le Creuset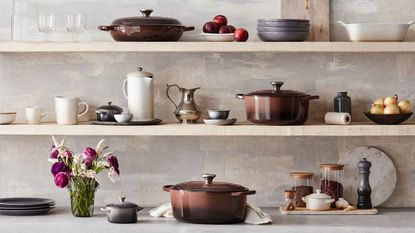 (Image credit: Le Creuset)
Founded in 1925 in Fresnoy-le-Grand, France, Le Creuset is renowned for its expertly crafted, durable, and colorful cookware. Their versatile designs are available in a grand palette of beautiful contemporary colors, with a whole host of products to choose from that can transform the look and performance of your kitchen.
You may already have a few Le Creuset pieces dotted around your space, but if you are looking to expand your collection and further invest in some of the best cast iron cookware, then you've come to the right place for inspiration.
The Homes & Gardens edit of the best Le Creuset buys explores the Le Creuset must-haves that are used and loved by our team every day. From the iconic Dutch Oven, voted the best overall in our best Dutch oven guide, to the dreamy Le Creuset stoneware cafetière and matching mugs, we have it all covered.
For further information about how we conduct our reviews and for our product-testing process explained, explore how we test on Homes & Gardens.
The best Le Creuset buys
You can trust Homes & Gardens. Our expert reviewers spend hours testing and comparing the latest products, helping you choose the best for you. Find out more about how we test.
So, why invest in Le Creuset cookware?
This handcrafted, oven-to-table cookware is made to the highest quality and will last a lifetime with the proper care. It's also no secret that Le Creuset win all the points in the looks department – who wouldn't want to make a statement and display their matching Le Creuset cookware proudly when planning kitchen shelving ideas and kitchen storage ideas?
And let's not forget that this iconic cookware is non-stick, with the majority of Le Creuset designs also suitable for use on all hobs and for the dishwasher.
Read on to discover our 15 best Le Creuset buys for 2022.
Le Creuset Black Friday
For the best Le Creuset Black Friday deals currently on offer, see our roundup of Le Creuset sales.
1. Classic Le Creuset mugs
Specifications
Dimensions: L: 3.6" x W: 4.8" x H: 3.7" x Capacity: 0.35L
Material: Glazed stoneware
Reasons to buy
+
Large selection of colors
+
Durable, long-lasting stoneware material
A mug cupboard filled with Le Creuset Stoneware Mugs is the stuff of our dreams. Tea drinker or coffee lover, enjoying your morning drink in one of these will keep your beverage hot for longer, and, they are nice to look at.
'I've been building up my collection of Le Creuset stoneware mugs since buying my first home. Each one, in its different hue, scrubs up well by hand and in the dishwasher with no tea or coffee stains ever-present. They're also resistant to chips (so far) and just feel really nice to hold, with a good weight to them.' – Jennifer Ebert, H&G Digital Editor
2. Le Creuset casserole
Specifications
Dimensions: Seven sizes available: 1.8L - 8.1L
Materials: Enameled cast iron
Reasons to buy
+
Large selection of colors
+
Large selection of sizes
+
Crafted from strong enameled cast iron
+
Multipurpose piece
Reasons to avoid
-
Can be heavy to lift and maneuver
It should come as no surprise that the Le Creuset Casserole Dish is on our list. We often spot it in friends' kitchens – and for good reason, too. Use it on your hob, in your oven, and then pop it on your table for serving up.
'This is the perfect size for cooking a casserole, soup, or stew for two (hungry) people, or for when I want to make a big portion to freeze. I love that I can take it from hob to oven to table and with the lid, it retains heat well – perfect if you are always going back for seconds.' – Lindsey Davis, H&G Ecommerce Editor.
3. Le Creuset hob-compatible kettle
Specifications
Dimensions: L: 10.7" x W: 8.2" x H:9.9" x Capacity: 2.1L
Materials: Enameled carbon steel
Reasons to buy
+
Quick heat up time
+
Durable enameled carbon steel material
+
Large selection of colors
Reasons to avoid
-
Only one size available
-
For use on hob
We like to picture the Le Creuset Traditional Kettle atop an AGA stove. Not only does this kettle get five stars in the looks department, but feature-wise it's induction-compatible, it heats up fast and it has a heat-resistant handle. How to know when your water is hot enough? It'll whistle!
'I love the stove top kettle, which I have in the classic orange. It's really sturdy and durable so it's lasted for years and years, and it looks fabulous.' – Lucy Searle, H&G's Global Editor-in-Chief