Le Creuset stainless steel pan review: Elegant, high-quality cookware with a lifetime guarantee
We put Le Creuset's 3-ply stainless steel pans to the test to see whether they deserve a place alongside your trusty casserole dish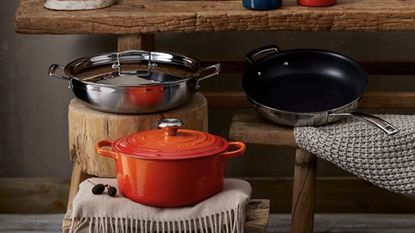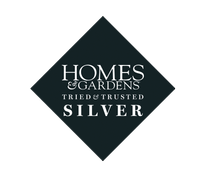 (Image credit: Le Creuset)
We love these classically styled pans that offer fast, even cooking, plus clever design features that make lifting them and pouring a breeze. A lifetime guarantee from Le Creuset means they're a great investment for any home chef. Just check the weight before you buy as they're heavier than average.
Reasons to buy
+

Elegant design

+

Quality craftsmanship

+

Easy to clean

+

Easy-pour rims

+

Even heat distribution

+

Suitable for all hobs

+

Oven safe

+

Dishwasher safe (except the non-stick frying pan)
Reasons to avoid
-

Heavier than most pans

-

Lots of plastic packaging
You can trust Homes & Gardens. Our expert reviewers spend hours testing and comparing the latest products, helping you choose the best for you. Find out more about how we test.
Most of us have a piece of Le Creuset cookware in our kitchens. The iconic French brand is best known for its colorful casserole dishes, but it also makes stainless steel pans that are perfect for everyday cooking, whether that's boiling potatoes or frying eggs.
Le Creuset's 3-ply stainless steel cookware is available as individual pans or in bundles, which offer the best value for money. We tested the four-piece pan set, available in the UK. If you're in the US, there's a seven-piece 3-ply pan set, which has a slightly different lid design but similar features.
As the name helpfully suggests, the pans are made of three layers – two layers of stainless steel with an aluminium core – which it is said to distribute the heat evenly across all surfaces of the pan and helps prevent food from sticking. The pans can be used on all types of hob, including induction and grills, as well as being oven safe up to 500ºF/260ºC. The full pan set is dishwasher safe in the US, while in the UK it's all dishwasher safe apart from the non-stick frying pan.
If you're keen to add to your Le Creuset collection, be sure to take a look at our guide to the best Le Creuset buys, from kettles to teapots and, of course, those iconic casserole dishes.
Specifications
Material: Stainless steel with an aluminium core
Suitable for: Everyday use
What's included UK: 16cm saucepan and lid, 18cm saucepan and lid, 20cm deep casserole and lid, and a 24cm non-stick frying pan
What's included US: 10" fry pan, 2 qt. Saucepan and lid, 3 qt. sauté pan and lid, and 7 qt. Stockpot with lid
Oven safe? Yes, to 500F/ 260C
Suitable for: Grill, electric hob, ceramic glass cooker, gas hob, induction hob
Dishwasher safe? Yes, except the non-stick frying pan
Guarantee: Lifetime guarantee from Le Creuset
What's included in a Le Creuset stainless steel pan set?
Le Creuset's stainless steel pans are available to buy individually or in sets of up to 12 pieces. What you find inside the box depends on which country you're in and the size of pan set you choose.
We tested the four-piece pan set in the UK, which includes a 16cm saucepan and lid, 18cm saucepan and lid, 20cm deep casserole and lid, and a 24cm non-stick frying pan. The set basically includes everything an everyday home cook needs. I occasionally need an extra frying pan, but otherwise it caters perfectly for my family of three people.
In the US, the seven-piece pan set is comparable and includes a 10" fry pan, 2qt saucepan with lid, 3qt sauté pan with lid and 7qt stockpot with lid.
I have to say I was a little disappointed to find each element of my pan set wrapped in a separate plastic bag that wasn't recyclable in my kerbside collection. It would be great if the pans and lids came packaged in paper, which would offer more protection and can easily be recycled.
Design of Le Creuset's stainless steel pans
Nobody should prioritise beauty over brains, but luckily these pans deliver on both functionality and aesthetics. The look is simple and elegant, and would complement any style of kitchen, from country farmhouse to Notting Hill townhouse. The craftsmanship is evident throughout, from the handles, which are riveted securely in place, to the handy measurement markers etched onto the inside of each pan so you don't need a measuring jug.
The lids have a handy rim around the edge, which we used to rest our spoon on. The rim is actually designed to create a really tight seal with the pan, keeping cooking juices in and allowing you to boil food using less water, so being able to use it as a spoon rest is an added bonus.
There's nothing worse when you're hosting a dinner party than trying to pour out the contents of a pan and getting splashed with what's inside, but these pans have a clever rim that makes pouring precisely a cinch. Add in the 'helper handles' – handy grab handles on the saucepans and casserole dish – and it's easy to get the contents of your pan onto your serving plates with minimal mess.
Are the pans easy to clean and care for?
The pans are reassuringly simple to look after. I washed them with a sponge and soapy water before first use, and cured the non-stick frying pan by wiping it with vegetable oil, heating and rinsing, before cooking anything in it.
I pop all of the saucepans into the dishwasher and have found that even stuck-on bits of food came off easily. In the UK, you can't put the frying pan into the dishwasher because of non-stick layer, but food wipes off really easily so it wasn't an issue.
A quick word of warning – don't plunge the hot pans straight into cold water (we've all done it), as it can damage the conductivity of the pan and stop them working as efficiently in the future.
Do the pans cook faster than standard stainless steel pans?
The pans definitely distribute the heat more evenly than my standard stainless steel pans, which means you can cook almost anything on a medium heat. I have an induction hob, with heat levels from 1-14, and rarely need to go past 8-10, even if frying eggs or bacon. The edges of the pan also heat at the same rate as the centre, so you don't end up with those pesky burnt patches in the middle with uncooked edges.
To test how quickly the pans heat up, I filled the large casserole/stock pot and my old stainless steel pan of the same size with two litres of water and timed to see which would boil first. I placed both pans on the same-size ring on my induction hob and use the 'power' function for fast heating. The Le Creuset pan boiled two seconds faster than my old pan, so the actually time difference for heating is minimal.
As well as heating up more evenly and quickly, Le Creuset claims you can cook using no oil, which is great if you're feeling health conscious. I managed to cook everything from eggs to pancakes in the frying pans without oil. In the saucepans, you need to leave them to warm on a low heat for a couple of minutes before adding food to the pan if you want to cook without any fat at all.
Are there any downsides?
I mentioned that the pans feel reassuringly weighty, which is true, but they would definitely be too heavy for some people, especially when they're full. I asked my mum, who is a slim-build and in her mid-60s, to lift the full casserole/stock pot and she needed two hands.
To test how much heavier than standard pans they actually are, I weighed the 22cm saucepan while it was empty and compared it to my old pan of the same size. The Le Creuset weighed over 1lb/0.4kg more, at 2lb 15oz/0.9kg, compared to my old pan at 1lb 11oz/ 0.5kg. The weight difference isn't an issue for me, and I like the solid feel of the pans, but it's definitely something to consider if you have limited mobility.
Homes & Gardens Verdict: Should I buy a Le Creuset stainless steel pan set?
There's no doubting that Le Creuset's 3-ply stainless steel pans are an investment, but if you're looking for a quality cookware set that will last a lifetime then they're more than worth it. Expect to pay about $510 for the seven-piece set in the US and £450 for the four-piece set in the UK.
We love the class styling and craftsmanship of these pans. They look as beautiful as a saucepan can look and feel really well made. We tested the pans over two months and the handles are still completely secure and there are no marks on any of the surfaces. The lifetime guarantee is reassuring as it means you can get the pans fixed or replaced if something should go wrong.
The fact that the pans can be used on all types of hob, as well as being oven and dishwasher safe (excluding the non-stick frying pan), is a huge bonus as it makes them versatile and easy to clean.
In fact, the only potential downside is the weight. There's no denying that they are heavier than standard saucepans because of the triple-layer construction, so if you have limited mobility or aren't particularly strong, then they wouldn't be right for you.
About this review – and our reviewer
Laura Crombie is Brand Development Director for Homes & Gardens. She's an experienced homes journalist and presenter and has reviewed everything from cordless vacuums to wine coolers and electric vehicles.
Laura recently renovated her kitchen and put these pans to the test on her new AEG induction hob and double oven over a period of two months. She used the pans to cook everything from breakfast pancakes to roast dinners.
Sign up to the Homes & Gardens newsletter
Decor Ideas. Project Inspiration. Expert Advice. Delivered to your inbox.
Brand Development Director
En route to joining Homes & Gardens, Laura was a newspaper reporter, Editor of a regional magazine, and Editorial Manager for a travel company. She started at Real Homes in 2015 as Deputy Editor and then become Editor before taking on her current position, which focuses on video and events across all our brands, including Homes & Gardens.