Le Creuset Cyber Monday deals – the biggest savings and hidden gems from the iconic cookware brand
There are many Le Creuset Cyber Monday deals available this year, explore our round-up of the very best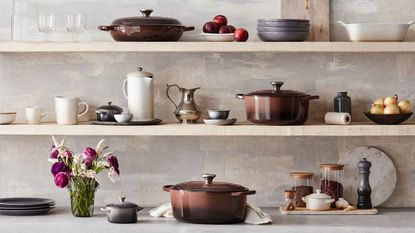 (Image credit: Le Creuset)
Our Le Creuset Cyber Monday deals collection can help you find the perfect new purchase for your kitchen.
One of the most popular cookware brands, our favorite Le Creuset buys offers some of the very best products on the market. From the best cast iron cookware to coffee cups and kettles, their signature collection of bright-colored finishes and expertly crafted designs make them one of the most sought-after brands to use and display in the kitchen proudly.
Whether you already have an extensive collection of Le Creuset and are looking for a great deal on a new piece, or have waited for the Le Creuset Cyber Monday deals to purchase your first product, we have curated a list of the best discounts available.
Le Creuset Cyber Monday deals
You can shop Le Creuset Cyber Monday deals by retailer or via our top H&G picks.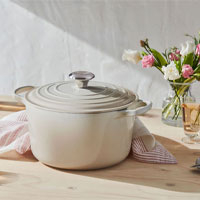 (opens in new tab)
Deep Dutch Oven 5 1/4 qt. | Was $380 Now $200 at Le Creuset (opens in new tab)
A truly versatile cooking tool, the Le Creuset Deep Dutch Oven can be used for slow-cooking, roasting, baking and frying, across both the stove and the oven. Act fast, colors are already starting to sell out.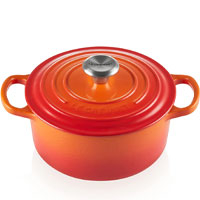 (opens in new tab)
Enameled Cast Iron Signature Round Dutch Oven, 3.5 qt. Flame | Was $359, Now $249.76 at Amazon (opens in new tab)
Save $$$ on of Le Creuset's best-selling products, the Dutch Oven, in size 3.5 and in their famous flame finish. Savings can be found across multiple sizes and colors of the Dutch Oven on Amazon.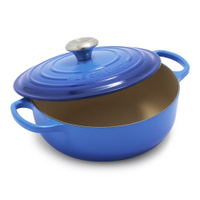 (opens in new tab)
Le Creuset Sauteuse, 3.5 Qt.| was $299.95 Now $179.96 at Sur La Table (opens in new tab)
Year after year, Le Creuset cast iron pieces are highly sought-after item on many lists, from novice cooks to pro chefs. Enjoy a discount on the Le Creuset Sauteuse, 3.5 Qt at Sur La Table.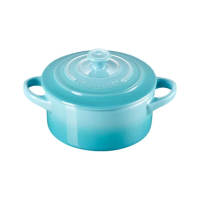 (opens in new tab)
8 OZ Mini Round Cocotte | Was $32.00 Now $24.50 at Wayfair (opens in new tab)
An adorable addition to your cookware collection, this 8 OZ Mini Round Cocotte is not only great for cooking individual portions, but it can become a staple when entertaining guests, as the design is the perfect size to serve dips, sauces, snacks, nuts and much more.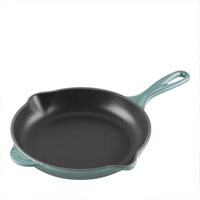 (opens in new tab)
9" Cast Iron Skillet | Was $175 Now $119 at Bloomingdale's (opens in new tab)
Available in six different colors, this 9" Cast Iron Skillet is essential if searing, sautéing, and stir-frying are part of your cooking routine. Crafted from durable enameled cast iron, the inside enamel develops a natural patina over time, making it virtually nonstick and easy to clean.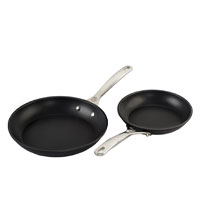 (opens in new tab)
Set of 2 Toughened Nonstick PRO Fry Pans | Was $240, Now $180 at Nordstrom (opens in new tab)
Enjoy 25% off these two PRO Fry Pans, ideal for quick and easy everyday use whilst still providing excellent results. Each versatile pan features a triple-reinforced PFOA-free coating that is ideal for browning and searing with or without oil and can be easily wiped clean.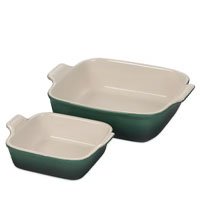 (opens in new tab)
Heritage Square Dishes, Set of 2 | Was $75 now $58 at Bloomingdale's (opens in new tab)
This set of two versatile dishes provides a larger design, ideal for homemade casseroles, roasting veggies and meats, pasta bakes and more, with the smaller, the perfect size for smaller portions for two. Crafted from durable stoneware, finished with a non-stick, colorful glaze.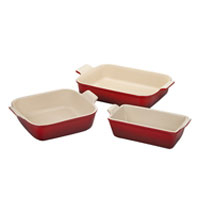 (opens in new tab)
Heritage Baking Essentials Set | Was $201 now $150at Le Creuset (opens in new tab)
This set features three of the most popular and versatile-sized Le Creuset baking dishes, making it well worth it if you love to cook and bake. The set includes the Heritage Rectangular Dish, the Heritage Square Dish and the Heritage Loaf Pan.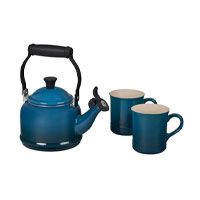 (opens in new tab)
Demi Kettle and Mugs Set | Was $132 now $100 at Le Creuset
A long-lasting addition to your kitchen space, the classic Demi Kettle and matching Mugs Set can create a cohesive look in your kitchen. One of our favorite stovetop kettles, the design is crafted from fast-heating, premium carbon steel which rapidly brings water to a boil, and has a fixed single-tone whistle to alert you when the water is ready. The stoneware mugs have a large 14oz capacity and have been made from premium stoneware with a colorful glaze.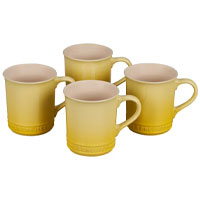 (opens in new tab)
4 Piece Coffee Mugs Set | Was $96.00 now $75.95 at Wayfair (opens in new tab)
This set of 4 Coffee Mugs are currently available at Wayfair in 12 discounted finishes. Making your cups of tea and coffee that little bit more special, these durable stoneware mugs are one of Le Creuset's bestselling items, and can look lovely when displayed in a cabinet or on a shelf.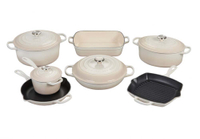 (opens in new tab)
11-Piece Ultimate Cast Iron Set l Was $2,203.00 now $1m500 at Le Creuset (opens in new tab)
If you want to get a bit more specific and dial in on one category, consider this ultimate enameled cast iron cookware set (opens in new tab). Perfect for holidays or nightly meals, you'll receive Le Creuset's top-performing pots and pans, the iconic Dutch Oven, and the highly-rated braiser and skillet.
What is Black Friday?
Often hailed as the biggest shopping day of the year, Black Friday falls on the last Friday of November, which this year means Black Friday will fall on Friday 25th November 2022.
The term Black Friday originated in the US to denote the first day following Thanksgiving when retailers would cut prices to draw holidaymakers to shop their store's sales. Driven by global brands, the price-slashing event soon became a worldwide phenomenon, and now Black Friday, closely followed by Cyber Monday, has become one of the globe's biggest consumer extravaganzas.
What is Cyber Monday?
Cyber Monday falls directly after Black Friday and is the conclusion of the shopping event, with many online-only deals. This year, Cyber Monday falls on Monday, Nov. 28th.
Louise is your eCommerce Editor and sleep specialist to help you wind down well. A connoisseur of the mattress world, Louise previously covered sleep and wellness (as well as the occasional organizational buy) at Real Homes, and has tried, tested, and reviewed some of the buys for your bedroom. With an MA in International Journalism and PR experience, Louise brings bags of bedding expertise and enjoys nothing more than helping readers find solutions and products that best suit their sleep needs.