The best Le Creuset sales to shop before the for the New Year
Follow our comprehensive guide to the best Le Creuset sales to reprive and replenish your kitchen essentials before the New Year.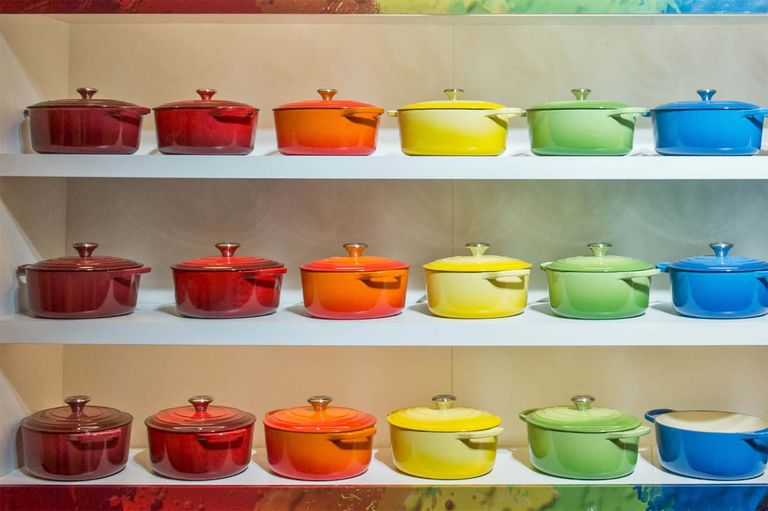 (Image credit: Le Creuset)
There is nothing better than a Le Creuset sale, and right now, there are many ongoing. With the holiday season winding up and the New Year right around the corner, there is no time like now to swap out your old cookware for some new ones, with Le Creuset high on our list.
Le Creuset cookware is perfect for all sorts of culinary challenges – from large family gatherings to one-pot meals – and comes in a host of statement-making colors. But, with quality, comes a higher price tag – and that's where Le Creuset sales come into play.
So, whether you are shopping for the best-cast iron skillets, pans, and pots, or simply need a last-minute Christmas gift, here are the best Le Creuset sales to shop now.
The best Le Creuset Sales
Score the best Le Creuset sales ahead of the New Year by shopping these retailers.
More Le Cresuet sales to shop
Le Creuset Cast Iron Signature Skillet for $189.95 or Buy 3 and get 20% off, at Wayfair
This enameled cast-iron skillet is versatile enough to sear, sauteé, stir-fry, and more formulated with a higher surface to withstand temperature cooking.
Stockpot l Was $150, Now starting at $80, at Le Creuset
You won't want to miss out on this Le Creuset sale when it comes to this steel stockpot. An essential when whipping soups or stocks, or even when boiling seafood, it delivers the fastest-heating performance of premium carbon steel glazes, it's impossible to resist.
Signature Oval Baker l Was $200, Now $75, at Le Creuset
Are you tired of needing a different pot or pan when it comes to baking, roasting, and stovetop cooking? Aren't we all — and this signature oval baker puts an end to needing multiple items; this perfect piece exposes ingredients directly to heat, and a larger size provides ample room to cook for large numbers of groups.
5-Piece Signature Set l Was $715, Now $525, at Le Creuset
Are you swooning over the above-mentioned eight-piece set but don't need that many pieces? No problem, go ahead and reach for this five-piece set; it's a condensed version of the former but features the essentials such as the [iconic] dutch oven and cast iron pots and pans.
12-Piece Mixed Material Set l Was $730, Now $500, at Le Creuset
Invest in this perfectly polished set that has all the essentials; a two-quart stainless steel saucepan, 8-inch nonstick frying pan, a square casserole dish, a three 1/2-quart rounded dutch oven, and all the necessary utensils.

Le Creuset Multifunction Pan, 2.5 Qt. l Was $285, Now $199.95, at Sur La Table
We could give you 100 reasons why this two-piece set is perfect for you, but instead, let's go with the obvious: you can whip up everything from grilled cheese sandwiches to fluffy omelets and can do so for a fraction of the regular price.
Le Creuset Sauteuse, 3.5 Qt. l Was $299.95, Now $179.96, at Sur La Table
Whip up Michelin-star-style meals and do so in a bold, bright sauteuse. With a wide base for browning and precise construction for easy stirring, you'll be reaching for this piece on repeat.
Le Creuset sale: All of the best dish deals
Le Creuset oven dishes are incredibly durable; in fact, they come with a lifetime guarantee. Better still, they are essential for all sorts of cooking – and make attractive oven-to-tableware, too. These are the best Le Creuset sale prices you will find today.
Le Creuset sale: The top casserole deals
Discover the best Le Creuset sale items to shop on the iconic or 'French Dutch oven.' From roasting to baking, this all-in-one does it all.
Le Creuset sale: The best saucepan set deals
You won't beat these prices on the Le Creuset sale on saucepan sets. If you're looking to upgrade your basics, or are looking for a housewarming or wedding gift, they're ideal.
Le Creuset sale: The top frying pan deals
Le Creuset frying pans are microwave, freezer and dishwasher-safe. They come in 10 different colors and a five year guarantee. These are the best prices today:
Le Creuset sale: The best skillet deals
Naturally, we are big fans of the Le Creuset skillet; its enamel interior is non-stick, scratch-resistant, and doesn't require seasoning, making it extraordinarily durable. Below, we've found all of the Le Creuset sale items on skillets.
Brittany Romano is Future's U.S. Shopping Editor, residing on the Upper East Side in New York City. Originally hailing from Connecticut and a graduate of New England College, Brittany started her career as a freelance fashion market assistant at Marie Claire. She later joined AMI, where she designed a highly profitable commerce vertical. Noted for her award-winning content, she's covered everything from celebrity beauty hacks to the most lavish home decor; Brittany has maintained her penchant for the finer things in life.
If a genie granted Brittany one wish, it would be for Kelly Wearstler to bring her vision to life and transform her living space, but until then? You'll find Brittany continuously evolving her chilled-out sophisticated style, shifting her attention to eclectic pieces (with a hint of retro), grounded by a rich understanding of history, focused on functionality, luxury, and quirkiness.
Find her on Instagram @ItsBrittanyRomano