Le Creuset sale – the best live deals on cast-iron casseroles, cookware and more
The Le Creuset sale has arrived, so you can save on signature oven and tableware – brilliant investments and gifts for budding chefs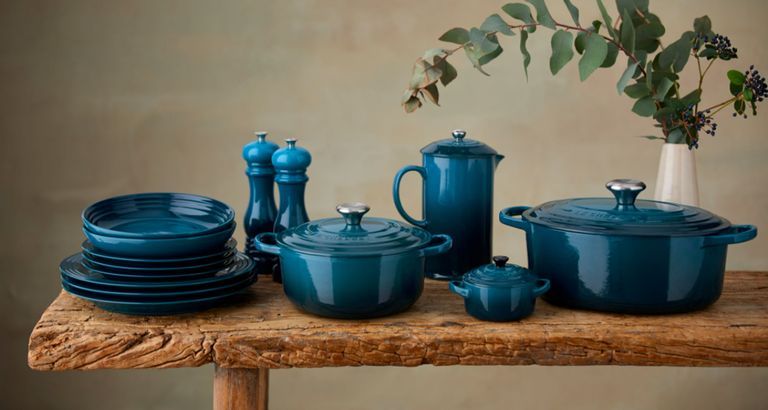 (Image credit: Le Creuset)
The holidays can really put your cookware to the test, so if you struggled with your pots and pans this season there's no better time than the January sales to upgrade to a brand new set to start 2021 off with a clean slate. There are a whole host of Le Creuset sale deals appearing at all our favorite retailers and we'd always recommend Le Creuset for any kitchen because – quite simply – its the very best oven-to-tableware that money can buy.
There's always huge demand for Le Creuset cookware, and with more and more of us cooking from home you'll definitely benefit from having a set of these high quality pans and Dutch ovens in your kitchen.
No wonder the brand has built a legion of loyal fans over its near-100-year history. And while we know that this classic cookware doesn't come cheap, you can invest for less in Le Creuset sales.
There are some amazing deals to be had on Le Creuset's casseroles - big and small - as well as dishes, mugs and even tagines. We have listed both US and UK deals, so you can find the buy you want, wherever you live. As sales sell out quickly, we'll make sure to update this page regularly so you get the latest a greatest deals as and when they appear online so keep checking back on this page for updates.
For more of the very best buys, from cookware and home accessories to the latest sale edits, visit our January sales page. Otherwise, keep scrolling to see the best of the Le Creuset sale.
Le Creuset deals US – quick links
Le Creuset deals UK – quick links
Best Le Creuset deals today from the US
Invest in Le Creuset's trademark French ovens and tableware for less, by way of your favorite retailers.
Best Le Creuset deals today from the UK
These discounted dishes will see you through years of loyal service.
More Le Creuset deals
Find more great prices on Le Creuset below.
Le Creuset oven dish sales
Le Creuset oven dishes are incredibly durable; in fact, they come with a lifetime guarantee. Better still, they are useful for all sorts of cooking – and make attractive oven-to-tableware, too. These are the best prices you will find today:
Le Creuset casserole sales
Discover the best deals on the most famous of Le creuset's cookware range – the casserole, or 'French oven'. You can make almost anything in one of these. The obvious stews and casseroles aside, you can roast in them, and bake bread and cakes.
Le Creuset saucepan set sales
You won't beat these prices on Le Creuset saucepan sets. If you're looking to upgrade your basics, or are looking for a housewarming or wedding gift, they're ideal.
Le Creuset frying pan sales
Le Creuset frying pans are microwave, freezer and dishwasher-safe. They come in 10 different colors and a five year guarantee. These are the best prices today:
Le Creuset skillet sales
We are big fans of the Le Creuset skillet – its enamel interior non-stick, scratch resistant, and doesn't require seasoning, making it extraordinarily durable. These are today's best prices:
Why buy Le Creuset?
The Le Creuset company was founded in 1925 in northern France – and is still manufactured there to this day. Belgians Armand Desaegher and Octave Aubecq started their now world-famous operation by introducing their Le Creuset cocotte, or French oven, which is still the brand's most popular piece.

Le Creuset is famed for its color range, with its signature Volcanic orange launched in 1934; the first blue came along in the 1960. It was the idea of the renowned UK cook and Le Creuset fan Elizabeth David, who suggested color-matching the pots to her favorite Gauloise cigarette packet...
Nearly 100 years on and Le Creuset is made from the same tried and trusted mix of pig-iron, recycled steel and recycled iron.
We'll keep updating our Le Creuset Cyber Monday sale deals throughout the year.
No matter what your cooking style, we are certain we will find you the perfect update to your Le Creuset collection.