Patio furniture deals: the best outdoor summer sales of 2022
The patio furniture deals worth shopping this summer, from the outdoor furniture sales with the biggest savings to discounts on top brands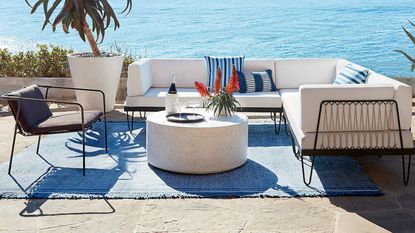 (Image credit: CB2)
On the lookout for patio furniture deals? If you haven't got your backyard sorted for summer yet then you're in luck because there are some great patio furniture sales happening this month.
From affordable Adirondack chairs, to budget bistro sets and discounted outdoor dining sets, now is a great time to shop for outdoor furniture bargains - if you know where to look.
To simplify the search, the Homes & Gardens team has rounded up our top picks from the very best patio furniture sales on our radar, bringing you some easy outdoor updates with big summer savings.
So whether you are looking to snap up a bargain chaise lounge or a half-price outdoor sofa, this is where you will find the best outdoor furniture to style up your backyard for less this summer.
Patio furniture deals 2021: The best buys
The Homes & Gardens team's top picks from this month's patio furniture sales, including our Star Buys – the timeless Beachcroft sofa seat with a $500 saving, an iconic Adirondack chair with eco-friendly credentials, and a decadent daybed we'd love to relax on...
Top tip: Whenever sale shopping it's important not to get seduced by price alone. A bargain purchase can fast become far more expensive than it originally seemed if it doesn't weather more than one season, so it pays in the long-term to do a little research before you buy.
To help decode the mysteries of long-lasting patio furniture, we asked the experts in our 'is outdoor furniture weatherproof?' feature. Their answers will help you to choose the best outdoor furniture materials for your environment - whether that's sun-baked, wet and windy, or a mixture of all the elements.
Where has the best patio furniture sales?
Generally speaking, the best patio furniture sales – along with the best patio umbrella and outdoor rug discounts – happen when the summer season is drawing to a close and retailers are looking to clear stock ahead of the winter season.
However, there can still be some great discounts to be found throughout the year, especially around 4th of July, Amazon Prime Day, and, of course, Black Friday.
We've rounded up our top recommendations for stores with the best patio furniture deals below.
Patio furniture retailers from A - Z: