Best outdoor furniture 2021 – for super stylish patios
Discover the best outdoor furniture; we've rounded up the top patio furniture for your outside space, from classic chaise loungers to stylish tables and seating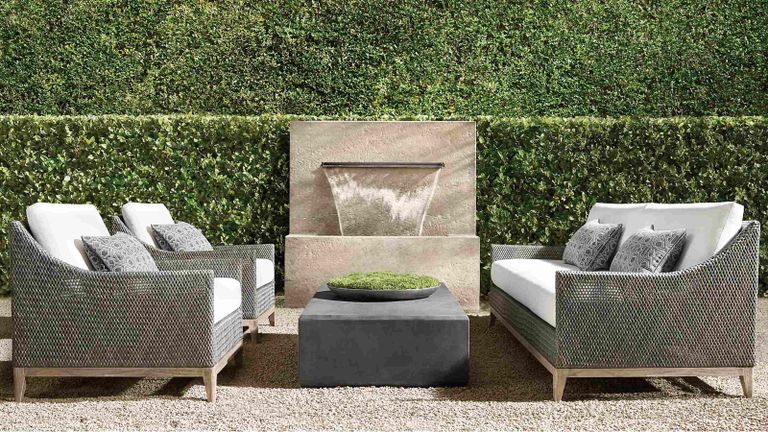 (Image credit: RH)
By Amy Lockwood
The best outdoor furniture will transform your backyard, extending your living space out onto the patio, terrace and beyond.
From the most stylish chaise loungers to timeless patio chairs and elegant outdoor dining tables, we've rounded up the key pieces to make shopping for the best outdoor furniture simple and easy.
So whether your outside space is formal, relaxed, contemporary, coastal or classic, read on to find the best patio furniture for your style.
Inspired to get outside and dine al fresco? Our guide to the best grills will help you to entertain in style.
Best outdoor furniture 2021
1. GREYSTONE TEAK ARMCHAIR
A timeless dining armchair with coordinating furniture
Specifications
Main materials: SVLK-certified teak wood
Matching outdoor furniture: Sofa, chaise, lounge chair, dining table, coffee table & side table
Reasons to buy
+154 cushion upholstery options+Sustainably sourced teak wood+Wide range of matching outdoor furniture
This classic teak wood armchair forms part of the Greystone outdoor furniture collection designed by Ann Marie Vering.
Handcrafted from SVLK-certified teak wood, which is highly durable and naturally moisture-resistant, this timeless design will weather the elements to become a modern heirloom.
Inspired by the European Neoclassical style, the latticework backrest and elegantly tapered legs create a light and airy feel that lends effortless style to the garden.
2. Parker Sofa
A colorful outdoor lounge sofa
Specifications
Main materials: Gloss white steel & fabric cushions
Matching outdoor furniture: Armchair
Reasons to buy
+A bright and colorful backyard update
White metal scrollwork and colourful striped sunshine-yellow cushions make this pretty sofa a playful addition to the backyard.
Kick back with a good book or evening sundowner, or add additional seating with the coordinating Emily Isabella Parker Chair and invite guests to join you.
3. Trestle Teak Dining Table
A large trestle table ideal for outdoor entertaining
Specifications
Main materials: SVLK-certified teak wood
Matching outdoor furniture: Pair with a wide range of chair options
Reasons to buy
+Spacious dining for a large number of guests+Sustainably sourced teak wood
For long summer days - and evenings - outdoors with friends, this spacious SVLK-certified teak dining table is perfect for entertaining.
The sturdy build and timeless design will create an understated centerpiece outside, with space for up to twelve guests to enjoy al fresco dining or drinks.
Pre-treated to give the wood the mellow silver-grey patina of already weathered teak, this classic yet contemporary table will blend effortlessly into a wide range of outdoor spaces.
4. Skagerak Columbus Sun Bed
A classic teak chaise lounger
Specifications
Main materials: FSC certified teak wood
Matching outdoor furniture: Table, dining chair, lounge chairs
Reasons to buy
+Classic style+Sustainably sourced teak wood+Wheels for easy maneuverability
A classic chaise lounger crafted from sustainably sourced FSC certified teak wood, this simple yet well-made design is a must-have for outdoor relaxation.
An adjustable backrest helps you to find just the right angle for comfortable reclining, whilst the stylish black or white Suntexture fabric is designed to dry quickly and resist the elements.
Always a bonus for following the sun - the rear wheels add easy maneuverability.
5. LAUREL ALUMINUM LOUNGE CHAIR
A smart lounge chair collection
Specifications
Main materials: Powder-coated aluminum
Matching outdoor furniture: Sofa, chaise, armchair, dining table, coffee table, side table & ottoman
Reasons to buy
+134 cushion upholstery options+Wide range of matching outdoor furniture
This graphic black lounge chair creates a smart contemporary look paired with contrasting white upholstery - but with 134 fabric options on offer, you can create a look that's bespoke to your backyard.
Low to the ground, with a gently tapered leg to lend a classical touch, the relaxed lounge chair is complemented by a wide range of coordinating furniture, from a simple chaise lounger to the spacious outdoor coffee table.
Or, if you prefer, opt for the same design in SVLK-certified teak wood for an organic look.
6. Breezy Poppy Outdoor Wing Chair
A colorful wing chair to add statement style
Specifications
Main materials: Polyethylene wicker & powder-coated iron
Matching outdoor furniture: Coffee table, cafe chair, cafe table
Reasons to buy
+A fun statement design
This playful wingback chair adds a fun touch to an outside space, bringing eclectic color to a patio or terrace.
The whimsical design sees bright pinks and greens interwoven into detailed geometric patterns with Sunbrella-upholstered cushions adding more vibrant pattern clashing color.
Pair with the matching coffee table, or for a compact alternative opt for the space-saving bistro chair and table to add personality to a smaller outside space.
7. SKAGERAK Atlantis Umbrella
A stylish patio umbrella for plenty of shade
Specifications
Main materials: FSC 100% certified kapur, fabric, stainless steel
Reasons to buy
+Double-pulley system for easy opening and closing+Large canopy offers plenty of shade
Enjoy long and leisurely lunches outdoors with this patio umbrella from Danish design house Skagerak.
The spacious umbrella casts plenty of shade, whilst the handy double-pulley system takes the effort out of opening and closing the substantial canopy.
The classic combination of warm wood and cool white fabric will create a restful retreat from the blazing sun.
8. Avery Neoclassical Lounge Chair
An elegant daybed for relaxed lounging
Specifications
Main materials: Powder-coated iron and aluminum
Matching outdoor furniture: Chaise, double chaise, sofa, armchair, dining chair & bar stools
Reasons to buy
+A spacious chaise lounger alternative
The ultimate in decadent lounging, this decorative Neoclassical design will bring simple elegance to the garden.
The perfect place to curl up with a good book or enjoy some quality time for two, the black powder-coated iron frame is softened by comfortable white cushions that make for comfortable reclining.
For a cohesive look, pair with the coordinating single or double chaise, sofa, dining chairs or tall bar stools.
9. PARAISO SOFA
A wicker outdoor sofa for a classic simplicity
Specifications
Main materials: PE wicker & aluminium
Matching outdoor furniture: Chaise, armchair & lounge chair
Reasons to buy
+Timeless elegance
Always a contender for best outdoor furniture, wicker garden furniture works well in a range of outdoor settings, from urban roof gardens to a classical terrace.
In the Paraiso collection, the flat weave of the tonal 'all-weather' rattan and muted teak wood base create the perfect pairing.
Gently sloping arms and a low back imbues the Paraiso sofa with understated elegance, offering comfortable and laidback relaxation to any outdoor space.
10. adones outdoor six piece sectional
A spacious sectional sofa for expansive seating
Specifications
Main materials: Teak wood
Matching outdoor furniture: Multiple sofa options, chaise, armchair, lounge chair, dining chair, rocking chair, stool, bar stool, ottoman & more!
Reasons to buy
+Wide range of matching outdoor furniture+92 upholstery options
For outdoor comfort that rivals comfort levels indoors, a corner sofa or sectional seating is the way to go.
This spacious six-seater option offers plenty of sitting and reclining room, plus, with a wide selection of coordinating furniture available, there is unlimited scope to extend your seating options further.
Inspired 5th century Greek Klismos design, the Adones collection combines modern styling with traditional aesthetics - a timeless look that works with ease in a classic or contemporary outdoor space.
How to choose the best outdoor furniture
The best outdoor furniture for your outside space will depend on how you want to use your backyard.
If you love entertaining then opt for a large trestle table that has room to accommodate a large number of guests, or a spacious corner sofa and armchairs that gives everyone plenty of room to relax.
If you like to gravitate to the pool when you head outside then look for waterproof options and quick-drying fabrics that will soon air-dry after a soaking.
If the backyard is the place you retreat to for some rest and relaxation, consider a comfortable chaise lounger or more intimate seating for two.
How to position the best outdoor furniture
You'll want to consider size and scale before you start furniture shopping to make sure your chosen design fits the space where you want to use it.
If your outside space is on the smaller side then check measurements carefully to ensure your patio furniture doesn't overwhelm the area.
If you have a larger patio then zoning can be just as useful outdoors as indoors. Consider what areas you want to create - maybe a dining space next to the outdoor grill, comfortable chaise loungers or corner sofas around the hot tub, or a group of seating positioned around a particularly impressive view of the garden.
Want more outdoor inspiration?
Find top ways to style a patio area in our courtyard garden ideas, add greenery to an urban space in our roof garden ideas or bring blooms to your backyard with these pretty rose garden ideas.

A background in art and design informs Amy's love of colour, texture, and form, with a degree in Printed Textiles for Interiors at Winchester School of Art opening a gateway into the world of interior design and grounding her knowledge of the importance of decor, furnishings, and furniture in curating a well-considered space.
Amy's own style is considered, contemporary and timeless, with a strong interest in contemporary craft and homewares that champion collaboration between traditional makers and innovative technologies. A belief that design - and all other aspects of our lives - must exist in balance with the natural world fuels her interest in exploring sustainable, circular, and regenerative design processes and underpins her passion for natural materials and responsible craftsmanship.
When she's not writing about interior design or sourcing the latest homewares for Homes & Gardens' readers, Amy is most often found deliberating over the perfect shade of white paint, digging through antique markets to unearth buried treasures, or printmaking in her home studio.