Best outdoor furniture for small spaces: transform your tiny patio, terrace, or balcony
Make the most of your outside space, no matter the size with small bistro sets, compact dining tables and cozy lounge chairs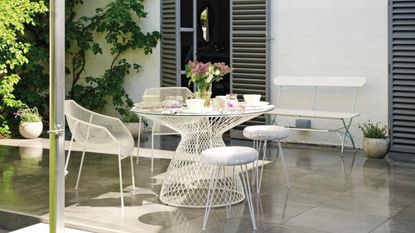 (Image credit: Future)
Sign up to the Homes & Gardens newsletter
Decor Ideas. Project Inspiration. Expert Advice. Delivered to your inbox.
Thank you for signing up to Homes & Gardens. You will receive a verification email shortly.
There was a problem. Please refresh the page and try again.
Whether you have a modest yard, patio, or balcony, the best outdoor furniture for small spaces will make it look and feel all that more elevated. Don't fall trap into thinking a small space lacks design potential, by simply adding a stylish bistro set or loveseat outdoor sofa, you can completely transform what felt like a patch of grass into something special.
Outdoor furniture for small spaces - quick list
Finding patio furniture that fits your space, budget and your style can be tricky. It's easy for small gardens to be left with standard bistro sets that struggle to bring your interior fair outside. But with lots of interiors, gardening, and shopping expertise, we're here to help you find the best outdoor furniture for your small space.
We've scrolled, read reviews, and assessed products from stores offering space-saving furniture designs, timeless appeal, durability, and value for money, so you can bring your patio furniture ideas to life. From chic bistro sets to enjoy breakfast on the terrace, to savvy foldaway dining tables, you can create a versatile outdoor space, no matter its size.
Best outdoor furniture for small spaces 2023
You can trust Homes & Gardens. Our expert reviewers spend hours testing and comparing the latest products, helping you choose the best for you. Find out more about how we test.
Most of this small outdoor furniture selection features in our best outdoor furniture guide too. Every pick is made of quality materials, is comfortable to use, and looks stylish. But it's worth remembering that the best outdoor furniture for you will depend on the size and shape of your space, and how you plan to use it. We've sectioned the best outdoor furniture for small spaces below by type, so you can shop based on your needs.
Best small outdoor furniture sets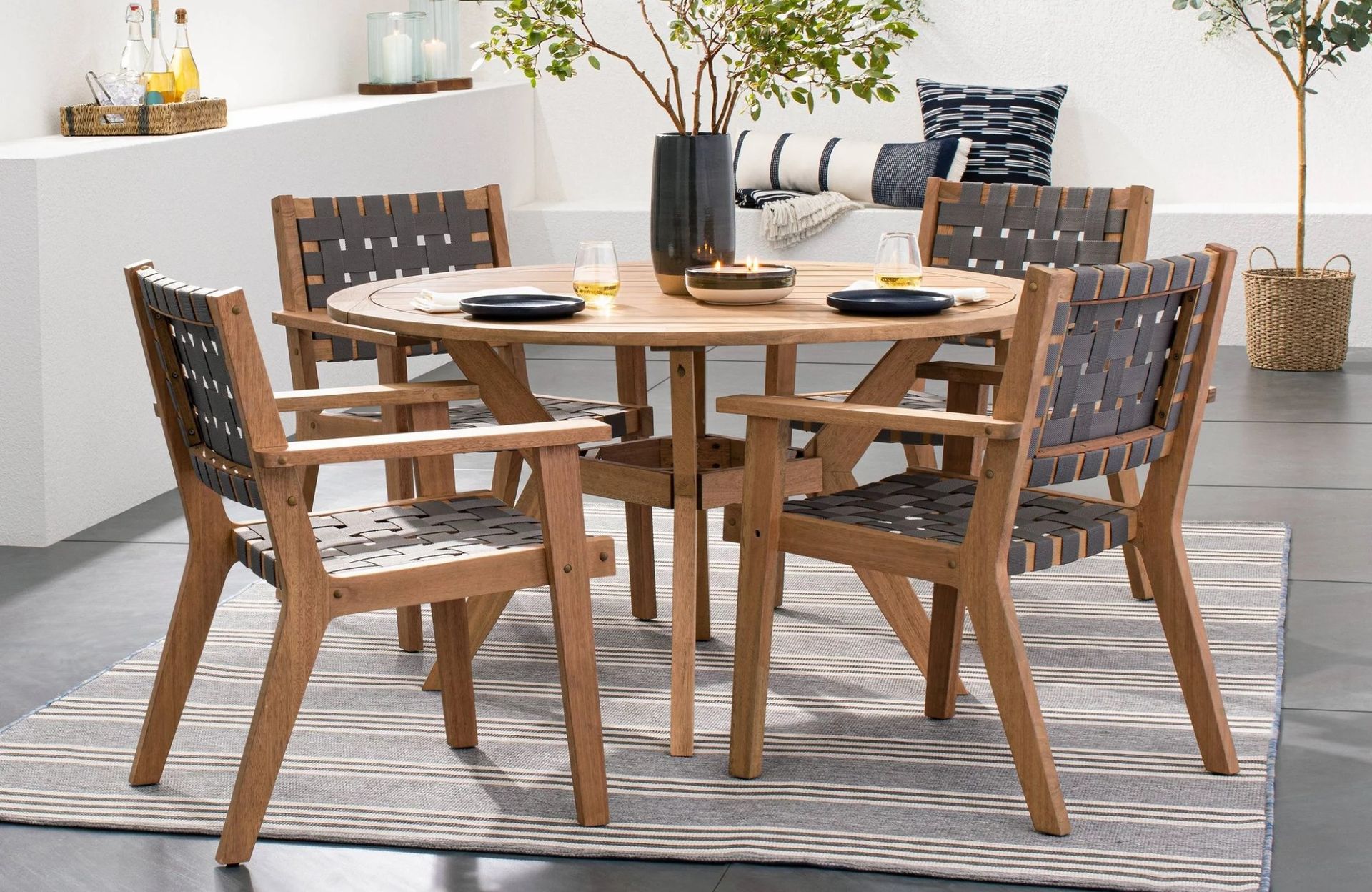 Essential for any outdoor space is a place to sit, eat, sleep, and whatever else. Though we understand having a huge table and chair set is not always possible for small balconies or patios, we've sourced some compact patio furniture for you to make the most of your teeny garden.
Best bistro sets
Bistro sets are the ideal setup for small spaces. Consisting of a small table and two chairs that usually fold away, they make the perfect place to enjoy a morning coffee and croissant or read your book for some downtime.
Best outdoor dining table for small spaces
From fold-away tables to tiny plinths and coffee stalls, there are outdoor tables in all shapes and sizes. Whether there's enough size to a tablescape or simply enjoy a drink on the terrace, having an outdoor table means you can host to the best of your ability.
Best outdoor lounge chair for small spaces
Chilling outside is arguably the best form of relaxation. Nothing beats reading a book, or taking a mid-afternoon nap in a comfy chair while the sun shines down. These smaller loveseat sofas and chairs promote the perfect chilling spot.
How we selected small outdoor furniture
While this outdoor furniture hasn't been directly tested, it has been through our rigorous research process. Using shopping and design expertise, we've scrolled and sourced the best outdoor furniture for small spaces from top-rated furniture retailers. There are Amazon products with outstanding reviews, and others from reputable brands we've tried products from before, like All Modern, Outer, and Target.
We've considered size, design, and style to ensure they're suitable for tiny gardens, patios, balconies, terraces, or whatever small space you have. Of course, outdoor furniture can get pricey, especially if you're wanting to invest in high-quality materials durable enough to last through the winter. We've found great value-for-money products you can rely on.
How to choose outdoor furniture for small spaces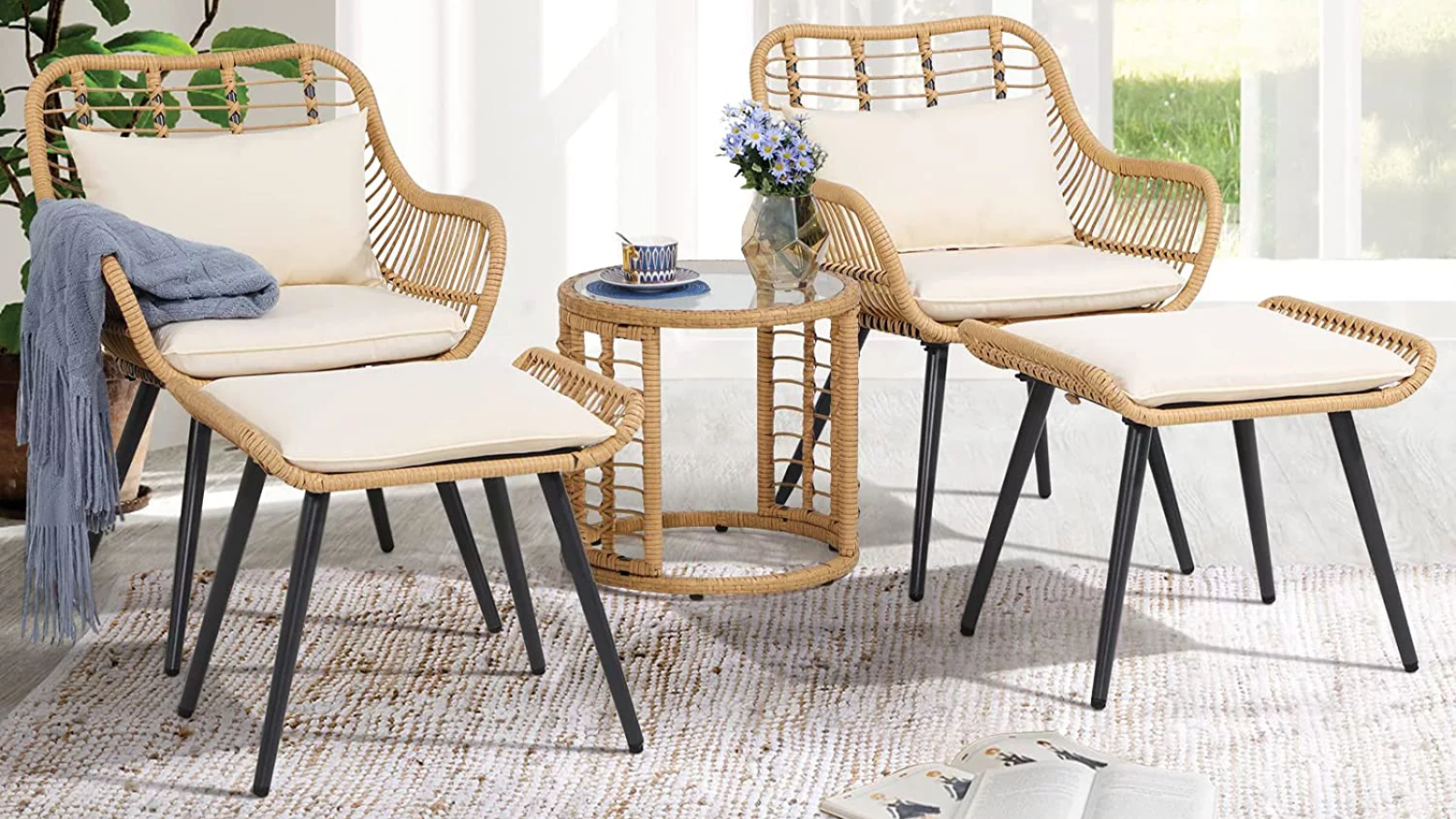 Finding the best outdoor furniture for small spaces is more than just picking a design you like the look of. There's size, shape, and style to think about. Certain types of outdoor furniture are better suited to small spaces, and the color you choose alters how large or small the space feels.
Reilly Gray, Co-Founder, Suns Lifestyleexplains the two main things to consider when shopping for outdoor furniture for your small space: size, material and style.
He states 'It's really important that you take accurate measurements so you know exactly how much space is available, after all, you want to make sure your new furniture fits comfortably and doesn't look too big or too small in the space.' Try and avoid buying furniture that just fits. Instead, you should play with layouts and orientation, how can you zone a small space?
Then you should pay attention to the material. 'You should invest in furniture pieces that are built to last. Designs made from FSC-certified teak or aluminum will not only stand the test of time but they're also designed for a life outdoors, meaning they will withstand all weather conditions.'
'From a style perspective, you also need to decide whether you want your outdoor living space to stand out from your home or complement it.' suggests Gray. 'For instance, if you live in a really modern home, then opting for furniture with clean, minimalist lines might be a better option, whilst a traditional home may suit pieces that are shapelier and have a vintage or antique feel.'
Reilly Gray is the co-founder of leading luxury outdoor lifestyle retailer, Suns Lifestyle.
When it comes to choosing furniture, Nicolai de Gier, design director of TAKT, explains you should look for practicality. For example, 'chairs should be stackable or foldable so that you can create more space when you need it and keep some tucked away for those special occasions; in a small space, armrests are a luxury that you don't need as they increase the footprint of a chair dramatically. You can look for chairs and tables with round seats and tops, which allow you to move around them more easily in tight spaces (we designed Turn Table with a special superellipse rather than a traditional square top).
It's also worth considering how often you're going to use your outdoor furniture. As Nicolai explains, 'if you only occasionally use the furniture outside, consider indoor furniture that you would be happy to use outside, too, so that wherever you put it, you are opening up space elsewhere. But, be careful, as furniture proportions relate to their surroundings, so indoor furniture will look smaller outside, and outdoor furniture can look enormous in your living room.'
Nicolai de Gier designs furniture for everyday use that reflects his passion for craftsmanship and responsible use of materials. Nicolai is a professor and head of MA Furniture Design at the Royal Danish Academy and design director at the B Corp eco furniture brand TAKT.
FAQs
How do you arrange furniture on a long narrow patio?
If you have a long, narrow outdoor patio or balcony, it can be tricky trying to fit any furniture on it. There are, however, some tips and tricks to getting some comfortable seating, plus a handy table, without disrupting any walkways. For example, you can keep the foot traffic to one side by using a long bench or console table pushed against one side of the space. Lots of bench and console furniture sets come with stools or chairs that neatly tuck underneath to save space.
Another idea is corner arrangements. This would work best for a thin balcony space where either end can be fitted with a small outdoor lounge chair while the middle floor space is left empty. If you're wanting a table of sorts, a half-round table you can attach to the wall or balcony window would work perfectly. Otherwise circular, higher tables will allow for more room.
How do I maximize space on a small patio?
There are plenty of small patio ideas where you can maximize space. A few tips on how to create space, when you don't have much of it outdoors include thinking vertically. Using high tables and chairs, hanging fairy lights, or plants from above will create an illusion of more space. Secondly, you should make use of corners and surfaces where possible. Adding a half table to a wall is a great space-saving solution, or finding corner chairs that fit will allow for more floor space.
---
Any outside space can be totally transformed by a beautiful furniture set. Even if you have the smallest of balconies, a tiny patch of grass to utilize, or a patio fit for just a chair, it's worth making the most of. Aside from adding a bistro set, putting down an outdoor rug, hanging some solar lights, or growing some greenery will contribute to maximizing your small space.
Sign up to the Homes & Gardens newsletter
Decor Ideas. Project Inspiration. Expert Advice. Delivered to your inbox.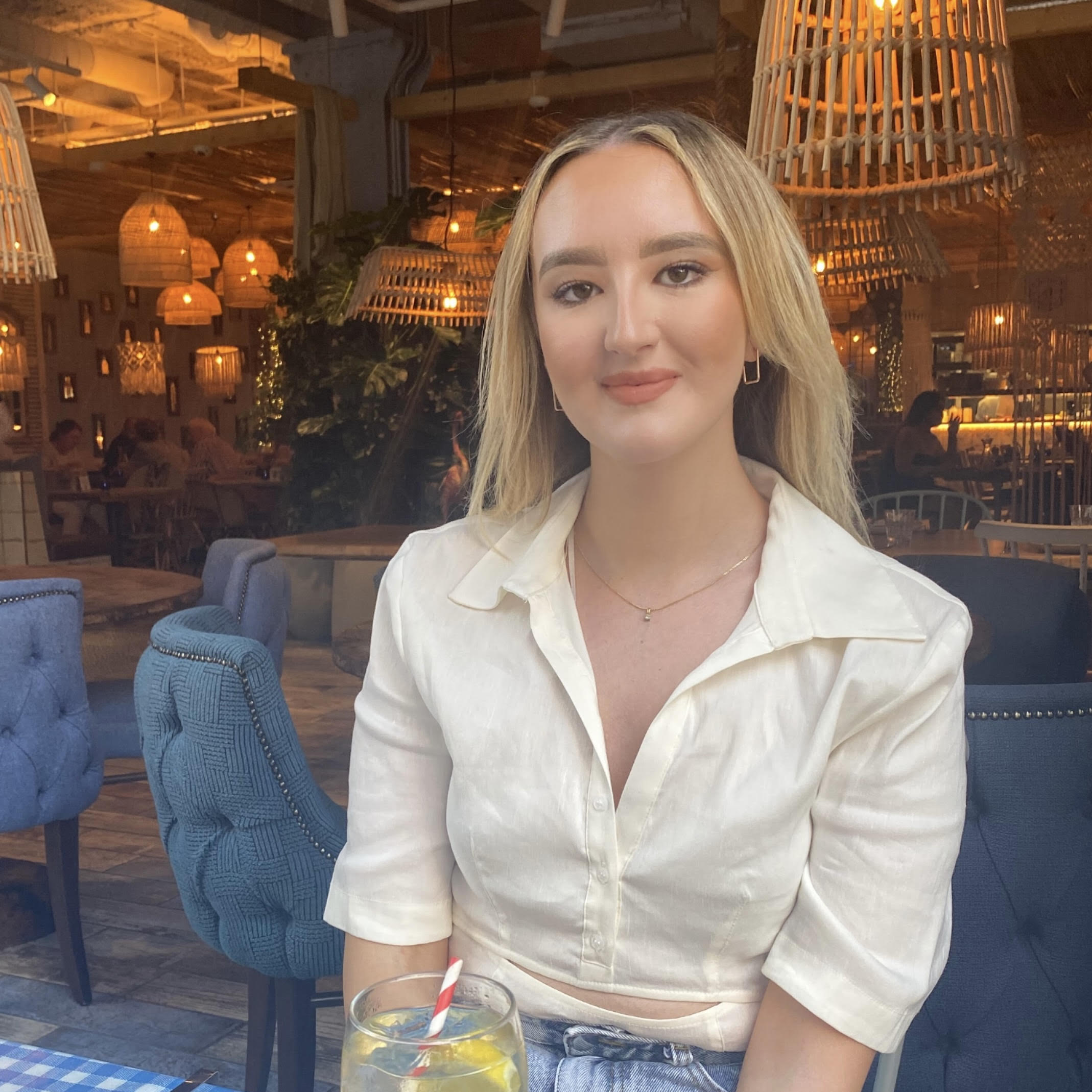 Louise is your eCommerce Editor and sleep specialist to help you wind down well. A connoisseur of the mattress world, Louise previously covered sleep and wellness (as well as the occasional organizational buy) at Real Homes, and has tried, tested, and reviewed some of the buys for your bedroom. With an MA in International Journalism and PR experience, Louise brings bags of bedding expertise and enjoys nothing more than helping readers find solutions and products that best suit their sleep needs.