Why is teak used for outdoor furniture?
Outdoor furniture that's made from teak is a great choice. Find out about its benefits in our guide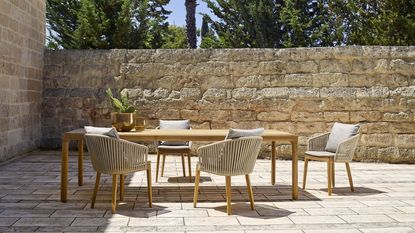 (Image credit: Go Modern)
Outdoor furniture can be made from a host of different materials, some of which are newer on the scene than others. But there's one that's proved a trusted favorite over time and that's teak.
Teak has qualities that make it stand out among the different materials. It's true that it's not a low cost option when it comes to the best outdoor furniture, but if you can set aside the budget for teak outdoor furniture, it can be well worth the additional expense.
This is the lowdown on the benefits of teak as an outdoor furniture material and why it should at the very least be on your list of possible choices.
Make sure your teak comes from responsible sources. Teak from Myanmar is sanctioned by the UK, US, and EU. Chinese and Indian teak may be mislabelled and actually be teak from Myanmar. The safest bet is teak from Indonesia, but if you can't guarantee provenance, then don't buy the furniture.
5 reasons why teak is good for outdoor furniture
The range of outdoor furniture materials can seem dazzling: aluminum, wrought iron, rattan and synthetic polyrattan and other wicker designs, as well as wood. They can all have their merits in different situations, too.
But if you're wondering about the best wood for outdoor furniture, let yourself be tempted by one particular wood species: teak. Its undoubted advantages make it at least worth a look when replacing your outdoor furniture. We've gathered them together here to allow you to discover all of teak's benefits.
1. Teak is durable
Probably the number one practical reason why teak outdoor furniture is such a good choice is that pieces made from it last.
'Teak's natural durability against water, sun, and bugs makes it a top-notch choice for outdoor spaces like patios, decks, and pool areas,' says interior designer Artem Kropovinsky of Arsight. 'It holds up against weather changes and doesn't degrade – perfect for those who value longevity.'
The Malibu teak outdoor furniture collection from Pottery Barn (pictured below) is made from Grade A FSC-certified teak, which is the highest quality of teak, to ensure the best possible durability.
2. Maintenance is easy
While other outdoor furniture choices may demand a little more effort, teak is easy to look after, so there's no need to be worried about how much time you'll spend cleaning outdoor furniture.
'Teak is a great outdoor furniture choice because it is virtually maintenance free, aside from a light cleaning a few times a year,' says NYC-based interior designer Kaitlin McQuaide of McQuaide Interiors.
'The natural oils in the wood protect it not only from the elements, but also from pests like termites.'
'When it comes to upkeep, teak is pretty hands-off,' agrees Artem Kropovinsky. 'Other woods might require constant staining or sealing, but teak can be left as it is throughout the year, outdoors. This is a real time-saver for busy folks who want beautiful furniture without the extra work.'
3. Teak has lasting beauty
Invest in teak and it will look good new and as it ages. 'My favorite aspect of teak is the beautiful silvery-gray patina it gains when left outside or in the sun,' says Kaitlin McQuaide.
'I prefer this gray color to the honey brown of new teak, but the best part is you can easily return it to its original brown by giving it a light sanding and sealing it with a teak sealer.'
The Anton Lounge collection of teak furniture from West Elm (below) contains no stain or topcoat, so over time it will gradually change to the silver-gray patina that is so familiar with teak.
If you would prefer to stop your teak furniture from bleaching in the sun, keeping it under the shade of a pergola or patio cover can help it to maintain its original color too.
4. Teak outdoor furniture looks inviting
The majority of wooden outdoor furniture will elevate your space, but perhaps none more so than teak.
'Teak adds charm to any outdoor spot,' says Artem Kropovinsky. 'Plus, its flexibility in design makes it fit any furniture style, be it traditional or modern. You can trust teak to transform your outdoors into a cozy retreat.'
5. Teak is timeless
A common outdoor furniture mistake is to invest in pieces that will quickly look dated, but there's no risk of that with teak because it won't fall out of fashion. 'While not inexpensive, teak is a timeless material that outlasts passing trends,' says Kaitlin.
What's more, it complements other materials you might select for a patio or deck, including those that are in fashion. 'It serves as the perfect base to your overall outdoor material palette and works beautifully alongside stone, marble, concrete and metal,' says Kaitlin.
FAQs
Can teak furniture be left outside in winter?
Teak furniture can be left outside in winter. Its qualities mean it can withstand the conditions, making it an excellent choice if you prefer not to have to move furniture from the patio or yard in preparation for the coldest months as you might do with other materials.
When spring comes, the furniture will simply need cleaning which can be achieved using soapy water or a specialist teak cleaner recommended by the manufacturer. Hose to rinse but don't use a pressure washer. Leave to dry – choosing a breezy day will make this a quicker process.
Teak outdoor furniture can be covered if you don't want a cleaning task when the better weather comes around, but bear in mind you will need to clean it before covering it if that's the case and it must be dry when you cover it. Always use breathable covers and check the furniture beneath periodically if you take this route.
How long will teak last outside?
Teak outdoor furniture is reputed to last what might seem an astonishingly long time outside. Timespans of 25 years to 30 years are claimed and even those of more than twice that length – think British teak park benches as an example.
What's important for maximum durability is to shop for premium grade teak taken from the heart of the tree. It is this that will deliver the longest of lifespans.
Warranties on top grade teak furniture are typically longer than those for other materials at three to five years in length, but check with the manufacturer before purchasing.
---
If you're looking for ways to make your backyard look more expensive, investing in a classic set of teak outdoor furniture is a smart move.
'Not only it is common for a teak bench, chair or table to last 70 years standing out in the elements, it is also common to pass down such furniture to future generations as an heirloom,' say the experts at teak outdoor furniture specialists Barlow Tyrie. A wise investment indeed it would seem.
Sign up to the Homes & Gardens newsletter
Decor Ideas. Project Inspiration. Expert Advice. Delivered to your inbox.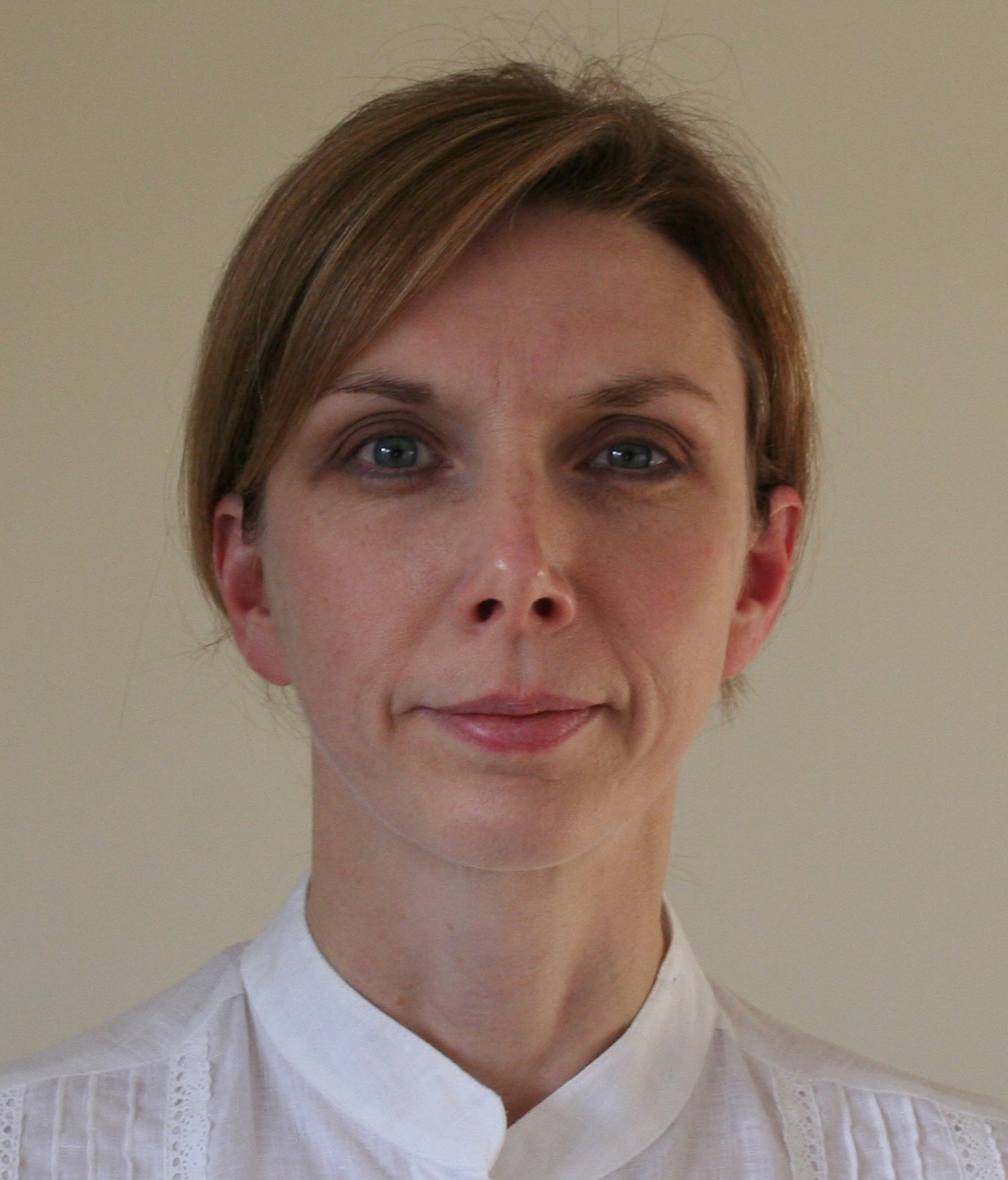 Sarah is a freelance journalist and editor. Previously executive editor of Ideal Home, she's specialized in interiors, property and gardens for over 20 years, and covers interior design, house design, gardens, and cleaning and organizing a home for H&G. She's written for websites, including Houzz, Channel 4's flagship website, 4Homes, and Future's T3; national newspapers, including The Guardian; and magazines including Future's Country Homes & Interiors, Homebuilding & Renovating, Period Living, and Style at Home, as well as House Beautiful, Good Homes, Grand Designs, Homes & Antiques, LandLove and The English Home among others. It's no big surprise that she likes to put what she writes about into practice, and is a serial house renovator.