Best wooden outdoor furniture – add teak, acacia or eucalyptus to the patio for stylish durability
The best wooden outdoor furniture for elevating your patio; from acacia wood Adirondack chairs to teak outdoor dining tables and chairs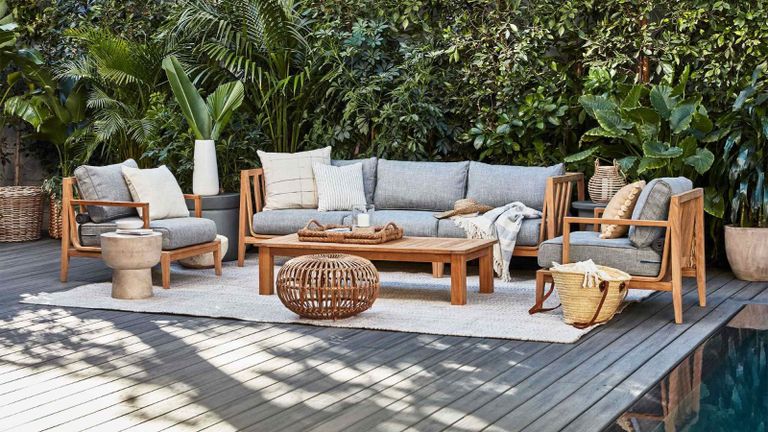 (Image credit: Outer)
Looking for the best wooden outdoor furniture? Whether you opt for teak, acacia or eucalyptus, wooden patio furniture makes for a stylish, practical and durable addition to the backyard.
Available untreated or stained, wooden patio furniture is available in a wide range of tones, any of which will blend beautifully into an outdoor setting. Wood can be crafted into classic or contemporary shapes, and with low thermal conductivity, it doesn't get too hot or too cool, meaning it's always a comfortable temperature to sit on whether in summer or fall.
However, not all woods are created equal when it comes to outdoor use. Hardwoods are the ones to look out for – that includes slow-growing teak, and faster-growing acacia or eucalyptus – all of which have dense wood grains and high natural oil content that make it more difficult for rot-causing moisture to penetrate.
As an organic material, wood can also be an eco-friendly outdoor furniture option, capturing and locking in carbon as it grows. However, it's important to look for FSC-certified options that have been sustainably harvested, ensuring timber has been cut from well-managed forests rather than contributing to damaging deforestation.
You'll find a wider selection of backyard seating in our guide to the best outdoor furniture of the year, but if timber is calling your name, the best wooden patio furniture for your outside space is right here.
The best wooden outdoor furniture 2021
1. Outer Teak Outdoor Loveseat with Armchairs
Best wooden outdoor sofa and chairs: a stylish conversational set from FSC-certified Grade A teak
Specifications
Seats: 4
Included : 1 x loveseat, 2 x armchair
Material: Teak wood
Seat cushions included: Yes
Reasons to buy
+FSC-certified Grade A teak+Modular seating allows for almost unlimited seating configurations+Style suits a contemporary or formal patio+Generously padded fade-proof, stain-resistant, and water-resistant cream or gray seat cushions included+Wide range of coordinating furniture
Reasons to avoid
-An investment
Outer is on a mission to get people outdoors, and it's starting by ensuring we can all sit comfortably – and more eco-consciously. Its outdoor furniture collection comes in three capsule ranges that focus on the best materials for the job – wicker, aluminium and teak wood.
The teak wood collection features a clever array of eight modular pieces; an armless seat, an armchair, an armless loveseat, an armed loveseat and a three-seater sofa, plus three sizes of coffee table. From these capsule pieces, you can configure a whole host of seating configurations, from super-spacious corner and L and U-shaped seating to a conversational setup that best suits your space – or budget. If you decide you need more room, just add an extra module to the configuration.
The contemporary seating frames are crafted from Grade A teak wood, a particularly dense and smooth-grained part of the teak tree that has been sourced from FSC-certified, responsibly managed teak fields in Central Java. For each tree harvested, the farm also plants three more in its place.
The seating includes thickly padded cream or Fog gray fabric cushions that are fade-proof, stain-resistant, water-resistant, and easy to clean. All furniture also features a patented OuterShell® cover that quickly rolls out and over the cushions to protect them from everyday dirt, debris and morning dew.
Just pair with a recommendation from our guide to the best outdoor rugs and you'll have a cozy and relaxing seating area created with minimal stress.
2. Skagerak Between Lines Deck Chair
Best wooden Adirondack chair: a well-crafted Scandinavian design with a wide range of coordinating furniture
Specifications
Seats: 1
Included: Chair
Material: Teak wood
Seat cushions included: No
Reasons to buy
+FSC-certified teak+Iconic Adirondack shape with a contemporary twist+Timeless Scandinavian style+B-Corporation maker+Wide selection of matching outdoor furniture
Reasons to avoid
-Fitted cushions available separately-Ottoman available separately
This clean-lined Scandinavian lounge chair gives a nod to the classic Adirondack shape and makes the perfect spot for a morning cup of coffee outdoors.
The sloping seat and angled backrest tip you back into a state of gentle relaxation, whilst comfortable wide armrests and the matching ottoman – available separately – add to the laidback feel.
Designed by Danish studio Skagerak and handmade using hardwearing FSC-certified teak sourced from sustainably managed forestry plantations, this lounge chair is intended to be passed from generation to generation. Either allow the timber to weather naturally over time to a soft silver grey, or give it a top up with teak oil every year or so to maintain its honeyed patina and give the wood a protective boost against the elements.
The Between Lines chair is also part of an extensive wider collection of similarly understated yet well crafted Nordic outdoor furniture, enabling you to enjoy the seating as part of a cohesive outdoor furniture setup, with dining tables and chairs, bench seats and chaise loungers also available.
3. Portside Outdoor Expandable Dining Table & Textilene Chairs Set
Best wooden dining table and chairs: timeless good looks with an extending table top
Specifications
Seats: 6
Included: 1 x dining table, 6 x dining chairs
Material: Mahogany and eucalyptus wood
Seat cushions included: No
Reasons to buy
+FSC-certified wood+Timeless design+Available in Driftwood or Weathered Gray colorways+Table can seat up to 10 people with extender+Easy-to-clean textilene fabric seating
Reasons to avoid
-Only comes with 6 chairs even though the table can seat 10
Enjoy candlelit dinners or a relaxed brunch on the patio with this expandable wooden outdoor dining table and dining chair set.
Both the table and chairs frames are made from sustainably sourced, moisture-resistant solid mahogany and eucalyptus wood, whilst the chairs have seats and backrests made from quick-drying and breathable Textilene fabric – reducing the length of time you need to wait for wood to dry out after a downpour, and offering a comfortable sitting experience with a little give to it.
Allowing you to easily transform the table from an everyday family eating space into a place to entertain, the tabletop can be extended at each side with extra leaves dropped in to allow you to accommodate up to ten people. However, as the set only comes with six chairs as standard, you will need to buy two more packages of chairs (they come in sets of two) to fully utilize the maximum seating space.
A useful parasol hole in the center of the table also allows you to add a patio umbrella to cut down the glare and enjoy a long and leisurely lunch. Have a look at our outdoor dining ideas to get some inspiration for summer-ready alfresco table-scaping or our guide to the best patio umbrellas to find the right option for you.
Available in a softly muted Driftwood or Weathered Gray finish the simple clean-lined design will suit a wide range of outdoor spaces, whether you want to create a countryside retreat or upscale beach vibe.
4. Skagerak Plank Bench
Best wooden outdoor bench: a clean-lined and contemporary wooden bench seat
Specifications
Seats: 2
Included: Bench
Material: Teak wood
Seat cushions included: No
Reasons to buy
+FSC-certified teak+Timeless Scandinavian style+B-Corporation maker+Wide backrest doubles as a useful shelf+Compact, armless design useful for small spaces+Wide selection of matching outdoor furniture
Reasons to avoid
-No armrests-Only seats two
A backyard classic, the wooden garden bench is an outdoor essential, perfect for taking the weight off your feet after a wander around the garden no matter if it's spring, summer, winter or fall.
Another option from Danish outdoor furniture experts Skagerak, this bench seat exhibits the clean lines and robust build the Scandinavian design house is best known for.
Crafted from FSC-certified teak, the simple plank design features a straight bench seat with a gently sloping backrest and angled rear legs. From the top of the backrest run two horizontal planks, ideal for placing a glass of wine, coffee cups or a lantern at night.
The compact two-seater seat with its armless design is also a useful piece for a smaller space, able to slot into narrow corners or under a windowsill perfectly.
5. Safavieh Newport Chaise Lounge Chair
Best wooden chaise lounge chair: a rustic sun lounger with useful rear cart wheels
Specifications
Seats: 1
Included: Chaise lounge
Material: Eucalyptus wood
Seat cushions included: Yes
Reasons to buy
+Padded chaise lounger +Rear cart wheels make it easy to maneuver+Built-in side table
Reasons to avoid
-Wood not FSC-certified-Seat padding fairly firm-Some self-assembly required
Whether you're sunning or simply want to extend your legs and recline, a chaise lounge is another summer backyard essential, and opting for a wooden chaise lounge means this piece can still blend with your patio aesthetic.
This option from Savifieh is made from hardwearing eucalyptus wood with an attractive medium-toned finish that contrasts nicely with the off-white padding that comes included, making for a stylish addition to an outdoor living space.
However, if white cushioning isn't for you – it's not the easiest colorway to maintain outdoors after all – then there are black and navy options also on offer, and an attractive grey and white stripe for that St Tropez look.
A solid wood sun lounger may not sound like the easiest thing to maneuver into the optimal sunning position, but thankfully the 55lb design comes with rear cart wheels to make repositioning easier.
You also won't need to worry about buying an additional side table with this lounger, as it comes equipped with a built-in tray that slides out, offering plenty of room for drinks and snacks.
6. Three Posts Boone Solid Wood Folding Adirondack Chair (Set of 2)
Best folding wooden Adirondack set: iconic design in a space-saving format
Specifications
Seats: 2
Includes: 2 x chairs
Type of wood: Acacia
Seat cushions included: No
Reasons to buy
+Affordable+Folding design makes for space-saving storage+Various color options available
Reasons to avoid
-Wood not FSC-certified-Low seats might not be for everyone-Seat cushions not included
No lakeside, pool deck or porch is complete without an Adirondack chair. However, the iconic fan-shaped backrest and sloping seat can mean the seating requires a good amount of outdoor space – especially when it comes to storing your furniture over the winter months if you want to protect it and prolong its lifespan.
This set of two Adirondack chairs aims to solve that problem by offering seating that can be folded when it's not in use, allowing you to maximize floor space on a smaller porch, or just benefit from the space-saving storage the collapsible design allows.
Made from acacia wood, the chairs are also available in a good selection of colors and finishes to match your outdoor decor scheme, from the classic natural stained look to painted navy blue, gray, white, or even color-popping tangerine.
On the downside you don't get cushions or ottoman included with these Adirondack chairs, however, that's easy enough to rectify by buying pieces separately.
7. Christopher Knight Home Carolina Acacia Wood Outdoor Sofa Seating 8-Pcs Set
Most affordable conversational set: a budget eight-piece set that delivers plenty of seating
Specifications
Seats: 8
Included : 4 x armchair, 2 x loveseat, 2 x coffee table
Material: Acacia
Seat cushions included : Yes
Reasons to buy
+Affordable price point+Offers a lot of seating+Water-resistant padding included+Can be split into two sets of four
Reasons to avoid
-Wood not FSC certified-Seats fairly low-Requires self-assembly
If you're looking for a lot of seating in order to kick-off some outdoor entertaining, but also need to work to a budget, then this eight-piece seating set could be a good option. Unfortunately, as is often the case, the affordable price tag comes at the cost of FSC-certification though.
The set includes four armchairs and two loveseats, all with water-resistant cushions, plus two coffee tables. Why two? Well, you can decide whether to use this set as one large convivial seating space – and push the coffee tables together – or to use some of the furniture separately to create a secondary seating area. Especially useful for those of us who like to switch up our seating layouts every so often.
The slatted acacia wood seating makes for an understated yet elegant design that will work well with a wide range of outdoor styles, and the beige-colored cushions add a welcome layer of comfort and a touch of classic sophistication to the overall design.
---
Buying advice: how to choose the best wooden outdoor furniture
Before you start shopping for outdoor furniture – whether that's wood or otherwise – it's a good idea to spend some time thinking about how you would prefer to use your outside space.
Choose outdoor furniture that suits your lifestyle
It may sound obvious, but the best patio furniture for you will be pieces that suit your lifestyle. There's no point investing in a cute-and-compact bistro table and chairs if you regularly entertain large numbers for example.
In fact, if you do love entertaining then you might want to opt for a large trestle table that has room to accommodate plenty of guests or a spacious sectional sofa and armchairs that give everyone plenty of room to relax.
If the backyard is the place you retreat to for some quiet rest and relaxation, consider a comfortable chaise lounger, take a cue from our front porch ideas and invest in one of the best Adirondack chairs for some secluded seating, or group a small number of outdoor chairs together to create a more intimate seating area.
If you prefer to gravitate towards the pool, then easily maneuvrable chaise loungers and quick-drying water-resistant fabrics will be paramount – our pool ideas page can give you some inspiration for luxury poolside styling.
Find more decor inspiration for creating your dream outdoor space in our backyard ideas or patio ideas sections.
How to protect wooden patio furniture
When outdoor furniture shopping it's important not to get seduced by price or aesthetics alone. A bargain purchase can fast become far more expensive than it originally seemed – and a dream purchase lead to disappointment – if it doesn't weather more than one season. So it pays off in the long term to do a little research before you buy.
To help decode the mysteries of long-lasting patio furniture, we asked the experts in our 'is outdoor furniture weatherproof?' feature. Their answers will help you to choose the best outdoor furniture materials for your environment – whether that's sun-baked, wet and windy, or a mixture of all the elements.
However, *spoiler alert* when it comes to wooden outdoor furniture, as we've already mentioned, hardwoods are best. Look for options like teak, acacia or eucalyptus for the most durable outdoor furniture.
As well as choosing the right woods to begin with, you can also improve your investment's lifespan with these top tips:
Cover it when you can
The sun, wind, and rain will all over time weaken and weather outdoor wooden furniture. If you want to maintain these pieces as long as possible, then it's wise to protect them from the elements whenever possible. This may mean placing your wooden patio furniture under an awning or covered patio, storing them during the winter, or investing in weather-resistant furniture coverings.
Regular cleaning
Keeping your wooden furniture cleaned can ensure it stays well preserved by removing debris and grime that can allow moisture to sit on the wood and form mold. To remove built-up grime you can lightly wet wooden furniture and then clean it with a soapy mixture (like dish soap) and a soft-bristle brush. A power washer can damage the wood, so it's better to use a garden hose if necessary and be sure to scrub in the direction of the wood grain. If you notice mildew or major stains, water and vinegar is a good removal solution.
Sealants
Most hardwood furniture will naturally weather and mellow to a silver-gray patina over time as the natural oils present in the timber dissipate. If you want to maintain the blonde or rich brown colors of the wood, you might want to consider using a wood sealant or oil to reintroduce the protective barrier to the wood every few years, or at the beginning of each summer season.
Paint
Paint acts similarly to a sealant in that it adds an extra barrier of protection to wooden outdoor furniture. It can also be a great way to revive tired wooden patio seating or add an injection of color to the backyard. A wash, sand down and a few coats of latex paint (ideally one that is waterproof/water-resistant and mold and mildew-resistant) can work wonders to make tired wooden pieces look like new.