Best outdoor chairs: patio seating for backyard lounging
The best outdoor chairs for enjoying your outside space; from outdoor rocking chairs to garden swivel chairs, we've rounded up the best patio seating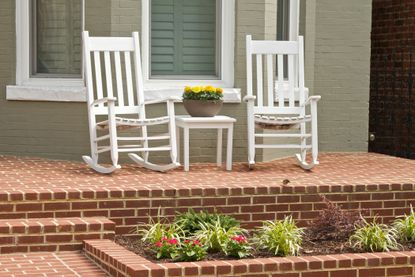 (Image credit: Getty Images)
As the summer days stretch ahead of us, one thing's official: it's time to invest in one (or more) of the best outdoor chairs.
Whether you're looking for an iconic Adirondack, a restful outdoor rocking chair, or a business-like swivel chair, a patio seat is essential for fully enjoying your outside space.
The best outdoor furniture might suit a larger space, but if your backyard is bijou, a patio or porch chair can be a space-saving solution, and, of course, the style you opt for should have the same appeal that indoor chairs do: beautiful to look at, fits its surroundings perfectly, and is comfortable enough to nod off in.
And if you're the owner of a porch or veranda, a porch chair is at the top of our list of front porch ideas, providing the perfect spot from which to watch the world go by.
These are our favorites – ticking all the strict pre-requisites our team applies when choosing furniture on which to while away an afternoon or two.
The best outdoor chairs
You can trust Homes & Gardens. Our expert reviewers spend hours testing and comparing the latest products, helping you choose the best for you. Find out more about how we test.
From the aesthetic to the construction and everything feature and function in-between, we've considered them all, and here is our list for the best outdoor chairs.
1. Christopher Knight Cayo Outdoor Acacia Wood Rocking Chair with Cushion
The best outdoor chairs: a contemporary water-resistant version that's stunning
Specifications
Chair Type: Rocking Chair
Cushions?: Yes
Cushion Type: Polyester
Material: Polyester, Wood
Color: Brown, Grey
Reasons to buy
+
Weather-resistant
+
Available in two colors
+
Features comfortable cushion
An updated contemporary twist on the classic rocking chair, the Christopher Knight Home Cayo Acacia Wood Rocking Chair is one of the best outdoor chairs on the market.
Design
Designed with the highest-quality, sustainable acacia wood and offering a water-resistant cushion, this chair is the perfect seat to pull up anytime, anywhere without fear of wear and tear.
Why do we love it
The exceptionally well-made rocking chair offers a seductive style that will seamlessly work with any current porch décor, as well as versatile enough to work in your backyard, too. Available in two shades – brown and grey – you can opt to go traditional with the brown hue or add some depth with the grey; either way, it will stun.
2. Opalhouse Calla Canopy Patio Accent Chair
The best outdoor chairs: the most unique accent chair on the market
Specifications
Chair:: Patio Chair
Cushion?: Yes
Cushion Type:: Tufted
Assembly: Yes
Dimensions: 35.5' x 29.5' x 9.88'
Materials: Steel
Reasons to buy
+
A steel frame enclosed by a canopy accent
+
Comfortable armrest and cushioned backrest
+
Impeccable design
Reasons to avoid
-
Elaborate design might be too much for some
The Opalhouse Calla Canopy Patio Accent Chair is as bold as your spirit and will turn your backyard into your own personal oasis.
Design
This patio chair offers a square shape construction with a steel frame, finished with a bamboo-like woodgrain texture. With a built-in canopy, users can relax outside worry-free, away from the sun, like the tufted trim detail, is coordinated with a chic cushion visible on the back, bottom, and armrest, and comfortable as ever.
Why do we love it
By far one of the most uniquely designed constructions we've seen in a while. This patio chair brings a poolside cabana vibe with no travel required; all you have to do is assemble this comfortable chair up and watch the summer days drift away.
3. Opalhouse Skylark 3pc Cushioned Woven Rocking Patio Seating Set
The best outdoor chairs: the most exceptions set of swivel chairs that feature a tabletop
Specifications
Chair Type: Rocking Chair
Cushion?: Yes
Material: Steel Frame
Included Items: 2 Chairs, 1 Accent Table
Weight limit: 300lbs
Reasons to buy
+
All-inclusive item that features two chairs, and a matching table
+
Comfortable construction
+
Sleek design
Reasons to avoid
-
The table could be deemed excessive
If design reigns supreme on your list of priorities, we highly suggest diverting your attention to the Opalhouse Skylark Cushioned Woven Rocking Patio Seating Set.
Design
This set of two rocking chairs feature a brown wicker-like construction to add a graceful and breezy element to any front porch, backyard, porch, or garden. Elevated by a swivel feature, this set of chairs provide some motion to catch a full 360-degree view as you relax, with cushioned seats for some extra padding and support. Plus, it's available in two colors – wicker and black, or wicker and white – which are sensational.
Why we do love it
To state the obvious: this three-piece set is all-inclusive. Instead of later searching for a specific end table or accent piece to hold drinks or provide some much-needed space, this set includes it right off the bat. The cohesive design is perfect as a starting base for any outdoor section, can easily blend with any current one, and is exceptional for those who need something but aren't quite sure what they're looking for just yet. It's all-around a crowd-pleaser – one which will garner tons of compliments.
4. Modway Marina 2pc Outdoor Patio Teak Set
The best outdoor chairs: a higher-priced teak set that is worth every penny
Specifications
Type: Chair
Cushion?: Yes
Materials: Teak (Frame)
Included: Two chairs
Assembly: Yes
Reasons to buy
+
Set of two teak chairs
+
Weather and UV-resistant
+
Minimalistic style
Now, if you like the idea of a set of chairs but either don't need the table or are looking for something higher-quality, we have another suitable selection: the Modway Marina 2pc Teak Set.
Design
Constructed from sturdy teak wood, these chairs are water-resistant and UV-resistant, meaning they're excellent for everything from soaking up the sunshine to admiring your stunning landscape. Furthermore, there are cushions on both the seat and back for added support and comfort.
Why do we love it
Again, it's sometimes easier to buy not one of the best patio chairs but a pair of them. It prepares you for any future hosting duties while also giving you versatility for any last-minute visitors; a set works well and looks even better on display when there is a matching component, too.
5. Hashtag Home Morrison Metal Patio Dining Armchair (Set of 2)
The best outdoor chairs: a budget-friendly selection that is simply stunning with it's details
Specifications
Type: Chair
Cushion: No
Materials: Steel
Assembly: Some
Weight Capacity: 250lbs
Reasons to buy
+
A simple-yet-sleek design that looks high-end
+
Simple assembly process
+
Budget-friendly
+
Four colors available
Last but not least, take a completely different route and turn your attention to the budget-friendly Hashtag Home Morrison Metal Patio Set.
Design
Unlike the previously-mentioned models, this one focuses on simple details: an ergonomic curve that brings a fun and retro vibe to any patio or porch. With low slanted seats, the vintage-inspired details and curved arms provide some much-needed support as you sit, while the cantilever base provides flex. Additionally, the steel construction is weather-resistant and can surpass even the most torrential downpour.
Why do we love it
Compared to higher-priced pieces, this choice holds its own. The high-quality details are available in four sensational shades – pastel pink gloss, dark red satin, pastel blue satin, and white satin – all of which can hold their own as a focal point or when matched with other items. Additionally, the budget-friendly price point gets you not just one sleek seat but two of them, making it a dream for anyone looking to get more out of their money.
What to consider when buying the best outdoor chairs?
Comfort
It's a good idea to invest in an option that offers comfort – perhaps something that includes cushioning, or at the very least, gives the option to add one. You'll be spending countless hours in this chair, the last thing you'll want is any added aches and pains, and some added support along the way can't hurt.
Durability
Next, you'll want to turn your attention to sturdiness, durability, and whether or not it's weather-resistant. Unless you intend on bringing your chair into the garage (or anyone else it can seek shelter) during every single rainstorm or horrible weather, you need a chair that can withstand getting wet.
To help decode the mysteries of long-lasting patio furniture, we asked the experts in our 'is outdoor furniture weatherproof?' feature, Their answers will help you to choose the best outdoor furniture materials for your environment - whether that's sun-baked, wet and windy, or a mixture of all the elements.
Aesthetics
Plus, you'll want to make sure said material or design works well with your current porch decor. You want a style that accentuates the space further, not distracts from it.
A singular chair, like one of the best Adirondack chairs, can create a statement focal point, or you might want to group chairs together to form a conversational set. Don't feel you have to go for all one style though, an eclectic mix can add interest, and using one of the best outdoor rugs underfoot will help to ground disparate elements.
Then there is shade to think about. As much as we might all love to see the sun shining, you can get enough of a good thing. Our guide to the best patio umbrellas offers some useful solutions, from pretty parasols to high-tech cantilever options.
Size
And, lastly, and most importantly, what about your intentions when it comes to said chair? Do you intend to host neighbors? Sit with loved ones? Or maybe even enjoy some peace and quiet all by yourself?
Whether you are nodding your head to one of those ideas (or all of them), you'll need a chair that is versatile in its size, something that can accommodate everything from a tiny child (safely) to an elder adult.
Tip on finding the best outdoor chairs
Shopping for the best outdoor chairs for you online is possible.
Online reviews
To do so effectively, pay attention to highly-rated chairs, populated with lots of customer reviewers.
While our list of the best porch chairs is comprehensive (and thorough), a second (or third, or fourth) opinion can sometimes make or break your decision, and you'll find that there. Be sure to pivot from any choices that have a handful of negative reviews and ones that seem to be cheaply constructed (plastic material is a big no-no).
Price vs construction
Lastly, dial in on the price: does it align with the craftsmanship? You can usually tell right off the bat. Metal models have steeper price points, seeing as they're rust-resistant and perfect for all types of weather, as well as hand-painted versions too.
The fine attention to detail is worth making a little extra, so if that is important, keep that in mind.
Where to find more outdoor chairs
If you have a specific look in mind or need to fulfil some exact criteria, then you can find more outdoor chair stockists to browse in our guide to where to buy patio furniture, which includes the Homes & Gardens team's edit of the leading outdoor furniture retailers. Or, if you're primed for a sale bargain then keep an eye on our patio furniture deals page which will alert you to the best brand discounts each season.