Best Adirondack chairs 2022: iconic outdoor seating
The best Adirondack chairs; whether you prefer wood, plastic, folding or rocking, we've found the most stylish outdoor seating for your backyard or porch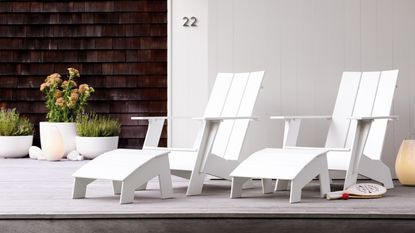 (Image credit: Loll)
Looking for the best Adirondack chairs? The iconic Adirondack chair, named after the mountain range close to where the design was first conceived, has become a timeless classic, with its distinctive sloped seat and angled backrest perfect for comfortable - and aesthetically pleasing - outdoor lounging.
The original Adirondack chairs were crafted from hardwearing timber planks, but nowadays plastic and 'polywood' versions abound, offering the options of bright colors, contemporary design and even folding options for those short on outdoor space. A new wave of chairs made from post-consumer recycled plastic is also focusing on an end goal of circular design.
A stalwart of the porch or backyard, the Homes & Garden's edit of this year's best Adirondack chairs seeks out the designs which celebrate this iconic seat; retaining the essence of the classic Adirondack shape and fusing it with innovative materials and contemporary design.
Find more options for creating a stylish outdoor living area in our guide to the best outdoor furniture, but if you're ready to put your feet up on a design classic then read on to find our recommendations for the best Adirondack chairs.
Best Adirondack chairs
You can trust Homes & Gardens. Our expert reviewers spend hours testing and comparing the latest products, helping you choose the best for you. Find out more about how we test.
1. Frontgate Rowan Adirondack Chair
Best Adirondack chair: the classic shape crafted from sustainable teak wood
Specifications
Dimensions: H39 x W30 x D46"
Material: Sustainably harvested teak
Color options: 1
Ottoman available?: Yes, $349
Reasons to buy
+
Classic wooden Adirondack chair with a contemporary twist
+
Hand-built from sustainably harvested teak wood
+
Comfortable curved backrest
+
Matching ottoman available
If you're looking for a classic wooden Adirondack chair, then this option certainly fits the bill.
Crafted from sustainably harvested teak wood that is naturally durable and resistant to moisture, this chair will weather the elements for year-round enjoyment in your outside space.
The pre-weathered finish means it will blend effortlessly into your garden scheme from day one, and the hardwood will develop a natural silver patina over time if left untreated, although you can top up with a teak oil if you prefer the golden honey hues.
The rounded back and wide armrests make for comfortable lounging by the fire pit or lakeside, plus there's a coordinating ottoman available for the ultimate relaxation.
2. Loll Adirondack Rocker
Best Adirondack rocking chair: contemporary design made from recycled materials
Specifications
Dimensions: H37 x W30 x D36"
Material: Post-consumer recycled high-density polyethylene
Color options: 8
Ottoman available?: Yes, $245
Reasons to buy
+
Rocker
+
Contemporary design
+
Made from recycled and recyclable plastic
+
Eco-friendly Cradle to Cradle Certification
+
Suitable for year-round outdoor use
+
Waterproof, fade-resistant and maintenance-free
+
Hidden bottle opener
+
Matching ottoman available
If you want to shake up the traditional Adirondack and embrace a more contemporary look, then Loll's outdoor chair collection is great place to start. There is a modern spin-on the classic Adirondack chair, plus a more angular 'Westport' version with a thinner backrest and wider armrests, and this modern rocker, which removes any hint of 'fuddy-duddy' from the equation.
Loll's minimalist range not only looks good, but is crafted from post-consumer recycled plastic - mostly milk jugs - which has helped the brand repurpose and keep more than 100 million jugs out of landfill since its founding.
The outdoor seating has also earned eco-friendly Cradle to Cradle certification for its circular design principles, with the recycled materials able to be recycled again at the end of the chair's lifespan and reused again and again in continuing manufacture.
Crafted to be all-weather resistant, this stylish Adirondack rocking chair is also waterproof, fade-resistant, and never needs painting, meaning it can be left outside all year long. And the cherry on the cake? There's a hidden bottle opener under one arm. Perfect.
3. Bethune Plastic Adirondack Chair (Set of 2)
Most affordable Adirondack chairs: a good value set of two
Specifications
Dimensions: H35 x W29.5 x D34"
Material: High-density polyethylene
Color options: 12
Ottoman available?: No
Reasons to buy
+
Good price
+
Folding
+
Comfortable roll-edged seat
+
UV and fade-resistant color
Reasons to avoid
-
No matching ottoman available
If you're looking for a quick style fix rather than an investment piece, then this set of two Adirondack chairs is one of the best-looking budget options we've come across.
The chairs are made from high-density polyethylene which has the bonus of being water, rust and weather-resistant, plus the color is UV-resistant to slow down any sun fading, although it's a shame the synthetic materials aren't sourced via recycling as the saving in end price will likely have an environmental cost elsewhere.
The classic fan shape backrest creates a good-looking silhouette, and the rolled-edged of the chair seat makes for comfortable lounging - although this option doesn't come with a matching ottoman for putting your feet up - and a good color selection gives plenty of choice in brights and neutral shades.
The bonus is that these chairs are collapsible so they can be folded up and stored away when not in use; a great space-saving solution for a rental or balcony space.
For more bijou outdoor space inspiration browse our small backyard ideas.
4. Horchow All Weather Coastal Adirondack Chair
Best colourful Adirondack chair: polywood plastic in a range of colour options
Specifications
Dimensions: W25 x D36"
Material: Polywood® high-density polyethylene
Color options: 12
Ottoman available?: No
Reasons to avoid
-
No matching ottoman available
If you're going for a Polywood Adirondack chair then we think it makes sense to opt for as much color as possible rather then a faux-wood substitute. This bright red option delivers plenty of contemporary style, although the more muted dark green or white are also good options for a more classic feel.
Useful for a beach bungalow or coastal property where wood can be more prone to deterioration, this branded Polywood construction - made from thermoformed plastics including a percentage of recycled milk jugs and detergent bottles - is impervious to moisture and won't chip, peel, or rot throughout years of exposure to the elements.
Get inspired by our pool ideas and use it in the splash-zone, or add one of the best outdoor rugs underfoot to create a laidback seating zone.
5. Skagerak Between Lines Deck Chair
Best Adirondack chair for a cohesive look: a great design with a good choice of matching outdoor furniture
Specifications
Dimensions: H24 x W37 x D35"
Material: FSC-certified teak
Color options: 1
Ottoman available?: Yes, $519
Reasons to buy
+
FSC-certified teak
+
B Corporation
+
Good selection of matching outdoor furniture
This clean-lined Scandinavian lounge chair gives a nod to the classic Adirondack shape and makes the perfect spot for a morning cup of coffee.
Designed by Danish studio Skagerak, a certified B Corporation, the furniture is crafted to be passed from generation to generation, handmade using FSC-certified teak sourced from sustainably managed forestry plantations.
The lounge chair - and the matching ottoman that's available separately - are also part of a wider collection of understated yet well crafted Nordic outdoor furniture, enabling you to use this chair as part of a cohesive outdoor set, with dining tables and chairs, bench seats and chaise lounge also available.
Find more decor inspiration for creating your dream outdoor space in our backyard ideas.
6. Room & Board Emmet Adirondack Bench Seat
Best Adirondack bench seat: tailor make this design to your own requirements
Specifications
Dimensions: H29.5 x W53 x D31"
Material: High-density polyethylene
Color options: 9
Ottoman available?: Yes, $199
Reasons to buy
+
Low or tall version available
+
Range of widths available
+
50% recycled materials
+
Cushion available separately
There's room for two - or more - on this Adirondack bench seat that can be made in a selection of widths to perfectly complement your outside space. Draw inspiration from our front porch ideas and use at the front of the house, or tuck away in the garden as a place for restful retreat.
There are also two options for seat heights - a welcome addition to this usually low-to-the-ground design - plus a wealth of color options in the partly recycled HDPE frame and 26 weather-resistant Sunbrella® upholstery options in the fitted seat cushion that's available separately.
To create a contemporary conversation set, pair the bench seat with some singular Emmet Adirondack chairs in the same design, or the versatile Adirondack rocker.
---
Which material is best for an Adirondack chair?
The material you choose is likely to affect both the look and durability of your Adirondack chair, as well as its impact on the environment. There are two main options to consider, wood or a plastic polymer.
Wood
The traditional material for an Adirondack chair, wood is a popular choice for outdoor furniture.
For maximum durability against the elements you will want to opt for a hardwood, like teak, acacia or eucalyptus. Hardwood has a dense grain which makes it more difficult for moisture to penetrate, and natural oils that prevent it from drying out or cracking in the heat.
Teak is a hardwood particularly prized for its ability to make strong, durable, and aesthetically pleasing outdoor furniture. However, because of its extremely slow-growing habit, it's expensive to buy and can be in danger of being harvested unsustainably. Reclaimed teak wood can be a cost-effective and eco-friendly solution, or look for FSC-certification which should ensure the tree has been felled within a managed forest and will not have contributed to damaging deforestation.
Cheaper and faster-growing teak alternatives are the hardwoods acacia and eucalyptus. These woods are slightly less dense than teak but are far-quicker growing, allowing greater quantities of wood to be managed more sustainably - although again, it's important to look for FSC accreditation.
A little low-maintenance upkeep with a coat of wood preservative each year should ensure these hardwoods retain plenty of weather resistance.
Plastic, resin, High-Density PolyEthelene (HDPE) or Polywood®
Budget Adirondack chairs are often made from plastic or resin due to the materials' affordability compared to wood. Plastic also offers the ability to create furniture in a wide range of contemporary colors and offers a low-maintenance outdoor solution, with plastic resin not needing preservatives or painting like its wooden counterparts.
However basic models can be prone to discoloration when left out in the sun - look for UV-resistant options to counteract this - and don't have as nice a feel to the touch as organic material. There are also environmental implications, with plastic having a high environmental impact on its production, and being very difficult to dispose of safely at the end of a product's lifespan.
Products like the Loll outdoor furniture collection work to address this, using recycled post-consumer waste to form the HDPE used in its chairs' manufacture, and ensuring all elements of each design can again be recycled again when a product reaches the end of its lifespan; closing the loop so that materials are locked into a never-ending circular design process.
To help further decode the mysteries of long-lasting patio furniture, we asked the experts in our 'is outdoor furniture weatherproof?' feature, Their answers will help you to choose the best outdoor furniture materials for your environment - whether that's sun-baked, wet and windy, or a mixture of all the elements.
Where to find more Adirondack chairs
If you have a specific look in mind or need to fulfil some exact criteria, then you can find more stockists to browse in our guide to where to buy patio furniture, which includes the Homes & Gardens team's edit of the leading outdoor furniture retailers. Or, if you're primed for a sale bargain then keep an eye on our patio furniture deals page which will alert you to the best brand discounts each season.
Sign up to the Homes & Gardens newsletter
Decor Ideas. Project Inspiration. Expert Advice. Delivered to your inbox.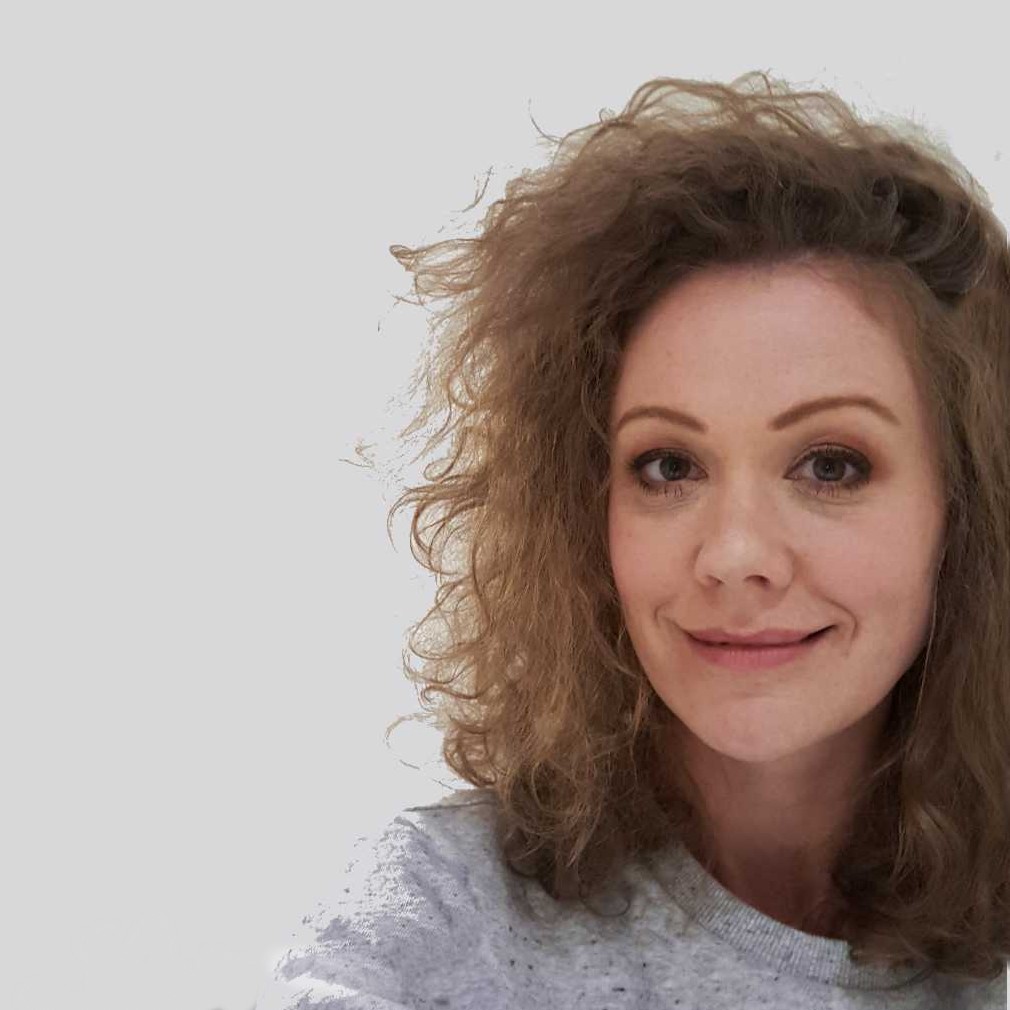 Amy's eye for color, form, and composition was honed in the design studio, creating surface patterns for the interiors industry. Here she developed her knowledge of key design principles and gained a deeper understanding of how a space can influence our sense of wellbeing.
She covers all things furniture and decor for Homes & Gardens, Livingetc, Ideal Home and Gardeningetc, from creating expert guides on helping you find the perfect couch to the best in outdoor furniture and accessories.
Amy's own style is considered, contemporary and timeless, with a strong interest in contemporary craft and homewares that champion collaboration between traditional makers and innovative technologies. A belief that design must exist in balance with the natural world fuels her interest in exploring sustainable, circular, and regenerative design processes and underpins her passion for natural materials and responsible craftsmanship.