Small backyard ideas — 10 beautiful designs for tiny gardens
These clever small backyard ideas will offer inspiration if you are keen to create an abundant garden out of a small space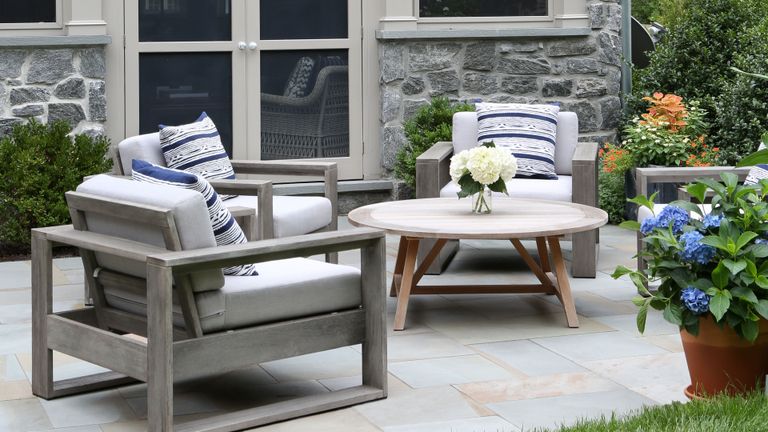 (Image credit: Elizabeth Cooper / Tom Grimes)
By Jennifer Ebert published
These smart small backyard ideas are some of our favorite approaches to designing and decorating a small space.
Whether you want a completely new look, to modify your existing space or simply add an eye catching feature to switch things up, getting a small backyard right is the first step in any redesign, as it forms the all-important structure of your garden.
First, narrow down your backyard ideas and options by thinking about the look you want to achieve.
There is a huge choice of materials, plants and flowers available (we've rounded up the best below) but one of the most important decisions to factor in is the sustainability of your desired materials and if they're long lasting.
Then think about maintenance: how much time are you really prepared to put in to keep things looking good?
Once you've made these decisions it's easy.
Small backyard ideas
1. Use deck for a small backyard with no grass
If you're yearning after decking but feel your backyard is too small, then you might be sorely mistaken.
Deck is a great way to enhance your small backyard space, as it can be used to zone an area that's purely for outdoor dining.
The beauty of decking too, is that you can add to it over time. So you can start with smaller deck ideas and then create a larger area that could include balustrades and even a small fence to provide an element of garden privacy and enhance a shade garden.
Make a feature of your backyard deck area by enclosing it within the footprint of your home, so your outside space becomes an extension of your home.
2. Use mirrors to enhance a small backyard
Mirrors are a wonderfully versatile design feature, adding instant impact and interest, while maximizing light and boosting the sense of space, even in a relatively small backyard.
They are also the perfect option if you are looking for backyard ideas on a budget. A good mirror can usually be found at a local flea market or second-hand shop.
'We always recommend going for the largest mirror you can afford to make the most of every ray of light from your mirror's reflection,' says Lucy St George of Rockett St George.
While a large picture might overpower a space – and particularly a small room – a large mirror will do the opposite.
As long as the frame isn't too bulky, a larger mirror will only serve to make a room feel bigger and brighter, so dare to pick a design that's on the larger side rather than one with more modest proportions.
3. Enhance a roof garden with an entertaining space
Decorating a small backyard or patio should never be an afterthought. In fact, roof gardens, terraces and balconies provide a great opportunity to enjoy the surrounding views and extend the living space of your home, however tiny.
Sleek, simple and sophisticated is the golden design rule for any roof garden ideas. Choose materials to complement patterns or colors in the surrounding landscape or adjacent buildings so the design blends in.
Whether you envisage creating an alfresco entertaining space with an outdoor table and chairs, or a relaxing retreat with an outdoor sectional and lounge chairs, be sure to choose the best outdoor furniture to suit your needs and desired look.
With a little planning, creativity and innovation it is possible to transform an unused roof space into an area to relax, unwind and entertain.
4. Take an indoor-outdoor approach to decorating
Approach the furnishing of your small backyard in a similar way to the treatment of the inside.
Consider warmth underfoot by adding one of the best outdoor rugs the Homes & Gardens team have sourced, or introduce punctuations of color and texture in throws and cushions, as shown in the outdoor living room idea above.
The hard materials you use will also make a difference. Panels of timber for some of the boundary treatment can be softer in appearance than stone or rendered walls and will also create a quieter space with less echo.
5. Consider a row of pleached trees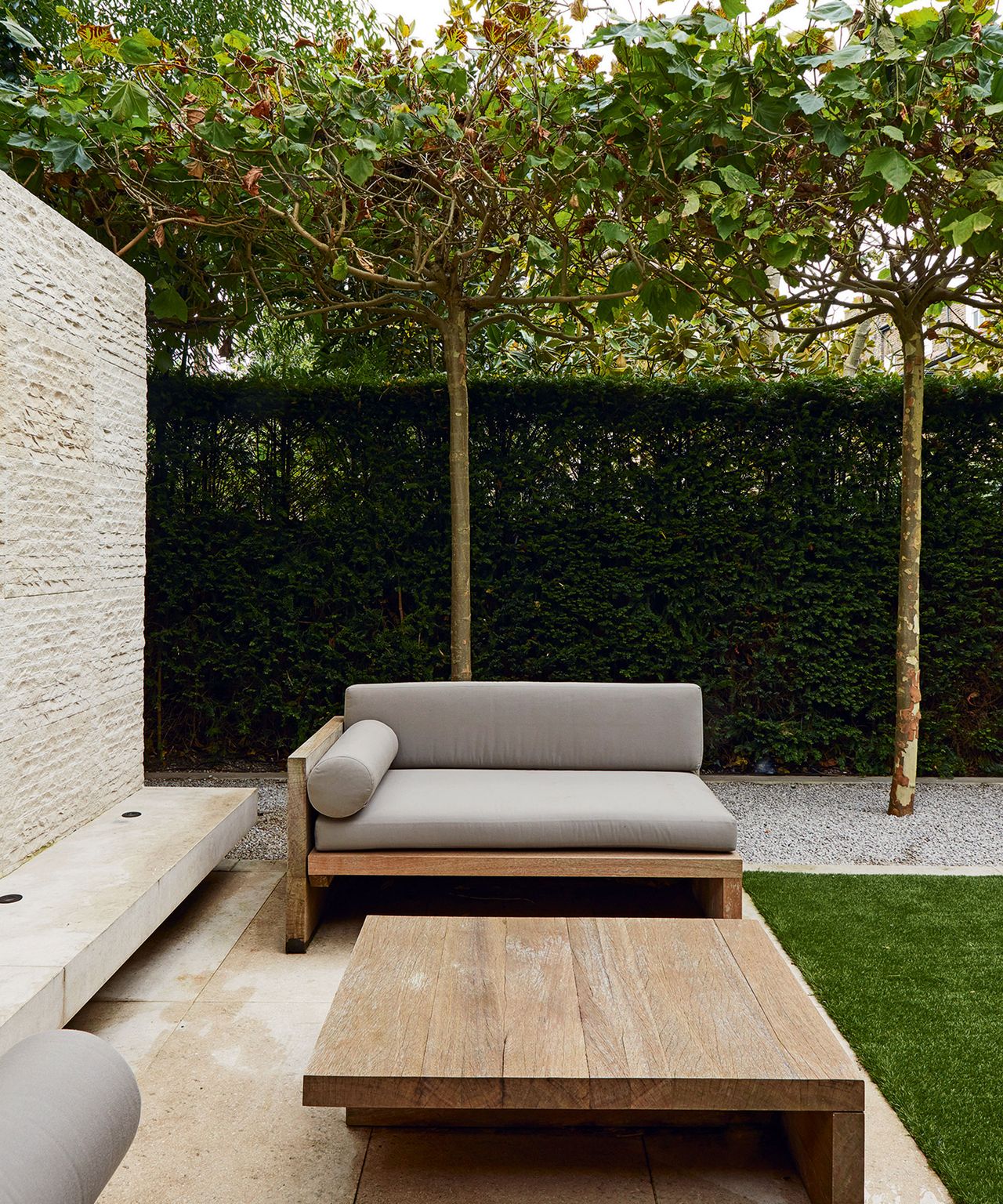 Create the illusion of space in your garden with pleached trees.
What are pleached trees, you ask? Pleaching is a tree-training technique that produces trees with clear, straight stems and a canopy trained on a framework to grow into a screen.
It creates a sense of mystery by allowing glimpses of other areas. When they are planted in rows, they form an elevated 'green wall' effect, which can be a great, natural alternative to high garden fence ideas.
'Pleached and parasol trees provide a useful way of shading a terrace, reducing the heat and glare of reflected sunlight,' says Rob Chew, Garden Designer.
6. Plant a living wall
If floor space is at a premium, a living wall might be the only option for those seeking to create a plant-filled backyard.
Where space is tight, planting vertical garden walls is a great way to introduce more color into your garden.
Smart living wall ideas are an easy solution, covering surfaces with flowers and foliage to disguise old fences and sheds, or even your bin. Add pollinator-friendly flowers and your living wall will feed the bees, too, or try edible plants for fresh ingredients right outside your door.
Award-winning garden designer Alexandra Froggatt suggest using leafy evergreens for year-round cover, such as Siberian bugloss (Brunnera), small ferns, heucheras and sedges, or plant lettuces, thyme, chives, marjoram and strawberries for an edible wall.
7. Introduce a water feature in a small backyard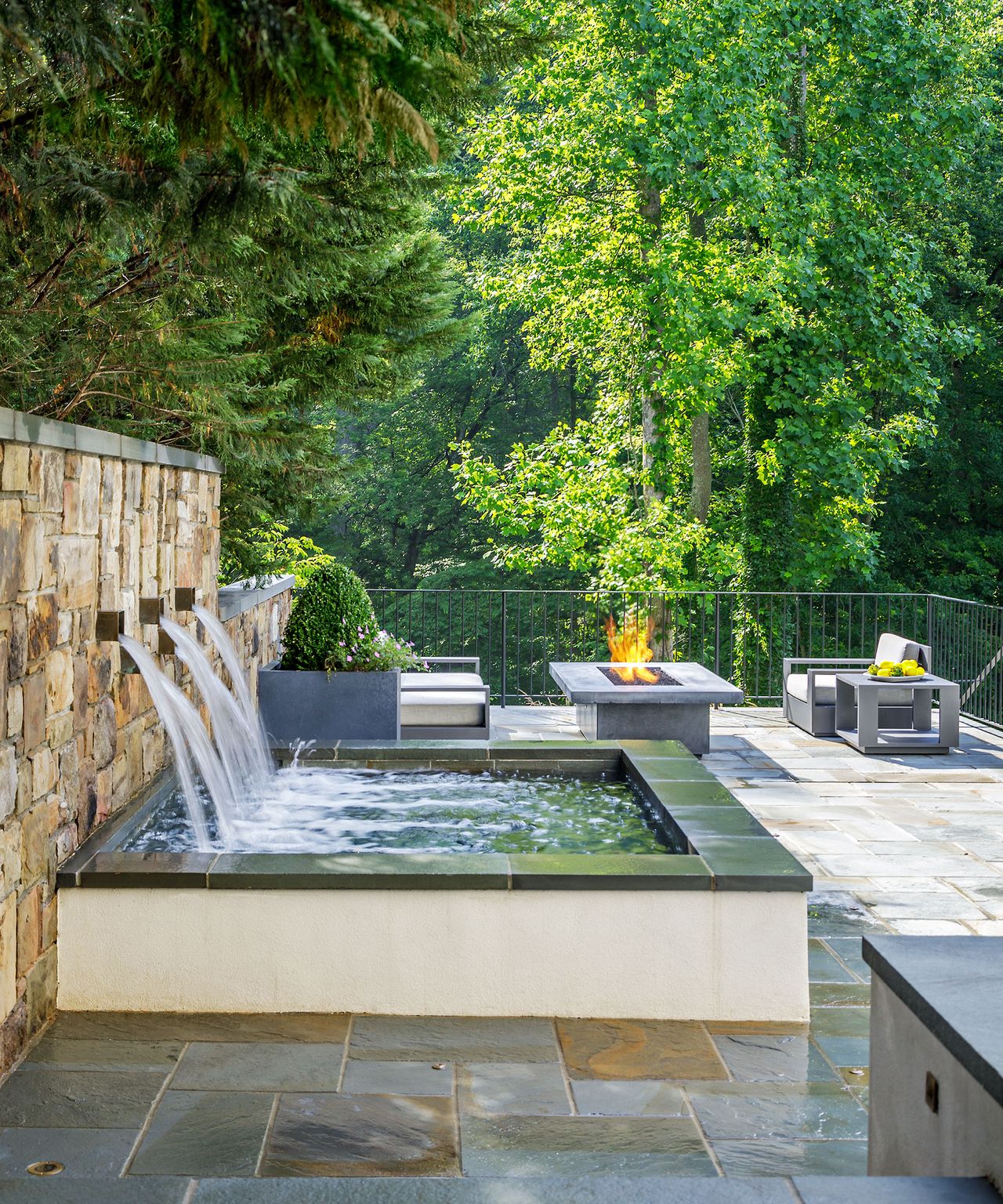 If you are wondering how to landscape a backyard, then let nature be your guide.
Adding a water feature is a wondering means of bringing an extra dimension to the garden, providing a focal point and lending a sense of peace and tranquility.
'No matter how small your outdoor space, a container-based water garden can make a simple and effective addition,' says garden designer Claudia de Yong.
What's more, the soothing sound of water is not only relaxing, but it can help to drown out noise pollution and neighbors.
8. Opt for smooth and simple deck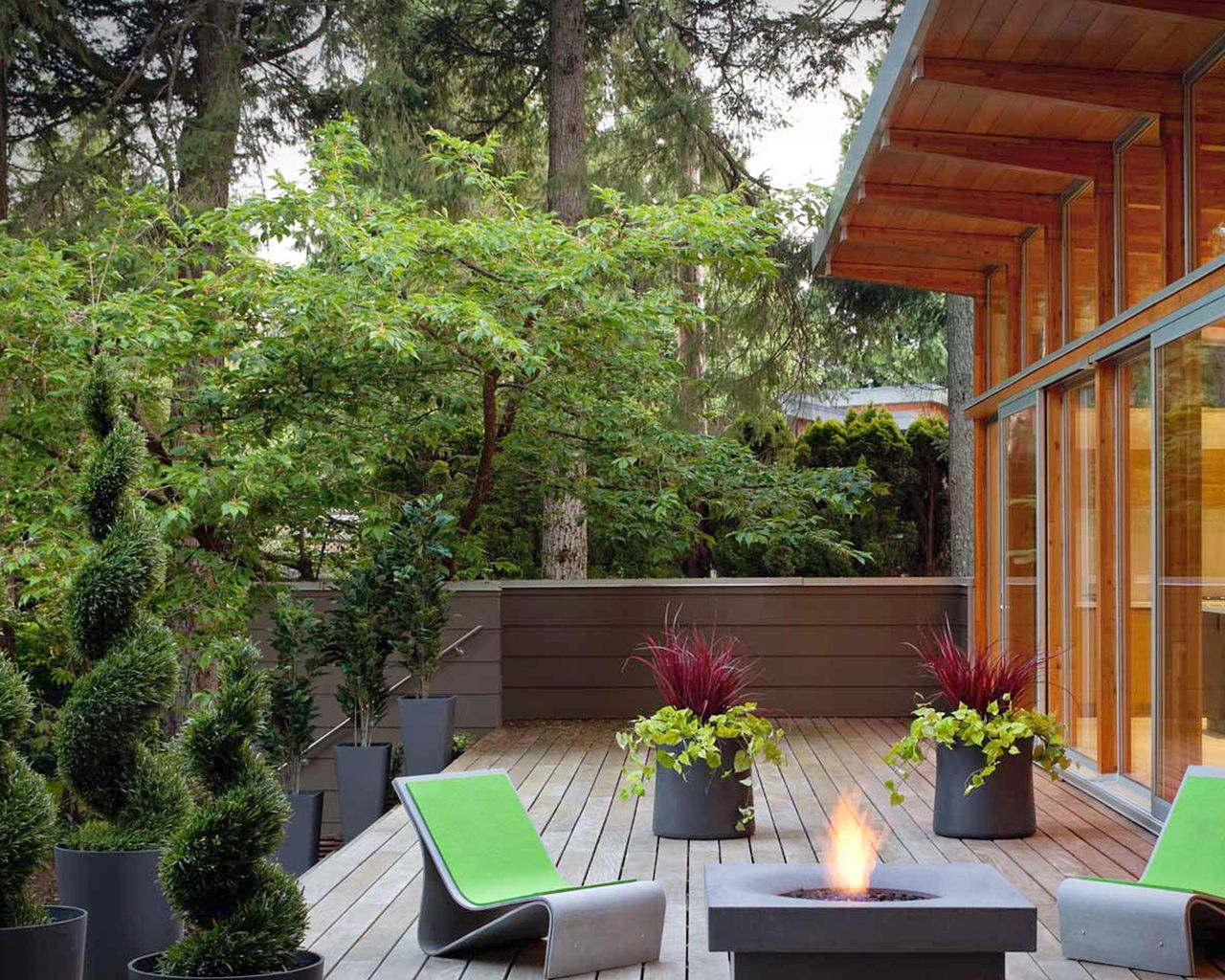 For an easy combination of good looks and longevity, smooth hardwood deck boards from a responsible source are the go-to option.
They are a practical option for small backyards as they're durable, require minimal maintenance and last for years. They also look better than softwood ridged decking, which needs more work and isn't as long lasting.
Hardwood boards are available in a range of different woods and colors, from light to dark, which means you can customise your deck with a shade that suits you. The combination of natural wood, harmonious planting and a carefully chosen accessory or two (like this smooth concrete fire table) works every time.
9. Do not overcomplicate a small backyard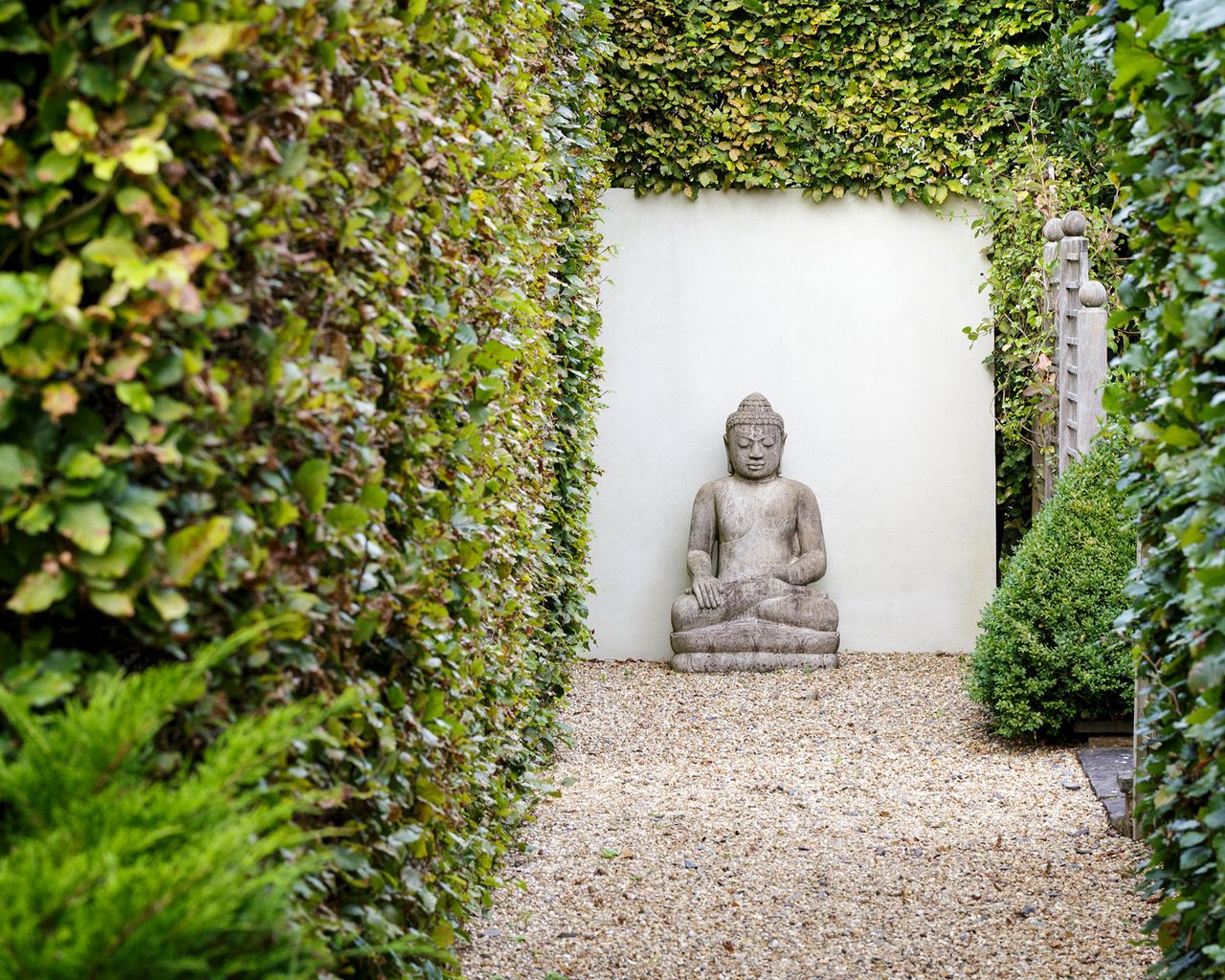 Even the smallest backyard or terrace can make an enticing outdoor space with a little care and attention.
'Keep it simple – don't get too carried away when planning for a small backyard or patio,' says Dan Bowyer, Fisher Tomlin & Bowyer.
'A carefully chosen palette of materials and plants is often the most satisfying. However, this doesn't mean you can't be experimental, just be mindful that trying to squeeze everything into a compact space will make it cluttered and decrease usability.'
Instead, opt for a maximum of one or two points of interest.
Here, a statue at the bottom of this space leads the eye down the garden path. Or, rather than trying to cram in more outdoor furniture than the space can comfortably contain, keep seating simple with one of the best Adirondack chairs.
10. Design with modern materials in mind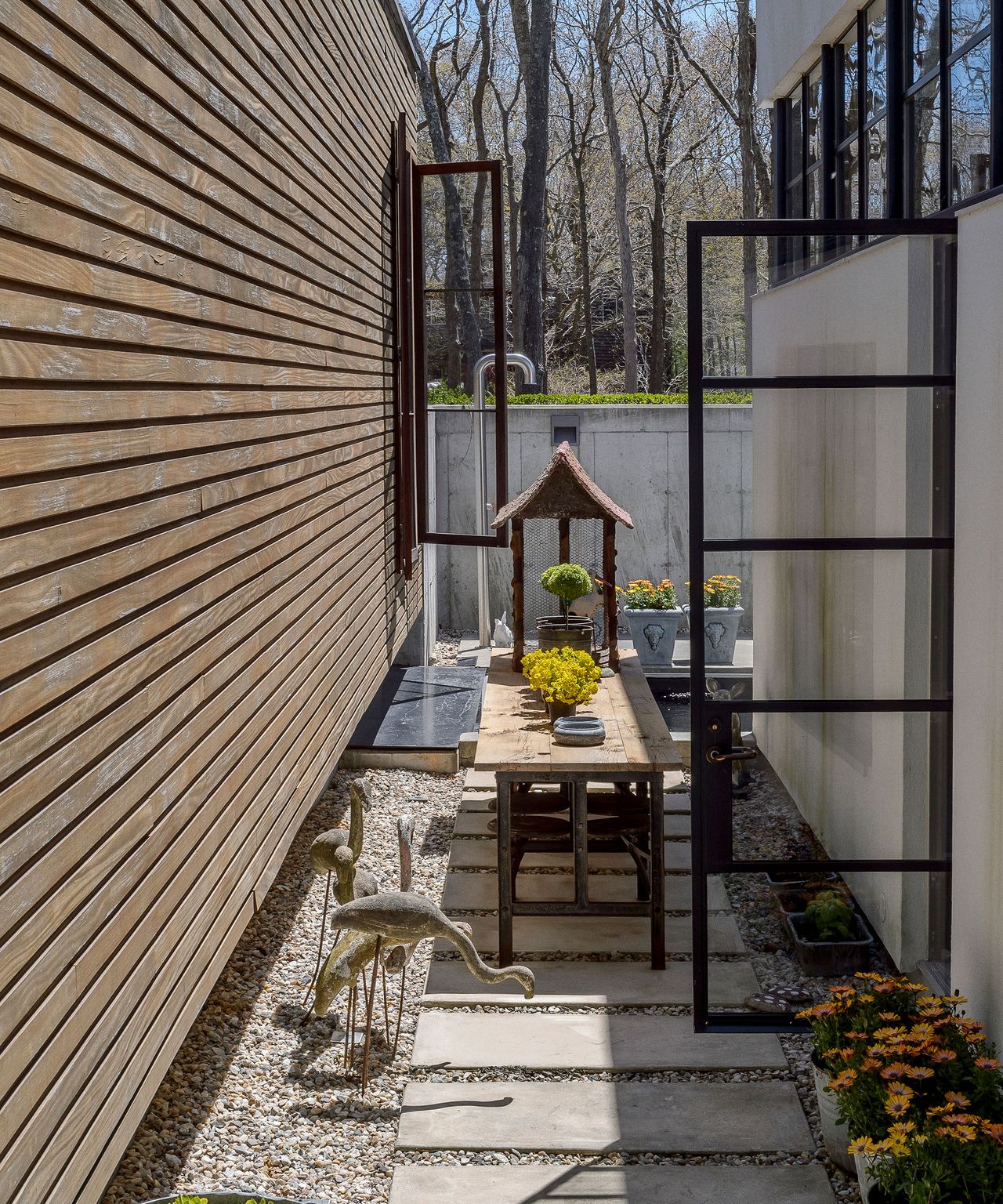 Streamlined, modern materials work beautifully in a small backyard. Play with timber panels, steel-framed doors / windows and oversized pavers for a contemporary aesthetic that is still very much grounded in nature.
Color is important, too. Opting for light greens, silvers and grays will help create a sense of spaciousness, while highly reflective, shiny leaves can add light and shimmer, providing a greater depth of field in the planting scheme.
What can I do with a small backyard?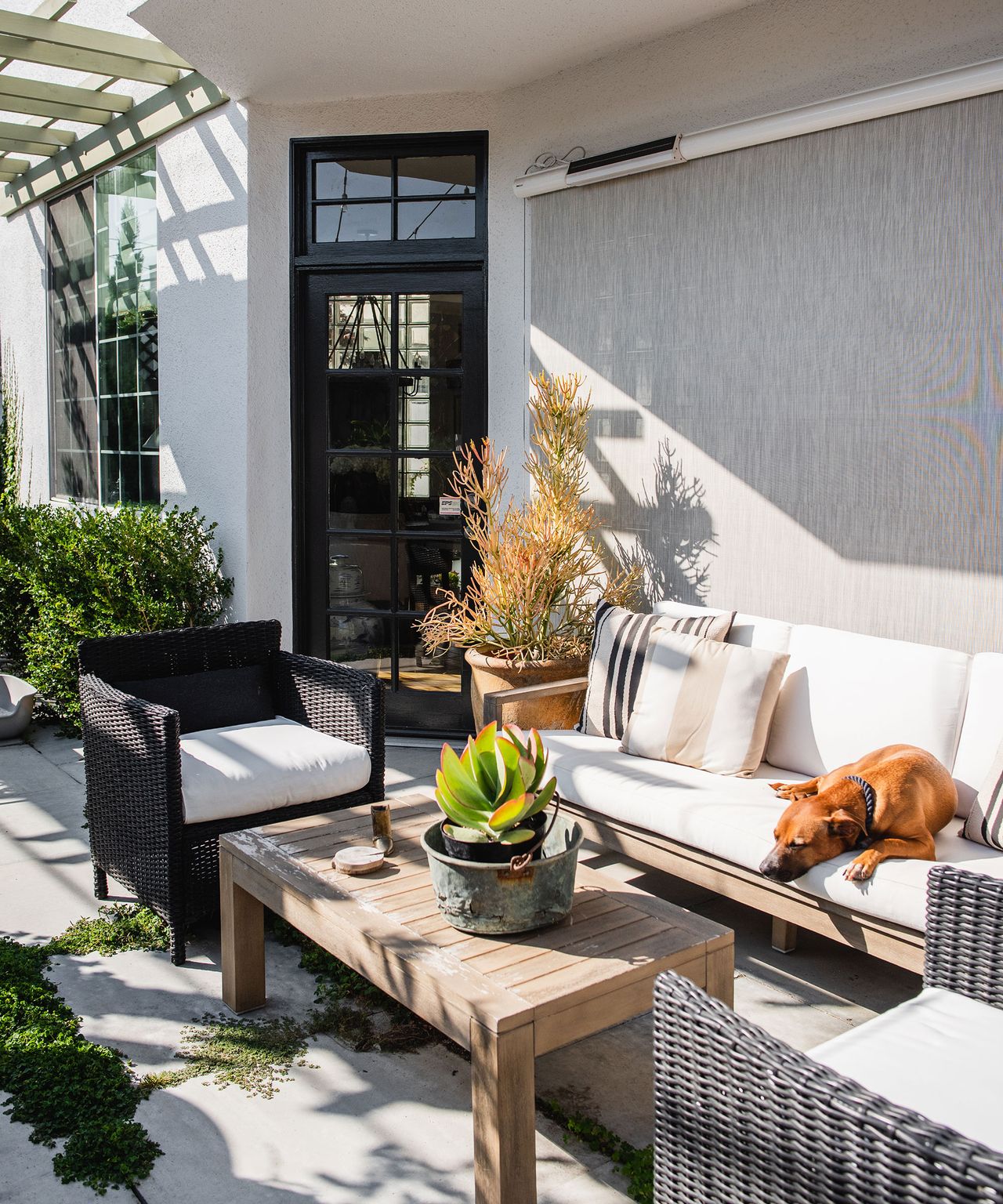 There is so much that you can do with a small backyard, no matter how tiny.
It's important to put generosity of space and a sense of place at the heart of your design. In urban areas particularly, an easily accessed space, which feels comfortable and generous in its proportions, allows for relaxation and calm. It's the perfect antidote after a busy working week.
Think about the orientation of your small backyard too, as it can change the overall feel immensely. By altering it, you can turn a generous space into one that feels enclosed or intimate in a warm, sunny spot or a cool, shady area.
Equally, the view will be altered depending on the orientation of the terrace. Would you prefer to look back at the house or outwards to a prominent focal point in the distance for example?
How can I make my small yard look nice?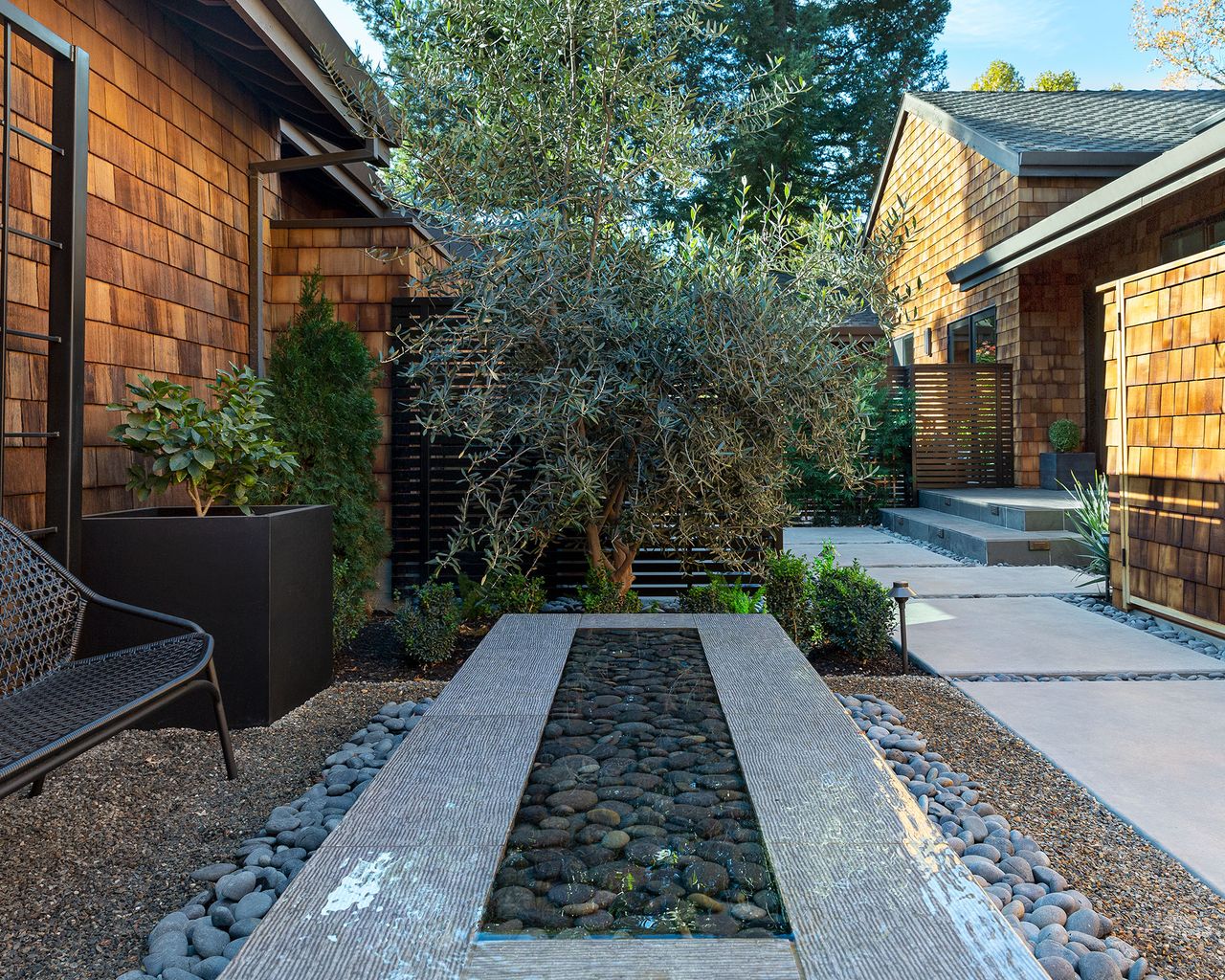 It is easier than you think to make a small yard look nice yet remain practical.
Consider the use of water. Standing water with a subtle ripple or movement evokes gentleness, calm and softness. It also reflects the light, helping to make the space feel bigger.
Another design tip is to create a visual link between inside and out: think about using similar flooring to your property's interior. This immediately ensures that the eye moves seamlessly from space to space.
'Also, consider taking an element of 'furniture' from the interior of the house out into the backyard,' says Marcus Barnett, Marcus Barnett Landscape & Garden Design.
'For example, a kitchen work surface can be run outside in the same alignment to add to a sense of linkage and visual pairing between the spaces. Color used inside your home can also be matched to elements of the yard, serving as a visual reminder between inside and out.'
Jennifer is the Digital Editor at Homes & Gardens. Having worked in the interiors industry for a number of years, spanning many publications, she now hones her digital prowess on the 'best interiors website' in the world. Multi-skilled, Jennifer has worked in PR and marketing, and the occasional dabble in the social media, commercial and e-commerce space.
Over the years, she has written about every area of the home, from compiling design houses from some of the best interior designers in the world to sourcing celebrity homes, reviewing appliances and even the odd news story or two.