Best trees for small gardens – 10 best trees for tiny yards
Add color and interest with the best trees for a small garden – from standout varieties for pots to evergreen beauties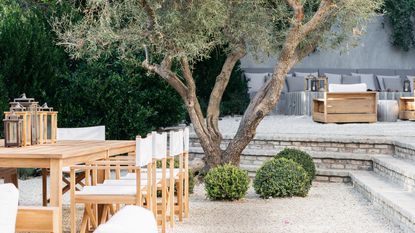 (Image credit: Christopher Lee)
When choosing the best trees for a small garden, it's important to pick varieties that will make an impact in a compact space without overshadowing it.
Trees are one of the most important garden ideas – attracting wildlife, cleaning the air, and adding color and interest throughout the seasons.
Sarah Squire, chairman of Squire's Garden Centres, believes that planting a tree should be at the top of everyone's small garden ideas.
'If there is one thing I think we could all do for our world fairly easily, it is to plant a tree,' she says. And while, they may not all be the best trees for privacy and screening, 'Trees are fantastic as a habitat and food source for wildlife, and as a source of carbon capture. They also give gardens structure and architecture.'
Happily, there are beautiful trees available for every size and shape of garden.
'There are lots of trees that will stay below 26ft (8m), even when mature, without the need for pruning,' says Rebecca Bevan, author of National Trust School of Gardening.
Choosing the best trees for a small garden
Trees can bring your small garden flowers in spring and summer, radiant leaf color in the fall, plus interesting bark and stems in winter.
The best trees for a small garden can be multifunctional too – screening an unattractive view or helping to filter noise and air pollution in balcony gardens and properties near a busy road.
If you're concerned about your tree growing too tall, don't worry: many are suitable for the most compact of spaces and most trees can be pruned regularly to keep them small.
Alternatively, choose one of the best trees to grow in pots – as planting your tree in a large container will restrict how big it can grow. Perfect if you are looking for courtyard garden ideas or small garden decking ideas that incorporate some greenery.
Always make sure your chosen tree is suitable for your location and soil type. Find out your hardiness zone, and only plant varieties that are compatible.
'There are trees for every size and shape of garden, from a small acer in a pot on a balcony to a gorgeous flowering cherry in a back garden,' says Squire.
1. Magnolia
With its heavenly flowers, the magnolia is an icon of spring, and compact varieties make some of the best trees for small gardens.
They are also among the best trees for front yards, as they make such a welcome sight to visitors – in addition to filling the air with their sweet perfume.
Choose from pink varieties such as Magnolia x soulangeana, although Bevan particularly recommends 'Elizabeth' for small gardens – 'it's a small, neatly shaped magnolia with fragrant, pale-yellow flowers,' she says. It will eventually grow to around 20ft.
Magnolias thrive in a sunny, sheltered spot, and prefer moist soil. Avoid planting therm anywhere too exposed, or the frost can get to the blossoms, and keep pruning to a minimum.
There are magnolias suitable for growing in zones 4-6, but check the maximum size of your chosen variety.
2. Bay tree
Bay trees are true multi-taskers – evergreen, they offer year-round interest, while their upright form gives plenty of ornamental value – particularly if you clip them to a neat ball or pyramid shape. As if that wasn't enough, their leaves are aromatic, adding a wonderful depth of flavor to countless dishes.
These attractive trees grow very well in pots, making a beautiful feature on a patio or next to a door. They are easy to look after, but do need to be positioned in a sunny spot and watered and fed regularly.
You don't have to clip them into a shape, but you do need to prune bay trees in the spring, to keep them at a manageable size and in good health. They need repotting every couple of years.
Bay trees do not, however, like to be too cold, so unless you can keep them in a warm sheltered area over winter, only grow them in zones 7-10.
3. Euonymus
Euonymus is a fantastic choice for a small garden. Bevan favors it as one of the best trees for year-round interest. 'Euonymus europaeus 'Red Cascade' is showy with deep pink fruits and dazzling autumn color,' she says. 'It can be grown as a shrub or tree.'
It takes euonymus a number of years to reach its maximum height of 8-13ft, so it won't overshadow a small backyard.
The plant is tolerant of both acidic and alkaline soil, but likes it to be moist yet well drained. It will thrive in full sun or part shade in zones 4-9.
4. Japanese maple
Japanese maple trees are among the best trees for autumn color, turning stunning shades of gold through the deepest of reds and purples.
There are many varieties and sizes available to suit most situations, as they vary from the smallest of dwarf trees suitable for bonsai trees to very large specimens that will make a statement in a larger garden.
'Their vibrant foliage colors make them a favorite of many due to the interest they add to the garden year-round, not just in the fall,' says Tammy Sons, owner of Tennessee Nursery.
Most Japanese maple trees are suitable for zones 5-8, but some hardier varieties can be planted outside these zones.
'One of the hardiest Japanese maple trees of all, the 'Velvet Viking' is suitable for zones 4-9,' says Sons.
This dwarf variety only reaches around 5ft at maturity. 'It features delicate, thin-shaped leaves and purple-red foliage in spring and summer, with much deeper hues of purple in fall.'
In general, Japanese maples prefer slightly acidic, well-drained soil, and dislike very alkaline soil or being overly wet or dry.
5. Christmas berry 'Little Red Robin'
A good option if you like trees with red berries, Christmas berry 'Little Red Robin' is a shrub that can also be grown as a beautiful small tree, reaching around 5ft tall.
It has bold red leaves when young, that turn glossy green, then produces creamy white flowers in the spring followed by red berries.
Planted in pots, it would make a striking addition to a patio seating area.
'It's also a good option for hedging in a smaller garden,' says gardening expert Matt James. 'It's a broadleaf evergreen, although these do generally make fatter hedges.'
The tree thrives in partial to full sun, in acid to neutral soil, and is low maintenance.
6. Amelanchier
Also known as serviceberry, juneberry or saskatoon, amelanchier is a delightful tree for smaller gardens, offering elegant star-shaped flowers in the spring, while its foliage turns brilliant red-orange in the spring.
The trees also produce edible purple-red berries, which are similar to blueberries, and much underrated for their flavor.
'Amelanchier lamarckii is a tough, reliable tree with lovely spring blossom, berries and color in early autumn,' says Bevan.
Amelanchier grow well in zones 2-7, tolerating light shade and damp sites. Their maximum height is typically 15-35ft, but Amelanchier Alnifolia 'Obelisk' is a dwarf variety that only reaches 13ft, so can be grown in a pot on the patio.
7. Olive tree
Evocative of the Mediterranean, olive trees are slow-growing evergreen trees, reaching a maximum of 20-30ft, or just 10ft for dwarf varieties.
Unless you live in zone 8 or warmer, you will need to take precautions to keep the trees sheltered during winter.
However, as the trees are well suited to being grown in containers, you can move them to a sheltered position in the colder months – a porch or conservatory would be ideal.
In order for olive trees to produce fruit, they need fluctuation between day and night temperatures, and two months with temperatures below 50°F (10°C), but above 14°F (-10°C). Though self-fertile, olive trees benefit from cross-pollination.
While it is not possible for them to produce fruit in certain locations, they still make beautiful feature trees.
Keep them watered in the hottest months, and feed weekly from spring to fall.
8. Crab apple
Though often overlooked in favor of regular eating apples, crab apples have so much to offer a small garden, elevating the space with their frothy pink blossom in the spring and vibrant colored fruit in the fall.
As their fruit is too sour to eat, crab apple trees are typically grown for their ornamental value, yet the apples make the most delicious jellies – especially when combined with other hedgerow treasures such as rose hips.
Crab apples are also fantastic cross-pollinators for other apples, so are a great addition if you want to grow eating apples too.
The trees' height varies widely, but smaller varieties such as 'Wisley Crab' are compact at less than 15ft.
Bevan favors Malus transitoria: 'a Chinese crab apple, it has delicate, white flowers followed by abundant yellow fruit and good autumn color.'
Crab apples like a sunny spot with moist, well-draining soil, and will grow well in containers.
9. Cercis
Cercis is a fantastic tree for fall color. 'It's hard to beat the highly anticipated, sheer intensity of autumnal foliage on trees – the rather lovely Cercis canadensis, with its heart-shaped leaves is among the best,' says Period Living's gardening expert Leigh Clapp, who advises that 'less is more in a small space where you may like to draw the eye to a particular specimen tree.'
This variety will reach over 20ft, but the smaller Cercis chinensis 'Avondale' will reach up to just 8ft.
In the spring, cercis produces stunning pink flowers beloved of bees, and striking purple pods in the fall.
Tolerant of most soil types, Ceris will grow in partial shade or full sun in zones 4-8.
10. Japanese dogwood
Grown as either large shrubs or small trees, Japanese dogwoods offer value to the garden year-round
In the spring, the tree produces the most elegant star-shaped white flowers – which are actually bracts.
As a pleasant surprise, it then yields edible strawberry-like fruit in the summer, which also attract songbirds to your garden.
In the fall, the tree is rich with autumn color, then in winter its mottled, peeling bark makes a striking feature.
Japanese dogwood grows in hardiness zones 5–8, with a mature height of 15-25 ft, though there are dwarf varieties available, including 'Angyo Dwarf', which reaches just 6.5ft, and 'Little Poncho' – 8ft.
What is the best evergreen tree for a small garden?
The best evergreen tree for small garden is one that is slow-growing, stays small, and requires minimal maintenance – for example, Christmas berry 'Little Red Robin' can be grown as a hedge or ornamental tree, and reaches just 5ft tall.
For a taste of the Mediterranean year round, grow an olive tree or bay tree – both are evergreen and have culinary value – although if you live in a colder location, then they will need sheltering over winter.
What trees stay small?
The art to choosing trees that stay small, is to check their maximum height, and the length of time they will take to reach maturity.
A good indication is if the tree is classed as a 'dwarf' variety, although there are many smaller trees that won't be labelled in this way.
One of the best trees for a small garden that stays small, is a dwarf Japanese maple tree. Some varieties are incredibly slow growing – for example 'Sharp's Pygmy' is a favorite of bonsai artists, reaching 2-4ft, and can live in a pot for centuries.
As editor of Period Living, Britain's best-selling period homes magazine, Melanie loves the charm of older properties. I live in a rural village just outside the Cotswolds in England, so am lucky to be surrounded by beautiful homes and countryside, where I enjoy exploring. Having worked in the industry for almost two decades, Melanie is interested in all aspects of homes and gardens. Her previous roles include working on Real Homes and Homebuilding & Renovating, and she has also contributed to Gardening Etc. She has an English degree and has also studied interior design. Melanie frequently writes for Homes & Gardens about property restoration and gardening.