How to stop teak furniture from bleaching in the sun – 4 simple solutions to try
Ensure your teak outdoor furniture retains its warm tones with these tips for preventing sun bleach damage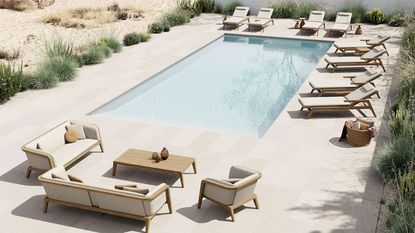 (Image credit: Go Modern Furniture)
Teak is a popular choice for outdoor furniture, and it's no surprise as this wood has many standout qualities.
Durable and reassuringly weighty, its distinctive reddish, rich tones are highly attractive but after time outside exposed to the elements, these can begin to fade and your much loved outdoor furniture can lose some of its appeal. But it doesn't have to be this way.
With just a few simple precautions you can maintain teak's classy, good looks and prevent it from bleaching in the sun.
4 ways to stop teak furniture getting bleached by the sun
Thanks to its high quota of natural oils, teak is good for outdoor furniture. Not only is it resistant to rot, algae and many lumber-munching insects, but it has water-repellent capabilities too. In fact, it's one of the best wooden outdoor furniture materials you can buy.
'Over time in an outdoor environment, untreated teak furniture will turn silvery-gray,' says the experts at teak outdoor furniture specialists Barlow Tyrie. They go on to say that the length of time it takes for this to happen will depend on your climate and weather conditions.
If you would prefer to slow down this weathering process, however, you can keep your teak patio furniture looking good year-round with these quick and easy-to-follow solutions.
1. Clean furniture regularly
Any furniture left outside will eventually attract a layer of dirt and grime, and despite its water-repellent qualities, teak is no different.
A fine coating of spores and bacteria can form after being exposed to the sun's UV rays, dulling the timber's rich, natural coloring but this can be removed, and the golden, red hues easily restored.
James Walton, blogger and author of Wood Router Guru suggests, 'cleaning your outdoor furniture with a mild soap and water solution to remove dirt and mildew, which can contribute to bleaching. Avoid using harsh chemicals or pressure washers, as they can damage the wood.'
The experts at Barlow Tyrie say proper cleaning is also essential before applying any care product that's designed to slow down the weathering process. 'You need to make sure the furniture is completely clean and dust-free,' they say. They add there's no need to use a specialist teak cleaner, unless your furniture is really dirty. In most cases, warm soapy water and a stiff bristled brush are sufficient.
2. Keep furniture in the shade
Exposure to the sun's rays is mainly responsible for bleaching teak's rich tones, gradually turning the timber a silvery-gray.
To slow this process or even prevent it from happening is pretty simple, as timber expert James continues. 'Place your teak furniture in a shaded area or use a patio umbrella, awning or pergola to minimize direct sunlight exposure.'
If you are lucky enough to have a more permanent solution in the form of a covered patio, keeping your teak furniture out of the sun's ray should be easier to achieve.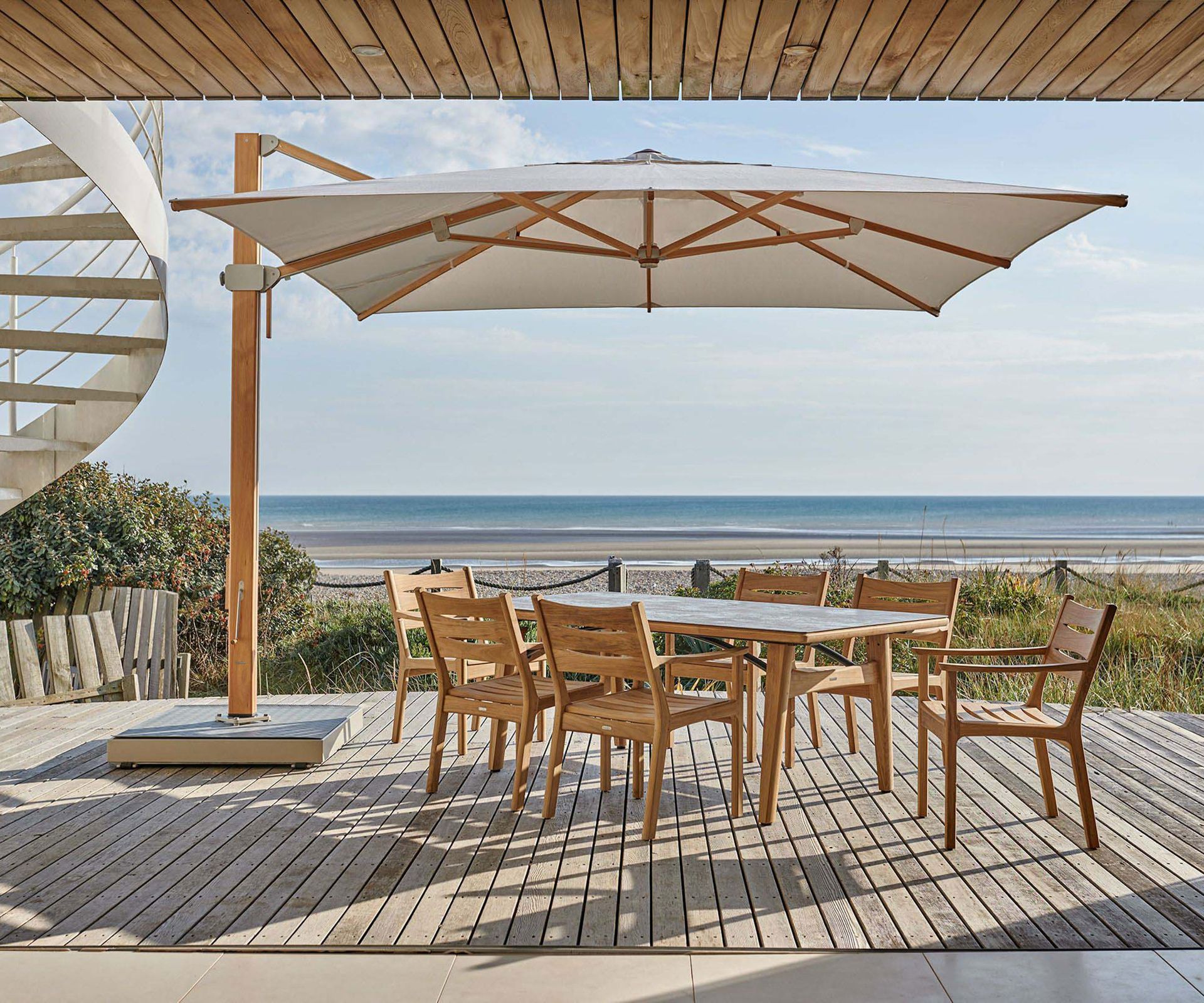 3. Keep furniture covered when not in use
'It is important to keep teak furniture covered or shaded when not in use to prevent it bleaching in the sun,' says Lindsey Hyland, founder of Urban Organic Yield. 'As its most basic level, this can be as simple as covering the pieces of furniture with a tarpaulin.'
Investing in good-quality, ready-made furniture covers is perhaps a more stylish way to protect your wooden furniture. They are also more likely to stay in place if they are designed to perfectly fit your sofas, tables and chairs.
Look for designs that are made from breathable fabrics that also block the sun's UV rays. This will prevent the wood from bleaching, while still allowing it to breath, and for any moisture trapped within the timber to evaporate.
Covers made from polyester with a thin layer of PVC-coated linen are generally regarded as the most effective for outdoor furniture. Fabric types are rated by weight and denier (denoted by a number followed by 'D'). Look for heavier weights such as 12oz and 18oz/ 1000D for the heaviest duty and most durable products.
4. Refresh wood with teak oil
'The best way to stop teak from bleaching in the sun is by keeping it out of the sun, but if that is not possible, the next best option is after-care kits,' says Jay Richey, assistant manager at outdoor furniture retailer Christy Sports. 'You can sand the patina away from the wood and expose the original color again and seal the wood with a UV protectant. However, this process will need to be repeated over the years.'
Removing the top layer of timber and replenishing the natural oils is a great way to restore teak to its original rich color. A light sanding with fine grade sandpaper is often all furniture needs to remove the wood's silvered surface. Wipe down with a damp, lint free cloth and you are ready to apply the oil.
'Applying a coat of teak oil can help protect the wood from UV rays and also enhance its natural beauty,' says Lindsey Hyland. 'Teak oil helps to create an impermeable barrier against water and moisture damage as well as sun fading. Occasional refinishing may help preserve a piece of teak furniture for many years.'
Minwax teak oil from Amazon will enhance the wood grain of your teak furniture and protect it from moisture and UV rays. Alternatively, the Star Brite Teak Kit from Amazon contains a cleaner, brightener and oil to cater for all your teak furniture maintenance needs.
FAQs
How do you preserve teak's natural color?
Restore the rich golden hue of newly sawn teak with a specially formulated color guard. A paint on product designed to be used annually, the solution includes UV inhibitors to prevent the timber from fading and pigment enhancers designed to boost the woods natural tones. Water-based products are the most environmentally friendly option and are easy to apply, often coming with their own handy applicator.
Star Brite teak sealer from Amazon was designed for teak boats on sailboats to protect them and prevent them changing color, but it can also be used on outdoor furniture.
---
Keeping on top of regular outdoor furniture maintenance is the best way to preserve teak's natural color. It will also help to make it last for longer, meaning you're less likely to have to replace outdoor furniture for new designs.
Sign up to the Homes & Gardens newsletter
Decor Ideas. Project Inspiration. Expert Advice. Delivered to your inbox.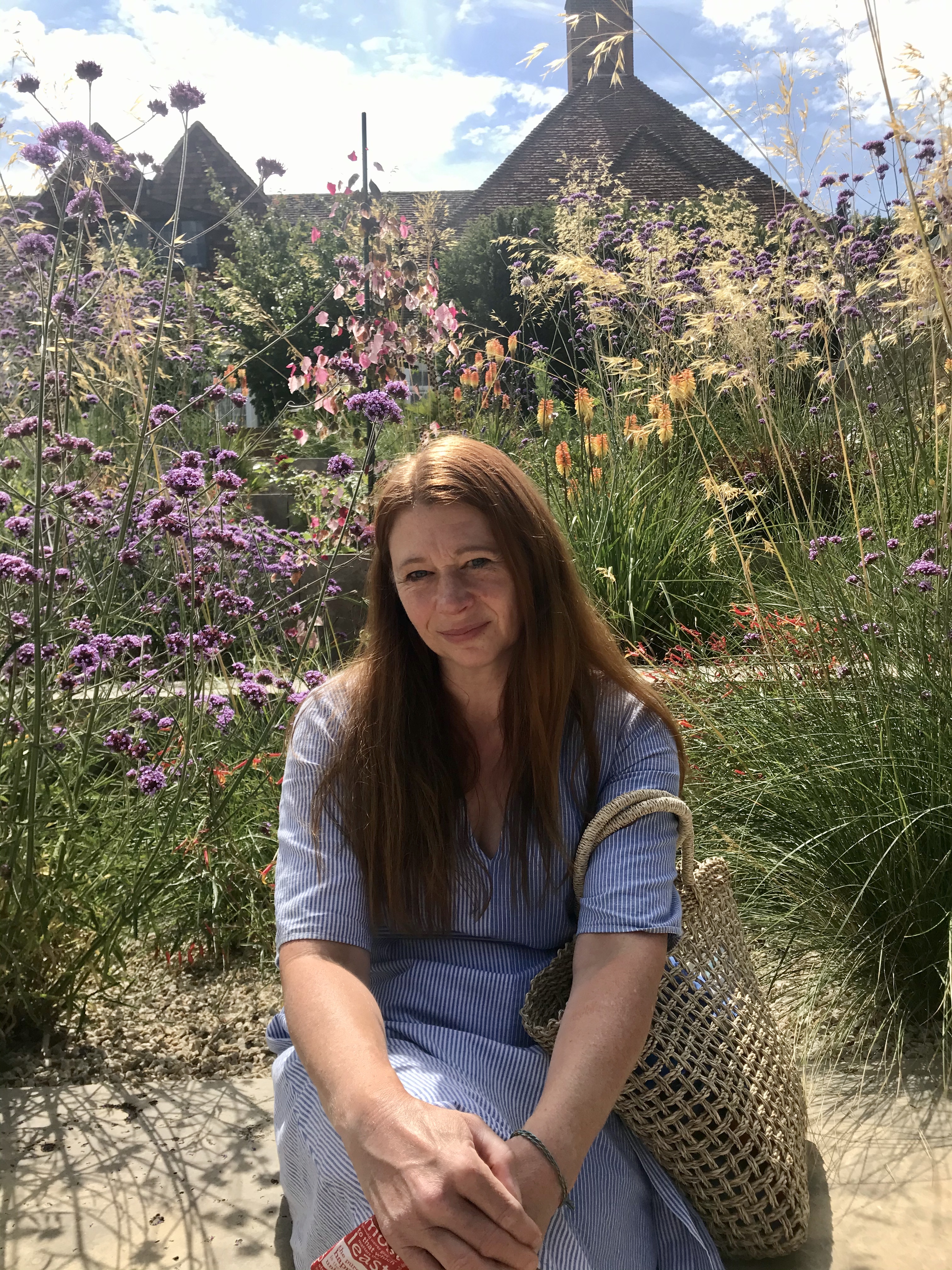 Jill Morgan has spent the last 20 years writing for Interior and Gardening magazines both in print and online. Titles she has been lucky enough to work on include House Beautiful, The English
Home, Ideal Home, Modern Gardens and Gardeningetc.com. Although much of her career has involved commissioning and writing about reader homes and home improvement projects, her
everlasting passion is for gardens and outdoor living, which is what she writes about for Homes & Gardens.